Pride is one of the biggest and best celebrations world wide. Every corner of the globe going all out in support of the LGBTQ+ community with show stopping costumes and floats, it's no wonder that some pride parades draw crowds of over two million people!
As we near June, Pride celebrations are gearing up to take to the streets and fill stages. And with so many prides to choose from, we've put together a list of some of the best prides that really do pride right.
15 Best and Biggest Pride Parades & Best Pride Cities
1. Pittsburgh
The first pride parade on this list is the Pittsburgh Pride Revolution. The parade marches down through downtown, the Northside, Bloomfieldm and many other neighborhoods. Pittsburgh's Pride is four days filled with huge events.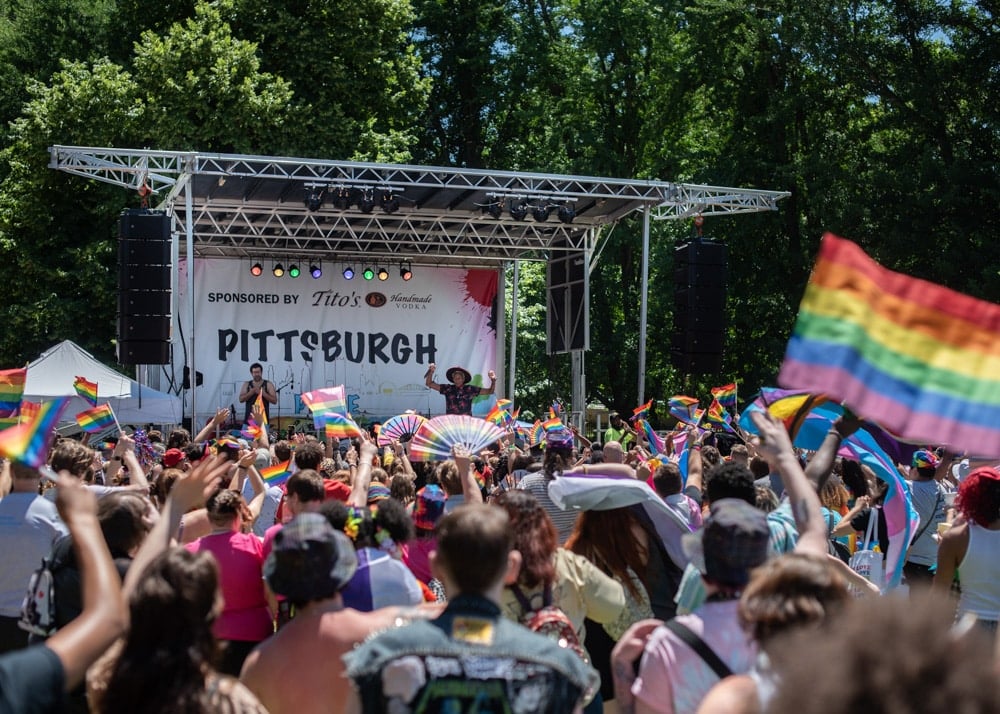 From the parade and festivals to live performances (all of which are free), local businesses and queer businesses serve as vendors and go all out with their pride merch and decorations.
This city's pride celebration starts off with an event called Too Hot 4 July, a huge event filled with dancing, merch, and LGBTQ+ support! The night is sponsored by AIDS Free Pgh, and offers free testing at the site as a way to raise awareness.
The Pittsburgh Pride Revolution takes place over the course of June 2nd through to the 4th. If you're looking for a place to stay in the city, The Parador Inn is an LGBTQ+ owned inn that's only a seven minute drive from the start of the parade.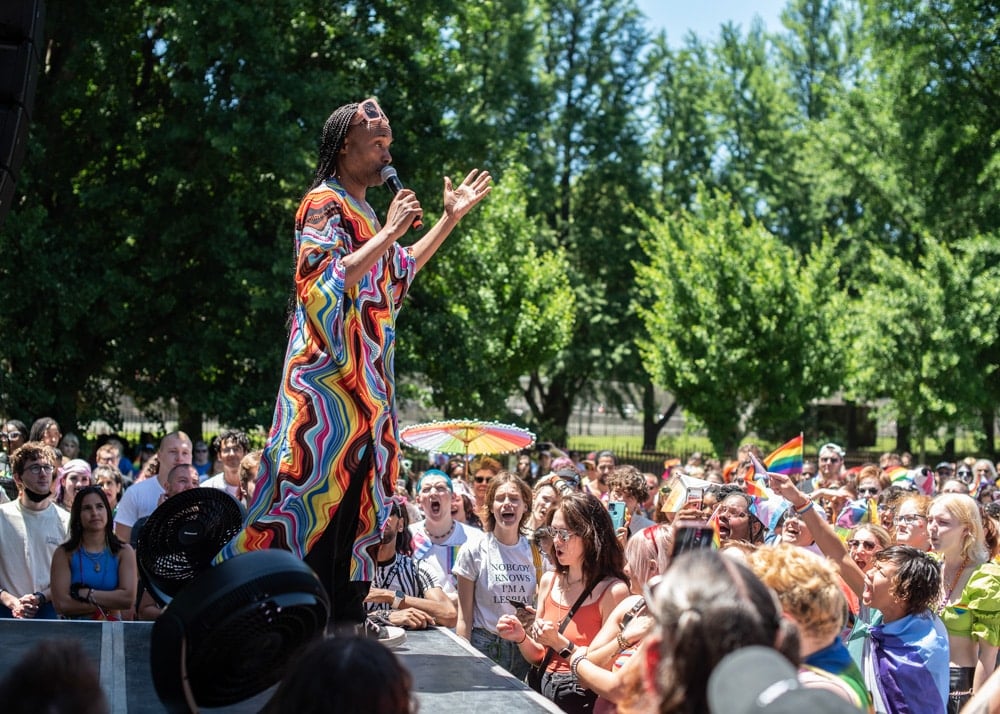 Pittsburgh also has a ton of queer owned businesses that you can give a little extra love to this pride month. Blue Moon on Butler was voted the best gay bar in Pittsburgh two years in a row, and Necromancer Brewing is a women owned and queer run brewing company with some unique beers, both are local favorites!
2. New Orleans
Of course New Orleans is one of the best places to celebrate pride! The city is known for its incredible pageantry, huge parties, and costumes! The three day celebration takes place in the city's French Quarter.
The first day of events is known as their PrideFest and hosts performances, drinking, drag shows, etc. (starts at 10:30am and goes until 5pm). And the official parade is a night parade! It kicks off at 6pm from Phoenix Bar.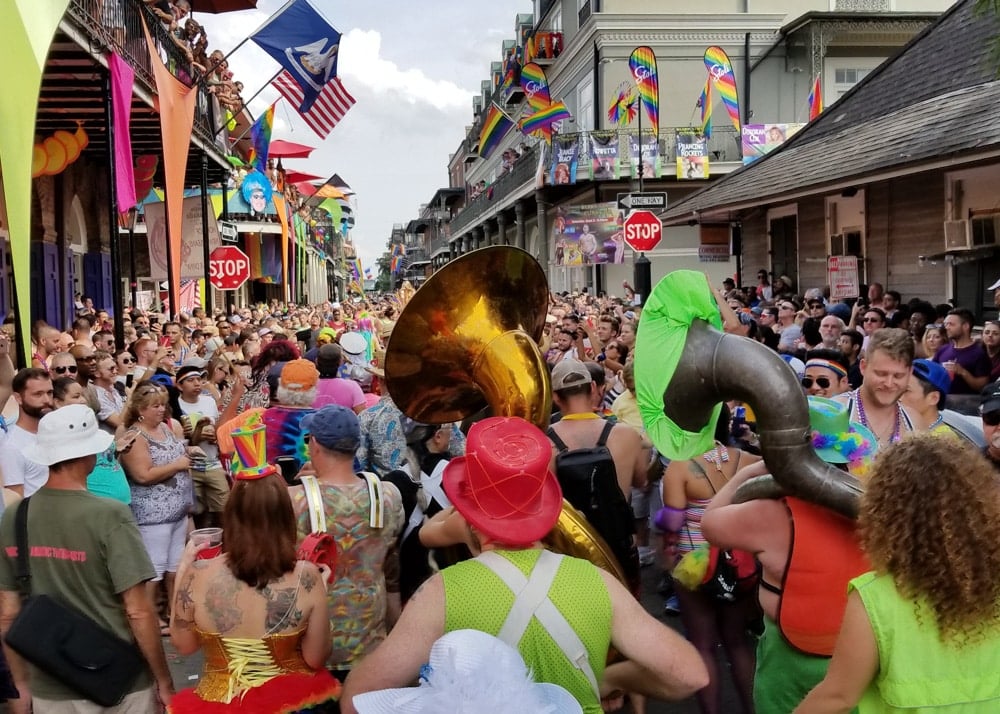 After the parade, the party doesn't stop. Lots of the local bars stay open all night to keep the celebration going, like Oz, New Orleans top rated gay dance club, and Cafe Lafitte, which is a little bit of queer history in the heart of New Orleans. The Cafe is open 24/7 and is the oldest continuously operated gay bar in the US.
For some queer fun outside of the main events, you can catch a drag show at Mag's 940. Their shows are partially inspired by circus routines. New Orleans also has some pretty fun ghost tours that are high in spirits (in more ways than one)!
Ghost Tours New Orleans offers a Lewd Spirits Tour, which tells some R-rated ghost stories along with 3 bar stops along the walking tour.
The New Orleans Pride takes place June 9-11. It gets crowded quickly, and there's lot's of drinking so plan accordingly and take care.
3. Lexington
Lexington Pride is a huge event, with their gay pride parade drawing over 50,000 people every year. Their pride weekend festival is packed full of vendors, drinking, and late night celebrations. All the gay happenings going on around a little known queer hotspot for those outside of Kentucky, is in downtown Lexington.
Lovingly called the "Fruit Loop," it's a walkable area with tons of bars, clubs, and other stops that cater to the LGBTQ+ crowd.
Like the Bar Complex, which is one of the largest gay clubs in the US. It has signature cocktails, delicious food, and great drag shows.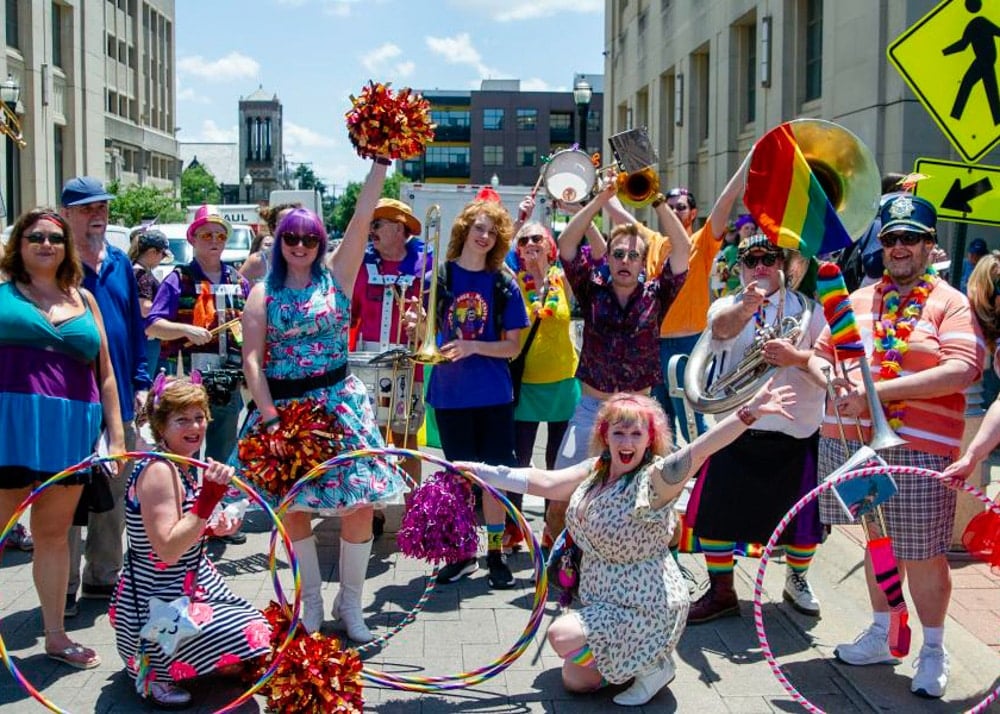 Lexington has great historic queer walking tours. These walking tours are self-guided and are offered by the Pride of Place Lexington walking tours, and take you on a tour of everything queer in Lexington.
You can either pick up a copy at the Lexington Visitors Center or download it onto your phone.
If you're looking to stay a little closer to this mini-gayborhood, the Elwood is a cute local hotel covered in murals, or the LGBTQ+ friendly hotel Campbell House, which is inside a historic building in downtown Lexington. (Just remember to book for the pride parade on June 24th!)
4. San Francisco
I can leave San Francisco pride off the list! Home to one of the oldest prides, San Francisco has been celebrating pride for 53 years! So it's no wonder this year's theme is "Looking Back and Moving Forward."
San Francisco offers many ways to do just that! Pride here celebrates queer people today while respecting the queer people in history who fought for LGBTQIA+ rights today.
The best way to honor these individuals is to visit the Pink Triangle Memorial. This memorial is the first memorial constructed to honor queer victims fascist Europe between the years of 1933-1945.
San Francisco is also home to one of the last 23 lesbian bars in the US. The Wild Side West Bar has been lesbian owned and run since 1962 and is a great place to show queer pride for pride month!
XOXO Entertainment throws the biggest party for pride- this year: Vivah at the Midway. The theme is wedding and embraces Bollywood vibes with performances from Meital de Razon and has three dance floors. Tickets go fast, so make sure to buy yours before the event!
And of course San Francisco's Pride Parade itself is a must! The event draws huge crowds, so get there early. The parade is on June 25th at Market and Beale (starts at 10:30am)!
5. Washington DC
The capital's pride parade kicks off its festivities June 9th, with its annual party: Riot! Riot, named after the stonewall riots, is a huge dance party with live performances this year from the incredible drag queen Alaska and Tatianna from RuPaul's Drag Race. The event is 18+ and requires a ticket, which you can buy here. (Buy soon, this show sells out fast!)
Pride in DC is celebrated longer than just a couple of days over the weekend, the capital's pride officially runs from June 2-11, with its official parade taking place on Saturday June 10th.
The parade starts at 3pm and goes until 7:30pm, but the parties run even later. The DC block party, between P & Q intersecting with 17th St. NW, goes on until 10pm and is full of food trucks, DJs, and beer gardens.
If you're looking for more family friendly activities to celebrate and appreciate the community, DC holds gay pride events for kids outside the Smithsonian American Art Museum on June 4th where everyone can participate in crafts, tie-dying, bubbles, games and some drag queen story time.
6. Amsterdam
Amsterdam's pride month is in August. This year their pride festival is from August 1-6. What sets Amsterdam's LGBTQ pride aside from all other cities' is that its parade takes place in the canals of Amsterdam.
People and organizations ride decorated boats down the canals playing and performing music in extravagant costumes.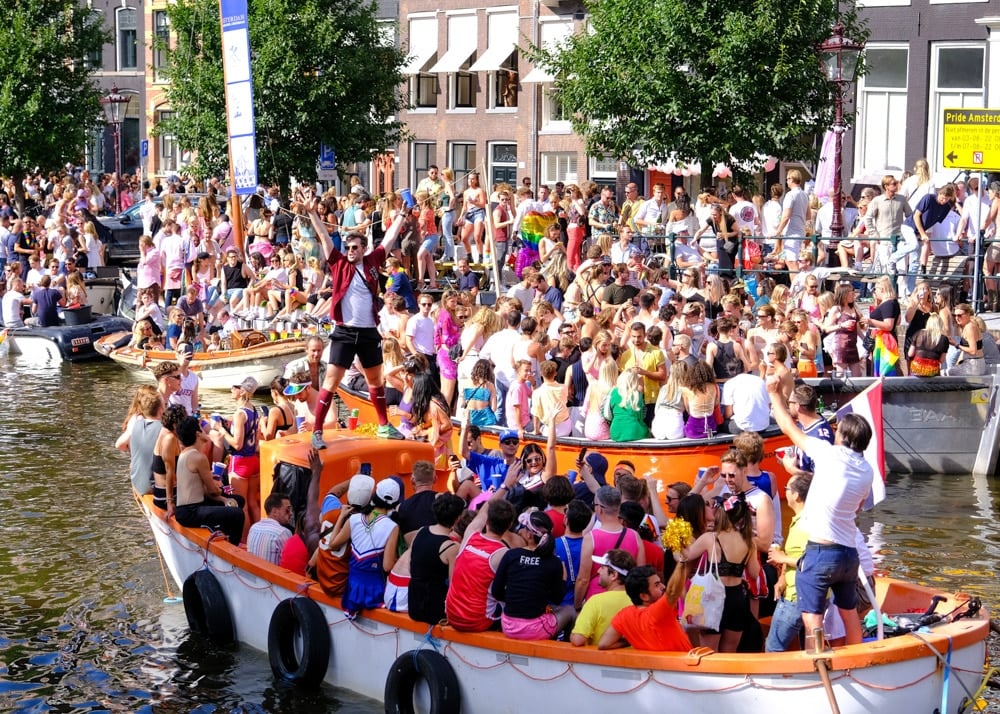 In addition to the canal parade on August 5th, there are plenty of street parties that carry on throughout the week and weekend. The Prik Street Party starts the weekend off on August 4th, it's a two day long party that takes place outside of the gay bar PRIK– known as the secret heart of Amsterdam.
There is even a pride closing party on August 6th. In true pride fashion, this party is a HUGE celebration! It takes place outside with a huge stage that performers from all over sing and dance close to Pride.
Heads up, Amsterdam's pride can get really expensive with all the parties and events!
7. Sydney
Sydney WorldPride is one of the biggest events that there is to celebrate LGBTQ individuals. Taking place in late February and early March, Sydney has some unique aspects to their pride. For one, it has yearly themes! The 2023 themes are Gather, Dream, Amplify. The event is known as Sydney's Gay and Lesbian Mardi Gras!
The pride march takes place during a two week long event-packed pride celebrations. Events consist of an opening ceremony, with performances from huge Australian pop stars and drag queens. Then an afterparty (make sure to get tickets) that previously had performances from Dua Lipa and Sam Smith.
While celebrating pride, a quick stop into Darlinghurst is a must. Darlinghurst is known as the Sydney Gay District. This district is home to many queer businesses and bars.
One of which gives a nod to the gay rights movement, The Stonewall Hotel. This hotel and bar has a drag show every night, house DJs, and is also home to the Hello Darlings Theater.
As Sydney's Pride parade is proudly green, make sure to check that everything you're bringing is aligned with their green rules and regulations!
If you're looking for even more international pride events, check out São Paulo Pride (home of the largest pride parade!), London Pride, Madrid Pride, Reykjavik Pride and Berlin's Christopher Street Day! All great places to celebrate the LGBTQ community!
8. Salt Lake City
Salt Lake City pride takes place over June 1-4 this year in downtown Salt Lake. The Utah pride's theme this year is "unapologetic" and opens with a march on June 2nd at 6pm.
It closes out with the Loud and Proud Concert featuring guests like Icona Pop and Trixie Mattel.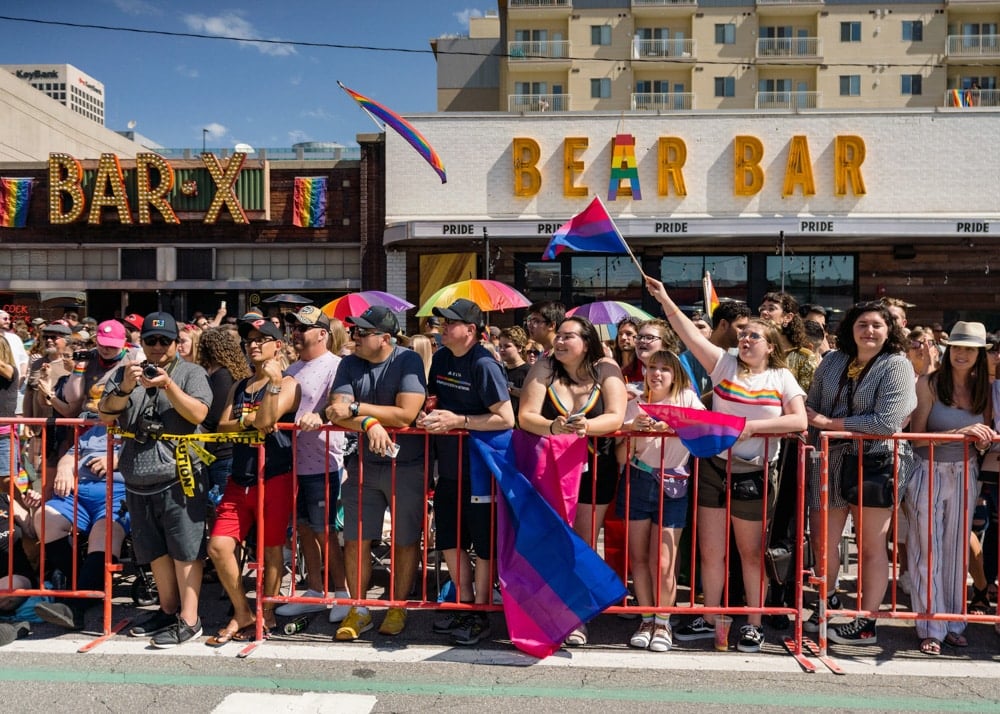 The rest of the weekend is full of the Salt Lake City PR!DE Festival (get your tickets soon, before they sell out). The festival is two nights of food trucks, performances, and vendors. Lots of queer businesses get involved – setting up as vendors or sponsoring block parties.
At previous Utah pride festivals there have been punk pride parties, drag queen pageant shows, and a queer speakeasy night.
If you're looking to stay the weekend in Salt Lake, check out the Evo Hotel. It's a really unique hotel near the heart of Salt Lake City with indoor bouldering and a local market hall.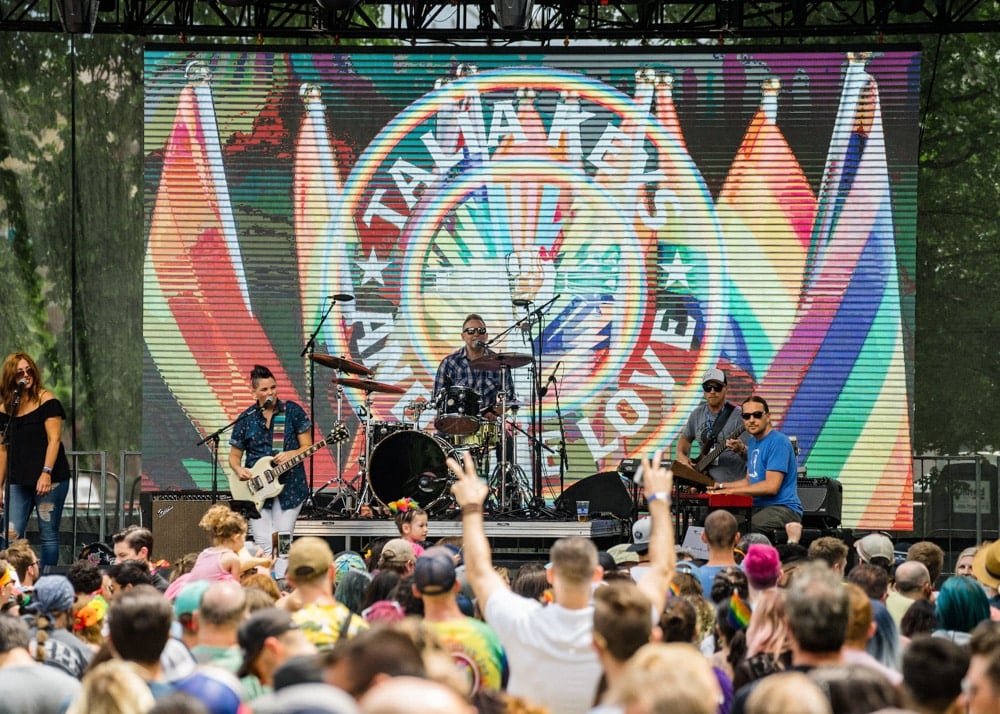 9. Chicago
Chicago Pride Fest starts June 17th, but the bigger events start on June 23rd. Pride Fest is hosted in Chicago's gayborhood, Boystown, and hosts a huge party over the weekend of the 17th (from 11am- 10pm) with 3 stages full of singers, dancers, and performers and over a hundred vendors.
No tickets are required, but donations are accepted and returned to the community.
You can stay in the neighborhood at the Radisson Blue Aqua Hotel. The hotel's bar FireLake hosts Drag Brunches during pride month. Tickets are required, but totally worth it as the brunch features some of the city's most iconic queens and bottomless mimosas!
Leading up to the parade there is a two night Pride In The Park Festival, this year's headliner: ZEDD (get tickets here). The festival also has local vendors and other events to attend. And the festival teams up with a local queer charity every year to donate to! This year it is the community queer youth program.
Chicago's official pride parade is on Sunday June 25th, starting at 1pm at Montrose and Broadway in the Uptown neighborhood.
10. Portland
Portland, Oregon has moved its pride celebrations to July this year to accommodate for other cultural events the city hosts. So this year Portland Pride is July 15-16. The Portland Pride Waterfront Festival is Portland's biggest pride event- filled with vendors, food trucks, pride merch, and games. This event is almost as big as the city's pride parade.
Just like the Pride Festival, the pride parade this year has been moved to July 16th. The annual Portland Pride Parade hosts over 8,000 people and has over 150 floats.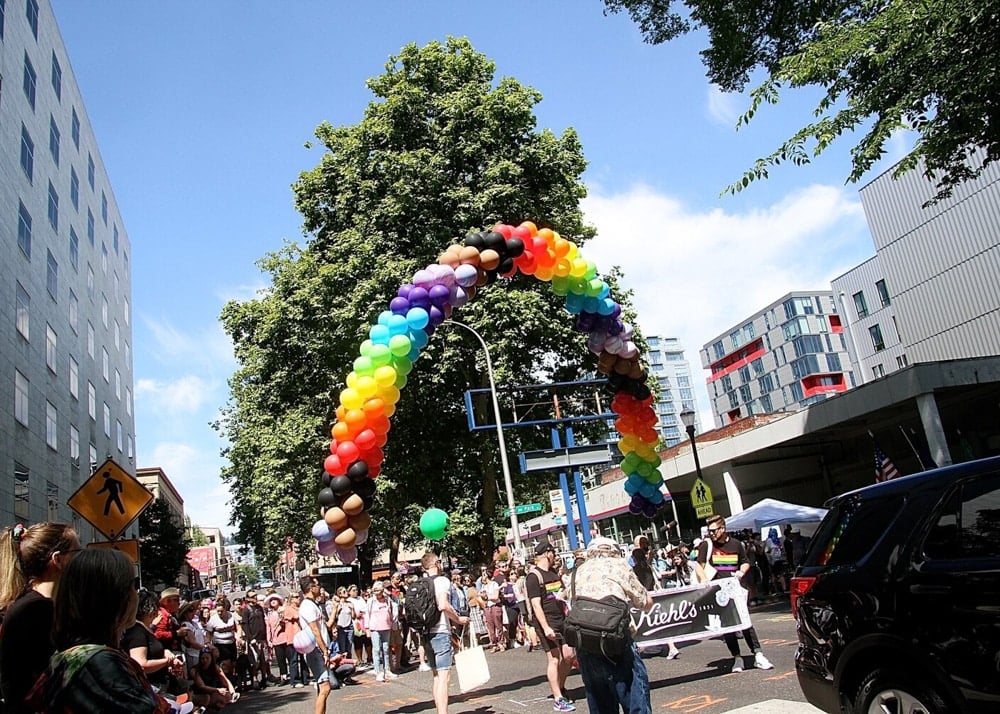 Doc Marie's is the first and only lesbian bar in Portland that opened in May of this year. Not only does this bar have its own queer prom night, but it has a full calendar of events. Things like country night, karaoke night, and salsa dancing! The bar is also known to screen films on Fridays night that focus around lesbian visibility.
Sissy's Bar in Portland is another must-see for queer folx. This bar has a very original cocktail menu including drinks like the Will Smith Punch, and hosts new drag shows every week!
11. Buffalo
Buffalo's Pride Week kicks off with its festival on June 4th at 1pm on the Canalside of Buffalo. Tickets are on sale right now, these tickets include entry and
Buffalo's week-long Pride celebration has so many unique events like Drag Bingo on May 31st, Pride Fun Run on May 30th, and its annual Gallery Walk, where local businesses create an evening market street. And that's not all! There are parties every night…especially the first day of their pride weekend! Go to dance parties at Nietzsche's, clubbing at Marcella, or stop in Buffalo's Underground Niteclub for drinks and dancing.
Their annual pride parade kicks off on June 4th at Elmwood Avenue and Forest Avenue at 11am. After which you can explore Buffalo's gayborhood Queen City in Allentown. Queen City has beautiful painted murals about queer history. Local artists Mikey Harmon and Ari Moore painted a mural commemorating the stonewall riots of 1969 that you can visit on 44 Allen Street on the side of Q Bar.
Looking for a place to stay, there are plenty really cute bed and breakfasts that are in historic victorians- Buffalo Harmony House, where you can stay the night and enjoy a deliciously unique mea, or Oscar's Inn another gorgeous victorian, you can book a stay in (or even rent out completely if you're traveling with friends).
12. Mexico City
Mexico City has one of the wildest pride celebrations! This city's annual pride is known to draw over a million people in attendance with its incredible drag performers and programs, like La Mas Draga, and over the top parade floats. The parade is on June 24th at 10am, and is bookended with concerts, film screenings, and art exhibitions.
Pride takes place in Zona Rosa, Mexico City's gay district. It's home to many diverse bars, clubs, and restaurants. Some local favorites are the partnered La Purísima Bar and Soberbia Bar. Designed by the same owner, these gay clubs offer one of a kind themes, delicious drinks, and great music. Tom's Leather Bar is another gay bar. As it says on their site, this bar promotes "nocturnal eclecticism" which is curated by the bar's concrete style mixed with a gothic design.
If you're looking for a one of a kind experience, you can attend Mexico City's many queer film festivals that are open to the public. The Festival of Sexual Diversity in Film and Video runs throughout pride month and is the biggest queer film festival in all of Hispanic America.
Hotel Geneve is right by Zona Rosa, and has its own spa and Phone Bar – a bar inspired by vintage London vibes with an array of original phone booths. It also offers quiet rooms, for those who need to decompress after all the partying.
13. Indianapolis
The Indy Pride parade was rated one of the top ten prides by Gay Travel Herald and Gaycation Magazine. Its two week long celebration goes beyond its Pride Festival and Pride Parade.
There is a Pet Pride Parade June 3rd, which is one of the cutest events in town. Not only does the parade have locals and their furry friends, but it also partners with local adoption centers and shelters.
You can also attend a community picnic in Riverside Park at 11am on June 4th where there's food, softball, and fundraising events. The local drive-in theater also hosts a queer movie night on June 16th (tickets are only $11).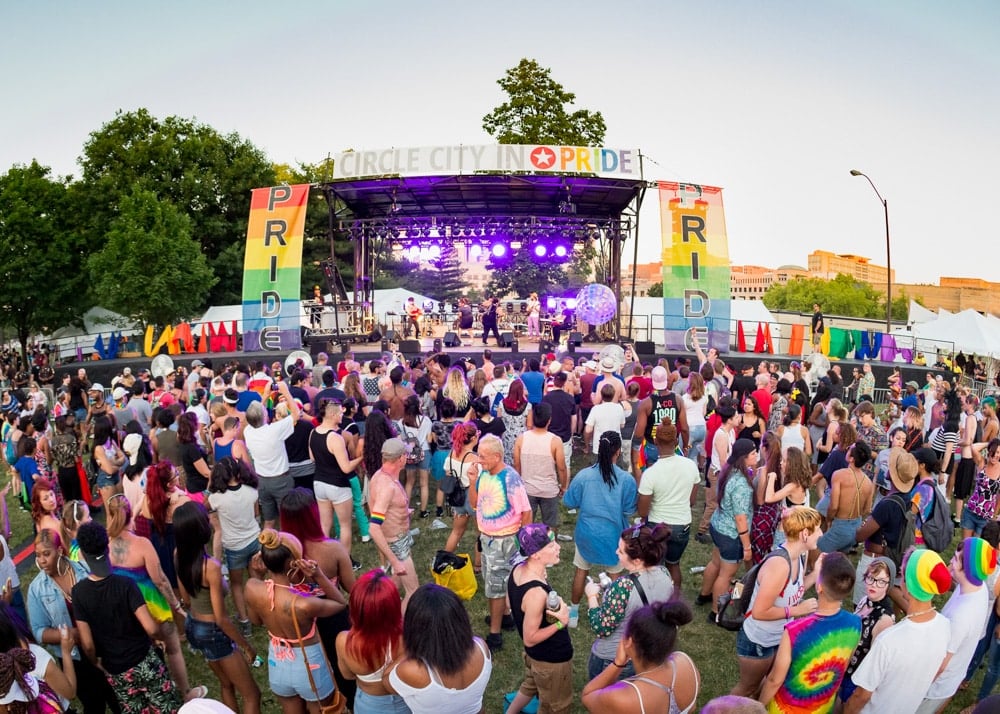 For more of a party scene, the pride parade is the morning of June 10th and is followed by the pride festival that takes place on June 10th (get your tickets here) from 11 a.m. to 11 p.m. After the festival you can find a seat at any of the many gay bars to finish out your night.
Gregs Our Place was the first levi-leather gay bar in Indianapolis and still serves its original drinks and hosts drag shows every weekend (and is open until 3am). Metro Nightclub is another must stop for queer folks.
Open until 3am, this club has great drinks, amazing atmosphere and queeraoke every weekend. To wake yourself up after a fun night out at the festival, Almost Famous can wake you up. It's a queer owned coffee bar and cocktail bar
For welcoming places to stay, Indianapolis has put together a list of its top LGBTQ+ welcoming hotels here for queer visitors.
14. New York City
New York City is the birthplace of the modern LGBTQ rights movement, with the 1969 Stonewall riots taking place there in 1969. So it's no wonder that this city has one of the largest pride events in America.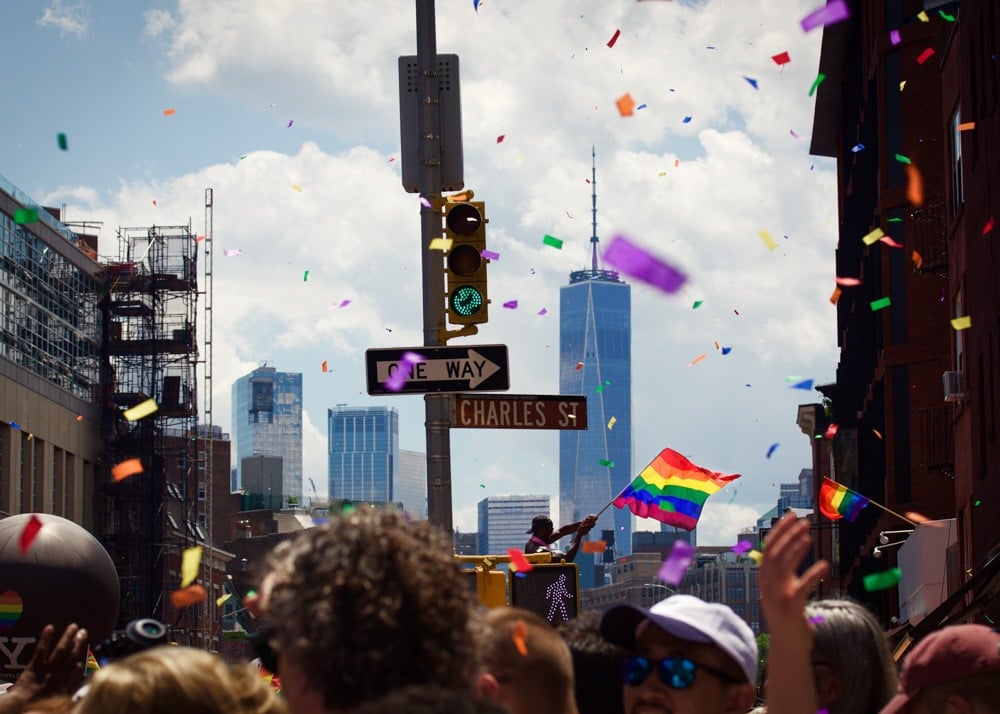 Kicking off its Pride celebration, New York City hosts a music festival called Pride on June 25th. The line up this year includes Christina Aguilera as a headliner and Mor Avrahami (DJ at Forever Tel Aviv Pride making his NYC debut).
Take a ferry ride across the water to attend this festival, you can spend the day enjoying great music, local food, and tasty drinks. Tickets are expensive but worth it since this is the best performance during New York Pride.
For those wanting to stay on land, Teaze is the biggest queer party in New York at Club Lambda BK. It's on June 24th, and is a long night of DJs, dancing, and partying! (Heads up, you have to buy tickets before you go!)
New York is also home to The Stonewall Inn in Greenwich Village where the Stonewall riots took place and you can still visit today. The gay bar is still operating and has a calendar packed full of drag shows, burlesque shows, and live bands.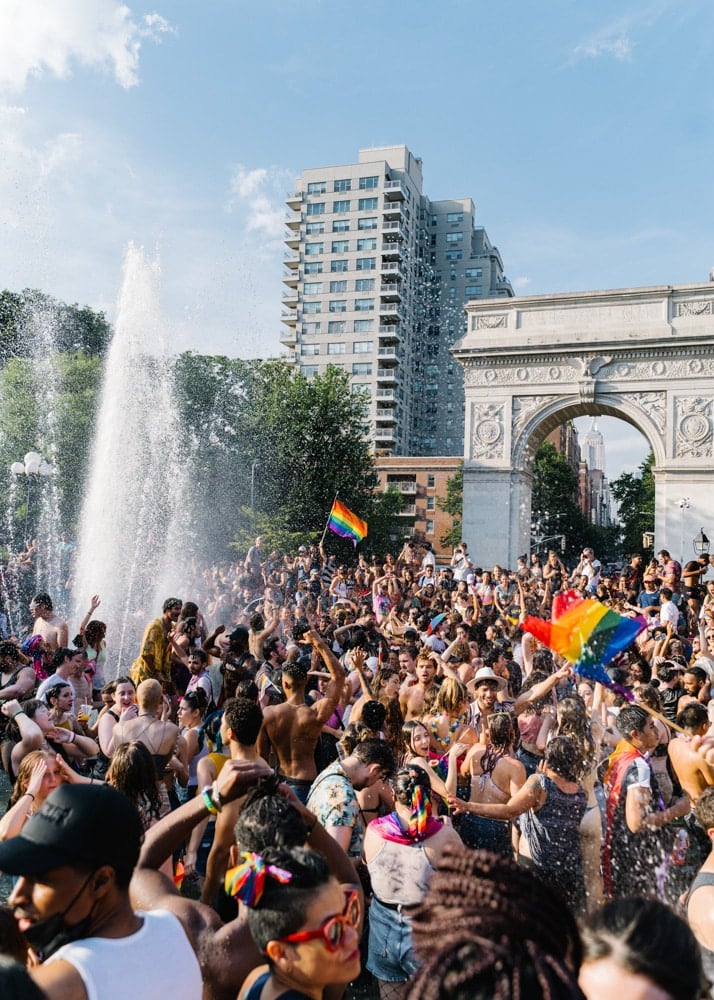 NYC Pride is partnered with some of the hotels to make booking a room a little less of a hassle (all hotels are queer friendly). You can see the list here.
PS – if you love all things Pride, go give our friend Ravi Roth of
Ravi Round The World
a follow! He's based in NYC but travels all around the world sharing LGBTQ travel content.
15 Seattle
Seattle's Pride Parade is on June 25th. It starts at 4th and Pike, but the city holds a host of queer events all month.
Seattle is home to Queer Prom! On July 8th, and for only $20 a ticket, you can participate in queer prom. A little more R-rated than high school, this prom includes burlesque shows, drag performances, and a crowning of the Queen Monarch (prom queen).
The city's Pride in the Park is a celebration of queer love, queer art, and queer performance. Taking place on June 3rd at Volunteer Park, this event hosts an array of food trucks, craft vendors, and local organizations to support queer existence.
The event also hosts a lineup of musical guests and dance performances- just make sure to get there early to get a spot on the grass!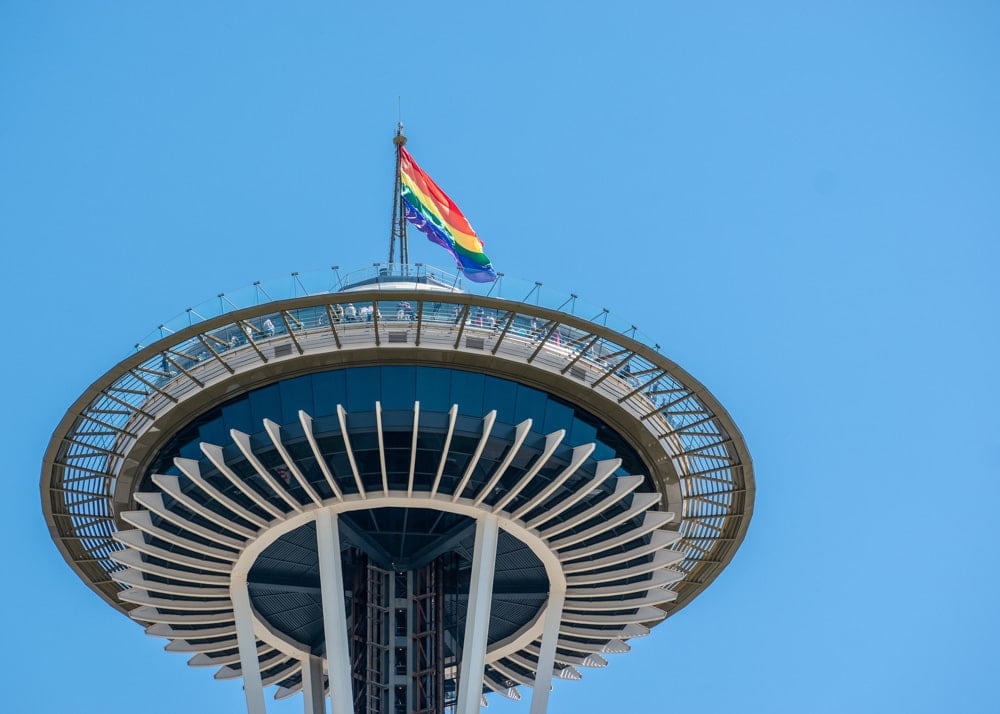 Seattle Pride also has a comedy night- the Lavender's Rights Project Black Trans Comedy Showcase. Hosted by SIFF Cinema Egyptian, this is a comedy night with some of the best black trans comics: Beyonce Black St. James, KJ Whitehead, and Mx. Dahlia Belle. The show will also have raffles, organization donations, and information on how to protect black trans lives!
Seattle is also home to one of the last lesbian bars in the US. With only 23 still open, The Wildrose is the perfect place to celebrate pride and show support for the queer community.
Did your city make the list?! If not, tell us why your city is the best place to celebrate Pride in the comments, and we'll update the post as often as we can!
PS – need something to wear to Pride? These are tons of amazing Pride outfits ideas + Queer Brands to support all year long!