A couple of months ago I was on Tiktok (yes, I'm a 28-year-old woman on Tiktok #guiltypleasure) and I saw a video published by a hairstylist. She took scissors to a client's hair, ran the blade down the hair to scrape off all the product build-up and it was NASTY.
The build-up looked a lot like wax and, after watching more of this woman's video, a lot of my recent hair struggles finally all clicked together.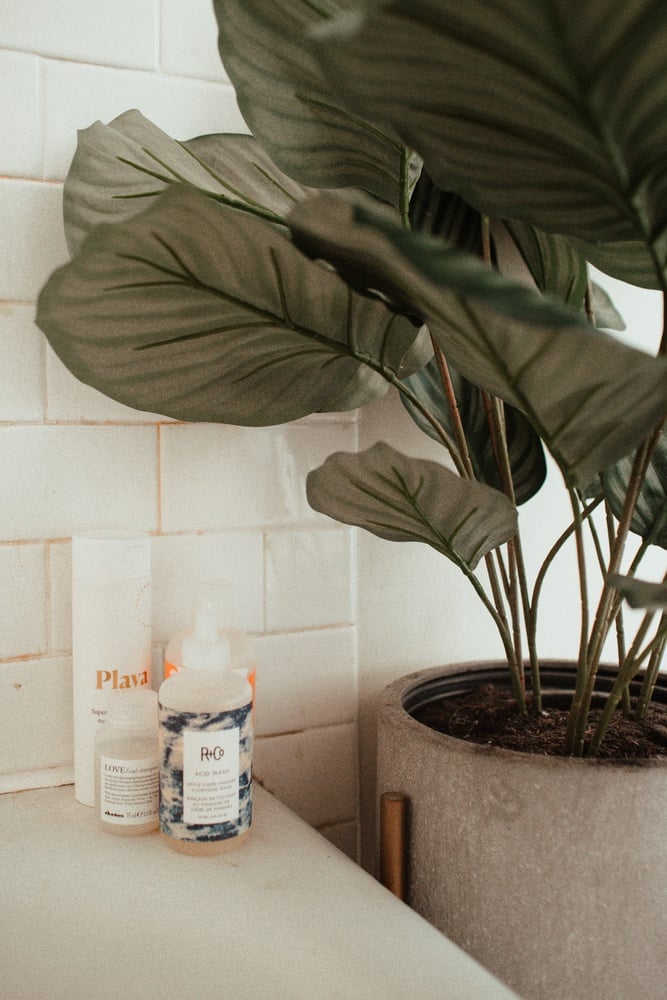 After a busy holiday season of hairsprays, setting sprays, salt sprays – so many SPRAYS and hair products! And hair masks which I was applying to keep my hair soft during the season of hot tools, my hair had a HUGE amount of product build-up in it which is why it sort of always felt and looked dirty.
I was also using shampoos and conditioners that contained toxic ingredients that were actually damaging my hair and making it drier, no matter how many hair masks I tried. On a quest to remedy my damaged hair, I immediately started googling natural shampoos and conditioner brands that I could switch to for a bit to reset my hair care routine for a bit.
Something to strip the build-up and prevent it for a while, a breath of fresh air for my hair!
What's "Clean Shampoo" Anyways?
There isn't really an official classification for what makes a clean shampoo, or natural shampoo, which can be confusing. This is a lot like how food works – there's way less regulation around calling something "natural" vs "USDA organic".
I like to consider anything that's sulfate-free, paraben-free, and/or BPA-free as a clean shampoo (with more emphasis on no sulfates, as those can be super drying to the hair.)
Some people only think apple cider vinegar shampoos are natural, while other people like to still use products that look and feel like a traditional shampoo/conditioner (I'm totally the later.)
I tried a LOT of different clean shampoo and conditioner brands, along with an Apple Cider Vinegar wash to help remove product build-up. Here's what I like the best!
A little bit about my hair so you know what I'm working off of: I have long wavy to curly hair that doesn't get too oily on the scalp unless I go for days without washing. I have dry hair some times of the year, depending on the products I'm using that month, or if I'm using a lot of hot tools. I have color-treated hair so those chemicals do damage my hair a bit each month.
4 Of The Best Clean Shampoo & Conditioner Brands Your Hair Will Love
Say goodbye to toxic chemicals with these clean shampoo brands!

This shampoo & conditioner are free from parabens, phthalates, mineral oils, and formaldehyde. Bumble and Bumble also doesn't test on animals, making it a win for anyone looking for cruelty-free brands. I can attest: this stuff makes your hair SO dang soft! 

Photo Credit: davines.com

Davines is an Itialna sustainable beauty brand that is slowly taking over the states (seriously - I bet you'll spot it in your salon next time!) They have a large range of products for all hair types, many of which are sulfate-free.

Apple cider vinegar is a powerful natural product that can be used as shampoo. BUT, I prefer to use it in a form like this R+Co ACV rinse (versus raw from a bottle you get at the store.) It's vegan and sulfate-free!

Photo Credit: playabeauty.com

This has the Clean at Sephora label! This means it's formulated without: Sulfates SLS and SLES, parabens, formaldehyde, formaldehyde-releasing agents, phthalates, mineral oil, retinyl palmitate, oxybenzone, coal tar, hydroquinone, triclosan, triclocarban. 

Will I be using clean / sulfate-free shampoos exclusively for the rest of my life? Probably not. I love all these brands but they're also expensive (easily $30 for a shampoo compared to $5 for a non-clean shampoo.)

I love my hair and I love beauty but I don't think it's financially practical to use fancy sulfate-free shampoos all the time for the rest of my life (I'm only 28 – that's a lot of $$!)

But I will be always keeping clean shampoos and conditions on hand, along with an Apple Cider Vinegar wash to use when needed, especially after holiday seasons when my build-up is gross and my hair needs a month of clean washing!

Have you tried any of these clean shampoos? Which is your favorite? (Tell me below!)