My husband often accuses me of only wanting to watch "weird" movies. Well, guilty as charged!
Everything Everywhere All at Once is a decidedly weird, and wonderful, cinematic whirlwind that debuted in March. If you somehow haven't heard of this indie sleeper hit yet, let me add to the chorus of critics, fans and positive Rotten Tomatoes' reviews urging you to watch it.
Seriously, go watch the film right now—I'll wait here for you.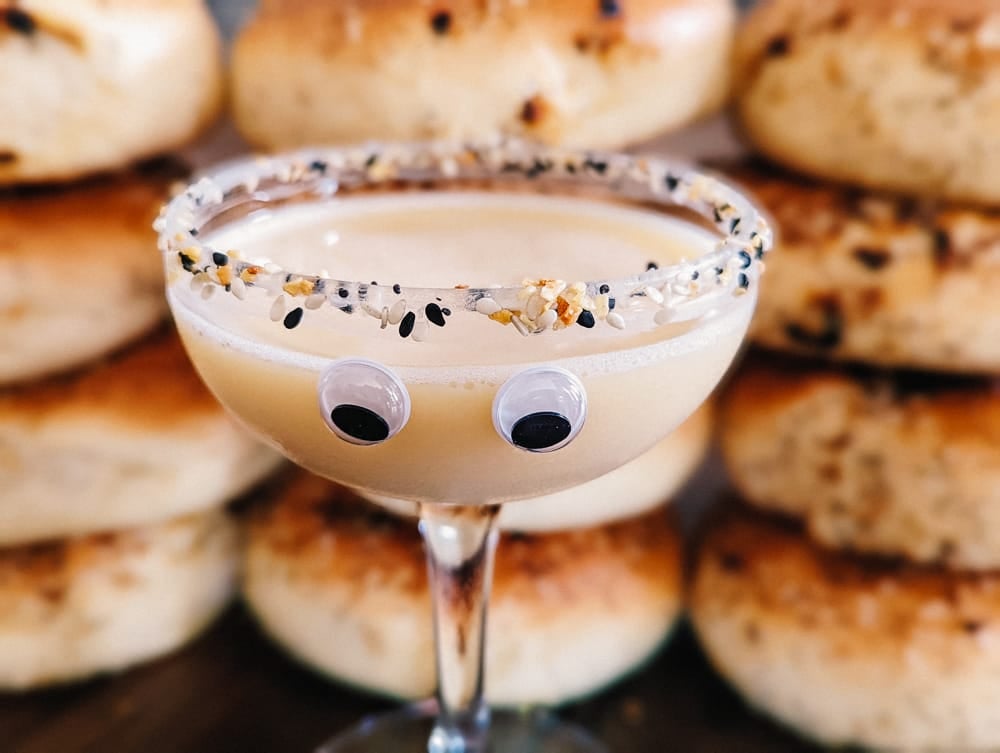 The Everything Bagel Cocktail: An Everything Everywhere All at Once Cocktail Recipe
When you get back, I'll show you how to make an everything bagel cocktail inspired by Everything Everywhere All at Once. It'll make sense when you see the movie, I swear!
(Keep a googly eye out 👀 for spoilers ahead.)
What Is Everything Everywhere All At Once About?
There's A LOT going on in this movie (I mean, it's right there in the title). And the premise is so wacky that it can be hard to summarize (this airline's technically not-wrong description is my favorite).
Everything Everywhere All at Once follows the interdimensional adventures of an unlikely hero: Evelyn Wang. Evelyn is a middle-aged Chinese immigrant, an overwhelmed mother on the cusp of divorce, a laundromat owner facing an IRS audit, and the only person who can save the world.
Evelyn must use her newfound multiverse-hopping powers to navigate through bizarre alternate universes, and the many possible lives she could have led, to stop a nihilistic force that threatens to destroy reality.
Everything Everywhere All at Once starring Michelle Yeoh as Evelyn, Ke Huy Quan as her husband, Waymond (80s-90s kids may recognize Quan as Short Round from Indiana Jones and the Temple of Doom or Data in The Goonies), newcomer Stephanie Hsu as Evelyn's daughter/multiversal villainess Jobu Tupaki, and even the incomparable James Hong and Jamie Lee Curtis. The film also features Harry Shum of Glee and Crazy Rich Asians,and Parks & Recreation fave and Marcel the Shell With Shoes star, Jenny Slate.
This over-the-top sci-fi action-comedy is both parody and pastiche, and yet wholly original. Each of the many universes that Evelyn visits embodies a different genre of movie, creating an absurd hodgepodge of aesthetics and tone that somehow all work together.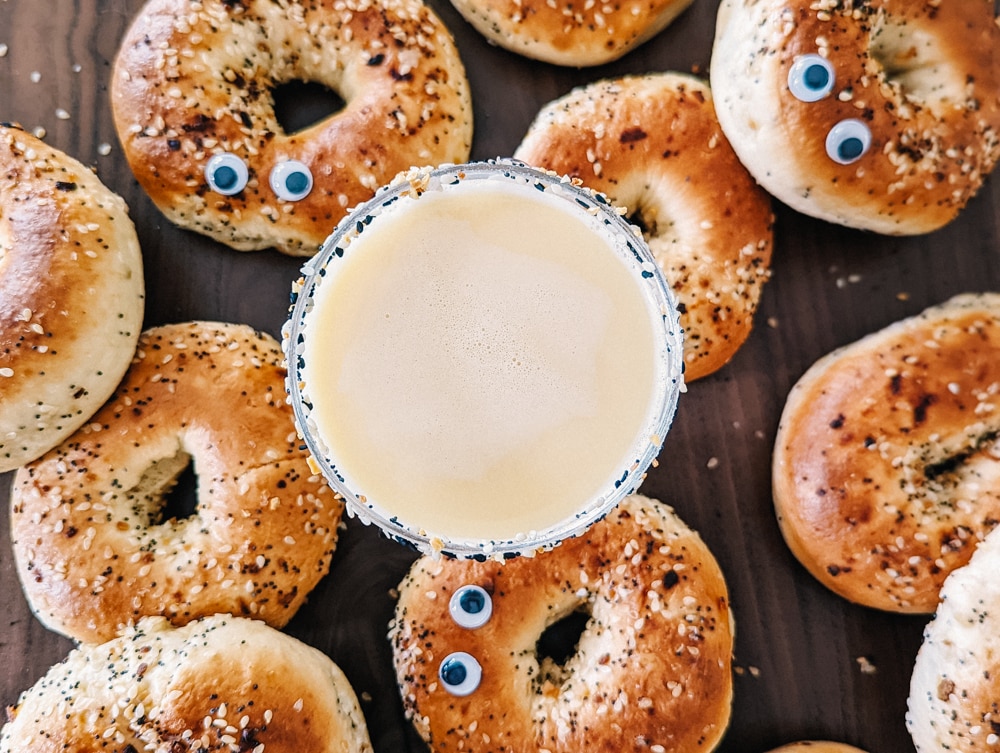 Everything Everywhere All at Once is wildly imaginative, bold, cheeky, and yes, WEIRD! But it's also profoundly earnest.
If you had told me that a film with butt-plug fights, a universe where humans have hot dogs for fingers, and a live-action Ratatouille-inspired raccoon chef would make me cry, I wouldn't have believed you… for a lot of reasons.
Daniel Kwan (aka Dan Kwan) and Daniel Scheinert, the writer-director duo known as "The Daniels," describe their movie as "a maximalist's manifesto for surviving in the noise of modern life."
Whatever it is, Everything Everywhere All at Once defies explanation. You just have to experience it yourself (and you should).
OK, But What Is It REALLY About?
At its heart, Everything Everywhere All at Once is about family, kindness, and universal love.
When we meet Evelyn, she is making preparations for her father's birthday party. A father who has been distant and disapproving ever since Evelyn chose to marry Waymond and move away to America. Evelyn's relationship with her own daughter, Joy, isn't so hot either. Evelyn finds fault in everything about Joy, criticizing her weight, her tattoos, and her girlfriend.
In this extraordinary version of reality, Joy's frustrations and resentment toward her mother are channeled into… a bagel.
Jobu Tupaki, the interdimensional being inhabiting Joy's body, makes an everything bagel that contains LITERALLY everything in the universe. This creates a world-devouring void, a bagel blackhole, if you will, with the power to consume everything.
Jobu Tupaki tells Evelyn that she created the bagel to destroy herself. After experiencing the vastness of the infinite universes, she decided that choices don't matter—that nothing matters—and that it was easier to just give up and give in.
But Evelyn isn't about to go down without a fight (or a dozen). Evelyn takes "kill them with kindness" almost literally and embraces a martial arts like fighting style that's as unconventional as the film itself.
I won't spoil the ending, but suffice it to say that love and family prove to be the bedrock capable of resisting and enduring the chaos of the world.
How to Make a Multiverse-Shattering Everything Bagel Cocktail
I love weird cocktails almost as much as I love weird movies, and it doesn't get much weirder than an everything bagel cocktail. But like Everything Everywhere All at Once, this mixed drink is weird AND tastes good, I promise!
To evoke cream cheese in a cocktail, I decided to do a riff on a buttermilk flip. Yep, this is a buttermilk cocktail.
A traditional buttermilk flip recipe is made with bourbon or whiskey, an egg, sugar, nutmeg and maple syrup . The buttermilk drink itself is already an alternate-reality version of the classic gin flip, subbing buttermilk with cream for a lighter, more refreshing drink.
Of course, I also had to include everything bagel seasoning (which I usually use on avocado toast!) in an everything bagel cocktail! Instead of your usual salted rim, we're garnishing the glass with cream cheese, sesame seeds, sea salt, poppy seeds, and yes, garlic and onion!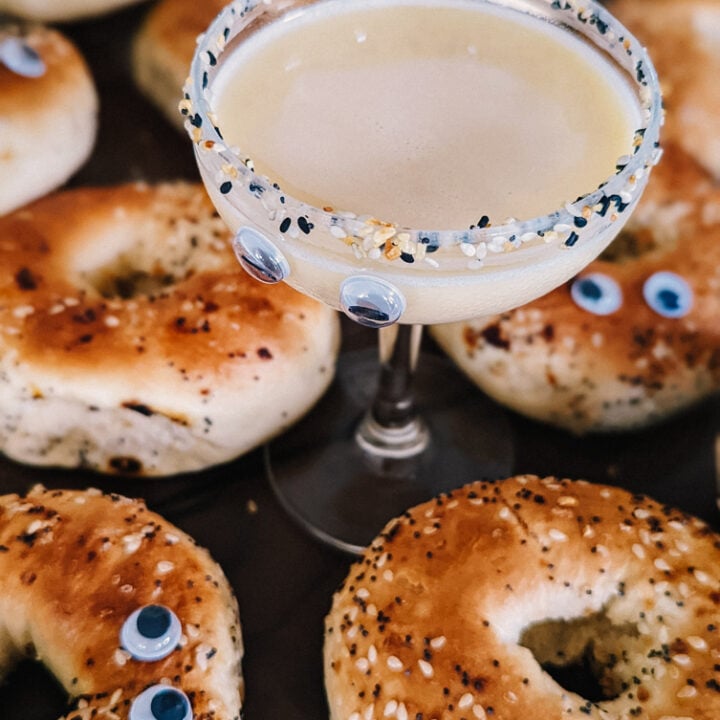 The Everything Bagel Cocktail: An Everything Everywhere All at Once Cocktail Recipe
This frothy, tangy, savory bourbon and buttermilk cocktail really does have everything!
Ingredients
2 oz bourbon
1 oz buttermilk
1/4 oz simple syrup
1 egg
Cream cheese
Everything bagel seasoning for rim salt (like Trader Joe's Everything but the Bagel Sesame Seasoning Blend)
Instructions
Make the everything bagel salted rim:
Rim a coupe glass with cream cheese: twist the rim of the glass through the top of a block of cream cheese, or run a small cube of cream cheese along the rim like you would a lime wedge.
Sprinkle a generous amount of everything bagel seasoning onto a plate or shallow bowl.
Dip the rim of the glass into the seasoning and move it in a circular motion until it is well-coated.
Optional: Carefully place a few ice cubes in the glass.
Make the Everything Everywhere All at Once cocktail:
Combine bourbon, buttermilk, simple syrup, and egg in a dry cocktail shaker (no ice!).
Shake vigorously for about 20 seconds.
Fill shaker with ice and shake again until chilled and frothy (about another 20 seconds).
Strain into rimmed coupe glass.
Notes
This cocktail contains raw egg yolk, so drink at your own discretion.
If you like egg nog during the holidays but want a slightly different drink, or if you're looking for something to do with that leftover buttermilk from your morning pancakes, why not try this cocktail?
Of course, I would love for you to make an Everything Everywhere All at Once cocktail while watching the movie. (Have I mentioned that you should see this film yet?) Maybe serve it with some food like hot dogs, or better yet, make your own homemade everything bagels.
For even more multiverse-inspired mixed drink recipes, check out my delicious blackberry flavored WandaVision cocktail recipe.