Confused by fashion buzzwords "sustainable" or "ethical" popping up lately in stores? Can clothing be ethically sourced? How the HECK do you even recognize the good brands from the virtue-signaling brands? Get ready for a deep dive!
A little about me and why ethical clothing means so much to me.
Hello Whimsy Soul readers! My name is Kelsey. I'm a content creator, a certified holistic health coach, and am obsessed with carbs and capsule wardrobes. Kara was kind enough to hand me the mic today to dig into a topic that means the absolute world to me: ethical clothing. As a fellow thrifter, earth-loving, free spirit herself, I'm so pumped and honored to share her space. (Check out Kara's post on my blog!)
I received my B.S. in Apparel Merchandising and Design with an emphasis in Merchandising back in 2013. I graduated and immediately rolled into the world of corporate merchandising, climbing my way up a corporate ladder for a number of years from a Merchandise Coordinator to an actual Merchandiser.
I curated and assorted products in partnership with designers. I worked with our Production team to negotiate the cost of every piece of every item of clothing – right down to the snaps and buttons. I worked with our Visual department to set up floor plans. I recapped the success of our collections long after they hit the shelves and sold (…or didn't).
I saw the mass production. Most importantly, I saw the waste.
All this to say – I really got a real-world education into what it means to produce items for sale, from their initial conception to their production at the factory to the sales. I've been behind the scenes. I've seen how the sausage gets made. And it isn't always that pretty – or sustainable or ethical.
I've always loved fashion as a means of expression. I love that clothing (and makeup for that matter) can be everything from armor to art. So at the heart of it, I am absolutely a consumer that is part of the giant consumerism machine. I love that thrill of adding a new piece to my "collection," as I affectionately call my closet and beauty vanity. I love piecing together an outfit, just right for a specific event. I love telling the world how I feel based on how I dress.
Fashion is so much more than vanity – it's how we express ourselves. Advocating for a more ethical or sustainable approach to fashion doesn't come from a lack of love for it. It comes from a massive love for it – and a desire to see fashion done right, in ways that help the planet and its people instead of hurt it.
Talking about ethical clothing is a privilege.
Sustainable and ethical clothing inherently tends to cost more to us consumers. It, therefore, is a massive privilege to be able to have this conversation at all. I'm writing this post for those of us who do have the financial ability to make a choice in how we shop and want to use our dollars for the better.
Unfortunately, there isn't really any such thing as sustainable consumerism.
I don't mean to start out on such a negative note, but do want to keep things real. There isn't really such a thing as sustainable consumerism. "Sustainable" and "consume" don't really mesh together. Sort of like jumbo shrimp.
Sustainability's focus is just that: how sustainable is a product's life cycle? Sustainability's core tenants are less production and less consumption. It's challenging to consume in a sustainable way, particularly if you're buying your clothing new and at low prices.
I don't toss this message into this post to encourage you to give up on your hunt for the ideal sustainable clothing brand. I'm kicking this post off with this fact of life because it's important to recognize when a company is overselling their sustainability in the name of cashing out.
Companies know that in 2021 consumers care more about where their items were made, how their items were made, and if their items were made sustainably and/or ethically. Many brands will oversell this fact and this oversell has a name: greenwashing.
What exactly is greenwashing?
In the simplest of terms: greenwashing is the marketing of something as ethical, sustainable, or "green" when, in reality, it isn't nearly as "green" as the company is making it out to be. Greenwashing is when a fast-fashion company produces a specific capsule collection that is labeled as sustainable – but the rest of their products are not.
Greenwashing is the big, bold marketing across billboards and websites with buzzwords like "organic," "clean," or "recycled" when the supply chain itself is unsustainable and unethical or the company culture is toxic. Greenwashing is painting the picture of a company, collection, or product to look a lot more "green" than it really is.
Greenwashing is a dangerous lie marketers spin to sell fast fashion, "clean" beauty products, or any other number of "clean" and "green" products.
The only ways to consume clothing sustainably or ethically.
At the end of the day, society tells us we all need to wear clothes. If not for fashion, then for function. Or like, because it's the law (LOLZ). The best ways to consume sustainably or ethically are to either shop second-hand or do your research when buying new.
Buying second hand gives new life to items that otherwise would have ended up in the dump.
I've never been able to find the official source for this stat, but I distinctly remember in college one of my professors claimed that textiles make up the largest percentage of our landfills. Even without being able to track her source, it's sort of hard to deny it. From clothing to diapers to paper towels – textiles are everywhere and wow do we waste them.
Fast fashion in particular frequently and swiftly ends up in the trash. Sometimes it's because the item was too trendy and the trend passed. Or maybe the garment tore because it was made so poorly. Fast fashion always ends up at the dump. It's simply not designed nor produced to last. Either way, thrift stores are often packed with clothing items that otherwise would have ended up at the dump. Shopping second-hand gives items a new life – a second chance before becoming waste.
I'm a huge advocate of shopping second-hand where possible. From thrift shopping (Kara has an awesome haul post from one of her latest thrifting adventures) to buying items pre-loved, I am so into the fact that we can feel good that our purchases have extended the life of an item.
Buying secondhand previously had a false feeling that the item was gross, over-worn, or just generally, you know…"icky." Thrift shopping or buying items pre-loved can actually sometimes mean snagging barely worn, perfectly good items at a killer price. You can even sometimes find designer items pre-loved.
Thrifting is a core pillar of sustainable fashion, because even if the item wasn't ethically made or sustainably produced to start, the act of buying it secondhand to keep it out of the dump is a sustainable act in itself.
6 ways to recognize an ethical clothing brand when you're shopping new.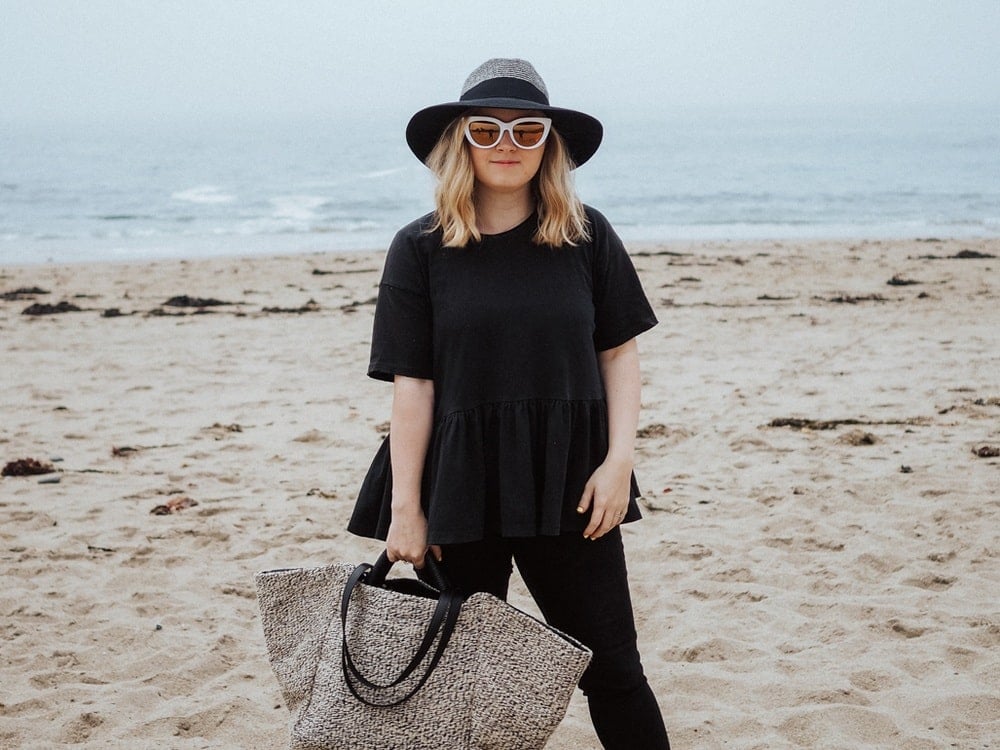 Look for transparency in production.
A lot of brands like to claim they're transparent, but they don't really advertise the information needed to make an informed decision about a purchase. A truly ethical clothing brand will transparently detail on their website where their items are made. They should even include information about the factories they work with.
I want to say this upfront: it's absolutely possible for a brand to produce ethical clothing and do it sustainably overseas, but unless a brand is transparent about their production, it's pretty tough to know if their claims in their marketing are true or greenwashing. I love shopping from brands that include the names and locations of their factories, along with inspection reports that the factories are safe for the garment workers.
Factory safety standards abroad are not the same as safety standards here in the U.S., and a U.S. company working with an overseas factory is not required to ensure that the overseas factory abides by U.S. safety standards.
I won't dig deeply into this, but if you'd like to learn about what an unsafe garment factory working environment looks like, take a look at the 2013 Dhaka garment factory collapse. Over 1,100 garment workers died making clothing in an unsafe factory. It's important that brands transparently disclose their factories and guarantee the safety of said factories. Lives are literally at stake. Ethical clothing cannot be ethical if garment workers risk their lives to make it.
Look for the Fair Trade Certified seal when you shop.
"Fair trade" essentially means an item was produced putting people and the planet first. Fair Trade USA says, "A choice for Fair Trade Certified™ goods is a choice to support responsible companies, empower farmers, workers, and fishermen, and protect the environment." Shopping items with the Fair Trade Certified seal means you can know you're buying something that was produced in a way that was friendly and fair to the workers and the environment.
Plenty of ethical clothing brands can be both ethical and sustainable without Fair Trade certification – but the label can help put your mind at ease knowing you're making a good choice.
Look out for brands using sustainable materials where possible.
Repeat after me: using recycled materials does not necessarily make a product or a brand ethical or sustainable. Brands love to tout in their marketing using things like recycled plastic bottles when making a fabric. Which, hey, thank you. That's a great start. But to be a truly sustainable and ethical clothing brand it isn't just about using recycled fabrics or materials in one product or one collection.
When you're looking to determine if a brand makes sustainable or ethical clothing, check to see that they lean into sustainable materials more often than not. Sustainable fabrics should be the rule, not the exception in their product range.
Truly ethical and sustainable clothing brands also opt for organic materials because they're safer for farmers. Using organic cotton may mean saving a farmer's life by reducing their exposure to toxic pesticides. When a brand uses organic cotton – or any other organic materials – it signals they're thinking of and care about the welfare of farmers.
Since it's such a common fabric to encounter, you can learn more about Certified Organic Cotton specifically here. There are currently two different standards of organic cotton: OCS (aka Organic Content Standards) and GOTS certified organic (Global Organic Textile Standard).
Investigate if the brand engages in fair labor practices both at home and abroad.
Ethical fashion brands care about their workers: internal, external, at home, and abroad. Ethical clothing companies pay their own employees fair wages and ensure that the factories they work with also pay fair wages. Ethical clothing companies also do not union bust, do not unethically overwork contractors, and do not condone toxic company culture of any kind.
We all need to care about the company culture behind the companies we shop from. We just have to. The stakes are too high not to care. If a brand doesn't outwardly advertise their policies on the treatment and payment of their employees, it's up to us to ask before adding to cart.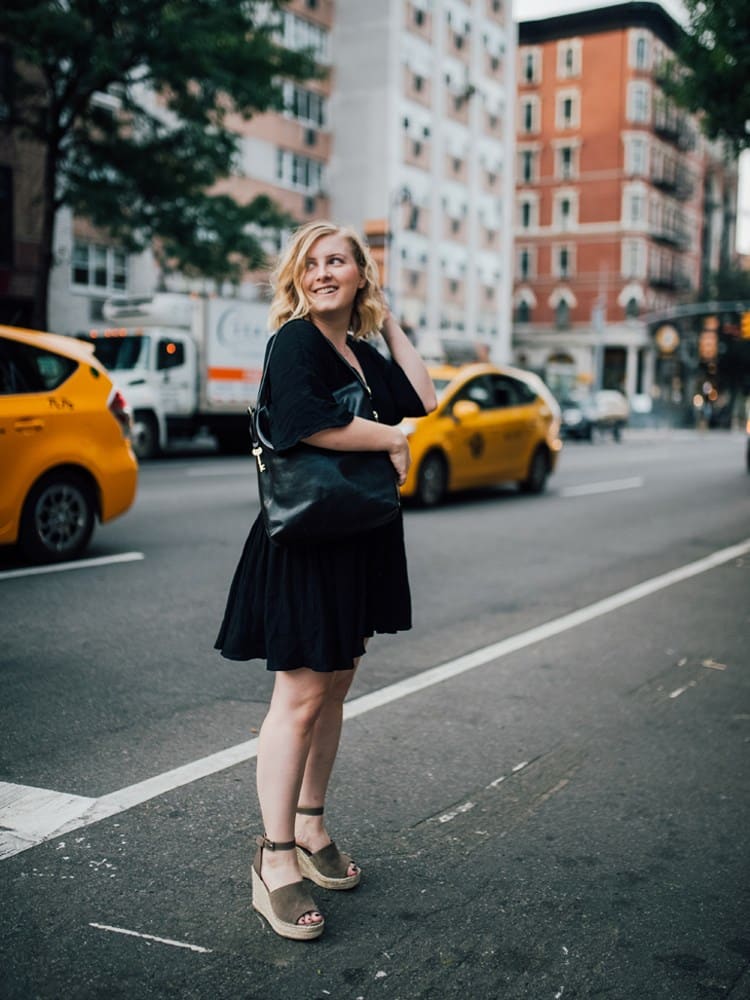 Look at the price tag and ask yourself what the real cost is.
If you see a Shein dress for $15, stop and ask yourself what the real cost of that $15 dress is. Might it be a garment worker that was underpaid in poor working conditions? Might it be chemical waste from a factory, spilling into the local rivers because it was produced so cheaply? Might it be inexpensive materials that will wear out in a week, resulting in you having to toss said $15 dress into the trash?
The fashion industry is all about getting you to buy buy buy. It's one of the reasons I've stopped attending New York Fashion Week.
Asking ourselves the real cost of an item can be a great gut check for if we should take the plunge and purchase. It's an absolute privilege to be able to afford well-made, sustainable, and ethical clothing – those of us who can afford to do so should be asking ourselves the "real cost" of items at every check out.
Know that an ethical brand is different from an ethical product or collection.
So many big box and fast fashion brands are beginning to launch "sustainable" and "ethical" collections. I'd like to applaud them for their efforts, but ultimately this is a massive act of greenwashing rather than a real attempt to impact the sustainability of the total supply chain. Real attempts at ethical or sustainable production wouldn't involve a few sporadic products made the right way – it would involve less production overall of higher quality goods.
In the end – just do the best you can.
That's all any of us can do really. If you're looking to shop for ethical clothing or sustainable fashion brands new – just do your due diligence. Even a few of us doing a little extra research and making empowered purchasing decisions can make a huge impact at a large scale.
As parting words – if you haven't built yourself a capsule wardrobe yet, it's a great way to practice slower, more intentional shopping (vs impulse buying new things, or even shopping second-hand pieces you don't actually need.) I have a whole guide on my blog about how to get started with building a capsule wardrobe. I hope to see you over there!