Last week I went on a long walk around the city and my feet led me to a thrift store. Totally unplanned but hey, as you know, sometimes the key to the perfect thrift haul is to go in without any expectations. You let the store show you what you should buy.
So I went in and an hour later I walked out with a big bag of $75 worth of clothes. But here's the catch: I couldn't actually try any of them on. (The fitting rooms were closed for the pandemic, which makes thrifting VERY challenging.) So I wasn't able to try any of these pieces on until I got home. This is a blind thrift haul try-on (but I think I did a pretty good job!)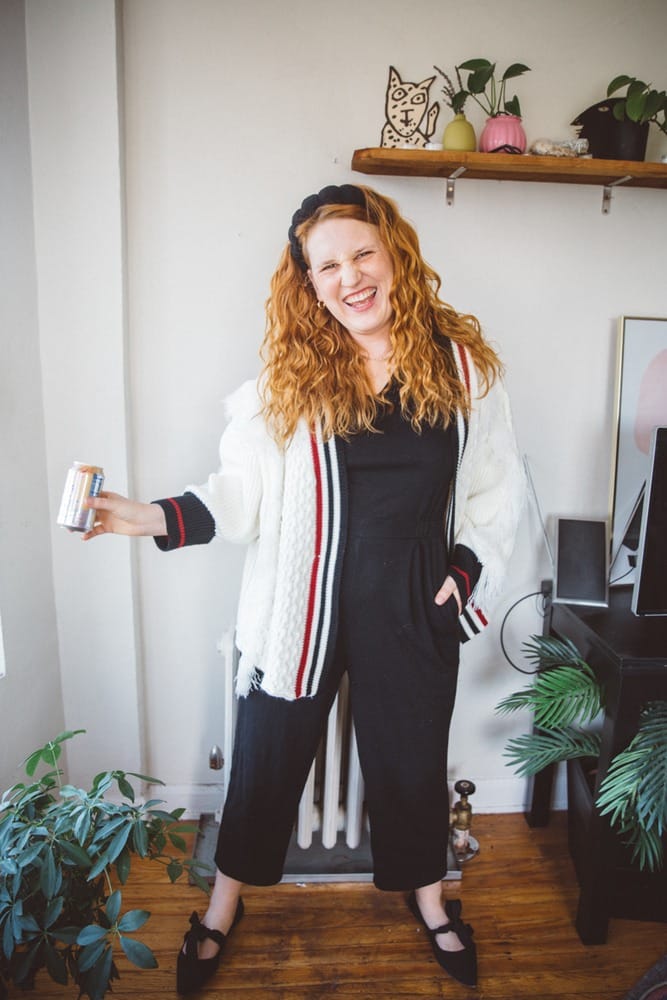 $75 Thrift Haul: All The Outfits I Got At Goodwill (Thrift Haul 2021)
I'm not a thrift flipper, so I shop for myself. After almost a solid year of work from home outfits (aka pajamas and loungewear) I've been itching to switch up my outfits. Right now all the fast fashion stores are oozing with gross takes on the 90's style (I'm sorry but some fashion trends just shouldn't be allowed to come back) so I've been avoiding those.
I tried to thrift shop online at Thredup but that's always a hit or miss when you can't see the clothes in real life, to touch them, see the seams, try them on. Of course, jokes on me, I wasn't able to try my Goodwill haul on either but at least I got to hold them up to my body which helped.
I tried my best to let the store guide me to the cool things. If you're an avid thrifter, you know that sometimes the key to the perfect thrift store hauls is to just go in and see what happens vs hunting for a certain item. That being said, I was looking for soft styles. Things I could still easily wear on the couch because let's be real: this panny isn't ending anytime soon.
In the past, I've been more focused on home goods (like drinkware for all the cocktails I've been making at home) but today was all about outfits. I now regret putting a sweater back but overall, I think I did a pretty good thrift haul! I got all over these things for $75.
Norwegian Heritage Sweater – $24
Pro tip: always wander over to the men's section. Their clothes are sometimes cheaper and they have SO MANY good gender-neutral pieces over there that are just overlooked. This baby was hanging out with some ugly dad sweater but WOW, look at it!! This is a Dale of Norway sweater, which usually retails at around $200+. STEAL.
I love the pattern on the sleeves and instantly would picture myself wearing this on trips to Lake Tahoe (or god forbid if we're ever allowed out of this country again, abroad to the Alps or something.)
This was the most expensive thing I bought coming in at $24. Once a friend said this line to me while we were thrifting together that's guided how I shop. I was trying to decide if I should buy a purse or not and she asked me "will you go home and wake up tomorrow regretting leaving this behind? Or will you forget it?" So I bought it. I used that logic here. It was above budget, but I knew I'd regret not taking it home.
H&M Silver Slip Dress – $10
This dress caught my eye right away (though it made me giggle since it was stocked in the vintage section but it's just from H&M). It does have a vintage look about it though. I LOVE styling skirts and dresses under sweaters so I knew this would be something I could comfortably wear on the couch while working AND use for street style for years to come. I also shop from H&M a lot so I know their sizing and knew this could fit me even though I couldn't try it on.
Negs Lace Cove Up – $10
I saw this pretty lace cover-up and instantly saw myself lounging by a Joshua Tree hot tub or something in it. This piece gives off such a fun dessert boho vibe. I'm not really sure what the history of this piece is. The only tag on it simply says "Negs" but that didn't yield much from Google. If you know, leave a comment below!
Red Crop Top – $5
This crop top is from a brand called No Boundaries, which I'm unfamiliar with. But the day before my thrift haul visit, I was wearing a crop top with pants at home and I knew I'm currently jamming on that combination. I used to think that curvy girls couldn't wear crop tops but turns out I was so so wrong. I love them now! Coming in at just $5, I took this red crop top home to style with other pants and skirts. I live in San Francisco where the weather is pretty mild so I knew I could wear this year-round easily.
JNSQ Fringe Cardigan – $10
I LOVE me a good cozy cardigan – layers are so important to have here in San Francisco. And I know this would pair well with other pieces I already own (perhaps with my Madewell jeans and Aerie crop top?) It's from JNSQ, which is another brand I haven't heard of. It doesn't look like they have an online store but there are some pieces listed on Poshmark, Thredup, etc that say the retail price of this cardigan was probably around $100, so I got it for a steal.
Lemon Button Up Dress – $10
Last but not least is this lemon pattern button up dress. I'm hardcore struggling to read the tag — the brand is something like Aale Lane. Or maybe Oake Lane? It's so hard to read (if you know, drop a comment to help me solve this mystery!)
This is the only thing that was a total dud. I'm heading to Palm Springs next month to see Desert X and I thought this dress would be perfect to shoot amongst the colorful art installations and palm trees. But once I tried it one, it looks like a bathrobe (not a dress). It's also really short. I may try to cut it or something to salvage it but most likely I'll give this to my friend who has an online thrift store to sell.
But hey, only one failed piece is pretty good when you can't try anything on!
I hope this gives you inspiration for your next thrift adventures, whether you hit up an online thrift store like the Poshmark app or go into a store IRL. I feel like thrifting is like tattoos. Once you start, you just want to go more and more and more. I'll probably be back in a thrift store super soon with another haul for you.
While you're here, give me a follow on Instagram @thewhimsysoul, too! I'd love to see you around the community.