I've been seeing Imagine Picasso event ads all over San Francisco for the past month, so when I was invited to the media preview I jumped at the chance to see what this new immersive art exhibit is all about.
I loved the Van Gogh Exhibit that was all the rage last year so I was curious how this compared. It was super fun and educational, but I walked away with some tips to share so you have an awesome experience, too!
What Is The Imagine Picasso Immersive Exhibition Anyway?
In short, it's a modern art show. Giant projectors display Pablo Picasso's paintings over walls and huge shapes on the floor to help you feel like you're inside a Picasso cubism painting. The show displays over 200 Picasso works in thoughtful pairings and music all the way from his surrealism through his blue and pink face and cubism.
Imagine Picasso SF is part of the Imagine Exhibitions family that will be traveling the United States this year. It was built by Androula Michael, Annabelle Mauger, Julien Baron and architect Rudy Ricciotti.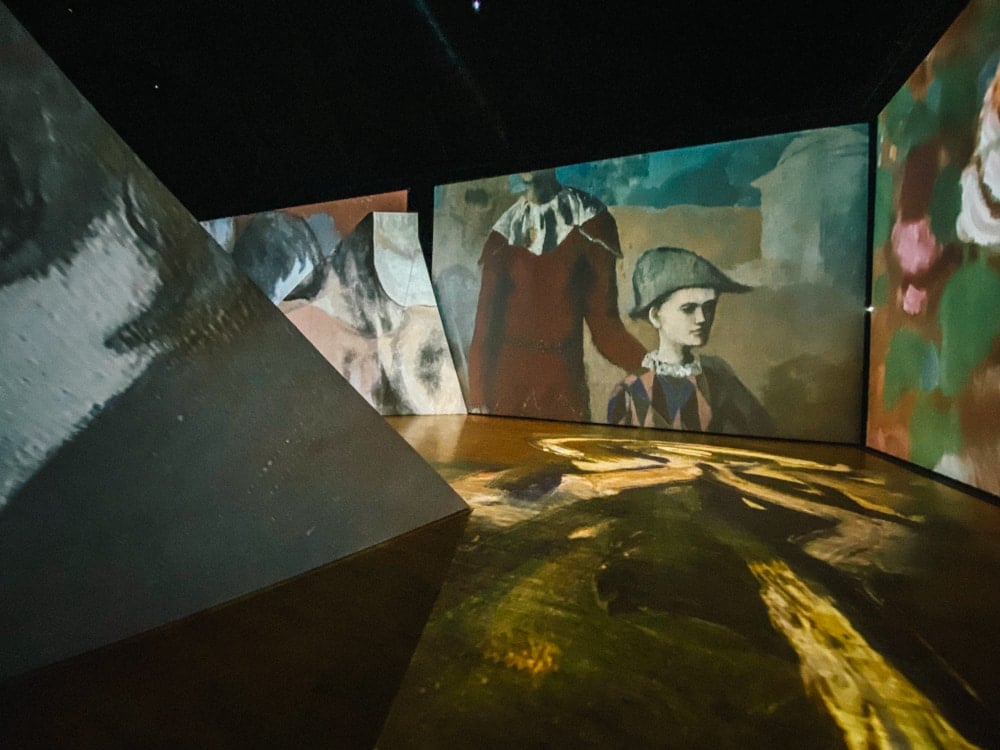 Where Can I View The Imagine Picasso Show?
The show is traveling North America but is only in each city for about 2 months, so if you are interested in attending, book tickets asap. For example, it was playing daily at the Vancouver Convention Centre East from October to January only, and won't be coming back.
Right now it's in San Francisco with dates in Atlanta next. It'll probably come to your city soon! When it does, keep an eye on the date it opens so you can snap up your Imagine Picasso tickets asap. Ok, now to tips.
7 Tips For Visiting The Imagine Picasso Exhibit
1. Get a Flex Pass
The Flex Pass option is more expensive BUT totally worth it. It allows you to arrive up to 2 hours ahead of your time slot, instead of a tight window of 15 minutes before, which takes the pressure of arriving at the exact time. This makes it much easier to add the show into a date night or a weekend out.
Note: at least in San Francisco, you must be vaccinated to attend. This may be different in your city.
2. It's Ok To Know Nothing About Picasso
I doubled majored in college, and one of my majors was art. As you can imagine, I've attended many, many lectures around Pablo Picasso's works and I have retained only a fraction of that information. Thankfully, they have a whole section prior to the art exhibition detailing his life and major facts.
The first part has large educational panels you can read to get up to be reminded the differences between his rose periods and blue, and how he impacted the surrealism movements in the art world. Then, you can move into the projection art area. So, you don't need to know anything about the art master to experience Picasso's work in the show.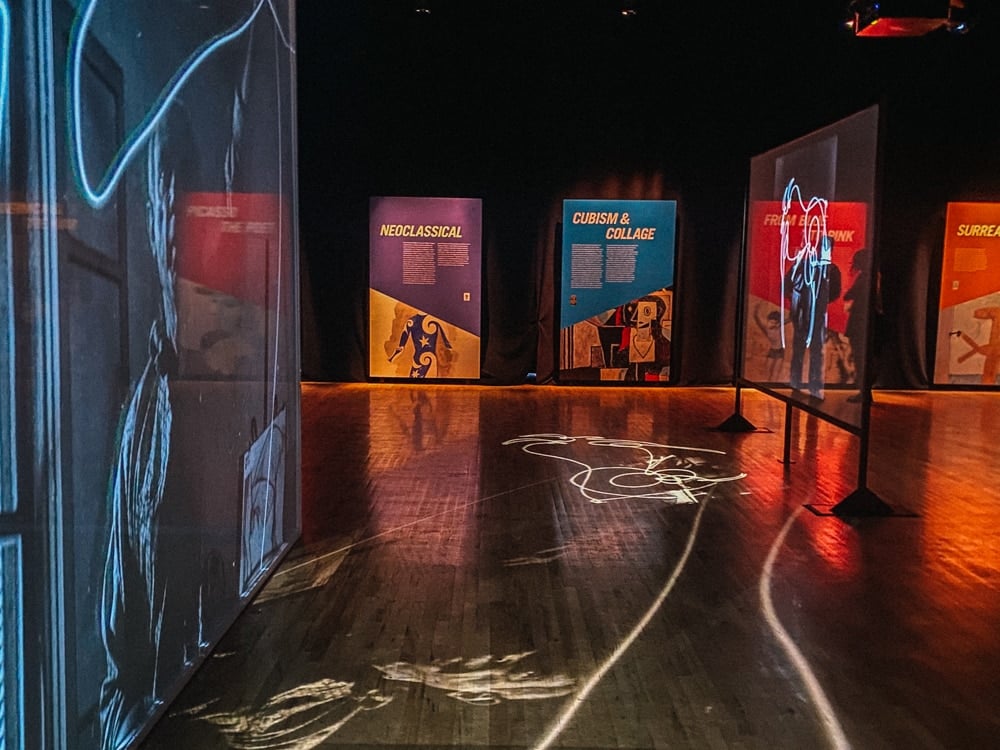 3. Wear Comfy Shoes
Unlike the imagine Van Gogh event, this show has no seating so come with comfy shoes as you will be on your feet unless you choose to sit on the floor, which is totally an option! And I can hear folks complaining about the lack of seating now, but I actually really loved that feature. Because…
4. Walk Around
To jump off the comfy shoes tip, plan on walking around instead of anchoring yourself. This galley floor is full of large shape installations that you can walk around and experience Picasso's art from all sorts of angles. It makes it a lot more interesting and fun to switch to a new spot in the room every few minutes, especially when viewing pieces like Guernica which are huge paintings to take in.
5. Plan To Stay For At Least An Hour
The show is about 35-40 minutes long and runs on a timed loop. You can totally stay for as long as you want, they won't kick you out. But I find budgeting about an hour so you can catch a full loop and have time to read the intro information is a good estimate.
Pro tip: this would make a great stop before a dinner date!
6. Make Sure Flash Is Turned Off On Your Phone
Most phones (at least iPhones) these days will automatically turn the flash on in dark spaces. Double-check your flash is off before you start recording since you may get scolded by a guard (which is fair, they need to keep the show enjoyable for everyone!)
7. Come High
Hey, this is an immersive experience afer all! If you partake in cannabis (it's legal here in California) I highly recommend you eat an edible or something prior to coming to the show. The projections of his work were beautiful sober but would have been taken to a whole different level high. Just saying.
Imagine Picasso Reviews – Is It Worth It?
I know some people aren't fans of Picasso but I love his work. His images are strange, surprising and fun. This immersive Picasso event is fresh way to soak up some of his most famous paintings in a totally new format you can't find anywhere else. So yes, I loved it and recommend the show to any fellow art lovers, or to anyone who knows nothing about Picasso and wants to learn!
oh, and the Imagine Picasso San Francisco event was in The Armory which also sort of felt like cultural a right of passage building to visit in SF (if you know you know).
I bet you'll be hearing about this event in the news soon and I personally think it's a fun date night activity. Get yourself Flex Passes, go to happy hour, swing by the show for an hour and then head to dinner. Boom, perfect date night idea in San Francisco (or wherever you live).
If you visit the show, let me know how you liked it in the comments below!