I'm sure you've been seeing the ads for the Immersive Van Gogh experience all over your city and Facebook feed lately. I sure have!
As a huge fan of Vincent Van Gogh (and extremely bored looking at our walls all pandemic long) my husband and I booked tickets to go see the Van Gogh art show here in San Francisco.
It was magical and so fun – but I also walked away with a few tips I wish I had known before I went, that I want to share with you for your first visit!
What Is The Immersive Van Gogh Exhibit Exactly?
The Van Gogh Immersive Experience is a traveling art exhibit. It's been all over the United States ( New York, Chicago, etc) and will probably be coming to your city soon this year. It's also been in Europe, like Paris and Berlin.
There's a pre-made movie of Van Gogh's art that gets projected up on the walls to make a seamless immersive visual experience. It's timed to music, about 35 minutes long, and basically is like a fever dream meets a museum.
I felt like I was living inside a painting.
French-Canadian Creative Director Mathieu St. Arnaud and the team at Normal Studio brought Van Gogh's art to life in the best way possible. Think: the light reflecting on the water in Starry Night moved like real light would if you were viewing it at night.
The sun moved across the horizon in the Haystacks to make you feel like you were outside in the fields, too. It took me to a whole other world.
Did you watch
Emily in Paris?
Remember the Van Gogh Atelier de Lumieres scene where Emily and Gabriel sit on the floor with
~sexual tension~?
It's the same team that puts on the US experience!

7 Tips For Visiting The Immersive Van Gogh Experience
You're going to love your visit! But before you go (or even book Van Gogh tickets) there are a few things you should probably know.
1. Get a Flex Pass
It's more expensive and I'll be honest – I only got us some because the regular general admission wasn't available anymore at our location for the week we wanted to go. But come the day of our visit to the exhibition hub, I was totally into our Flex Pass options.
It allows you to arrive up to 2 hours ahead of your time slot / timed ticket, instead of 15 minutes before, which takes the pressure of arriving on the exact time. They have timed entry to make sure it's not too crowded.
You can also rebook for a different date with the Flex Pass which you may need if you get -let's say, COVID or even the vaccine and feel like shit the day you had booked to see the show. So, purchase tickets that allow some flexibility to be safe.
2. Ask for earplugs (or bring your own)
The show gets LOUD. I've always had sensitive hearing (fire trucks at parades as a kid were murder!) so I knew based on how loud the sound was outside the room that I would get a headache and be really comfortable without earplugs. Thankfully, they provide them for free.
I recommend you grab a pair, even if you think you may not need them. Hearing is something you can't grow back so it's always smart to protect your ears.
3. Wear comfy clothes to sit on the ground
As you probably have seen on all the ads, there's tons of social distancing circles on the ground for guests to sit in away from each other. Some. of the circles have benches, but most are floor seating.
Make sure you wear outfits that are comfy to sit on the ground in (aka no tight mini skirts or jeans!)
4. Wear flats (no heels)
There is standing room and a whole platform viewing area (with stairs involved) that you may want to go up on. The room is really dark for the art to be projected and viewed, so for that reason, I suggest you wear flats.
Just so you have an easier time walking around in the dark, or standing for the one hour you'll be in there.
5. Come High
This is a virtual reality show after all. If you partake in cannabis (it's legal here in California) I highly recommend you eat an edible or something prior to coming to the show.
The projections of his work were beautiful sober but would have been taken to a whole different level high. Just saying.
6. Stay for at least an hour
The show is about 35 minutes long and runs in a loop. I suggest you find a nice circle to sit in to view it completely once. And then get up and walk around, maybe go on the viewing platform, for another 20-30 minutes to take in the art a slightly different way.
Pro tip: this would make a great stop before a dinner date! Or with children!
7. Make sure flash is turned off on your phone
Most phones (at least iPhones) these days will automatically turn the flash on in dark spaces. I didn't notice this happening when I tried to take a video and a guard immediately ran over to yell at me for using a flash.
SO, learn from my mistake and double-check your flash is off before you start recording.
Love Doctor Who?
If you love Doctor Who (we're big fans!) go home and watch the Van Gogh episode. It's Season 5, Episode 10. TRUST ME.
Immersive Van Gogh Review
If you can't tell, I loved the immersive exhibition show in San Francisco.
We went on a weekday so it wasn't very busy and overall was just a super cool and original art experience I've never had before. We also are both big fans of Van Gogh's work to being with, so that helped.
Normally I would have to go to the Van Gogh Museum in the Netherlands or other art museums around the world to see his art, but this digital exhibit came to me.
I totally recommend this show for art lovers or anyone looking for a unique date idea. I'm not sure if kids would like it – that's something you'd have to chat to your own kids about. I bet some younger folks would love to imagine they are in the paintings with you.
Immersive Van Gogh Exhibit Locations 2023
They're going all over the world! I'm trying to keep this list updated, but here are some of the places you can find the show:
Toronto, CA
Location: Lighthouse ArtSpace Toronto
Chicago, IL
When: February 11, 2021–February 14, 2022
Where: Lighthouse ArtSpace at Germania Club
San Francisco, CA
When: March 18, 2021–March 6, 2022
Where: SVN West San Francisco (formerly the Fillmore West)
Los Angeles, CA
When: May 27, 2021– 2023 (TBD end date)
Where: Lighthouse Los Angeles (the former Amoeba Music Building)
Minneapolis, MN
When: August 2, 2021–February 27, 2022
Where: Lighthouse Minneapolis
Dallas, TX
When: August 9, 2021–February 28, 2022
Where: Lighthouse Dallas in the East Quarter
Phoenix, AZ
When: August 26, 2021–March 13, 2022
Where: Lighthouse Artspace, 4301 North Scottsdale Road, Scottsdale
Cleveland, Ohio
When: September 9, 2021–March 6, 2022
Where: Lighthouse Artspace, 850 E. 72nd Street, Cleveland
Las Vegas
When: September 13, 2021–March 13, 2022
Where: Lighthouse Las Vegas at the Shops at Crystals (adjacent to Aria Resort & Casino)
Pittsburgh, Pennsylvania
When: September 23, 2021–March 20, 2022
Where: Lighthouse Artspace, 720 E. Lacock Street, Pittsburgh
Denver, CO
When: September 30, 2021–February 21, 2022
Where: Lighthouse Denver (in the former Regency Hotel)
Houston, TX
When: October 14, 2021–February 6, 2022
Where: 1314 Brittmoore Road, Houston
Columbus, Ohio
When: October 28, 2021–February 27, 2022
Where: Lighthouse Artspace, 940 Polaris Parkway, Columbus
Detroit, MI
When: February 3–April 10, 2022
Nashville, TN
When: February 17–April 17, 2022
Where: Lighthouse Artspace, 4416 Ridgefield Way, Nashville
San Antonio, TX
When: February 24–May 8, 2022
Kansas City, Missouri
When: February 28–2023
Orlando, Florida
When: October 7, 2021–January 9, 2022
Where: Orange County Convention Center
New York City, NY
When: June 14, 2021–January 2, 2022
Where: Pier 36 NYC
Charlotte, North Carolina
When: June 17, 2021–January 2, 2022
Where: Ford building at Camp North End
Boston, MA
When: Spring 2023 (TBD)
Where: Lighthouse ArtSpace At The Castle Boston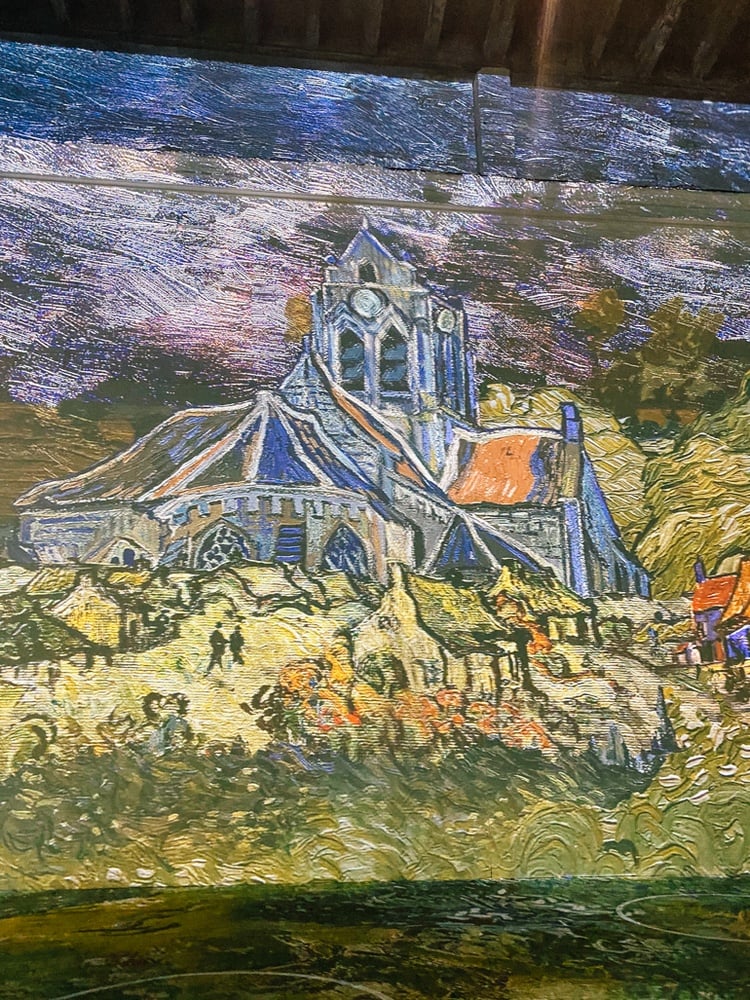 Oh, and if you go make sure to check out the gift shop at the end… it's wild. It's almost like an additional experience in itself. Some of the gift shops are filled with sunflowers and some are a little calmer, but they're all fun. I overall had a lot of fun at the Van Gough experience.
Did you go? I would love to hear what you thought in the comments below. Got questions? Drop a comment or DM me on Instagram @thewhimsysoul and I'd be happy to help.