I think I could spend a lifetime in San Francisco and not get board photographing it. I've lived here for close to 5 years and have a long list of favorite San Francisco photo spots that I go to again and again for Instagram photos.
Whether you're a travel photographer hoping to land that perfect photo of the Golden Gate Bridge or just a tourist looking for Instagram-wroth photography locations around the city, this post is for you! Buckle in.
I have a long list of the most Instagrammble San Francisco photo spots!
What I really love about San Francisco is how – even though this city is only 7×7 miles – every single neighborhood looks different. One second you're in a Mexican feeling neighborhood, but turn the street and suddenly you're surrounded by rainbow Victorian houses. It's wild.
Top San Francisco Photo Spots
I'm constantly discovering new walls, houses and fun things to photos of for my Instagram channel @thewhimsysoul, so this list may get bigger over time as I add to it! On that note, let's get started!
PS I did a whole photo series called Chameleon City basically showing how you can "travel the world" without ever leaving San Francisco. You can visit France, Japan, Iran, Bali and more, all in the city!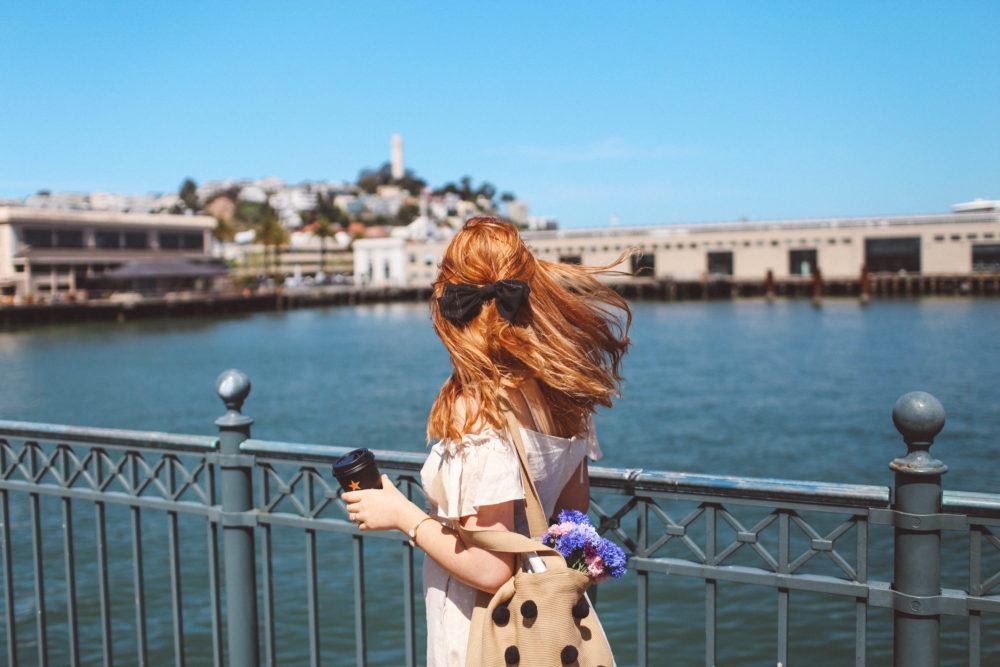 Battery Spencer Golden Gate Overlook
This is my FAVORITE spot to take family visiting and also where I love coming on clear, warm evenings in the city. In short, you can find better views of the Bay Area or Golden Gate Bridge than this overlook. To get here:
Cross the bridge
Take Alexander Avenue.
Drive through the tunnel into the Marin Headlands
Circle back up the hills to Battery Spencer. (Usually, just follow the cars!)
You can park anywhere on the right lane (there will be signs if you get confused)
I recommend getting as close tot Battery Spencer as you can, even though other people will probably be pulling off ot other overlook spots. Park, walk up and BOOM, you'll be standing basically on top of the North Tower of the bridge. This spot is extra beautiful to get photos of the sunset! (This is where some of the most famous San Francisco photography shots of the bridge and city are taken from, fyi!)
Painted Ladies
You probably know these houses from the intro to Full House and a lot of people call them the "Full House Houses" but their real name is the "Painted Ladies." They're located in Alamo Square Park. My favorite time to visit is golden hour when the sun is illuminating the houses – in the morning they'll be the backlight to deal with.
Also, all the houses in this area are cute AF. There's a pink house on the direct opposite side of the square that is really beautiful. Down one block is a house that I've used in photos before as it sorta looks like it belongs in France. I recommend exploring the area after you snap photos of the Painted Ladies!
Dutch Windmills
Did you know that San Francisco has Dutch windmills in the Golden Gate Park?! There's even bison in that park (among a lot of other really odd/cool things!) The Windmills are on the far West Side just a block or two from Ocean Beach.
My favorite time of year to visit for a great photo is the late summer when all the flowers are blooming in front of them. Arrive at sunset for hazy, pretty light!
Turrell Sky Space
I didn't know this space excitsed for YEARS but finally found it just a few months ago. Right next to the deYoung Museum is the Turrell Sky Space, a light art installation. This guy has built sky spaces all over the country, butI think the one is San Francisco is my favorite.
Swings
San Francisco is known for having rope swings all over the city! Sadly, many of them have been cut down over the years. People keep putting them back up, others cut them down. It's hards ot know if they'll be up when you visit. Here's the ones I know about:
Billy Goat Hill Swing
Bernal Heights Swing (the branch has been cut down on this one!)
Tiburon Swing
Twin Peaks at Sunset
There are 7 hills in San Francisco (just like Rome!) and Twin Peaks is one of them! It can get really windy up here, but on a clear day, you can basically the entire bay area. In front of you, Market Street and downtown San Francisco. Behind it, the Bay Bridge and East Bay. To the left you can spot the Golden Gate Bridge peaking out.
The best time for photos here is at dusk when the sky will turn purple and the city lights start to twinkle. Stay a bit longer (and bring your tripod!) for a great night shot of the city!
Top of Dolores Park
Dolores Parks is a local's favorite place to hang out and day drink on the weekends. The park is huge and on a hill, and at the top of the slope in Dolores, you're treated to a stunning view of the city. You can *just* see part of the Bay Bridge peeking out on the skyline between palm trees and colorful houses.
Visiting San Francisco on a weekend? Grab a bottle of wine or 6 pack of beer and head to Dolores (it's legal to drink there, don't worry!)
Palace of Fine Arts
This is probably one of the most popular San Francisco attractions. It looks a lot like something you'd find in Rome to me due to the large columns and dome. The outdoor area is free and open to the public, so you can stop by anytime. That being said, I find that in the evening it'll be less crowded and the light is really pretty (tourists come during the day but usually not the evening!)
Alcatraz
Looking for the for best San Francisco Skyline view? Well, that's probably from Alcatraz Island (or a boat in the bay!) The Alcatraz tour is my most favorite "tourstiy" thing I've ever done. You get to ride a boat out to the island, which is awesome in itself, especially on a nice day.
The island has tons of gardens and it's smack in the middle of the bay, so you can see Sausalito, the Golden Gate Bridge, San Francisco, the Bay Bridge and East Bay all in the same spot. On your audio tour, you'll be guided to a point on the old prison where you'll be facing the San Francisco SKyline. Snap that awesome photos!
The other best place to snap a skyline photos is Treasure Island, which is popular for San Francisco night photography spots!
Ferry Building + Cupid's Span
I love our Ferry Building – you can see the white tower at the end of Market Street from the other side. It's an operational terminal, but it's also outfitted with tons of artisanal shops, wine bars and restaurants. On Tuesdays, Thursdays and Saturdays they also have a really cool farmers market outside!
Next door to the Ferry Building is Cupid's Span, a giant bow and arrow sculpture! Despite being huge, a lot of people overlook this sculpture as an Instagram spot in the city, but I think it's a whole lot of fun for photos!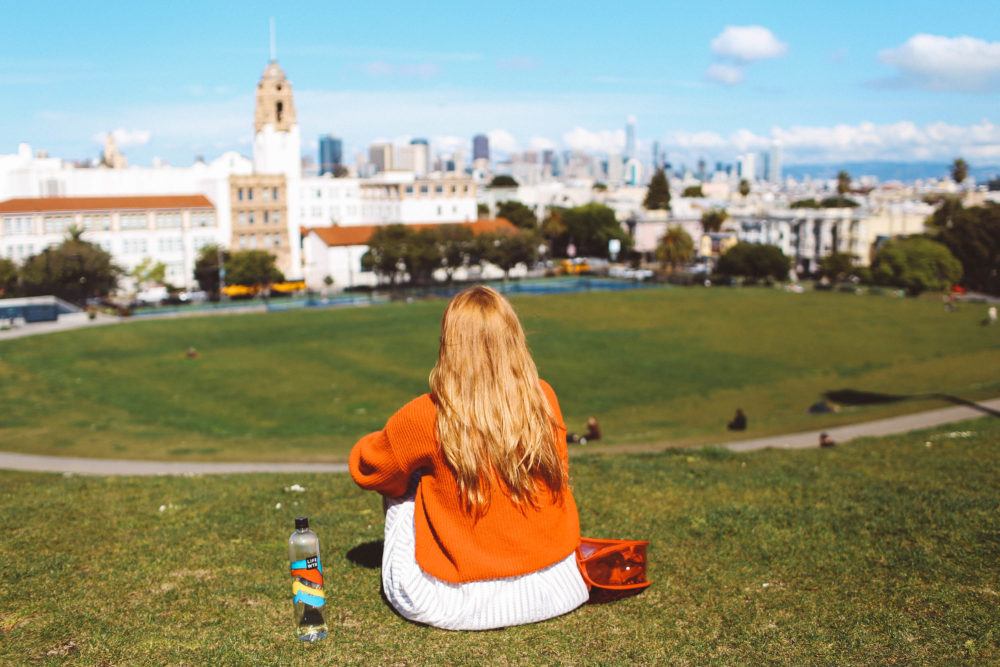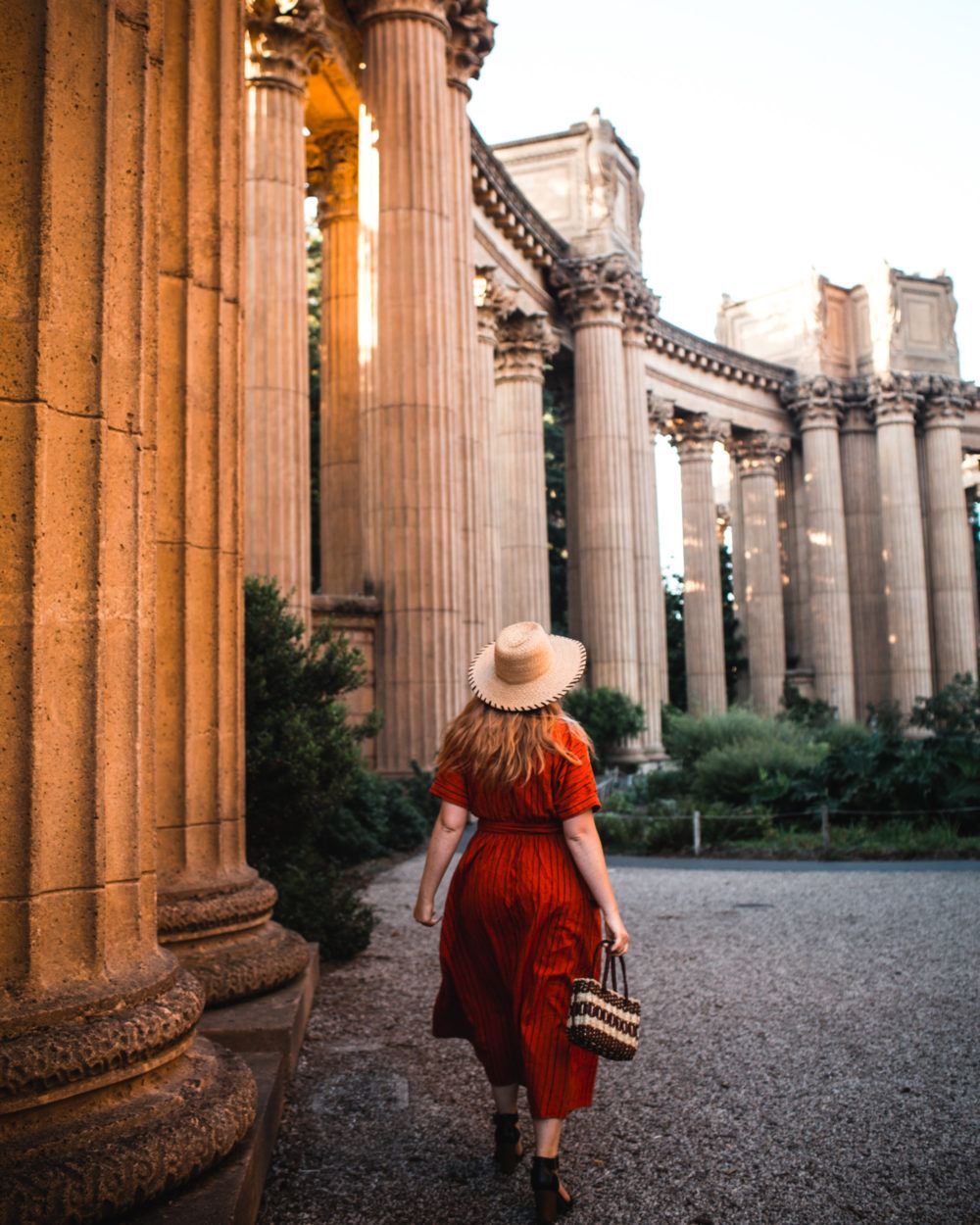 Claridon Alley
There is street art ALL over the city but Claridon Alley is extra special. It's an entire alley painted with murals. Some are permanent, some switch out every few months. It's really fun to walk down this alley and find a fun photo opp!
Sutro Baths & Land's End Labyrinth
Most visitors never make it to the west side of the city, and even fewer find Sutro Baths or the Land's End Labyrinth. We personally love to go hiking here, but on clear sunny evenings, this area is STUNNING for photos.
Sutro Baths used to be huge bathhouses that are now in ruins. They're basically adult jungle gyms that you an climb all over. They touch the ocean during high tide and result in stunning photos in the evening. In the same area is the Land's End Labrytin, a little hidden maze on the Bay with views of the Golden Gate Bridge and the Marin Headlands.
Lombard Street
This is the most crooked street n the world! It's a windy street that looks extra cool from above, but is also really fun to walk down. It gets crowded quickly so I recommend you come take photos at sunrise before cars and people flood the road. From the top, you'll be treated to a stunning view of the city. The houses along the road are grand and covered in flowers. At the bottom, you can look up to see the snake-like street!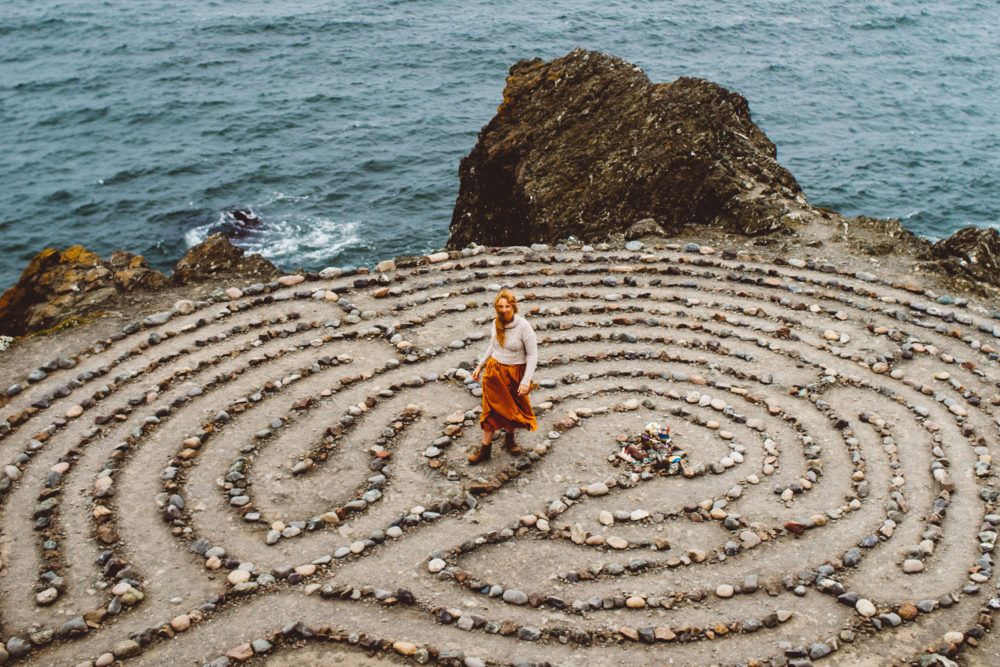 Flatiron Building
At the corner of North Beach and FiDi is the San Francisco Flatiron Building! It's a nice shade of green and behind it, the Transamerica Building stands, resulting is a really fun photo op walking across the street!
Chinatown
Our Chinatown is one of the oldest in the country! It has a really cool Dragon's Gate marking the entrance, tons of street art and of course, lanterns hanging over the roads. Grab some dumplings after you snap a photo in the street!
Le Marais Bakery
Le Marais is our favorite bakery and brunch spot in the city! The owners are so nice and have mastered not only chic decor but delicious food. Come for the pastries and brunch, stay for the colorful tiles and French vibes. There are three locations around the city, but the Castro location is my favorite!
Home Cafe
This cafe probably isn't on best photography spots in bay area list, but it's a very Insta-famous cafe because they make super colorful lattes! Rainbow ones, red ones, pink ones, if you can dream it, they probably can make it.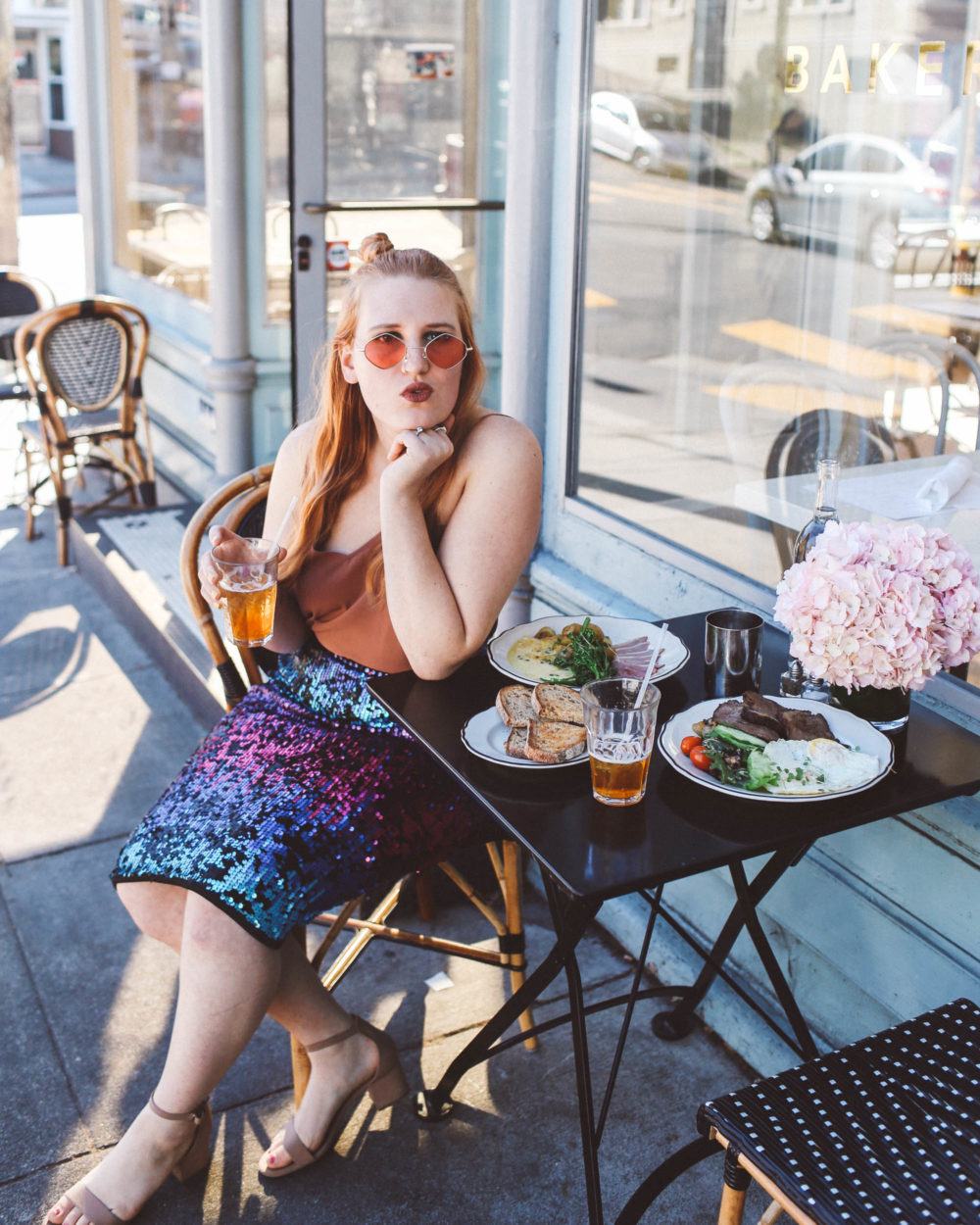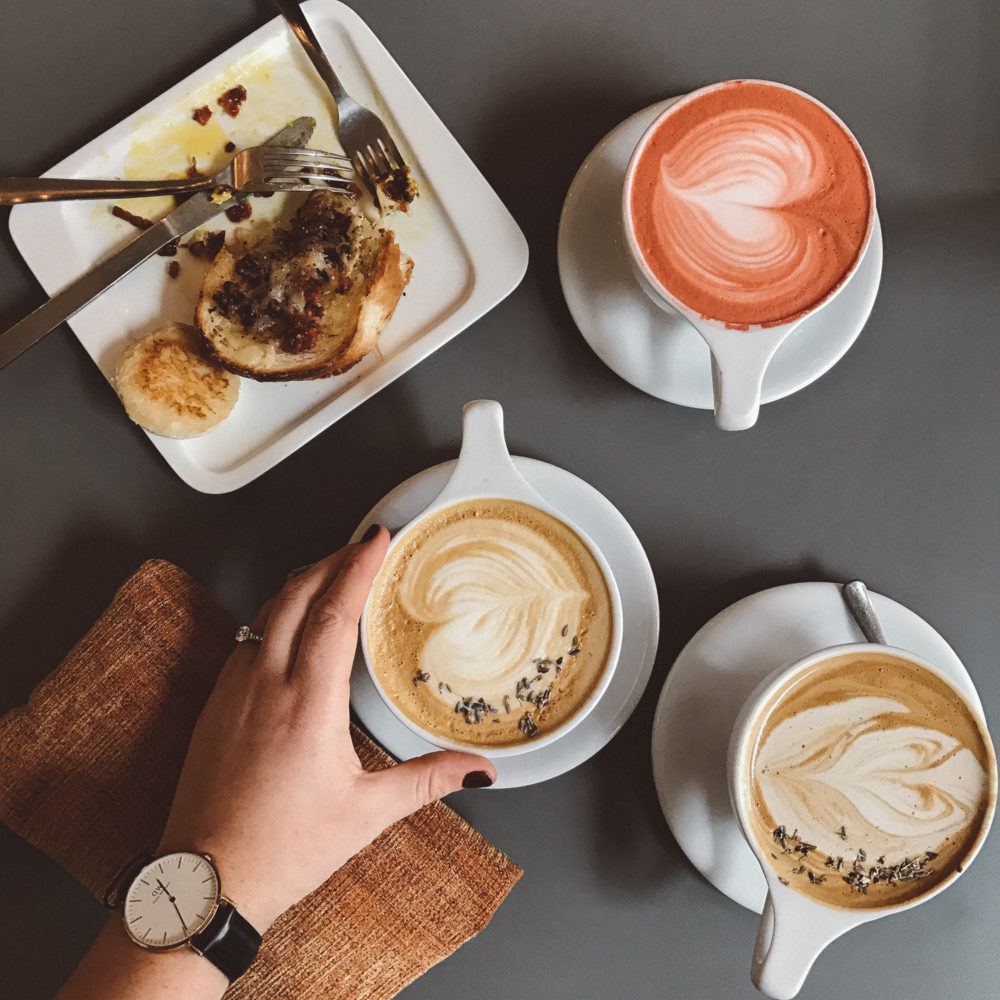 Japanese Tea Garden
It's small but looks like you stepped into a real Japanese Tea Garden in Japan. There are a few pagodas, circle bridge, koi ponds and even a tea shop you can dine at! We love walking around here in the mornings when the fog hangs low and makes this garden extra pretty.
Piers on Embarcadero
Along the Embarcardero are tons of piers that you can walk out on. Each one is a bit different and offers slightly different views of the city skyline behind you. After you visit the Ferry Building and Cupid's Span, just walk towards Pier 39 and see what catches your eye!
Union Square at Christmas
Union Square goes ALL OUT for Christmas with a huge tree and an ice skating rink. Next door is Macy's which also usually hangs a wreath or lights. Come at dusk to ice skate on the ink & snap photos on the ice in front of the tree! Bonus points of wearing matching holiday sweaters.
Holmes Bakery
Aka home of the famous "I Got Baked In San Francisco" neon sign! This bakery is really popular for the sign but also for the cronuts. I hear you have to get there right when it opens otherwise they sell out of all the pastries, but the sign will always be there for photos!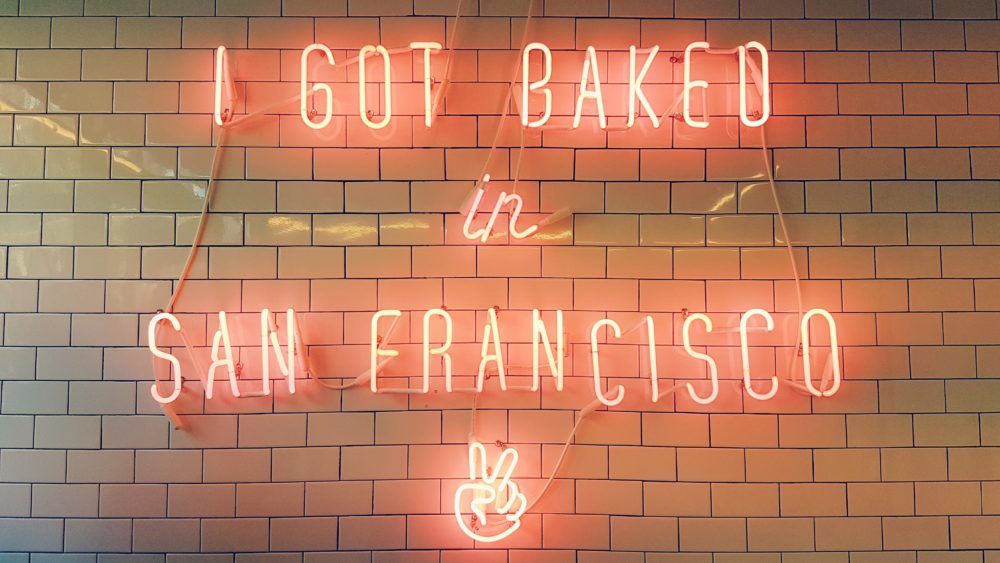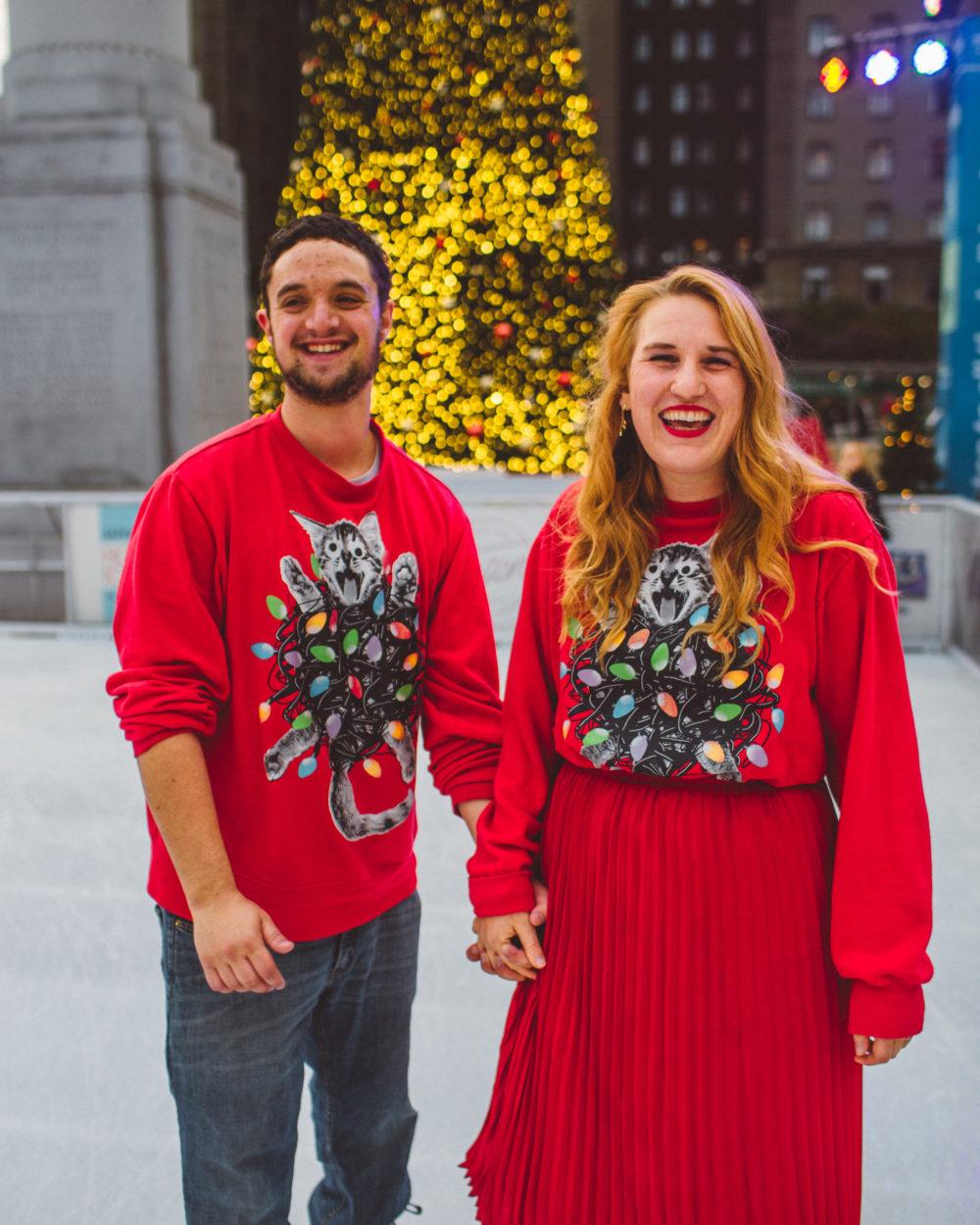 Grace Cathedral
Grace Cathedral is probably the most famous church in San Francisco. It sits high on a hill and also happens to look exactly like Notre Dame in my opinion. Has a spire and everything (well, you know, before Notre Dame burned and lost the spire.)
Marshall's Beach
This is my super-secret spot to take a great photo of the Golden Gate Bridge! The trail down takes you down the bluff and to a secret beach (that's also sometimes used as a nude beach, fyi.) The beach goes right up to the base fo the bridge, making it a really cool spot for photos!
Looking for more tips on what to do in San Francisco? I have so many helpful blog posts on places to visit in San Francisco for free, and my favorite San Francisco sightseeing in one day if you're short on time, along with my meal huge city guide.
I hope this helps you find the best places to take pictures in San Francisco and get that perfect Instagram photo! If you have any favorite spots to add or tips, leave a comment below so everyone can see. Got questions? Comment or DM me on Instagram @thewhimsysoul and I'll be happy to help!