When Thailand is too far, there's always the traveling lantern festival called The Lights Fest. My friend put this festival on our radar and we immediately bought tickets for The Lights Fest in Northern California this Spring. Ever since learning about lantern festivals in school (and, let's be honest, that scene in Tangled), attending one has been on my bucket list.
We packed up a car with blankets, snacks and water, and drove to Willows, a small town outside Chico to attend The Lights Festival. Was it magical? Of course! Was it all smiles and rainbows? No, not even close. We prepared well, but there are still some quirks about this event that we learned, which I want to share with you so you can have a fun, safe and happy night at the lantern festival! These are 9 things to know about The Lights Fest before you go!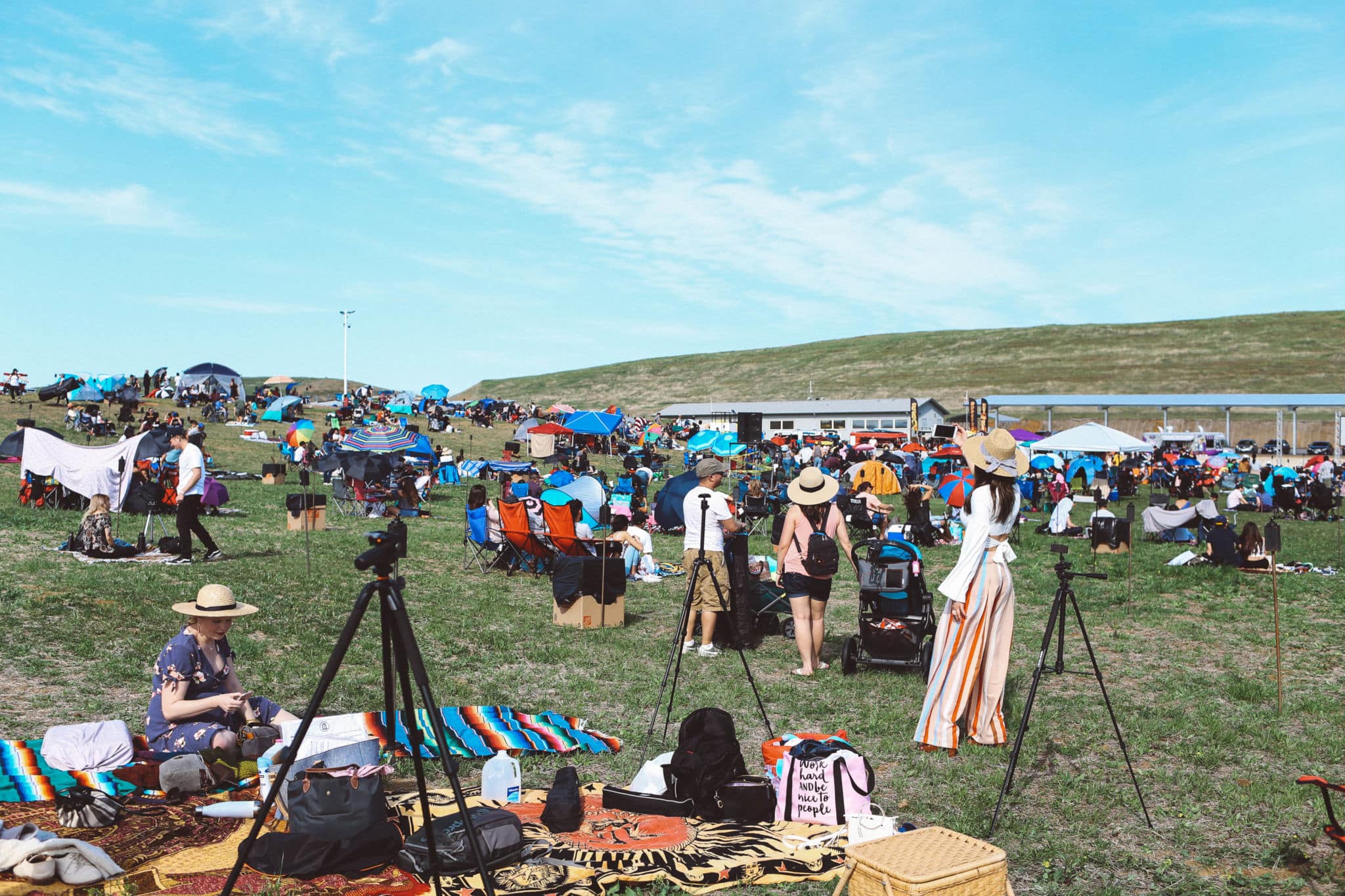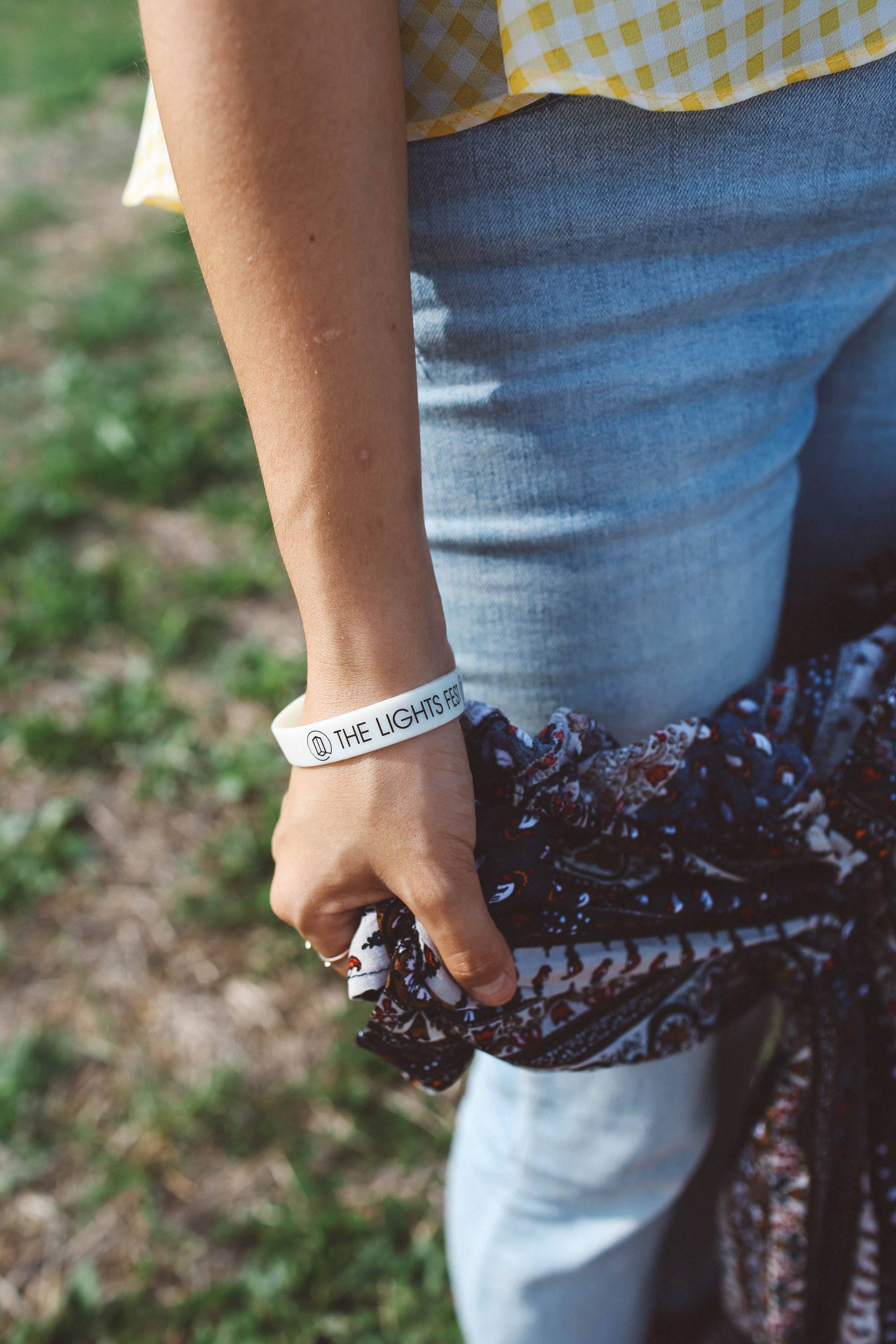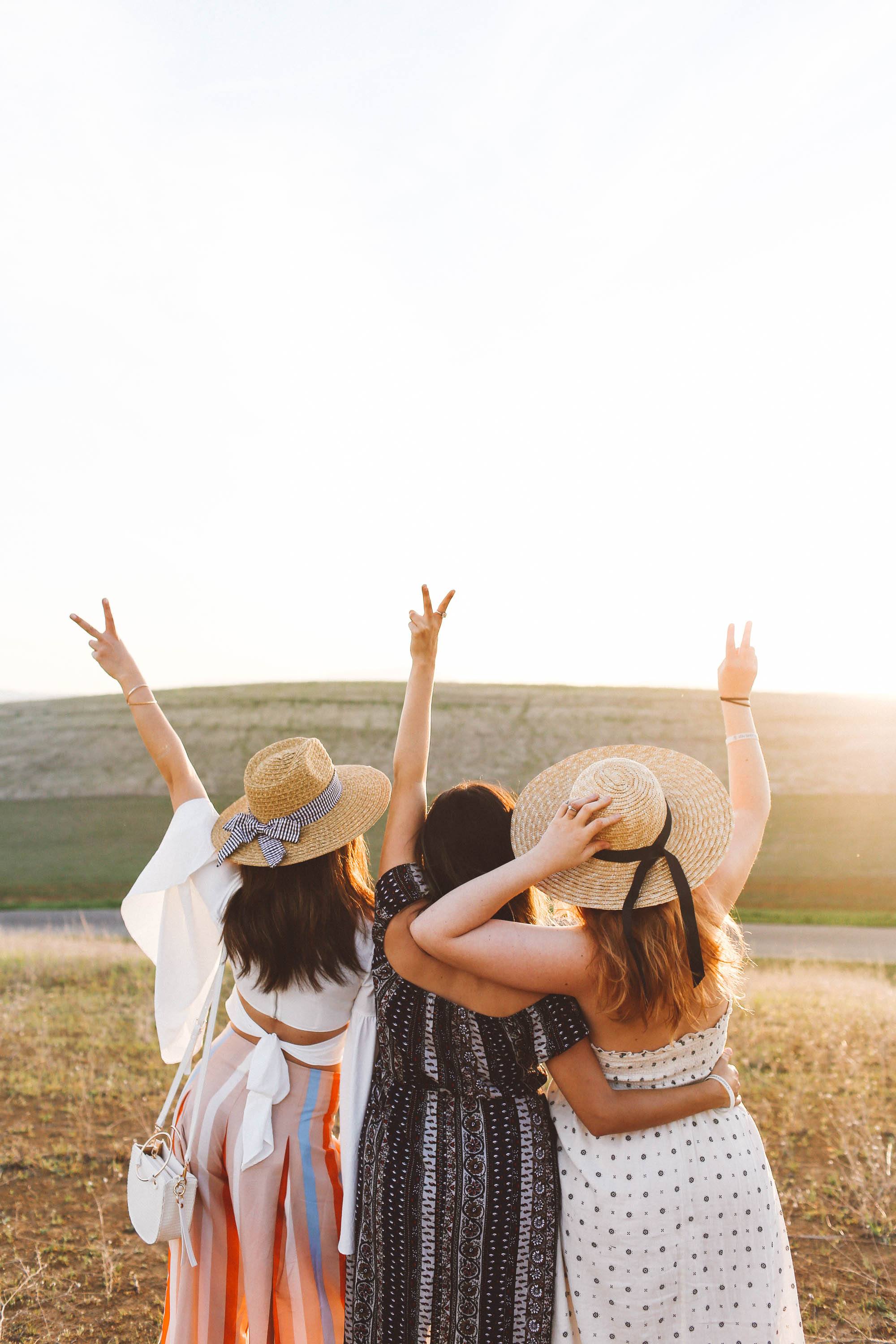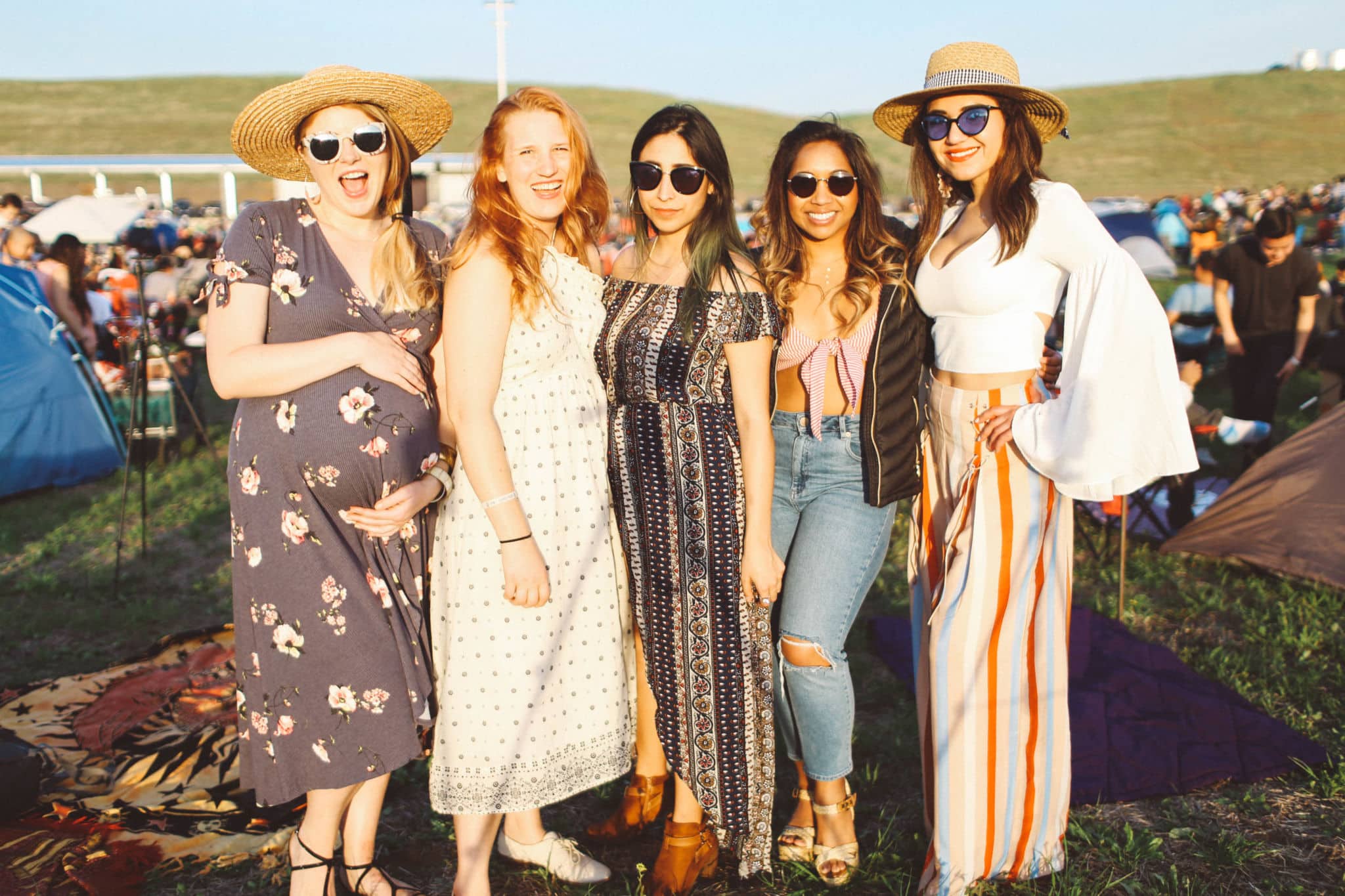 The Lights Fest events happen all over the United States. It's a music festival/lantern festival that takes place in remote areas near metropolitan cities. It's a unique experience for those who can't go to Asia to attend an authentic lantern festival, but it's not as seamless as it looks on Instagram. If you're thinking of going, or already have tickets, make sure to read through my tips below!
Got questions? DM me on Instagram @thewhimsysoul and I'll be happy to help!
9 Things To Know About The Lights Fest Before You Go
A Wagon Is A Must
We each were loaded up with bags, blankets, snacks, water, our cameras. We had to walk in about .7 miles from the parking lot, uphill in 80+ degrees and sun. It wasn't the easiest location to get to. The smart people brought wagons so they could dump everything into something on wheels. I would have appreciated a heads-up from the company that a hard walk was required to get into the grounds. If you are able to bring a wagon, do so!
Bring Your Own Food + Water
They will have food trucks, but the food is pricey. Instead, bring your own snacks and a lot of water. Our festival of lights was on a hot, sunny day in California, so we brought close to a gallon of water per person so make sure we weren't dehydrated.
Shade
Again, the festival will be out in the middle of nowhere in a field so it's safe to launch firey balls of paper. This means there will NOT be any shade! Smart people brought tents or umbrellas to shelter themselves while we waited for the sun to set. We baked. PS – make sure to bring sunscreen!
Come Early
The parking lot filled up VERY quickly, so I was happy we got there early. This also provided us the chance to pick out where we wanted to sit in the field for optimal photos, views and enjoyment. We picked a spot towards the back with a great view of the lanterns and far away from heavy foot traffic. People kept rolling in the entire afternoon. The company claimed to close the gates at 6pm, but people were still arriving, so if you don't want to sit in a field all day, I gander you can come later and still take part.
There will be music playing all day. We had an awkward magician for a while doing magic tricks for kids, which was really odd since most of the attendees were adults. The music bed area was really loud so I'm happy we didn't grab seats near the stage. Eventually, as it got dark, proper musicians came to perform on stage.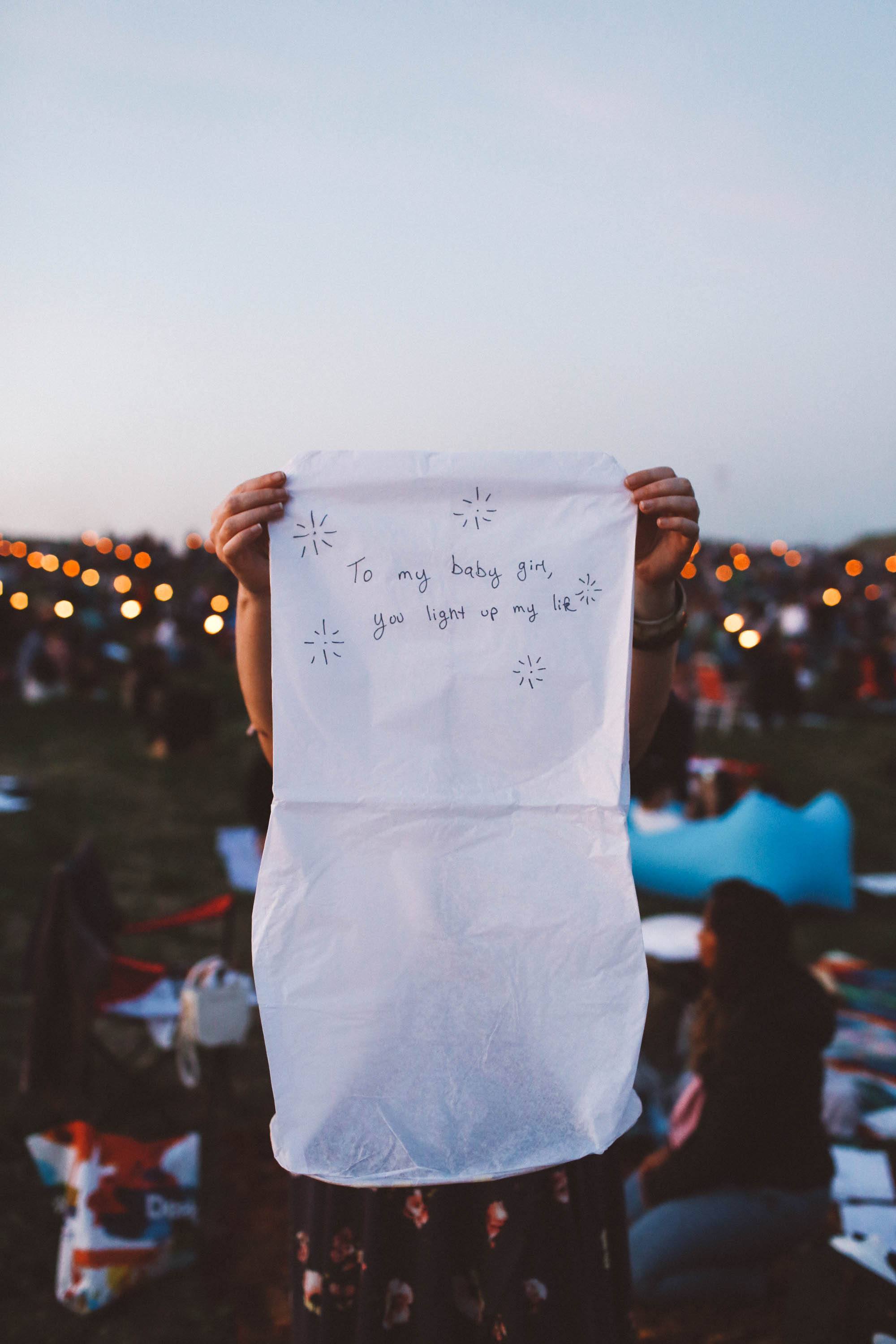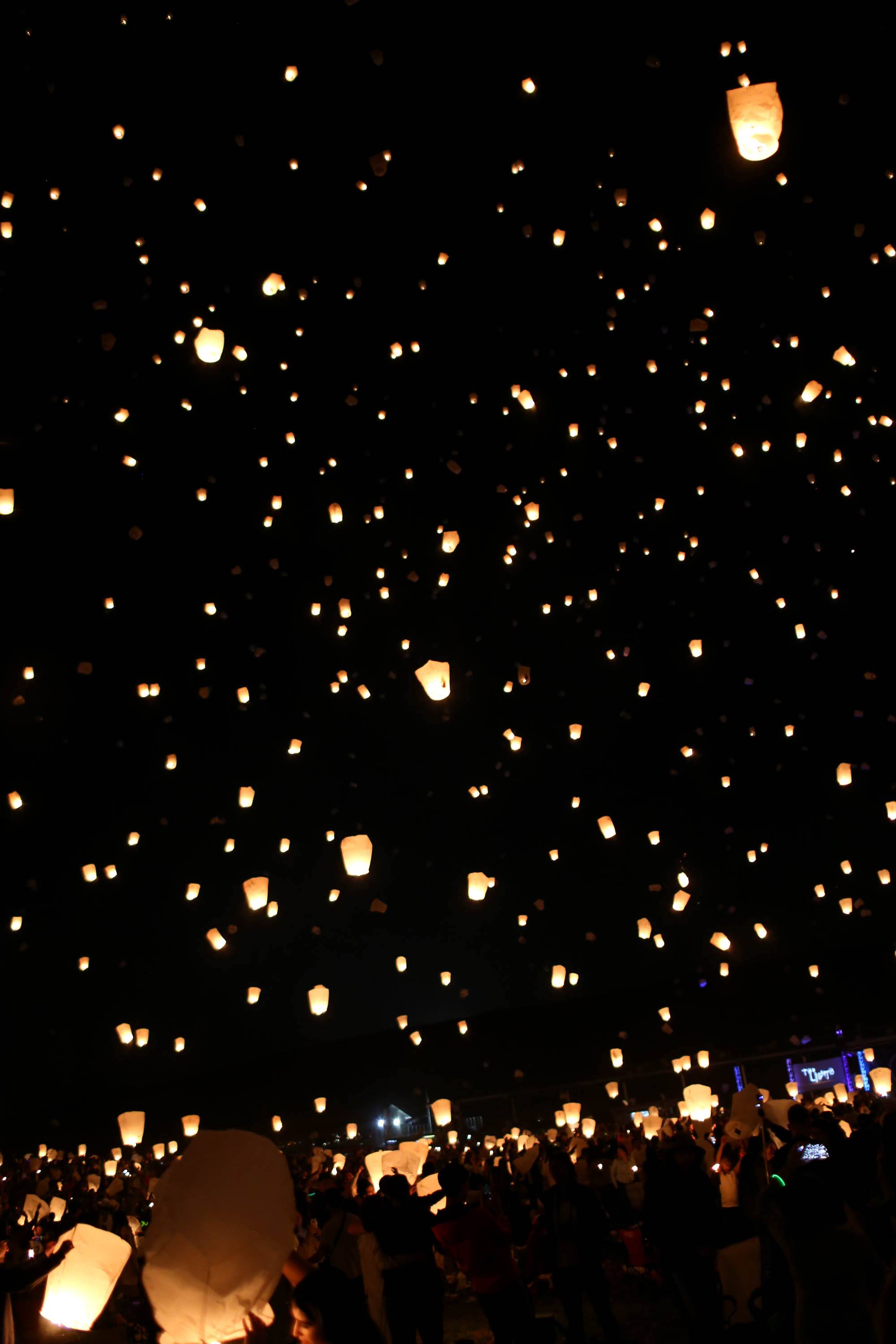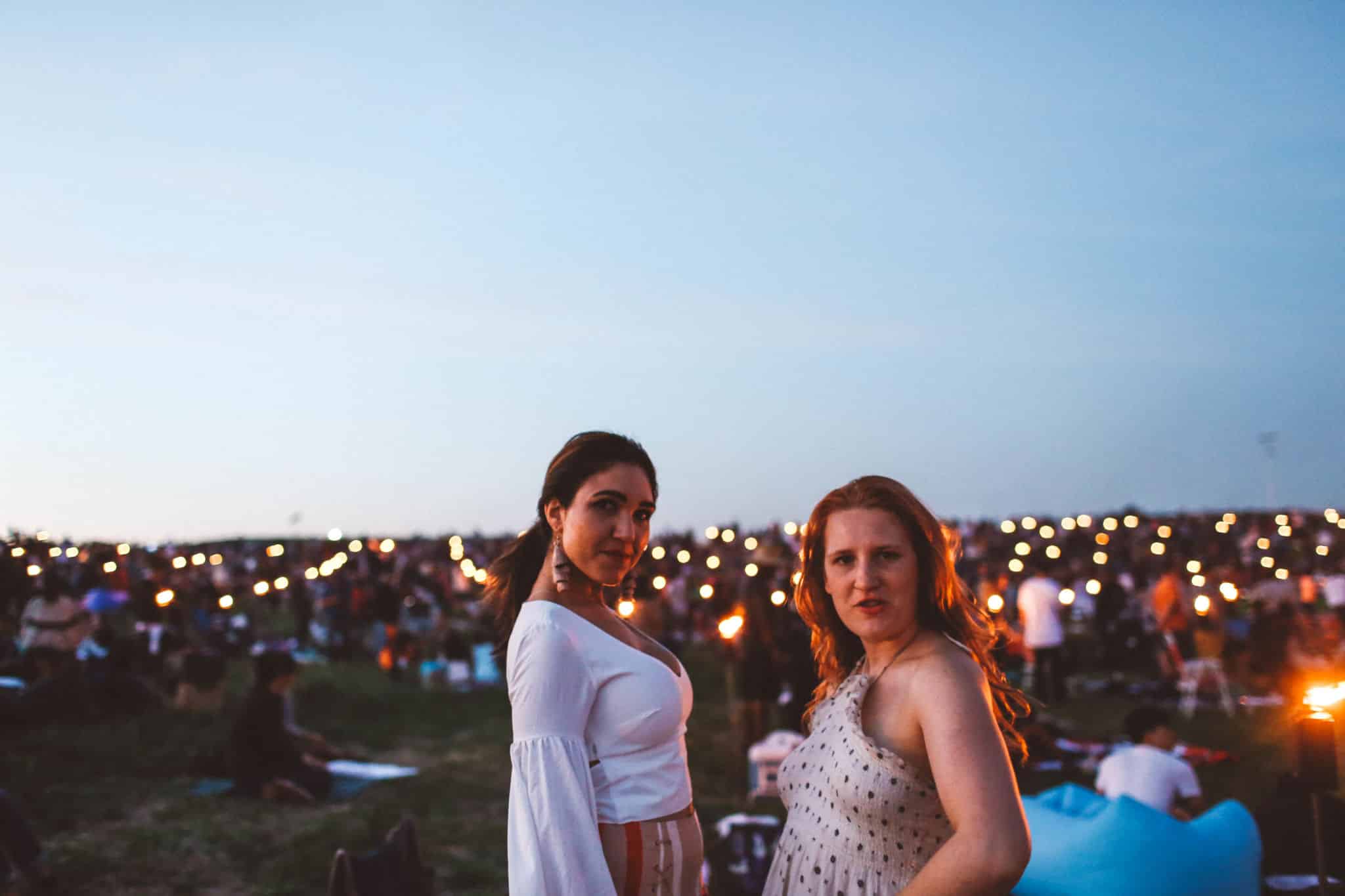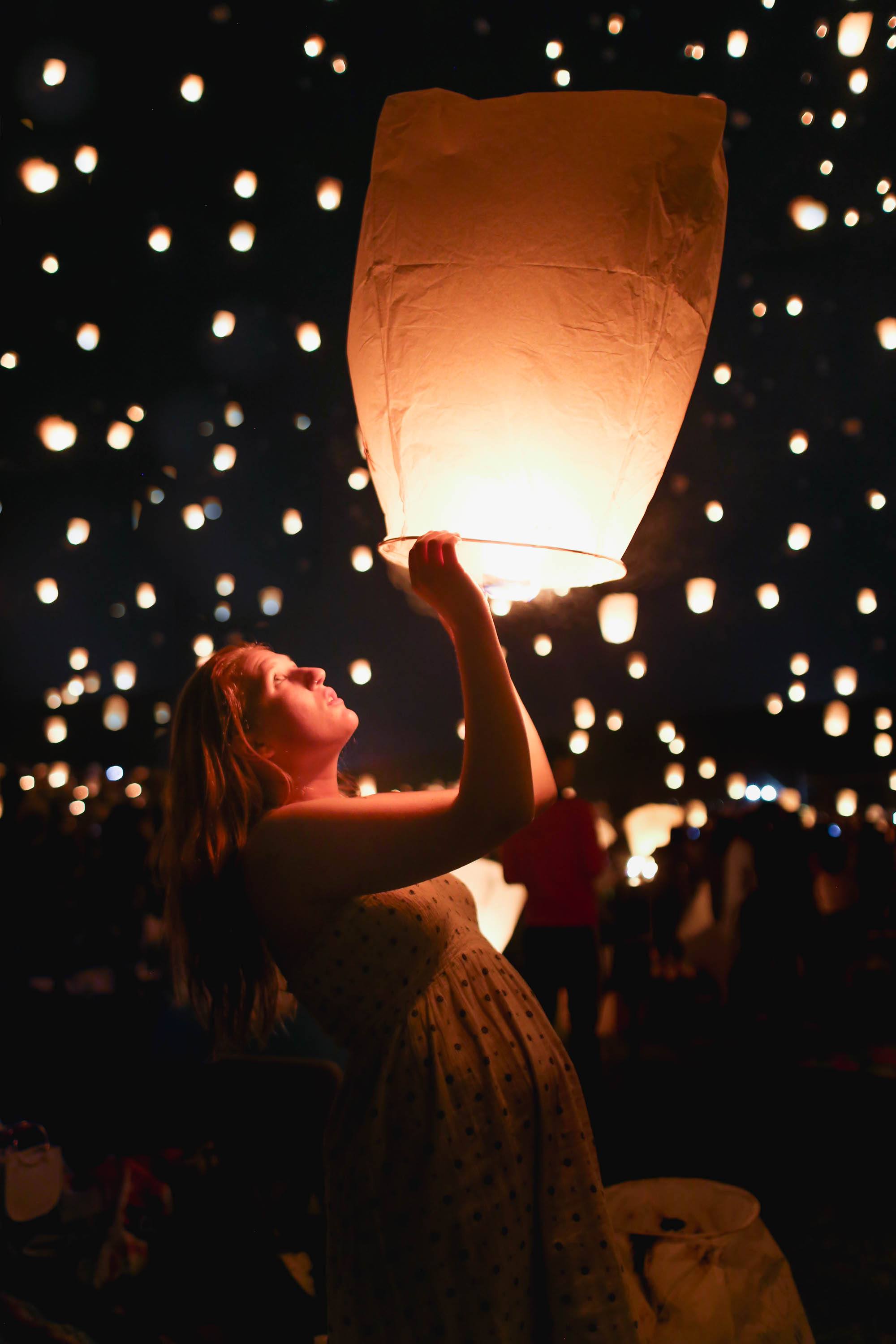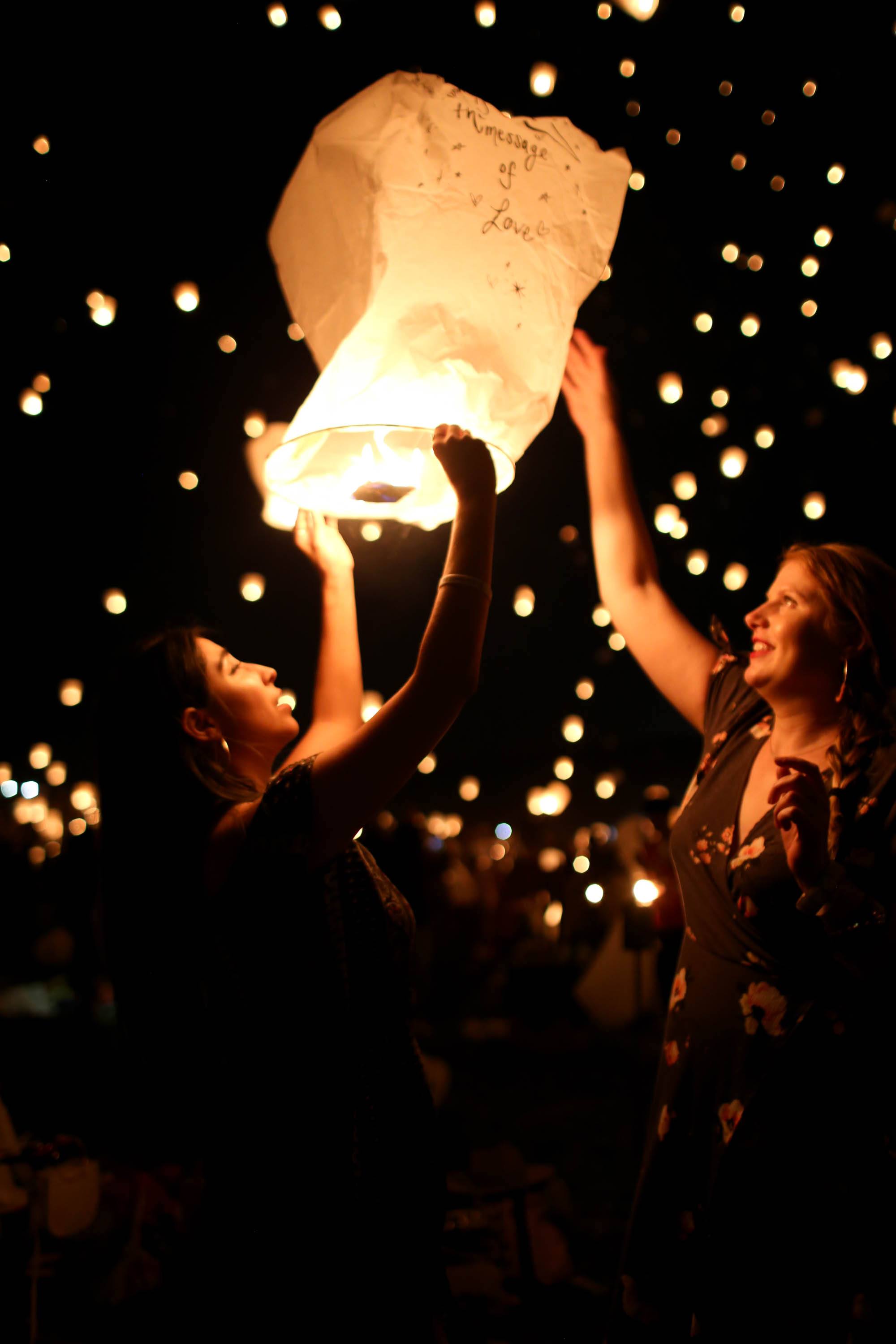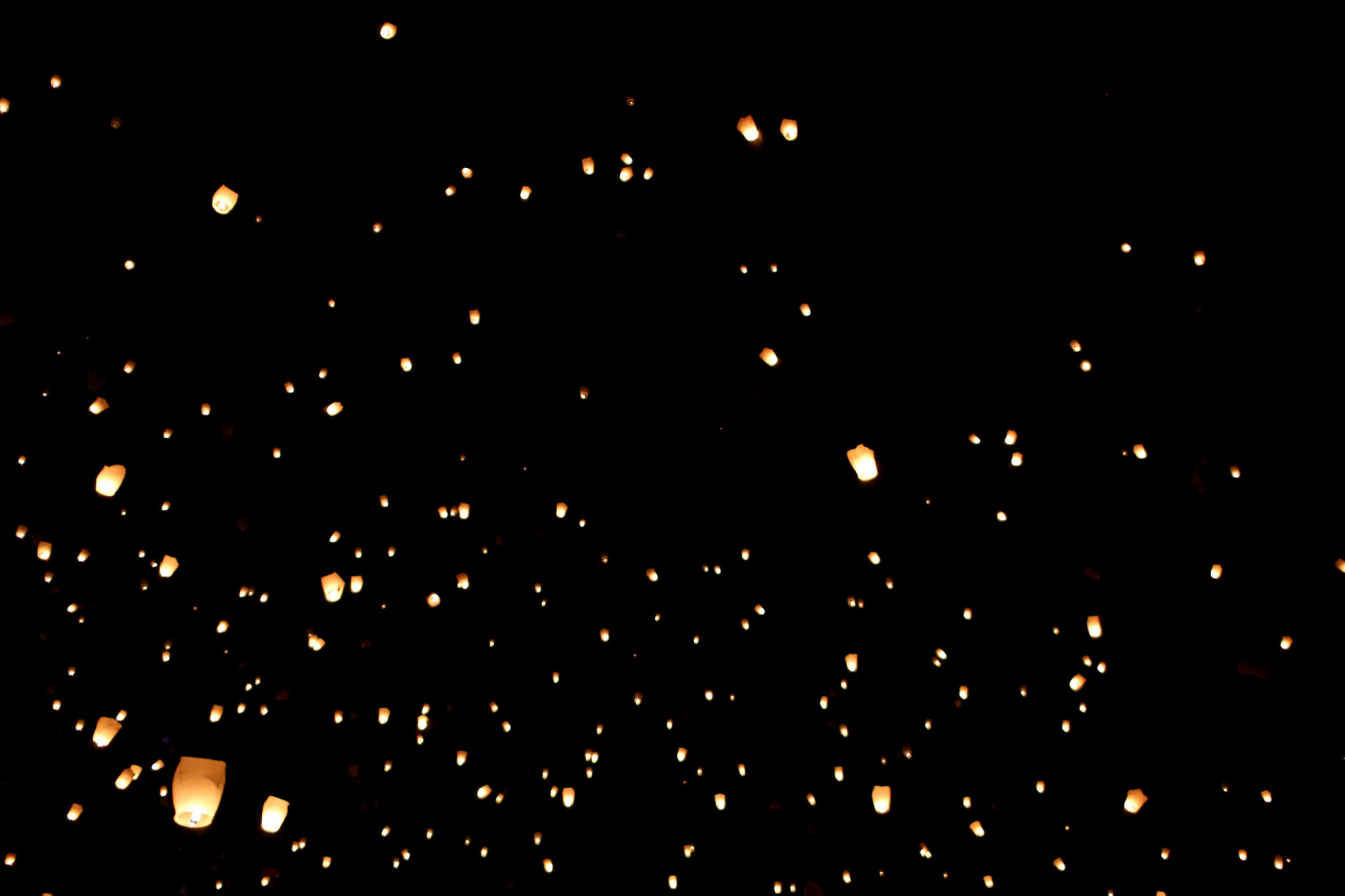 Security…Not So Much
So security here was a joke. They barely looked in our searched our bags. In all the communications from The Lights Fest, they claimed they would be checking carefully for alcohol and other banned items. In reality? I saw a grand total of 2 security staff for a festival of 6500+ and they only glanced in our bags. We saw a few other people drinking wine. I think that's what most people snuck in, but it was a bit concerning that they didn't try harder to inspect people's bags- this is a festival involving fire that floats, sober people seems like something that should be a priority.
It's Not That Safe
Again, a lantern festival is all about lighting paper lanterns and sending them up in the sky. The wind picked up really quickly during our launch and by the end, things were getting dicey. I felt like everyone was constantly chasing down lanterns that were either on fire or about to hit someone in the head and light their hair on fire.
I was disappointed in the management for their lack of safety preparations and instructions/tips on safely launching lanterns. Instead, they sort of just said "alright go!" to a huge crowd of people who have never lit a paper lantern before. Don't let this discourage you from going, just be prepared for some possible unsafe moments and keep alert during the launch. Stay alert!

Photos Are Hard
We knew it would be hard photographing the festival, but boy, was it even harder! The lanterns are hot and have to be held just right so they don't catch on fire in your hands. We found it very very hard to get a good photo that wasn't blurry and was also properly lit. Tripods weren't a big help, because you have to be mobile as the lanterns move quickly. Just a warning that taking photos will be hard!
It Lasts 10 Minutes
You spend all day driving out to the middle of nowhere and then even more time sitting in a field all for 10 minutes of lantern time. They blow away or blow our very quickly. I think ours lasted no longer than 20 minutes. It goes by in a flash!
It's Magical
But, yes, it was magical. There is nothing like looking up in the sky and seeing thousands of lanterns floating above you as they blast that one song from Tangled. I would go again in a heartbeat, but I would be way much prepared this time.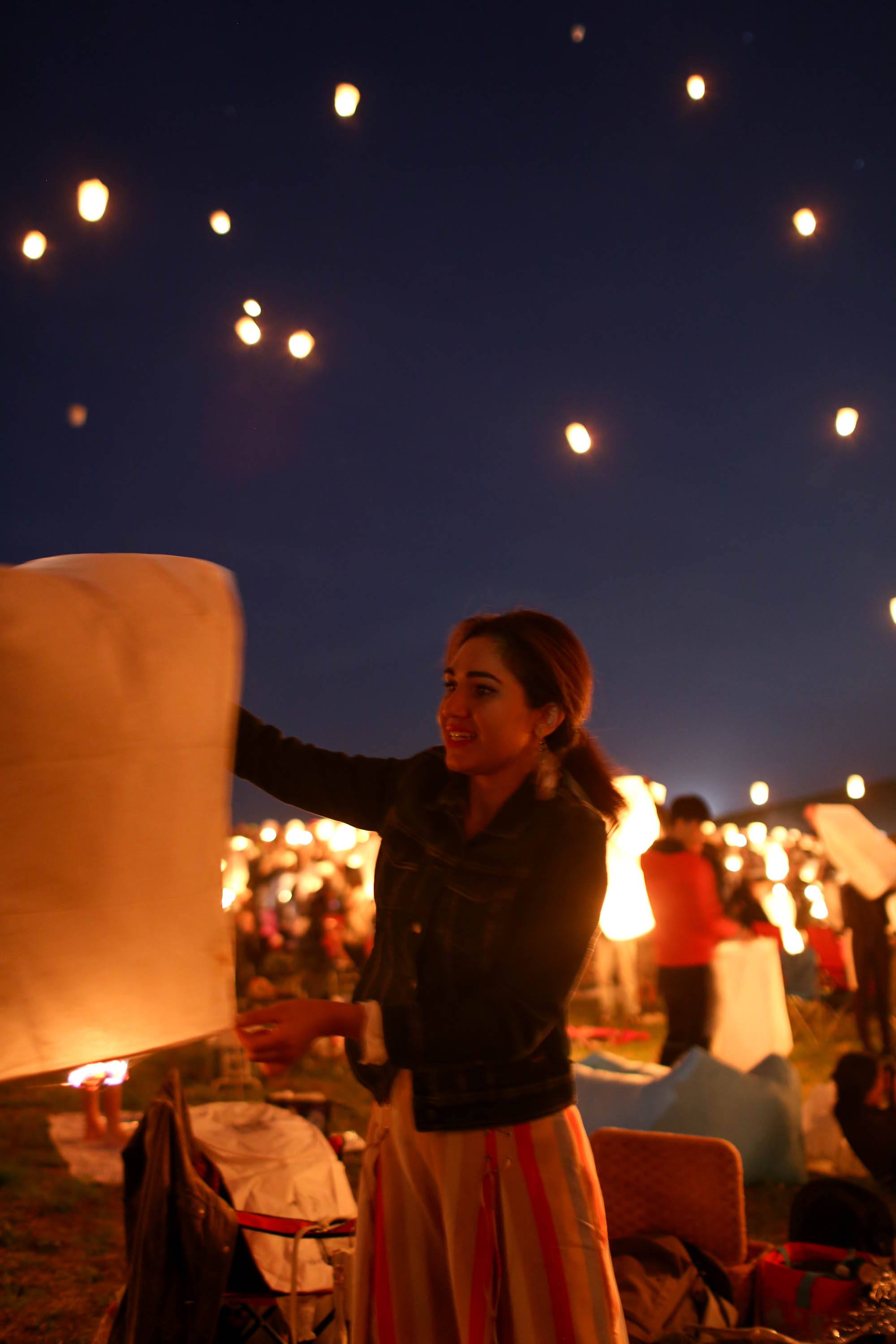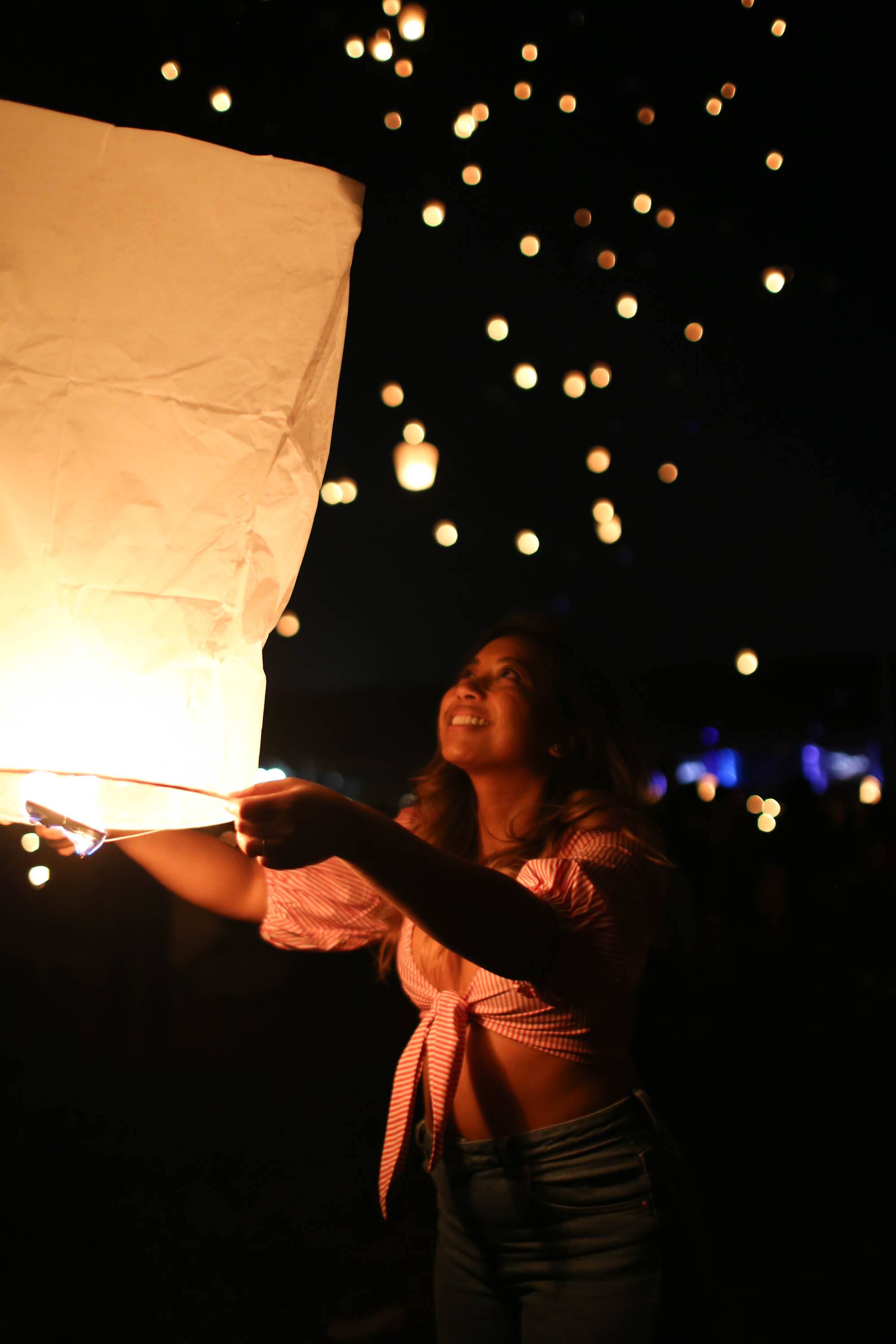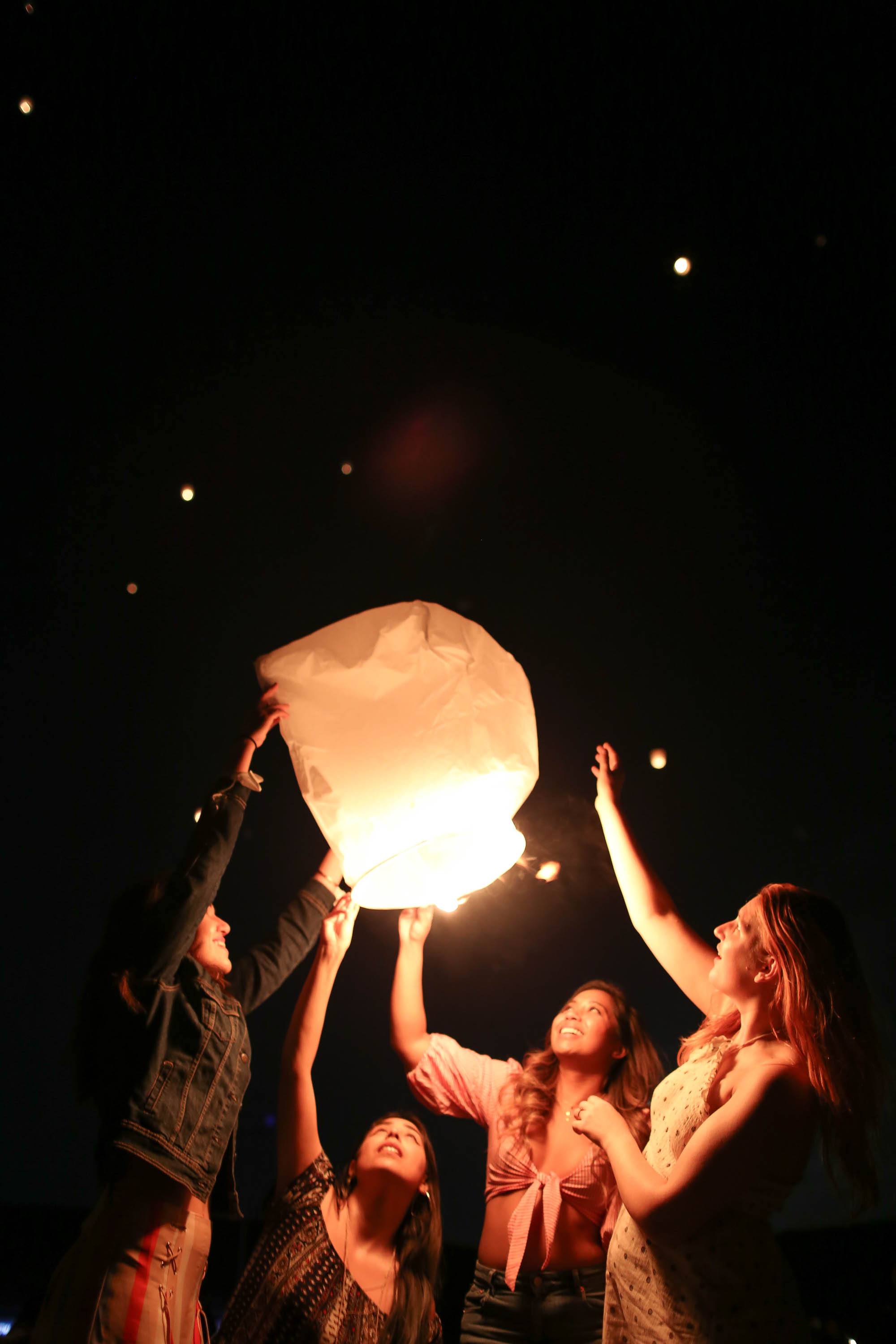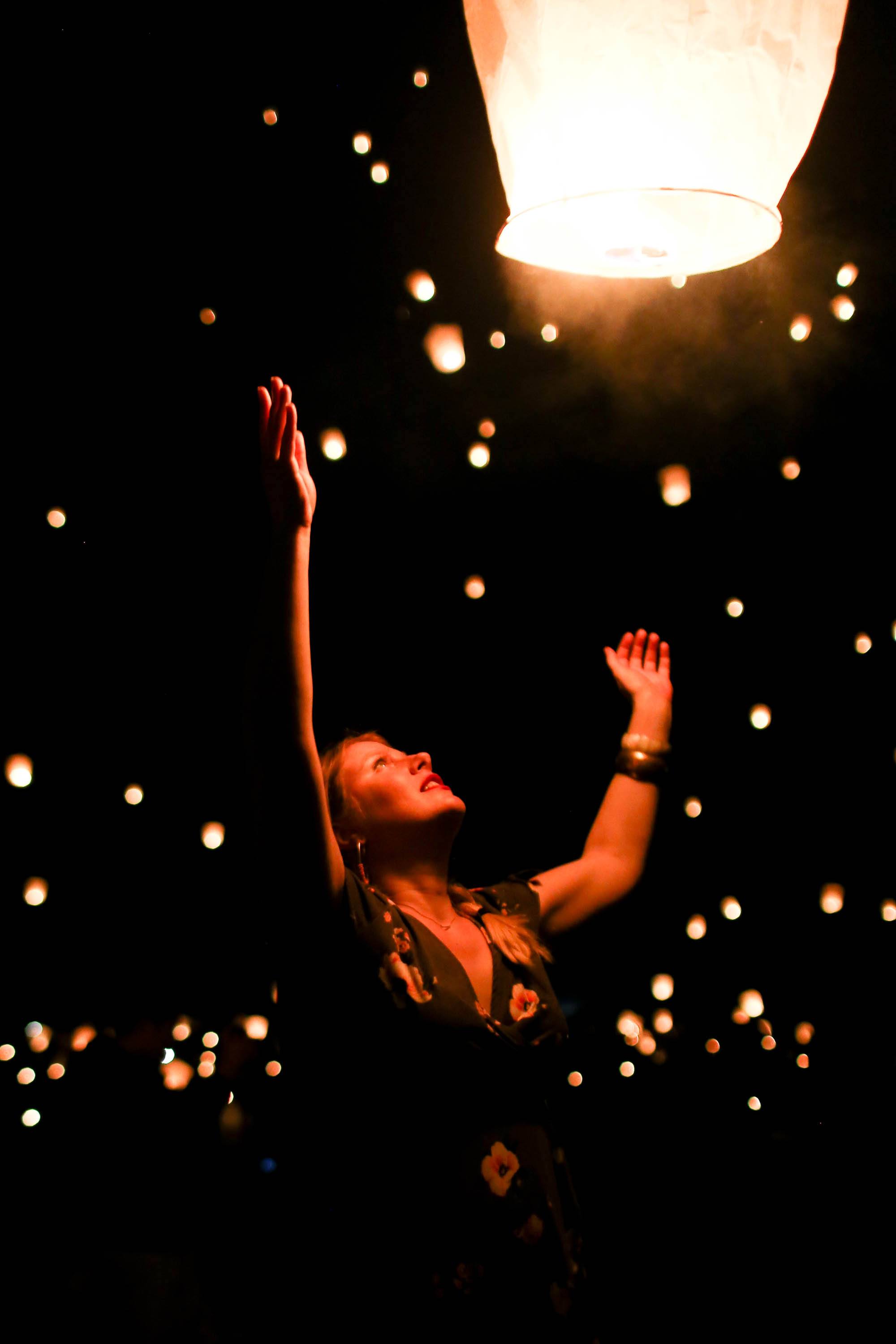 Pssst: Lantern Festivals weren't invented by the movie Tangled or for young people to take photos of to put on Instagram. Asian cultures have been throwing lantern festivals for thousands of years. If you want to learn more, start at this Wiki page.
I hope this helps you plan a fun and safe lantern festival! Leave a comment below if you have any questions!