Europe is a huge continent full of rich history and so many hidden gems it could take a lifetime to check them all off your European bucket list.
But, when you're an American like me, it can be hard to narrow down what once in a lifetime experiences in Europe to plot out during visits. We all know about Big Ben and the Eiffel Tower, but what about the things off the beaten path that end up being the best memories?
I wanted to share a list dedicated to the unique things to do in Europe … and things to eat, wild places to visit, hotels on my bucket list and more travel ideas for you.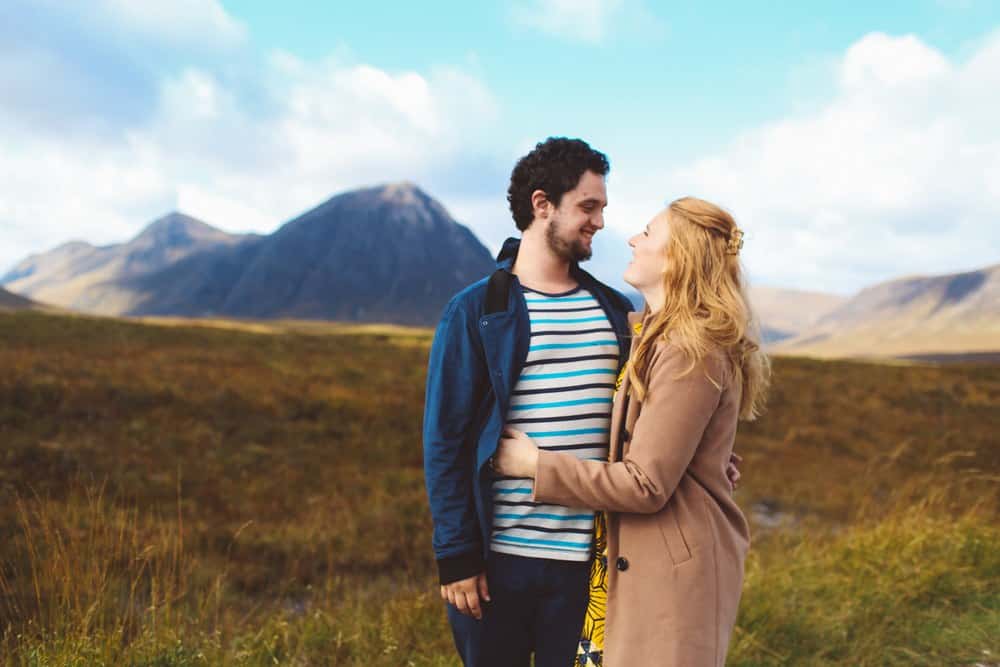 One of my favorite memories on my honeymoon across Europe years ago was when we, on a whim, stopped by a little cafe somewhere in the Scottish Highlands.
We got biscuits with jam and holy moly, it was one of the best things I've ever put into my mouth. I still daydream about that cafe.
Sometimes these hidden gems in Europe really are hidden little spots in the middle of nowhere that end up being your favorite meal of the trip. Sometimes they're a little more obvious, like seeing the Mona Lisa which is touristy but 100% worth the stop in my opinion.
33 Unique European Bucket List Places To Visit, Things To Eat & More
1. Have High Tea In London At Sketch
Starting off the travel bucket list strong, we have the world renowned tea time at Sketch in London. This spot is famous for their complete (all you can eat) tea time. While it's quite expensive ($170 for 2 people) you can easily get your money's worth by going between lunch and dinner and getting all of the seconds.
Speaking of seconds, the tea cart is equipped with so many types of tea and you can choose multiple throughout your dining experience. They recommend you get one with your savory dishes and another for the round of sweets.
While you're there, definitely check out their insta famous egg shaped bathrooms. Make sure you get reservations a couple months ahead of time and then take your time, eat slowly, and eat a lot!
If you need more activities to walk all of that food off after, check out our 4-day London itinerary!
2. Connect with your Inner Geologist at the Giant's Causeway
If you like visiting unique places, put this high on your list! Another spot in the United Kingdom, in Northern Ireland The Giant's Causeway is a natural formation of a ton of huge hexagonal basalt columns formed from cooling lava.
Since it's such a natural wonder there's bound to be crowds, so I highly recommend going at sunrise or sunset. Plus then you get beautiful light! There's also a ton of interesting folklore about the formation to explore while you're there.
Read more about my visit to the Giant's Causeway for some style inspo and even more recommendations.
An Ireland road trip should absolutely be on your bucket list too. You can read more about everything I learned from mine in this 7 day itinerary.
3. Go to Oktoberfest in Munich
Oktoberfest, which mostly takes place at the end of September, is a fantastic way to experience Germany! This festival is an absolute blast filled with beer, food, and fantastically dressed up people.
It can be super confusing if you don't know what to expect and do, so if this is in your travel plans definitely check out my guide to Oktoberfest that has all of the lessons I learned from my experience.
I also totally recommend dressing up, it takes it from being an event to an entire experience.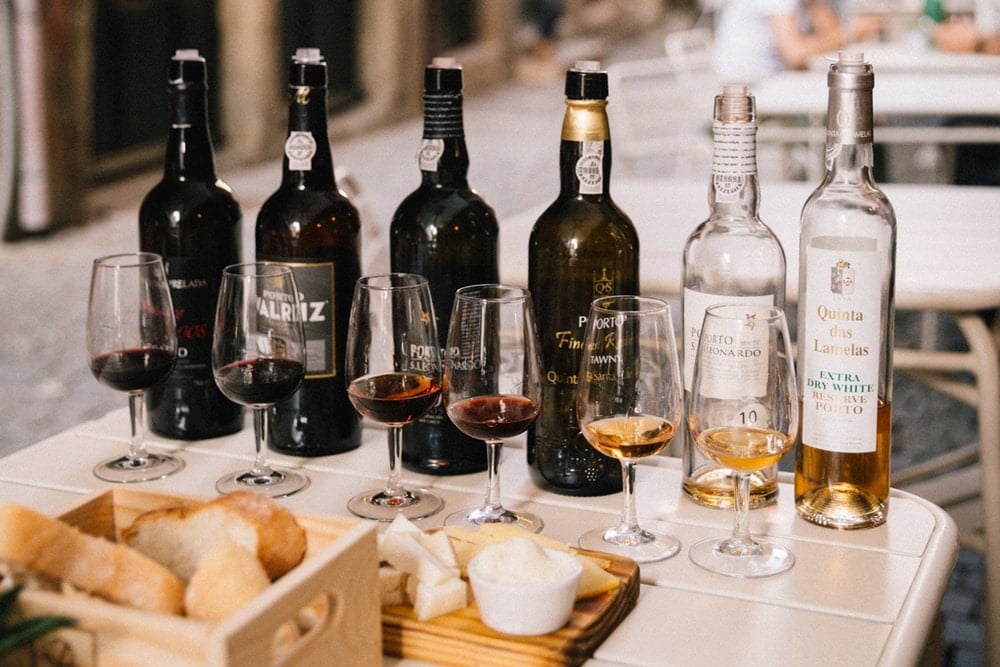 4. Get a Port Wine Flight in Porto
Porto is definitely one of the must visit places in Europe. Hidden gems are all over Portugal and Porto is definitely one of them. There's so much to do in this town, check out everything else I recommend to do in Porto, Portugal.
The bucket list activity has to be a Port wine tasting since the Port is made right outside of the city. Head over to the Ribiera neighborhood and pick one of the many wine bars for your tasting.
I went to R. da Fonte Taurina 87, which doesn't really have an online presence but has an amazing cheese tray to pair with your wine tasting.
At some of the port houses you have to make reservations, especially to get a tour in English so just be prepared for that, and for that fact that the Port is strong so come hydrated and fed!
5. Go Troll Hunting in Denmark
If you are looking for an adventurous free activity, go on an adventure and find the giant wooden trolls in Copenhagen (and throughout Denmark). Made by artist Thomas Dambo, these recycled wood trolls are unique and so cute!
There are a ton in Denmark since he's a Danish artist, but these trolls can be found around the world too! If you want to read more about where these trolls are and tips on finding them, read about my troll treasure hunt!
6. Rest and Reset with a Sauna/Swim in the Fjords of Oslo
Oslo definitely belongs on everyone's Europe bucket list! The capital city of Norway is totally worth a stop, if nothing else then for the healing Scandi sauna/swim combo.
For a totally affordable price, you can go sauna on a fjord and then switch between the heat of the wood burning sauna and the ice cold water.
If you go in the summer the fjord water won't be as shockingly cold but the hot/cold exposure will still give you all the same health benefits! And in the summer the sun is up super late so you can go in the evening and still be sun soaked.
Jumping in freezing water in winter definitely counts as one of the crazy things to do in Europe, so if you like a healthy dose of adrenaline or have been curious about this health ritual add Oslo to your bucket list!!
We happened to luck out on our visit. We went the night of summer solstice and it started off raining but we ended the swim with a rainbow over the city. PERFECTION.
For more inspiration for your Oslo vacation check out our 2-day Oslo itinerary!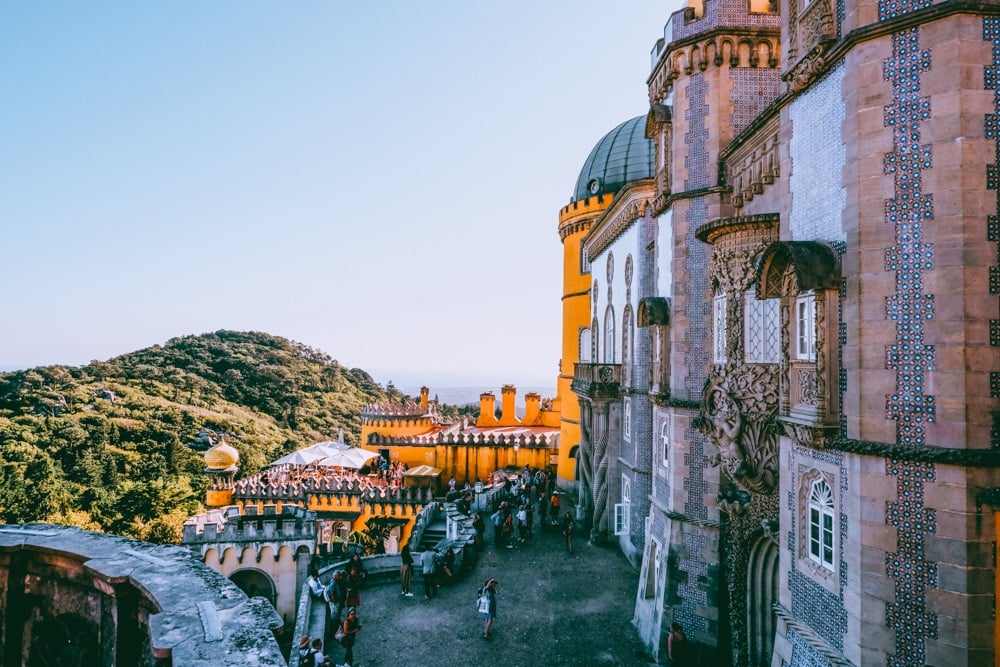 7. Tour Sintra Palace in Portugal
The Pena Palace in Sintra is a day trip from Lisbon, and should be on everyone's bucket list destinations! The entire town and mountains are considered a UNESCO Cultural Landscape and so there is so much beauty and history here.
The palace itself combines the architectural style of Gothic, Moorish, and Renaissance architecture making the entire palace and tour fascinating.
Make sure you wear your walking shoes and get your camera ready! Whimsy Editor Taylor shares all of the tips and tricks for the palace and the town, including details on exploring the city via scooter!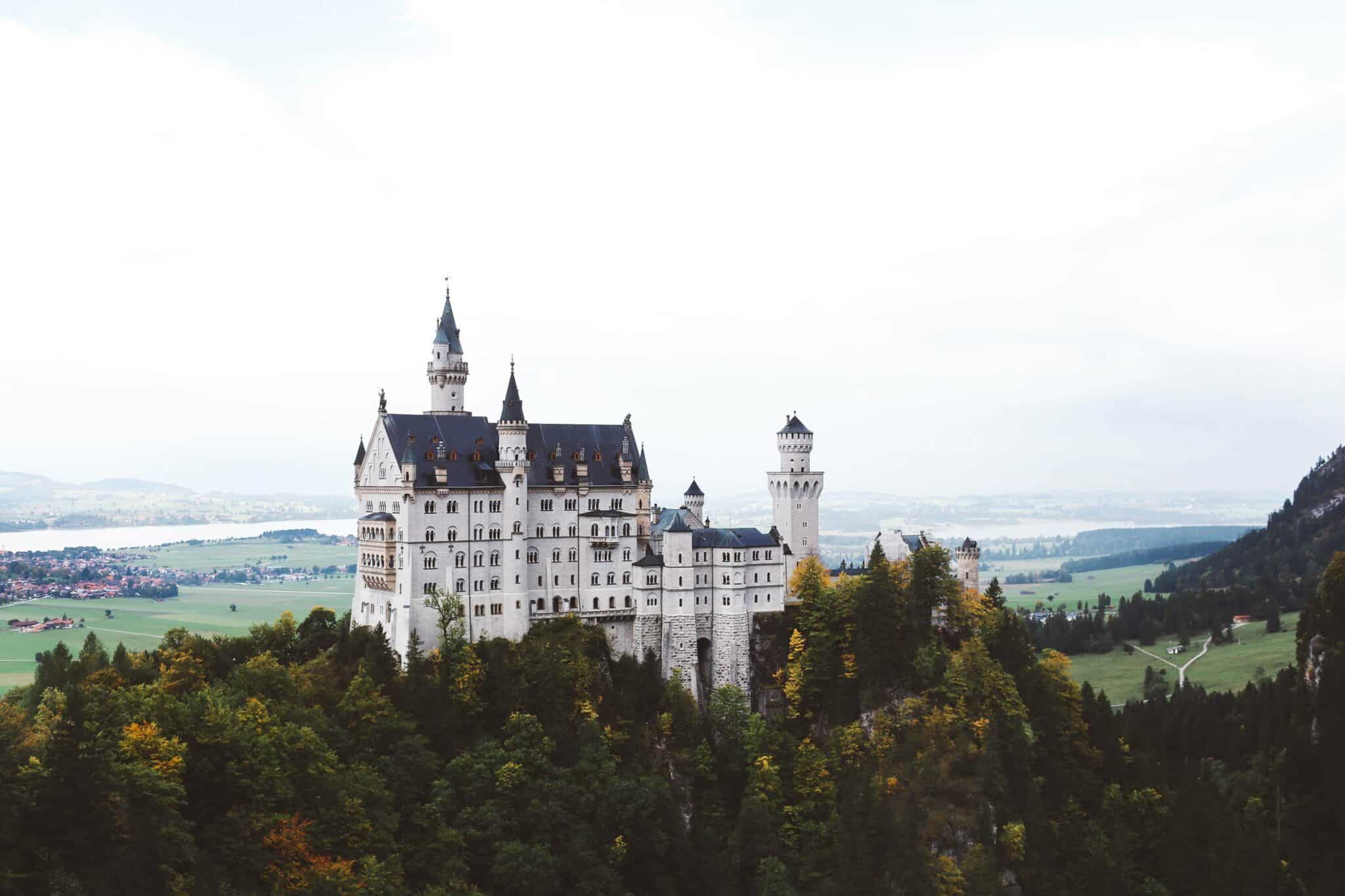 8. Visit Neuschwanstein Castle
Visiting the castle that inspired the Disney castle is definitely one of the bucket list things to do in Europe. It is located in Fussen and is one of the perfect day trips from Munich. While it is one of the most visited castles in Europe, the trek to get there is not super straightforward.
So, I made an in-depth guide on Neuschwanstein and on how to do it without an expensive tour. It is in such a gorgeous location with views of a lake and the mountains. There is ongoing restoration work as they try to preserve the historic castle and keep it in visiting shape.
With your tour you will get to see a lot of the castle, besides the parts there were never actually finished! There's a ton of gorgeous art and amazing history to discover.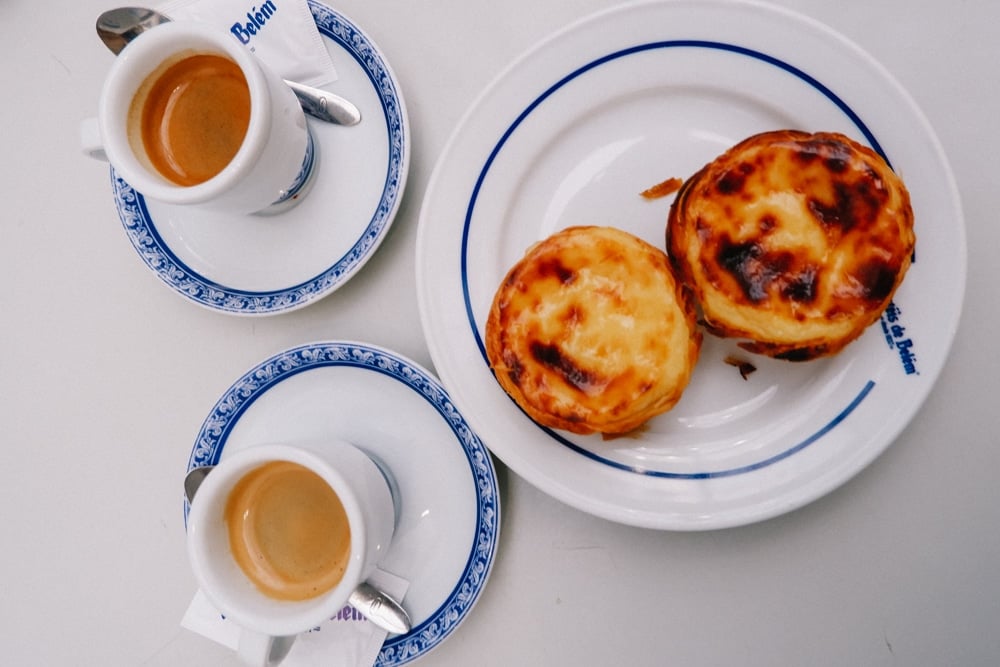 9. Eat Pastéis de Nata in Lisbon
Who says your bucket list items can't be completely based around food? The pastries throughout Europe are so divine and different you definitely have to try them everywhere you go.
In Lisbon, you have to try the Pastéis de Nata, or even do your own walking tour around the city trying to find the best one.
The Pastéis de Nata is a Portuguese egg custard that originally comes from the Jerónimos Monastery outside of the city which is also totally worth a visit both to try the pastries and to visit the monastery itself.
This monastery is a UNESCO World Heritage site from the 16th century! Another spot to check out is definitely the Pastéis de Belém, known for the best Pastéis de Nata in all of Portugal. Read more about both of these spots and so many more in our 3-day Lisbon itinerary.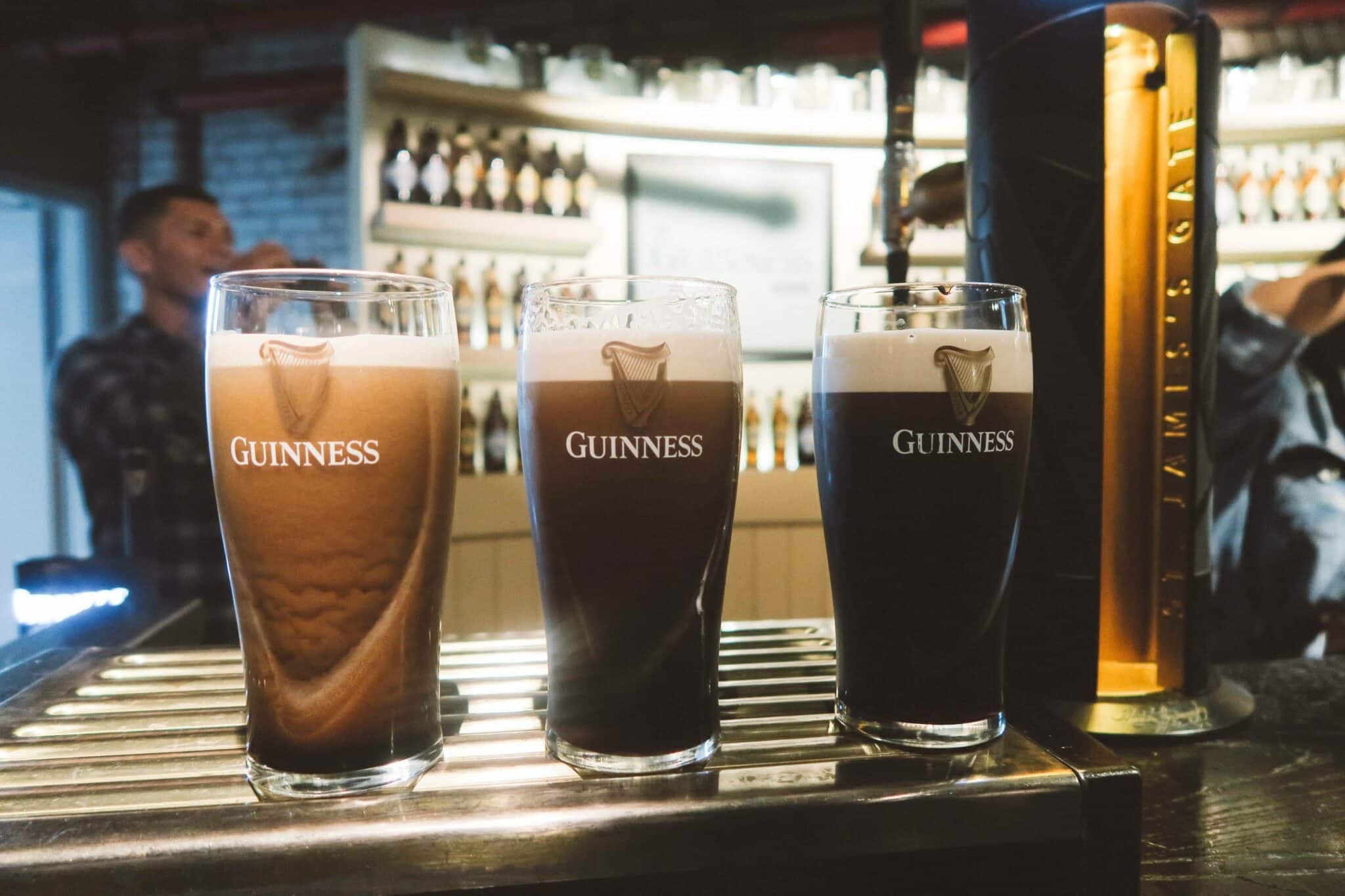 10. Tour the Guinness Factory in Dublin
The factory is built in an old fermentation plant and is 7 floors. It has a ton of bars and cafes inside so you can happily spend as much time as you want in the factory. You could even make it a whole day tour if you're that into beer.
It's best known for its gravity bar on the very top that has amazing panoramic views of the city. It's definitely a popular destination so if you go in the morning you'll probably have to fight some crowds.
If you want to expand your experience they also have add -on where you can learn to properly pour a pint or even get your selfie printed on your pint, they call it a stoutie!
For more tips on things to explore in the area check out our Dublin Travel guide.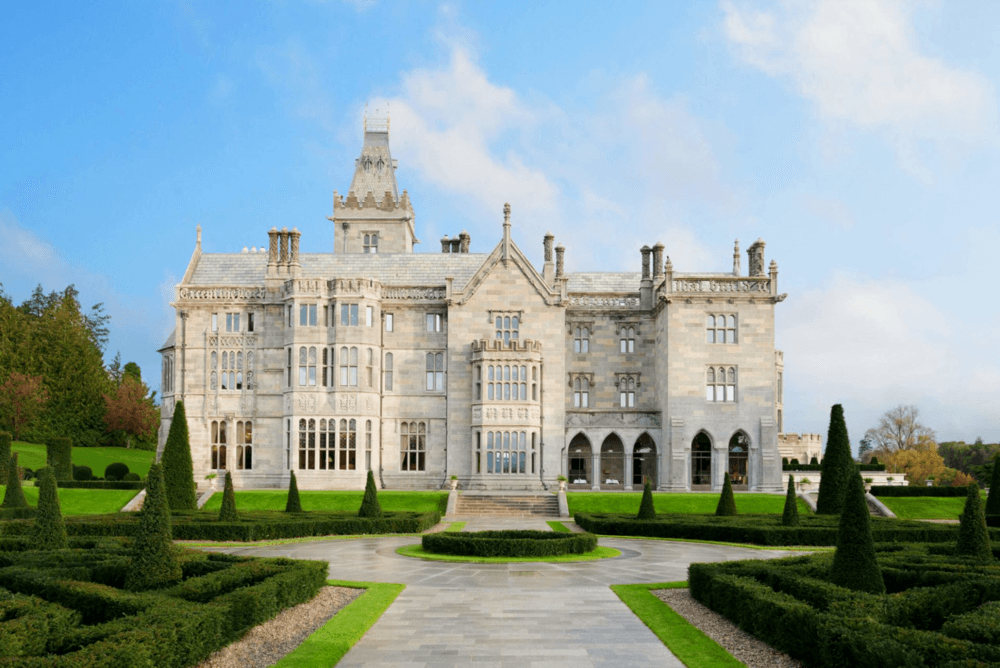 11. Sleep in a Castle Hotel in Ireland
For the history or architect lover this is absolutely a must! Throughout Ireland there are a ton of historic castles that have been repurposed as hotels. Some of them are on the expensive end but come with luxurious experiences.
Others are super affordable! One that combines affordability and luxury is the Kilronan Castle Hotel! It is a 4 star hotel in a castle from a royal family and lies on over 40 acres of land.
We stayed at Lyrath Estate which had an epic spa overlooking the grounds and like, the best Irish soda bread I've ever eaten.
They also have a spa! Castle hotels can definitely be one of the more luxurious things to do in Europe. Staying in a castle would also be such a fun thing to do with kids! Check out the other 14 Irish castle hotels we found here!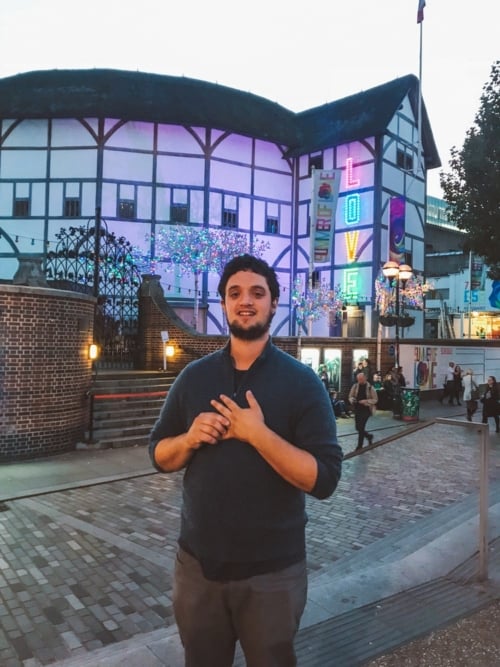 12. See a Play in the Globe Theater in London
We all had to read Shakespeare in high school but trust me, seeing a play in the Shakespeare Globe theater is far from that experience! The theater is filled with hundreds of years of history and will totally make you feel like you're time traveling back to when these plays were first performed.
It was literal magic seeing a nighttime show here.
Also make sure you get some mulled wine at intermission, it is so delicious. At first this seems like some of the weird stuff to do in London, but I promise, it is so worth it!
If you are interested in Shakespeare, the history, or the themes underlying the plays check out the theater's own podcast too! While you're in London check out some of our other recommendations in our London Guide for beginners.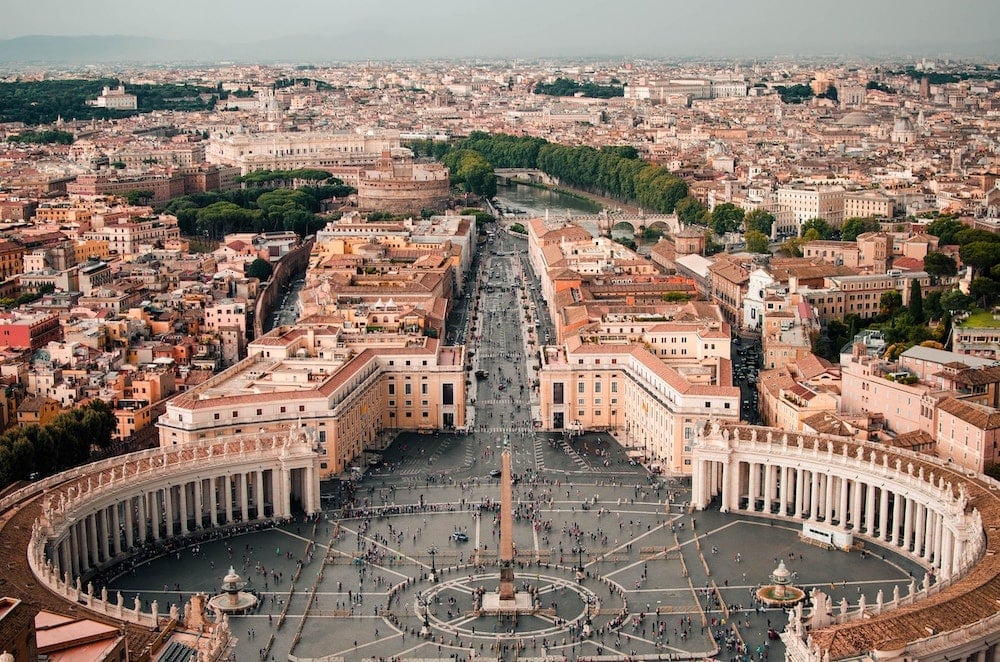 13. See the Sistine Chapel in the Vatican Museum
The Vatican is definitely a must see in Europe. Famous places like this one are also totally tourist attractions so if you go in blind it might be more pain than its worth. Lucky for you, we have experience and advice for this spot too, including how to get in for free!
If you are over waiting in lines for popular European destinations like this one, always check if you can get tickets ahead of time! For the Vatican museum, if you can't make it on free Sunday, definitely get a ticket online ahead of time and skip the line.
All that being said, once you get in, seeing the Vatican is so amazing. The Sistine Chapel is show stopping.
14. Have Lunch at Elephant Cafe in Edinburgh
Not only is this cafe the favorite of J.K. Rawlings and many other well known authors, it has also been voted the best cafe in Edinburgh. Whether you are a fan of Harry Potter or not, it's definitely worth a visit.
But if you are a fan, make sure you check out other Harry Potter places to visit and make a whole tour of it! In the cafe you can see where most of the books were written and the bathroom is not to be missed (and, get ready to cry I sure had tears in my eyes after leaving that room…)
Step into J.K. Rawlings shoes and write in the cafe, marveling at the view from the back, or better yet, take your favorite Harry Potter book and read it in the cafe where it was written!
They have amazing food so definitely grab something to eat, maybe even lunch, before heading out for the rest of your Edinburgh adventures. Edinburgh is one of the well preserved medieval towns in Europe so there is so much history and culture to see.

15. Spend the Night at a Cozy Wine Bar in Paris
Paris is jam packed with a ton of Europe attractions. Trips to France can be extremely overwhelming and busy trying to fit everything in. So do yourself a favor and plan a relaxing night at a wine bar in your itinerary.
You can learn so much about the country through its wine. The Bambino wine bar is a complete experience from their amazing sound system, to delicious food. They are also designed to transition throughout the day from cafe to wine bar to dance floor so you are guaranteed a great time, regardless of when you end up there.
They also have an extensive record collection that is on display and plays throughout the day. For an added two-in-one, schedule either your walk there or back to go by the Eiffel tower on the hour so you can marvel at the gorgeous light show.
There's a lot of things to do in Paris at night if you need more ideas!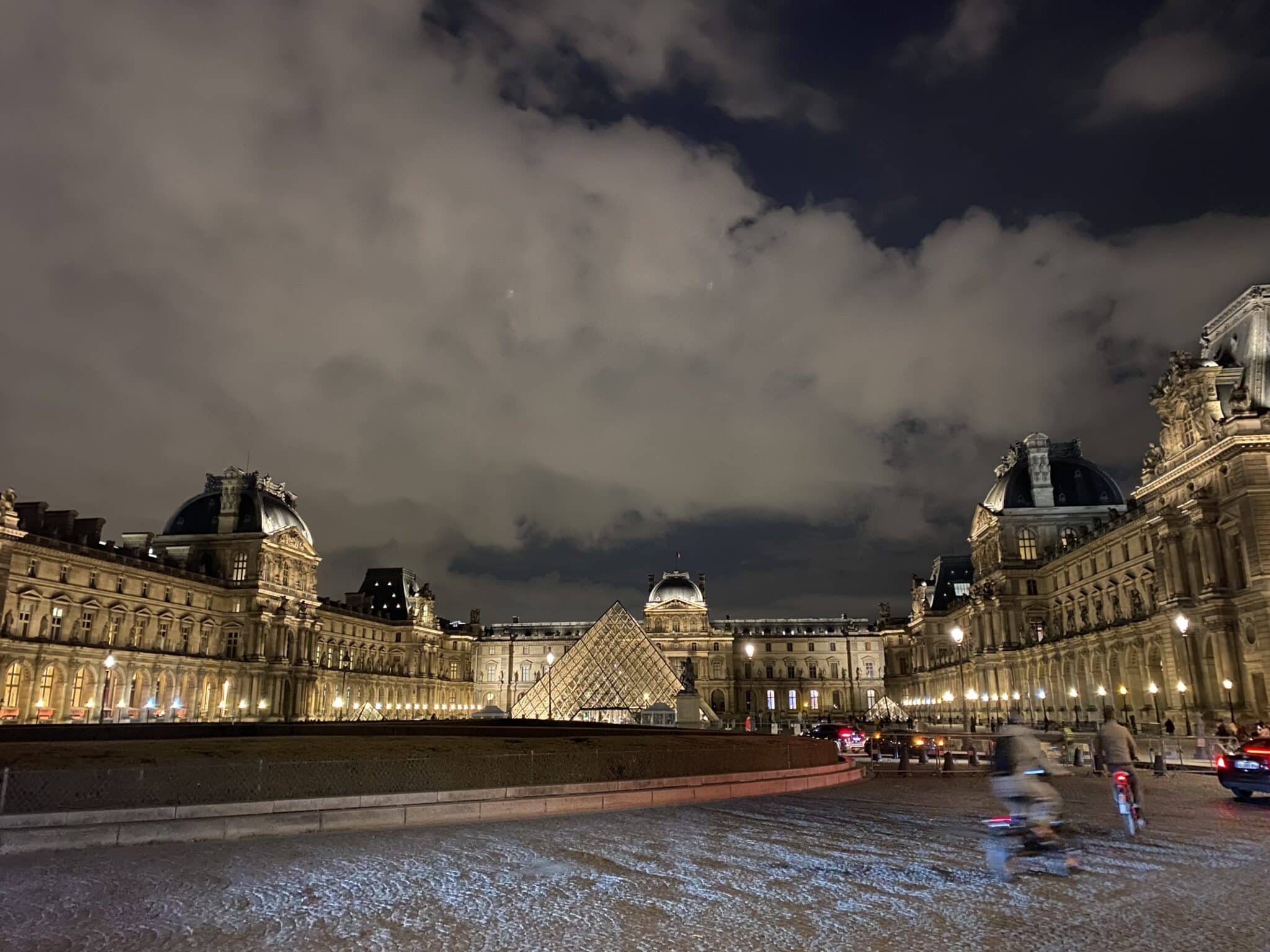 16. Go To Louvre At Night
Speaking of Paris, we have all heard about the Louvre museum and it might already be a bucket list destination for you, but sit tight for a second while I convince you to change it to "go to the Louvre AT NIGHT!"
On Wednesdays and Fridays the museum is open until 9:45. Since the Louvre is so popular, going on one of these nights will hopefully help you avoid the massive crowds and give you a more intimate setting to experience some of the most renowned art.
Plus the lights in the courtyard are absolutely magical! We also have a ton more travel tips for your time in Paris!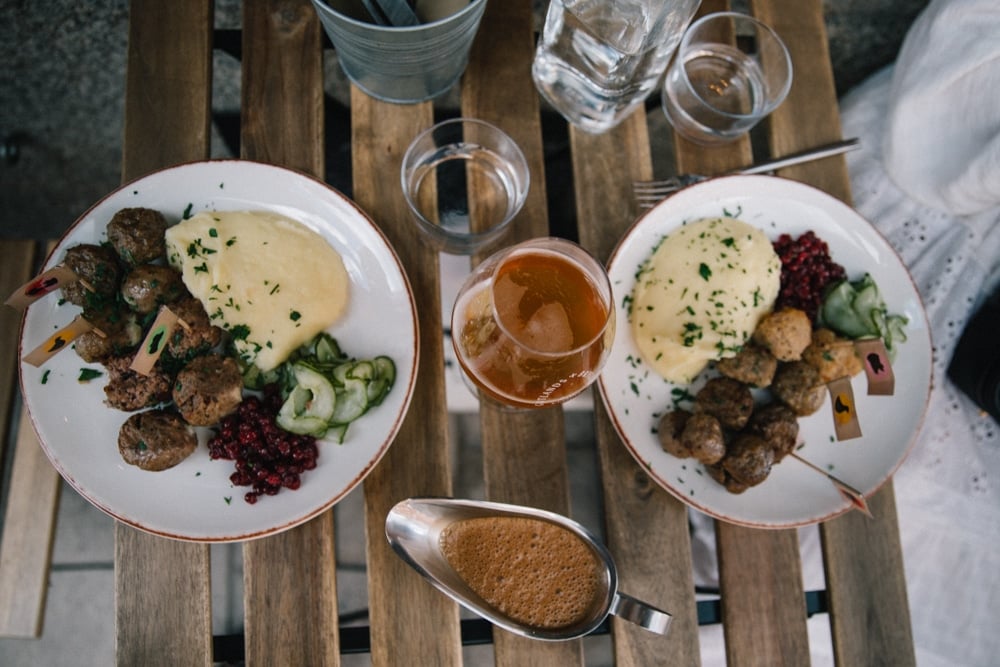 17. Eat Tons of Swedish Meatballs in Stockholm
We tried a ton of places to find the best meatballs in Stockholm so you don't have to, but you might still want to try them all! Each spot has a different take on the classic dish so you probably won't get sick of meatballs even if you hit up more than a couple of the restaurants we found.
Definitely do the touristy thing and stop at the original Ikea too, after all that's why most of us even know about Swedish meatballs, right? Seeing the city via meatball is such a fun way to check this bucket list destination off your list!
Of course, there's more to see in Sweden than eating meatballs. Here's all the best things to do in Stockholm to help you plan!
18. Sip Mulled Wine at the Berlin Christmas Markets
One of the biggest bucket list stops for holiday lovers has to be the Christmas markets in Germany. There are so many different markets with different vibes you could spend weeks exploring them all and getting your holiday cheer on.
If you have limited time check out our list of different Christmas markets in Berlin to find the ones that are most exciting for you. No matter which one you end up at, make sure you grab some food and mulled wine while you explore.
There are so many shops and activities to discover, including ice skating, ferris wheels, karaoke and so much more. This really is holiday heaven! While you're in Germany, check out some of our other winter in Berlin recommendations!
19. Swim In The Natural Pools in Madeira
The natural pools of Madeira are definitely one of the best hidden places in Europe. Most of the time tourists flock towards the beaches on this island but if you are looking for more adventurous things to do in Europe, take the extra time to trek to Poço dos Chefes.
The not so secret swimming holes are such a vibe. The island is also full of outstanding natural beauty, fun adventures and secrets like a secret tunnel on a hike!
For all the details on these recommendations and more definitely check out Whimsy Editor Taylor's complete guide to Madeira. It's considered the Hawaii of Europe (it kind of gives me Costa Rica vibes too). The island is so amazing and worth a spot on your Europe bucket list.
20. Stay at an Igloo Dome Hotel in Finland
How many of us have dreamed about sleeping under the northern lights? I know I have. At igloo dome hotels in Finland you can do just that. Apukka is a hotel that has igloo cabins with glass roofs so you have a 360 view of the northern lights from your bed.
These luxurious cabins have everything you could need for an amazing stay in the snow. It is also located next to a gorgeous lake. The hotel also includes a ton of activities from reindeer sled rides to saunas and more.
21. Get Lost in the Famous Colorful Metro Stops in Stockholm
Stockholm is a city determined to be gorgeous both above and below ground. All of the subway stations are painted colorfully and some even have gorgeous murals. Everyday art makes your time in public transit so much more interesting and engaging. And who doesn't love free public art.
Some of these stations are also great photo ops with the massive walls of color. There are so many amazing things to do in Stockholm and the beauty of enjoying the subway art is that it can be woven into your larger city tour plans.
The metro can be kind of confusing so definitely check out my Stockholm metro guide including the best art stops.
22. Go on a Harbor Swim in Copenhagen
Visit Copenhagen in summer and enjoy the free, amazing harbor baths in Denmark! There's a ton of different spots with different vibes so you can find which one you like best. Some of them have more space to lay out and tan, some even have DJs and bars.
They are popular among locals and travelers so some of the popular ones might end up a little more busy. Definitely add sipping a beer at a harbor pool to your Europe bucket list!
I sure fell in love with these spots while living in Copenhagen last summer. Whenever it was slightly warm I would grab my swimsuit and head out to a new harbor swim spot to cool off. It was one of my favorite things to do in Copenhagen!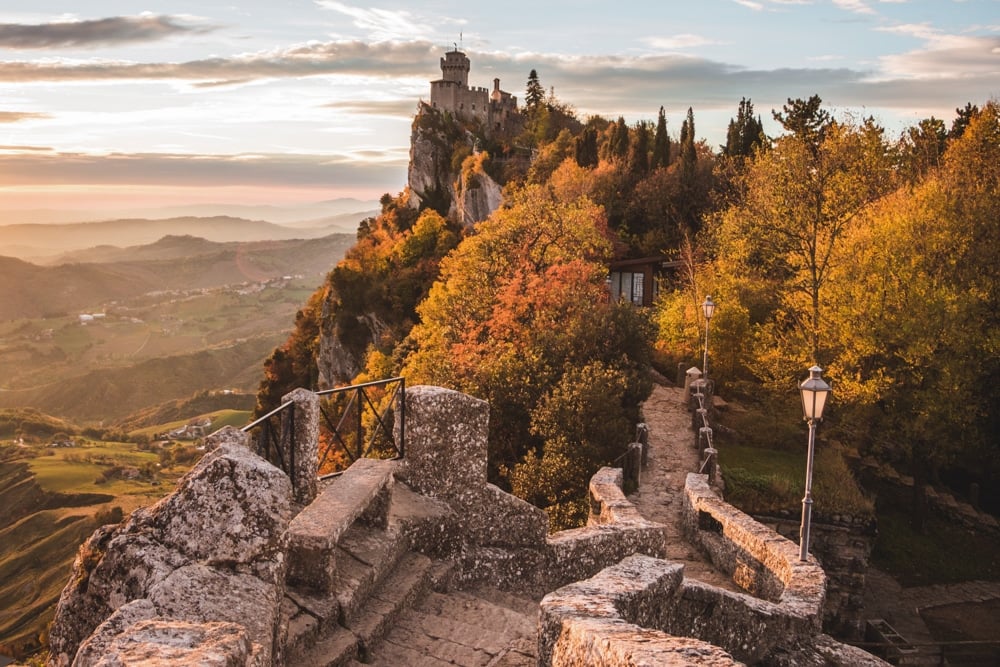 23. Walk the Witches Path Between the Towers of San Marino
One of the more unusual places to travel in Europe is San Marino. San Marino is a microstate (it's only 24 square miles!) surrounded by Northern Italy. It is one of the oldest republics in the world and has a ton of beautiful small towns.
In old town San Marino there is also a cable car going to the top of the mountain and has insane views! Each village has its own small town vibe and a lot of them are worth exploring.
The bucket list item in this country has to be the path between two of the towers in San Marino though. This cobbled path is called the witches path and has amazing views in all directions.
24. Sip Apfelwein in Frankfurt
Frankfurt is a super common layover stop. Don't waste yours in the airport! Instead, venture out and check off some bucket list items. One of the best for this spot has to be trying the local apple cider Frankfurt is known for called Apfelwein.
This can be your main event or a pit stop on your way to other adventures. You can find more of my Frankfurt layover spot recommendations.
25. Snorkel in Malta's Blue Lagoon
Go to Malta and admire the crystal clear waters and gorgeous beaches before hopping in to see the ocean floor even closer. This spot actually looks like paradise. The Blue Lagoon is on the island of Comino where there are other lagoons and even cliffs to visit!
It is a popular spot though so maybe go on the off seasons or prepare yourself for crowds. After swimming and soaking in the gorgeous lagoon grab some food at one of the restaurants featuring dishes from the nearby Middle East!
26. Hike through Plitvice Lakes National Park
Located in Croatia, this national park is filled with glorious emerald lakes and amazing waterfalls. Definitely a bucket list item for nature lovers and anyone looking for an outdoor adventure.
The park also features the longest waterfall in the country. The coolest part of the park is that all of the lakes are terraced and connected by the waterfalls. There are so many to see that you might want to spend multiple days in the park.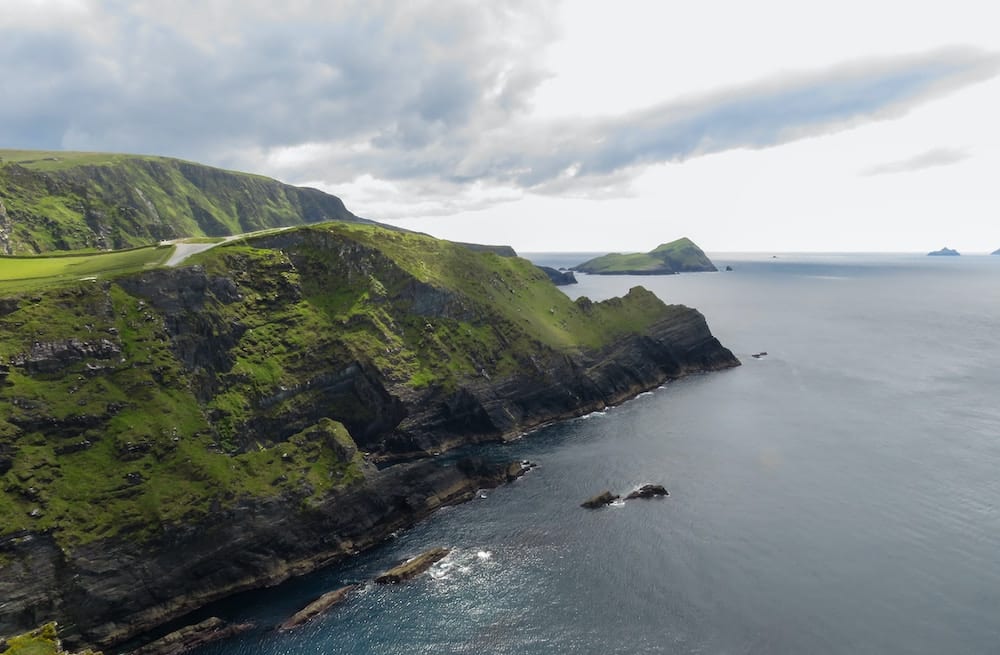 27. Take a Boat Ride to Skellig Michael
Not only is this island a UNESCO World Heritage Site, it is also where they filmed some of Star Wars: A Force Awakens. A few years ago this island was one of the best non touristy places to visit in Europe.
Since the release of Star Wars it has become exponentially more popular, but since visitation to the island is capped at 180 people a day, it is still less crowded than a lot of popular European destinations.
This island is also one of the most mystical places in Europe as a settlement of monks lived among the mountains as early as the sixth century. You can still see the rock huts there today.
PS if you love Star Wars, check our Utinini Martini cocktail recipe. Not travel related but super fun to make and drink!
28. Take a Scenic Train Through the Swiss Alps
A lot of the activities on this list come with a lot of people, so if you need some city breaks for your Euro tour, definitely think about adding in a train ride through the alps. On the ride you'll see a ton of beautiful places.
I did this while studying abroad in Europe a decade ago and i still think about how epic this train ride was.
There's a couple different rail options so you can adapt this adventure to your trip in a lot of different ways. You can do a day trip from Milan or hop from one ski resort to the next via train.
No matter which one you choose, you are bound to have some spectacular views and find some European hidden gems in the mountain towns of the alps.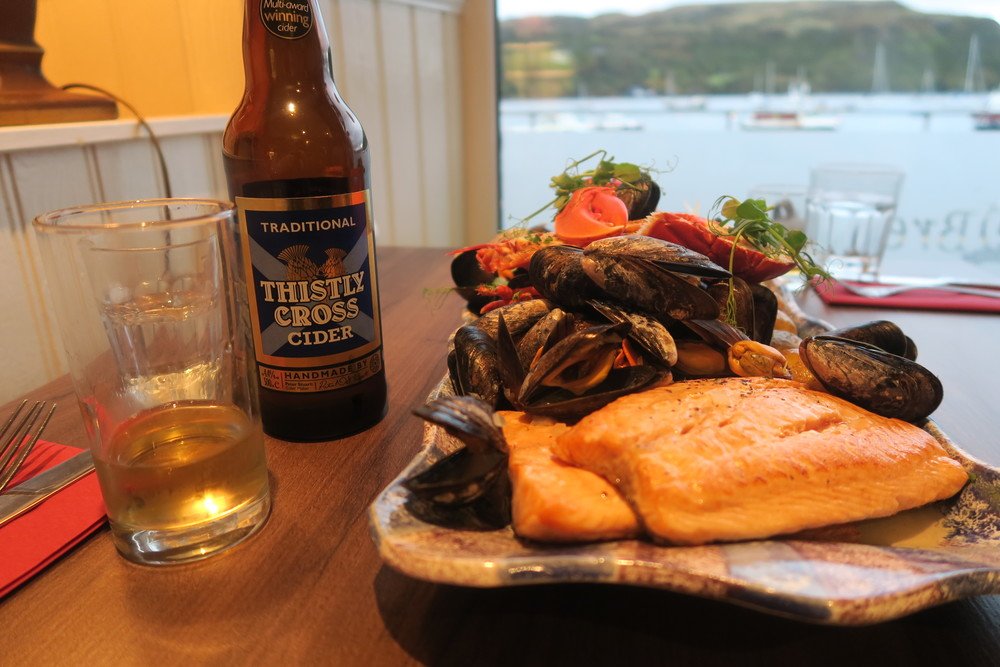 29. Have a Fresh Seafood Dinner in Portree
Islands are definitely the best place to eat fresh seafood. Sea Breezes in Portree is an absolute must do for a delicious, fresh, meal in Scotland. Both this meal and this isle are absolute magic. Make sure to get there when doors open to sit right away!
While you're on this amazing island, definitely check out some of our other Isle of Skye recommendations from castles to waterfalls.
30. Whisky Tasting on Isle of Islay
Speaking of Scotland, Islay is known as the home to some of Scotland's best whiskey distilleries. There are so many that some of the Whiskey tours are multiple days!
Definitely explore some distilleries on your own or book a tour to get the experience and whiskey education. Scotland is one of the most amazing places so definitely plan on staying around and exploring some more beyond whiskey and seafood. Check out our 7 day Scotland itinerary to spark your travel plans.
31. Have Fresh Pasta in Trastevere in Rome
You really can't visit Italy and not eat as much pasta as is humanly possible. Traverse is a neighborhood in Rome with a ton of authentic restaurants. Everyone needs to eat pasta here at least once in their life.
One literally hidden underground spot is La Gattabuia. This quiet spot is a great option. Grazia and Graziella is another popular favorite but you really can't go wrong with any of the restaurants in this neighborhood.
32. Check out the Cafe or Bar Scene in Pristina, Kosovo
Pristina is definitely one of the more unique places to visit in Europe and isn't one you'll see on most popular, tourist, destination lists. Definitely one of the hidden gems in Eastern Europe, Pristina isn't really known for any specific tourist destination.
Rather, it is an up and coming city in a new country filled with life. The population in this city is extremely young, making it a fun spot to travel to and explore. Their cafes are such a vibe and the coffee is insanely affordable.
There is also some amazing nightlife worth checking out. This city can also be a great place to start off exploring the rest of Kosovo. The city also has a ton of unique architecture.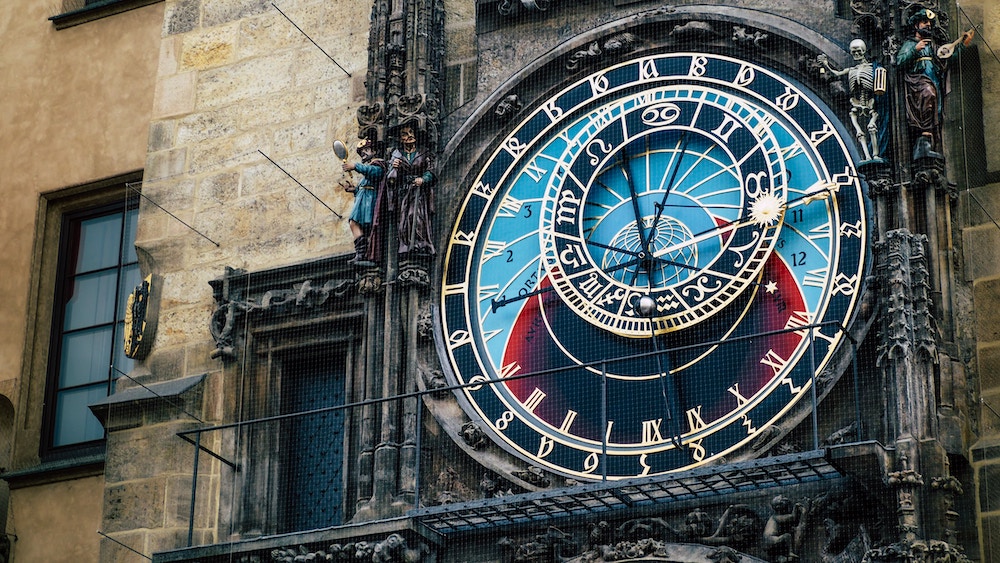 33. Watch the Astronomical Clock Show in Prague
Every hour, on the hour between 9am and 11pm the astronomical clock in the town square of the capital of the Czech Republic is a sight to see. This extremely complex clock is worth seeing at an hour but is extra spectacular during the clock show.
After watching the show you can take a tour inside and see some of the machinery that makes the clock work. You can even buy a pass that gives you entry to the old town hall and a ton of other Prague attractions.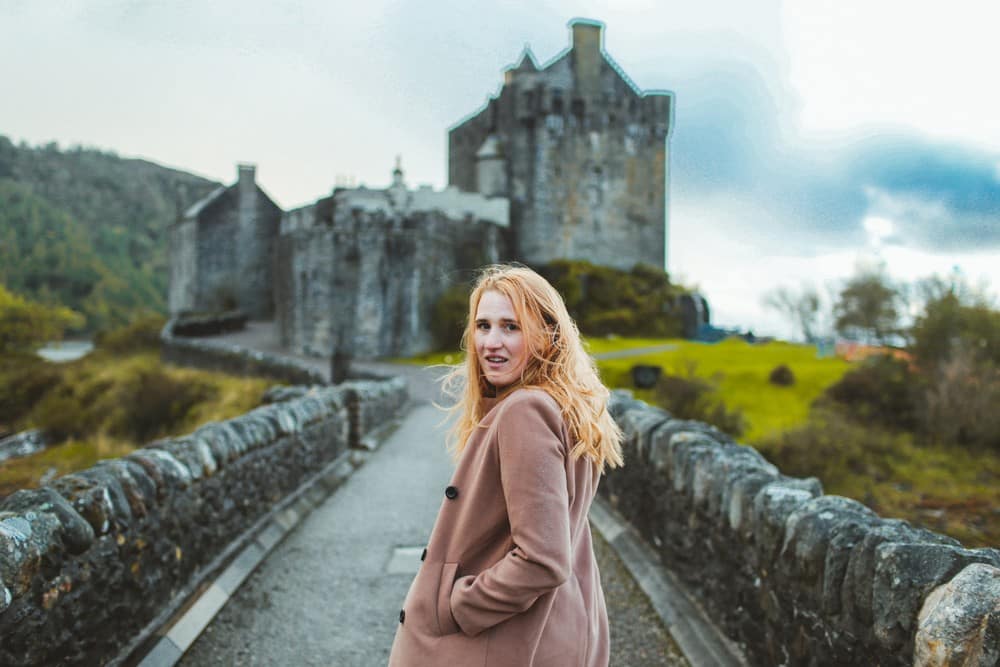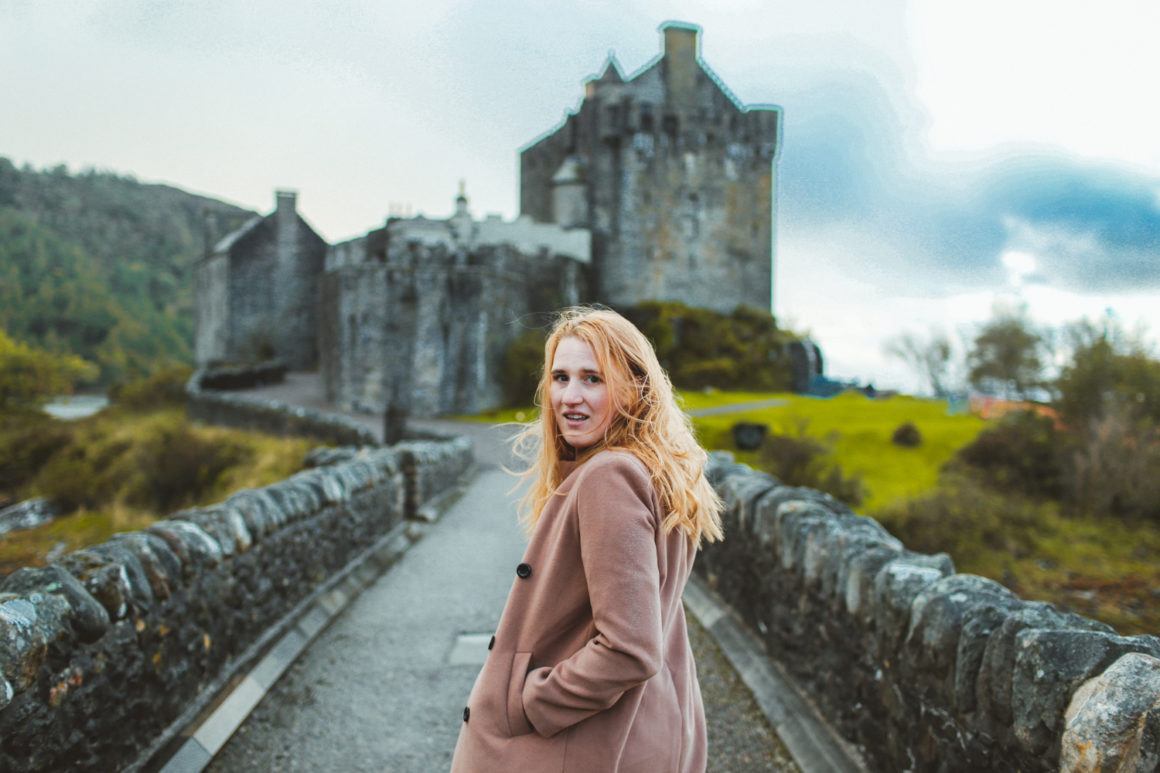 I hope this helps you plan your ultimate Europe bucket list itinerary!! I'll be updating this all the time with new ideas and Europe must see when we cover them here on the blog. If you have things you want to share from your Europe travel bucket list, please drop a comment below so everyone can see!