There are so many things to do in Madeira for an adventurous traveler. However, for me (and I assume others), adventurous travel is a spectrum.
I consider myself semi-adventurous because you won't find me bungee jumping off cliffs or jumping off anything really, but I do love moderate hikes and kayaking on the regular.
Madeira offers adventures across the spectrum, but I fall right into the long hikes, beautiful swimming holes and good food. We spent 3 days in Madeira or rather 3 and a half with a half travel day.
Like the Azores Islands of Portugal, Madeira is often referred to as the Hawaii of Europe because both are volcanic islands in the Atlantic Ocean that offer an abundance of beautiful places, nature, quiet and outdoor activity.
20 Things to Do In Madeira, Portugal: Madeira Island Travel Guide For The Semi-Adventurous Traveler
From what I gather, the primary differences between Madeira Island and the Azores Islands are weather and infrastructure. Madeira is primarily sunshine whereas Azores has a mix of sun, rain and cooler temperatures.
Madeira also has much more tourism infrastructure in place, and the Azores are a bit off the beaten path.
That might have something to do with Madeira's claim to fame as the hometown of Cristiano Ronaldo which is incredibly timely with the World Cup currently in progress (Portugal had a huge win against Switzerland, but lost to Morocco in the quarter finals).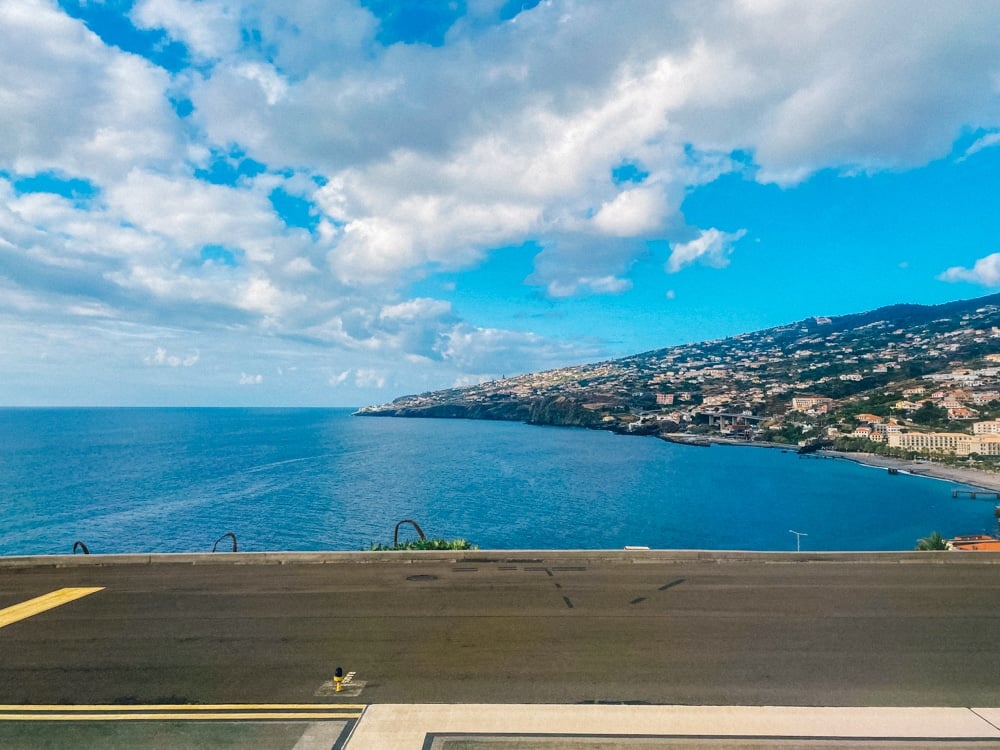 Ronaldo is known to be very proud of his home, and gave it a global platform to attract tourists from all around the world. Not only is his face painted on the exterior of the Madeira Airport (that's named after him!), but there's also a Cristiano Ronaldo Museum and famous statue in Funchal – the largest and capital city of Madeira (and where Ronaldo grew up).
Madeira At A Glance
One of the most interesting things about Madeira is that while it's a region of Portugal, it's closer in distance to Africa. It consists of 4 islands: Madeira Island, Porto Santo Island and the Desertas. As the name implies, the Desertas are uninhabited islands that you can visit by ferry or boat.
For the sake of our trip and therefore this article, we stuck to the main island of Madeira. There just wasn't enough time to get to it all!
Why To Visit Madeira
The simple answer is: it's absolutely beautiful. The island is green, rugged with so many hikes, beaches and natural pools to choose from.
If you're looking for a tropical vacation to relax on the beach or by the pool, you can find that in Madeira. If you want to discover new things and take an active vacation, you can find it.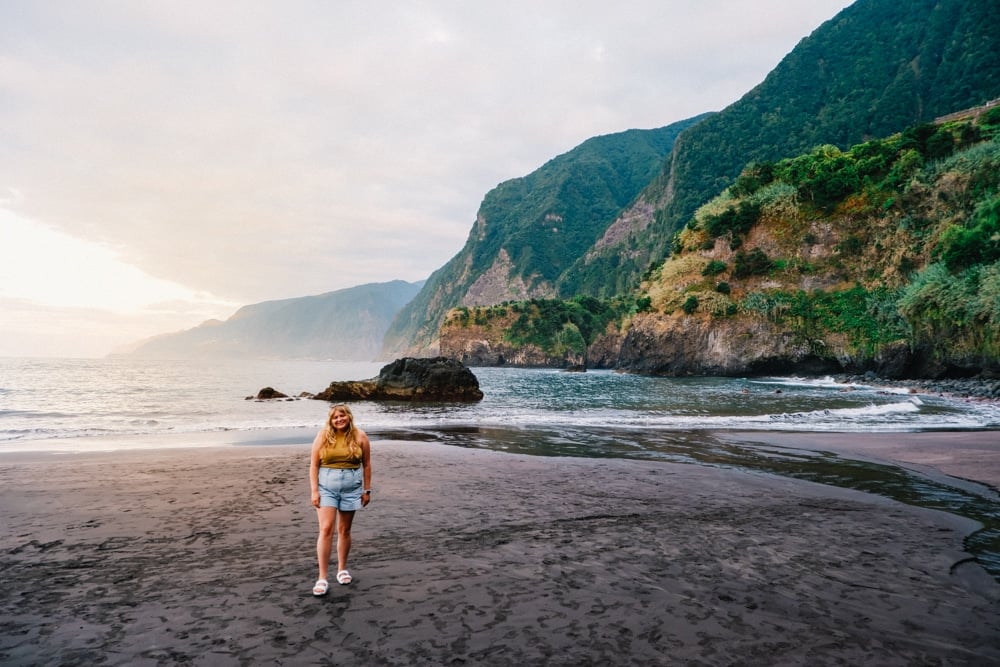 On top of that, it's affordable as is most of Portugal. We paid about $50 for our flight in and out of Madeira, but it was on the pricier side because we added a checked bag and were flying from Porto to Madeira then from Madeira to Lisbon to round out our 2 weeks in Portugal.
Getting To Madeira
Traveling to Madeira is fairly simple when traveling from Portugal or other European countries with many direct flights to Funchal to choose from. For such a small airport, there's quite a bit of destinations and airlines that fly to Madeira.
We flew with the budget airline, Ryanair, and it wasn't glamorous, but we had a decent experience! TAP Portugal Economy is also a great option to save some coin (they have great wine Vinho Verde wine options onboard!)
Fun fact: the Cristiano Ronaldo International Airport is considered a difficult place to land a plane due to heavy winds and the iconic runway situated on the cliff edge of the island.
The runway used to be quite famously short at only 1,600 m (5,249 ft) making it even more dangerous and taking a very skilled pilot to land there. It's had many extensions since and is a site in itself. The airport even has a huge terrace where you can watch the planes land.
Getting Around Madeira
How to get around Madeira depends largely on where you're staying, and where you want to visit. If you're planning to stay in Funchal and hop around the main island, you can get around with public transportation.
In our research, we found that public transportation out of Funchal takes you to the majority of tourist hot spots.
However, we decided to rent a car so we didn't have to follow a tight schedule to catch a bus, and we chose to stay in Ponta do Sol where we felt it was more central to different places in Madeira.
Driving and Rental Cars in Madeira
There's lots of places to rent a car, but two things to know. First, like most of Europe, rental cars are mostly manual (or stick shift) and you might have to pay a bit extra for an automatic.
Second, I won't lie to you and say Madeira is a really easy place to drive. You'll be driving through so many tunnels, tiny side streets and roads that appear to be going straight up, on the very edge of the island or both!
With that knowledge, you might want to consider the type of car you choose, especially if you're going to be driving to more remote areas on the island or even just the popular tourist attractions.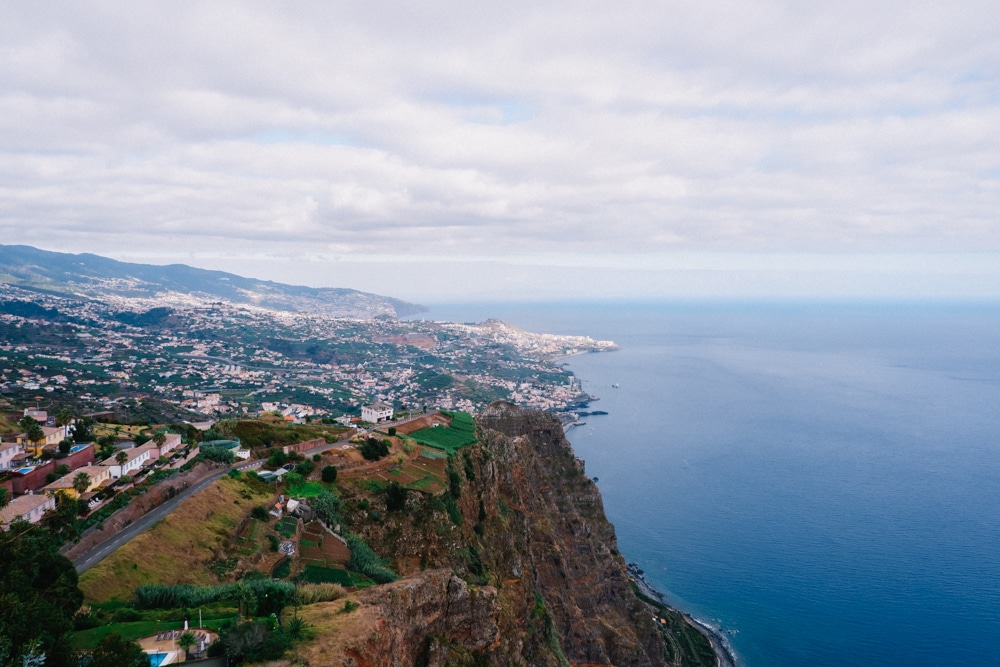 We didn't know this, so we went with the cheapest option (like one does when renting a car) and got a teeny, tiny Fiat 500.
Super fun and great for fitting into tight spaces, but boy was it SLOW on the inclines (which there are many). Our shuttle driver advised us to press on the gas all the way as the inclines are always longer than they first appear.
We rented from Funchal Drive and had a decent experience. The only complaint was at drop off. With an early-ish flight, we arrived right at opening (8 a.m.) with a small crowd of others, but no one arrived until around 8:30 so we all had to rush to make it to the airport.
Pro-Tip: Be sure to download Google Maps for Madeira Island before you head out, as many places have very little phone service!
Where To Stay in Madeira
When it comes to location, you can't really lose. There's so many little beach towns or villages situated at the top of mountains, and on top of that so many types of accommodations: farm stays, resorts, bed and breakfasts, hotels and vacation rentals.
Tourism is the bread and butter of Madeira's economy, so you truly have so many options! Plus the people running these businesses were so incredibly kind.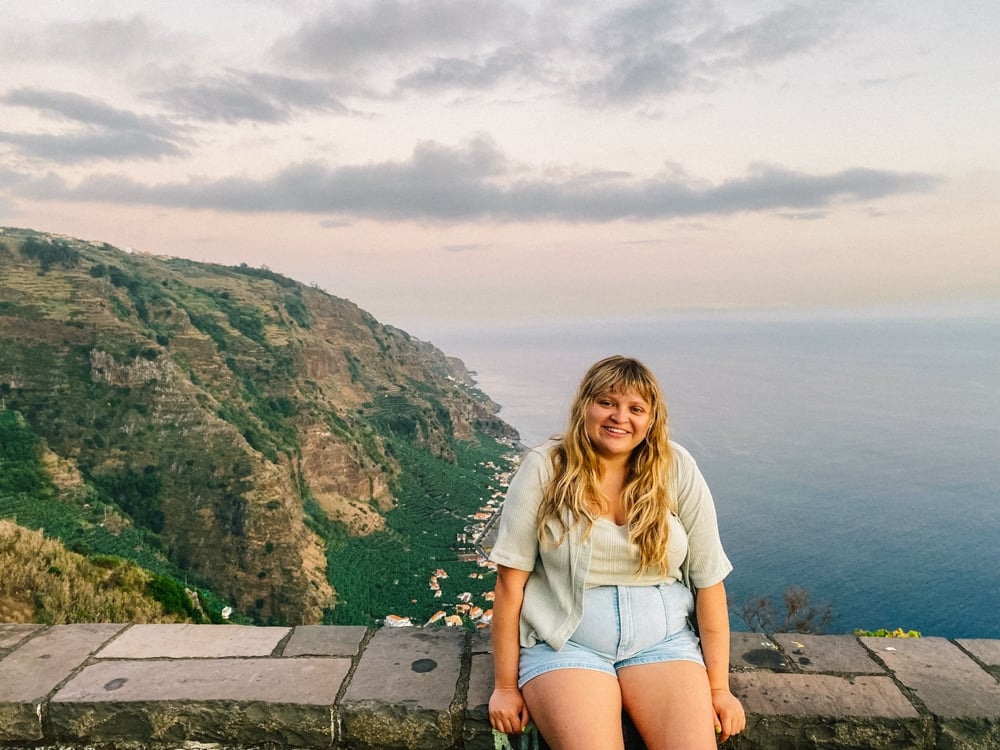 Vacation Rentals in Madeira
We stayed in Ponta do Sol at the loveliest apartment with a beautiful balcony view, and the hosts went out of their way to make us feel at home. I booked via Airbnb, but it was Stay Madeira Island, a locally owned property management company. I highly recommend them!
Which actually reminds me of a key tip when booking a vacation rental in Madeira or all of Portugal really. We saw a lot of signs outside of apartments for smaller vacation rental companies, and you can often get a cheaper price by booking directly.
However, I prefer using sites like Airbnb and Vrbo to ensure I'm not falling into any scams, and if I do I have some booking coverage.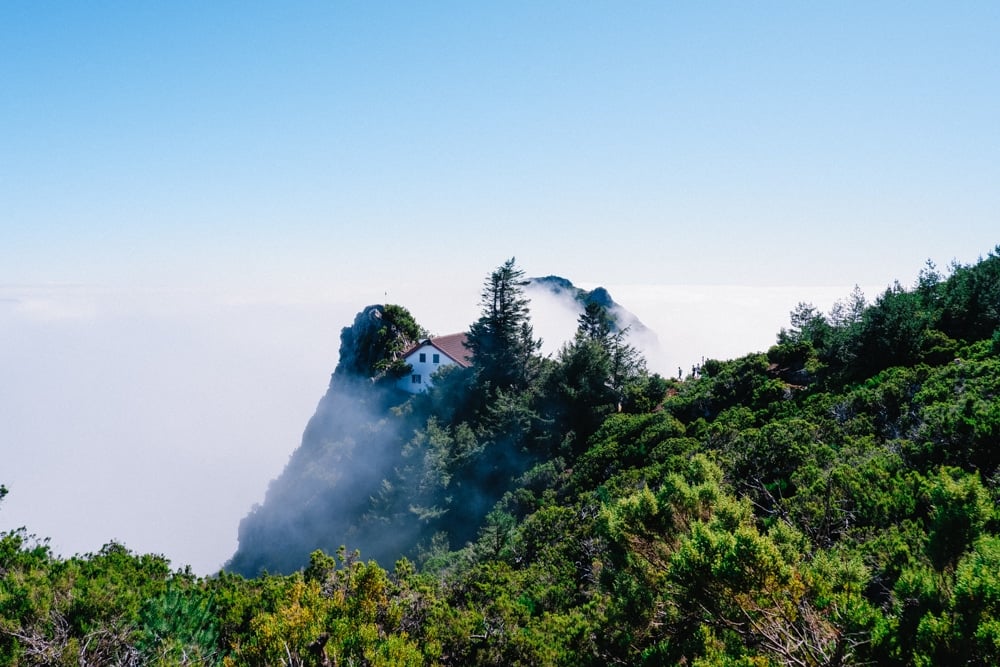 A couple things to note when booking a vacation rental in Madeira: parking and location. If you're renting a car, don't forget you need somewhere to park it overnight, and consider the difficulty of driving to and from the location. Is it remote? Have a steep driveway? And plan accordingly.
Hotels in Madeira
When I visit Madeira again, I will spend at least one night at Hotel Quinta Do Fuaro. We had lunch at their restaurant after I found it randomly on Google Maps. It had decent reviews and what looked like a pretty view.
We went without a reservation for a late lunch, and the host was a little hesitant if they had a table so we said we'd take whatever they had!
They told us "you'll want to sit outside," and wow oh wow. The view was absolutely incredible and the food was the best we had on the island.
I'm positive there's hotels with breathtaking views all over the island, so you really can't go wrong.
20 Things To Do and Places to Visit in Madeira
Madeira is one of those destinations where there's lots to do, yes, but there's also a bunch of places to visit just for the sake of seeing it.
Hidden gems all over the island with some of the most beautiful sites, you'll ever see. We did and saw as much as we could in the time we had, but we plan on going back to experience even more!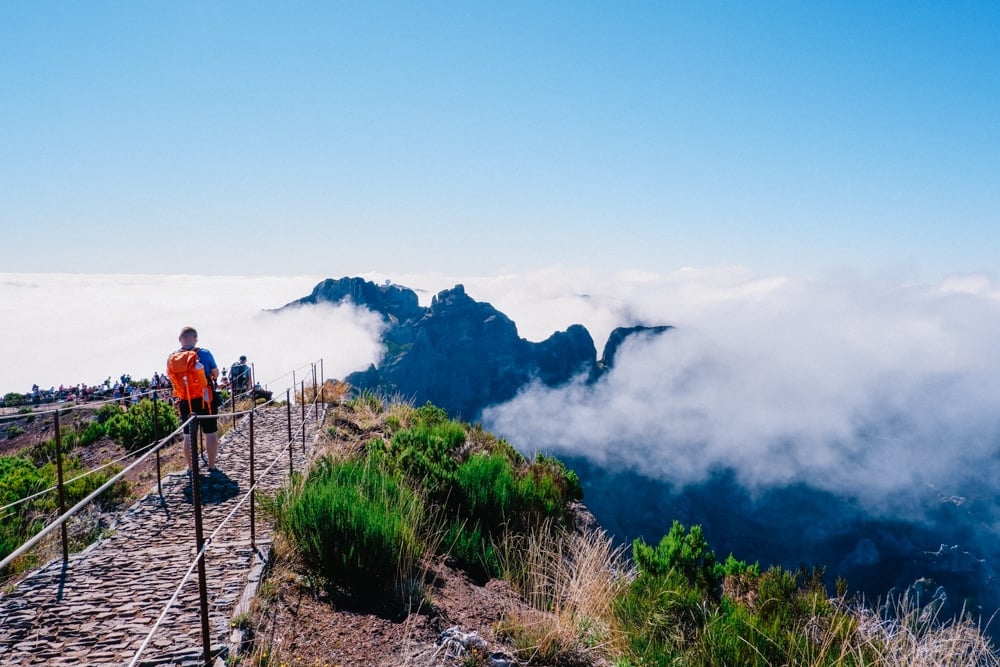 1. Hike Above the Clouds at Pico Ruivo
Pico Ruivo is the highest peak on Madeira Island, and from the starting point located just outside of Achada do Teixeria it's a fairly moderate hike.
Sunshine is a bit more brutal at elevation this high so be sure to start as early in the morning as possible for you!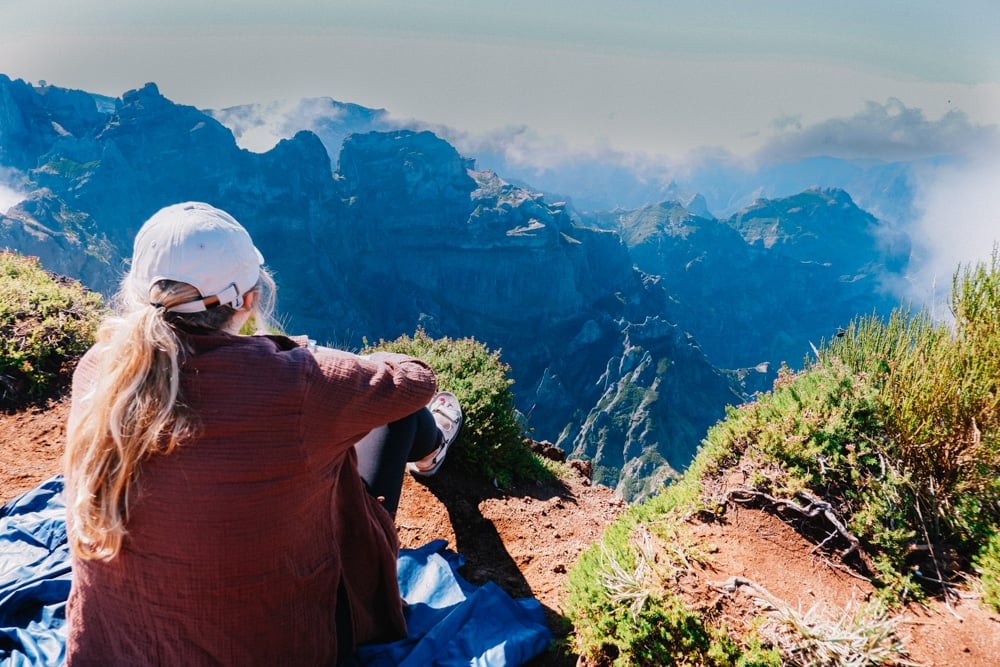 Another popular hike option is Pico Arierio. It's the third highest peak in Madeira, and from the photos has a beautiful staircase that looks like it's going into the heavens!
There's also a guided hiking tour if you would prefer to go with a local.
2. Watch the Sunset at the Black Sand Beach in Seixal
Praia do Porto do Seixal is one of the most popular beaches in Madeira because of its volcanic black sand. Plus the mountainous views are just out of this world.
3. Visit the Monte Palace Tropical Garden and/or Madeira Botanical Garden
The Monte Palace Tropical Garden is a collection of exotic plants from all over the world. The HUGE multi-level space is a whopping 70,000 square meters.
You can also find black/white swans and peacocks wandering around the garden, African sculptures and a private mineral collection with more than 1000 species (700 on display).
If you want to explore the flora and fauna of Madeira, visit the Madeira Botanical Garden. The garden is part of an estate belonging to the family of William Reid, founder of Reid's Hotel in Funchal.
4. Swim at Porto Moniz Natural Swimming Pool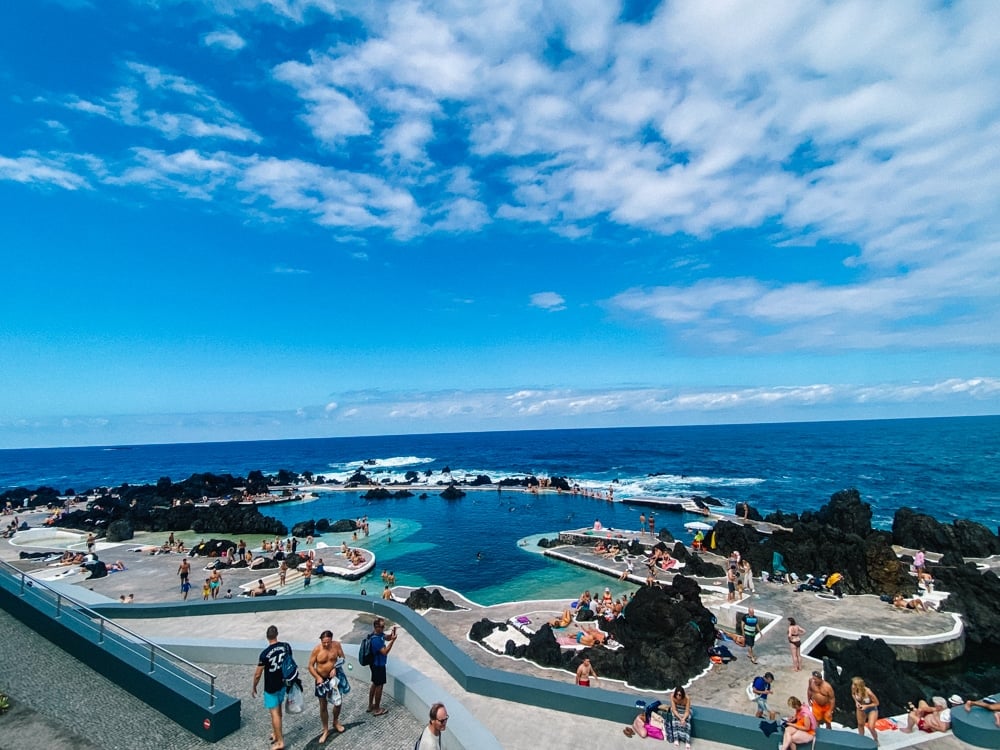 Porto Moniz is the most well known destination for natural swimming pools, but there's a few more all over the island.
We also visited Doca do Cavacas Natural Pools in Funchal. It was much smaller, but we really enjoyed our time there.
Entry to the main pool in Porto Moniz was 3€ and Doca do Cavacas was 2.50€ per person.
5. Explore the São Vicente Caves
Unfortunately, the Sao Vicente Caves were closed when we were in Madeira, and the website still says it's temporarily closed at the date of publication. However, it looks absolutely magical and I was sad to miss it. Definitely check it out if you're visiting Madeira!
6. Go On a Whale Watching Tour
The views from the island are beautiful. Now imagine looking at the island from the ocean, now add some dolphin and whale sightings, and you've got a dreamy day!
Take a whale watching day tour on a eco-friendly catamaran, and then visit the Madeira Whale Museum for the full Madeira whale experience.
Want more Madeira history? Check out Museu de Historia Natural do Funchal (aka the natural history museum) to learn more about the island and its inhabitants.
7. Try Madeira Wine (& Other Traditional Drinks!)
Did you know Portugal is a wine destination? You drink Port in Porto and Madeira in Madeira. An easy way to get a taste is booking a wine tasting tour.
Due to its fairly remote location, Madeira wine is a bit rare. Like Port, it's a fortified wine which means a distilled spirit has been added to it to increase alcohol content and to help the wine survive transport back in the day.
According to legend (aka my Google searches), sailors in the 1600 and 1700s discovered the flavor of the wine deepened as it was cooled and heated in transport through the tropics, and called this aging on the sea, "Vinho da Roda" which inspired the repeated heating and cooling process of today's Madeira wine.
Poncha is another Madeira staple. It's an alcoholic beverage made of aguardente de cana, honey sugar and fruit juice – typically orange or lemon! You can find it all over the island!
If you're sober or mostly sober like myself, our host recommended Nikita without alcohol. Another traditional drink with fruit juice (usually pineapple) and vanilla ice cream. If you want it alcoholic, it usually comes with beer (Coral is the most popular), white wine and rum.
8. Ride the Funchal Cable Car
Get an aerial view of Funchal from land to sea on the Funchal Cable Car! It takes you to Monte where the Monte Palace is located in a 15-20 minute ride that costs 18€ round trip for adults of 12.50€ one way.
Pro-Tip: Take the cable car to Monte and ride back down in a Monte Toboggan. See more details below!
9. Hike Through the Madeira Levadas (+ Secret Tunnel!)
A levada is an irrigation channel unique to Madeira and the Canary Islands. The water runs year-round carried on a slight incline by gravity, and the water is transported for human consumption, agriculture and producing electricity.
The levadas were built starting in the 16th century with the most recent dating back to the 1940s, and they now expand about 3,000 kilometers in and around the heart of the island.
Walking paths were also built along the levadas, so you can hike through! While there's many levada hikes to choose from, one of the most popular for tourists is Levada das 25 Fontes or 25 waterfalls.
You get your fair share of beautiful waterfalls, but the most exciting part for us was the SECRET TUNNEL (secret tunnel! iykyk). While it extended the hike to a total of 8 miles following the AllTrails map, walking through the pitch black tunnel for nearly a mile was the highlight of our trip!
10. Taste Madeira's Signature Foods
Like all of Portugal, Madeira is known for its fresh seafood. However, one that's unique to Madeira is the black scabbardfish (or espada preta).
It is a horrific monster of a fish with beady eyes and jagged teeth that can be found in the darkest depths of the ocean (i.e. 2000-5000 feet deep).
We tried it fried because how bad can anything be fried? And it wasn't bad. Not sure, I'll go out of my way to have it again, but we did it for the experience. It's often served with fried bananas!
Another traditional food is Milho Frito (or fried cornmeal). It's a crispy fried side dish, typically served as a cube and its texture is similar to polenta fries.
Our favorite Madeira foods were Espetada Madeira (Portuguese beef skewers) and Madeiran Bolo do Caco bread. The skewers are typically roasted over a fire and in the past done on a bay branch. The meat is seasoned very simply, and is so delicious!
Bolo do Caco bread is a local bread with Arab influence with, again, simple ingredients of wheat flour, homemade yeast, water and salt. It's often served with garlic butter!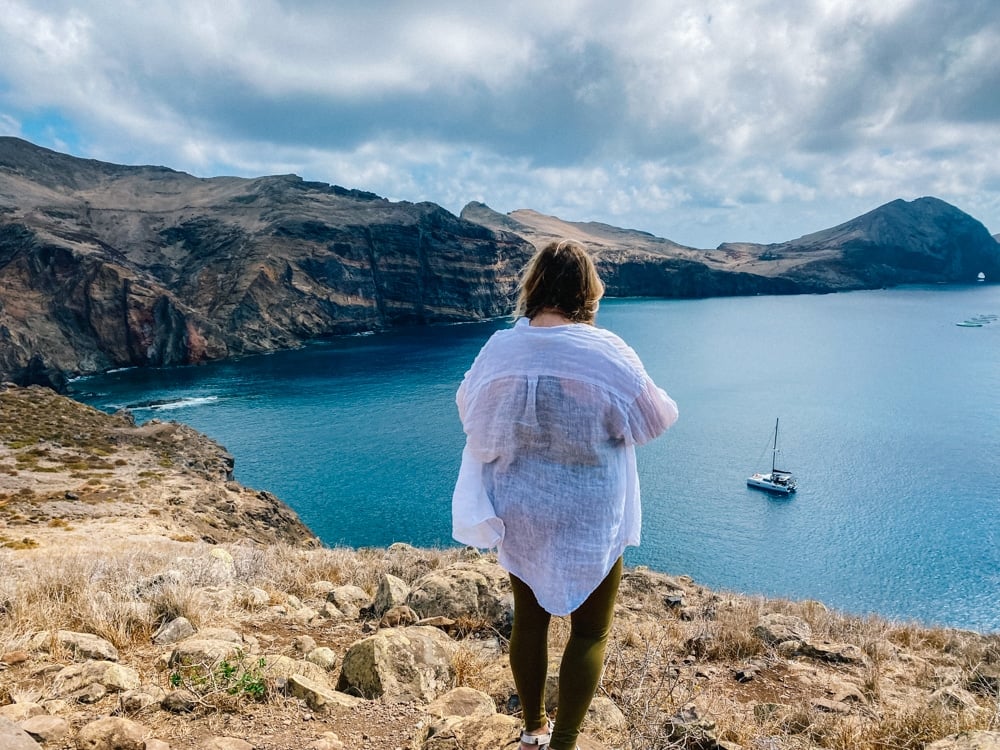 11. Walk to Ponta de São Lourenço
The hike to Ponta de São Lourenço was a little strenuous with so many stairs. Just so many stairs. But all in all is moderate meaning I saw children completing this hike which is usually my indicator of if they can do it, I can do too!
The last bit towards the end was the toughest part, but you have 360 views pretty much the entire way, so worth making it to the end!
12. Step Onto the Cabo Girão Skywalk
This one is so fun! It's a clear deck on the edge of the island cliff where you're 500 meters above sea level and can look directly down at it.
For some reason, I had the urge to jump on it and I held back until I saw someone else do the exact same thing!
It's a great spot for photos, but it's usually pretty crowded so set your expectations accordingly. Entry is free!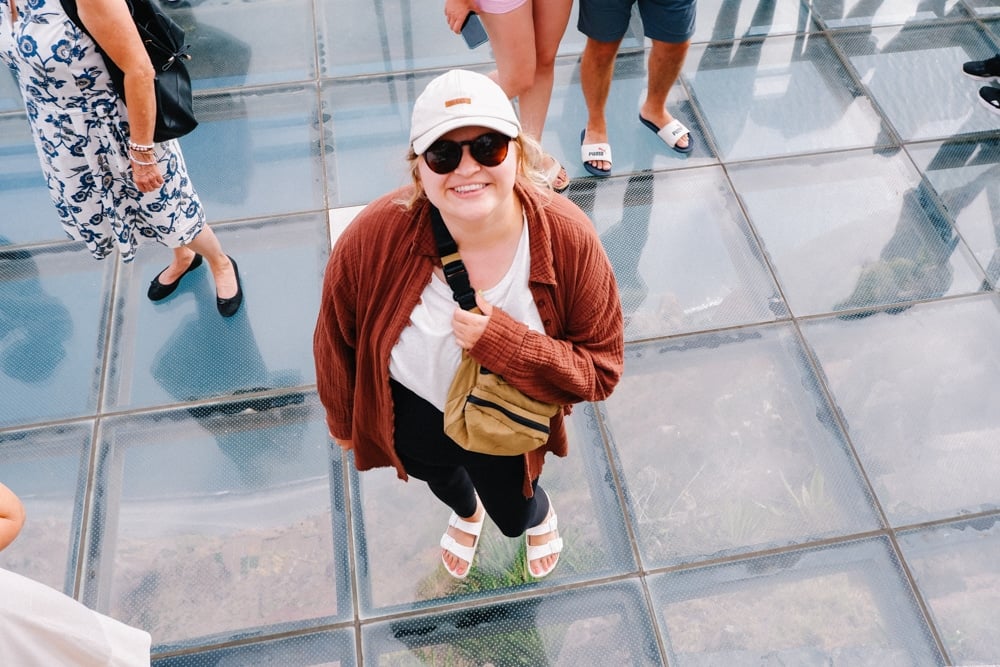 13. Enjoy the Green Valley Views of Balcões de Ribeiro Frio
We didn't make it to Balcoes de Ribeiro Frio, but the photos are unreal. Plus the reviews claim it's an easy, flat walk.
The only caveat is the huge crowds at the viewpoint. I recommend going super early in the morning to try and beat the crowds!
14. Discover Old Town Funchal
We didn't get a chance to explore Old Town, except for a quick lunch after landing, but from what we saw, it was really vibrant! Lots of street art, lively restaurants and cafes.
Walking tours are a great way to learn the local history like this Old Town Walking Tour that takes you to the farmer's market, the Campo Almirante Reis the Fortress of St. James and more.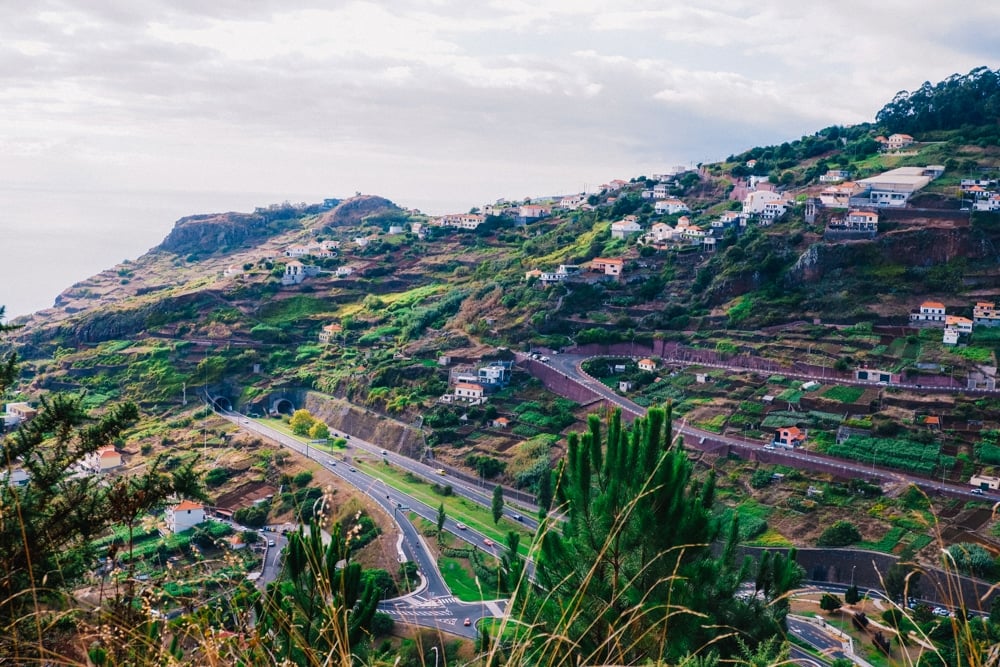 Just be sure to check out the Cathedral of Our Lady of the Assumption in Sé. Like Porto and Lisbon, the Sé is the local seat of the Roman Catholic Diocese. It was built in the 16th century in the Gothic style.
It was even visited by Pope John Paul II in 1991, and a statue was built to commemorate the event!
15. Take the Road Less Traveled to Curral das Freiras
Curral das Freiras is a mountain village in the heart of the island. It's nestled in a small crater or bowl and is truly a hidden gem of whitewashed buildings with red tiled roofs.
There you can find Poço dos Chefes, a secret swimming hole that was created by the locals.
16. Visit Faial
Not to be confused with the Faial of the Azores, Faial (Madeira) is a small beach village not far from the traditional Santana houses mentioned below. Located there is the Fortress of Faial, an 18th century fort built to watch for invaders that now serves as a viewpoint.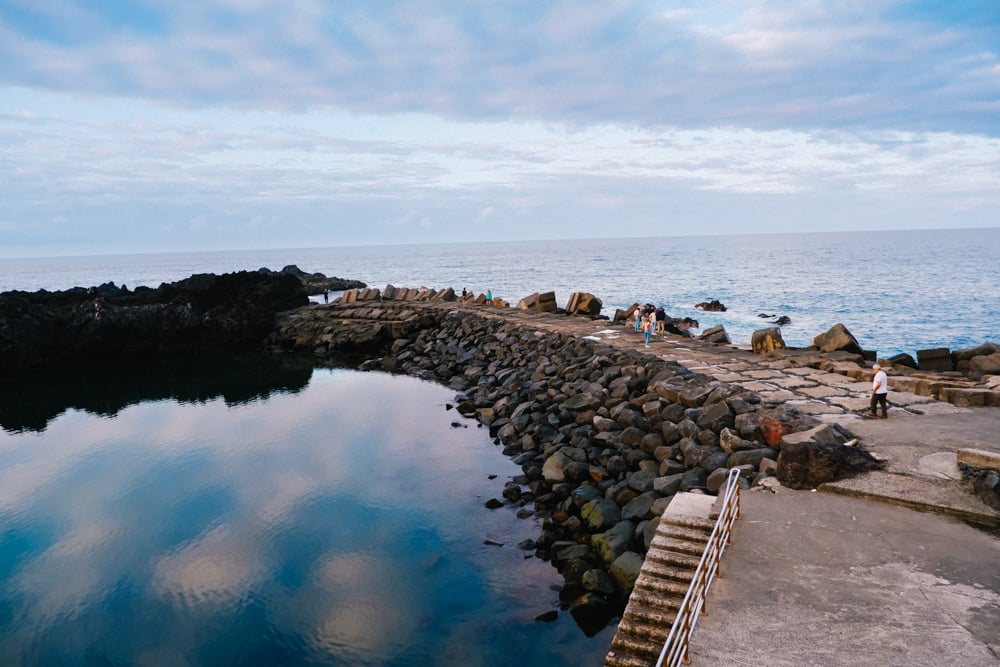 Unfortunately, it's also closed while we visited and noted as temporarily closed at time of publication, but again worth noting!
17. Spend the Afternoon in Ponto do Sol Pebble Beach and Visit Cascata dos Anjos Waterfall
I'm biased to Ponoto do Sol because it was our home base, but there's a few things worth seeing! First, the pebble beach. There are a limited number of public cabanas available to avoid laying on rocks, so snag one if you can!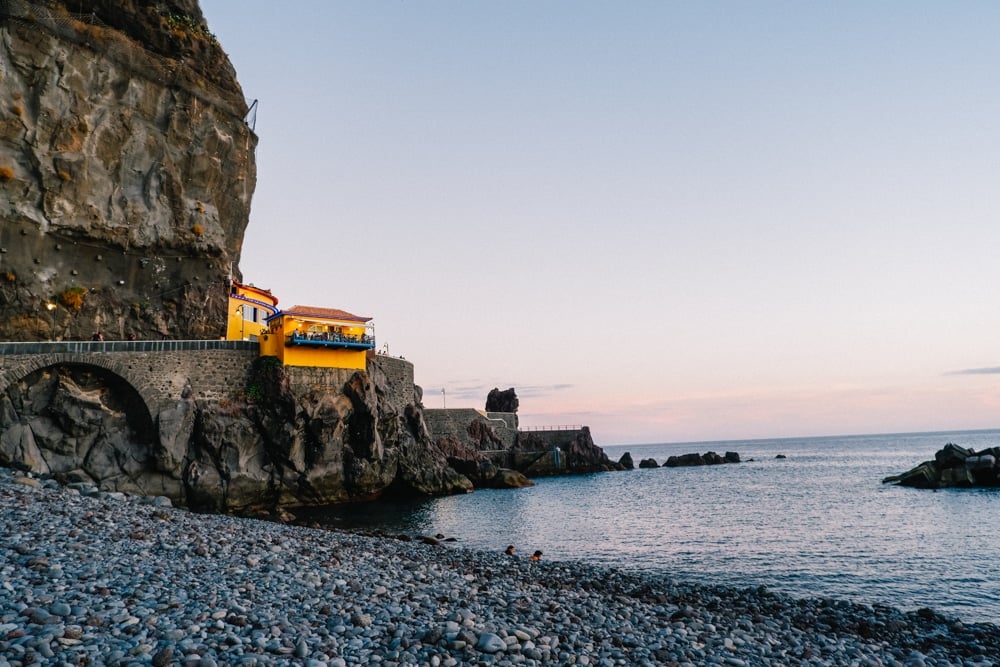 Otherwise, definitely plan on wearing waterproof shoes. Walking on the pebbles (even with shoes) proved to be a bit difficult for clumsy people like myself.
In Ponto do Sol, you can also explore the cliffside on a small trail to the right of the beach (if you're facing it!) where there is a beautiful natural archway and if you continue down the trail and road, you'll find yourself at the Cascata dos Anjos waterfall.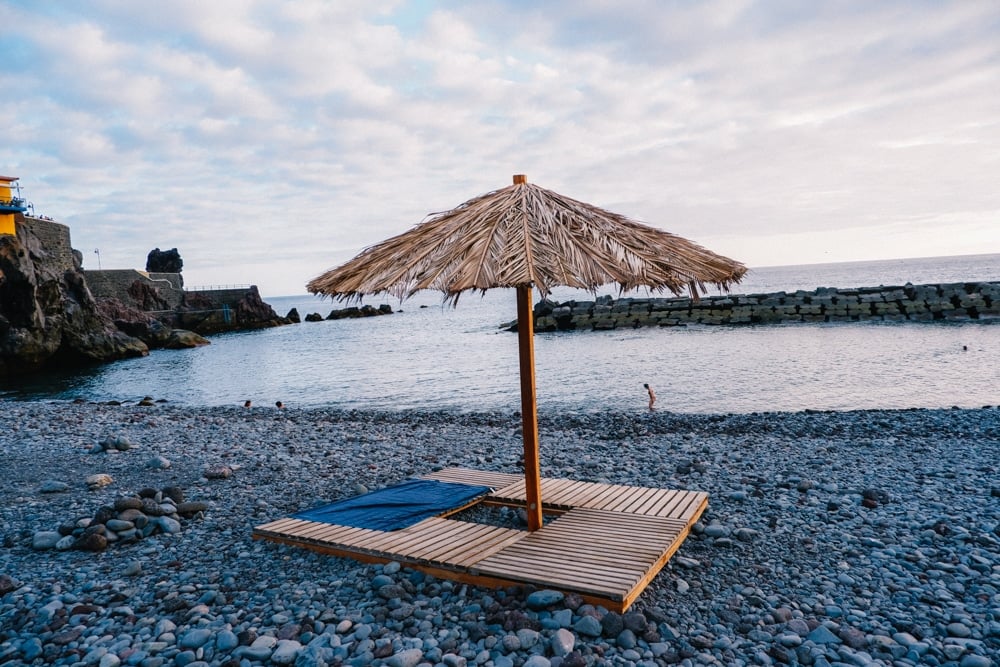 18. Get Lost in the Fog of the Fanal Forest
The Fanal Forest is on the north side of the island and you'll typically find it cloaked in a mysterious fog.
Not unlike Karl in San Francisco, but it's a bit more of a vibe in the forest with the beautifully twisted branches of the Ocotea foetens trees.
It's a popular place for photo shoots, so if that's your thing, you should definitely check it out!
19. Visit the Traditional Santana Houses
Discover a bit of Maderia's heritage at these little a-frame houses. They were historically built as homes for local farmers when settling in Madeira, but are now preserved in memorandum of the island's history.
You can even purchase local goods at the houses as they largely serve as a tourist attraction. Not to mention, they're super cute with red doors and blue trim!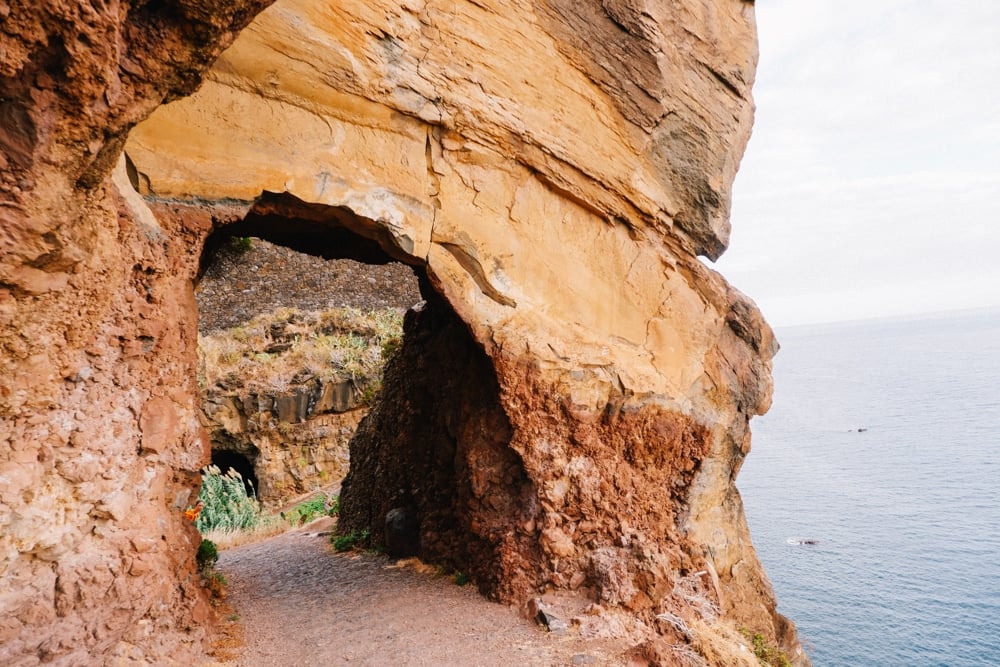 20. Soar Downhill in the Monte Toboggan Run (or Monte Sledge)
This is the single activity I regret most not doing! Dating back to the 1850s in Funchal, the Monte Sledge was used as public transportation. It was the only way to get downhill from Monte.
It starts on the steps of the Nossa Senhora do Monte Church where you'll be picked up by two people dressed in white with straw hats driving a wicker toboggan. They take you on a 10-minute downhill ride with speeds up to 30 miles per hour!
The one downside is you have to find your own way back to Funchal by foot, taxi or bus.
Where To Eat & Drink In Madeira
To be completely honest, we had some great meals in Madeira, but only a select few. We also made zero reservations, and didn't have any issues, but I would definitely recommend it to guarantee a spot at some of the more popular restaurants.
Restaurante Santo António
This is the place to eat espetada or traditional beef skewers. Start with Bolo do Caco with the garlic butter, and order one or two skewers depending on how hungry you are/how much you can eat.
We ordered one beef and one chicken. You have the option of it cooked and served on a metal skewer or a traditional bay branch. The meat is exactly the same either way, but more expensive on the branch, so we opted for the regular metal!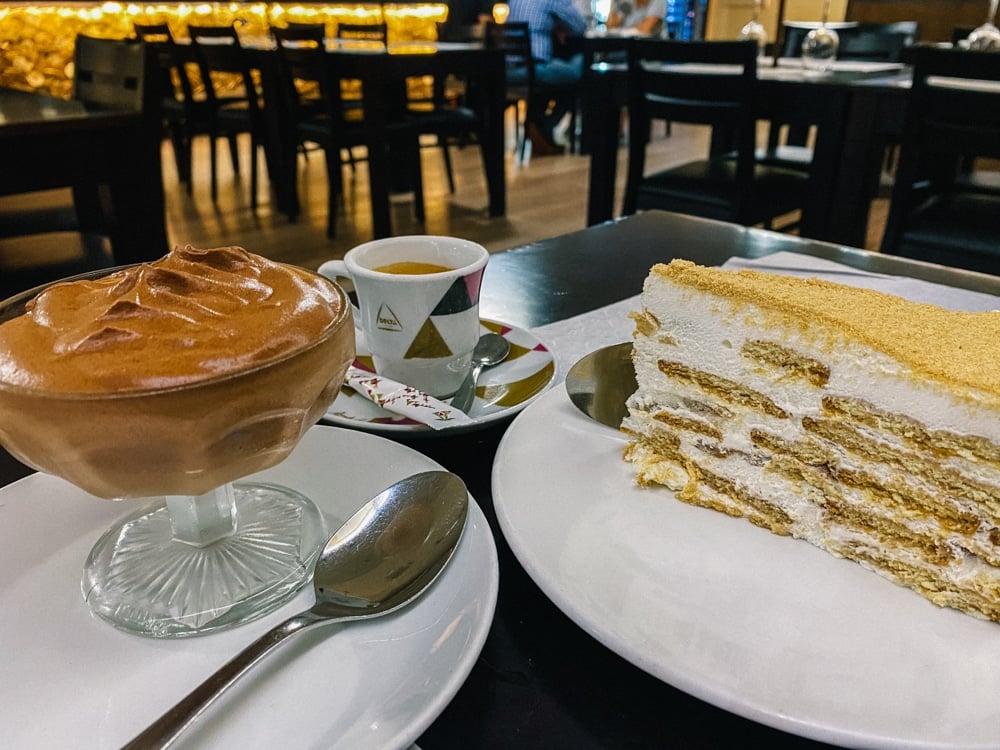 Add a side of fries, a simple salad and finish with one of the delicious, homemade desserts. You can take a peek at what desserts they have that day while you're waiting on a table!
Casal da Penha
I discovered Casal da Penha by Googling "best restaurants in Funchal," and it came up on a bunch of lists. We barely made it before they closed for lunch, but they were very kind and squeezed us in.
You can't go wrong with whatever you order here! You could tell everything was fresh – from the seafood to the produce.
The Old Pharmacy
A wine bar in Ponta do Sol built into the remnants of a former pharmacy, hence the name, The Old Pharmacy. Grab a drink and small plates to share before heading to dinner!
Pukiki
The first and only tiki bar in Madeira, Pukiki celebrates the link between Madeira and Hawaii. Pukiki actually means Portuguese in the Hawaiian language, and the cultures are tied in many ways including the introduction of the ukulele which was created by Madeiran Manuel Nunes. Enjoy rum tastings and cocktails galore!
A Poita
If you want to get your fill on the best seafood in Madeira, make a trip to A Poita.
Hotel Quinta Do Fuaro
The restaurant at Hotel Quinta Do Fuaro was the best meal we had on Madeira Island. And the view from the deck… wowza. We ordered grilled chicken and steak with sides of mashed potatoes, french fries finished with a chocolate mousse.
Taberna Madeira
Taberna Madeira was our first meal in Madeira. They specialize in small plates to share at the table, and recommended 2-3 main dishes plus a couple side dishes.
We the tried scabbard fish (in tempura), picadinho à Madeirense (chopped beef with corn, fries and mushrooms) and Milho Frito.
Gato Legal Coffee Roastery
We didn't have the best luck finding coffee on the island since we were leaving early for morning hikes, but I did pin Gato Legal Coffee Roastery. The coffee looks amazing, and the cafe is adorably decorated in yellow and blue.
How to Spend 3 Days In Madeira
Here's the thing, if I could spend 2 weeks to a month visiting Madeira Island alone, I would do it in a heartbeat. But that's not reality. I know I'm privileged to have spent 12 days traveling around Portugal in the first place.
Work, family, and all responsibilities of being a human get in the way and it's just how life is sometimes. If you're visiting Madeira for the first time, here's what I recommend.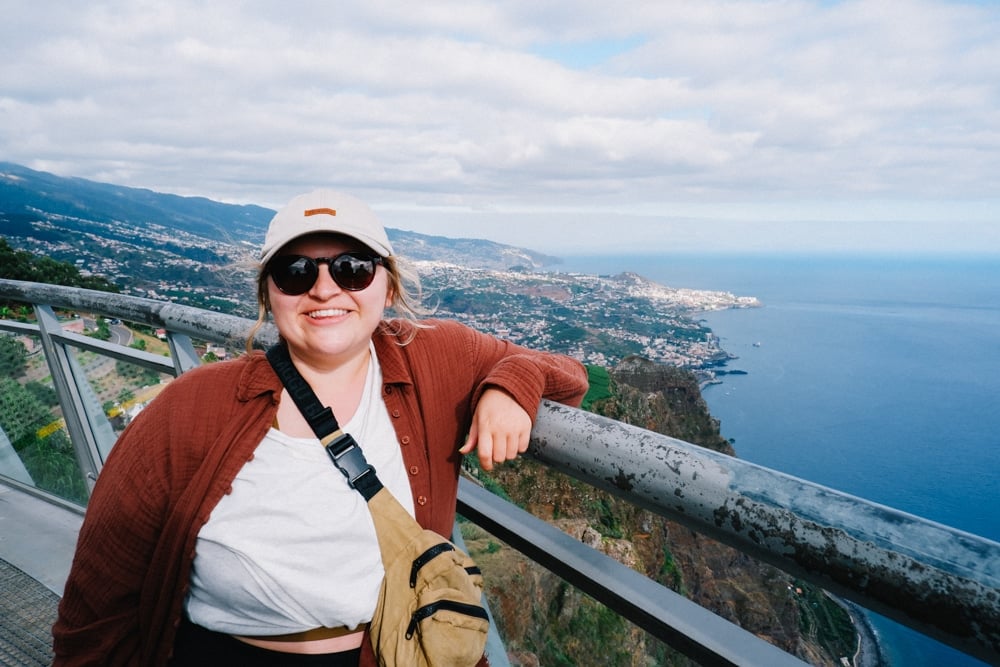 The island is pretty big to get around, so you won't be able to visit a ton of spots within one day and really enjoy them. This is how we structured our days:
Early morning hike with an easy breakfast like fruit, yogurt or granola bar on the way
Lunch and a very cold beverage to recoup our energy
Swimming at one of many natural swimming pools and beaches until sunset
Dinner
Keep in mind that my travel partner and I prefer day to night, so you'll catch us in bed by 8pm every night if we can.
Here's our 3 day Madeira itinerary if you're curious:
Day 1 in Madeira
Started the day with a mid-morning hike at Ponta de São Lourenço. Mid-morning because we prioritized rest after a long travel day, plus this hike is the most Eastern point of the island, and the drive there took us 45 minutes.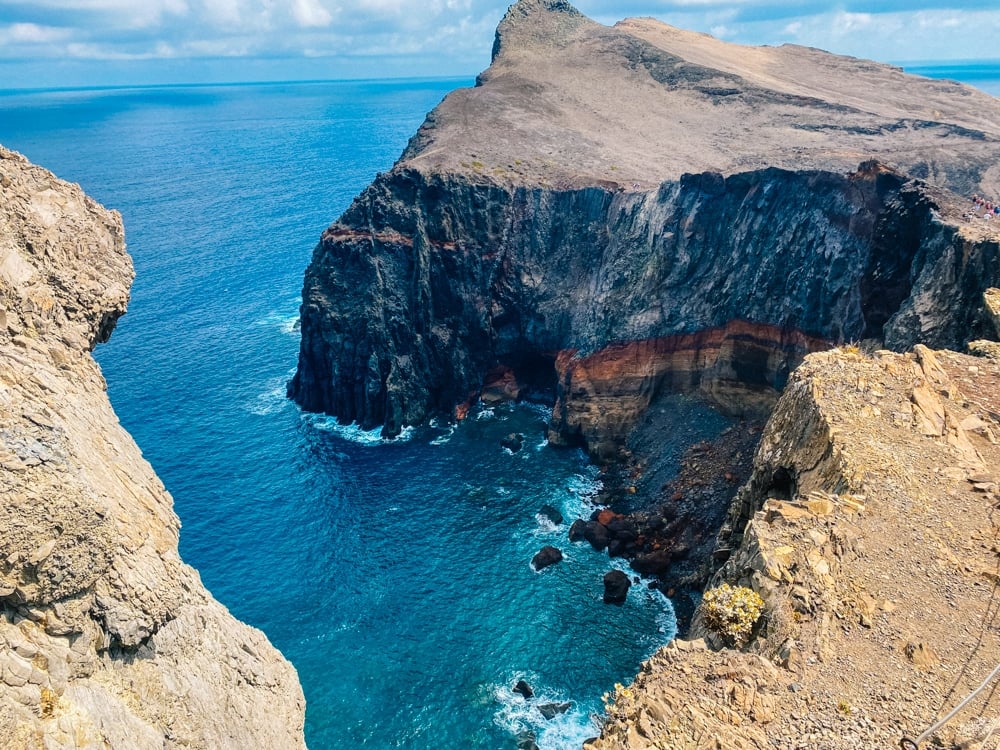 Lunch in Funchal at Casal da Penha where we had Bolo do Caco, an amazing papaya shrimp starter and fresh seafood.
A late afternoon swim at Doca do Cavacas Natural Pools. This was a smaller pool, and we practically had it to ourselves as it got closer to closing time. Plus we met a lovely couple visiting Madeira for the first time from Lisbon.
After a quick rest at home, we had a quiet dinner a short walk from our apartment in Ponta do Sol.
Day 2 in Madeira
Woke up very early for the longest hike we planned – Levada das 25 Fontes. It was a bit of a drive for our Fiat 500 to make up lots of mountains, and we arrived by 8 a.m.
The hike took longer than expected (read that story above), and we knew we wanted to visit the Porto Moniz Natural Swimming Pools so we had a less exciting lunch at a tourist trap restaurant near the main pool before our afternoon swim.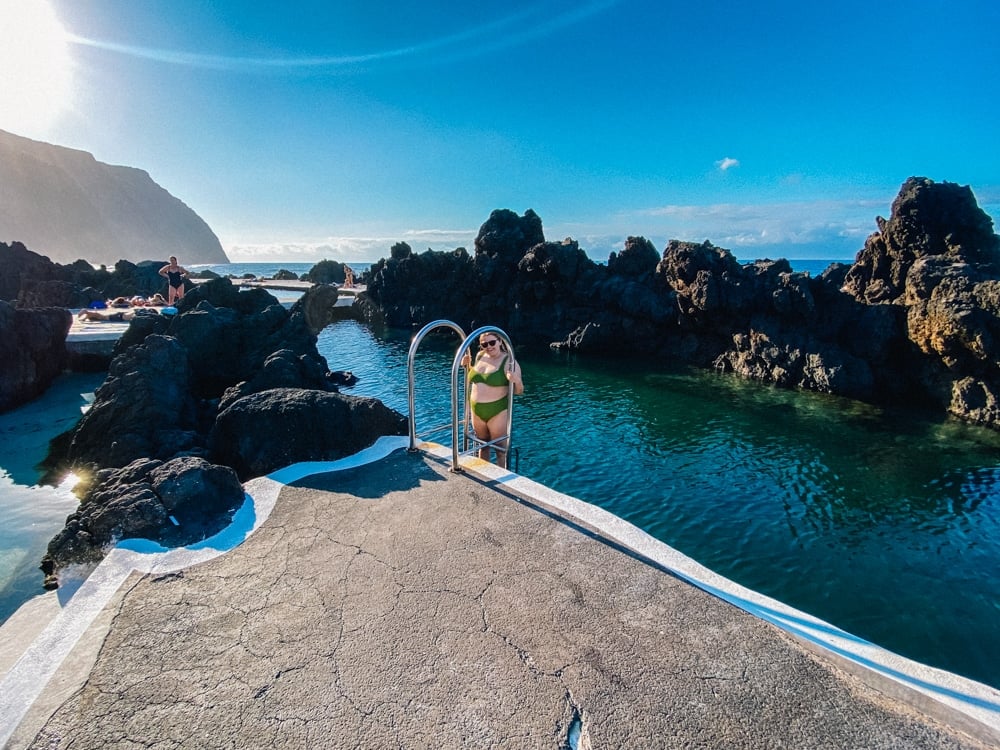 After a cold and relaxing swim (much needed after a tough hike), we caught the sunset at the black sand beach in Seixal before driving back towards Funchal for a traditional Madeira dinner.
On the recommendation of our Airbnb host, we visited Restaurante Santo António for Espetada Madeira or Portuguese Beef Skewers.
Day 3 in Madeira
Another early morning for the highest peak in Madeira: Pico Ruivo. This hike was clear across the island from us, so we got there as early as our tired, sore bodies could make it.
From the start point just outside of Achada do Teixeria, it was a pretty moderate hike. Especially compared to the previous day! And it was incredible how it took you above the clouds.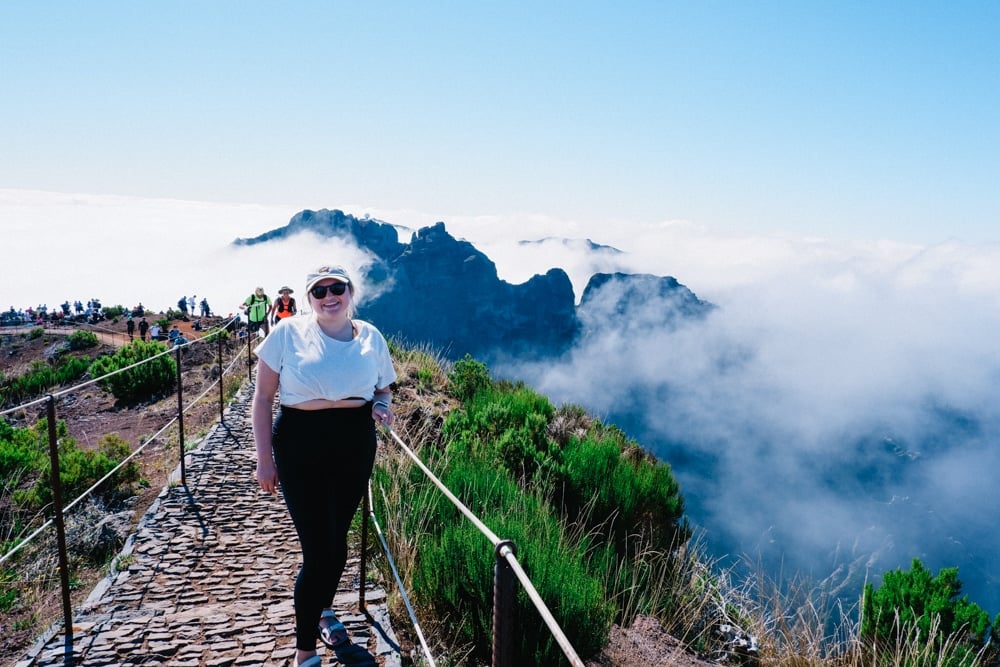 Once we got back down, we had a drink and snack from the mountain cafe because we were quite hungry and couldn't wait until we found our lunch spot.
Lunch was at Hotel Quinta Do Fuaro and as mentioned before, probably the best meal and definitely the best view of our whole trip.
From there, we drove back towards our home base with a stop at the Cabo Girão Skywalk for the views and some photos. This was the day before our early departure so we chose to stay close to home for the evening.
We went to the archway on the cliff above Ponta do Sol and visited the Cascata dos Anjos waterfall. We had driven through it already, but wanted to see it up close. I put my swimsuit on to stand under it, but completely chickened out because of all the people around.
Then, we went for a sunset swim on the pebbled beach of Ponta do Sol before turning in for the night. We were so full from lunch still, we skipped dinner for some light snacks before bed.
The only thing I think I'd change if I was visiting Madeira for the first time is swapping one hike to spend the morning exploring Funchal's Old Town, riding in the cable cars and taking a ride on the Monte Toboggan. We prioritized nature and hiking for this trip because we were spending the remainder of our trip in bigger cities like Porto and Lisbon.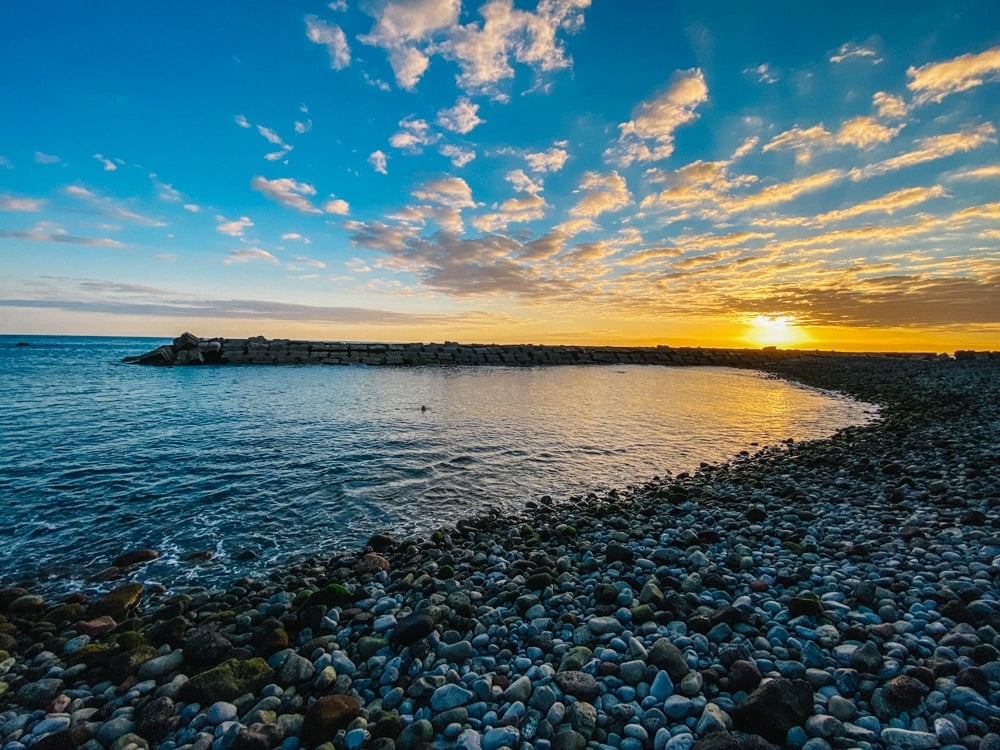 What To Pack For A Trip To Madeira
Again, this largely depends on the type of trip you're planning. If you're just planning on relaxing, swimming and driving to the beautiful viewpoints. All you need are a couple swimsuits, shorts, tanks or dresses and a comfortable pair of sandals.
If you're doing any hiking, here's what I recommend you bring:
Comfortable Hiking Shoes
In my opinion, comfortable hiking shoes are relative to the person. For me, I'm not a huge fan of heavy hiking boots and don't go on too extreme hikes, so I typically wear a pair of old running shoes.
But for this trip, I actually purchased a pair of hiking sandals in Porto because I didn't have a ton of space to spare in my carry-on and didn't plan ahead by purchasing a pair of hiking sandals before we left!
They worked out beautifully with only a couple of blisters here and there that I suspect I would have gotten either way!
Kara's Fave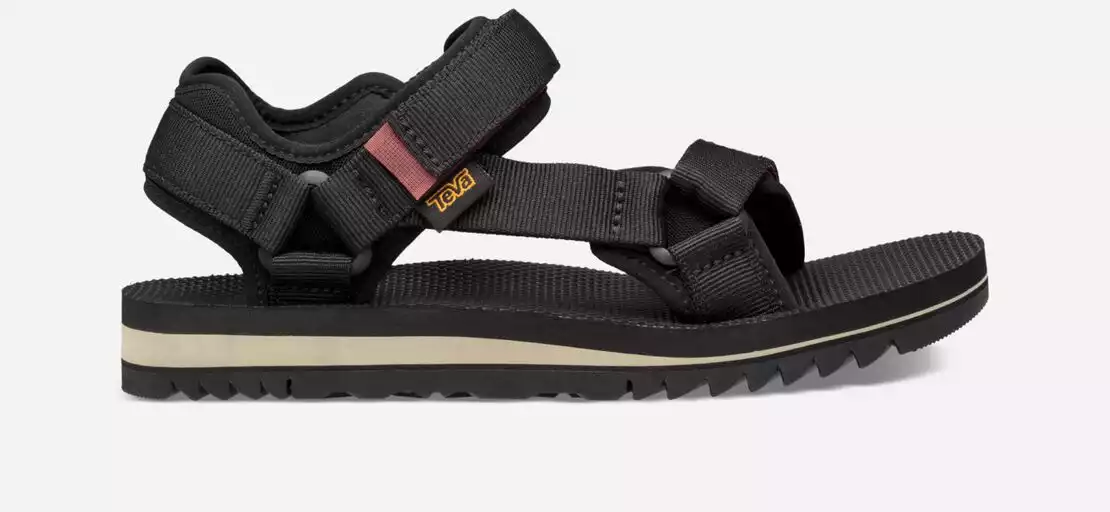 Teva Universal Trail Sandal
I adore my Teva Universal Trail sandals and wear them everywhere (from trails to cities to waterfalls since they're waterproof!) They're sturdy, comfy, non-slip and the perfect outdoor travel sandal on the market. Tip: size down when ordering.
Shop Now
My Review
Hiking Poles
Okay, you're probably thinking: how can I pack hiking sticks?! While they typically fold down pretty small, it might not be logical to have on hand for the remainder of your trip.
That said, I think hiking poles were critical for us in Madeira. Most of the trails consisted of lots of stairs and these took a lot of pressure off our knees. Luckily, my travel partner is a very light packer so we were able to bring ours home with us.
We purchased two hiking poles for $6 each at Decathlon in Madeira! If you haven't heard or been to Decathlon, it's a very affordable French sports and outdoors store that you can find all over Europe.
Sunscreen, Bandaids & Reusable Water Bottle
These are the basics for any hike, but definitely something you need in Madeira. Sunscreen is always a must, but especially as you're hiking to higher altitudes and in the overcast weather within the forest or levadas.
Band Aids to help push through any blisters, nicks or cuts as you're walking through rough terrain. A reusable water bottle is again key for any trip, but important to keep hydrated as you hike your way through Madeira!
Small Hiking Backpack
To carry all of the above items and more (like snacks from a local grocery store), I recommend a small backpack. Again, Decathlon has a signature backpack that we use all the time! We brought it with us on this trip and always take turns carrying it!
Now I think that's quite possibly everything you need to know about visiting Madeira, but feel free to DM me on Instagram (@taylormgrantham) with any questions or if you need any travel tips.
I hope you enjoyed my Madeira Travel Guide, and book that trip to Portugal! You won't regret it! Let us know in the comments if you do!
If you're looking for more Portugal island fun, try Terceira Island in the Azores which is famous for its Terceira Impérios, small churches dedicated to the Holy Spirit.