Wandering the paths at Acre Resort in Cabo felt like the closest thing to walking through a jungle I've experienced since, well, actually walking through a South American jungle. To say this property is lush is almost an understatement.
Tucked in the hills about 15 minutes drive from San José del Cabo, Acre restaurant and hotel feels a world away from the beachside sprawling resorts. Come take a peek inside their property, animal sanctuary and even their famous treehouse hotel rooms!!
While in Cabo a few weeks ago, Amy and I stayed at Paradisus but we wanted to check out one of the famous farm hotels in the foothills as a little morning activity. Instead of Flora (more on that later), we visited Acre. It's totally free for non-guests to stop by, grab something from the cafe and wander the property.
We found the front desk staff service to be super friendly and welcoming, and over all just had such a pleasant morning exploring the grounds.
Acre Hotel At A Glance
Outside visitors are totally welcome to visit the property for free!
Location:
foothills of San Jose del Cabo
Dining
: 1 restaurant, 1 bar, 1 cafe, 1 private dining space (The Blue Room)
Weddings Offered
: Yes
Types of rooms
: Villas and Treehouses
Pool:
Yes
Book a stay now
Acre Is More Than A Boutique Hotel
It's a resort, yes, one with beautiful villas and unique treehouses, but it's more than a place to sleep. Acre Baja California offers a farm-to-table restaurant, cocktail bar and cafe, an event space that makes for beautiful weddings, and also an animal sanctuary.
If you're looking for a new dog or cat friend, they specialize in rescuing street babies and helping them find their forever homes with folks who visit (usually from the United States, so they make the paperwork process easy!)
They don't just have cats and dogs. There's a camel (yes, a camel), a few donkeys, goats, sassy pigs, bunnies, chickens and more. It's a whole menagerie crew that it's totally open for the public and hotel guests to visit.
Inside The Famous Acre Treehouse Hotel Rooms
If you follow me on Instagram you know that I adore finding unique lodging when I travel and treehouses have always been a weakness of mind. And let me tell you, these treehouses are by far the nicest, more luxury treehouse experience I've seen.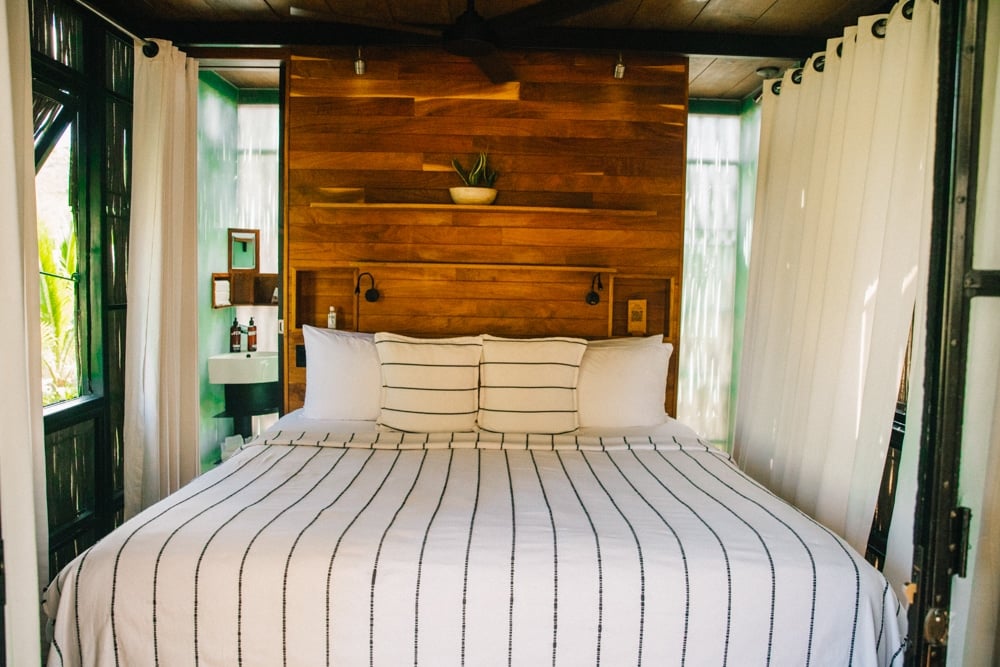 The front desk staff was insanely nice and after chatting with them for permission, allowed me to do a quick guided tour of one of their treehouse rooms so I could share with you guys. There are 12 treehouses on the property and they're really tucked into the palm trees so they're private and hard to view from the main walkway.
You get to climb a bunch of stairs and be treated to beautiful views of the property from up top. They're above the tree line just a bit so it's like you're in your own private jungle.
Each room comes with a patio, queen-size bed, bathroom and shower up there, so this isn't a glamping situation. They don't have A/C, but there are cool breezes that come through at night since you're so up high.
It may just be the coolest treehouse hotel in Mexico.
Acre Restaurants
We were staying in an all-inclusive resort, so we had already filled up on a breakfast before coming to Acre but they do have a restaurant open for breakfast that has great reviews on TripAdvisor (and booking ahead for a table usually isn't needed unless it's a busy weekend).
But we wanted to try something from their menu, so we grabbed fresh smoothies from their cafe. I highly recommend you come for a morning smoothie or coffee if you don't want a full breakfast! The smoothies reelly hit the spot on such a hot summer day.
Acre Vs Flora Farms
If you're planning a trip to Cabo and looking at guides, or have been before, you probably have heard of Flora Farms. Flora Farms has a lot more going on in terms of activities. There's guided tours, summer movie nights, cooking classes and a spa.
It's also becoming super trendy and some people feel Flora Farms is almost too mainstream, so they prefer visiting Acre instead. Acre is absolutely the spot to head if you want to avoid manufactured Mexican experiences and hoards of tourists.
How To Get To Acre Farms
Really, all that's left is to go check out this cool hotel when you're in Cabo, or book a couple of nights in their villas or treehouse! I really want to stay in a treehouse next time I'm down in Mexico.
Getting there is pretty easy. Ubers are safe, cheap, and fast here so you can call one from your resort. The area also uses regular Taxis if you prefer. It's about a 15 minute drive from downtown San Jose del Cabo and the road up to the resort is a bit bumpy, so perhaps don't visit on a morning after a lot of late-night margaritas. You can also easily drive yourself if you rented a car, as they have parking.
Happy adventures in Cabo!