Raise your hand if you get crazy stupid stomach aches all the time (*ahem* mine is probably from cheese but I refuse to stop eating it) Or, tension headaches, or pollen allergies?
Enter: Hilma. Hilma brands themselves as "all-natural remedies that are backed by clinical studies." But, do they actually work? For my next Saw It On Social post, I tested out three Hilma products so I could bring you the honest tea on this new wellness supplement brand. Keep reading for my unsponsored thoughts!
Hilma Review: Do These Natural Remedies Actually Work?
I tried out their Starter Trio Pack which contains Immune Support, Tension Relief, and Upset Stomach Relief, which are all 3 things the Hilma founders believe "should be in everyone's medicine cabinet." You can shop this trio set in travel sizes or full sizes. I tried the travel size as it's a lower price point and a great option when you want to dip your toes into the world of Hilma.
All products are dye-free, non-GMO, vegan and gluten-free. They have no fillers and are drug free. All Hilma medical ingredients are made or grown in the USA so you don't have to worry about the growing or food policy of a different country.
Hilma even works with the Clean Labels Project, which is a non-profit dedicated to bringing truth and transparency to food and consumer product labeling. Hilma also works with the Carbon Offset program to make sure they are giving back as much as they are taking.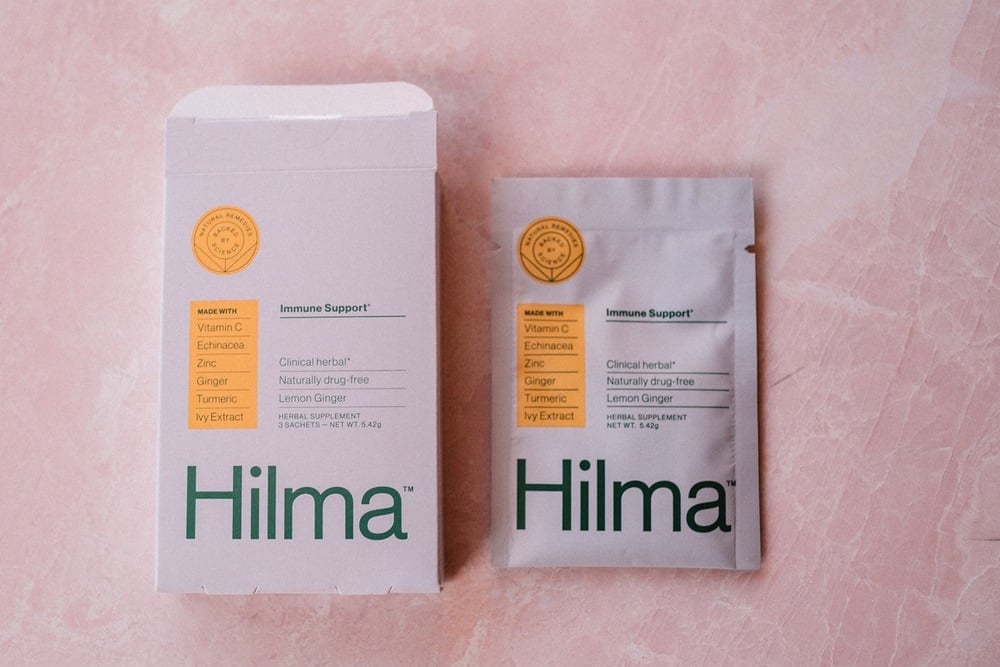 Backed By Science? Let's Dive Into That
Before I share my thoughts on how these worked for me, let's take a look at the science. It's important to note that while I am not a medical professional, I am a crazy overachiever who decided to minor in Psychology in college and tons of my classes involved learning about all the various clinical trial structures, so I'm bringing that background to this section.
Hilma conducts its own clinical research with vetted MDs and also received approval from a third-party review board. They start by only using ingredients that already have clinical research done on them individually, which is a great start when making the formulas for each supplement.
Participants were chosen with pre-defined criteria. They used a single-arm observational study which means in this case, everyone was given an unbranded supplement and then asked to record their body feelings after taking the supplement. In this case, each of the trio supplements had a pool of about 100 different people (which is a super small sample size) and each trial seems to only have been run once.
I'll be honest, no matter what company it is, I'm always a little vary of clinical trials or studies that are conducted in-house only as it's super easy to skew data. Especailly when they are only run once, with pre-defined criteria (aka almost hand-picking your subjects.) It doesn't seem like a placebo was used at all, which I personally think is important to compare data against when operating on a pill-based product, even if the ingredients individually have more in-depth trials done on them.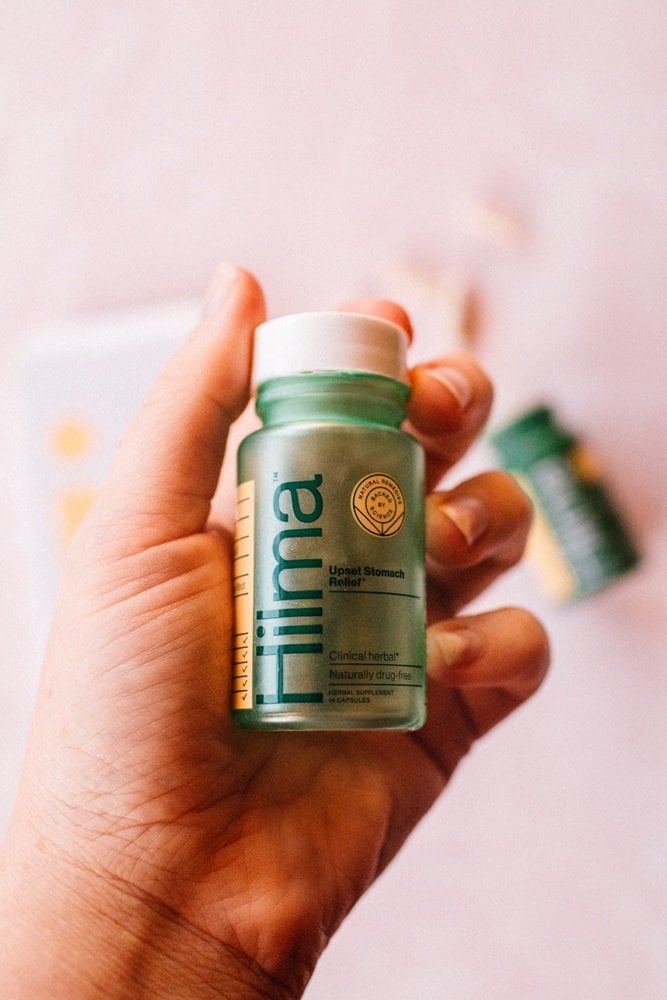 Hilma Natural Remedies Review
Despite feeling like the final Hilma products could possibly benefit from more rigorous trials, the hippie in me also knows from first-hand experience with a holistic medicine cabinet that natural health remedies can work just as well (or even better) than man-made drugs.
And, I think Hilma has at least one amazing magic product that I'm buying more of as I type this article. So without further ado, let's chat about the Trio Set and how each worked for me.

Hilma Immune Support
Price: $45 for a pack of 30
Shop now
The Immune Support comes in a little packet and is meant to be taken daily and dissolved in water, tea, etc. It's made with 6 ingredients that are all clinically proven to support your immune system. They are:
Vitamin C: immune support & energy boost
Zinc: immune support
Turmeric: immune & respiratory support
Echinacea: immune support
Ginger: immune & respiratory support
Ivy Leaf Extract: soothes the throat & respiratory support
The color is a golden yellow (much like the branding of Hilma) and the taste is fine, but nothing special. It's not like the Airbone tablets you may have taken before that are super citrusy. And that's fine by me, I don't want to be consuming extra sugar or questionable artificial flavors. But, I have learned the packet does taste better when I mix it in with tea instead of water.
VERDICT:
If you have to skip a Hilma product,
skip this.
Personally, I take a multivitamin each day and that already come with my daily Vitamin C and Zinc doses. We also make homemade turmeric and ginger tea at home with fresh roots a few times a week, so for me this packet doesn't add a ton of extra perks to justify the $45 price tag.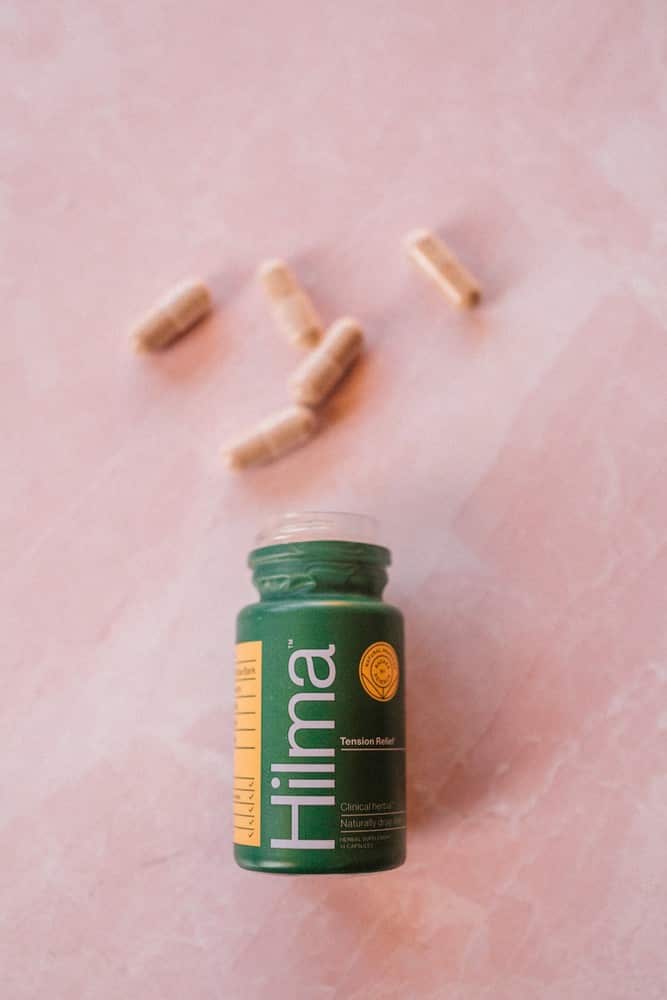 Hilma Tension Relief
Price: $15 for for 50 pills (25 servings)
Shop now
Looking for plant remedies for tension? Hilma Tension Relief is a natural remedy to stress. You take two pills when you start getting a tension headache and for most people, the headache is gone within 30 minutes. It's made with 5 ingredients that are all clinically proven to relieve tension. They are:
Willow Bark: promotes head and body comfort
Feverfew: an herb that reduces sensitivity
Skullcap: a nervine that reduces tension in the nervous system
Magnesium: an essential mineral that eases muscles
Boswellia: an ancient herb that supports head & joint comfort
I don't get too many tension headaches but I can attest that the few times myself and my husband have used this, it does works pretty well. It's fast-acting and helps keep me focused to finish the day even if my head doesn't want me to. That being said, I also find that CBD works just as well for me when it comes to tension aches.
VERDICT:
Buy it,
especially if you suffer from a lot of tension headaches or migraines. It's a fantastic natural remedy for anyone looking to cut down on the drugs they use to relieve headaches, or isn't interested in using CBD.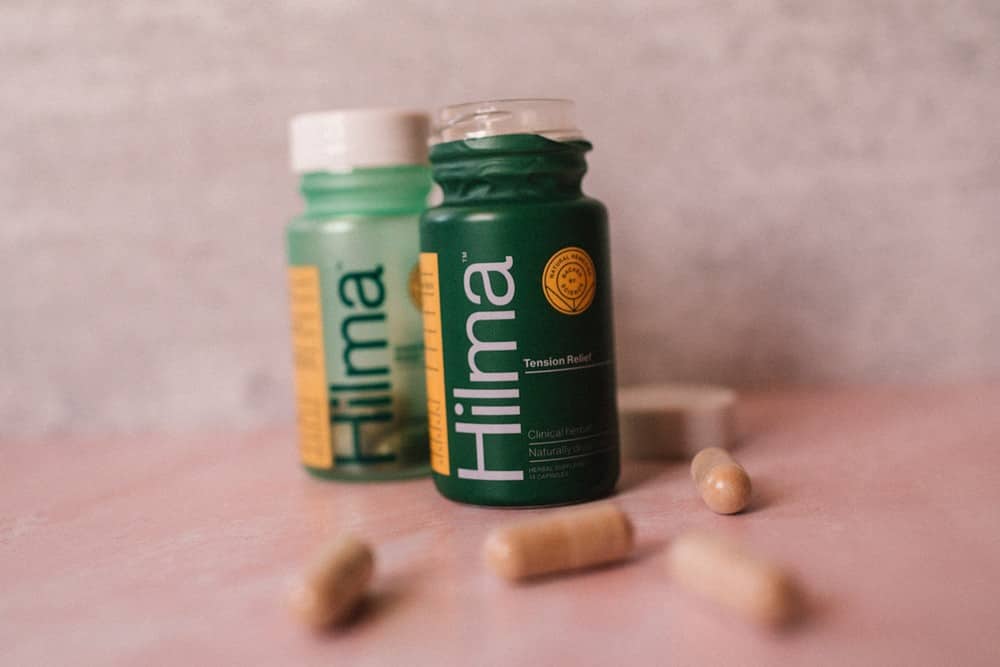 Hilma Upset Stomach Relief
Price: $17 for 60 pills (30 servings)
Shop now
I saved the best for last. I think the Upset Stomach Relief is Hilma's all-star product that really should be in everyone's medicine cabinet. You take two pills when you start getting a stomachache, acid reflux,or nausea. It's made with 5 ingredients that are all clinically proven to relieve stomach pains. They are:
Chamomile: promotes digestive comfort
Artichoke Leaf Extract: heartburn relief
Marshmallow Root: soothes the intestinal tract
Ginger: immune support & promotes intestinal motility
Licorice (DGL Extract): promotes integrity of mucosal lining
When I take this, I feel great within 20-30 minutes and in a much more powerful way than Tums works. Stomach issues are also my most common bodily issue. I think I may be sensitive to some type of food but I haven't figured it out yet, so I have bad stomach days a few times a week. I love being able to pop a few of Hilma instead of Tums or making a big batch of ginger tea.
VERDICT:
Buy it,
this is their best product in my opinion and works super well for reliving stomach issues naturally.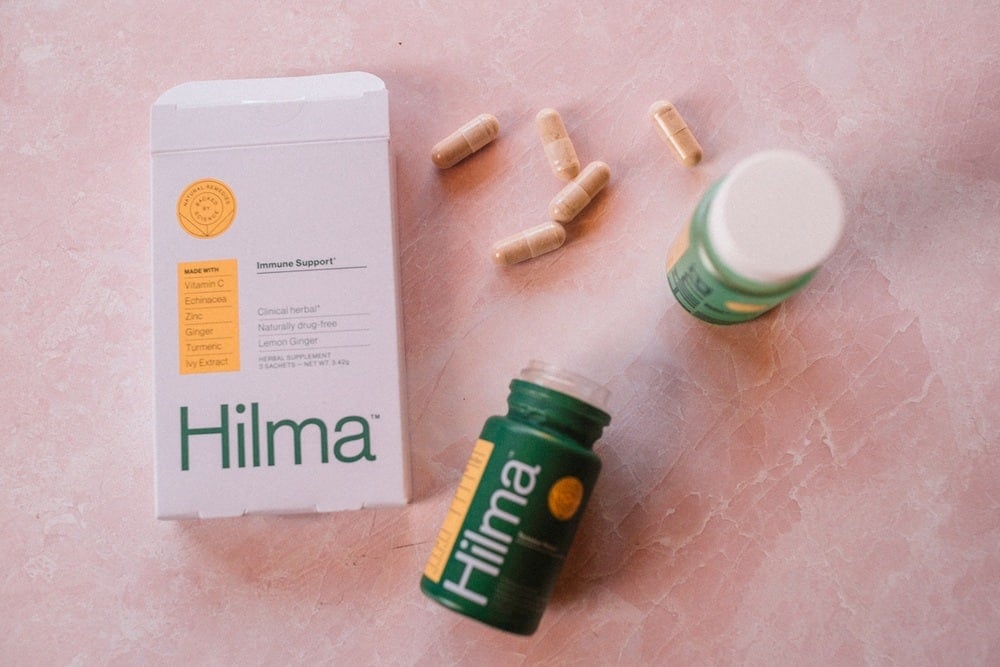 The only thing I wasn't able to try from Hilma is their Indoor/Outdoor Support, which helps with allergies and sinus issues. I didn't have allergies as a kid but I'm 100% a victim of adult-onset allergies. Plus, living in a large city means air quality isn't always the greatest. I'm super eager to try this out and have purchased some. I'll update this blog post in a month or so when I've had a chance to try it.
So, Is Hilma Worth It?
Yes. At the end of the day, I'm a big Hilma fan because their pills work for me in ways that are comparable or better than over the counter drugs. If you are on the hunt for natural remedies to basic body pains, I think you'll also love Hilma.
So, that wraps up another Saw It On Social review! If you have any insights about Hilma to add (like, how they work for you) drop a comment below so everyone can see. Got questions? Comment or DM me on Instagram @thewhimsysoul and I'll try to help out.