Every time my friends come over to my apartment, they usually say something like "wow, this place is turning more and more into a jungle!" I mean, I do have a plant obsession, but my jungalow eclectic boho decor style goes beyond my 50+ plants and counting.
I love color, textures and the focus on organic elements. (Life is just better with color!) So, when I was redecorating my studio apartment a few years ago, I knew I needed to upgrade and proper boho bed frame and headboard to tie my room together. I ended up buying the Opalhouse Michelia Light Brown Rattan Headboard from Target, which since has sold out (ok, I bought a LOT of home stuff from Opalhouse, it's a great brand!)
Almost every week someone on Instagram asks where they can buy my headboard. SO, I searched the internet to find you the coolest beds and headboards for your boho bedroom.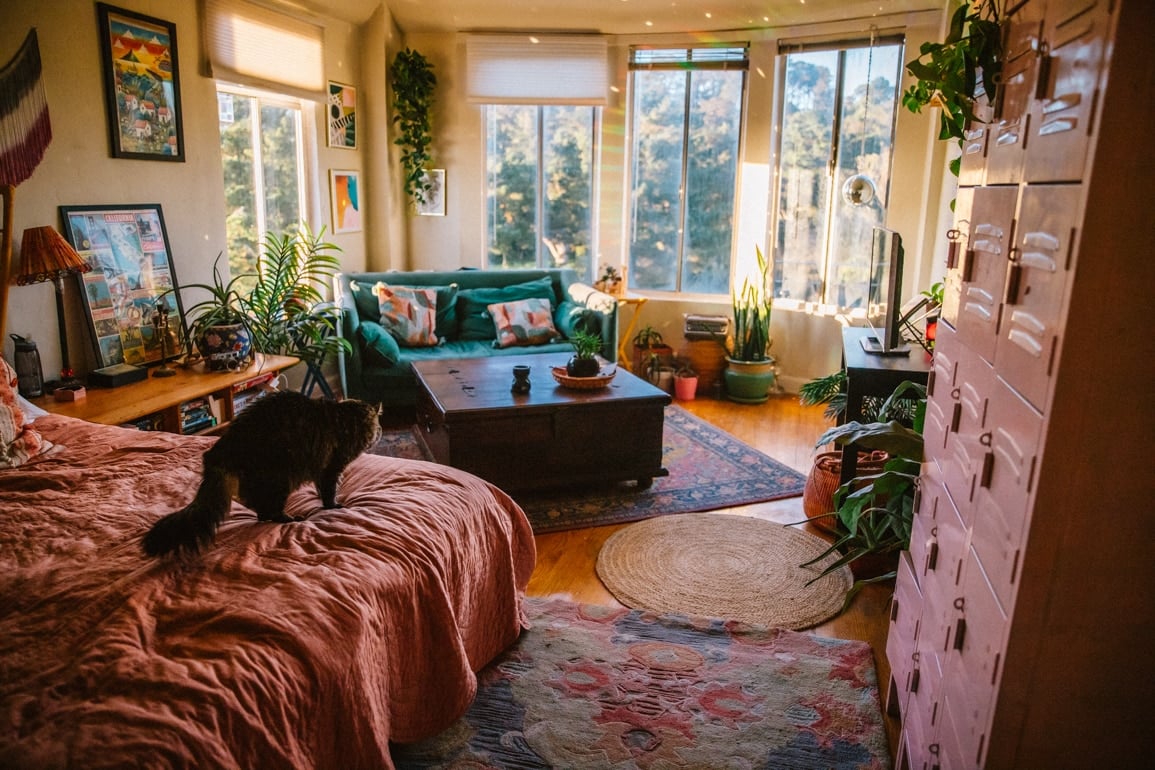 What Is The Bohemian Decor Style?
Real quick before we dive into the list of cute AF bohemian style bed frames: what is the boho trend anyways? A lot of people think a couple of plants and one wicker chair in a white room next to a white cloud bed equals boho. I urge you to dig deeper. The boho aesthetic is focused on a free-spirited vibe that mixes different cultures, colors and textures into an organic feeling eclectic style. When putting together your modern boho style space, mixing patterns, metals, woods, materials, and colors are highly encouraged.
A major tip I have is picking a color palette and make sure you have a few items of that color in different textures around the room. For instance, I have a velvet gold pillow on my bed, my shag rug from RugsUSA has some yellow/gold tones and there's a few random accessories like a vase and a candle that are the same shade to tie the whole room together around my rattan and wicker wood textures.
The nature focus truly makes a room boho, which is why wood, bamboo, cane, rattan and wicker bed frames and headboards are most often used in this home decor style, though I have seen some beautiful cushioned headboards used in bedrooms that look amazing and are great picks if you lean more towards the eclectic side of things. I've included a roundup of everything in all bed sizes so you can get some major design inspiration to shop for yourself!
Best Boho Bed Frames And Headboards For Your Cozy Chic Boho Bedroom
I searched the internet to find you the coolest beds and headboards for your boho bedroom. Wicker, rattan and wood bed frame options in all sizes along with more eclectic pieces like plus velvet headboards for your perfect cozy bohemian bedroom.

If you still need ideas for making your bedroom really feel boho, add some vibey elements like a disco ball or rainbow window cling that reflects light into your room (aka adding more nature elements in!) Make sure you have a rug that's full of your rooms colors or has a lot of texture under your bed. I love RugsUSA since they are always on sale (and rugs are so expensive!!) I only order from them during their 70% off sales.

And, pay attention to the details. Eclectic and boho has a lot going on, but everything is intentional. From the wallpaper to the pillows even to the type of plants you pick out. Example: swap out your rental lamp for this rattan lamp shade from Pottery Barn to really tie everything togethr!

If you want more inspiration, here's my full apartment tour post from a few years ago! Since, I've updated my bathroom and turned it into a boho dream bathroom all for under $300!!