Let's be honest – sleeping on a $4500 bed is probably the best night's sleep you will ever have. If you can get over the fact your bed is the equivalent to a few trips to Europe.
As a light sleeper and someone who is constantly lusting over the timeless style of Restoration Hardware pieces (hey, I did buy myself a Cloud Couch Dupe after all) I went down a massive rabbit hole to find the best Cloud Bed copycat bed.
So I could fall asleep on a beautiful plush platform bed that didn't cost me an arm and a leg. Keep reading for all the best Cloud Bed Dupes that you can actually afford!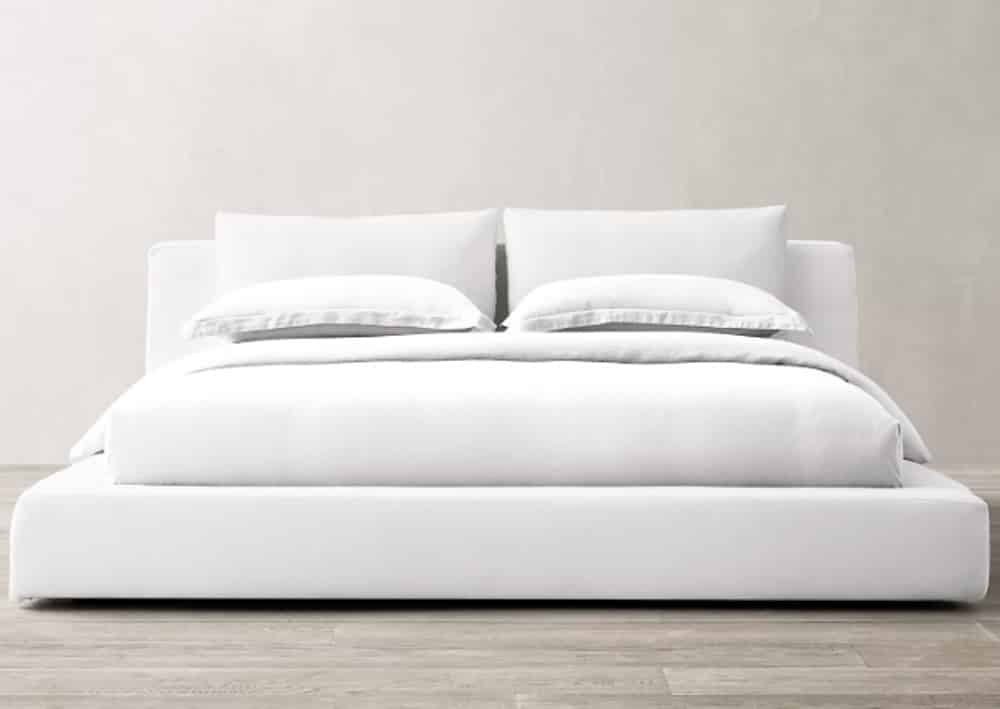 Above is the famous Restoration Hardware Cloud Couch aka the Cloud Slipcover Platform Bed. It was made famous by celebrities like Kendall Jenner, Kerry Washington, Nina Dobrev (just to name a few).
It's a mid-20th-century American design bed with a low profile platform bed frame, 100% goose feather back cushions, 100 fabric options to choose from and a plush headboard.
It's so fancy, they recommend you dry clean it. Dry clean a bed?! This is how I know I'm one of The Normals. Just like the Cloud Sofa counterpart, it's sturdy AF, timeless in style, super cozy and is one of their home decor pieces that will last you decades.
It's also $4500, which does not include the $4000 mattress, taxes, linen or pillows. I'm pretty sure having this bed would cost you at least $10k, so instead of that, I found all the best Cloud Bed alternatives that are much lower in price but still have the same great look and feel as the OG.
psst – looking for bedding and linen dupes? We're obsessed with Italic's dupes on luxury bedding!
13 Best Cloud Bed Dupes For Affordable Slumber (Same Look, Less Price!)
The best Restoration Hardware Cloud Bed Dupes that look the same but cost way less. The Cloud Slipcover Platform Bed is famous for its low platform, high-end mattress and plush headboard. These Cloud Bed Restoration Hardware dupes are great alternatives for your bedroom.
Wow - this is so similar to the real thing! This platform bed is low to the ground, comes in white or grey, has a plush headboard and tailored neat all the way around so it can float in the room. But, unlike the RH Cloud Bed, you can clean this one with a vacuum instead of dry cleaning (still trying to figure that one out).
Photo Credit: crateandbarrel.com
I want to curl up in this best with a good book and a cup of tea and never leave. You can just tell how cozy it is by looking at the photos. This frame comes with a polyfoam-filled sleeve slips over the headboard, providing additional cushioning and a relaxed vibe, and a soft headboard that extends beyond the frame to nestle a nightstand. It comes in white and is super classic.
Photo Credit: www.onekingslane.com
I had to do a double take on this bed since it look so dang close to the real thing. This dupe is smart because it has eco-friendly, high-performance fabric that repels stains, spills, bacteria, and mold. The frame is fully upholstered for that cloud like feel and they even have white glove delivery. It's the best Cloud Bed Dupe king size I've seen and well just, the best one I've seen. I think I'm getting this one.
Photo Credit: www.eq3.com
Similar to the Cloud Bed Restoration Hardware has is this platform bed by Eq3. This whole bed is inspired by the Cello instrument (which I totally played in 5th grade, heyo!) It's meant to be curved and relaxing to lounge on at night. All the beds are custom made to order and they offer tons of fabric options from classic white all the way to lime green!
Photo Credit: Wayfair.com
Oh baby, this is a great cloud bed dupe. The thick headboard is made of woven felt upholstery to create a soft, sculptural, and low-profile bed. The size comes in twin all the way to king and the structure of the bed frame makes it one of the best Restoration Hardware cloud bed frame dupes out there. Oh, and it comes in a few different colors of fabric to match your linens and bedroom color scheme perfectly.
Photo Credit: anthropologie.com
This isn't called the "cushion bed" for nothing! If you are drawn to the coziness of the Cloud Bed, you'll love the cushioned headboard plush frame this bed has to offer. It has legs that are removable if you want it full yon the ground, and this doesn't required a box spring so you can just get a super soft mattress and have a literal cloud to sleep on.
Photo Credit: wayfair.com
The Wayfair Cloud slipcovered platform bed dupe has tons of great reviews and comes in 6 different fabric colors so you can find something that matches your bedroom. The headboard comes with so you don't have to worry about that purchase, too.
This Soft Frame bed dupe is super similar to the real Restoration Hardware platform bed. The Restoration Hardware bed frame is famous for being upholstered and low to the ground, making it easy to slip on and off and extra plush. This bed has all the same perks but it's under $800 instead of $4000! You can even customize the height of your box spring, too. And, if you're an Etsy fan you'll be happy to this is a cloud bed Etsy dupe!!
Photo Credit: 1stopbedroom.com
If you're on the hunt for a darker platform bed dupe, this is the one! It had feet which is different than the Cloud Bed original, but it has the same similar design of the mattress tucked in a bit with coz plush rims and a chic headboard.
Photo Credit: homedepot.com
Guys, this is a Cloud Bed Amazon dupe! It's on Prime, too so you can get it delivered and in your bedroom super fast. It's the most affordable bedframe I've found on this list. It has a lavish upholstered padded bed with a contemporary style and a sturdy wood and metal frame construction that includes metal side rails for guaranteed stability. Just add a cloud mattress dupe and you're all set for a cozy and affordable nights sleep!
Photo Credit: urbanoutfitters.com
Did you know Urban Outfitters has a great home decor department? Fun fact: I bought my college dorm bedding here and it lasted me for 6 years. They have a fantastic Cloud Bed Dupe that's white, has an upholstered bed that lends chic and minimalist vibes but it's under $700!!
Photo Credit: 1stopbedrooms.com
This platform bed is a little higher than the RH cloud bed but is a fraction o the price and has a similarlook. It's extra plush and the frame is sturdy. It ships fast and is usually always on sale.
Photo Credit: westelm.com
On this cloud couch platform bed dupe, you can choose your headboard (short or tall) along with fabric color so the frame makes all the best impacts visually and when you snuggle up at night. All wood is kiln-dried for added durability so it'll last you for ages.
Of course, nothing beats the original. This upholstered low couch looks real good in a bedroom, is perfectly large and cozy for a movie night in bed, has free delivery and is a piece of furniture that you will have probably for the rest of your life.
I stan Restoration Hardware (my bank account doesn't though!) If I ever win the lottery totally be going on a RH cloud bed shopping spree and putting a Restoration Hardware Cloud Bed in every single room in my house. Heck, I'll get myself a whole Restoration Hardware bedroom complete with all the fancy side tables, dressers and decor. Until then…. these dupes and DIY cloud bed copycats do the trick.
Which one is your favorite? If I missed a fantastic Cloud Dupe copycat you love, please drop a link below so everyone can see!