My emerald green Interior Define couch is the thing I get the most compliments on in my home (well – my new blue fridge is quickly gaining popularity, but the couch is always a hit.)
After living in our apartment for 4 years and sitting on first a $10 thrifted couch from Savers, and then a $300 couch from Target, we finally decided it was time to buy a Big Girl Couch. That was 2 years ago. In this post, I'm sharing my honest interior define review after owning one of their couches for close to 2 years. I'll be highlighting what I love and what I don't love, along with photos of how it's held up. Keep reading for the honest tea!
Interior Define Review: Pros & Cons After 2 Years Of The Caitlin Sofa
Note:
we have a cat who likes to use
our couch
as a scratching post so we have tape on the sides to deter her claw. That is what you see in photos here.
Here's our couch story: we moved from Wisconsin to San Francisco in 2014 and like most recent college grads, we were broke AF. It took us a while to afford new furniture and figure out what our decor style as a couple even was. When we finally got settled and establish as like, real bonified adults and everything, we realized these cheap couches were not helping our rapidly increasing back pain and that it was time to invest in a sofa that would last years.
Our major paint point was finding a couch that fits perfectly into our studio apartment living room… slash bedroom… slash office…slash family room! #studiolivingproblems So many two-seat sofas are actually pretty huge and would totally dominate this small space in a bad way.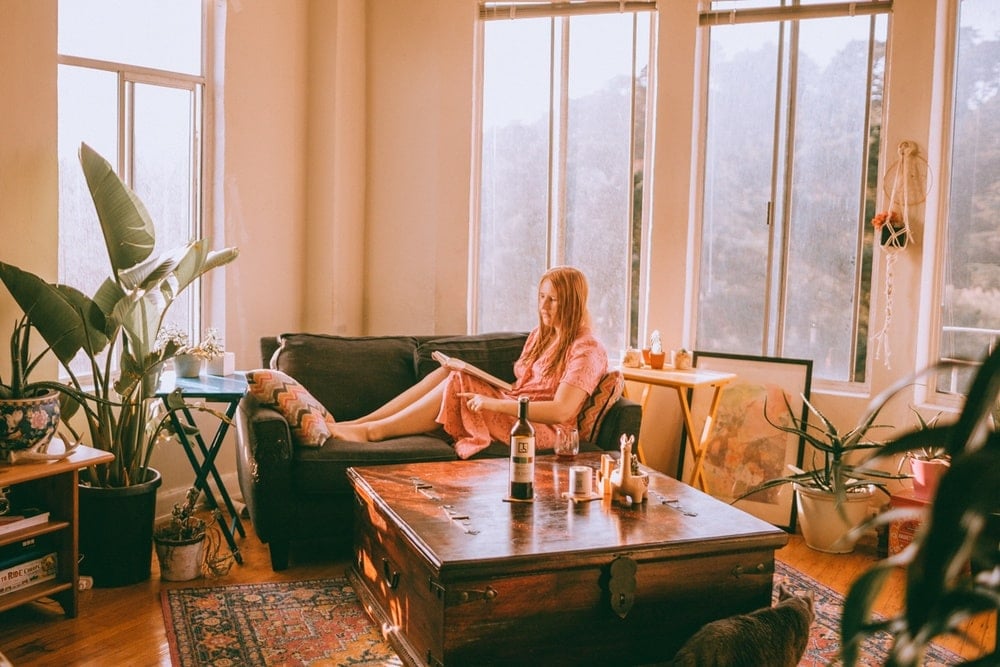 Above is our old grey couch. I also was pretty set on a brand new green couch. I found this cool emerald removable wallpaper that matched my thrifted pink locker perfectly and was starting to concept a green home decor theme. But so many sofa companies just don't offer the fabric options I was looking for. Everything is beige. Like why – I'm not a middle-age Midwestern housewife give me something other than more beige! Give me personality!
I read so many reviews on sofas from different companies and almost gave up. So, I was giddy when I discover Interior Define has a beautiful emerald velvet fabric and a sofa size that fit my apartment!
But what really drew me to Interior Define's Caitlin Sofa was the sizing options. They offer custom sizing which was a huge win or us as we needed a very specific size again, most companies couldn't offer. I found that many two-seat sofas were almost as large as a sectional and in a tiny space that just doesn't work.
What Interior Define Couch did you buy?
We settled on the Caitlin Loveseat, which is a couch in collaboration with Everygirl. I choose the Malachite color and 75 inches long. Back then the depth of your sofa wasn't available. If I bought this loveseat again I would absolutely upgrade to the 41-inch depth instead of keeping the standard 37 inches.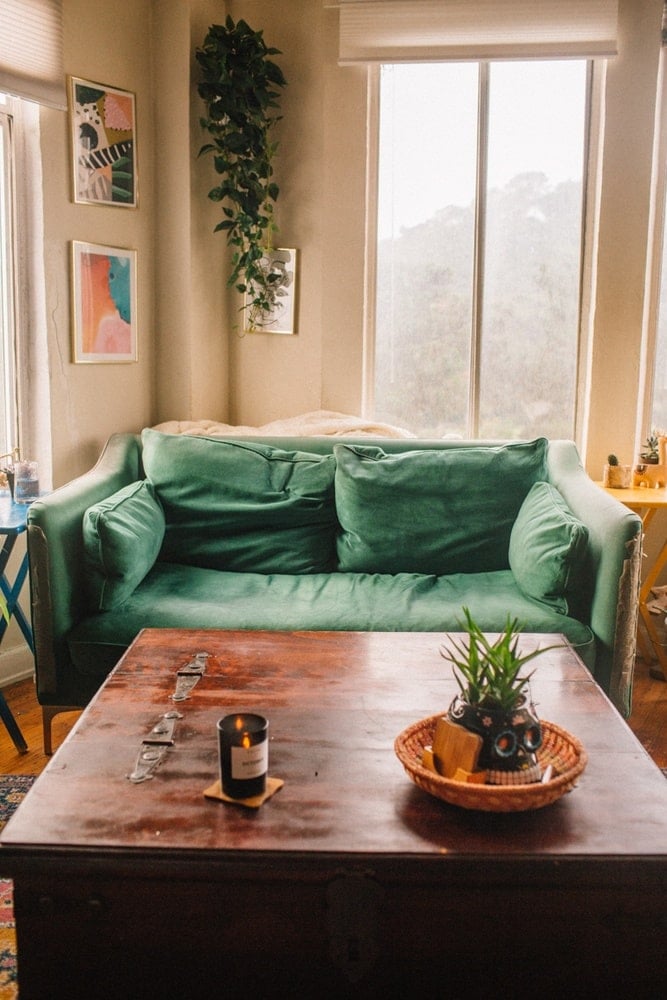 Should I Visit The Interior Define Showroom?
I felt like seeing these styles in person was really helpful and important to me as I was on the fence about two of the styles of couches to get for ourselves. I also skipped ordering fabric swatches to my home so I could look at them all in the showroom instead. If you have a showroom near you and feel safe going, I would recommend it. It was such a great experience, very modern.
We made a reservation online and got to shop & test out all the sofas in person. The customer service was awesome – our sales girl wasn't pushy at all. She even gave us a beer, which is actually a genius move. We decided on the sofa we wanted and placed an order there. It was super easy.
I also appreciated being able to see all the other furniture in person, like their accent chairs (like their Sloan chaise!) and coffee tables. If I were building a larger room of furniture, it would absolutely be nice to see all of their modern couch styles next to their chairs and tables to visually them all together.
I'm not going to lie, I left feeling a bit nervous as it was the first major home purchase we had done at the point. We just dropped a lot of money on our wedding and spending anything more than the cost of a brunch at that time was like "WHOA slow down!" but this sofa has been worth every penny.
Interior Define Review After Two Years Of Ownership
How Has Your Interior Define Sofa Held Up Over Time?
I really love this mod velvet fabric. I was super worried it would fall apart quickly, get stains or be totally destroyed by my cat. But, it's held up over the past 2 years. I mean, we put that thing through the wringer since it's used for hours each day as one of our only pieces of sitting furniture in our studio apartment. Other than the scratches on the sides from my cat using it as a scratching post (grr) it looks almost brand new 2 years later.
What Don't You Like About Your Sofa?
Overall, there's not a lot I don't like, though some cons to note. First off, since everything is made to order, your custom sofa takes longer to arrive than if you ordered somewhere else where it was pre-made. That means our wait time was a bit long – I remember it taking about 6-7 weeks to arrive. Of course, we knew this ahead of time so it wasn't a surprise.
Right now during the pandemic, couches can take up to 16 weeks to arrive which is really really long – that's 4 months just to wait for a sofa. I don't know if I would wait that long right now if I was ordering again, so I did want to point that out. But if you have your heart set on an emerald green couch like this, it's worth the wait.
The major thing I don't like about my sofa is I wish the seat was a bit longer. I'm constantly finding myself wishing I had a bit more room as I curled up on the couch seat. Back when I ordered it, the extra 41-inch length was not an option. It is now. There are some days when I can't get 100% comfortable and think a deeper seat would be the solution.
We didn't have any issues with delivering our couch so we didn't need to use their return policy at all, but do take a look at it. It seems like Interior Define has the option to deny you a return. You also won't get shipping fees back, which makes sense.
2021 Update: But really — considering I basically live on this couch it's holding up so well!
Was Interior Define Worth It? Would You Buy Them Again?
Yes it was worth it and yes, I think I would buy from them again when we eventually move apartments. I can't tell you the amount of times I split wine on this couch while getting overlay excited about drama on The Bachelor, but it has always come right out. That's a huge perk for me and makes me trust investing in more couches from Interior Define in the future.
In the future when it's time to get a new sofa, I'll absolutely be looking at what Interior Define has first. I know I want a huge one that I can sink into and they have some really great large sofa options. That being said, I also discovered the sofa brand called Loaf recently and am intrigued by their sofas as well. Who knows, maybe I'll have a place big enough that I'll need two sofas and can get one from each!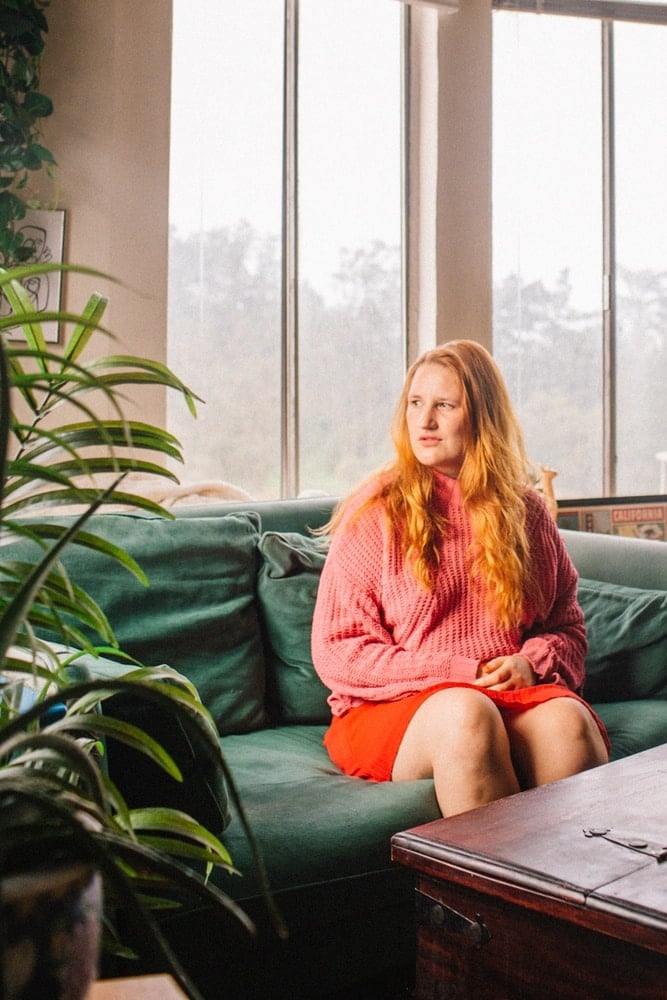 So, that's my interior Define Sofa Review. I hope you found this helpful as you begin the exciting journey of decorating your home! If you have any questions at all, drop a comment below or DM me on Instagram @thewhimsysoul and I'll be happy to help.

While you're here, check out some of my other home decor posts: