My Béis travel review comes after a lot of in-person testing. My search for new luggage began last October in preparation for my first "post-panini" trip to Paris. For the last few years, my trusty brown roller bag from Ross had been holding strong. The only problem? It was a slightly oversized carry-on. The wheels added a dreaded 1-2 inches that didn't quite fit in all overhead bins.
I figured I deserved an upgrade from my college purchase, and started doing some research. The obvious choice was Away. I had borrowed a friend's before, and thought it was nice. But the price tag of $295 gave me heart palpitations.
The pros: full proof design and that pesky USB charger. I thought… you have to remove the charger for the flight, and then what? Plus there's chargers in airports and on airplanes. Maybe I could live without it? So, I was brought to Béis and well, now I'm kinda obsessed (for the most part).
Béis Travel Review: Is Shay Mitchell's Luggage Brand The Next Big Thing?
I was willing to spend a little bit on quality luggage. I love to travel and need something sturdy! Plus our tickets to Paris were carry-on only. I needed something I knew would fit, and needed it pretty quick.
I got some ads about Béis Travel and loved the look (and the price point!). The beige handle on the sleek black suitcase is just the twist you need to find your bag on the baggage carousel. Plus it's padded, something I didn't realize would make such an impact. After almost a year and multiple trips, here's my Béis Travel review.
What is Beis Travel: Beis Luggage Bestsellers
Béis was sold to me as a super functional luggage company that wouldn't break the bank. The ads largely featured Founder Shay Mitchell. Yes, from Pretty Little Liars. The Canadian actress started the brand to create stylish, affordable pieces for travelers like her, and in turn inspire "to seek new places, meet new people and share the world."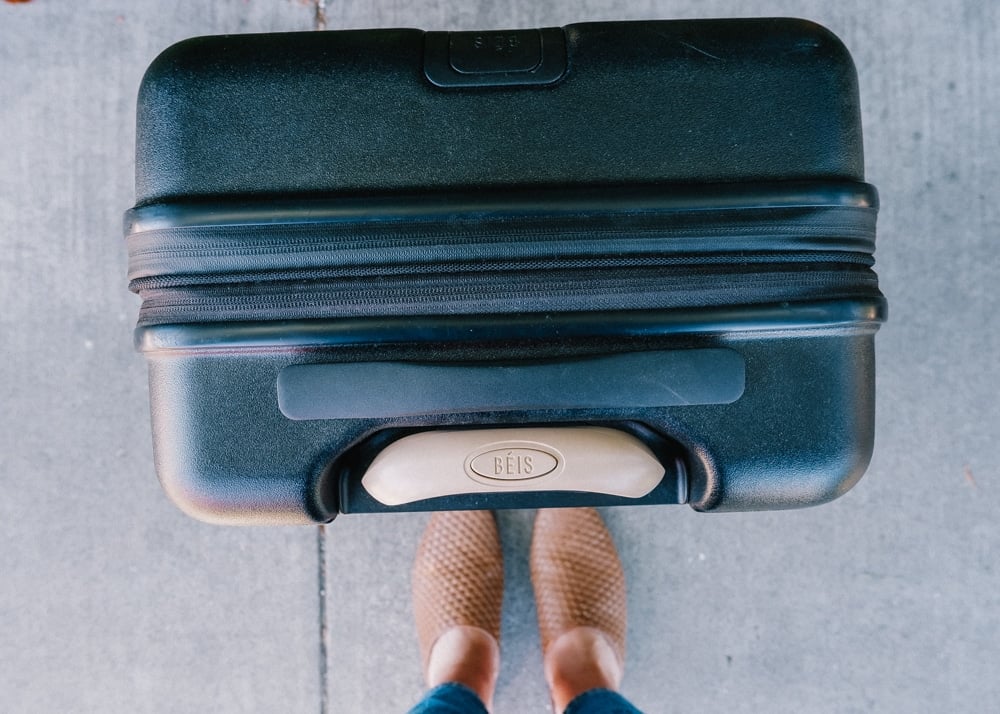 It'll come as no surprise that I bought into it, and now own the Carry-On Roller, Backpack and Travel Wallet. We'll get into why in a bit, but here's a quick deep dive into some of the Béis bestsellers.
The Beis Backpack
I originally discovered The Backpack in a search for a backpack for work trips. I think I saw it on TikTok actually! I loved how it opened up flat with the compression straps to secure your things like in a traditional suitcase.
It also features 2 water bottle pockets (on the sides), a trolley passthrough, 3 zip pockets, and a padded laptop sleeve (holds my 13 inch laptop with a little wiggle room). The front pocket is also fairly massive to hold everything you might need for a day trip or a work conference.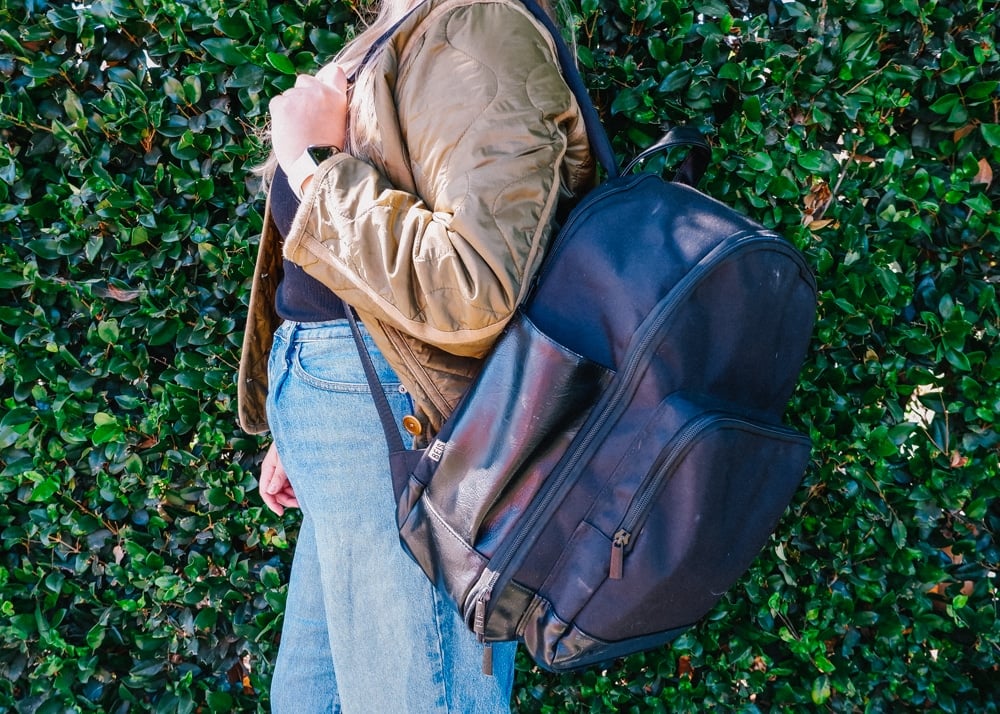 While I'm a fairly light packer for trips, I also tend to be over prepared for events. When I took it to New York City for a work trip, I packed my laptop, water bottle, extra pair of shoes, extra outfit, wallet/purse and more while I was venturing out of my hotel and still had room to stuff the swag bag from the conference in it. The shoulder straps never dig into my shoulders, no matter how much I pack!
The Beis Weekender Bag
I don't have the data to support this, but I think The Weekender is Béis' top seller. The brand's first designed bag can double as a weekend getaway bag or a carry-on.
It takes the shape of a tote bag with a wire frame making it easy to access everything in the main compartment with a bottom compartment for shoes, toiletries or travel essentials separate (plus water resistant for any spills).
The Béis Weekender bag also comes in a couple variations: The Convertible Weekender and The Convertible Mini Weekender. Both of which the bottom compartment is removable. All of which are laptop friendly, have a trolly passthrough, organizational pockets and a key fob.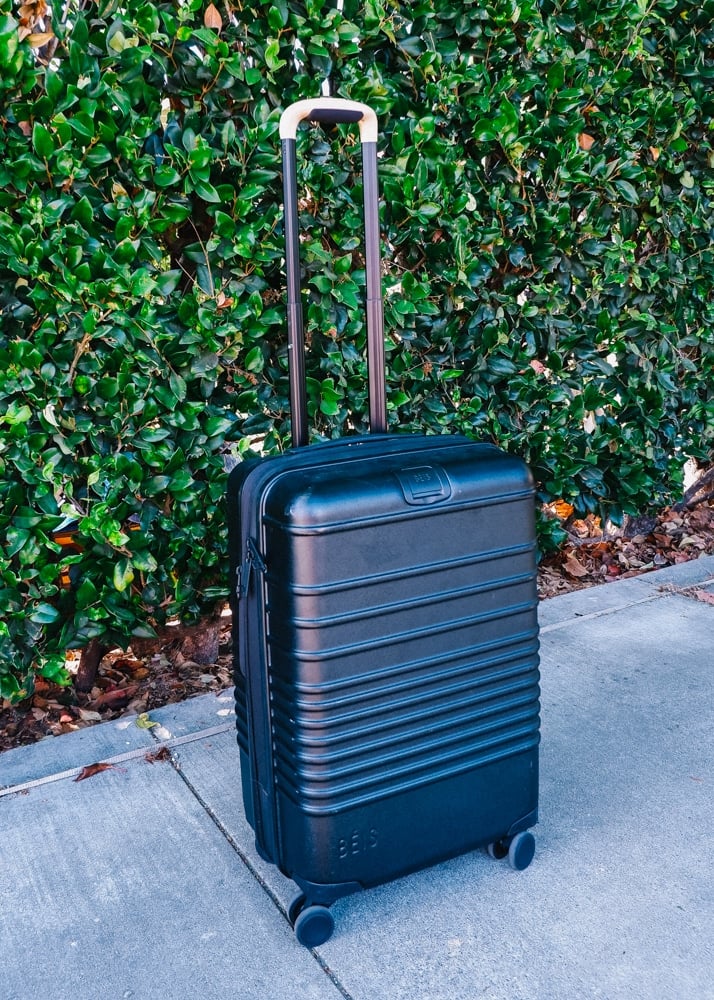 The Beis Carry On Roller Bag
The Carry-On Roller is one out of the four luggage options that BÉIS offers. It's your basic roller bag with 360 wheels that fits in most overhead compartments with dimensions of 14 width, 9 inch depth and 22 inch height.
What makes it stand out? The weight indicator on the handle. It's fairly simple. You hold it by the handle and if it turns red, it's over 50 pounds. Plus it features a few pockets for easy packing and separate pouches labeled "Not Béisic" and "Dirt Bag." I use mine to hold my shoes and dirty clothes (obvs).
The other luggage options Béis offers are: The 26" Check-In Roller, The 29" Large Check-In Roller and Soft Sided Collapsible Check-In Roller. At the time of publication, colors include black, beige, grey and navy.
The Beis Diaper Bag
I'm not a parent, but the Béis Baby is fairly impressive. Something Shay Mitchell started as a now not so new mom. If I'm correct, The Diaper Bag was the debut product in the line, and I have to say it seems to think of everything. Deemed "the anti-diaper diaper bag" is a shoulder bag that puts function first.
It features 5 exterior pockets, a pacifier pouch, odor proof bag, a portable changing pad with slip pocket for diapers and wipes, teething ring, insulated drawstring pocket for bottles, 2 large slip pockets and 1 large zip pocket.
That's a lot, but I assume it's needed when you have a baby. If you're more of a backpack person, there's also The Ultimate Diaper Backpack or The Pumping Backpack. For moms, dads, guardians and everyone in between who want to travel light… there's The Diaper Pack or The Stroller Organizer.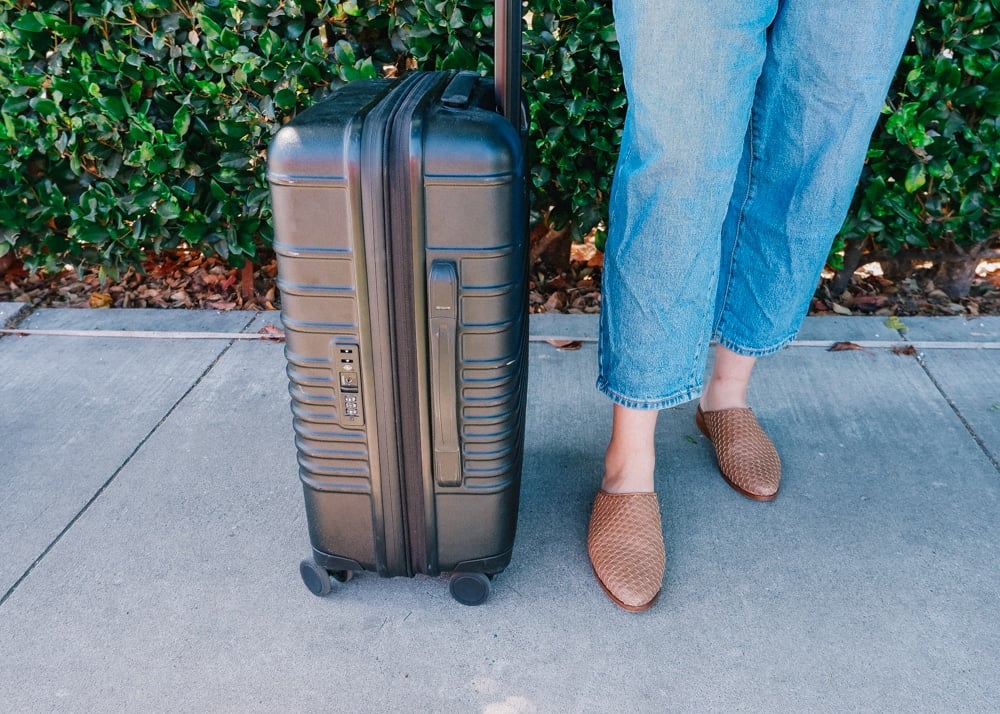 Why I Chose Beis Travel Luggage: Quality and Price Point
Like I mentioned before, what drew me into Béis was its focus on functionality. It's almost like they've thought of everything when it comes to form and function. I wanted a black, hard shell suitcase because it's the most practical in regards to keeping it clean. I also wanted something quality that wouldn't dent horribly on the first trip.
And after 5+ years of lugging around my fairly ugly brown roller bag, I wanted something stylish. I discovered Béis on social media. Most of their ads feature Shay Mitchell just breaking down the functionality of their bags. Which I loved. Nothing too fancy, and telling me straight what I'm paying for.
Are Beis Bags Worth It?
In my opinion, yes. I first purchased the Backpack. After being thoroughly impressed with its functionality and quality, I took it a step further and bought the Carry-On Roller. Then, just before my trip to Paris… I bought the Travel Wallet. It's a great travel bag to avoid pickpockets with RFID lining!
You can say, I'm toeing the line into obsession because I also have my eye on other accessories including: The Packing Cubes, The Mini Weekender (because I think I could maybe swing it as a personal item) and The Hanging Cosmetic Case.
The cosmetic cases are apparently very easy to clean. Something I've been a little frustrated with my current case I purchased from Ulta.
When looking for luggage, I'm looking for a few things: style, durability and function, All of which my Béis bags have served me well. Plus, it's female founded!
I always recommend at the very least: The Backpack. It has a padded laptop compartment and plenty of space for everything else you might need. I would argue it's the perfect travel backpack. I considered lots of different backpacks and read lots of reviews!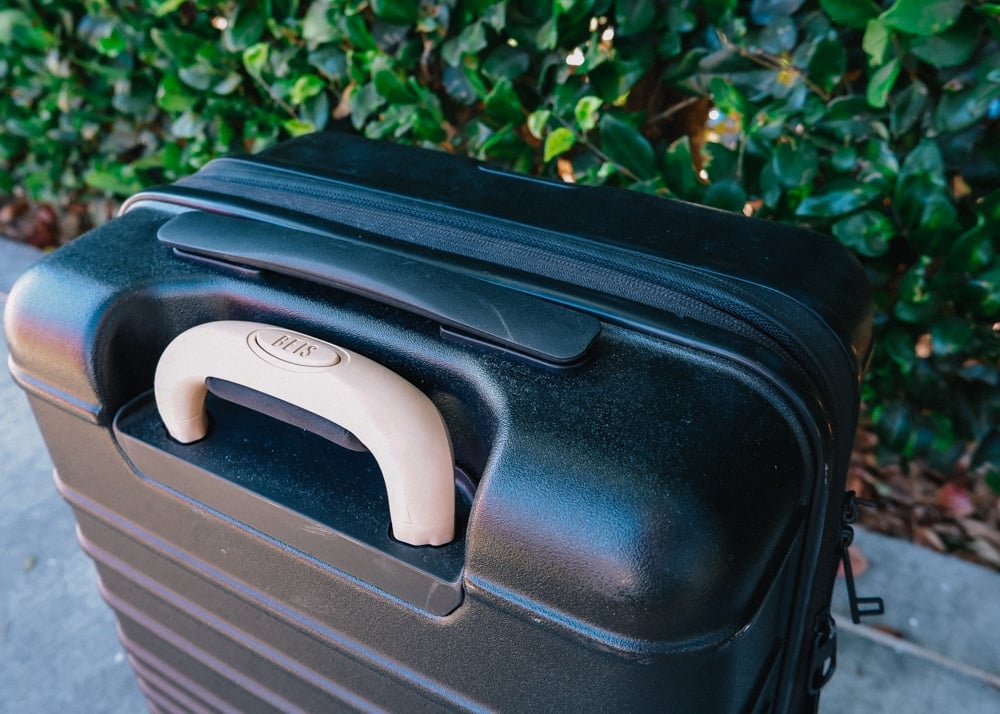 Away vs Beis: What Is The Better Suitcase?
I haven't owned an Away carry-on suitcase, but I've borrowed one from a friend! I understand the appeal, but I feel Béis is pretty comparable. It's all about preference, but let's see the specifications side by side:
Away The Carry-On: $295 (+$20 with USB charger)
Dimensions (including wheels): 21.7″H x 13.7″W x 9D
Weight: 8.1 lbs
Capacity: 39.8L
Durable polycarbonate hard shell
Leather details, including luggage tag
TSA-approved combination lock
360 degree wheels
Ejectable USB charger
Hidden laundry bag
Béis The Carry-On Roller: $198
Dimensions (including wheels): 22"H x14″W x 9″D
Weight: 8.36lbs
Capacity: 45L
Polycarbonate PVC Polyester Nylon Zipper Hardware
TSA-approved combination lock
360 degree wheels
One zip pocket & one frosted PVC zip pocket (interior)
Detachable, compression flap with U-zip pocket and mesh packet (interior)
Small zip pouch for keeping small valuables and separate pouch set (2) for dirty clothes, shoes, under garments, damp clothing
While Béis is slightly larger size with more capacity, Away has leather details on the exterior and the USB charger. Otherwise, they're pretty identical and almost a $100 difference!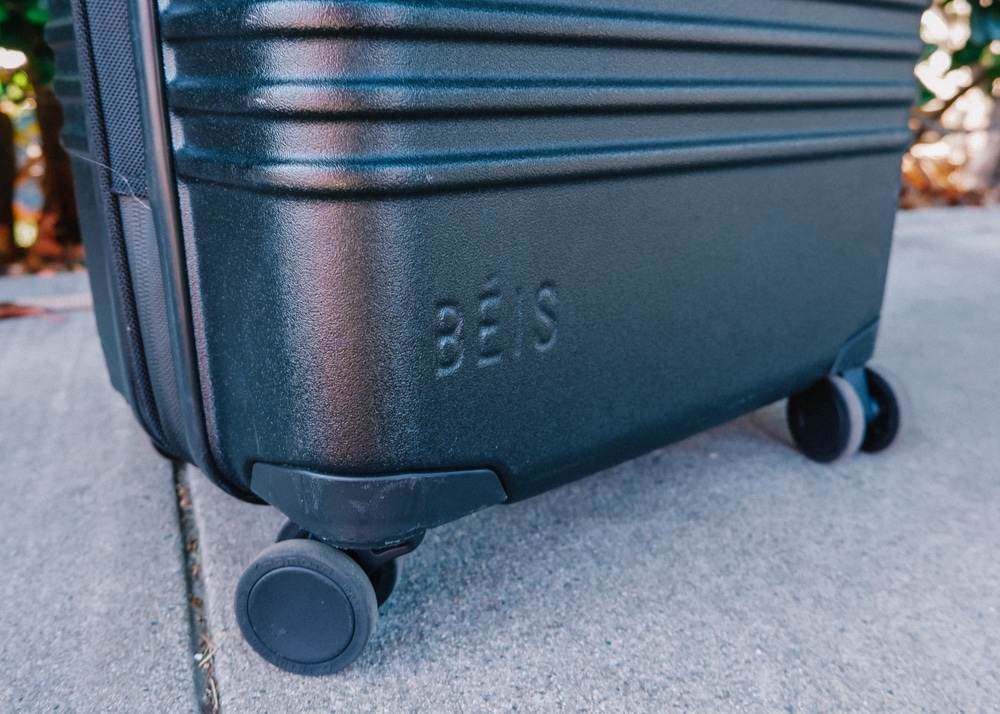 Beis Travel: FAQs
Another thing I love about Béis… the website is super easy to navigate, but dropping some top questions so it's all in one place!
Where to buy Beis travel bags?
I assume most of their sales are direct at beistravel.com, but you also find Béis at Revolve.com, and Nordstrom.com or you can shop for it at select Nordstrom stores!
Who owns Béis Travel? And what does Béis stand for?
Shay Mitchell is the founder, and according to the site, Béis is a homonym of base and bass. Without the accent, it means beige in Spanish which is a core color of the brand. From Béis: "To us it means defining yourself through your adventures, effortlessly and with style!"
Is Béis vegan?
While this question isn't directly answered on their site, it looks like a lot of their products like The Travel Wallet and The Work Tote are made with vegan leather. It's probably a case-by-case basis and your best bet is to reach out to their customer service team before purchasing to confirm!
How long does Béis take to ship?
Mine arrived scary fast, but I'm based in California and they're located in El Segundo, California. Shipping takes up to 3 business days, and you can find a full list of the countries they ship to here! They also offer free shipping on $100+ purchases.
What is Beis travel bags return policy?
Most products can be returned or exchanged within 90 days. It looks like it's a fairly easy return and exchange process using your order number and zip code!
Does Beis luggage scuff?
Yes, mine is scuffed up a bit! How can it not? Airlines aren't exactly gentle, and I'm not either. But Béis does offer The Béis Buffer to take care of any scuff marks or covers for larger check-in luggage (26" and 29").
Is the Beis weekender bag considered a carry-on? And is the Beis weekender worth it?
According to the product page, the Béis weekender is a carry-on, but I think you might be able to swing the Beis mini weekender as a personal item. I've definitely squeezed my Béis backpack under a few seats!
And yes, I think the weekender is worth it if you're taking a good amount of 1-3 day trips. It also could be good if you're splitting time at your significant other's place!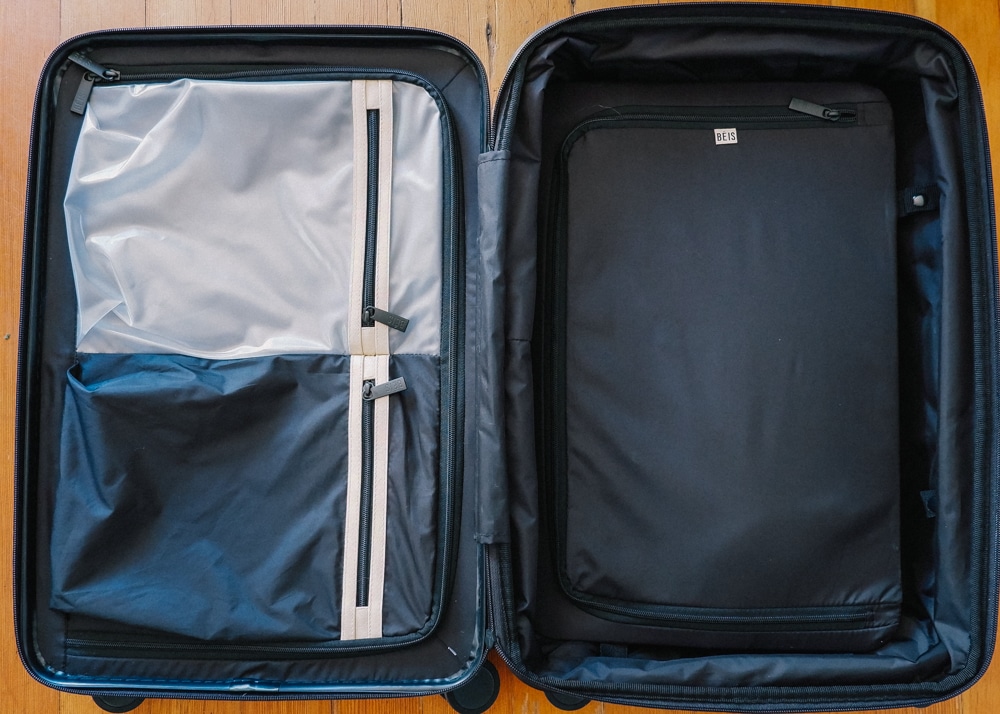 What is the Béis Limited Lifetime Luggage Warranty?
I just learned about this in my research for this article, so I'm considering it another win! It covers the polycarbonate luggage for cracks and breaks plus the wheels, handles, zippers and fabric tears for the "reasonable lifetime of the luggage." There are limitations (of course!), but still a solid effort on their part.
So, if you're on the market for new luggage, you should absolutely consider Béis! While it might be another celebrity-founded brand, it passes the tests with flying colors. I get lots of compliments when I'm out and about, and I always get excited to pack!
Have you tried any of the Béis products? Tell us which one in the comments and if you think it's the next big thing!