February and early march is my favorite time of year in the California Central Valley thanks to the endless miles and miles of beautiful white almond blossoms.
They pop up almost overnight and thankfully will last a few weeks, leaving plenty of time for you to gather your cutest dresses and hit up some of the best almond blossoms California has for photos, or just a vibey picnic.
I've been going to the almond orchards for years so if you're looking for the best orchards to visit to photos, this guide is for you!
When Do Almond Trees Blossom
This varies every year but usually the Northern Central Valley almond blossoms to start blooming around Mid-Febuary and will last until Mid-March.
I think the best time to go is the last week of February or the first week of March to get them when a few petals have started falling so the ground is lined with white, but the trees still have plenty of flowers.
Almonds are usually the first of the many California flower field blooms and means spring is officially here!
California Almond Blossom Trail
There's an official trail that the county of Modesto has put together to help you find the best almond flowers!! The Modesto Almond Blossom Cruise trail has a map of farms and scenic roads full of almond trees so you can pack up the car and take a beautiful spring road trip.
You don't have to stick to the Modesto area. All over the Northern California Central Valley area you'll find almond fields popping off.
There's a million acres of arms in the Dixon/Woodland area and there's a whole Yolo County Almond Festival that takes place each year!
I also see a lot heading into Calaveras County everytime I drive up to our cabin in Arnold. I've photographed them all over but I like Modesto best since they have a few farms that all you to come to take photos.
Rodin Farms
This year (2023) my friend Gen and I tried out a new to us farm called Rodin Farms in Modesto and I loved them. We've visited a few other farms & places in the past but this is my favorite for taking photos of California almonds.
Their orchard has a cute little farm stand on the edge full of almonds, fruits, veggies and other farm goods. I highly recommend you buy their dried mushroom cracker things (sounds weird, but trust me on this) along with stocking up on tins of flavored almonds. The lemon ones are my favorite.
And then, head into the orchard! You have to stick to the first few rows of the trees but you have total permission to take as many photos and videos as you want of the blooms.
I loved this since we've traveled to spots in the state in the past that end up making it all feel very awkward as they just stare at you the entire time, or it's just way too crowded. But Gen and I went at 8am, had the whole place to ourselves and nobody bothered us.
It's about a 1.5 hour drive from the San Francisco Bay Area and there isn't much else to do in Modesto this time of year, but if you're on the hunt for almond blossom photos, this is the spot to go to legally.
How To Take Photos Of California Almond Blossoms Legally
On that note, let's chat about the 4 types of places you can visit for almond blooms.
A Public Almond Farm
The easiest and best way to visit almond orchards in California is finding a public farm like Rodin Farms mentioned above.
These places allow guests on the property to take photos so you can bring clients without worrying about anything. Of course, please do support that farm via purchasing from their stand if they offer that.
In Modesto, the farms that let you on are Rodin Farms, Knights Ferry covered bridge, and Roberts Ferry Gourmet.
A Family Farm
If you have a friend of family member who owns a farm, you can of course ask them to go on the orchard. We've done this in the past but since it's always been a friend of a friend, it's hard to wrangle.
But I do know a fellow blogger who's aunt owns a stunning almond orchard in Dixon and they take the coolest family photos up there every year. Jealous!
A Winery Or Olive Tasting Room With Orchards
Yes – there are a few wineries in the area that are next to or own almond orchards! (And, in other seasons sunflowers and lavender).
They don't always advertise this well so I've been slowly gathering names to include. Right now I know Seka Hills does an almond blossom event every spring along with Taber Ranch winery and Capay Valley Vineyards.
As a California wine lover, I adore the idea of getting a wine tasting followed by time amongst the almond orchards. So fun!
From The Roadside
Lastly, you can always pull off on the side of the road to take photos FROM THE ROADSIDE. Remember that going into a field without permission is trespassing.
But, if you stay on the county road and use your zoom lens, there's nothing wrong with that. In fact, I was very tempted to do just that a lot this spring. I've been driving to Arnold a lot and have caught a couple of rainbows over the orchards.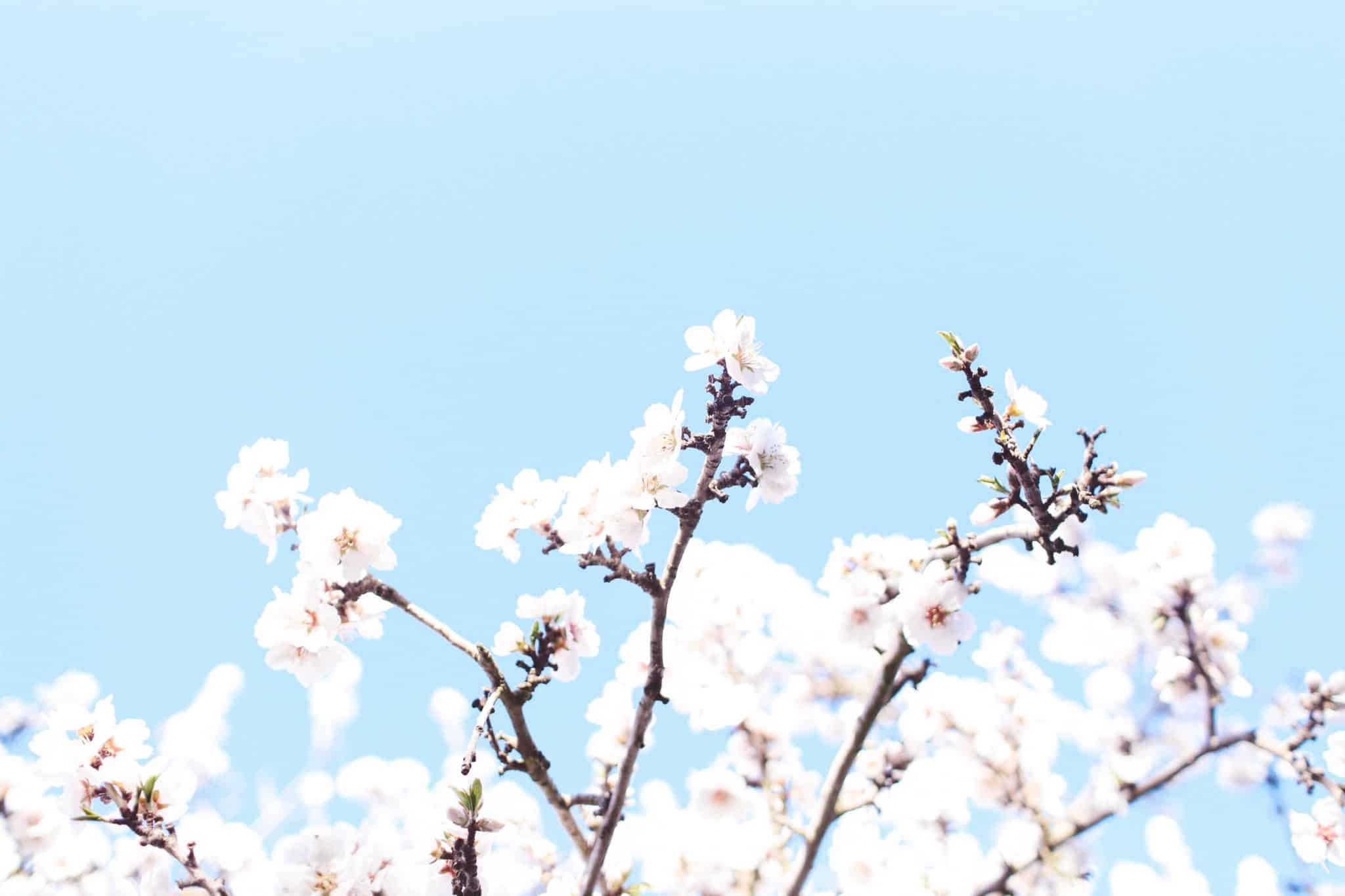 Southern California Almond Blossom
I always get asked this every year and I'm sorry to say I don't have a great spot in SoCal for you. I'm sure there are plenty of farms around Bakersfield but I haven't stopped at any to recommend. Please drop me a comment below if you have searched for and found a great Southern California almond farm!!
What To Wear To An Almond Blossom Farm
Ok, now onto the fun part! If you're coming to take photos or aesthetic videos, keep in mind that the almond fields are usually pretty muddy. Especially after this year, 2023, with all the historic rain.
I recommend you wear cute Hunter rain boots or shoes you don't care about. Also bring a trash bag to set anything on (camera, props, etc).
I prefer to wear pink, yellow or white when shooting in almond trees, along with a cute straw hat and whimsical picnic props. Hey, you gotta go all out, right?
Shop Almond Blossom Outfits & Props

I hope this helps you have an amazing day in the California almond blossoms! If you have questions, drop them below.
And if you know of more amazing farms or wineries to add to the list, please let me know!