We knew we'd find a lighthouse and wildflowers during our kayak paddle, but when I saw that rope swing overlooking San Luis Obispo County, I think I screamed a little with delight.
Kayaking Avila Beach and finding the hidden rope swing at the Point San Luis Lighthouse was probably the highlight of my most recent Central Coast trip. In this post, I'm sharing all the tips and directions for finding this gem!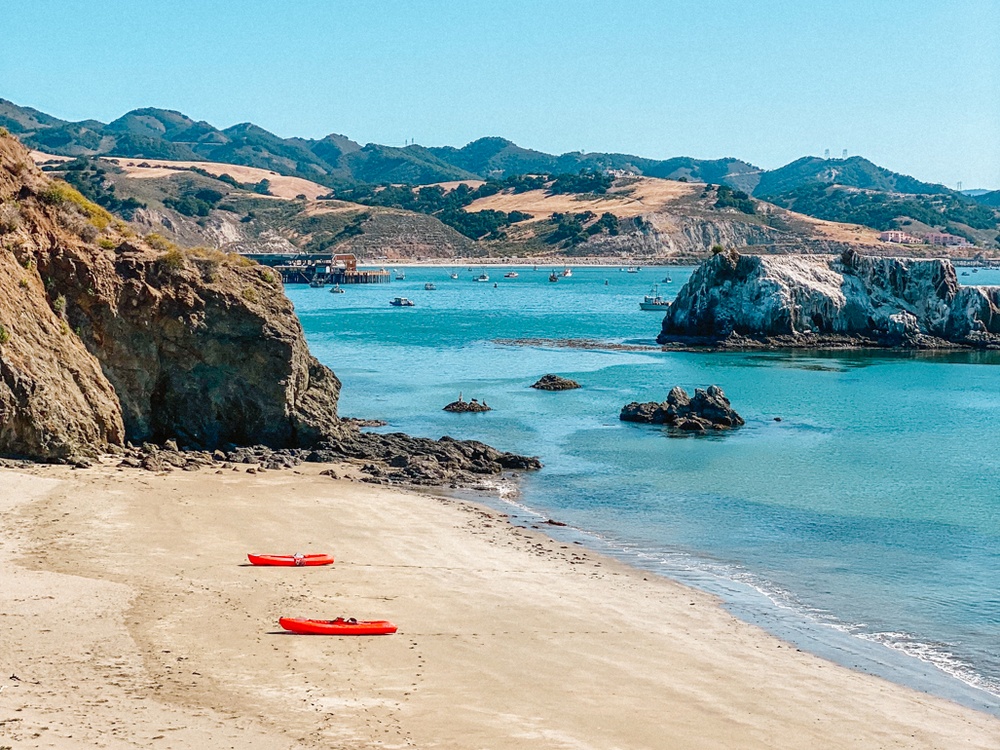 Earlier this year I went down to Pismo Beach with some girlfriends. It was rad — we ran around town eating donuts, hiked the Pismo Dunes and did some wine tasting in Edna Valley. Last month I went back down with a different friend, this time to Paso Robles for wine tasting, and some time in the town of San Luis Obispo.
As a kayaking addict (I go kayaking in Sausalito a few times a week at home) I knew I wanted to sneak in a Pacific Ocean paddle. To be completely honest, we were attempting to go Avila sea caves kayaking but by accident booked at a place too far away from the caves. This ended up being the best surprise ever because it led us to this lighthouse and rope swing!
Book At Avila Beach Paddlesports
Location: 3915 Avila Beach Drive in Avila Beach's Port San Luis Boat Yard
Price: $35 for 2 hours
Equipment: Kayaks and SUP rentals
Reservations: Book online here
This is the best place to rent kayaks in Avila Beach. We booked a morning paddle to avoid the afternoon wind which makes kayaking on the water hard. (If the wind gets dangerous, they will call you and reschedule you for a different day, but to be safe, I recommend booking an early morning paddle.)
This company also offers adventure tours if you are looking for a guided tour, but I think you can manage it on your own.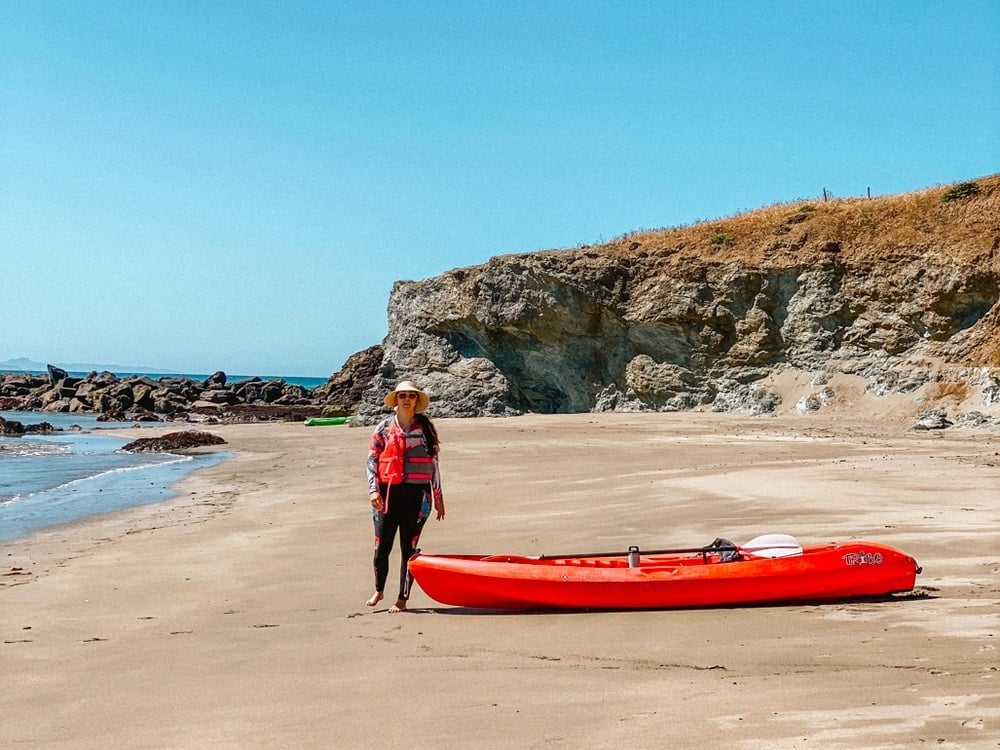 Now onto tips and directions! First, head to the kayak rental spot which is near Olde Port Beach. I suggest you bring your own dry bag for your phone and wallet (they will hold onto your keys for you, which is awesome.) I use this dry bag, it's under $25 and works like a charm!
1. Stop By The Otters
They're a little hard to see from far away, but keep an eye out for sea otters towards the start of your paddle! There's usually a big mass of seaweed and kelp near the rental docks and the otters LOVE to play around in it! They are so stinking cute.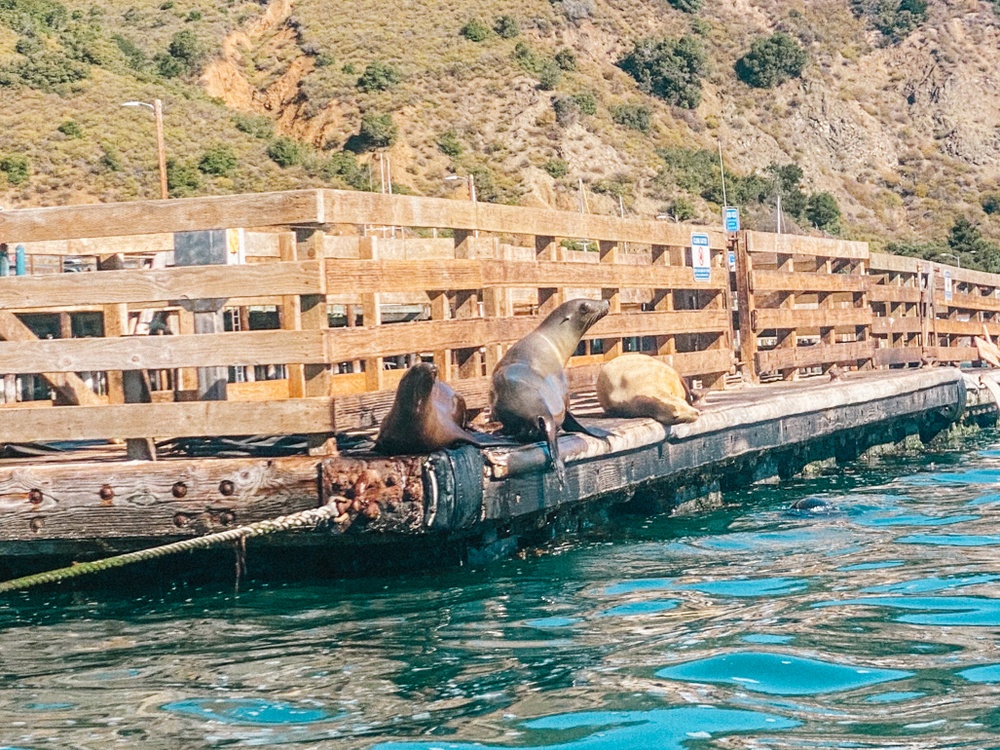 2. Then Visit The Sea Lions
Next, heads to the San Luis Harbor Pier. There's a floating dock next to it that usually has a bunch of sea lions hanging out on them. You'll probably be able to hear them before you can see them.
I love sea lions – they're literally just big water cats and they are so dramatic. Up in Sausalito, I see a lot of them and they always make me laugh. We visited in June so there were a few new babies with their mamas, which was super fun to see!!
After saying hi to the sea lions, paddle under the pier and head up the coastline.
3. Pull Up On The Secret Beach
After about 15-20 minutes you'll spot a beach ahead. Along the way will be tons of pelicans and other birds hanging out, this bay is truly packed with wildlife. Once you reach the beach, pull your kayak up on the sand. Make sure to pull it further than you think you need to in case the high tide comes in – you don't want the ocean to steal your boat!
It's safe to leave things in your kayak. I left my dry bag and top shirt as it got hot out. From here, walk up the stairs and follow the road to the lighthouse!
4. Hike To The Lighthouse + Rope Swing!
The lighthouse is past all the other buildings. One of these buildings has a bathroom if you need it, along with a little water fountain, though I suggest you bring your own water.
Off to your left, you should spot the rope swing! Unlike rope swings in the Bay Area (like the famous Kirby Cove Rope Swing) which always get cut down as soon as they are put up, this rope swing has been here for years and will stay that way.
It's pretty secure, too. We spent a while just swinging and enjoying the view. Truly special! I've learned from followers on Instagram that SLO county has a LOT of hidden rope swings in various places. And now I know my new goal: find them all!
After you're down swinging, go check out the lighthouse. Depending on the day, it may be open to tour the outside. Regardless, there are stunning California wildflowers up here and coastal views.
5. Keep An Eye Out For Whales
We lucked out and were able to do some whale watching from the Point San Luis Lighthouse! Whale migration season happened to be the week we were down there. Funny enough, a few weeks later I visited Timber Cove up in Sonoma County and also saw whales. I know it wasn't the same pod but I like to think it was.
During your visit, ask if the whales are visible and if they are, keep an eye out for their stacks!
6. Bring Your Swimsuit For A Dip In The Water!
I realized after our paddle that the secret Avila beach we pulled our kayaks on was PERFECT for swimming. I wish I had brought my swimsuit to jump in and cool off. I love swimming in lakes and oceans. (Most recently I went camping at Pinecrest Lake and rented a kayak there. I paddled out to a rock and went swimming!)
So, learn from my fail: wear a swimsuit under your kayaking outfit and jump on into the water!! You'll love it. These are my favorite 70+ swimsuits for curvy women like myself!
After your Avila Beach kayak, head to Downtown Avila Beach and beeline to Avila Beach pier to find some tide pools. It's one of my favorite things to do in Avila Beach! Then, I recommend you pop over to the famous Avila Valley Barn for local farm lunch!
Where To Find San Luis Obispo Sea Caves
I still want to return to SLO county to try and find some sea caves via kayak. The company that is located near the sea caves is called Central Coast Kayaks. They are located on the Shell Beach Kayak Launch (closer to Pismo) and from there you can paddle up towards Cave Landing and Pirate's Cove to find some sea caves!
You can also hike down to Pirate's Cove and Smuggler Cave if you want to skip a second kayak adventure. Make sure to come early if you are parking and hiking as the lot fills up fast. It's about a half-mile hike down but isn't one of these easy hiking activities — get ready to scramble over rocks! Worth it though.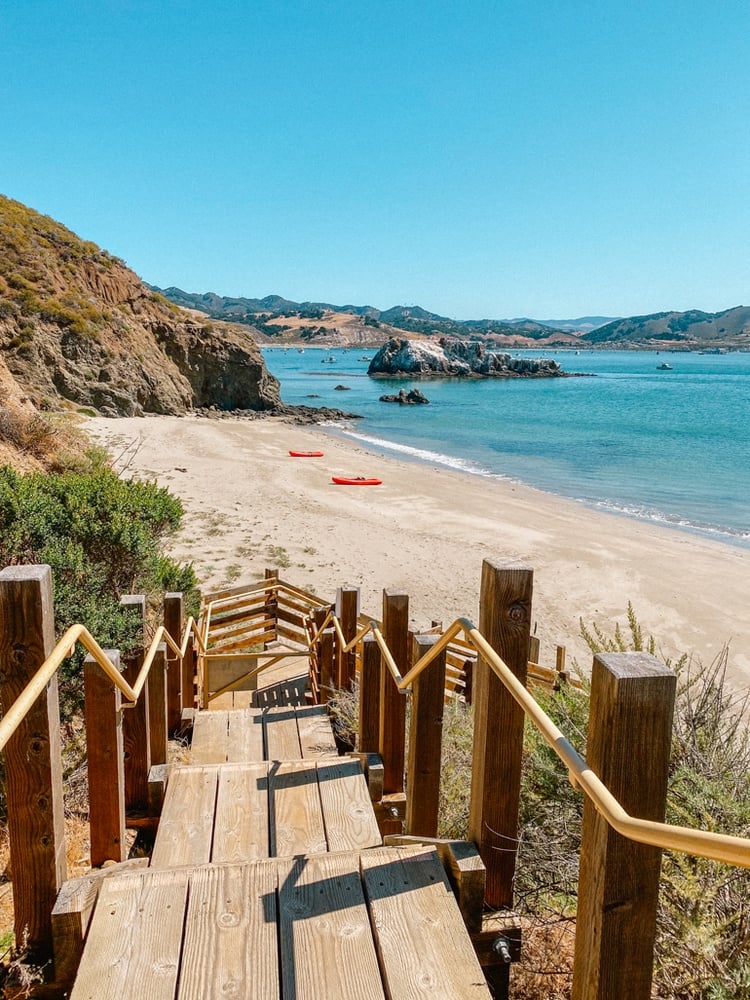 I had so much fun kayaking San Luis Obispo and finding this hidden rope swing!! You can also go kayaking Morro Bay Rock (they also are known to have otters) or as I mentioned above, rent Shell Beach kayaks for the sea caves.
I'll be back soon. Maybe I'll see you out on the water?
If you have tips to add, please drop a comment below so everyone can see. Got questions? Comment below or DM me on Instagram @thewhimsysoul and I'll be happy to help!