Surprise!!! We bought a cabin!! I'm so thrilled to introduce our first Whimsy Homes located in Arnold, California.
I've spent almost a decade bringing you guys around the world via Whimsy Soul, and it's finally time to build a place of my own for you to visit & experience travel, the whimsy way.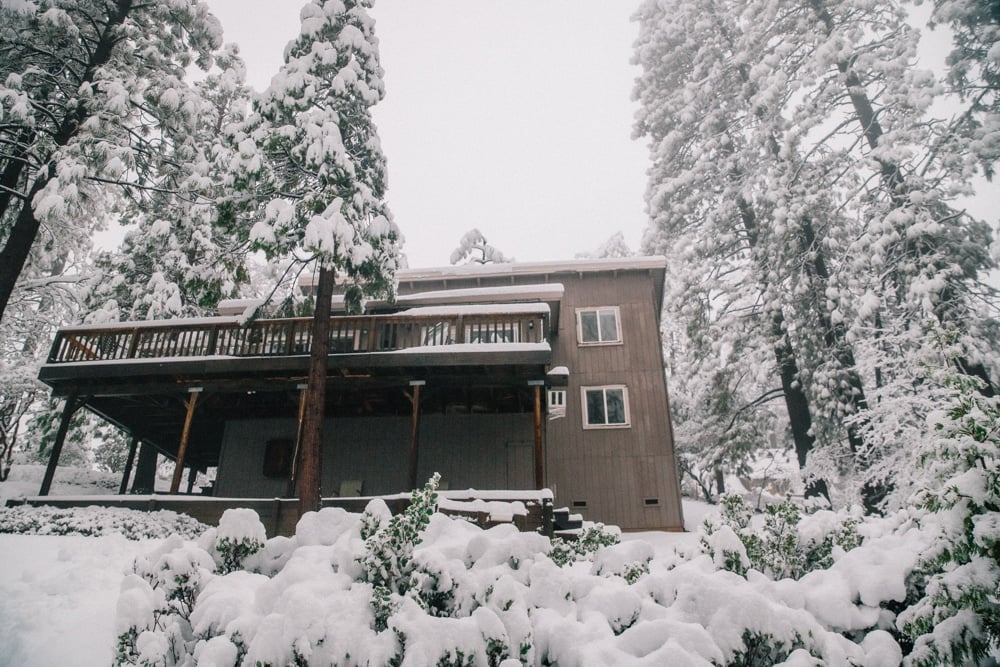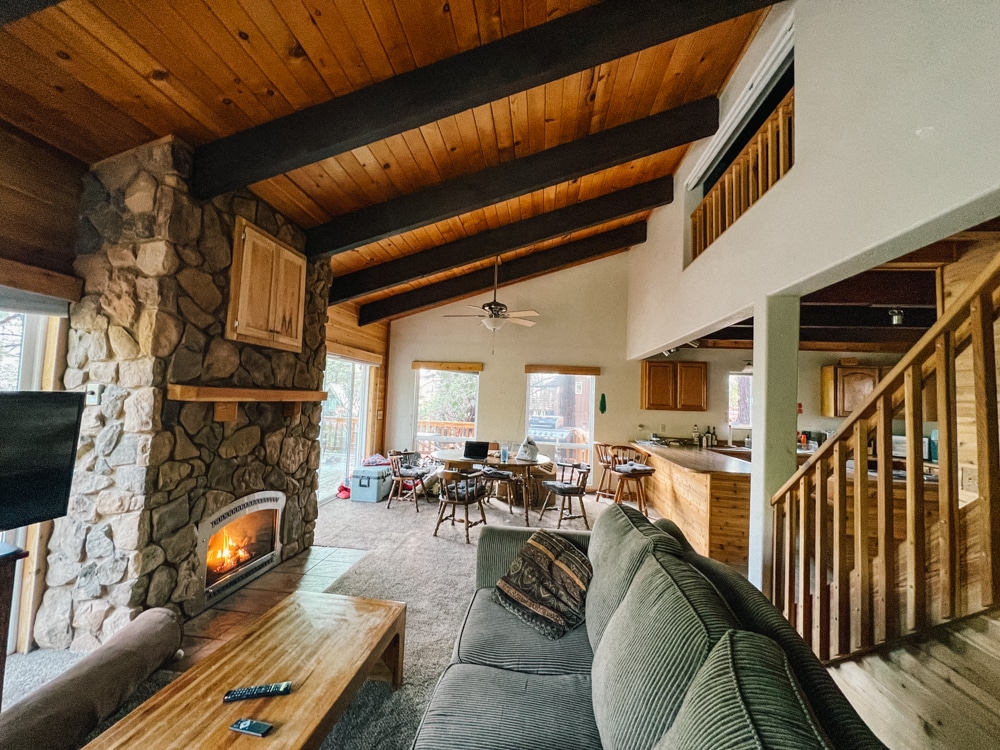 This has been a 4+ year dream in the making, so I have a lot to update you on! Here's what to know off the bat: we're working on the cabin right now and hope to have it available to rent by summer 2023 (fingers crossed!)
Ok, now onto all the details.
I Realized This Dream in 2019.
Early in the year 2019, Robin's parents were visiting us and we decided to do an overnight road trip up the coast to Tomales Bay and Bolinas.
We booked this Airbnb in Bolinas and while grabbing coffee, I took a look at the bulletin board in the cafe area and saw a flyer for a tiny home for sale in Forestville.
While sipping on my coffee, something clicked. If I were a cartoon character a big lightbulb would have appeared over my head. I immediately ran to grab Robin and showed him the flyer and told him: we should open an Airbnb.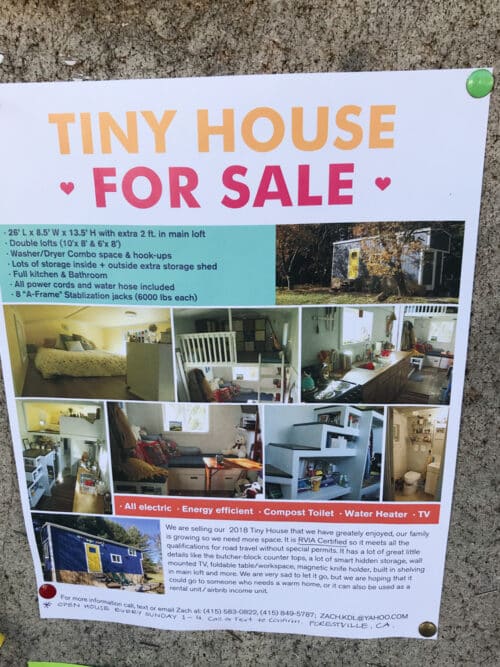 In 2019 Whimsy Soul was 4 years old and by this point, I've already featured hotels and destinations all over the world on the blog. I've been searching for a while for a way to bring Whimsy Soul offline and into the real world and couldn't figure out what that was.
A swimsuit line? Branded tote bags? But nothing felt right until realized I wanted to build unique travel experiences for my community to travel to and visit in the form of a short-term rental.
I've reported on in countless vacation rentals and hotels and know what guests like (and don't like). I could do this. I knew I could. I still know I can.
So we went and looked at the tiny home. It wasn't right for us, but that day in March launched everything in motion.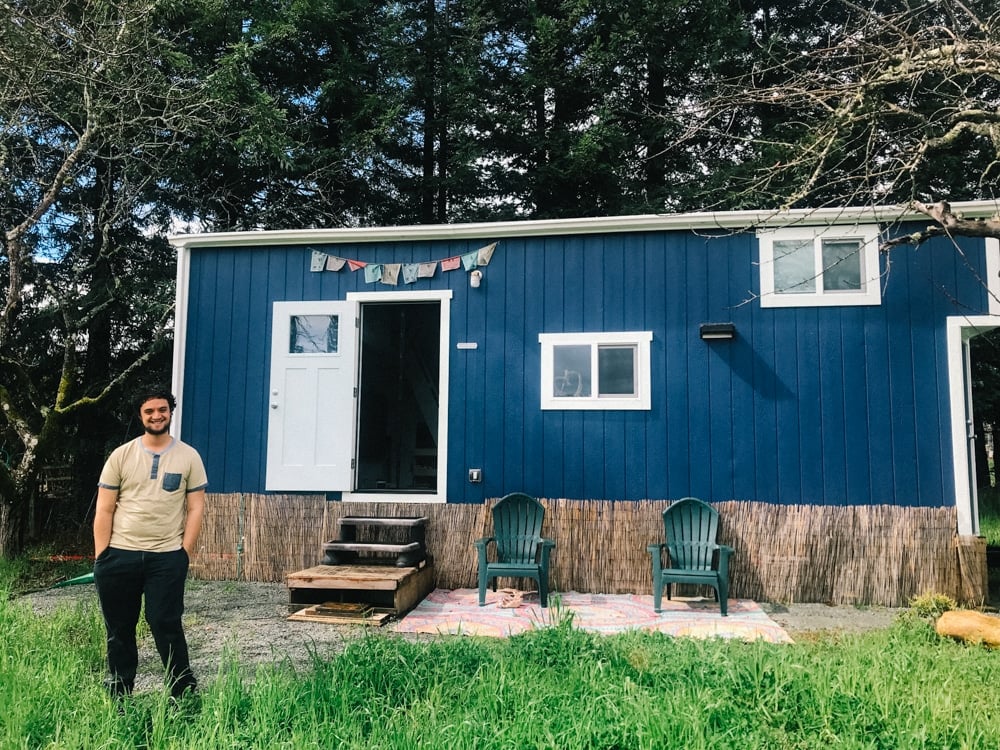 First We Thought: Let's Do A Custom Build
Probably because this whole idea sparked from a tiny home flyer, I at first thought we wanted to go the route of buying land and putting a tiny home on it. Or perhaps a treehouse or something custom and utterly unique.
My dear friend Brianna who is a realtor went with me to Guerneville to look at land. Back then it was as cheap at $20k for a plot of land in town and I was very tempted to just buy something.
But the more I learned about how new build loans are given out and the whole process of building, I realized that for our first Whimsy Homes (since yes, I do want to build more in the future) should be an actual home that we can reno and make our own.
We can learn all the mistakes on this and then be more prepared in the future when it comes time to build something new.
Then We Started Looking For Cabins
So, I made a ton of Zillow alerts and stalked all the new listings in Sonoma County.
As you guys know, I love my wine trips up to Sonoma with my girls. We usually visit Healdsburg at least once a season and I adored the idea of having a cabin up there we could use during those trips.
I was super focused on the Guerneville area since back in 2019 the home prices were much more reasonable in that area of Sonoma. And it's so close to San Francisco!
Getting Approved Is Hard When Self Employed
Speaking of money, getting approved for a home loan when you're self-employed is INSANELY hard. I reached out to tons of loan officers that didn't work out before Brianna connected me with her agency lender.
This lender is awesome and she understood my business and what I wanted to build but even so, it was dang hard getting the numbers to work for us. We ended up having to wait an extra year so we could submit another year of Schedule C (tax returns) to prove that Whimsy Soul does indeed make money.
I learned that if I still had my 9-5 from 2017 that paid me a fraction of what I earn with Whimsy Soul, I could have probably been approved for the loan on the first try, but since I work for myself (and Robin works for me) the banks need years and years of proof of income. Make it make sense!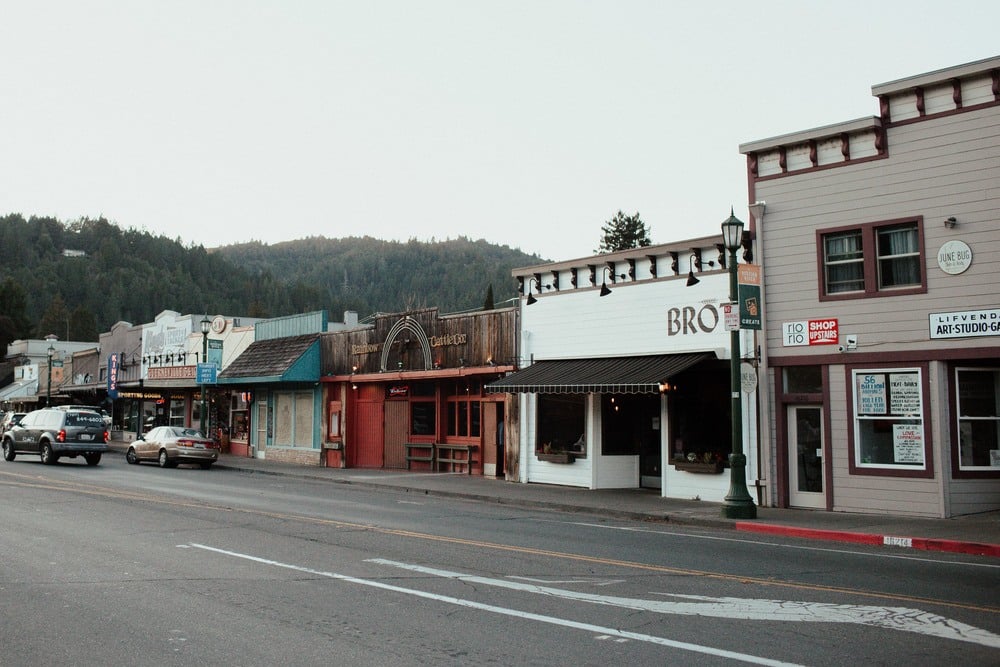 We Got Outpriced On Our Dream County
So, while I was working on the money side of things, the pandemic hit. I was unsure how it would impact Whimsy Soul so buying a house felt like a dumb thing to do in 2020.
And in California especially, house prices went insanely crazy. Houses that were worth $300k were suddenly being sold for $700k or more. It was a frenzy that I didn't want to get involved with, so we held off.
(Though, if I could go back in time, I would tell myself to buy anything, something, in 2019 or that small window after the lockdown was removed when houses were priced low. *Sigh*. )
When I finally did feel comfortable with buying, Sonoma County exploded in home values and we got priced out. My last try was earlier this year in Feb when I saw an adorable house for $500k that had everything I wanted.
Bri and I drove up and there were at least 30 other buyers at the open house. It was crazy. The house ended up being sold for $830k if I remember correctly, which was super over asking price. We just couldn't compete with that.
Combined with the long permit process in the county, I knew then I had to retire my Sonoma dreams for the time being.
We Finally Found The One!
I kept researching markets and every time I did a road trip around the state I would ask myself: is this the market?
And then Robin and I decided to live in Copenhagen for the summer which set us back on timeline. (No regrets!!) But on the week we came home at the end of the summer, I started the hunt again.
By now I had narrowed the market down to Arnold, California area as a possible spot. It's in Calaveras County which is home to Big Trees State Park, tons of hiking and alpine lakes, wine tasting, a ski hill and more.
I booked us a weekend trip to town to check it out in August and by the time we got home, we decided Arnold was where we wanted to look for a cabin. It's four seasons and as everything we love, so we know you guys will, too.
I connected with a local realtor who knew the market well and started looking at houses.
The actual house hunting was pretty easy. It took only about 6-7 weeks to find a cabin I loved enough to bid on.
I drove up to Arnold only 2-3 times to look at cabins until ours came on the market. I remember seeing the Zillow listing and falling in love with the tall ceilings and wood walls. I knew it needed a lot of love to bring it to life, but it felt right.
We did a virtual tour, and then an in-person one later that week, and then put in an offer the next day. There was another buyer, but we ended up winning the bid. So after all the headaches with Sonoma County, we found a cabin on our first try in Arnold. It was like it was meant to be!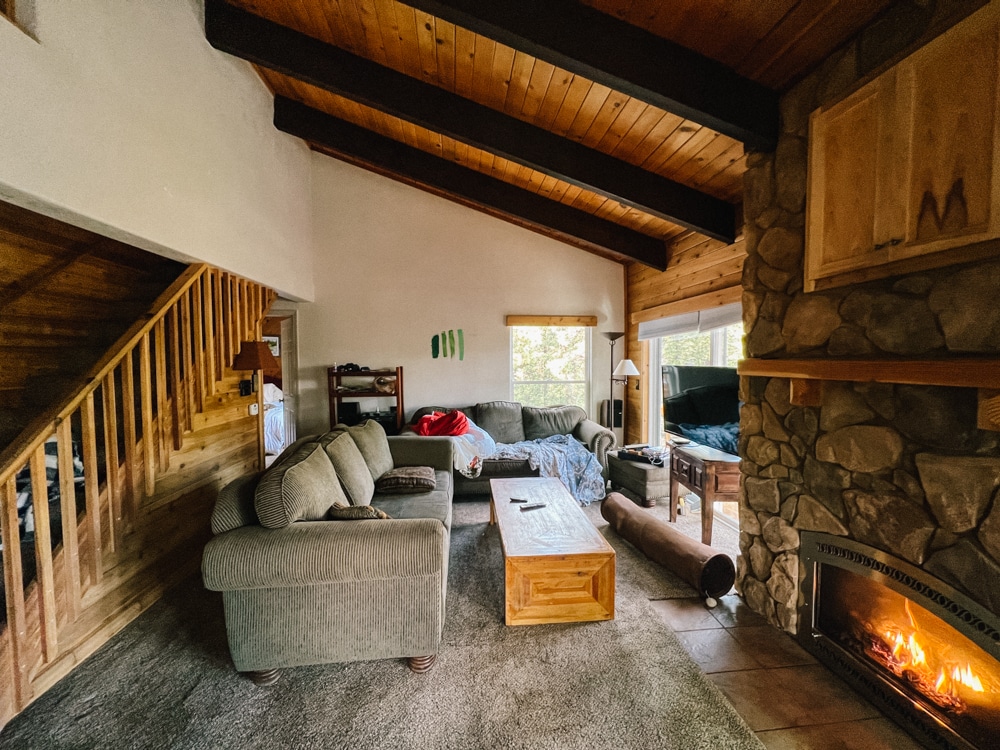 Getting Our Hands Dirty With DIYs & Remodels
The closing process had some hard parts that I'll totally talk about more later if you want (like at the 11th hour our lender deciding instead of us putting 3% down we needed to put 10% down – bleh!)
We officially closed the day I boarded the plane to Berlin and I've been keeping this all a secret from you since!! It's been so hard! Especially since it's been snowing up here and it's so dang pretty, It's hard not to share.
I'm really excited to tackle projects this winter. So far we've been painting the living room and had a couple meetings with contractors.
This carpet needs to GO, and there's some other little things I can't wait to update (like the main bathroom).
As you can see in photos, the previous owners also left pretty much all their furniture and kitchenware which is a blessing and a curse.
It's nice to have a TV and couch and cookware to use while we remodel but we're going to have to get rid of everything eventually which is a pain. So far we've donated like, 8 boxes of stuff to the local thrift store and I'm not looking forward to that day we have to move the bunk beds and couches.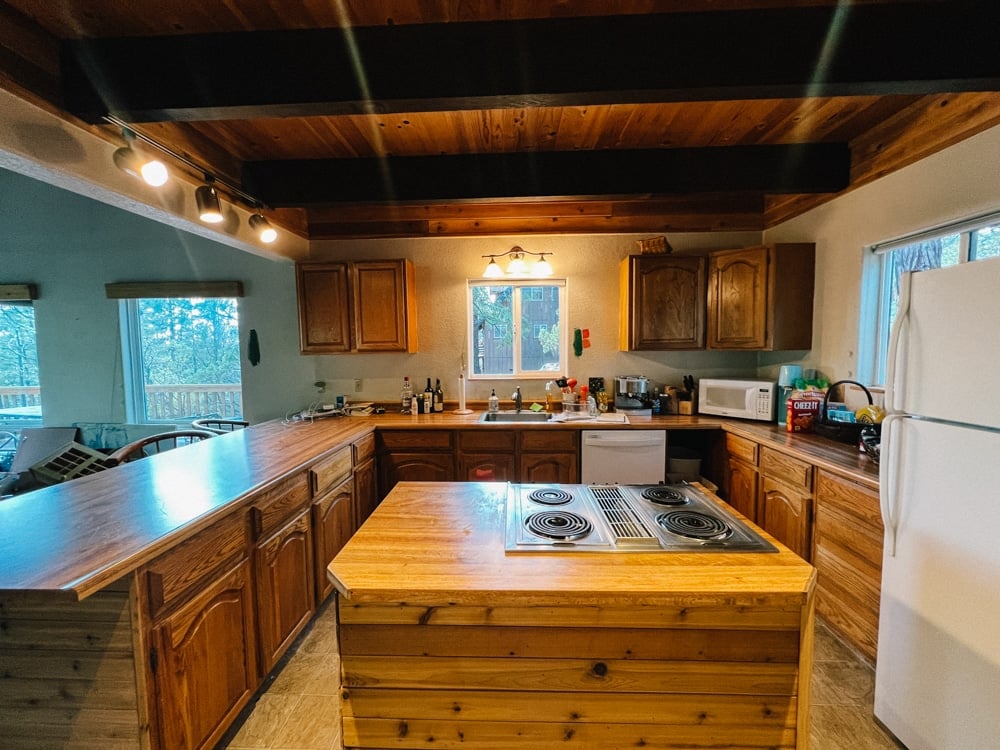 We'll be doing a lot of DIY but will be leaning on professionals when needed. I watch a lot of HGTV but my ego isn't big enough to assume I can rewire things or install a hot tub on my own lol.
I'll still be popping around California here and there for little road trips, but my world for the next 6 months is all about this cabin. We're keeping our San Francisco apartment (hey, it's rent-controlled we can't let that go!) but I'm looking forward to finally having some freedom to do proper home projects on.
And of course, share all that with you!! Make sure to follow @whimsy_homes on Instagram and @whimsyhomes on TikTok to follow along. And enter to win that free stay here!
So, that's the big update! What do you think??