As a full fledged wanderlust babe, finding the best comfortable walking sandals for warm weather trips was a top priority for me a few years back when I really started jet-setting all over.
I value style and looking put together on trips, but I'm also in my 30's and need a sturdy sandal that supports my arches and can carry me literally all day and all over a city. Flip flops just don't cut it anymore, but that doesn't change that sandals travel really well so they're an absolute must.
I also find myself frequently doing summer hikes or jumping into waterfalls so durability is also important. Even in a more urban city setting, comfort is a key factor– I've walked more miles in a day in New York City than most hiking trips I've been on.
18 Best Travel Sandals Approved For Comfort & Style
If that sounds like you, I got you covered. Here's all the best travel sandals I personally use or know have amazing reviews for your trips! 
When thinking about travel shoes, there are a couple key things to consider.
You want to consider dual purposes. There's only so much space in your bag, and the last thing you want to do is transfer stuff out of your checked luggage into your backpack or your partner's bag (God forbid) because yours is overweight.
If you can find a sandal that is both fashionable and comfortable enough to walk around in all day, then you've hit the luggage jackpot.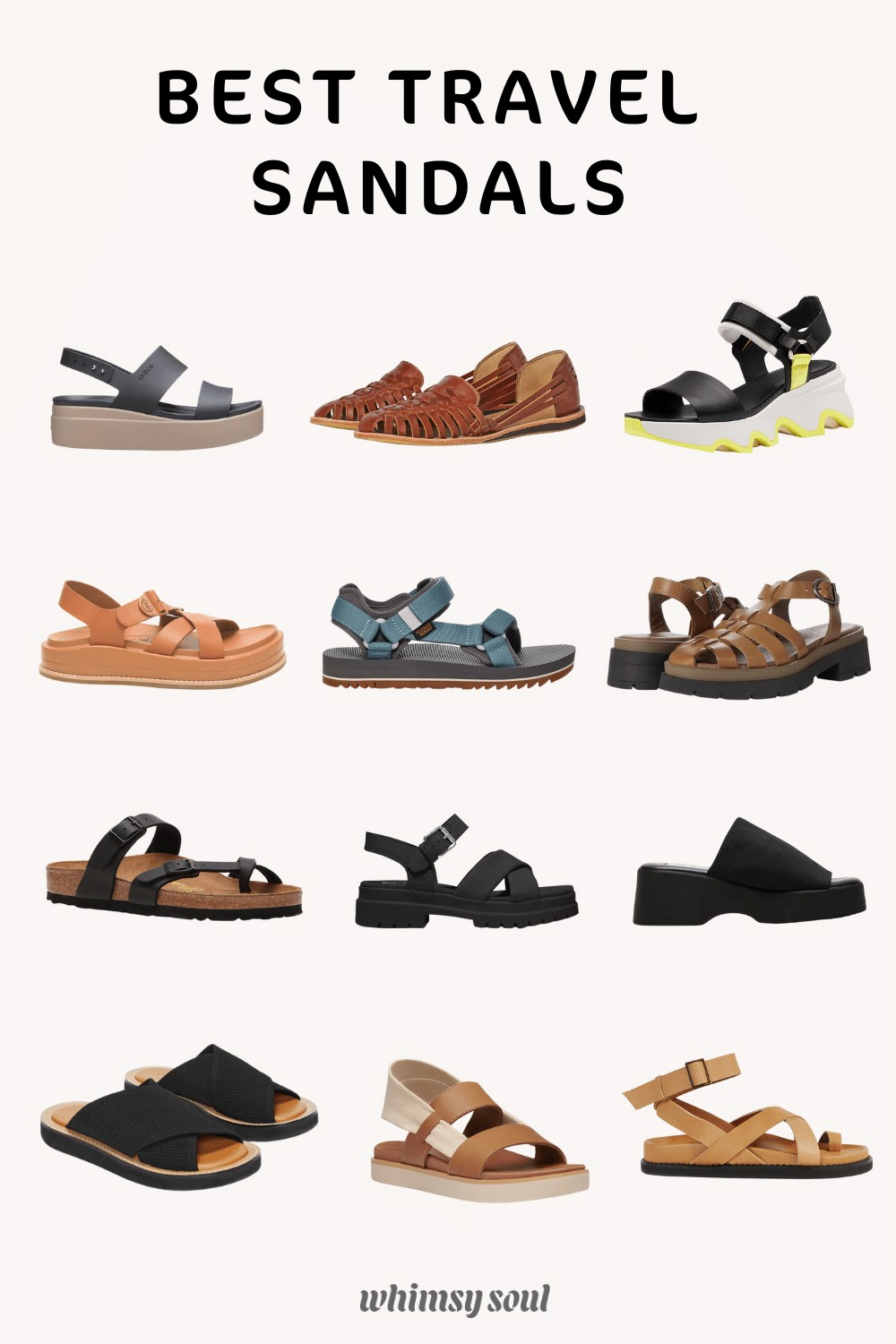 My best advice is to try on a pair of sandals and walk around your house a bit before tearing the tags off. Some of the options on this list are adjustable, others are not. Some have higher platforms, some are flat. What works for a full day of walking isn't necessarily the same across the board. You're going to want to try these out before you zip them up.
And as always, when in doubt you should bring a backpack pair of shoes. Sandals are great because they dress up most outfits and most of them can be worn to nights out, too. I am a firm believer in a back-up pair of nice sneakers (something clean and white) just to be on the safe side. You don't want to pay for an overpriced pair you can't afford while you're traveling.
Hopefully you'll walk away from this list and into a new pair of shoes for your next trip. Happy arch support, and happy trails!