I've lost track of how many flights I've been on in the past year (30, at least, though I'm sure I'm forgetting a few!)
And I take my inflight outfit seriously. I love to be comfy while traveling (those tiny airplane seats are rough enough that I don't need to subject myself to uncomfortable clothes) but I also value looking put together.
Especially on long haul flights when I'm landing in a different country. I hate begging instantly pegged as a tourist so I strive to wear travel clothes that function both with comfort and style. This is exactly what to wear on a long haul flight to ensure you sleep like a baby but also don't look like a hot mess when you go through customs.
First Rule – It Needs Pockets
No matter where I'm going, whether it's a short flight down to Los Angeles or a long 18+ hour travel day to Berlin, my flight outfits always ALWAYS has to have pockets.
I'm that person who is always shoving her boarding pass, ear plugs, phone, chapstick and other random things in my pockets when I'm flying. Bonus points if the pocket is big enough for a passport.
Just last month we were flying back from Quebec City and I think we had to go through at least 4 different boarding pass and passport control sections.
Everytime I tried to put my things back my Lo & Sons bag, I had to scramble to pull them out again and eventually it was just easier to keep my passport and boarding pass in my coat pocket.
When in doubt, then you're planning out your airport outfit, make sure there's pockets somewhere.
What To Wear On A Long Haul Flight: 14 Travel Must Haves & What Not To Wear
From top to bottom, this list includes everything you can think of when thinking about what to wear on a long haul flight and takes all things into consideration!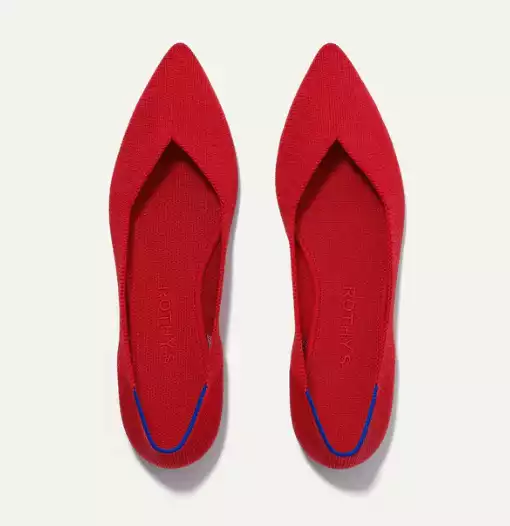 Rothy's The Point Flats
I love my Rothy's! I have this pair in red and I bring them almost everywhere. They're comfortable for walking around and elevate any outfit!
Buy Now
Slide On Shoes
When it comes to traveling, your shoes have to be able to cure you of your airport security line blues and provide you with comfort in your flight delay standstill. Slip on shoes that are easy to take off when going through pesky TSA and for your much needed nap are travel essentials.
Rothy's Driver Loafers or the classic Rothy's Original Slip On Sneaker slides are a personal favorite and are made out of recycled material! Super comfy and super green!
If you're in need of adaptive shoes, the company Billy has been creating adaptive shoes for several years and have many cute styles that are perfect for traveling. Their Brown Mustache Low Sneakers make for easy removal and perfect pairings for your outfit.
Another trendy option are the Birkenstock Boston or if you're looking for a super light weight slip on, the Arizona Essentials are a great option and come in a bunch of colors!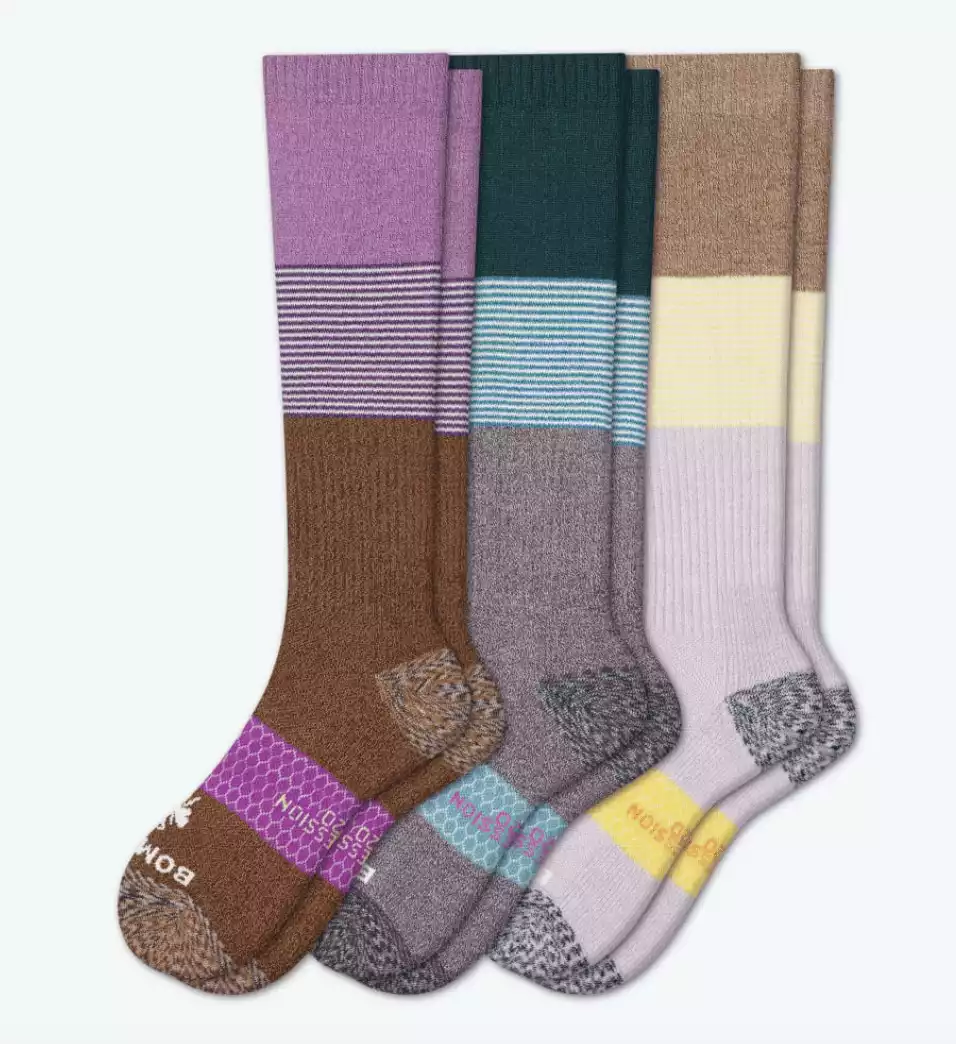 Bombas Everyday Compression Socks
The older I get, the most my feet swell up on planes. On the way back from Copenhagen I feel asleep without taking my sandals off and I woke up to sheering pain since my feet were so swollen and cutting into the sandal straps.
Shop Now
Compression Socks
My best long-haul flight tip: wear compression socks! When flying your body isn't moving as much, and on longer flights, you want to keep your blood pumping all over.
The longer we sit, the more that our bodies swell. Cute compression socks can solve that problem, and prevent things like deep vein thrombosis. I've heard good things about the Bombas Compression Socks, so that might be my next splurge!
Eye Mask
When trying to figure out what to wear on an overnight flight, eye masks should be at the top of your list! Traveling can be exhausting (not to mention the jet lag) so always pack an eye mask for sneaking in a nap whenever you can.
My personal favorite is the Mavogel Cotton Sleep Mask, it's made for long travels and comes with its own travel pouch.
Another addition to your toiletry bag: eye drops. These are great if you're prone to getting dry eye. Not what you want on a long plane ride!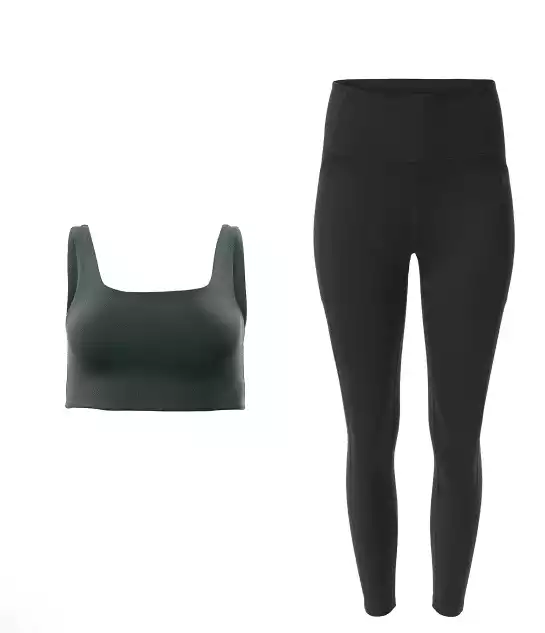 Girlfriend Collective Compressive Set Bundle
If you've been following me for long, you know I absolutely love Girlfriend workout sets. They're comfortable, eco-friendly and size inclusive (up to a 6XL). I love the option to bundle and save a bit, because I want literally everything!
Shop Now
Yoga Pants
When it comes to bottoms- you'll want something lightweight and breathable. Something that is made to move with you. One of the reasons I love that yoga pants are making a comeback.
While Gen Zers (and even clothing brands) are referring to them as "flared leggings," I'm a true millennial and will forever refer to them as yoga pants. That said, yoga pants and leggings are long haul flight essentials.
These Girlfriend Collective Compressive Flare Leggings give all the flexibility of leggings and the comfort of loose pants. I also highly recommend the Noize Tamina Leggings for their soft material and open leg slits.
If you like pant leg slits in your yoga pants, you might also want to check out Lululemons' Groove Nulu pants and Urban Outfitters' Beyond Yoga Make The Cut pants.
Pack Me Up Pants
A true staple with endless ways to wear, these comfy pants are great for travel days and summer outfits.
Buy Now
Palazzo Pants
If looser pants are more your style, palazzo pants will be the best travel pants for you. Palazzo pants are wide leg pants, usually made with a lighter, airy fabric that allows for movement without the compression of leggings or yoga pants.
These palazzo pants from Dai Moda are great for styling and easy to move in. Free People's Pack Me Up Pants are another pair of pants to add to your wishlist when thinking about your next trip.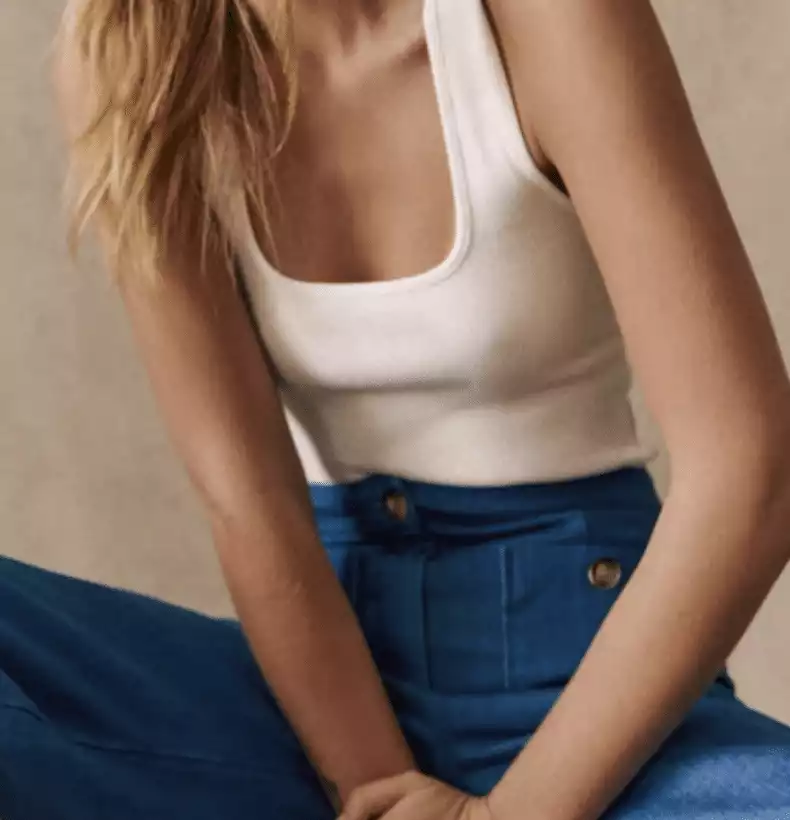 White Under T-Shirt
Classic white undershirt to pair under sweaters, buttons up and anything else. Sezane is super high quality so it'll last you for years.
Buy Now
Under Shirt
When styling outfits for long flights, never forget: Layers! Layers! Layers! This is also a good tip for packing in general.
Starting with your undershirt- anything from a short sleeve t-shirt (like this Good For Sunday bamboo top or this BDG Perfect Baby tee) to a tank top (Sezane's Juan T-shirt is a personal favorite) will work best when moving between gates and plane seats.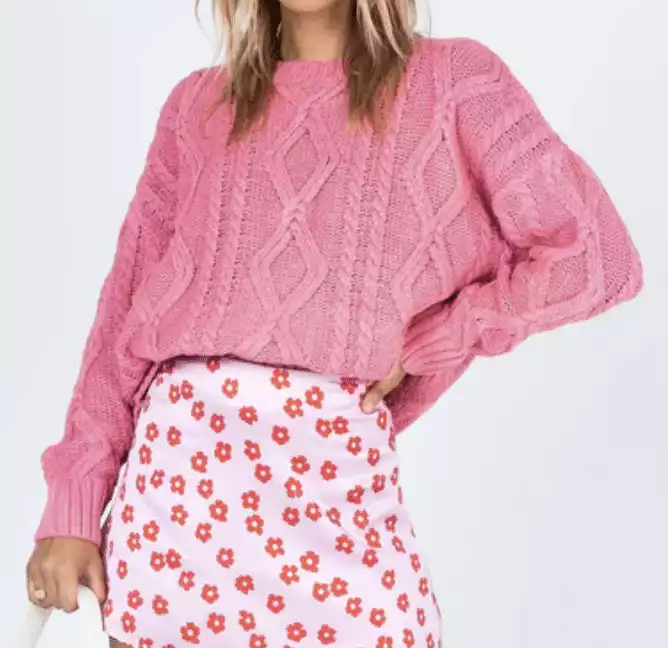 Oversized Pink Sweater
Oversized sweaters are a must while traveling. They're cute, cozy and perfect when the airplane AC suddenly feels like the artic. This pink sweater looks dang cute with yoga pants, too!
Buy Now
Sweaters, Hoodies, and Sweatshirts (Oh, my!)
Moving on to your top layer: sweatshirts, hoodies, and sweaters are first class choices (get it…) for staying warm and cozy when traveling. When it comes to laying with hoodies and such, there are plenty of options.
You might choose to wear a breathable lightweight hoodie like this Classic Hoodie from Big Bud Press that can be paired with a lightweight coat or jacket. Or if you get super cold on flights, you can opt for a heavier hoodie!
And as for sweaters- listen, I could talk forever about sweaters. Remember, when it comes to travel, that lawyers like sweaters should be easy to take off or put back on.
If you're hopelessly in love with knitwear (like I am), an oversized sweater or half-zip are great options for what to wear on a long haul flight (and still look stylish)!
If you're more of a cottagecore cardigan babe, I'm absolutely obsessed with my rainbow sweater from Cider (full Cider review here!), but it's out of sadly out of stock. This one is a great alternative, or I love this color block blue cardigan!
Beanie
Another tip on my long list of travel tips: don't forget a beanie when it comes to air travel! So when planning your cute plane outfits, remember the perfect (and warm) accessory of a beanie. And with so many options, this little knit could be you outfit's pop of color, or sleek simple touch.
Urban Outfitters' clothing line made in partnership with the Parks Project just released some of the cutest and boldest beanies, like the Yellowstone Beanie. But for those looking for the simple accent to compliment their travel style, you might like something like this or this unisex reclaimed vintage fisherman beanie.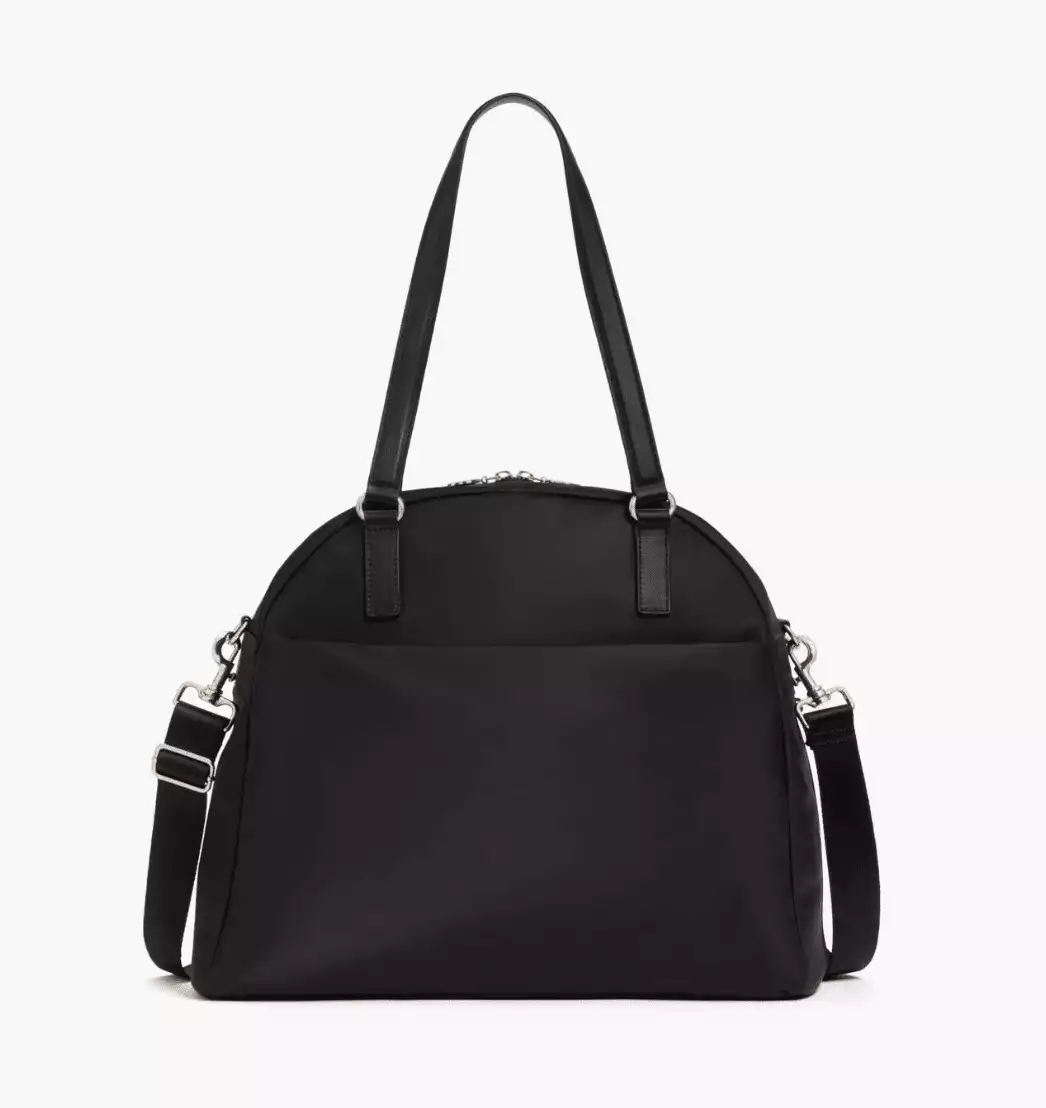 O.G. Lo and Sons
I love how this sits on top of my suitcase for easy rolling in airports. It fits a laptop (a must!) plus features a shoe sleeve and internal pockets including water bottle pockets. And it sits comfortably under plane seat for easy access to must have items!
Shop Now
Our Review
Carry On Bag
And, of course, where would your airport fit be without the perfect carryon to match. Lo and Sons is a sustainable company that uses recycled materials for their bags and gives back to their community through donations to healthcare workers.
And they make incredible bags- their Beacon bag is great for the low maintenance packer. It's simple and sleek design makes the perfect universal carryon.
Whereas, if you're someone who needs a little more space for their extra book and chocolates bought from the airport shop, then you might prefer their Catalina Deluxe bag (which I own!). The bag comes in a variety of colors and has a removable zippered pocket along the bottom with extra cushioning for your belongings.
Another option to consider for cute carry ons – the Beis Travel Weekender! Whimsy Editor Taylor is a big fan and shared her thoughts on the brand in a Beis Travel Review.
Motion Sickness Bracelet
For anyone who gets a little travel sick or maybe flying makes you a little anxious, motion sickness bracelets can help stop those sick feelings from totally taking control. Amazon has many styles, like the beaded motion sickness bracelet or the rechargeable Pulse Band for a sleeker fit!
A water bottle is an absolute necessity for travel, but especially helpful when feeling sick! I always bring my resuseable water bottle to refill after security.
Matching Set
Matching sets are the easiest and cutest way to prep for what to wear on long-haul flights and look stylish while browsing the airport bookstore.
When looking for matching sets there are some variables that take the sets from something comfortable to a closet and travel staple: pockets, of course, and sets sold separately (for all of us out there that aren't the same size on top as we are on the bottom).
If that's also the case for you, here are some of the best I've found that sell top and bottom separately. This Cooper Motion Jogger and Next- To- Naked Cropped Tank are too cute to pass up, but also have matching parts in hoodies and athletic shorts.
Slick Chicks provides trendy and adaptive clothing for those who need it, including their accessible crewneck sweatshirt and the matching accessible side zipper joggers. Absolutely love this psychedelic swirl knit trousers and pullover sweater set from Cider with sizes up to 4X!
Blanket Scarf
If I've said it once, I've said it a thousand times: remember your layers when it comes time to plan travel attire for long flights!
Blanket scarves can come in handy as they'll keep you warm in your more-earthbound travels as a scarf and double as a nice throw as you stare out the small plane window.
Walmart has some cute and cozy options like their blanket wrap shawl and their bodychum blanket scarf.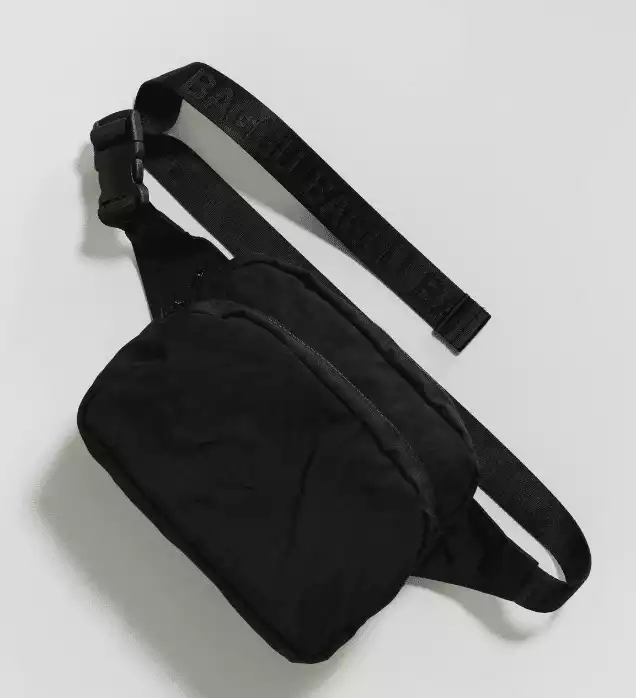 Baggu Fanny Pack
The Baggu Fanny Pack is perfect for everyday and travel! It has so much space for everything you might need. I carry hand sanitizer, sunscreen, my phone and wallet, and still have plenty of room!
Shop Now
Fanny Pack
Traveling can mean lugging around a lot of luggage, it's easy to lose things in all your bags and can be annoying to have to fish through all your pockets. That's why having something near you that holds things like chapstick, gum, headphones, etc. becomes a great gadget.
So thank god fanny packs have come back in style- and in such cute styles too, like this adorable Ace Fanny Pack or this classic Vegan Leather Fanny Pack (plus its made out of recycled materials).
I love my Baggu Fanny Pack because it carries SO MUCH. And with fanny packs' easy buckle the accessory ensures simple removal when moving through security lines. Fanny packs are definitely the best accessory for the best travel outfits for long flights.
Travel Pillow
A travel pillow, or neck pillow, is the finishing touch to the question: What to wear on a 15-hour flight? The Trtl travel pillow takes on a new design to neck pillows, making it easy to blend this accessory to your outfit.
The J-Pillow is also ideal for neck and chin support when catching some shut-eye on a long flight. For those who love the classics, Away's The Travel Neck Pillow takes on the original shape of a neck pillow with an adjustable string for better support.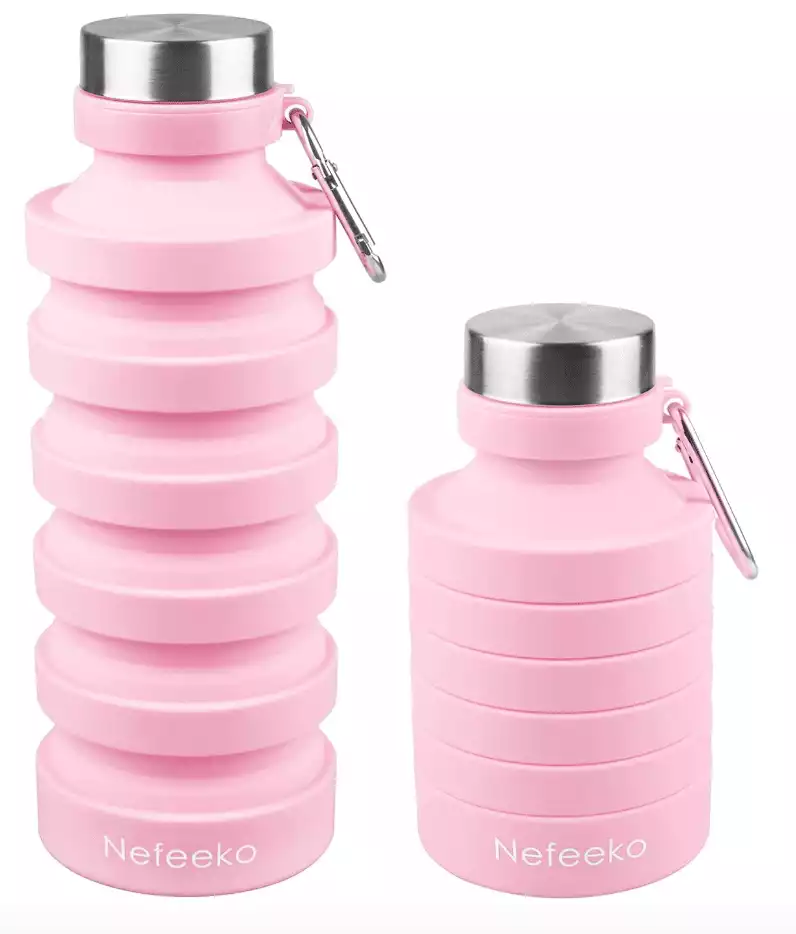 Water Bottle Accessory
Yes, they give you water on flights but I swear they sometimes hold it hostage. Some flights hand out full size plastic waterbottles so you can stay hydrated, but I've also been on a 10 hour flight once when they gave out exactly 1 small glass of water.
It's best to bring your own water bottle as a cute little accessory to help you stay hydrated.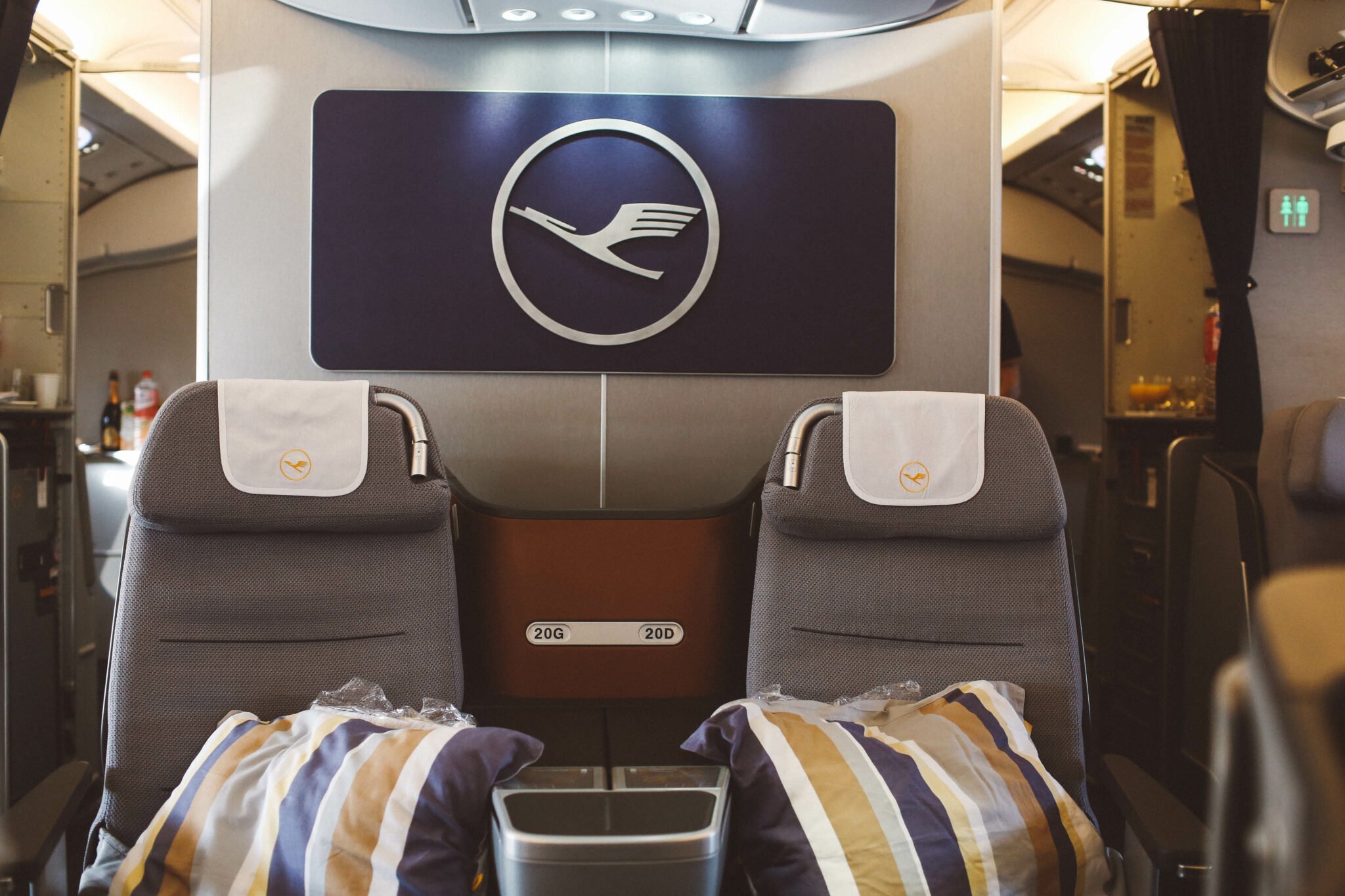 What Not To Wear On A Long Haul Flight
Okay, now we've covered what to wear, we can't stop there! Here is what not to wear on a long haul flight based on my personal experience!
Overalls, Jumpsuits and Coveralls
Any article of clothing that is going to restrict your movements or make your bathroom trips a little more complicated are not going to be the best travel outfits for planes. Plus, the buttons on overalls will set off the TSA alarms, trust me.
So while totally trendy: save it for the trip, not for the travel.
The exception to the rule are insanely easy to take off jumpsuits (I own exactly one pair of these). Test drive taking it on and off in a tiny space before wearing on a plane.
Heavy Jewelry
Heavy jewelry is a hard pass for long haul flight clothes/ accessories. Bigger jewelry can set off security scanners or metal detectors.
But it's also important to remember that our bodies are affected by air travel- especially long flights- which causes things like fingers and legs to swell.
This can make jewelry hard to remove and possibly painful to wear. Put simply, just avoid it when traveling.
Complicated Shoes
The dreaded TSA line already brings up so much anxiety for everyone, the last thing you need is to worry about which lace goes through which eyelet and which buckle goes to which strap.
Complicated shoes can quickly turn a simple situation into a stressful one. Best stay away from them when figuring out what to wear on a long haul flight.
Pajamas
I know that there's the little voice that says 'just wear pajamas!' but let me tell you, pajamas aren't always the way to go. Especially on longer flights that require either more packing or more planning.
Pajamas don't always offer as many pockets as say a pair of leggings or a pair of pants. Some can get you too hot and without proper prep, you won't be able to lose a layer or two. But most of all, they aren't what to wear on a long flight to Europe.
Imagine touching down in a new country, perhaps for the first time, stepping off the plane, and the first outfit Paris sees is your matching flannel set.
Bodysuits
Much like the complications that come with overalls and jumpsuits, bodysuits can prove to be a problem when having to move quickly in and through airport bathrooms.
Plus sitting for extended periods of time can cause the fabric to ride up or irritate your skin.
Bulky Materials and/or Styles
As much as I like to hark on the use of layers, there is such a thing as layering wrong. Relying on material that is heavier or thicker, like merino wool or down jackets, can be both uncomfortable for you and for those traveling with you.
To the same extent, over layering can cause as many problems as wearing too little.
I hope this helps you figure out how to dress for long flights so you can sleep but also wake up looking stylish!