The concept of a "mocktail" has been around for over a century, but non-alcoholic spirits have only recently gained popularity. Just last year, sales of non-alcoholic spirits skyrocketed by 113.4%!
You might have heard of such booze-free brands as CleanCo, Curious Elixirs, Monday, Ritual Zero-Proof, Kin Euphorics, Lyre's, Töst, Seedlip… the list goes on and on.And if you've heard of these non-alcoholic spirits but have never tried one before, you probably have a lot of questions—I know I did!
What do non-alcoholic spirits taste like? Do they even taste like alcohol or are they their own thing? What drinks can you make with non-alcoholic spirits? Can they really replace the ritual of Friday-night drinks or a glass of wine with dinner? Do non-alcoholic spirits live up to the hype?
So I purchased the Seedlip sampler pack and set out to answer these questions myself.
What Does Seedlip Actually Taste Like? My Seedlip Review
What Is Seedlip?
Seedlip was founded in 2014 by former luxury brand designer Ben Branson, named for the "seedlip" baskets used to carry seeds when hand-sowing.
Branson got the idea for Seedlip when he stumbled upon a collection of centuries-old recipes for herbal remedies developed by John French, a physician who published The Art of Distillation in 1651. Inspired by his own farming heritage, his interest in nature, and his desire for more sophisticated, less sugary non-alcoholic options, Branson began by distilling herbs grown in his home garden.
Fast-forward to today: Seedlip is now one of the best-known brands in the rapidly growing field of alcohol alternatives. Seedlip currently offers three varieties of flavors: Spice 94, Grove 42, and Garden 108.
I can't remember how I first came across Seedlip, but I had been curious about it for quite some time, thanks in no small part to the brand's cute and eye-catching botanical-animal labels (I'm a sucker for cute design). So when Dry January rolled around, I jumped at the chance to finally try Seedlip.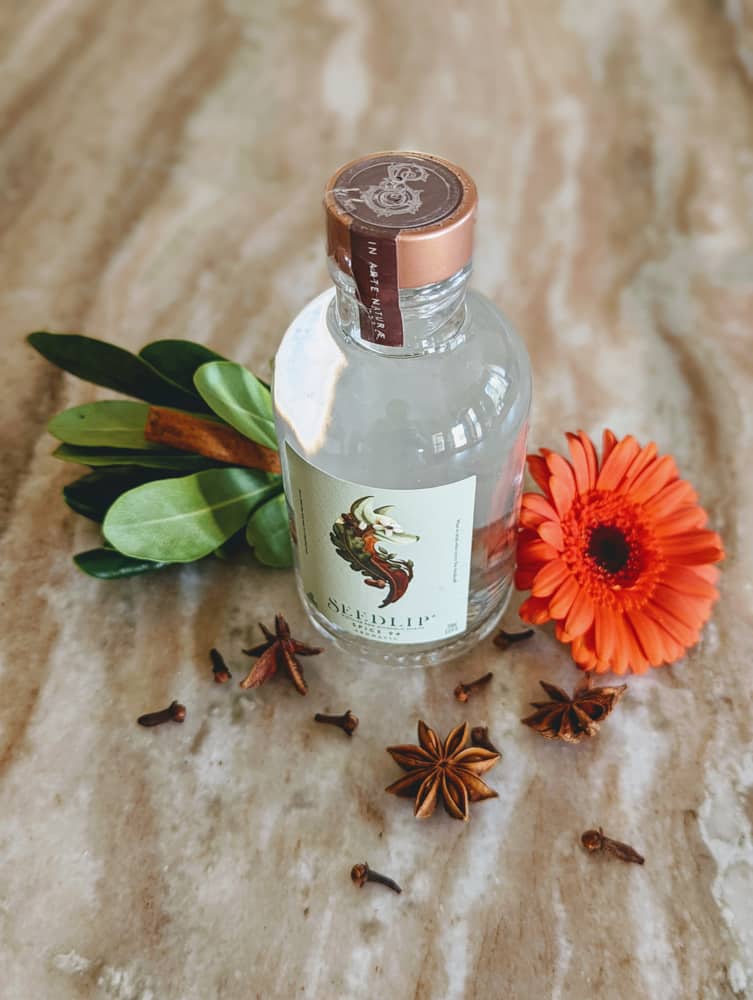 Seedlip Spice 94 Review
Seedlip Spice 94 is described as "a warm, aromatic blend of allspice and cardamom with fresh citrus top notes to balance the long bitter finish." Its ingredients include allspice, oak, green cardamom, grapefruit, lemon, and cascarilla (a tropical plant often used for medicinal purposes).
What Does Seedlip Spice 94 Taste Like?
Spice 94's one-word descriptor is "aromatic," and for good reason. Before hitting your palate, this non-alcoholic spirit hits your nose with strong scents of clove followed by sweet citrus undertones. There's a slight chemical tang, too, bringing to mind cleaning products.
This spirit starts very citrus-forward, tart, and astringent. I recognized the puckery flavor of lemon, but I don't think I would have been able to discern grapefruit if not for the official tasting notes.
Seedlip Spice 94 finishes, well, spicy—with strong clove and a hint of medicinal but not entirely unpleasant bitterness. Though allspice has the combined flavors of cinnamon, nutmeg, and clove, only the clove came through for me.
Taste-alike: Orange and light purple Necco Wafers (if you know, you know).

Top Mocktail Ideas for Seedlip Spice 94
I assume that Seedlip Spice 94 is meant to be a whiskey or bourbon alternative. It certainly strives for that warm, spicy burn of those traditional barrel-aged spirits.
Some classic whiskey cocktails that could be substituted with Seedlip Spice 94 include the Whiskey Sour, Manhattan, Paper Plane, Sazerac, Penicillin, etc.
Because Seedlip Spice 94 is also quite sour, it should pair well with already citrusy cocktails. I made a Maple & Spice Hot Toddy Mocktail specifically to highlight Seedlip Spice 94. Or, you might consider swapping the booze for Seedlip in Whimsy Soul's Wisconsin Old Fashioned or Whiskey Cherry Negroni recipe.
Seedlip Spice 94: Final Verdict
The combination of clove and citrus is pleasant and fragrant. It's good for adding a hint of spice to a drink, but it didn't wow me.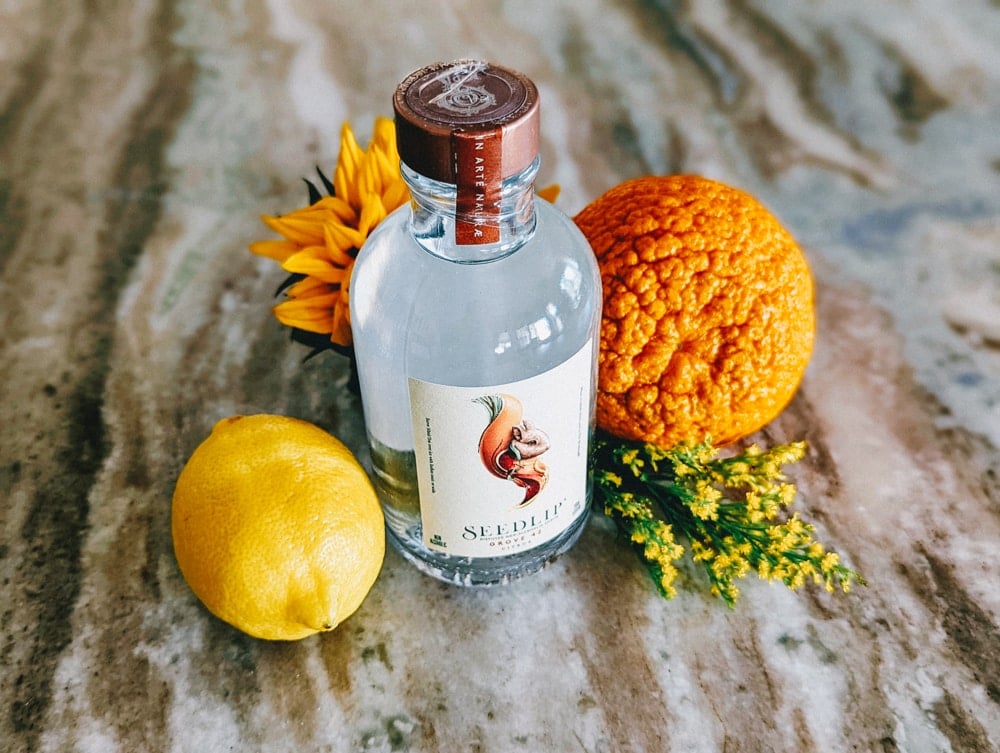 Seedlip Grove 42 Review
Seedlip Grove 42 is "a sophisticated, bright citrus blend of Mediterranean orange, lemon peel, lemongrass, and ginger with a dry finish." This non-alcoholic spirit is made with bitter orange, blood orange, lemongrass, lemon, mandarin orange, and ginger.
What Does Seedlip Grove 42 Taste Like?
If you guessed oranges, you'd be right! Both the fragrance and the flavor of Seedlip Grove 42 are citrus, citrus, citrus. There's not much nuance or complexity to be found here. Though lemongrass and ginger are listed in the ingredients, I couldn't detect that zesty, minty lemongrass flavor or the warm earthiness of ginger at all. If anything, I imagined hints of lime.
Seedlip Grove 42 also tasted slightly sweet to me, even though their spirits are made without sweeteners. Its flavor verged on artificial, like a fruity, sour candy such as SweeTARTS or Spree.
Taste-alike: Flat orange LaCroix.
Top Mocktail Ideas for Seedlip Grove 42
I don't see Seedlip Grove 42 as the non-alcoholic analogue of any single spirit, so it could be used in place of tequila, vodka, white rum, triple sec, or any number of other clear liquors.
Seedlip Grove 42 is probably best utilized in cocktails that share its flavor profile. In other words, citrusy drinks like the Moscow Mule, Daiquiri, Pisco Sour, Cosmopolitan, Greyhound, etc.
The Suffering Bastard Cocktail is a zesty, refreshing drink made with lime, orange, and ginger, so it might just bring out the best in Seedlip Grove 42.
Of course, when I think of citrus cocktails, I think "margarita!" Balancing the spiciness of the Chili Salt Margarita with a touch of Seedlip's sweet orange flavor could add a unique twist to the classic.
Seedlip Grove 42: Final Verdict
If I want the sweet-tart flavor of oranges in my drink, I would simply use orange juice, not Seedlip.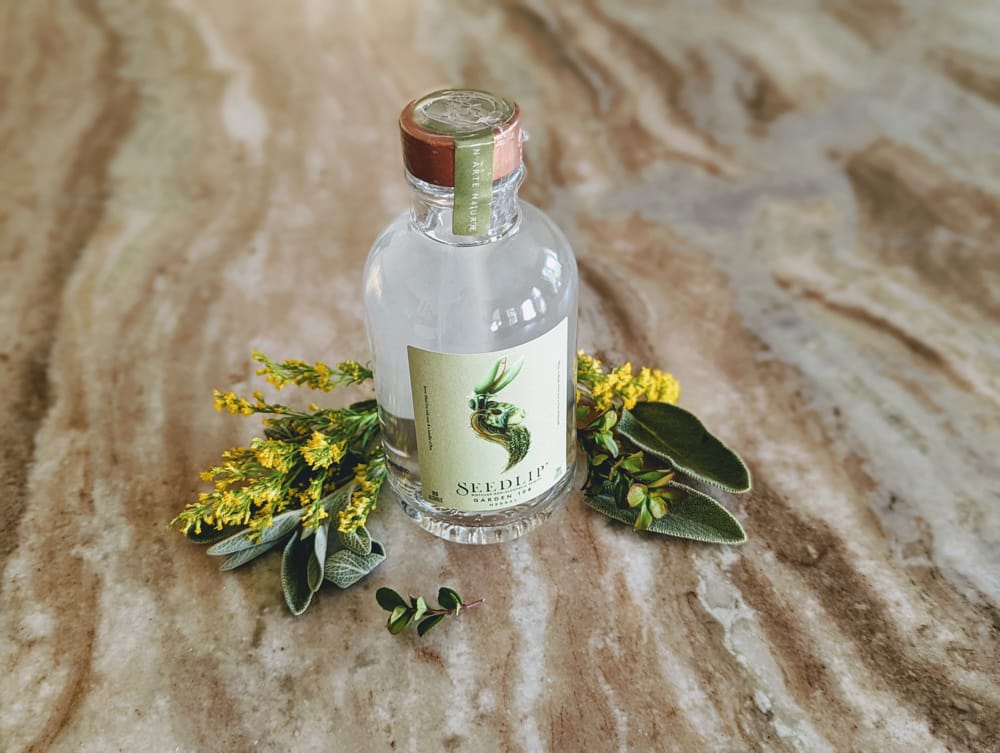 Seedlip Garden 108 Review
Seedlip Garden 108 is described as "a fresh, herbal blend of peas and traditional garden herbs including rosemary, thyme, and spearmint." This variety's main ingredients are peas, hay, hops, and all of the aforementioned herbs.
What Does Seedlip Garden 108 Taste Like?
Live footage of me trying Seedlip Garden 108:
The aroma of Seedlip Garden 108 can only be described as pickle relish with a smack of Lemon Pine-Sol. If that doesn't sound appetizing, it's because it's not. The taste isn't much better. Grassy, musty, briny, pungent… It's like drinking pond water (I assume).
And yet, with all that being said, it began to grow on me. I was intrigued. I kept going back for more tiny sips, if only to put my finger on what unidentifiable flavors were offending my palate.
While Seedlip Garden 108 is undeniably the worst of the three when sampled on its own, it perhaps adds the most complexity to a mixed drink. When combined with tonic water and a spritz of lime, this non-alcoholic spirit's muddy flavors began to mellow, becoming pleasantly herbal and vegetal.
Taste-alike: Bong water, according to my husband. But, like, weirdly okay bong water?
Top Mocktail Ideas for Seedlip Garden 108
Seedlip Garden 108 is sometimes called "Seedlip gin" and is probably best used as a substitute for this botanical spirit.
Some classic gin cocktails that you could make with Seedlip Garden 108 instead include the Tom Collins, Gin Rickey, Bramble, English Garden, and the good ol' Gin & Tonic.
Whimsy Soul's Gillywater Cocktail recipe has grassy, herbal flavors with fresh cucumbers and savory seaweed, which should bring out Seedlip's more vegetal notes. Or, try the Summer Solstice Limeade Spritzer with Seedlip gin for a refreshing pick-me-up.
Seedlip Garden 108: Final Verdict
This is the most… unique of the Seedlip varieties. But I still don't know if I actually liked it or not.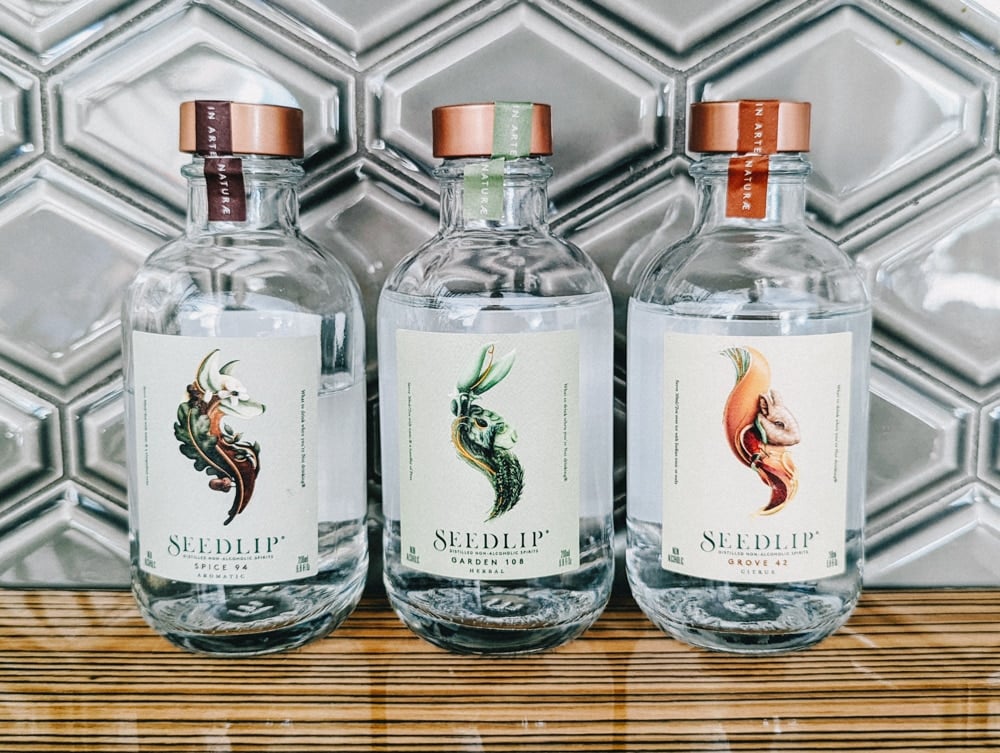 What's the Best Seedlip Variety?
Here's my ultimate ranking of Seedlip's non-alcoholic spirits:
Seedlip Spice 94
Seedlip Garden 108
Seedlip Grove 42
Seedlip Spice 94 wins out because, overall, I think it simply had the best flavor of the three, both by itself and in a mocktail.
Something I appreciate about both Seedlip Spice 94 and Seedlip Garden 108 is that they will infuse your drink with flavors that are tricky to incorporate otherwise—it's not like you can just plop some oak bark or hay into your glass and expect it to taste good.
Seedlip Grove 42, on the other hand, predominantly tastes of orange, lemon, and (purportedly) ginger—all ingredients that you can get fresh and easily add to a drink yourself.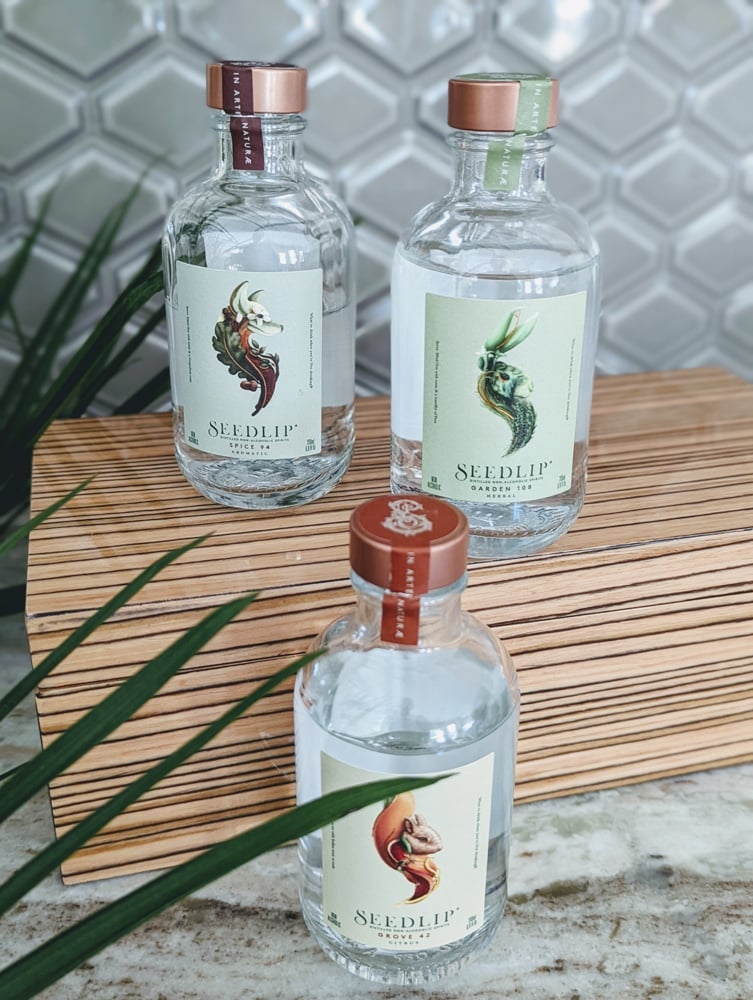 Is Seedlip Actually Good or Just a Trend?
So, do I actually like Seedlip? Short answer: Not really. Would I recommend Seedlip to someone else? Well, it depends…
Though I didn't hate the experience of drinking Seedlip, I didn't love it either. Seedlip drinks neither taste like a "real" cocktail, nor do they get you buzzed—which is a large part of the appeal of alcohol.
Maybe I would have enjoyed Seedlip more if it didn't invite comparison with alcoholic spirits, but that's kind of its whole deal.I know that some people don't enjoy the taste of alcohol on its own, but I do. I will happily sip a glass of whiskey, neat, or even savor some tequila instead of throwing back a shot.
Seedlip, on the other hand, is just shy of unpalatable when not mixed with other ingredients. All three varieties taste watered-down almost like flavored water and finish surprisingly sour. Honestly, I doubt I will ever think, "I could really go for some Seedlip right about now."
Let's talk cost too. One 700 ml bottle of Seedlip will run you $32. At that price, I'd certainly opt for a nice bottle of liquor instead.
When I did buy Seedlip, I got the "Seedlip Trio Giftpack," which included 200 ml bottles of each variety for a total of $44.99. This seemed like a pricey yet stomachable way to explore all three flavors. Unfortunately, Seedlip doesn't seem to offer this gift pack anymore, but it may come back during the holidays.
For a fraction of the cost, bitters may achieve the same results as Seedlip. Though technically alcoholic, bitters only require a few drops, so the total ABV of your drink will be negligible. Also, bitters come in all sorts of varied and unique flavors.
So, would I recommend Seedlip? I don't want to completely dissuade you from trying Seedlip's non-alcoholic spirits—everyone has different tastes, after all! If you're someone who enjoys mixed drinks but is looking to cut back every once in a while, a Seedlip cocktail might scratch that itch.
My ultimate recommendation is to try before you buy, if you can. (I have some open bottles that I don't plan to finish…)
Editor's Note: Kara here! Robin and I tried a bottle of Seedlip recently to help ween us off our holiday drinking cycle. It doesn't even come close to replacing the real thing but was helpful to make that transition smoother (anyone else always goes hard on the wine at Christmas?) I can also see how if you are pregnant, on antibiotics and can't drink for a while, or need something to bring you home on a dry month goal, then this is a good alternative to real alcoholic cocktails. I agree with Meg, it's not something I ever crave or will keep in stock year-round.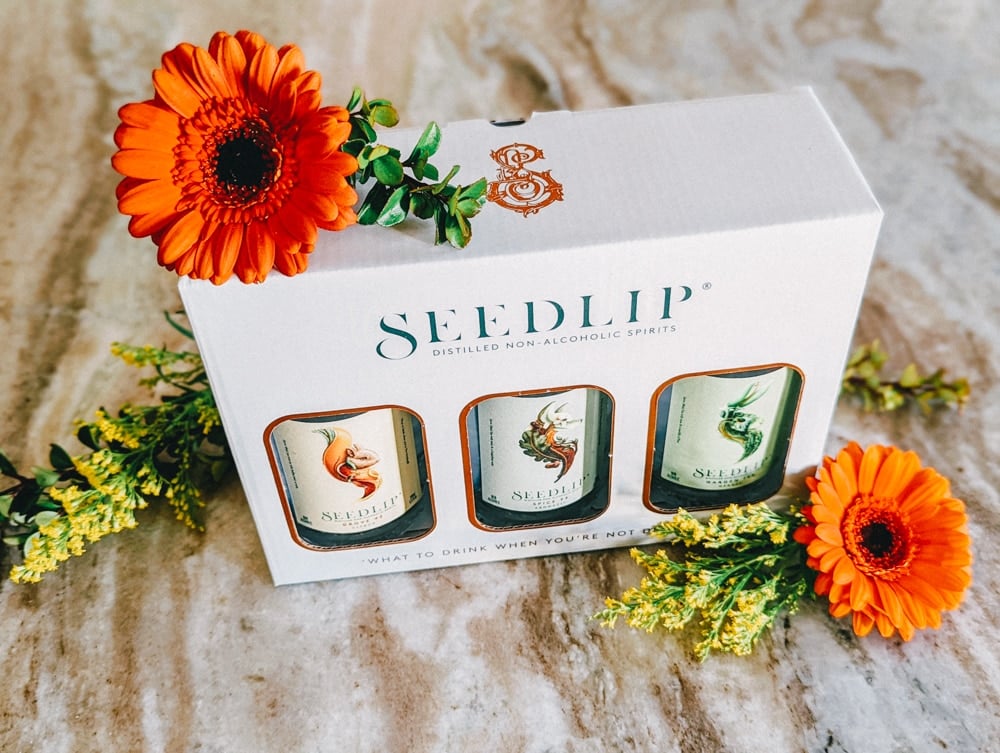 Where Can I Buy Seedlip?
Seedlip can be purchased directly from the Seedlip website, which typically offers a discount to first-time buyers. Alcohol retail chains like Total Wine and BevMo! sometimes also carry Seedlip in many locations within their distilled non alcoholic spirits section. Figuring out where to buy Seedlip in a store can be a bit of a treasure hunt. You may have to ask the customer service where this is as it can be a bit hidden.
You might even find Seedlip on the mocktail menu at a local bar or restaurant, which may be the best way to give it a try without buying a whole bottle. Or if you don't feel like going out to make non alcoholic drinks , Drizly delivers.
So, bottoms up, I guess!
Want to review Seedlip? Drop a comment below so everyone can see!