There's something about reaching up into a tree, grabbing hold of an apple and yanking it down, followed by a large juicy bite that I love. When the weather is still hot in Northern California but mentally I'm in spooky season, going apple picking is the best way to tide me over until the leaves change.
Sonoma County is famous for wine, but that's not all it has to offer. There's lavender fields, u-pick berry farms, cider houses and apple orchards.
Apple Picking Bay Area 2021 Guide
Usually, my friends and I head up to Apple Hill, which is a region between Sacramento and Lake Tahoe that's full of apple farms with u-pick apple orchards, breweries, wineries and bakeries. It's a whole vibe. But, this year there's a large wildfire nearby so we had to pivot our plans.
While hunting for apple-picking Bay Area spots, we landed on Sonoma. Most farms are open mid-week and weekends and closer to San Francisco than Apple Hill.
When Is Apple Season In California?
Apples are ripe for picking starting as early as late July and goes to the end of September (sometimes early October) in California. The exact California apple season harvest dates do vary year by year and location by location.
But in general, the best time to pick apples in California in September. Most of the farms will have pulled out all the fun family activities and fall decor for visitors by then. In Sonoma, August is typically when you can find apple picking festivals but I personally think it's still too warm and summery then for my liking.
What Will The Weather Be Like?
Expect it to be hot and sunny in Sonoma County during September. Do I always ignore the weather report and dress in cute fall boots, scarves and sweaters to be ~aesthetic~? Yes. Do I always overheat and sweat my butt off in the 90-degree heat? Why yes, why I do.
There is a chance you'll luck out and get a foggy morning in the Sebastopol area. That side of Sonoma County does get more cloud cover and fog in the mornings. But plan on it being in the 80's or 90's during the afternoon.
Do I Need Reservations For Apple Picking?
Before COVID, most farms didn't require reservations to stop by and pick apples. Now, we're seeing a reservation model become the norm. Not just for orchards, but for wineries, flower fields, and other u-pick spots.
Not all the farms require reservations though! I'll highlight below which ones do or don't for easy planning. But, do expect to have to plan ahead for the next few years. And, while writing this in 2021, a few of the Sonoma County apple farms still have limited hours in light of the pandemic, but those may change back to normal in 2022.
The Best Sonoma Apple Picking Farms To Visit (U-Pick, Cider & More!)
There are tons of cute Sonoma County Farms and farm stands to choose from. The Green Valley area is super fertile not just for wine but also for fruits. Of all the apple orchards these are the ones I recommend you check out for a day of fun! And, at the bottom of this list I'm sharing my favorite fall things to do in the area after picking apples (cider, restaurants, etc!)
1. Apple A Day Ratzlaff Ranch
Address: 13128 Occidental Road, Sebastopol
Open hours: Open 9 am – 4 pm daily except Thursday & Saturday
Website
This is the Sonoma apple farm we visited!! It was so cute and perfect for our group, and I can't stress enough how nice the staff are here. We came on a Wednesday morning and had the whole place to ourselves for about an hour which was great since a couple of my friends brought their newborn for baby's first apple picking (aka we took ALL the photos in the orchards!)
Ratzlaff Ranch offers U-pick apples (Gravenstein, Golden Delicious, and Rome) along with homemade apple cider and pears. The latter we tried to find in the orchard but didn't have luck, they seem to be in season probably in August vs September.
It's the cutest lil Sebastopol apple farm to kick off your fall visit. I took home a large galloon of apple cider that lasted exactly 2 days in our house since we drank it all so fast. So tasty! Pro tip: best to start here first before the crowds of the day turn up in the afternoon.
2. EARTHseed Farm (Formally Gabriel Farms)
Address: 3175 Sullivan Rd, Sebastopol
Open hours: Select Saturdays in the fall from 10-4. Schedule visit online.
Website
If you're looking for organic apple picking in the Bay Area, this is your farm! EARTHseed is a solar-powered organic farm that uses Afro-Indigenous permaculture principles to grow. They're brand new so right now are by reservation only. They grow apples, pears, persimmons, plums, pluots, guavas, and mixed berries so you'll get more than just a bucket of apples here!
3. Chileno Valley Ranch
Address: 5105 Chileno Valley Road, Petaluma
Open hours: Most Sundays in September and October
Website
Looking for apple picking in Petaluma or closer to Santa Rosa? Chileno Valley Ranch is outside Petaluma and dates back to 1862. In 1993, Mike and Sally (owners of the ranch) took it over and restored the Victorian farmhouse, barn and other buildings along with panting over 400 apple trees and starting a grass feed beef business. So, this place is super cute and historic and makes for a unique apple-picking visit.
You can pick your own apples AND pears here at Chileno Valley! And buy some beef to take home afterward. This year they are only open pick-ups but should be back open for u-picks in 2022!
4. Casari Ranch & Wool Mill
Address: 14390 CA-1, Valley Ford
Open hours: Wednesday – Sundays
Website
Closer to Bodega Bay is Casari Ranch, a biodynamic farm and ranch. They have a farmstand if you're looking for a quick stop to pick up apples on your way to the coast!
5. Hale's Apple Farm
Address: 1526 Gravenstein Hwy N, Sebastopol
Open hours: Daily from 9-5
Website
Another historic orchard here folks – this farm has been in the Hale family for over 120 years! Hales Apple Farm has over 30 varieties of heirloom apples along with other fruits and veggies – like pumpkins come October!!
You can't pick apples at the farm, but they do have a huge farm stand with apples and produce just spilling out of it. It's very cute and perfect for photos with the kids or friends!
Note:
According to their Facebook Page,
Nivens Apple Farm
is permanently closed. It was a popular spot for years. I'll try to keep this updated if it ever opens again.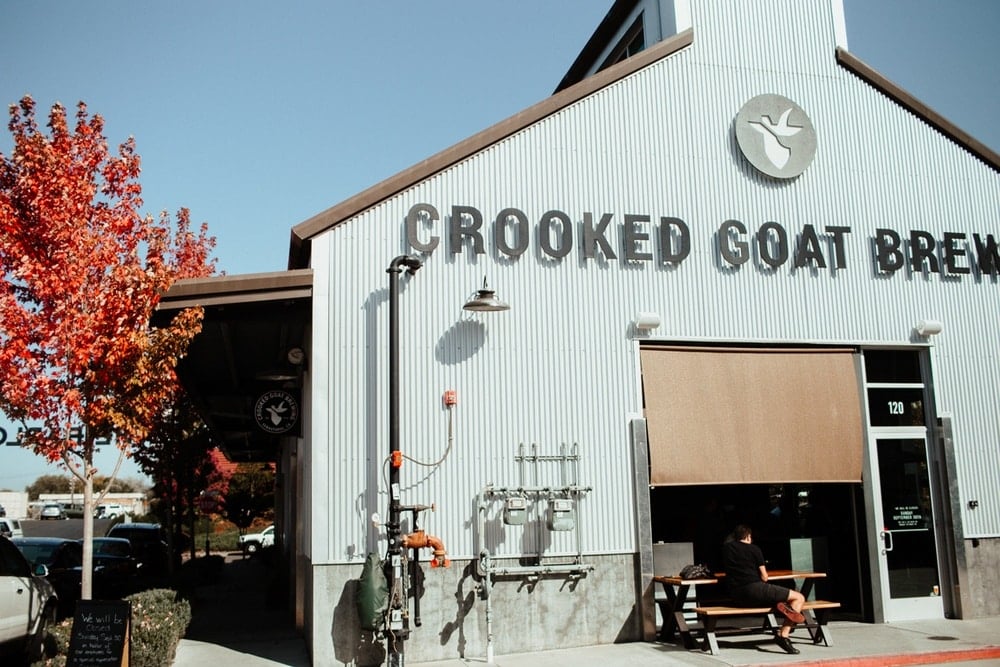 Where To Eat & Drink After Apple Picking In Sonoma County
We went apple picking Sebastopol and then hung around the area after for some lunch and cider. I adore this part of Sonoma County. Healdsburg is usually where I go to get my wine tasting fix, but the Guerneville / Sebastopol area is far more woodsy and laid back. Don't rush your way out once you picked up apples, stick around a bit.
The Barlow Market
The Barlow 12-acre market is AMAZING. It's full of local shops, cider houses, wineries, breweries, ice cream joints and restaurants. It's such a vibe and I could spend hours just wandering all the shops. It's my favorite place to visit whenever I'm in the area.
Come here for lunch after your morning apple picking. There are various dining options so your group can find what's best for them. Some of the breweries even allow you to order food from neighboring restaurants to eat in the brewery!
Mom's Apple Pie
I always take home my apples and solicit my husband Robin to make something delicious with them. But there's nothing like picking apples and then eating a fresh slice of apple pie after. Mom's Apple Pie is famous Sonoma pie shop next door to all the orchards.
They have 16 different types of pies and can't ship, so you gotta pick some up while visiting in order to taste them. They're open 10am-6pm daily, no reservations needed.
Ace Cider
Ace Cider is of my favorite local hard apple cider companies! They have a tasting room in Sebastopol and I recommend trying a flight or two so you can sample as many of their 12 ciders as possible. Then, order a glass of your favorite (or bring some home!) The tasting room is only open on Fridays, though (the only downside).
Lagunitas Brewery
Lagunitas Brewery is seriously cool. It's down in Petaluma on your way back to San Francisco. All outdoor dog-friendly patio with live music on the weekends, tasty food ( I recommend the pretzel) and of course, tons of beer on tap.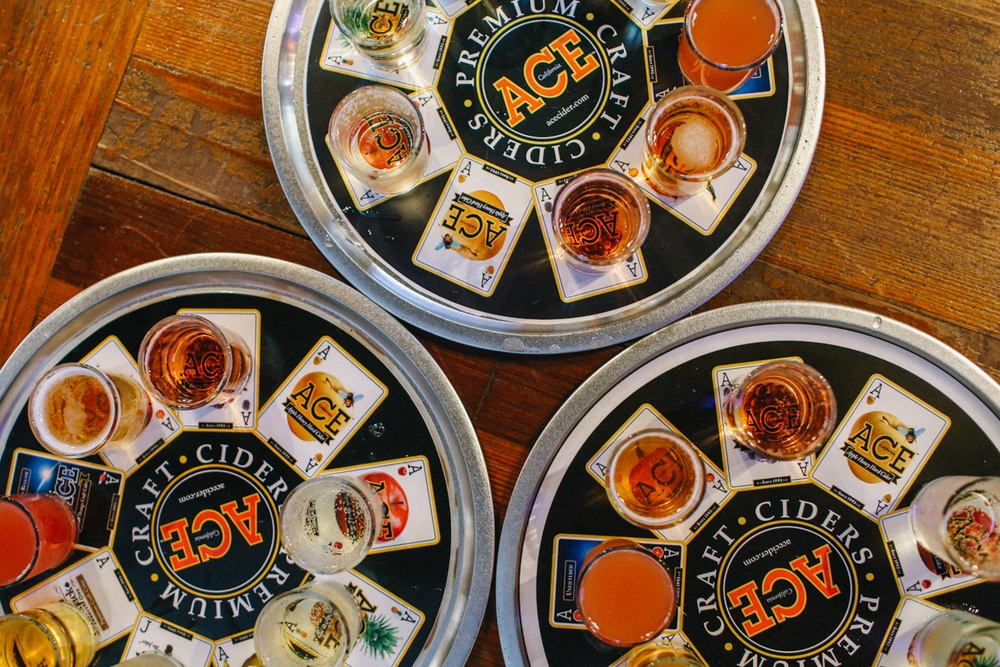 Gravenstein Apple Fair
Every August, the Gravenstein Apple Fair takes places! It's a weekend of apples, sure, but also live music, kids activities, local chefs cooking up awesome eats, workshops and farmers doing demonstrations. But mostly, come ready for a lot of apple pie, apple cider, apple activities and more fall-themed goodness. If you're in town that weekend, swing by.
Iron Horse Vineyards
Iron Horse has some of the BEST views in all of Sonoma County. This sparkling wine house sits high on a hill overlooking vineyards below. Most of their tasting room is indoor-outdoor and the wine is seriously tasty. Save some budget to bring a bottle home!
They're appointment only but you can quickly make a reservation online or give them a call.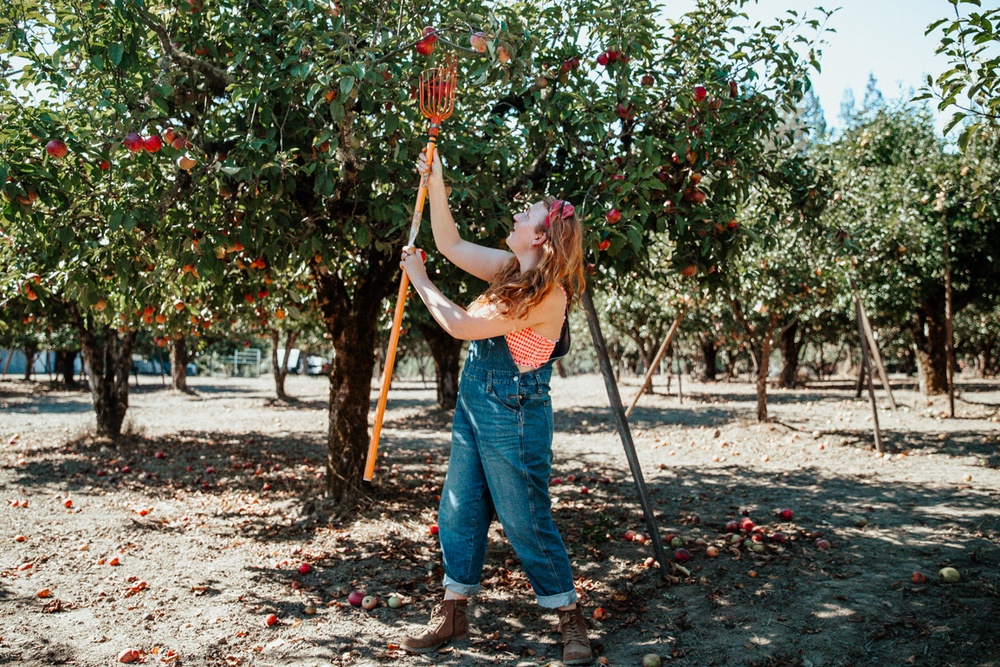 Need more u pick apple orchards or area ideas? Consult the Farm Trails site for a full list of activities and farms.
I'm always on the hunt for more great apple picking in Bay Area. If your favorite orchard, farm stand of fall thing to do didn't miss the list, please drop a comment below so everyone can see!
You can always comment or DM me on Instagram @thewhimsysoul if you have questions and I'll be happy to help.
More Fall Things To Do In California