Calistoga has always stolen my heart. Sitting at the very top of Napa Valley, Calistoga absolutely has corners of the grand luxury that Napa is known for, but at the same time this little town has evolved a unique down-to-earth charm that's different from everything else in the valley.
I live in San Francisco and thus find myself in wine country all the time. We usually do a weekend in Calistoga at least 1-2 times a year and I have finally compiled the ultimate things to do in Calistoga guide for you guys! In this post I'm sharing top Calistoga things to do, best wineries, cool hotels, my favorite restaurants and more tips to help you plan an epic getaway to wine country.
Calistoga At A Glance
Calistoga almost reminds me of the Napa version of Guerneville. Expect quirky antique shops, back patios overlooking a river, tons of trees that feel almost like you're in a forest, and vineyards stretching for miles.
I love to visit Calistoga when I want a wine tasting weekend that's a little more low-key than Downtown Napa or St. Helena. Or, when I want to just vibe next. toa hotel pool all day and soak up the sun in between spa treatments. They have some amazing resorts up here!
It's also way UP there at the top of Napa Valley and tucked partially in the mountain and foothills. Thus, cell service isn't always the more reliable up there.
Pro tip: Download Google Maps Offline so you can easily navigate on your Calistoga weekend.
12 Charming Things To Do In Calistoga California (+ Huge Area Guide)
First, all my favorite Calistoga activities, then I'll share my go-to wine tastings, hotels and restaurants for you.
1. Old Faithful Geyser
Yellowstone isn't the only home of an Old Faithful. One of the top Calistoga attractions is their Old Faithful Geyser (one of 3 "on time" aka Faithful geysers in the world!) This place is kitschy in all the best ways.
Bring lunch and a bottle of wine, as there is plenty of seating around the geyser and makes a great place to eat and wait for the burst of water. After, stick around and pet some of the goats at their animal farm!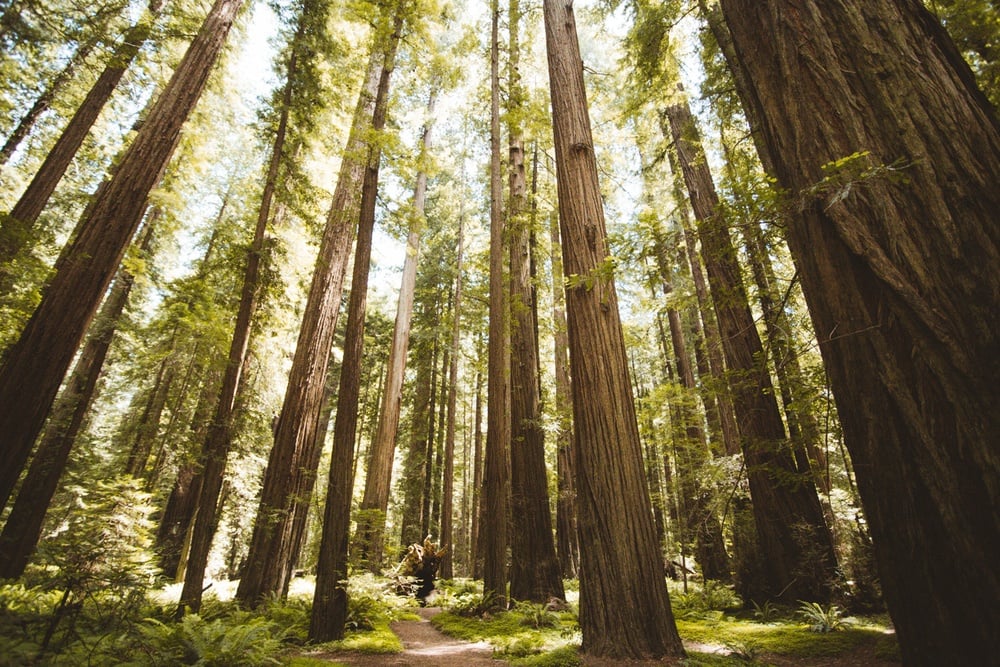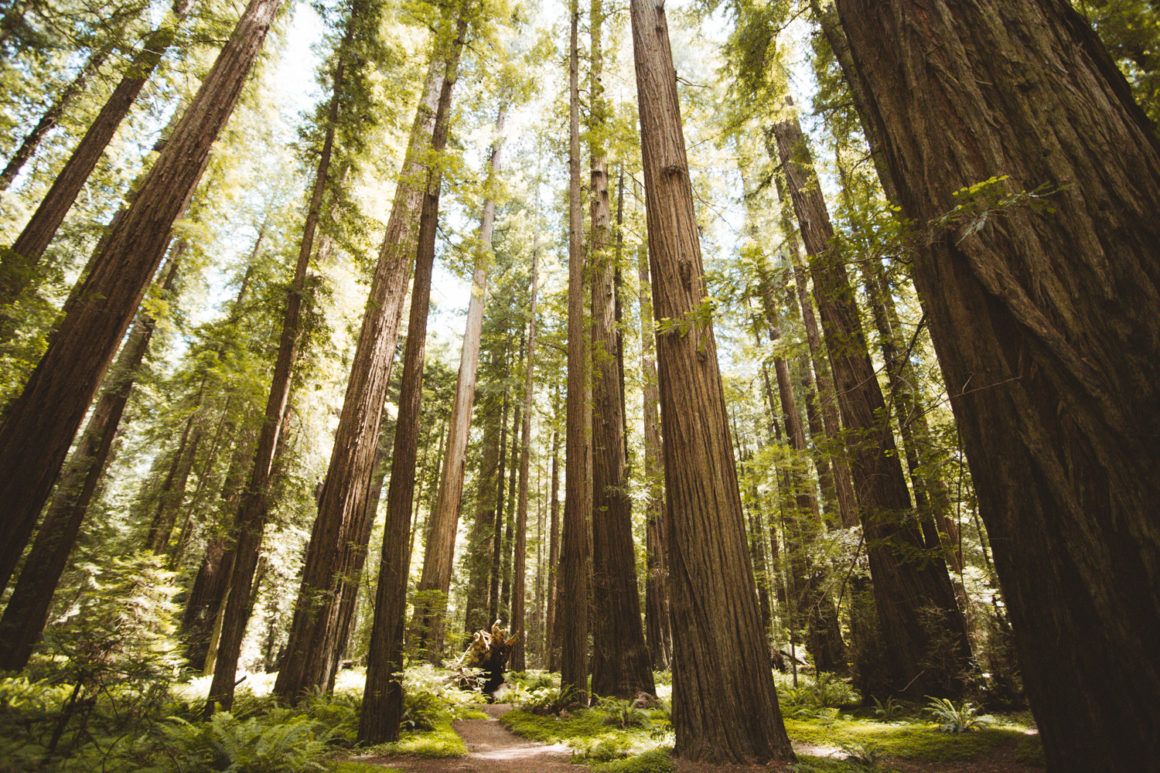 2. Hike Bothe-Napa Valley State Park
Bothe-Napa Valley State Park is full of towering Douglas Firs to hike through, along with trails lined with ferns and a bubbling creek. There's campgrounds here that you can totally camp at, though I like to head here in the morning for a morning hike / walk. You can also bring your lunch here instead of the Geyser and picnic under the trees!
3. Bale Grist Mill State Historic Park
From Bothe, you can find a trail that takes you directly to Bale Grist Mill State Historic Park. It's about a two mile round trip hike (not bad at all!) and this way you get some good tree time AND you can see the historic mill. It's a water-powered grist mill that was built in 1846 and was once the center of social activity as Napa Valley settlers gathered to have their corn and wheat ground into meal or flour. It's super cool.
4. Bike Rides Past Vineyards
I always think one of the best things to do in Calistoga is to rent a bike and peddle around town and around the vineyards. The guys at the Calistoga Bike Shop are really nice! You can rent bikes by the hour or do a guided tour. We usually opt for 1-2 hour rental and do a morning bike ride around the area. You can also rent all day and bike to your wine tastings that way to avoid driving.
5. Antique Shopping in Downtown Calistoga
Antique shopping is probably one of the best things to do in downtown Calistoga. Most of the shop are downtown so pick one side of the main street and stroll down. Currently, I'm on the hunt for the perfect antique jigger. I haven't found it yet but I am going to Calistoga again soon and crossing my fingers one of those antique shops has one for me!
6. Mud Baths
Calistoga is famous for its mud baths. This area has tons of geothermal activity (hence, the Old Faithful Geyser!) and one of the practices that came out of this was mineral water pools and mud baths. The latter absoutely should be on everyone's California Bucket List.
My husband, Robin, and I did a mud bath experience a few years ago and it was intense and amazing. You'll take a quick shower and then soak in a large bathtub of mud that's mixed with local natural mineral waters. The mud draws out toxins from your skin and body, while relaxing your muscles. After, you rinse off in a hot tub. We felt so renewed afterward.
7. Spa Day
Mud baths are spa treatments, but are totally in their own category. If you don't want to get covered in mud, that's ok! Calistoga has a few truly outstanding spas in town that are more traditional spa experiences. My two favorites are Moon Arce and Solage Spa.
MoonAcre Spa is the most approachable and refreshing spa I've ever been to. Picture what a spa would look like if Wes Anderson decided to stop making movies and start offering spa treatments in wine country. They do a lot of treatments differently, and that extends to mud baths. Instead of the classic tub of mud, you instead sport a swimsuit and paint yourself with mud under the sunshine in the communal spa area, outdoors. (Pictured above.) It's interactive and great for couples to do together.
Solage Spa: At the Solage Resort, they feature 2 different pools under palm trees, luxury spa amenities and ah-mazing massages. It's a super zen place and on the pricier side, so this is the best spa to head to when you want to really Treat Yo'Self!
8. Explore The Petrified Forest
Sonoma isn't the only place with a Petrified Forest! Around 3.4 million years ago, Mt. Saint Helena erupted. You may recognize that name from the present-day town of St. Helena. (Also, thanks to that eruption, the soil in this Napa means it's a great place for grapes to grow!)
Anyways, at the eruption, tons of Redwoods and other trees were preserved in a Petrified Forest. This forest is open to the public to visit. Dogs are welcome on leash and it takes about 45-60 minutes to wander the trails.
9. Ride The Napa Valley Wine Train
One of the top wine tasting activities I always recommend wine tastings newbies to do is the Napa Valley Wine Train. The Depot is actually in Downtown Napa, so it requires leaving Calistoga, but it's so fun and worth the drive. It's especially fun for beginner wine tasters and first time visitors to Napa since your tour guide will give you a crash course on wine, how to wine taste, how wine is made, and other Napa tips.
How it works is, you gather on a historic train and it takes you to a few wineries along the valley. You get out, do romantic wine tours and taste wine, and then get back on the train to watch the vineyards roll past as you make your way to the next spot. It's a safe way to wine taste without a car, and some tours even have seated meals on the train!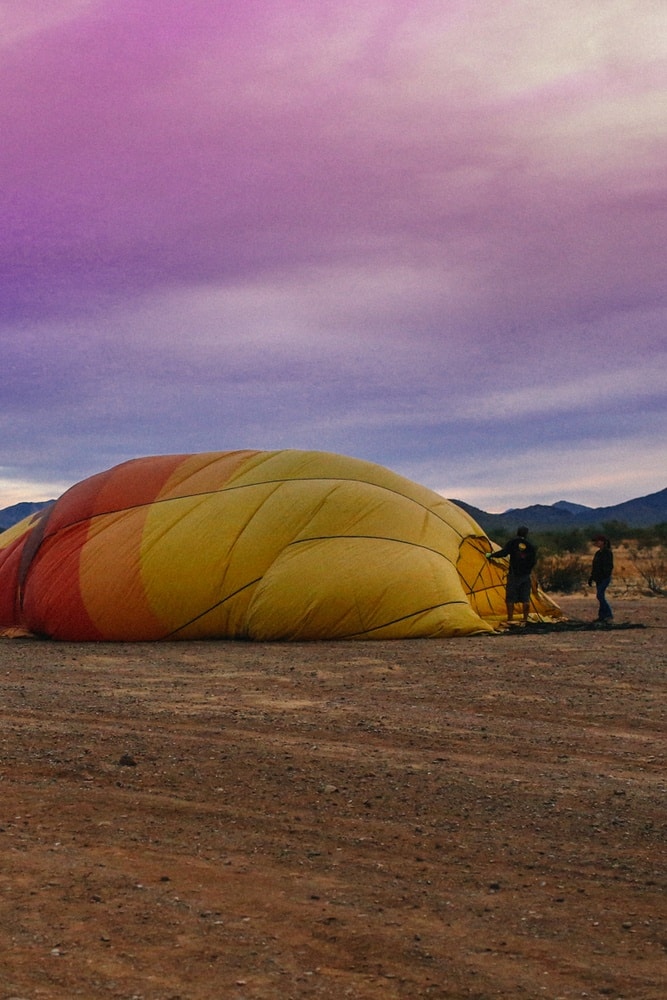 10. Hot Air Balloon Ride
There is nothing more romantic than a sunrise hot air balloon ride over Napa Valley!! Maybe you're proposing, or are doing a Napa Valley Honeymoon, booking a ride will be an epic experience. Up Away offers nearby tours so you can soak above the vineyards. They also offer special couples packages if you wanted to book the whole balloon out yourself for a proposal or celebreation.
11. Horseback Riding
I know horseback riding isn't something people usually think of as an activity, but I love to do trail rides when traveling. Especially to beautiful places like Napa County! It's a fun way to experience nature that's different than hiking.
Owen Ranch, a little bit north of Calistoga, offers trail rides, some are even at sunset so it's extra romantic. Go wine tasting in the day and then end with a sunset horseback ride through the mountains?! Heck yes.
Note:
our absolute favorite unique vacation in California is
Greenhorn Ranch
near Quincy. It's a working dude ranch that's also an all-inclusive resort!
12. Wine Tasting
Oh course, the popular Calistoga thing to do is wine taste! Wines in Napa Valley are world-class. You'll find wineries offering all sorts of varietals, but expect the majority to be Cabernet Sauvignon, Zinfandel and Chardonnay.
You used to be able to do walk-ins to most wineries, but after 2020, most are pre-reservations only. Don't worry, you can do these online easily, and last minute usually.
Best Calistoga Wine Tasting Spots
Napa Valley has almost 400 wineries (and always growing!) Luckily, some of the most beautiful Napa Valley wineries are located in and around Calistoga. No matter where you taste, you'll probably find tasty, quality wine. BUT, not all wineries are equal when it comes to the experience. These are my favorite tasting rooms I've been to myself and know you'll love, too!
Tank Garage Winery
You may drive by this and think it's just a trendy gas station, not a winery! It's ok – it used to be a gas station, but is now home to Tank, a boutique winery that makes new limited edition wines year-round. If you're looking for downtown Calistoga things to do, make sure to swing by here for a wine tasting!
5 times a year, the winemaker creates new blends. When they are sold out – they're gone forever. Each wine bottle label is brand new and incredibly fun to look at while tasting the wine. Bonus points – they're open until 6pm and you can take groups, so you can make this your happy hour wine tasting before dinner.
Sterling Vineyards
Sterling Vineyards is a whole experience in itself. It's always the spot I take visitors since it's truly a "holy cow" moment. The Sterling tasting room sits on top of a mountain that has sweeping views of the entire valley below. And, the only way to access it is via gondola ride!
I highly recommend going big and doing the silver experience with the cheese pairing. This allows you to sit on their porch (where you will probably spot Bob the bluejay!) but allows includes a self-guided wine-walk tour of the vineyard, 7 wines in total.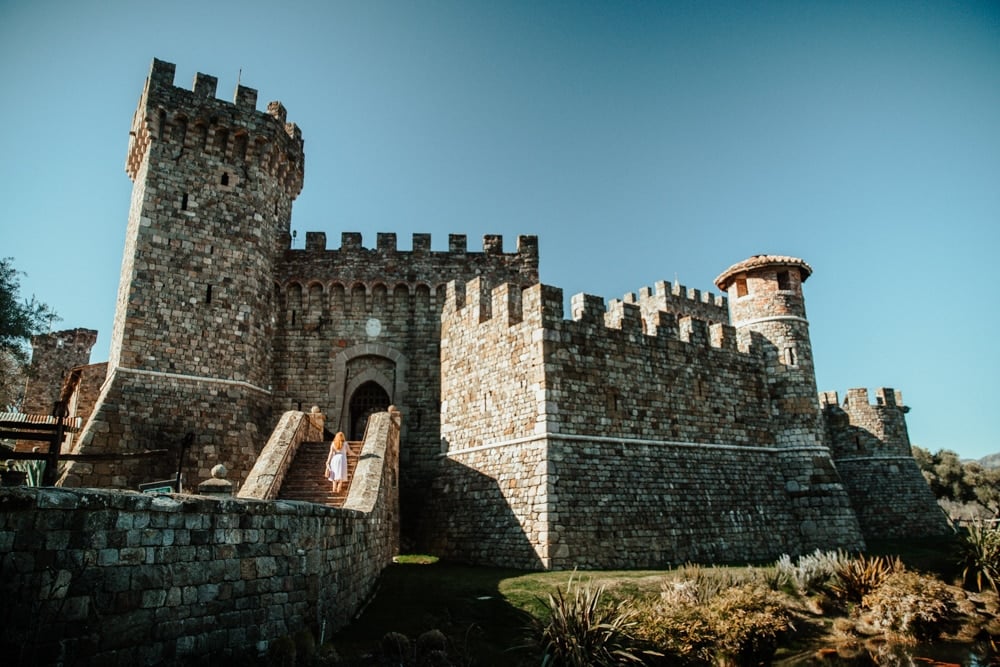 Castello Di Amorosa
For super unique wine tasting tours, head to Castello Di Amorosa! This is the castle winery that you will probably spot during your drive around the region. Wandering the 13th-century Tuscan-style castle is what really makes this place unique.
I mean, it's a freaking castle!! I will say, if I'm being very honest, this winery is like Disneyland of Napa. It's touristy and the wine tastings can get a little rushed. Don't come here for the wine, come here for the castle vibes.
Davis Estates
If you are a foodie, come here! Davis Estates is an elegant winery and has some of my favorite wines in the region. Come for the Historic Tour & Tasting, food pairing experience. You'll get a private tasting and tour of the vineyard (wine in hand, of course) and end at the tasting room for a food and wine pairing.
The tasting room feels like an old library and has a sweeping view of the valley. You can actually see Sterling and Castello di Aromosa from the balcony! The chef perfectly matches food with each wine and sort of made our heads explode with how good it was.
Chateau Montelena
GUYS, this winery looks like a fairytale dream. It's actually the only one on this list I haven't been to personally (yet) but my trusted wine friends adore it. Chateau Montelena got its claim to fame via the Judgement of Paris, but has held onto its top-notch wine-making processes. You'll find mostly cabs here, but they also have a large library Chardonnay. I can't wait to visit in-person soon.
How To Get Free Or Discounted Wine Tastings
Wine tastings can run a pretty penny up here, with tastings ranging anywhere from $25-100 per person. The locals' hack for this is using wine passports! Every town in the valley has their own Winter Wine Passport, where you pay a fee (usually around $70) and get a pssport. This book is filled with about 7-12 wineries and you can use it to taste for free at those wineries.
This literally saves you like, $1000. These passports are only available in the winter and spring months before the busy season. The Calistoga passport ends early in February, while the one for St. Helena (next door to Calistoga) ends in March or April each year.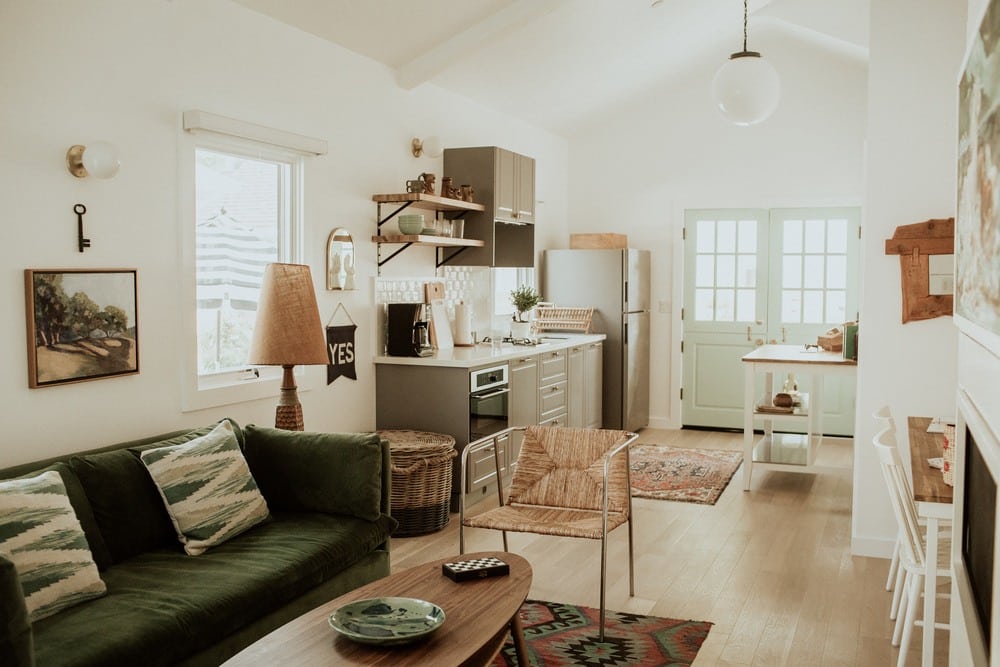 Best Calistoga Hotels
Wine country is the kind of place you'll want to spend a little extra for a nice place to stay. After days drinking award-winning wine in luxurious tasting rooms overlooking historic vineyards, the last thing you'll want is to come back to a dark cheap motel room.
Calistoga Motor Lodge & Spa
The Motor Lodge & Spa is our go-to hotel to book up here. It's funky, hip and cool, and usually more affordable than the nearby luxury resorts. They have 3 different mineral pools here all at different temperatures for ultimate soaks, and a really cool spa (MoonArce) for treatments. I always get a message here when we stay.
Indian Springs Calistoga
Driving by this place makes you feel like you stepped into Hawaii – there are so many palm trees in the front entrance! If you're looking to go big, then Indian Springs is for you. The resort is huge at 16 acres and has a mix of old-world Hollywood meets Hawaii meets Napa Valley vibes.
The pools are open until midnight seasonally for star-gazing dips. They house Sam's Social Club, a hot-spot for dining and the spa offers mud baths, which are famous in this area. I have a friend who kicked off her honeymoon here. It's great for special vacations!
The Bungalows at Calistoga
These bungalows are new to the city but I have a feeling will quickly rise to the most sought-after vacation rental spots in the area. They are so FREAKING cute. From the pops of teal to the whimsical pieces of artwork, the decor is very thoughtful.
The ceilings inside are vaulted and each bungalow has a porch and outdoor space. They feel airy and comfortable, just the kind of space you want to relax in after a day of wine tasting. Read my full feature here.
Solage Resort
Another one of our favorite luxury hotels up in Calistoga is the Solage Resort. Rooms are all in private bungalows scattered around the property (much like Carneros Resort). They have not one, not two but three different pools lined with palm trees and a highly rated restaurant on site.
For transparency, they can run pricey here but I find it's not too hard to get discounted rates on off-season weekdays or by booking last minute with HotelsTonight. The first time we went, rates in the summer usually were $1000 a night but we got our room for about $400 by booking last minute. Read our whole Solage feature here!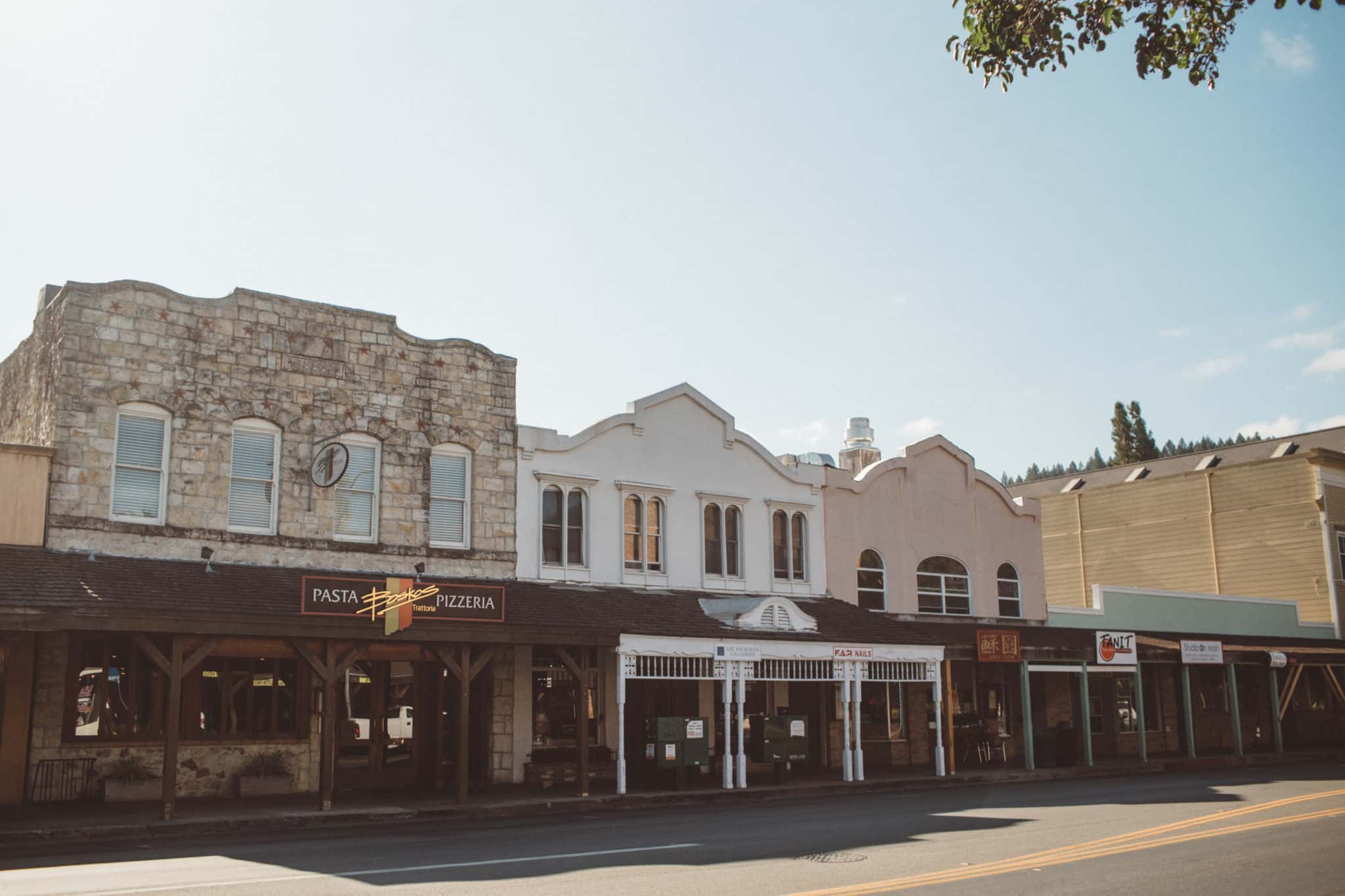 Best Restaurants In Calistoga
Most restaurants are all along Lincoln Avenue. This is a small town, so keep in mind some places may not be open on Monday or have hours you aren't used to.
There aren't many things to do in Calistoga at night as it's a sleepy wine town. Plan on happy hour and dinner out, but heading back to your hotel at night to hit up the hot tub and stargaze, or hang by your hotel's fire pits.
Fleetwood
Fleetwood is the new restaurant on the Calistoga Motor Lodge & Spa property and holy moly, it's my new favorite dinner spot in town. Everything is wood fired! Come for happy hour for bites and cocktails, then stick around for dinner Italian-style pizza with toppings like truffle oil or buffalo mozzarella. The brussels sprouts are a must and treat yourself to one of their unique desserts. We had the polenta cake. I've never had polenta in a sweet form before but now I'm hooked!
Sam's General Store & Cafe
We were so thrilled to find this new cafe on our last visit to Calistoga! Sam's General Store has tons of outdoor seating on their wrap-around porch and lawn, including spots next to a fire. We grabbed avocado toast and coffee here, but they also serve mixed salads, quiche, sandwiches and other tasty goodies.
Calistoga Roastery
If you're an early bird like myself, you're always on the hunt for a cafe that is open early so you can pick up coffee and breakfast. I love this little coffee shop. Calistoga Roastery has a huge selection of breakfast foods (sandwiches, bagels, smoothes, etc) and it's really affordable. Oh, and they open at 7am!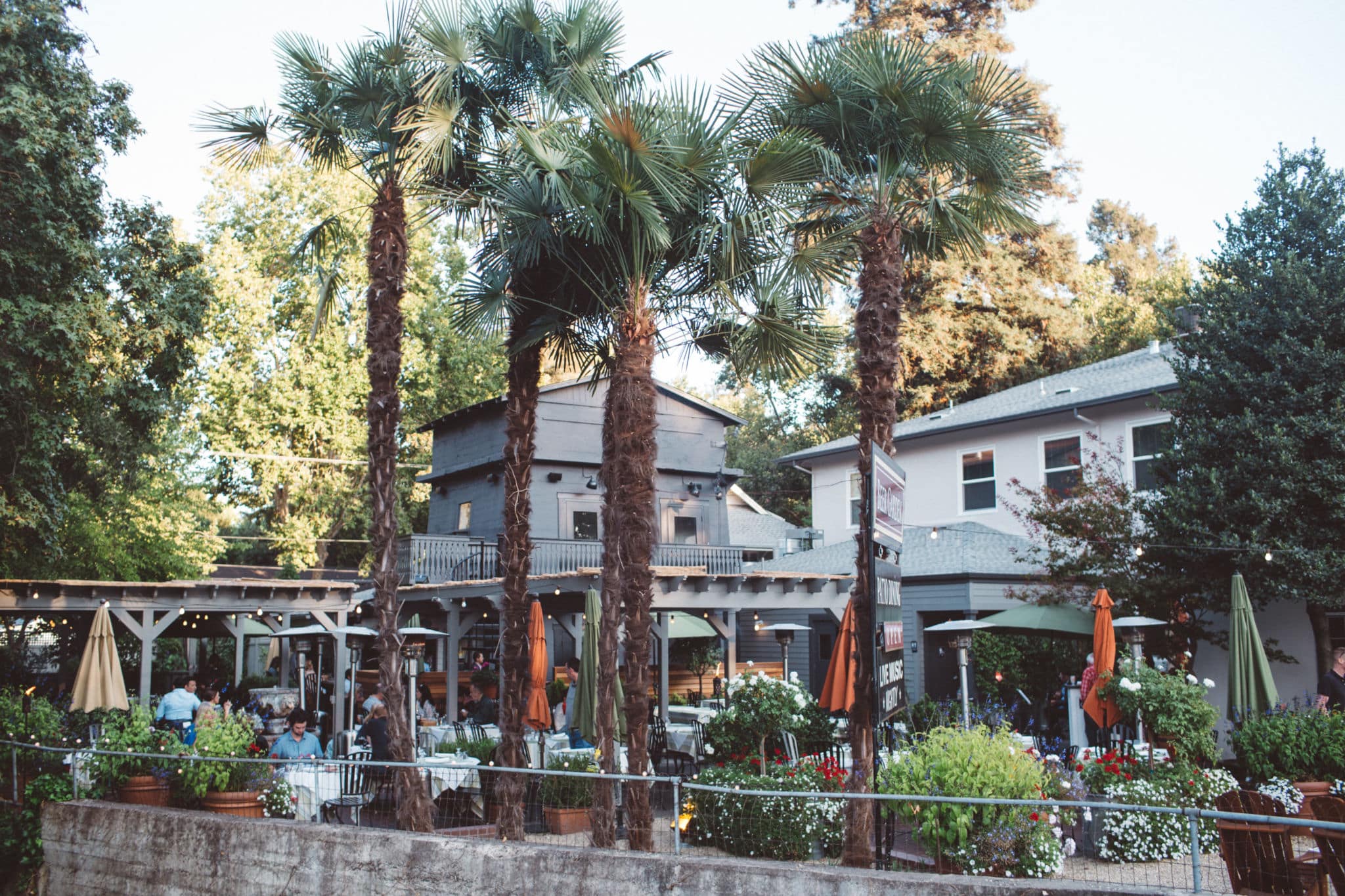 Calistoga Inn & Brewery
This charming spot is right on the main road, so you'll probably spot it on your way in. Calistoga Brewery is mostly all outdoor seating under string lights and heat lamps for the cooler months. It's absolutely adorable! And, has great food too boot. We were particularly in love with the corn on the cob. They have a variety of types of dishes, so it's sure to please the entire group.
Sam's Social Club
I loved everything about Sam's Social Club. We went for breakfast one morning and we gobbled down our Eggs Benedict and Pork Hash – truly tasty. There's tons of outdoor seating and a large firepit. I'd love to come back for happy hour and dinner on the porch around the fire!
Sarafornia
We loved this cute little place for breakfast. Think classic diner food meets California – it's lighter and has avocado, but tasty and fills you up! Sarafornia seems like a place where everyone knows each other and the best way to start your day (especially if you drank too much the day before!)
Johnny's
Johnny's is clearly a local's favorite. It's a bar that serves food, but it's casual and has plenty of windows and outdoor seating, so you don't feel like you walked into a dive bar by any means.
They have a FANTASTIC happy hour special! I'm talking $3 craft beer, something I literally have never seen anywhere in California before. Their food is really tasty – I recommend the flatbread and fried pickles!
I hope this helps you plan the perfect wine tasting weekend in Calistoga! You're going to fall in love with it as much as I have, I just know it.
If you have questions, drop a comment below in the comment box or DM me at @thewhimsysoul and I'll try to help you out. Got tips to add? Leave a comment so everyone can see!
Happy wine tasting.