I'm always a sucker for the Joshua Tree area. Whenever we come down to visit, I always book ourselves a cool Joshua Tree vacation rental home to relax in – something with cute desert decor and a hot tub to stargaze in at night.
And I found a brand new Joshua tree vacation home that its *chef kiss* so dang cute. Come take a tour of Desert Luxe with me – a remote bungalow home you're going to want to book for your next desert trip.
We think this is a brand new Airbnb house — it looks like it launched just a couple months before we booked it!
Location:
Landers, California
Price Per Night
: $350
Guests
: Up to 4
Book Now
The Desert Luxe house sits on about 2.5 acres of land with a stunning view of a mountain and desert landscape. There's not many neighbors and other properties around out here so it feels remote but never creepy remote. The house is in Landers, an incorporated town about 20 minutes North of Joshua Tree and Twentynine Palms, and it has fully functional wifi so we never felt like we were too far off the grid if you know what I mean.
But the location made the perfect retreat after a long day of running around hunting down all the Desert X 2021 art installations or trips into Pioneer Town and Joshua Tree National Park. Being able to walk right out of the front door and be surrounded by nothing but cacti, Joshua Trees and open skies was bliss.
We spent every night stargazing in the hot tub after cooking dinner and making cocktails. We visited in March and it's still windy and cold this time of year in San Bernardino county, so we didn't fire up the outdoor fireplace. But it's there for warmer evenings (faces west for happy hour while watching the sunset!)
The house is a bit small, but we made it work for the four of us. There are two bedrooms and it sleeps four people. Though I will note, the sliding barn doors on the house aren't great at noise blocking so if you have infants and small children who need a silent house while napping, this probably isn't the best rental for you.
Desert Luxe ranch house amenities:
Fully equipped kitchen
Heat
A/C
Strong Wifi
Indoor fireplace
Outdoor fireplace
Coffee
Shampoo + conditioner
Bathroom essentials (like tampons)
Washer and dryer
Dishwasher
Cool decor
Large kitchen table
Hot Tub
Front patio
Back yard furniture space
A tv (in the main bedroom)
Note: if you plan on visiting Joshua Tree National Park every day this probably isn't the house for you as it's about an hour away from all the park sites. I suggest booking this Joshua Tree Airbnb cabin in the Joshua Tree village instead so you're closer to the entrance!
Speaking of things to do nearby, I was absolutely worried this vacation rental would be too far away from all the fun things to do, but it wasn't a hassle at all to drive that extra 20 minutes. (Most of the time is consumed by their 2 mile dirt road/driveaway.)
Here are some of my favorite area activities:
Visit Giant Rock (an alien site near the Mojave Desert, it's really cool)
Lunch at Papi & Harriets in Pioneertown
Explore Joshua Tree National Park (I love Skull Rock!)
Day trip into Palm Springs
Vintage shop in Joshua Tree
Hike the Hidden Valley Nature Trail (you can go rock climbing here, too)
Cactus Mart in Yucca Valley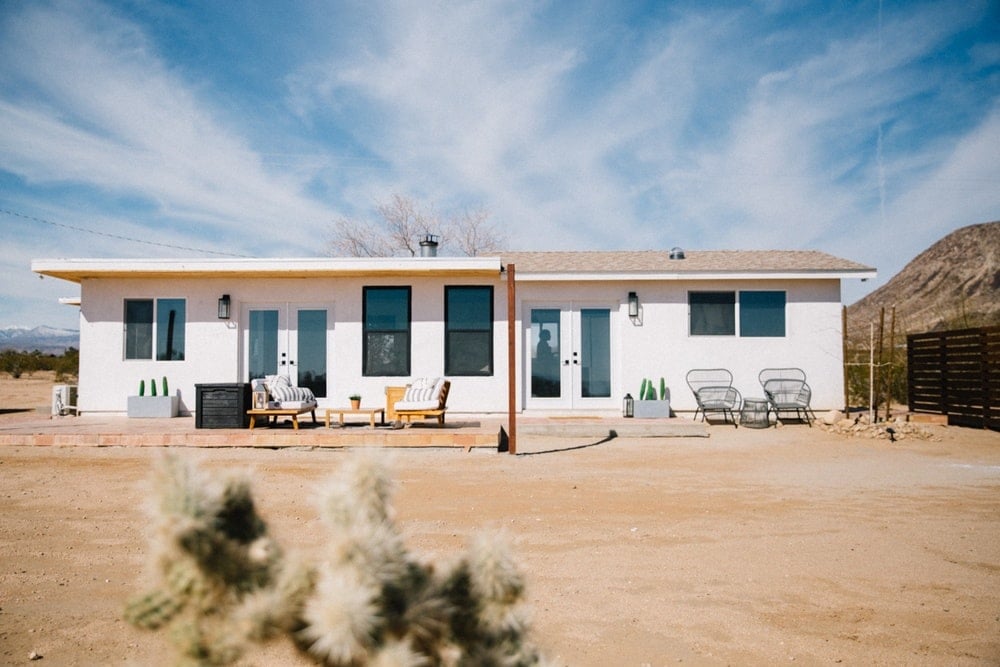 There are a ton of really cool Joshua Tree vacation homes out here. Of all the places in the United States, I firmly believe that this area has simply the most creative and cool places you can rent. There's everything from off the grid flying saucers to a mirror house to luxury pads with pools, and of course, cute bungalows like the one we rented.
I think you'll love this house for your next desert vacation. But if that's all booked up or you're looking for more unique or modern Joshua Tree vacation rentals, this is my list of my top 17+ favorite Joshua Tree houses you can rent (featuring homes I've stayed in or have on my bucket list!)
Have a fun adventure!
More Joshua Tree Area Travel Posts You'll Love