Bend is a food paradise and an outdoor lover's dream. You can see Mount Bachelor from almost everywhere in the city, peeking out behind buildings or between trees. When you're not exploring lava caves or hiking trails or floating down the Deschutes River, there's a plethora of coffee shops that also double as breweries, usually with a few food trucks out back (and always a cute pup to pet).
If you're looking for the best Bend Oregon things to do, I got you covered. From the best restaurants, outdoor activities, cute hotels and even what to pack, use my Weekend In Bend Oregon Itinerary to help you plan the best vacation ever! Let's go.
Bend OR At A Glance
Just the other way I was telling a friend I just came back from Bend and fell in love. She asked "Wait, where is Bend again?"
The city is located in central Oregon about 3 hours from Portland, pretty much smack in the middle of the state. Bend is in a high desert landscape, so the land isn't like the Oregon coast with lush greenery everywhere. Think ponderosas, juniper trees and small desert shrubs.
It's also in volcano territory, so there are over 400 cinder cones
in the Bend area to hike, lava caves to explore (yes, lava caves are a thing and they are
spectacular
). And, of course, the Oregon Cascade Mountain Ranges to gaze upon from afar, or to use as a playground.
In town, has taken Portland's famous food truck scenes and merged it with Bend's brewery and coffee culture. I think we spent every meal sipping craft beer, coffee (or both) outside next to a food truck or fit pit.
Oh, and the people of Bend are just so dang NICE. Robin and I grew up in Madison, Wisconsin and constantly found ourselves comparing the friendly vibes to Midwest hospitality.
Best Time Of Year To Visit Bend Oregon?
This is the Pacific Northwest – there really isn't a bad time to travel here. Bend has all four seasons and each one offers something different, so it really depends on you, your group and what activities you like to do when traveling.
We've visited in the summer (June) after our Oregon van trip a few summers ago, and also Spring (March) and personally, I think March is the best time to travel to Bend for my preferred way of travel. In March you'll still see snow on Mount Bachelor to do snowshoeing, but things are also warming up enough for other hikes or tours, like horseback riding Smith Rock or even paddles on Paulina Lake will start to open up for the season. And, there's a good chance you'll luck out with tons of patio weather in March.
Bend in Winter: Right outside Bend is Mount Bachelor and the Cascade Mountains. Bend winter offers snowshoeing, snowmobiling, skiing, snowboarding, cross country skiing and tons of winter hiking (with the right gear, of course!)
Bend in Spring: You'll get the best of both seasons in the spring, with snow play still holding on, but summer activities starting to open up. Expect warmer days, cold nights and a Spring Break crowd. Late spring you can find wildflowers on the mountain trails!
Bend in Summer: We drove through Bend in June a few years ago and it was hoping with folks floating down the Deschutes River, sipping craft beer on patios and hiking trails. It gets hot, and is high tourist season, but everything comes to life. Plan on being outdoors all day every day just soaking gup nature and good vibes.
Bend in Fall: Autumn brings some fall colors around the city and cooler temps. You probably won't have snow in the fall, so it's a great time to hike trails without the summer crowds.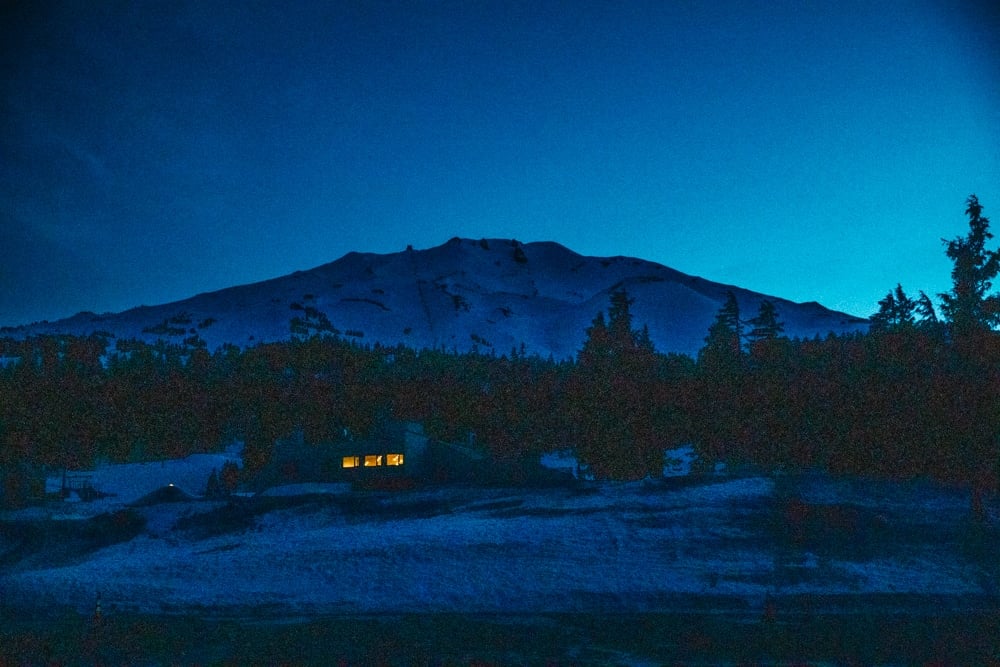 Where To Stay In Bend OR: Best Hotels & Camping
Campfire Hotel
Robin and I stayed at the Campfire Hotel and it was perfect. It's in walking distance to downtown and a quick drive to pretty much all the good breweries and coffee shops. The rooms are large and decorated with fun wallpaper and wood accents to help inspire themes of camping (but like a cool hipster campsite you never want to leave.) Hey, some of the rooms even have bunk beds!
In the center of the hotel are a swimming pool, hot tub and large firepit area that was popping off each night with folks enjoying drinks or listening to live music. We stayed in the Sunset King room and we were both shocked to have a perfect view of the Three Sisters and the Cascade Mountains literally from our bed. It was a great spot to people watch and the sunset gaze each evening. Read my full Campfire feature!
Free Camping
Thanks to the Deschutes National Forest and Oregon Badland Wilderness, which surrounds almost all of Bend, you can camp totally for free up to 14 days since these are BLM areas. When Robin and I were on our van trip, we popped into town to fill our growers and grocery shop, but then spent a night free camping in the Deschutes National Forest. We found a cool spot with geocaching and tons of mountain biking trails. If you need tips on how to find free camping spots in the US, check out this post!
Coming with the whole family? While Campfire does have a room that can sleep 6 people you may want to book a vacation rental house instead.
This house
is chic, airy, close to downtown and can sleep up to 10!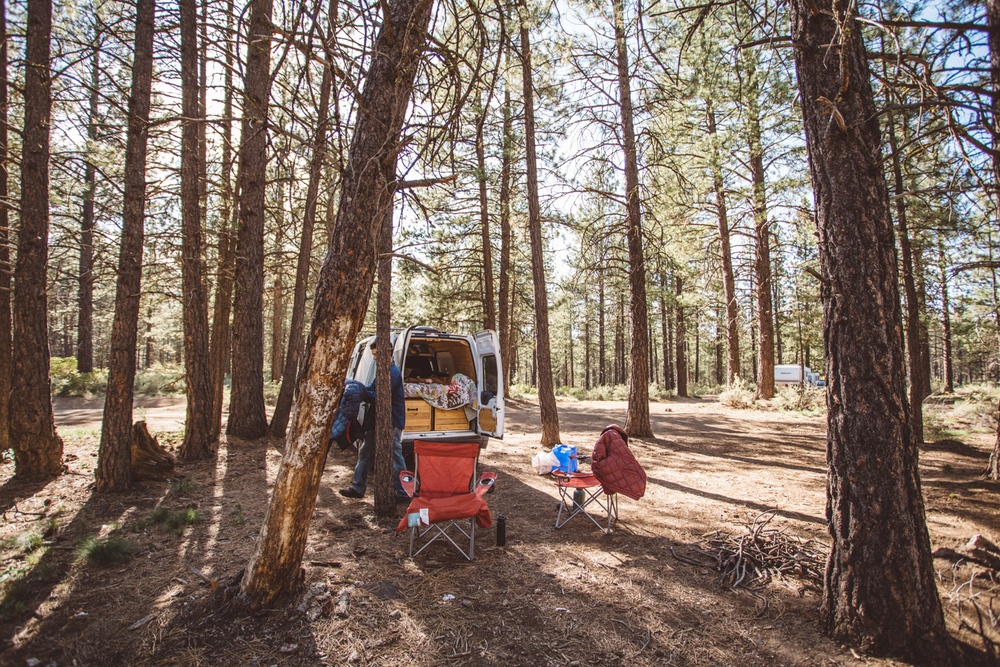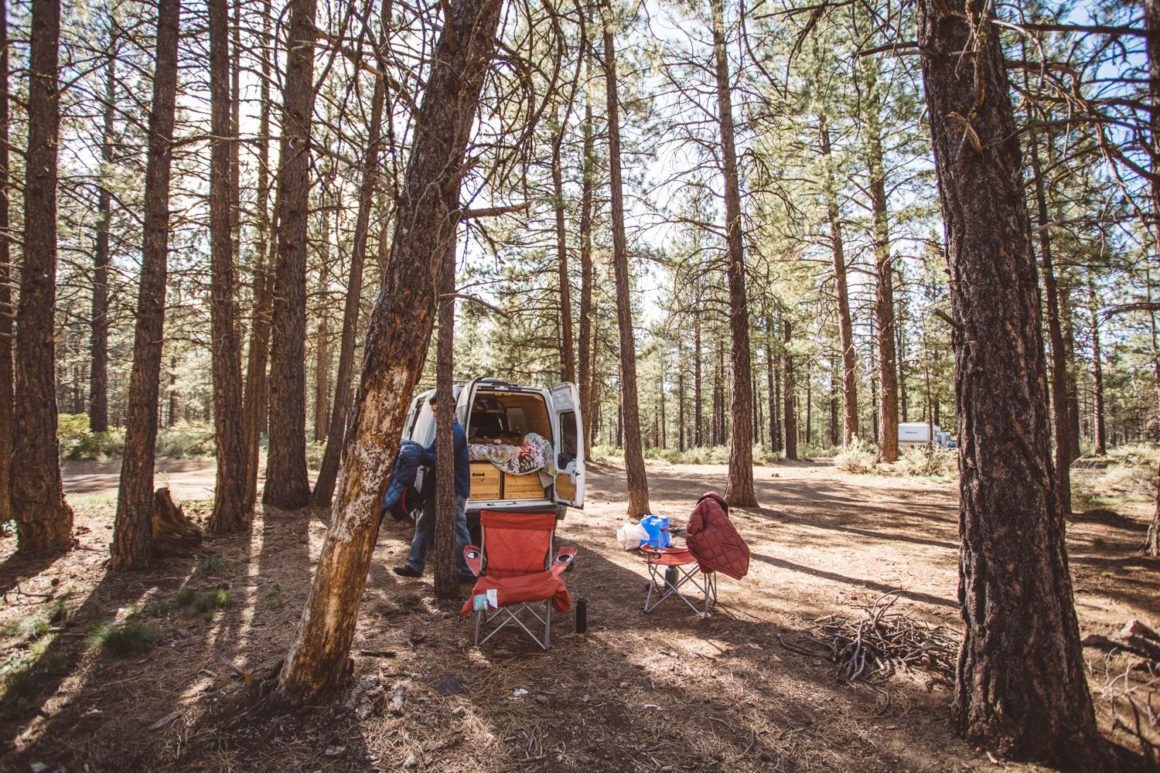 *Images
19 Unique Things To Do In Bend Oregon (Hikes, Activities, Attractions & Places to Visit!)
Ok, now onto all the best things to do and where to eat! At the end of the post, I then break down our exact itinerary so you can copy it, or swap listed items for something else that fought your eye from this list.
1. Spelunking In A Lava Tube Cave With Wanderlust Tours
While you're driving on the outskirts of Bend, passing through the trees or high desert, just know that below all that landscape are hundreds of lava tube caves, some of which are open to the public to explore! Bend's lava caves are one of the unique things about this area that I haven't seen anywhere else in the United States.
Thanks to The Big Obsidian Flow (eruption of the Newberry Volcano about 1300 years ago) there are over 1100 lava caves in Central Oregon, which are more being found every day. Unlike traditional caves, these are accessed by dropping in from the ground. The ones open to the public usually have staircases to use, but everything else is preserved and protected (so don't expect lights or paths down there, this is legit spelunking!)
You can go by yourself, but we went caving with Wanderlust Tours and I highly recommend you take one of their cave tours. They'll supply you with headlamps and helmets (super important for safety) and a smart local guide who knows the cave systems. We went to Boyd Cave, though in other months of the year you may go on a Lava River Cave tour or even to Skeleton Cave. Book with Wanderlust Tours here!
PSA: If you do decide to explore caves on your own, you MUST clean and/or change your clothes and shoes in between caves to avoid cross-contamination in order to help protect the bats from White Nose Syndrome!
2. Climb Pilot Butte
Pilot Butte is this really neat cinder cone that's practically in downtown Bend. A cinder cone is a steep conical hill of loose volcanic rock and ash formed from an eruption. Robin and I hiked a cinder cone in Lassen National Park that was ROUGH since it was literally just up a side of rock pile, but Pilot Butte has trails so it's actually enjoyable.
The Pilot Butte State Scenic Viewpoint ended up being one of my favorite Bend OR things to do since it's easy to slip up to the top of the hill to overlook the city to get a mental map of the area. We choose to do this as a morning activity to get the blood flowing right away. It took about an hour with water and photo breaks.
Want more volcano fun? These are a few other highly recommended spots to hike from locals we chatted to:
3. See The Last Blockbuster In The World
All my fellow millennials need to head to the last Blockbuster in the world, which is located in Bend!! I know some folks' reaction is "why on earth would you want to do that?" but I can't stress how fun the nostalgia vibes were. We walked through the front doors and BOOM, I was instantly transported back to circa 1999 when my sister and I were let loose on the aisle to fight over which DVD to bring home for family movie night.
And yes, the store is still operating. When we pulled up, we saw a man walk in with a stack of DVDs to return. I have totally succumbed to subscription platforms (Netflix, HBO, Peacock, Amazon Prime, Hulu, Disney+, Acorn, BritBox – we shamelessly have them all) but it's nice to know a little bit of the 90's is still preserved in Oregon.
Oh, and the store sells tons of merch. I bought Robin a Blockbuster t-shirt, myself a tote, and a Blockbuster Christmas ornament to put on our tree. Come ready to bring back a couple of throwback gifts!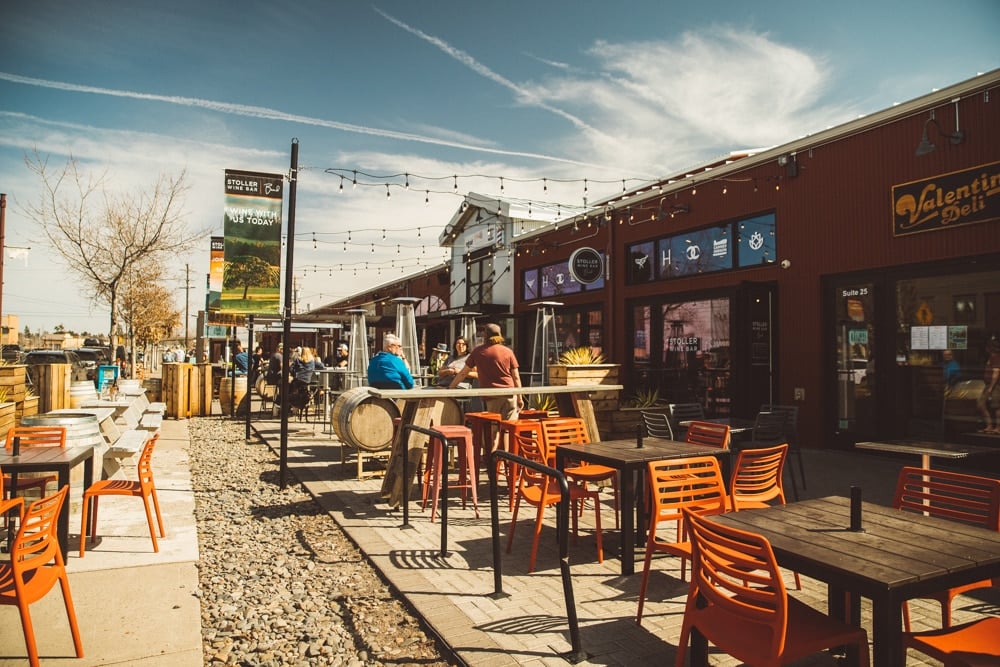 4. Explore The Industrial District
If you immediately thought of sketchy warehouses, think again. This area of town is centered around a large industrial building that's been transformed into a cool market of local businesses. Breweries, wineries, flower shops, game stores, coffee shops, more breweries, and restaurants are all housed here. There's a large parking lot so it's easy to park and just explore.
Some of our favorite gems over here were:
Bledsoe Winery tasting room
Spoken Moto coffee
Warming Hut Number 5
There's also nearby Downtown Old Mill District if you want to continue shopping & eating!
5. Snowshoe Bonfire On Mount Bachelor
Mount Bachelor is a stratovolcano and also a ski resort just about 30 minutes outside Bend. Robin and I don't ski or snowboard but that's never stopped us from enjoying wintertime. I always like to hunt out fun winter activities so when I saw that Wanderlust Tours also hosts a nighttime backcountry snowshoe and bonfire activity I knew we had to book that.
Here's how it went: we loaded up into the Wanderlust Tours van along with the other members of our group around 7:30pm and headed off to Mount Bachelor, watching the sunset over the forest. By the time we arrived to the parking lot, it was dark and we were the only ones there.
Our guide gave us gear, a quick snowshoe lesson, and off we went into the Old Growth Hemlock forest at the base of the mountain. We hiked for about 45 minutes into the backcountry, ending at a bonfire that the tour staff already had roaring. We warmed up, drank local hazelnut vodka, and nibbled on pastries.
But my favorite part of the night was our hike back out. By then our eyes were really well adjusted to the dark so we hiked with our headlamps turned off. I'll never forget walking on the snow through a rare old-growth forest with Orions Belt and the blanket of other stars above my head. Magic.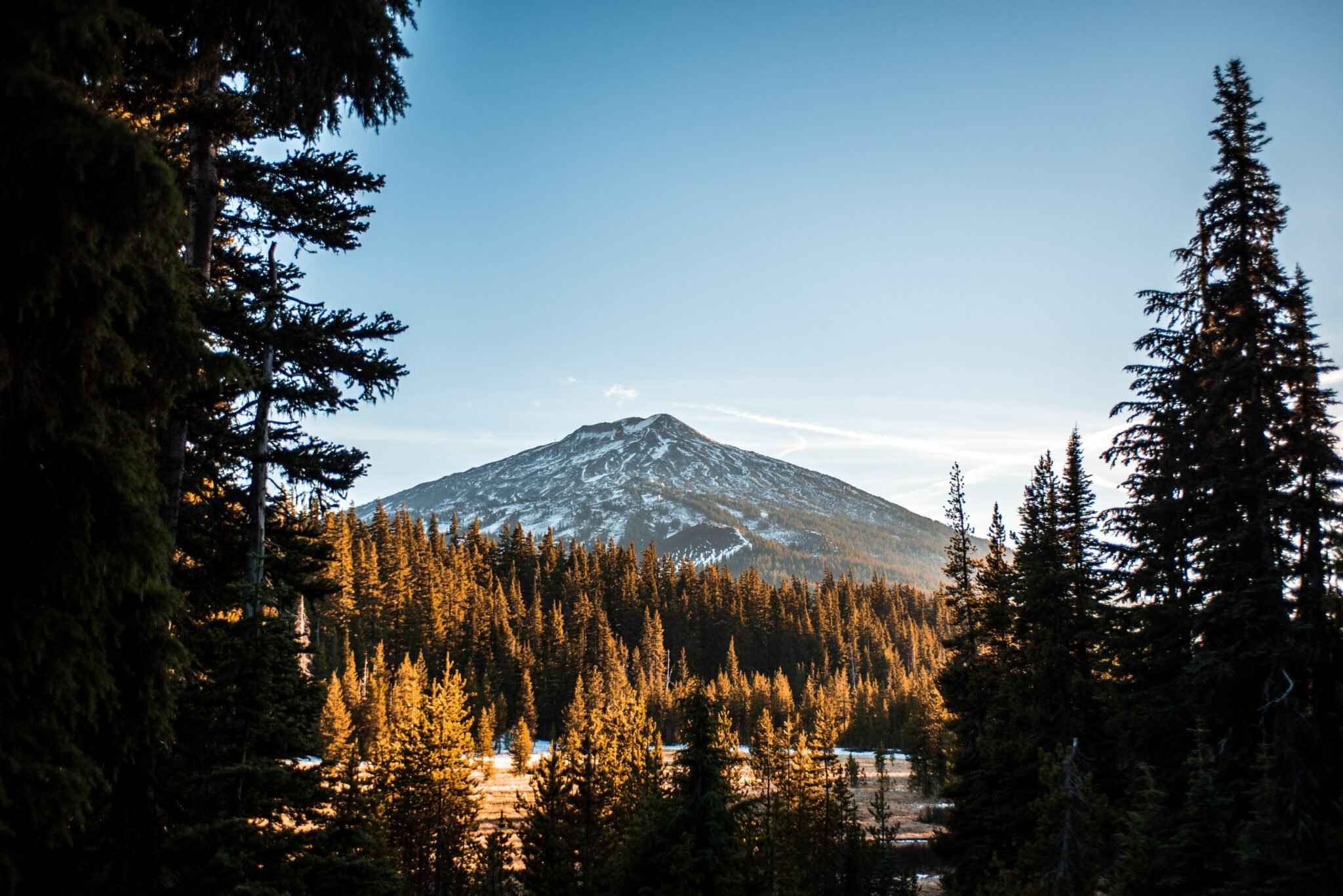 6. Ski Mount Bachelor
Mount Bachelor is the 6th largest ski resort in North America with over 101 runs to tackle. If asking or snowboarding is your thing, you'll love spending a day on the slopes here! Because Mount Bachelor is a volcano, that means you can ski down every direction on the mountain – how cool is that?
7. Bend Brewery Crawl
Hey, drinking local craft beer is, like, one of the mandatory Bend things to do! The city is a haven for local craft breweries, cider houses and distilleries. Robin and are I major beer fans (hey, we did grow up in Wisconsin after all!)
The Bend Ale Trail has a whole website to help you find all the breweries, including a Beer Passport complete with a special prize if you complete it. As I've mentioned before, Bend has this fun food truck vibe happening. We found it best to visit breweries at lunch and dinner, grabbing snacks or meals from the trucks to pair with the beer. I share a list of my favorite Bend breweries below (scroll!).
8. Drive The Cascade Lakes Scenic Byway
While the views of Mount Bachelor, The Three Sisters and other mountains are stunning from town, there's nothing like actually being in the mountains. I believe the byway is closed during the heavy snow months, but once it melts you should spend an afternoon cruising the Cascade Lakes Scenic Byway!
This route will take you from Bend up and around Mount Bachelor and past a few beautiful alpine lakes. It takes about 3-5 hours depending on your stops or traffic. We didn't get to drive this on our visit but next time we're in the area I'm making sure we head here (plus pack a swimsuit because I love jumping in alpine lakes for a quick dip!!)
9. Horseback Ride in Smith Rock State Park
About 45 minutes North of Bend is Smith Rock State Park, which is one of the 7 Wonders Of Oregon. This park has towering red rocks, a deep river canyon and tons of hiking or rock climbing trails. It can also get really crowded on a nice weekend day.
Instead of joining the masses on the trailhead, we decided to head to Smith Rock Trail Rides to go horseback riding through the park! Out here away from crowds, all we could hear was the sound of birds and our horses trotting along the paths.
The ranch is located on the East side of the Smith Rock State Park, so as we started our trail ride we were treated to sweeping views of the park with the snowcap Cascade mountains peaking behind the rocks. I's a super unique way to experience the park and a memory I won't soon forget. They only do one trail ride a day, so book this sooner rather than later!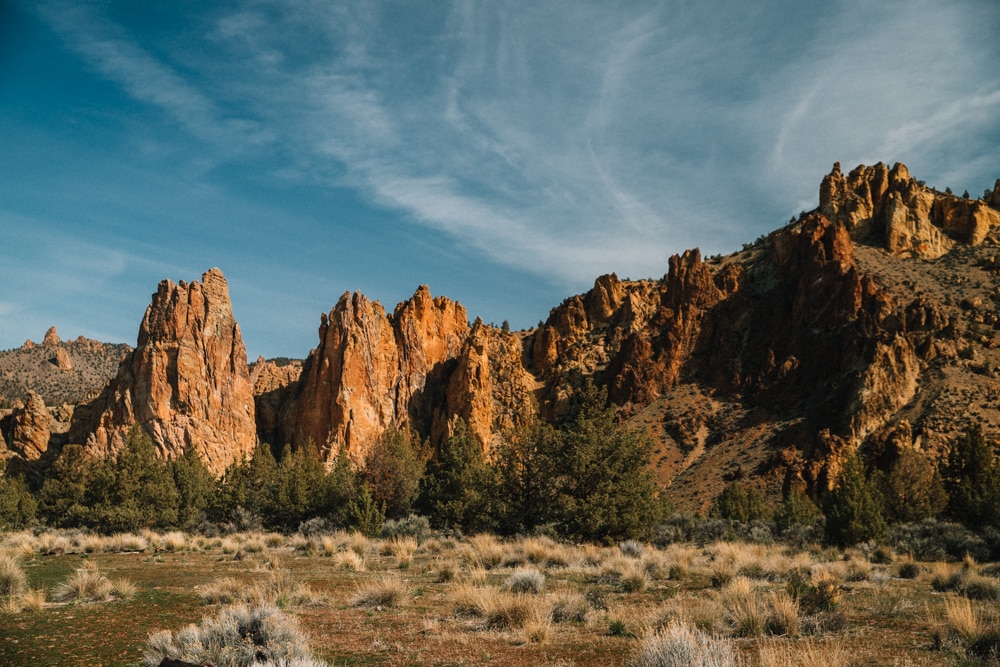 10. Hike Smith Rock State Park
Of course, you can hike Smith Rock State Park!! The most popular trail is Misery Ridge Trail which is a 3.5 mile loop that starts at the main trailhead and takes you up up up alongside a rock. It's straight-up until you reach the top of the rock where you can rest while soaking in the views, then the path is all downhill as you circle back to the trailhead.
If you do choose to come to Smith Rock, I highly recommend you try and avoid the peak hiker times. Come on a weekday if you can. If you have ot do a weekend, try and arrive at the lot before 9am otherwise you will be fighting folks for parking spots.
11. Visit Steelhead Falls
About 20 minutes away from Smith Rock in Terrebonne is Steelhead Falls, a small but beautiful waterfall. The trail is about 1 mile round tip to the falls, and hiking this is easy so if you have kids they should be able to tackle this! We visited in the morning before our horseback ride and had the whole place to ourselves minus one other couple.
12. Hike Tumalo Falls
Another popular waterfall closer to Bend is Tumalo Falls. It's a 97-foot waterfall on Tumalo Creek and while the trail is over 6 miles in total, you only have to hike about a mile in for the waterfall itself. That is, if you visit in the late spring-fall.
During winter, it's common for the road up to be closed for snow. You may have to hike in further in the snow, so plan on bringing shoe spikes or snowshoes. We love these shoe spikes under $30!
13. McMenamins Old St. Francis School Soaking Pool
Do you ever leave a destination and then immediately find something cool on social media that you ddin't get to check out? That's what happened to me. At the airport home I saw a video on the McMenamins Old St. Francis School soaking pool. This pool is located at the historic hotel in a room covered with beautiful artwork and titles. I could see this being a neat spot to soak sore muscles after scrambling through Lava Caves! Totally hitting this spot up on my next trip to Bend.
14. Kayaking
If you follow me on Instagram @thewhimsysoul you know that I love kayaking around Sausalito while home in San Francisco, so I was thrilled to find so many cool kayaking spots around Bend. You can kayak down the Deschutes River in town, head to one of the high Cascade lakes to paddle, to Bend Whitewater Park or Paulina Lake (just to name a few!)
You can rent from Bend Kayak School or take a tour with Wanderlust Tours (they offer a nighttime starlit paddle that looks so fun for the summer!)
15. Go Tubing Down Deschutes River
Nothing more quintessential Bend than a lazy summer Sunday floating down the Deschutes River in a tube. If you're visiting Bend. in the summertime, you need to set aside an afternoon for a float! Throw on your Tevas and swimsuit, and launch on the river.
The city has a shuttle program for $5 so you don't have to worry about your car. You can hop on the shuttle near Drakes Park on the Deschutes River Trail after your float. Next time we're visiting in the summer, I'm totally doing this with Robin!
16. Bend Ghost Tour
As a true crime lover, historic and ghost tours are always a face activity while traveling. We did an awesome voodoo ghost tour in New Orleans a few years ago, but the one in Bend is far superior (the NOLA tour was basically a walking bar crawl with a few legends thrown in.)
Bend Ghost Tours is hosted by a mother-daughter duo who both happen to be talented authors and researchers. This means they are amazing at telling stories about Bend's history that are actually based on fact. This is a great tour to do on your first night in Bend as they'll take you around the historic parts of town and give you a crash course on the city.
And, they let you play with dowsing rods!! You've seen these things – they're the little metal rods that ghost hunters use to communicate with the spirits. I've only seen these on TV or YouTube so it was exciting to finally take a stab at chatting with the dead. Book a tour now!
Want more learning? Check out the
High Desert Museum
which covers the history of the area with photos and exhibits!

17. Paulina Lake Hot Springs
I'm a hot springs junkie (and a swimming hole junkie!) Because Bend isn't in the mountains you won't find deep, lush hot spring pools like at Umpqua, but there is a secret little hot spring on Paulina Lake!
Paulina Hot Springs is a small natural pool with warm mineral water. It's not very deep but perfect for soaking you feet after a long day of hiking. And, you can't beat that stunning view from them!
18. Snowmobiling
Another cool winter activity that's now asking is snowmobiling! This is another fun way to see Mount Bachelor in the peak of the winter season. Central Oregon Adventures offers tours ranging from 2, 4, or even 5 hours out on the trails. During our March visit, the snow levels were quickly melting, but if you're in the area in January or February book a daytime tour with them!
19. Vector Volcano Arcade Bar
Maybe this should go into the bar/food section but it's such a vibe I had to put it as it's own thing the Vector Volcano Arcade Bar is, well, what it sounds like: a room full of vintage arcade games for you to play. But they also serve beer for us grown-ups.
It's $6 for an hour of free play. They have classics like Pac-Man but also super old ones like Atari that I've never actually seen in real life before. (We listen to Ready Player One audiobook recently so it was extra fun to play the games that are featured in the book!) Robin and I swung by here for happy hour on our first night and it was one of my favorite things to do in Bend during our trip.
Best Bend Oregon Breweries, Cider & Cocktails
The craft beer scene is off the hook here, but there are also cider houses and distilleries. I joked about being over-caffeinated and mildly buzzed our entire trip but that's what really happened since there are just so many good spots to check out. Here are our favorites.
Bevel Craft Brewing
Bevel was hands-down our favorite brewery in Bend. If we lived here, we absolutely would-be members and come every week. Bevel has a lot of tasty IPAs but also pale ales, red ales, sours and barleywine. The tap list is always rotating.
But it's the vibe of the venue you'll come for. The owners are big into frisbee golf so it's probably playing on the TV and there's a wall of frisbees you can buy. The indoor-outdoor taproom features tons of picnic tables and patio chairs around fire pits and it's all surrounded by a few food trucks. I got the best poke bowl from Aina.
Crux Fermentation Project
We landed at Redmond Airport and then immediately drove to Crux Fermentation for lunch and a flight. They have a large outdoor patio with stunning views of the mountains and a large fire put for cold days. El Sancho Taco Truck is out back permanently and tacos are just a few bucks so it's a great spot for a budget lunch. Make sure to try a flight (my favorite was the prickly pear gose).
Bend Brewing Company
Smack in the middle of Downtown Bend with a great view of the river is Bend Brewing Company. We loved popping here for a beer (and doggie pets) before our ghost tour.
Crosscut Warming Hut No.5
Over in the Industrial area is Crosscut, a taproom that features rotating taps of local Oregon breweries. This was so fun to be able to sample brews from spots a little too far away or even ones from town we knew we wouldn't have time to visit (I got a pint from Rambler!)
Inside is what I can only describe as an airy luxyr cabin (wood everywhere, tall ceilings with floor-to-ceiling windows, a large fireplace) and the outside is sunny with food trucks. Makes for a good lunch spot!

Deschutes Brewery
I think it's illegal to visit Bend but not stop by Deschutes Brewery taproom. You know Deschutes – they distribute all over the country and probably are most well-known for their Fresh Squeezed IPA that totally hits the spot on a hot afternoon. Their taproom and restaurant are right downtown Bend so pop by for a pint or lunch!
Oregon Distillers
We got to visit Oregon Distillers as part of our Lava Cave Tour (first you cave, then you drink! It's pretty cool). Oregon Distillers makes some dang good American Whiskey, along with gin, vodka and Absinthe. You can order cocktails or do a flight and take home your favorite bottle. Oregon Distillers is located a couple of blocks from Campfire Hotel so you can walk over there!
Bledsoe Family Winery
Robin is a huge sports guy, so he was super pumped to visit Bledsoe (and I never say no to a wine tasting!) The winery was founded by NFL quarterback Drew Bledsoe and sources most of their grapes from Walla Walla Washington. Tastings are $20, they have a nice outdoor seating area to sip on.
Dogwood Cocktail Cabin
Robin and I headed to Dogwood Cocktail Cabin after our ghost tour and it's such a cool spot for a late night drink in Bend. The interior is very dark academia (brick and dark walls covered in paintings, candles dripping wax, moody lights, etc). They serve food, too, but we stuck to their creative cocktails. Our favorite of the night was Absinthe Minded, a cocktail made with CBD.
Tasty Bend Restaurants & Coffee Shops
As I've said at least 7 times now, most breweries have food trucks, which will probably end up being your dinner most nights. But Bend has some really dang good traditional restaurants and coffee shops, too. Here's a short list of our favorite spots!
900 Wall
Two words: truffle oil. 900 Wall serves up New American cuisine (short rib, pastas, pizza, soups, etc)and some dang good cocktails. They have a great happy hour menu that ends at 5:30pm on weekdays so make sure to get seated before then to take advantage! We ordered the deviled eggs(OMG drooling still thinking about them) and I also recommend the prosciutto pizza.
Spoken Motto
It's a bike shop slash coffee shop slash taproom slash food truck garden. If we lived here I would probably take my laptop to work at one if their large wood tables all day. We came here for breakfast one morning to grab coffee and a bite at one of the food trucks outside. We took our time enjoying the atmosphere but they open at 8am if you need to grab and go to hit the trails.
Sparrow Bakery
Everybody in town was raving about Sparrow Bakery so we visited on our last morning and WOW it's worth the hype. Sparrow Bakery doesn't just make baked goods but also offers some tasty breakfast items. That Lox Bagel was probably one of the best I've had in years, and I'm still dreaming about their ooey-gooey cookies… this place gets packed on weekend mornings to budget yourself a little bit of time to visit.
Domaine Serene
Domaine Serene is a wine bar and restaurant. you can come and do a wine tasting either on its own or with your food (how cool is that?) Domaine Serene sources form their vineyards in Oregon and also France which offers a fun experience to compare the different terroirs side by side.
The restaurant building is simply gorgeous, too, with tons of exposed brick and natural light. Honestly, you can't go wrong with anything on the menu but I really loved my Oxtail Pappardelle Ragout. You will probably need reservations for weekend nights.
Miyagi Ramen
Nothing hits the spot on a cold day like ramen. Miyagi is a local's favorite for comfort food and a really good bowl of ramen. They're located in the Industrial area so you can easily pop by Crosscut for beer before or after!
Megaphone Coffee Co.
I saw Megaphone's rainbow wall and cute greenhouse seating areas while driving and immediately pulled over to check it out and grab a coffee. This place surprised me. The inside feels like a beach club as it's super airy with pops of color. Not what I was expecting in Central Oregon, but I loved it.
They roast their own beans here so everything is super fresh and tasty. They also make their own in-house syrups so their lattes are super good.
Weekend In Bend Oregon Itinerary: Things To Do Bend OR Day By Day
Use this to copy our exact itinerary for when you visit Bend! This is a Bend Oregon Itinerary 4 days plan, but you can modify as you need to make it for 2 days in Bend, or 3-day itinerary Bend if you are spending a long weekend here. If you love the outdoors, you'll find so many fun things to do in Bend Oregon.
Day 1 In Bend (Arrival, Breweries, Ghost Tour, Downtown)
12:30pm: Arrive Mid-day either by driving in or via Redmond Airport (25 minutes away from Bend.)
1pm:

Crux Fermentation for late lunch and flight

2pm:

Bledsoe Winery for a tasting.

3pm: Check-in to Campfire Hotel. Unpack & refresh.
3:45pm: Explore Downtown Bend by foot. You can drive to downtown or walk from Campfire. Make sure to pop into some of the stores like The Bend Store!
4:30pm: Happy hour at Vector and $6 free play on games.
5:20pm: Dinner at 900 Wall. Happy hour ends at 5:30pm but they will you order off the Happy Hour menu if you are seated by 5:30pm! It's just around the block from Vector, though will be reservations during busy weeks like Spring Break.
6:30pm: Grab beers at Bend Brewing. Sit out on the lawn to enjoy the view of the river.
7:30pm-9:30pm: Bend Ghost Tours (they meet downtown).
9:30pm: After the tour, head to Dogwood for a nightcap cocktail!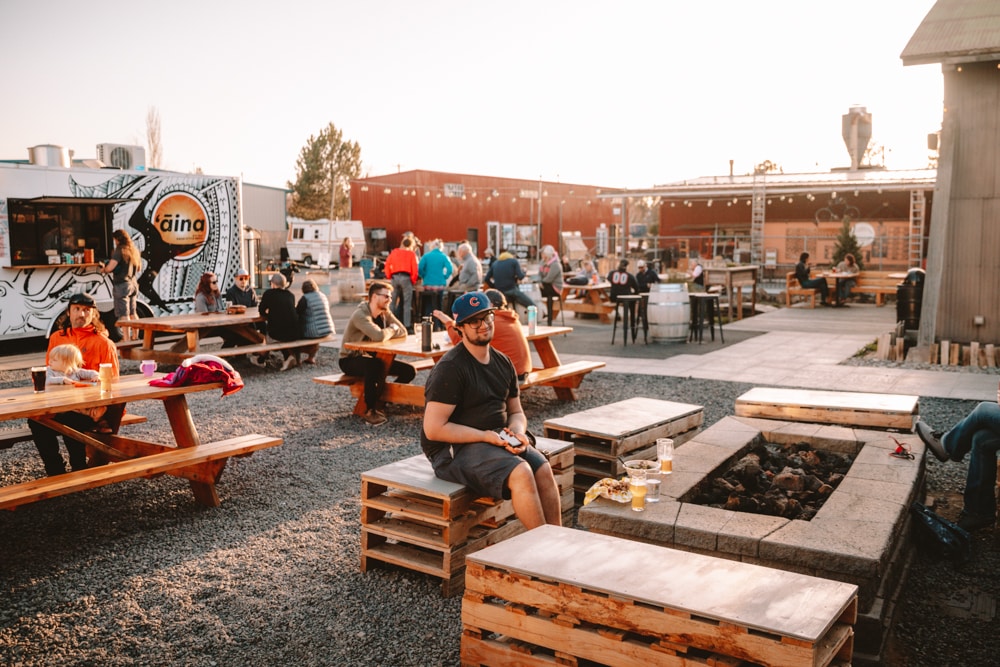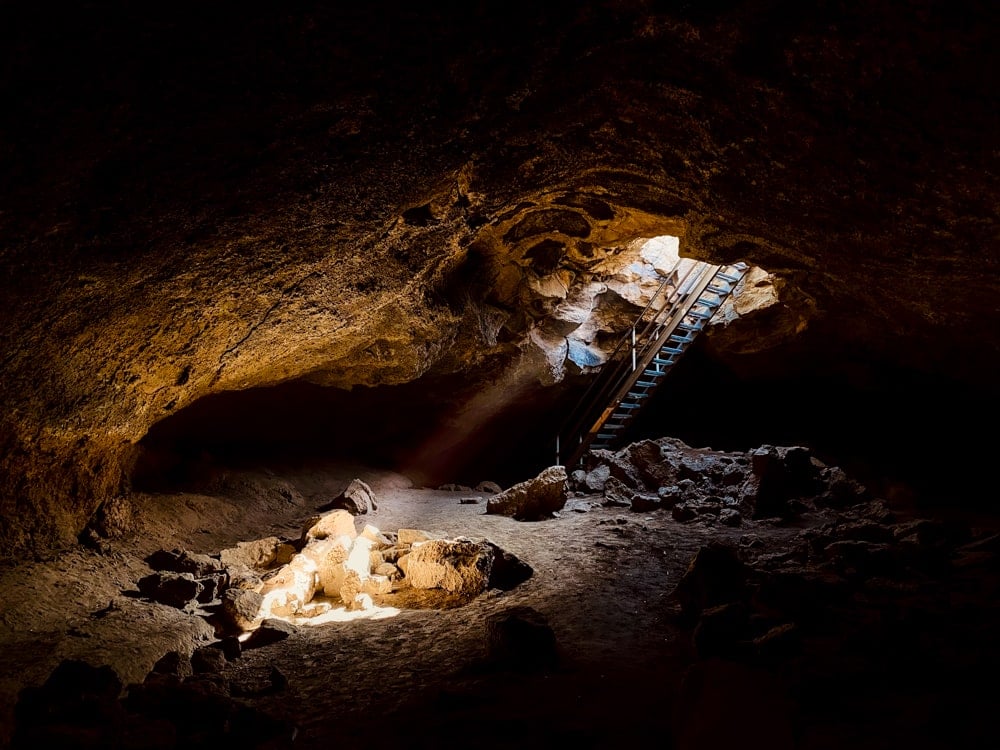 Day 2 In Bend (Pilot Butte, Blockbuster, Coffee Shops, Cave Tour)
8am: Coffee run to Megaphone. They sell small pastries but there's also Kanona Cafe across the street. They make really tasty acai bowls!
9am:

Hike Pilot Butte before the heat of the day sets in. There is no water foundations here so please bring your own water.

10:30am: Visit the last Blockbuster before all the crowds show up. They open at 10:30am (though Google says 11am. It lies!)
10:30am-11:30am: Rest after your morning hike at your hotel. OR, you can use this time to check out other stores you missed yesterday in Downtown Bend. It's full of amazing local boutiques!
11:30am: Head to Downtown Bend for lunch or a late brunch. You should visit Lemon Tree, Sintra or Deschutes Brewery.
12:30pm: Head back to your hotel to change and get ready for caving! Make sure to wear clothes that can get dirty or ripped (no puffer jackets!)
1:30-5pm: Cave tour with Wanderlust. They'll take care of driving you out to the caves and also to Oregon Distillery.
5:15pm: We chose to quickly pop back to our hotel to change before evening activities, though can roll right into dinner.
5:30pm: Dinner and beer at Bevel Brewing. Come ready to eat food trucks and pet lots of local dogs!
7:30pm: Back to your hotel to listen to live music, people watching or soaking in the hot tub. You'll be tired after caving, so take it easy tonight.
Day 3 In Bend (Cascade Byway, Tubing, Snowshoeing, Wine Bar)
8am: Breakfast & coffee at Spoken Motto
Morning:

You have some options here. Depending on the weather and your group you should use the morning to either drive the Cascade Scenic Byway, hike to Tumalo Falls, kayak or go tubing down the Deschutes River! If you are really beat from caving and need ot be more low-key, you can instead walk along the Deschutes River Trail and take more time to shop small businesses in Downtown Bend, then use the mid-day to rest.

1pm:

Lunch and beers at Crosscut (they have a great pizza food truck here!)

Afternoon: Use the afternoon to rest (you will have a long night!) or squeeze in more outdoor activities you couldn't complete in the morning.
5pm: Happy hour and dinner at Domaine Serene. Make sure to set reservations ahead of time!
7pm: Quick stop at your hotel to change into your snow gear for your evening out!
7:30-11:30pm

: Go snowshoeing with Wanderlust tours on Mount Bachelor! Don't forget snow pants, a jacket, gloves and water.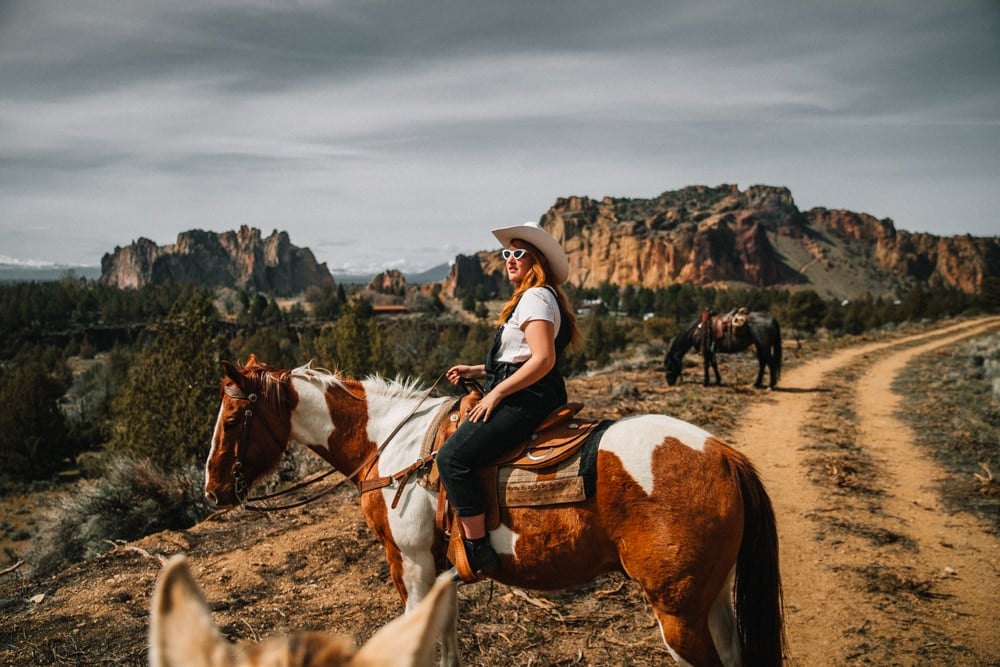 Day 4 In Bend (Pack, Steelhead Falls, Horseback Riding, Head Home)
8am: Pack up and check out of your hotel.
9am: Arrive at Sparrow Bakery and either dine in or take your breakfast to go depending on time.
10:30am: Arrive at Steelhead Falls trailhead and hike down to the waterfall!
11:30am: Depart for the horse ranch at Smith Rock. If you are running ahead of schedule, swing by Smith Rock Visitor Center to see this area of the state park, or even get in a quick walk/hike!
Noon: Go horseback riding at Smith Rock State Park
3pm: After your trail ride, head to Redmond and stop at Porter Brewery for a pint of beer and their famous savory pies.
Head home after your late lunch. We flew out of Redmon which is about 8 minutes from Porter, so it was easy to return our.
Frequently Asked Questions About Bend Oregon
How To Get To Bend Oregon?
The best way to access Bend is either by car or plane. We flew into Redmond Airport on this trip, but we also drove through as part of our van road trip itinerary a few summers ago. If you're doing a big Oregon road trip plan on stopping in Bend for a couple of days on your way to the Oregon Coast or Crater Lake National Park.
How Many Days Should I Spend In Bend?
Once you get here, you'll be hooked on all the foodie spots and outdoor gems to discover. I think you'll want at least 3 days, but 4 makes for a better long weekend. It's also common for families to come up to Bend for a week during Spring Break or summer to take things slower and really unwind.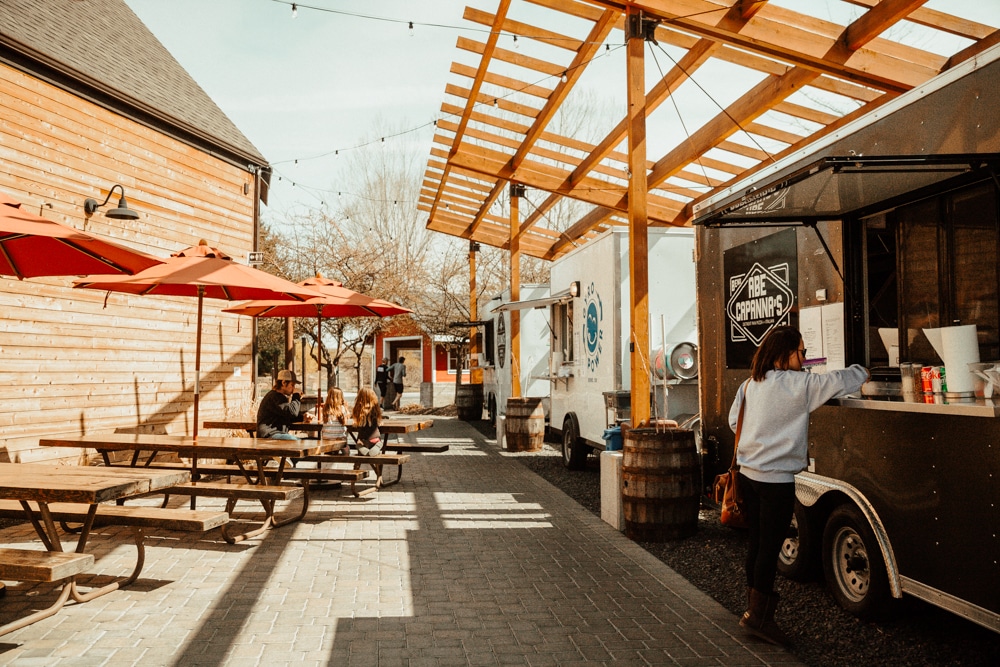 Can I Do One Day In Bend?
If you are short on time and just passing through Bend on the way to someplace else, you can explore downtown Bend in a day. I would plan to stop by a coffee shop, a brewery with food trucks for lunch, leave time to wander downtown and do a hike at Pilot Butte or at one of the Lava Caves.
Morning: Spoken Motto coffee + breakfast, then wander downtown Bend
Mid-Day: Hike Pilot Butte, grab lunch at Bevel
Afternoon: Explore a Lava Cave and then continue onwards.
Top Free Things To Do In Bend Oregon?
If you are looking for cheap things to do in Bend, you're in luck. A lot of the outdoor activities are totally free. Hiking Pilot Butte is free (no fee or parking fee), so is visiting Boyd Cave and other Lava Caves (no parking or entrance fee if you do it on your own.) You can drive the Cascades Byway without paying a toll, though many of the lots for waterfalls tend to have a $5 parking fee. But that's not too bad!
What To Do In Bend Oregon At Night?
Bend comes to life at night! Pick any given brewery and It'll be bumping with folks, kids and dogs. A lot of the breweries also have live music on top of food trucks so it's always a party somewhere.
Cool Day Trips From Bend Oregon?
Bend is in Central Oregon so if you're here for a while, it's pretty easy to find fun day trips. These are my personal favorite day trips from Bend:
Umpqua Hot Springs: A fun natural hot springs with various soaking pools. Best to head out early for this one!
Painted Hills: Ready to feel like you're wandering Mars? The Painted Hills are in Eastern Oregon and Bend is the perfect launchpad to this spot.
Crater Lake National Park: About 2.5 hours from Bend is Crater Lake, a beautiful national park featuring the deepest lake in the United States! Snow melts late here and it's not uncommon for it to still be in single-digit degrees in June. So, pack accordingly!
Got more fun things to do near Bend Oregon? Tell me in the comments below!
What I Can Do In Bend Oregon With Kids?
Almost everything! We visited during Spring Break so there were kids out of school that week, and we noticed how the parenting culture in Bend leans towards "bring your kid with you". In the evenings, brewery patios had children making friends and running around with the dogs.
During the day, we saw them on hiking trails and even a mom & young son duo on our Lava Cave tour. I think Bend is a great place to travel with kids.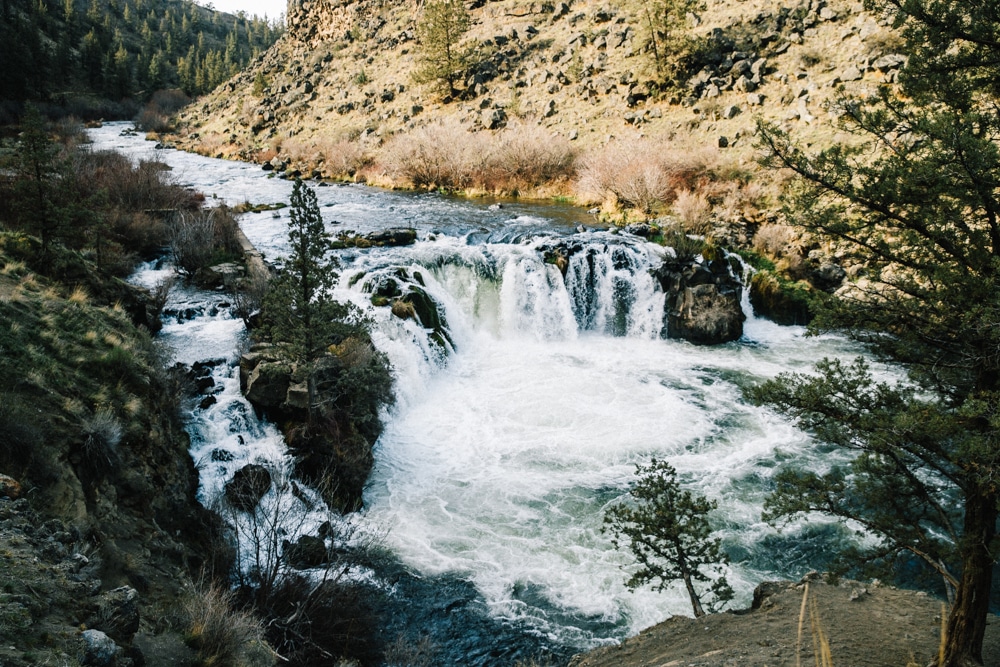 I hope this helps you find all the best things to do in Bend Oregon! If you made it this far, you are a true champ. If you have tips to add, please drop a comment below so everyone can see. Questions? Drop a comment or DM me on Instagram @thewhimsysoul and I'll try and help you out.
More PNW Posts You'll Love