Copenhagen is one of my favorite cities in the entire world. I just got back from a summer living in Denmark where I spent every day running around the city finding all the best hidden gems, visiting castles, eating tons of herring and swimming in like, all the harbor baths I could find.
I'm American, not Danish, so I can't call myself a local but this is basically the perfect Copenhagen itinerary from an almost local, along with tons of tips so you can have the best trip possible.
I can't wait to show you my favorite corners of this beautiful old city when you come for a weekend in Copenhagen!
Copenhagen, Denmark At A Glance
Best time to visit:
Winters get very little daylight hours. The Christmas markets are beautiful, and autumn gets fall colors but summer in Copenhagen is the most magical in my opinion.
Where To Stay
:
Hotel Admiral
near Nyhavn
Top Danish Foods To Try
: Rhubarb and elderflower anything (usually in drink or pastry form), Gammel Dansk, smørrebrød (open-faced sandwiches), Faxe Kondi soda.
Top Unique Activities
: a
sunset GoBoat
rental around the canals,
swimming in harbor baths
, visiting Christiansborg Castle, finding all the
Thomas Dambo wooden trolls
.
How To Get Around
: The city is super walkable. You can rent a bike via
Donkey Bikes
but I love the metro system. It's fast, cheap and affordable.
Save Money
: by buying the
Copenhagen City Card!
(More on this later).
How To Get To Copenhagen From the Airport, Train Or Bus Stop
PLEASE TAKE THE TRAIN 🚂
I can't stress enough how wonderful the Copenhagen metro system is so I'm putting this at the top of the post in big letters. I even made a viral joke on TikTok about how San Francisco's public transportation (where I live) sucks so hard compared to Denmark.
There is absolutely NO NEED to take a taxi while you are in Copenhagen. You don't even need to rent a bike, but you can if you want to (Donkey Bike is a great app!)
Airport To Copenhagen: If you're flying into Denmark, just follow the signs for the Yellow Line / M2 train. You'll find ticket machines near the train platform where you can easily purchase a single ticket or, which I recommend, a 3-day pass. Then, you just hop on the M3 train and ride it about 20 minutes to Downtown Copenhagen. It's that easy!
From A Train Or Bus:

Most likely your train or bus will be dropping you off at Copenhagen Central Station aka København. Congratulation – you're downtown Copenhagen already! From here you can hop on any bus or local train to get to your hotel, or can probably walk to it as most hotels are near this area.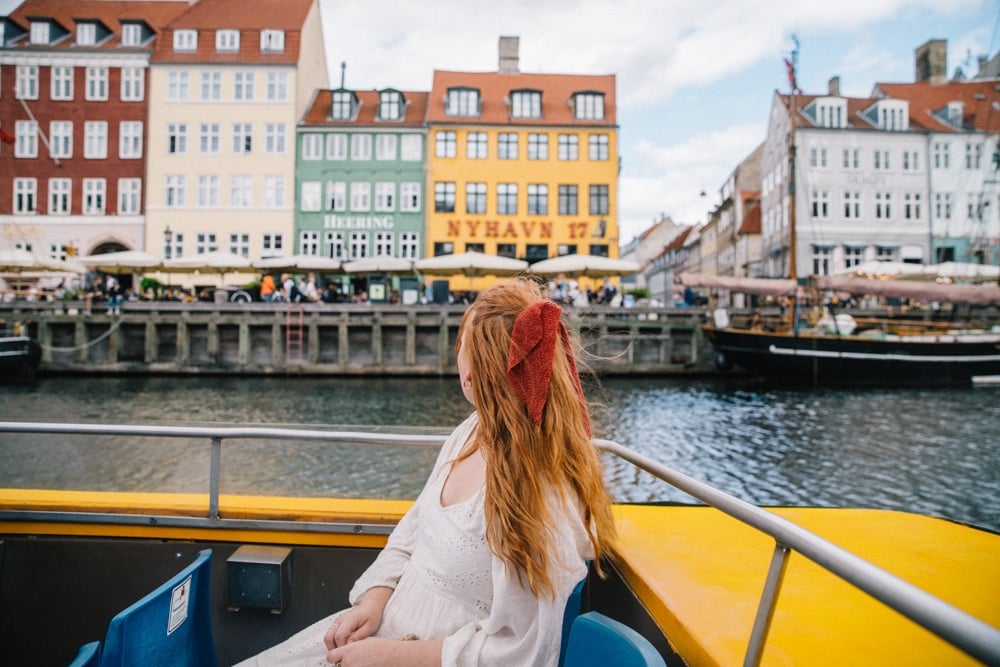 Save Tons Of Money With The Copenhagen City Card
Another must-know travel hack is using the Copenhagen City Card. You pay an upfront fee for the pass, but then can use it to access museums, tours and public transportation for free.
It's such a good deal and has almost all the best sites included on it! And it also has public transportation so if you buy this, you won't even been to buy a train ticket at the airport.
You can download the card on your phone or head to the local tourism board office across the street from Tivoli Gardens to pick a physical card up. Just show to barcode at museums or tours to get in for free. And, there's no need to scan it on the train. If a ticket attendant comes by, just show them the barcode. It's that easy!
We used this pass for our first 3 days in Copenhagen when we moved and had so much fun visiting all the museums, castles, learning more about the Danish Royal Family, seeing the crown jewels, taking canal tours and getting a crash course of the city without breaking the bank.
I think we ended up saving about 500 euros since we squeezed a lot in! Get your pass now.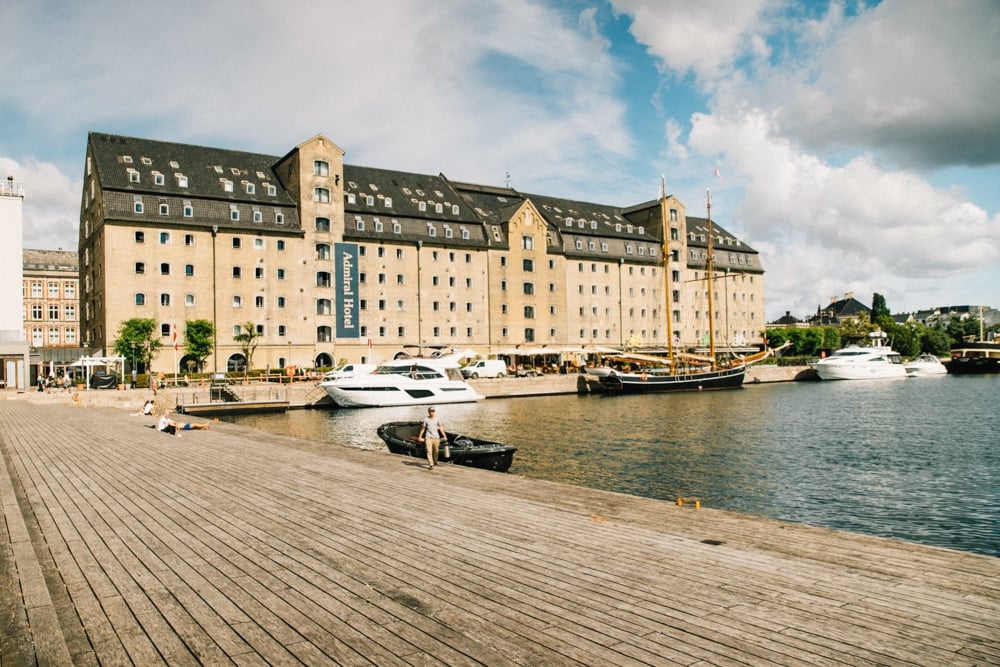 Where To Stay In Copenhagen – Best Hotels & Lodging
The nice thing about Copenhagen is their metro is so on point, meaning you can stay further out from the city center if you wanted to and it won't really impact your itinerary for Copenhagen. That being said, staying closer to city center will be the most fun as you can walk to many of the sites. Here's my chosen Copenhagen hotels:
Hotel Admiral: A beautiful hotel right on the harbor, with many rooms overlooking the water! Our friends stayed here when they visited and they loved how close it was to Nyhavn and Kongens Nytorv for getting around the city quickly.
Hotel Danmark: This hotel is just down from City Hall Square and the Rådhuspladsen metro stop. It's modern, trendy and has a bangin' rooftop bar. You can see the towers of Copenhagen City Hall and Tivoli roller coasters from the rooftop!
Urban House Copenhagen: This is one of the top rated hostels in Copenhagen with rooms usually around $30 USD. They provide breakfast, have 24/hour front desk staff and are located nearby Tivoli.
Ok, now onto the good stuff – what to do!!! At the end of this post I do answer frequently asked questions (like, do I need to speak Danish) so don't skip over that.
Your Ultimate 3 Days In Copenhagen Itinerary
Please modify this based on weather and what time of year you are visiting! Keep in mind, the sun rises around 10am and sets around 3pm in the winter, while in the summer it rises around 4am and sets around 11pm. You'll be working with varying daylight hours depending on when you are visiting Copenhagen.
Day One In Copenhagen: Canal Tour, Museums, Christiansborg, Nordic Meals
After you check into your hotel or hostel, freshen up, put on comfy walking shoes and head out to the city for site seeing! Make sure you have your Copenhagen City Card on you.
Morning Copenhagen Canal Tour
Location: Ved Stranden (kitty corner to Gammel Strand metro entrance)
Cost: Free with the city card or 99 DK (reserve here)
I think the best way to start off your 3 day Copenhagen itinerary is to take a canal tour which are open daily for tours!
The city is actually very much a water city with tons of canals, lakes and harbor access. There are two major companies that do canal tours, both attractions are included on your city card (but are really cheap if you didn't get the card, about $13 USD!)
I'm usually not a massive boat tour person but man, these are fun. The boats are large so it's easy to find a good "window" seat and see tons of the major city sites from the water while getting a crash course on the history of each location.
It's a nice way to start the morning as the tours are an hour long and you get to just sit and relax (you can bring coffee on board!) You'll cruise past the Old Stock Exchange (which looks like dragon tales to me), multiple palaces, the old library and so many more sights that are extra fun to view from the water.
And, this is a secret hack to see the Little Mermaid Statue from the water without all the crowds! All the tour companies will swing by Edvard Eriksen's Little Mermaid statue, the famous statue based from Hans Christian Andersen's story and a must-see when visiting Copenhagen.
And yes, just like the Mona Lisa, she is smaller than you expect but we still love her.
Pro-tip: The Little Mermaid (aka Den Lille Havfrue) is located in Kastellet park, a really cool park that's shaped like a star located near Østerport. It has a beautiful windmill in the middle and it's worth a stop if you are doing really good on time or if you are staying longer than three days. There's a lot to see in Copenhagen and this park is big!
Christiansborg Palace Tour (Aka Christiansborg Slot)
Location: next to Gammel Strand metro entrance
Cost: all tours free with the city card or 160 DK (tower tour is free always)
After your canal tour, just head literally across the street to Christiansborg Palace! This is not your average palace.
While living in Denmark, we did a weekend trip to Oslo and also a 3 day trip to Stockholm and had a chance to visit the royal palaces in all three Scandi capitols. The Christianborg Palace is by far the coolest, prettiest one of the three.
You won't know it from the outside, but the Royal Reception Rooms are stunning. Tons of color, murals and ornate details.
And THAT RUG. Dear lord, I adore this one rug in the reception rooms (pictured here) it's so vibrant and nothing like I've ever seen in a castle before.
The palace tour is broken up into sections. You can visit the reception rooms, royal kitchens, the tower (always free without tickets), the ruins under the castle and also the stables.
The latter only have horses for part of the year. In the summer they go out to pasture so they were not home when we visited (*sobs*)
The tower tour is ALWAYS free to anyone during palace opening hours. You'll spot the line to go up next to the elevator in the main entrance.
They only have tours at certain times of the day, so check online to make sure one is happening when you visit. Or, come back later when they are letting people up. The view from the top is stunning.
Pro-tip:
use the
Useeum app
to play a mystery scavenger hunt in the palace! It's made for kids but it's really fun for adults, and they have mysteries to solve in many places around the city. I think solving this mystery helped us connect better with the little details of the palace. Trust me –
Download it!!
Nordic Lunch At Restaurant 1733
Location: Nybrogade 14, across the street from the Palace
Cusine: Modern Nordic & traditional Danish
By now you'll probably be hungry. Walk about a block down the street to Restaurant 1733 for a traditional Danish lunch! This is a darling restaurant with indoor seating, but also some outdoor tables that overlook the palace and canal (score!) They serve modern Nordic dishes. I recommend ordering a sampling of herring to try a lot of different flavors (my favorite was their curry herring!) and also a smørrebrød to get a true taste of local flavors!
National Museum Of Denmark
Location: Prince's Mansion, Ny Vestergade 10 (across street from Palace)
Cost: entry free with the city card or 110 DK
The National Museum of Denmark is THE place to learn all about not only Denmark's history but world history as well. (They were housing a near Asian history and New Mexico exhibit when we visited!) But of course, this is a standout spot to learn a lot about the Viking Era.
Robin, my husband, is really into learning about Vikings lately. We actually started watching the TV show when living in Copenhagen and I was surprised to learn how much of it was accurate after seeing the Viking exhibit at the national museum. It's cool – there's a large Viking ship, tons of artifacts, incredibly real-looking statues and a short film. The latter is done really well and I highly recommend you watch it (about 20 minutes long).
Climb The Round Tower (Aka Rundetårn)
Location: Købmagergade 52A
Cost: free with the city card or 40 DK
Smack in the middle of one of the busiest shopping trees in Copenhagen is The Round Tower, which looks exactly like its name. It's a tall circular observatory tower that Christian IV in the early 17th century at a time when Denmark was famous for its astronomical achievements thanks to the astronomer Tycho Brahe. It's actually the oldest observatory in Europe!
Yes, you do have to climb all the way to the top but there's very few steps. Most of the spiral up is a gentle slopping flat surface, which is super unique and nothing like I've seen before. Once you do make it to the top, you'll be rewarded with a stunning view of Copenhagen!!! That's why it's nice to visit in the evening for golden hour or sunset.
Not ready for dinner yet? Head up a block up from the Round Tower to Kultorvet Square. There's a few charming bars with patios on the square here. Grab a drink at one of them for happy hour!
Dinner At Det Lille Apotek
Location: Store Kannikestræde 15 (block down from the Round Tower)
Cuisine: hearty Danish and European dishes
Must reserve online in advance!
This is the oldest restaurant in Copenhagen! So yes, it does attract a lot of tourists but I promise you, the food is amazing here and it's such a cool experience. Det Lille Apotek ("the little pharmacy" in English) was built in 1720 and little has changed since. The ceiling are short and the walls are covered in paintings, some the originals that were there 300 years ago. It really feels like you are stepping back in time here.
It's a popular spot for dinner, so make reservations online in advance. If you eat meat, I highly recommend their Weiner Schnitzel. We've spent time in Munich and don't tell the Germans, but this is the best Weiner Schnitzel I've ever eaten. You also should try their housemade Rhubard Snaps! I had three of them.
Day Two In Copenhagen: Brunch, Gardens, Castles, Christiania, Trolls And Food Markets
Good morning! Stuff your travel bag with whatever you need for the day out, because we have too many more cool things to see!
Breakfast On The Lakes At Cafe Livingstone
Location: The Lakes
Cuisine: Global tapas dishes with a focus on Danish
Must reserve online in advance!
Ready to eat?! Cafe Livingstone is my favorite breakfast and brunch in Copenhagen. It sits right on the shores of The Lakes. And no, not the lakes Taylor Swift signs about, but they are equally as pretty. This spot serves tapas, with each person getting 5 plates so if you're coming with a partner or friend you can choose between 10 dishes!
Expect familiar items like eggs benedicts but also dishes like squash pancakes with spicy ricotta cream, cardamom waffle or Emmentaler and blue cornflower with olive tapenade. It's the perfect place to fuel up for a long day of exploring.
Rosenborg Castle (Aka Rosenborg Slot)
Location: Øster Voldgade 4A
Cost: all tours free with the city card or 125 DK
After brunch, stroll around the lakes and head to Rosenborg nearby for a self guide tour of this 17th-century castle. Unlike Christianborg, Rosenborg Slot looks like what you envision an old castle to look like. Tall towers, lush gardens surround it, and the inside is full of heavy furniture, dark walls and many, many portraits of past kings.
The upstairs has a large throne room and in the basement, you can view the Royal Danish Crown Jewels (hence all the gaurds you'll see in the castle and extra strict security to enter.) One of these crowns are over 11 pounds (imagine having to wear that on your head!)
Needless to say, this castle is packed with Danish history and art and shouldn't be missed. Don't forget to swing by the rose gardens, it makes for a great photo opp from the angle.
Pro-tip:
If you really love art, visit the
Statens Museum for Kunst
next! It's the National Gallery for Denmark and kitty corner to Rosenborg.

Copenhagen Botanical Gardens
Location: Gothersgade 128
Cost: entry free with the city card or 105 DK
Right next to Rosenborg are the Botanical Gardens which are home to Denmark's largest collection of living plants (over 13,000 plant species are here!) It's most famous for the Palm House building, a large glass greenhouse that looks a lot like San Francisco's Conservatory of Flowers to me (an equally beautiful building!)
Find the little spiral staircase inside for photos and enjoy the tropical vibes. It's especially nice to visit in the wintertime when it's cold outside but warm inside the Palm House!
Lunch At Torvehallerne
Location: Frederiksborggade 21
Cuisine: Food stalls (so everything!)
Now, time to walk over to Torvehallerne for lunch! This is such a cool indoor/outdoor food stall market full of street food from all over the world. There's Japanese, Danish, Mexican, and Italian, along with vendors selling pastries, fresh squeezed juices and fresh seafood.
Take time to wander around to see what catches your eye. But, if you want a pointer, try the fish cakes at Boutique Fisk, they're famous.
Danish Home Design Shopping
Even if you don't intend to buy anything, you need to stop by a few home and interior stores. Danish design is some of my favorite home styles in the world and often gets mistranslated by Americans (it's not black and grey but rather very colorful!)
There's tons of beautiful shops in central Copenhagen you simply must swing by. Head towards Strøget from Torvehallerne as there are many stores located in this stretch of walk. My favorites are:
Studio Arhoj: A stunning ceramics and glass shop where everything is made in the store so it smells amazing. I brought back two glasses!
Hay Design: My favorite home design store in the city. I wanted to buy everything here (but only took home a cute mushroom lamp instead of the whole store).
Royal Copenhagen: The Royal Porcelain Factory has been making porcelain since 1775 and you can still shop these styles today. This store has attainably priced sets, but also collectible items. They're all so pretty to look at!
Illums Bolighus: This is a huge 5 story department store featuring JUST Scandi home brands. You can find everything you want here and it's easy to get lost looking at all the cool things!
Climb The Church of Our Saviour Spire
Location: Sankt Annæ Gade 29 (near Freetown Christiania)
Cost: entry free with the city card or 65 DK
Next, walk over to the Church of our Saviour tower aka that big brown and gold twisted church tower you can always see in the distance. This church took a while to build, starting in 1639 but wasn't finished with the tower until 1752.
It's still a working church, and the tower is open to the public to visit. Climbing the Spire is one of the most adventurous things to do in Copenhagen and not for you if you're afraid of heights. Usually, I'm fine, but this scared me and I wasn't able to complete it. But Robin, my husband, did go to the top (he's brave!)
Inside, it feels a lot like Quasimodo hanging out in the rafter of Notre Dame. You'll pass by abandoned layers with old clock parts, sculptures and giant bells. Even if you don't go to the out layer (heights!) it's worth the visit for the inside.
Explore Freetown Christiania
Just down the street from the Church is Freetown Christiania, aka the Green Light District. This is a funky place. See, Christiania is located in the Danish capital city but is a different city… kind of.
They go by their own rules and don't consider themselves part of Denmark (you'll even see an "entering the EU" sign when you leave).
Some people feel uncomfy after visiting Christiania (I mean, they do openly sell pot here and sections of the city don't allow photos) but I loved it. It's full of gardens, trees and art. There's a free public library, recycling center, a skate park and shops. There's a sense of culture and community here.
And, it's home to Green George, one of Thomas Dambo's famous wooden trolls!! I grew up in a troll town (for real) so I loved visiting all the trolls in Copenhagen. Green George is the easiest to find as he's smack in the front part of Christiania. Come say hello to him!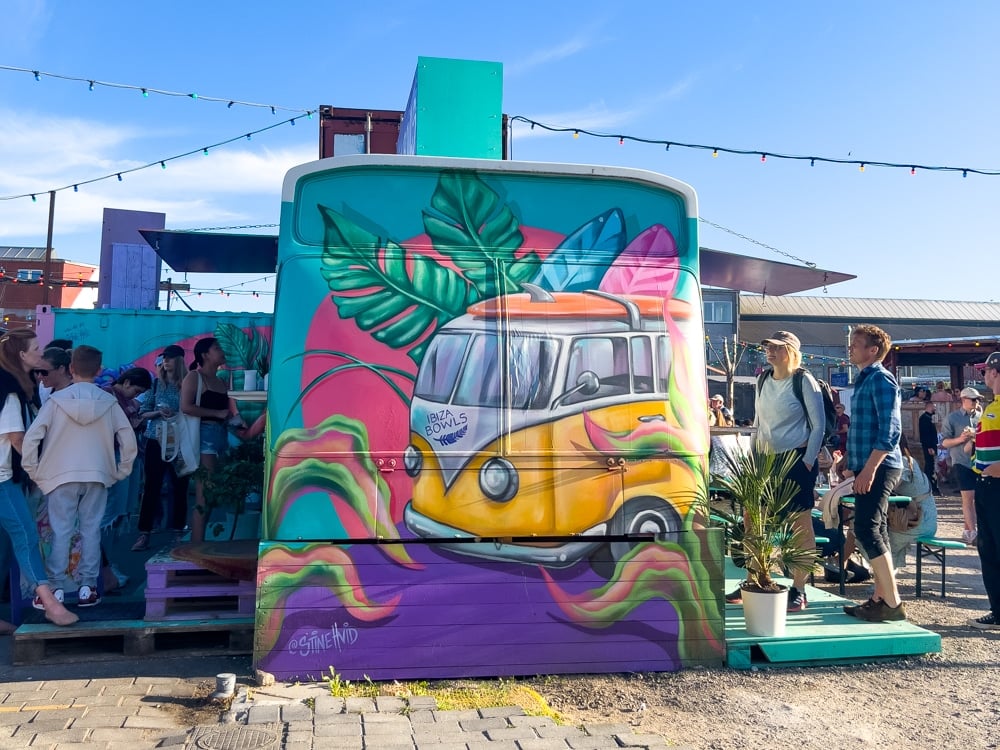 Dinner At Reffen
Location: Refshaleøen
Cuisine: Food stalls (so everything!)
Trying to figure out what to do in Copenhagen tonight? Head to Reffen, one of the largest outdoor food halls in town! Just hop on the 2A bus and it'll take you from Christiania right to Refshaleøen and Reffen.
This is one of the coolest spots to eat and hang in Copenhagen. It's full of food stalls with cuisine from all over the world, along with wine, cocktails and beer huts. There is a little harbor swim area here if you fancy a dip and usually live music on weekends.
If you're visiting Copenhagen around the summer solstice, Reffen always does a huge midsummer bonfire that's really fun to attend (I went and it was a blast kicking it with the locals and singing songs!)
Day Three In Copenhagen: Hygge, Amalienborg, Nyhavn, Harbor Swim, GoBoat, Tivoli
*snif* time to wind down your weekend in Copenhagen trip. On your last day, here's what I recommend you do.
Optional Morning Hygge Walking Tour
Location: Meets in Nyboder
Cost: $60 USD (book now)
If you're a morning person, join this hygge happiness walking tour! You'll learn about and experience the Danish art of Hygge firsthand from a local.
They'll also take you to a cafe to have a coffee, pastry and Danish flødeboller, a local treat. This tour usually takes place around 9am in the morning, so it's a great way to kick off the day! This tour takes place no matter Denmark weather throws your way, so be prepared with a rain jacket just in case.
Amalienborg Palace
Location: Amalienborg Slotsplads 5
Cost: entry free with the Copenhagen card or 125 DK
Amalienborg is where the current Danish royal family lives, so it's a must see in Copenhagen! The Palace is sprawling, with matching 4 buildings circling a central plaza.
You can tell when a member of the royal family is home since a flag will be waving on top of their building.
You can't go in their private homes but you can visit the Amalienborg Museum to get a first-hand experience of the roayl family's way of life.
And, at the time of writing this article and when we visited, they have the Queen's Jewels on display here!
This is the first time in 50 years they have been brought out for the public to see! I loved listening to the audioguide and learning about the history and significance of everything Queen Margrethe II wears, from small broaches to large crowns.
As an American who wasn't very familiar with the Danish Royal Family (our country is obsessed with the British Royals) I really valued seeing faces to names and learning more about the Dansk family, country history and important life moments.
The Marble Church / Frederik's Church
Location: On top of the Marmorkirken metro station near the palace
Cost: entry is free
The Marble Church, aka Marmorkirken in Danish (hence the name of the metro stop it sits on top of) is a huge, beautiful church that looks a lot like Rome's St. Peter's Cathedral. It's totally free to visit and there is no dress code to enter. You won't need long, maybe 10 minutes, to slip in and soak up the beauty of this dome.
Lunch (3 Options)
For lunch, there are three nearby options I think would fit really well into your Copenhagen itinerary:
Broens Gadekøkken: My top pick. It's a rad outdoor food market just across the water from Nyhavn. I especially love the gyros here and it's best for a cheaper lunch with a lot of choices.
SALT: This is an upscale restaurant serving things like scallops, short ribs and has over 400 wines available. My friends ate here and said it was one of their favorite meals during their visit!
Havfruen on Nyhavn: Havfruen is one of the restaurants on Nyhavn's colorful building block! They're best known for seafood and Danish dishes! We had lunch here one day and loved the chicken smørrebrød, though it is a bit pricey because of the location.
Ice Cream On Nyhavn
No matter where you eat lunch, swing by Vaffelbageren Nyhavn after for a famous ice cream on top of a Belgian waffle! Bonus points for marshmallow cream on top (it's so good, trust me!) Pop into this little ice cream shop and then take your treat to the other side of the canal and sit along the water for a great view of the colorful houses as you snack.
Swimming In The Harbor
Location: Islands Brygges Harbour Bath
Cost: Free
Swimming in the Copenhagen harbor is a beloved local tradition. When I was there, I made it a mission to visit all 14 harbor baths for sunny summer swims. Most are open year-round, though summer is the most enjoyable time to take a dip. Some of my favorite memories of Denmark was swimming in the city harbor, so trust me when I say this is a must-do!
Grab your swimsuit and towel, and take a classic Copenhagen city break at Islands Brygges Harbor Bath! You can jump off a tall diving board or stick to the laps pool. Feel free to bring a book, beer and snacks to make it an afternoon hang.
Pro-tip:
If you're visiting in the winter and don't want to brave the freezing water (I don't blame you) but you still want to try the art of cold plunging, I have two options for you. Either rent out the sauna at
La Banchina
, a restaurant that has a private pier for harbor swims. The water doesn't hurt as much after sitting in a 190-degree sauna. Or, you can rent a
CopenHOT
tub!
Anderson Bakery
Location: Thorshavnsgade 26 (near Islands Brygges Harbour Bath)
Cuisine: Japanese-Danish Bakery
Dear LORD this bakery is so dang good. It's right next to the Islands Brygges Harbour Bath, so swing Anderson Bakery by after for a pastry. Or, like we did: a focaccia and three pastries ( I was hungry after swimming!!)
GoBoat Tour
Location: Next to Islands Brygges Harbor Bath
Cost: Starts at 499 DK
Renting a GoBoat for a private canal boat tour is probably the most romantic thing to do in Copenhagen. After seeing these little boats all around the canals during our summer, we finally rented one when our friends come to town. We did the last boat of the day so we timed it for sunset and WOW.
Magic. Enchanting. Dreamy – pick any of these words to describe what it feels like on these things. You can bring snacks and drinks, I recommend a bottle of wine and charcuterie for a little evening picnic for dinner.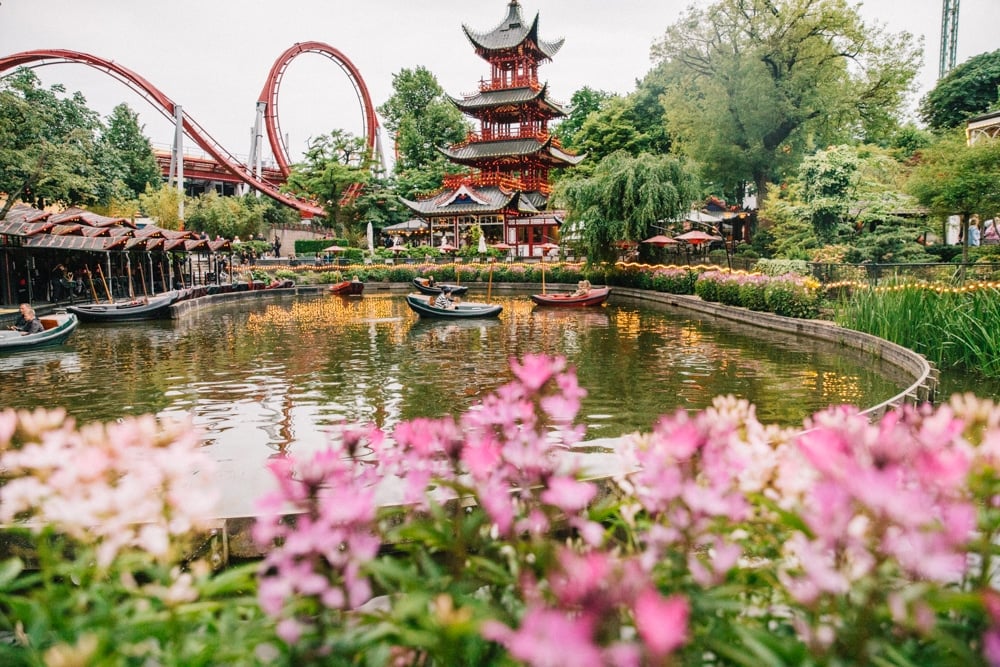 Tivoli Gardens
Location: Vesterbrogade 3, near City Hall Square
Cost: entry free with the city card or 165 DK
When the sun sets, it's time to finally check out Tivoli Gardens, aka the second oldest amusement park in the world. The oldest one is called Bakken and it's located just a short train ride from the city (Danes love their amusement parks!)
Tivoli feels a lot like Disneyland to me, but has a giant food hall, more nature and of course no giant characters walking around. Come for a bite, ride their wooden roller coaster or just simply walk around and people-watch.
Tivoli is especially beautiful at night when all the lights turn on. They also frequently have concerts and events here so don't be surprised if you accidentally run into a big name randomly playing the gardens. I even saw the kick off of the 2022 Tour De France here!
Copenhagen Christmas Markets
If you're visiting in the winter, your Copenhagen 3 days itinerary simply must include a Christmas Market! Danish Christmas markets are beautiful (or so I'm told, I haven't been to one during the holidays yet but it's high on my list!) Come at night to stroll around booths selling Gløgg (hot mulled wine), artisan goods and food.
There's a few Christmas markets in town, one of them is inside Tivoli Gardens so it's easy to add into your itnerary if you're following this. Find a list of all the Christmas markets here.
Day Trips From Copenhagen Denmark
As you can see, you Copenhagen 3 day itinerary is packed enough as it is, but if you are looking to get out of the city one day, or have an extra day or two to spend in Denmark, there are some really neat day trips you can take. Here's my top favorites!
Kronborg Castle (The Hamlet Castle)
Location: Helsingør
Cost: entry free with the Copenhagen card or 145 DK
If you only have 3 days in Denmark as a whole, consider a half day trip from Copenhagen to Kronborg Castle, the castle that inspired Hamlet. This UNESCO world heritage site is a stunning renaissance castle located in Helsingør, a darling seaside town with views of Sweden from the shores.
You can easily take an area S train from Copenhagen up to Kronborg using your Copenhagen Card as a metro pass. It takes about an hour to reach the castle. When inside, I highly recommend joining a free tour. The Hamlet one is especially fun as they will take you to a few areas mentioned in the play that you normally can't access, along with tons of history on the castle.
After touring the castle, stick around Helsingør for lunch before heading back to the city. Stop by the Værftets Madmarked, an indoor food market for over 10 different food stalls. It's really neat in here with tons of mismatched tables and chairs. Then, wander the downtown streets of Helsingør. Pop into shops and take side streets to find colorful, romantic streets that look straight out of a fairytale.
Swim On The Kastrup Sneglen Aka The Snail
Location: Amager Strandpark
Cost: Free
If you're looking for a fun 3 days in Copenhagen in the summertime where all the locals hang, head to Amager Strandpark's Kastrup Søbad harbor bath. It's one of those unique things to do in Copenhagen (er, right outside the city) that you can't find anywhere else.
This unique harbor swim structure is all wood, has tons of diving boards and is curved like a snail, hence the name. Amager Strandpark is one of the very few sandy beaches in the Copenhagen metro area and its popping off on nice summer days. Oh, and you can see Sweden from the shores! How cool is that? To reach this, take the M3 train towards the airport but get off at Kastrup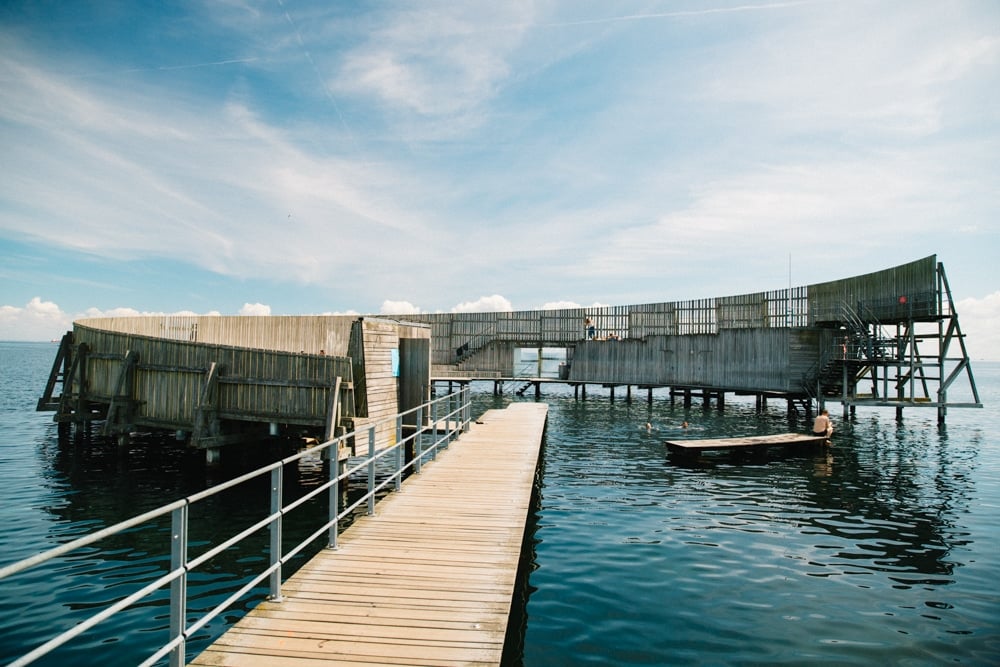 Forest Tower
Location: Camp Adventure at Skovtårnsvej 1, 4683 Rønnede
Cost: 150 DK
The Forest Tower is a beautiful wooden circular structure in the middle of the woods. You'll need to rent a car to get to here, which is why we didn't end up making it even though I really, really wanted to. They have a garden with u-pick flowers in the summer and even glamping tents here!
Roskilde Viking Ship Museum (aka Vikingeskibsmuseet)
Location: Roskilde
Cost: entry free with the Copenhagen card or 125 DK
This is SUCH a cool museum! The Viking Ship Museum is over in Roskilde, another easy train ride from Copenhagen and the entrance is included with the city card! Here you can see 5 real Viking ships preserved on display, along with learning more about Viking history and how the boats are made. Like, they actually have a workshop where the staff is working on a ship at any given time. It's really neat.
But the best part is you can sail on a Nordic ship!! During the summer, they do a few sails a day where visitors can row on a Viking Ship and experience first hand what it may have been like to be a Viking. We of course had to do this as Robin is a huge history nerd and it was super fun. Most people were adults doing it, but it is kid friendly.
Stay for lunch, the cafe here serves modern Nordic food that's actually really tasty. So stay around for lunch before taking the train back!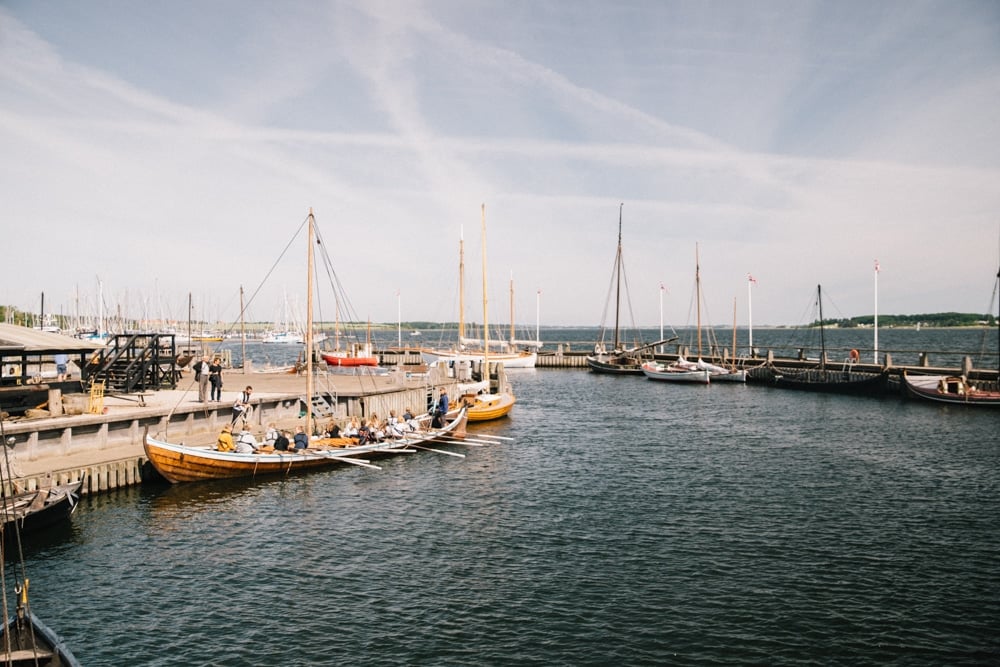 Malmö, Sweden
A fun day trip in Copenhagen you can do is take the train across the bay to Malmö, Sweden! (Pronounce kind of like "Mal-moo" or "Mal-mouh" in English) Again, this leg will be covered by your Copenhagen Card so it's totally for free if you have one.
There's a lot to see in Malmö but highlights include Malmö Castle, a 16th-century fortress built by King Christian III of Denmark, Lilla Torg central square and the Ribersborgs open-air bath. If you can't make it up to Stockholm this is a neat way to check Sweden off your bucket list.
Frequently Asked Questions About Copenhagen In 3 Days
How many days in Copenhagen is enough?
You can totally visit Copenhagen in 3 days and get a great crash course on the city. It's a good spot for a weekend break. But of course, you can spend a lot more than 3 days. Basically, you won't get bored here.
What is the winter weather like?
Northern Europe's winters are chilly and wet. Copenhagen doesn't really get snow, but you do have to keep in mind the long winter night hours make everything feel extra cold. Thankfully, the Danes have mastered hygge so it's not too bad.
Do I need to carry cash on me?
Nope! We never ever had any reason to use Danish Krones while in Denmark. It's a card and app driven city. Some places won't even accept cash, so don't feel like you need to stop at an ATM or currency exchange place while here.
I don't speak Danish – is that ok?
Yes! There is no need to be fluent in Danish to visit. Denmark kind of looks like a glove and is made of up many small islands, but mostly two large ones: Jylland (large) and Zealand (smaller, the region where Copenhagen is). Pretty much everyone on Zealand speaks English fluently and I've found, they really don't like when you try to speak Danish.
Mostly because Danish is a complicated language to learn. I'm told it sounds like Norweigan if you're holding a potato in your mouth while speaking. Basically, it's easy to not speak it well as a visitor and locals actually may not be able to understand you. So, don't feel bad for speaking English!
But, if you do venture to remote villages in Jylland or the small islands, it's not uncommon for them to only speak Dansk. Make sure to have the Google Translate app installed on your phone so you can navigate.
What are the Danes like?
In my experience, Danes are friendly but quiet. Shopping in grocery stores is a very silent activity. They tend to dress in muted or dark colors and love to bike everywhere. But they're nice, respectful and easy to hang around.
Got any 3 days in Copenhagen budget tips?
I can't stress enough how handy the Copenhagen Card is. This will save you tons of money while giving you a proper tour of the best museums and castles. Other than the card, find a hotel that provides free breakfast (they're really good in Europe, no sad waffle machines here!) and walk or take the train everywhere. It's included in the Copenhagen Card so it'll also be free.
For meals, focus on the food markets like Broens or Reffen as you can easily find stalls that have menu items in that don't break the bank.
I hope this helps you find what to do in Copenhagen in 3 days. And if you have more time, please take it. This city is beautiful and has so many fun layers to peel back. I lived here for the summer and spent every day exploring the city and still have so many more things on my Copenhagen bucket list to see.
But for now, this guide should be everything you need to get started. I wrote a novel at this point but if you still have questions, drop a comment below or DM me on Instagram @thewhimsysoul and I'll try and help out. Happy adventures!