Last year I visited Berlin on a girls trip with my travel bestie to hit up Christmas Markets and drink as much gluhwein as I could each night.
Beyond holiday magic, Berlin has tons of hidden gems to discover and is such a fun city to travel to in the winter. You'll find history, wellness, insanely good cocktails, clubbing, museums and enchanted light shows. Plus so much more.
These are all the best things to do in Berlin in wintertime!
Winter Weather In Berlin
December: Berlin in December weather is usually the most mild of the season. It'll be around 40 degrees F in the day and you'll want a good winter coat for the evening but can probably skip the hefty layers.
January: Berlin in January is usually the chilliest. You'll also get less daylight, which will make it feel colder all around. Expect some rain, too.
February: February is a lot like December and will be a little warmer than January! By the end of the month, things start really warming up.
March: March in Berlin is usually in the high 40's F and while it won't start looking like spring yet in terms of blossoms, it will start feeling better.
Need help packing and outfits? These are all the Berlin outfits I wore on my trip with more packing tips!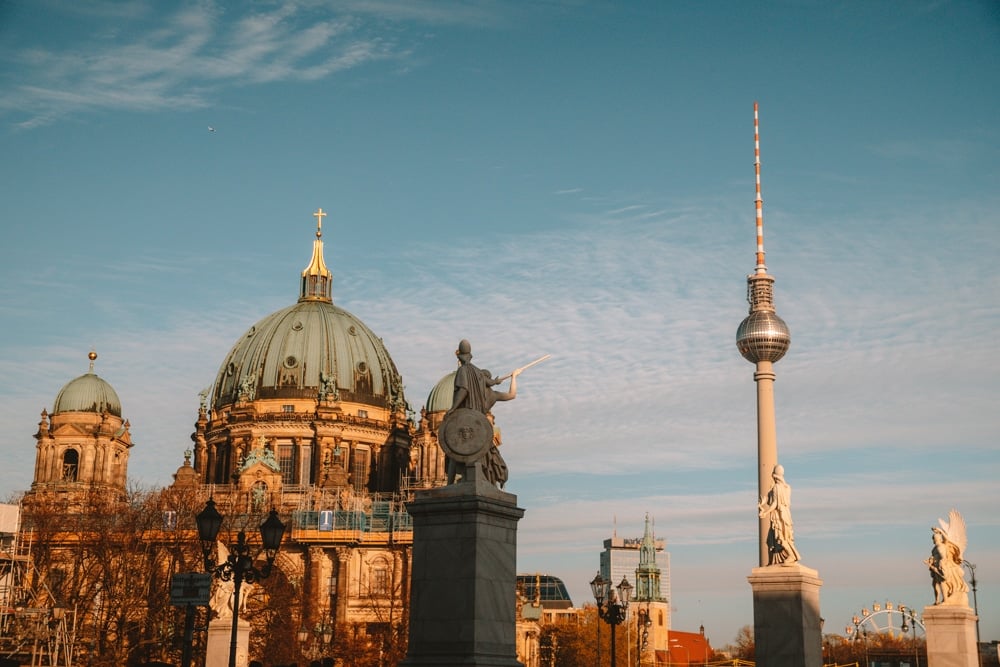 28 Unique Things To Do in Berlin In Winter
There's so much to do during Berlin winter, and here's all the best things to do!
1. Stroll Around Berlin Christmas Markets
One of the best things to do in Berlin in December is visiting this beautiful city's many Berlin Christmas markets (there are more than 70 markets in the city!). You'll be able to grab a cup of mulled wine at one stand and shop local creatives' works at the next, or fill up on tons of tasty German foods at another.
If you're visiting Berlin a little later in the winter season, check out the Sunday Flea Markets at RAW-Gelande. The market is filled with adorable secondhand clothes and antiques, even if you're not shopping it's always fun to just see the market's unique assortment.
The flea market is also situated between many cool clubs, like Cassiopeia Club that holds comedy nights and themed nights, like their tribute to Queen. Berlin's Stilbruch Kaffee is just a walk around the corner and has delicious house roasted coffees and a huge brunch menu.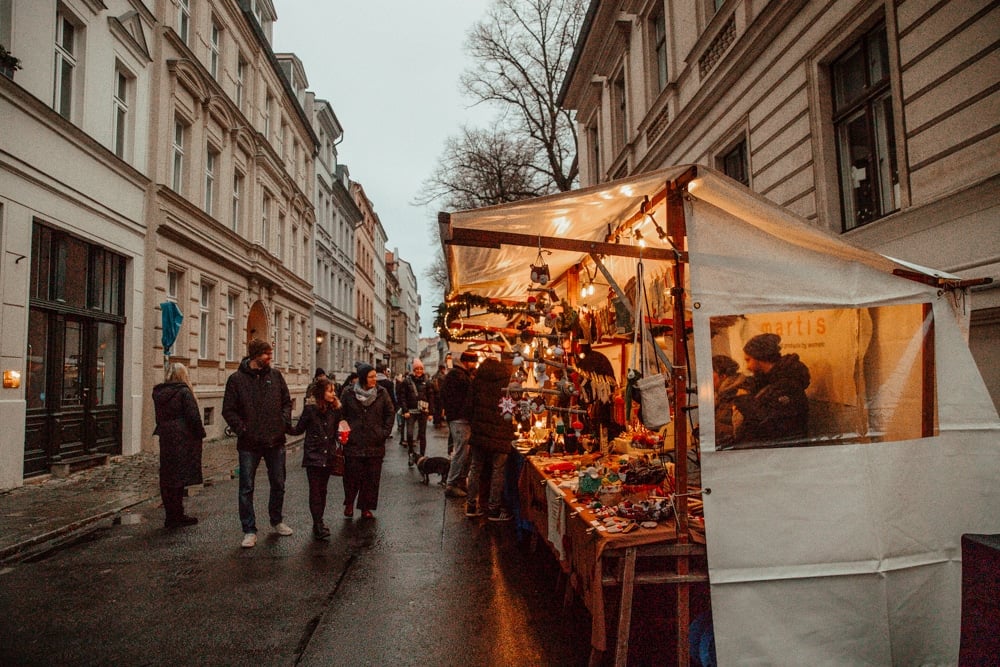 2. Visit DARK Matter
If you are looking for a once in a lifetime experience, DARK Matter is the place to go. It's somewhere between an art museum and a club, open until 10pm and offering, what they call, a blur between the "the real and the digital worlds." As a personal art lover myself, I think this is a must see.
3. Bundle Up For Walking Food Tour
Feeling overwhelmed by all the great food options in Berlin? The Fork and Walk tours have curated the perfect set of restaurants and diners for you to stop in and grab a bite to eat without doing much more than booking a ticket.
These trips are super easy to sign up for and are incredibly handcrafted. With vegetarian walking tours and historical food tours taking you to places that join the east and west of Berlin.
All you need to remember is to bring a jacket and an empty stomach! You seriously eat soooo much.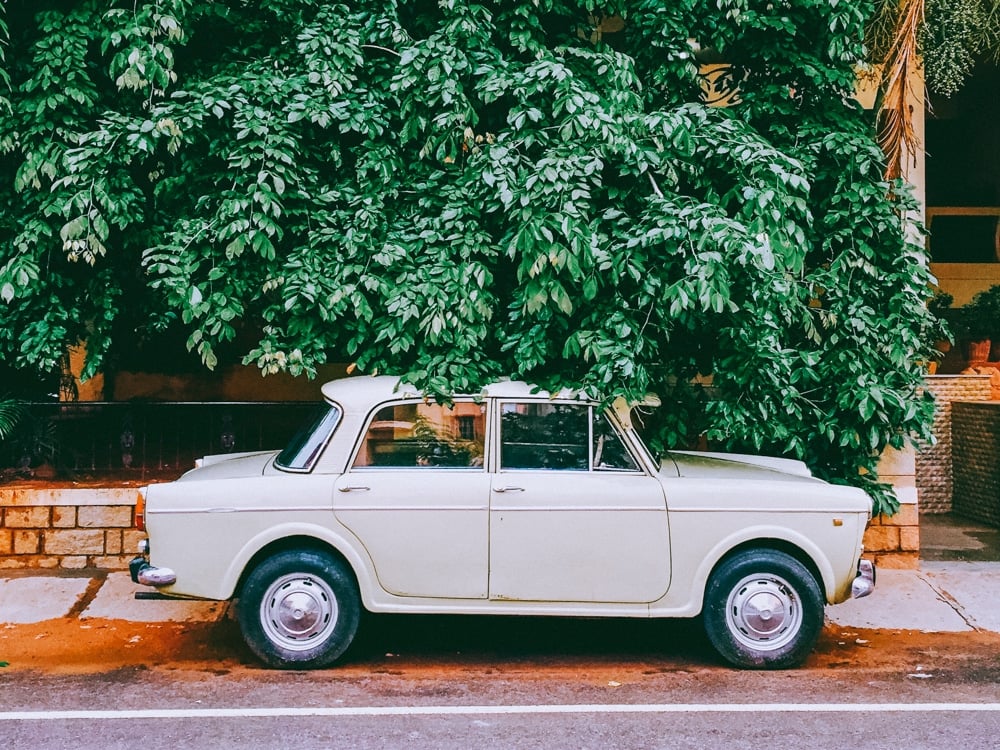 4. Get A Ticket To The Berlin International Film Festival
The Berlin International Film Festival typically opens in February and is judged by incredible filmmakers. This year, Kristen Stewart was on the selection jury!
Berlin's film festival has been home to many amazing filmmakers and films like Spirited Away and The Grand Budapest Hotel.
Honestly, I think any place where you can go and enjoy art with a group of people- especially for the first time- is truly an amazing experience, which is why the Berlin International Film Festival is a must see.
5. Go to Frederick's For Brunch or Dinner
This retro style restaurant is totally gorgeous with its vintage vibes and immaculate design- it's the best place to dress up and dine in style while in Berlin.
Located within the Potsdamer Platz (a sort of town square in Berlin), Frederick's is located inside a historic hotel and the owner's have made it their mission to remain faithful to the art deco designs.
Frederick's has a delicious menu and a collection of bars attached to it- including the Gallery bar and their jazz bar, Music at Frederick's. With its classy design, this place is definitely one of the more romantic things to do in Berlin.
6. Take A Reichstag Tour
The Reichstag is the parliament building located in Berlin. The building itself is an amazing work of architecture and its rooftop glass dome offers beautiful views. There are audio tours that tell you all about the history of the building and German parliament.
Most of all, this is just a beautiful place to admire. The building was built in the 19th century and its architecture is still mostly in one piece. It's a true work of art.
7. Grab Lattes At The Greens
I'm always trying to find the best local coffee houses whenever I'm out and about and The Greens has to be one of the best in Berlin. A cute cafe that is LUSH with beautiful plants, and to top it all off yummy lattes and vegan treats- this place is a win win.
The Greens is Berlin's own personal oasis away from city life, made totally green with its huge collection of adorable plants (all of which are for sale).
8. Visit Cafe Wintergarten in Literaturhaus
For all the big readers looking for some fun in Berlin, Cafe Wintergarten in Literaturhaus is a cafe and bookstore that is almost always booming with literary events.
The cafe has outdoor seating that is in its own garden and a cozy indoor seating area that is saturated in sunlight from its huge windows and sunroom. When there you have to try some of their in house baked goods.
9. Have A Wellness Spa Day
Air travel can really take a lot out of me, from the stress of packing to the long flight- after all that traveling, I always just like to take a day to relax and unwind.
In Berlin, I strongly suggest spas like Liquidrom, Hamam Turkish Spa, or Vabali. Liquidrom is my favorite of the three- it's wonderfully unique, from its building to its services.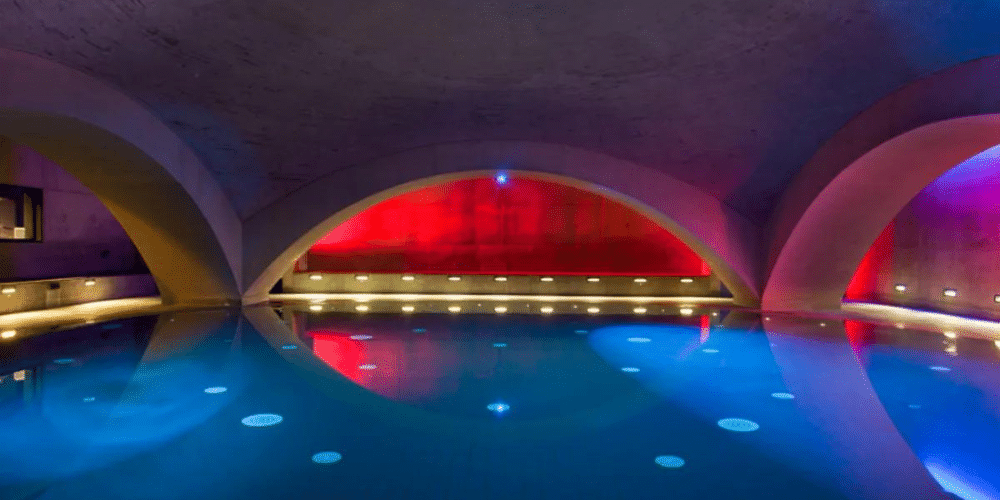 This place has a collection of saunas, all for your comfort level and needs. Their Himalayan Salt Sauna is lined with himalayan salt crystals to help with detoxing. Their floating pools are heated and encourage a level of sensory deprivation- and you can even get a pool massage to help with your muscle relaxation.
For those who like to venture into the wintery side of things, Liquidrom has a cold plunge!
10. Take A Trabi Safari Tour
There are lots of different ways to explore the city, and traveling by foot is often the most common, but I think the most fun is the Trabi Safari tours.
These guided tours let you drive through the city in individual cars to see the sights. It's not as basic as a double-decker tour bus, and you won't have the trouble of having to sit with a bunch of strangers.
Your tour guide will lead the way in their own car, and you'll see sights from Brandenburg Gate to former East Germany.
11. Sip On Gin Cocktails at House of Gin
If you're like me and like a good cocktail, or some fun taste-testing, House of Gin is the greatest stop in Berlin. It has the best cocktails in the city and such a great atmosphere!
With over 150 different gins, and a great selection of house crafted cocktails, I could've stayed all night. The bar is located in the base of Hotel Palace.
12. Go Clubbing
Berlin has a HUGE club scene! And each one of them is more unique than the last- and all are a must see. You should keep in mind that a lot of these clubs do have a dress code, so make sure to dress right before partying all night!
So if you're looking for crazy things to do in Berlin check out About Blank and Berlin Icebar. The icebar is a cool spot for Berlin winter trips, with its ice features and polar themes.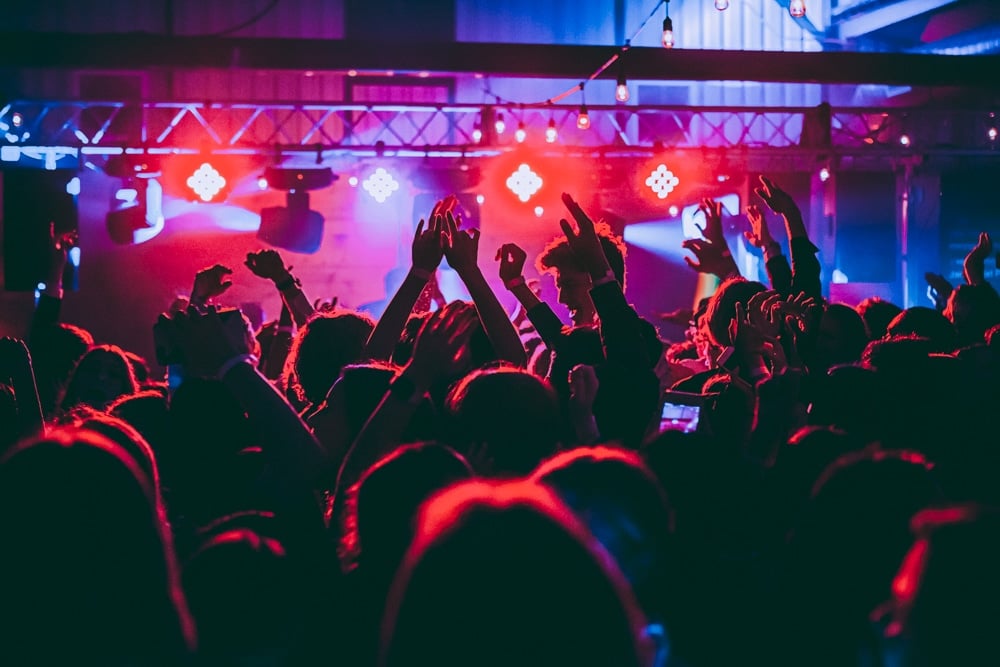 Berghain is another one of Berlin's most exclusive clubs, and probably one of the best clubs in the world!
A personal favorite of mine is Tresor Berlin, a cool techno club with a huge dance floor located in the basement of a closed large department store. There is no real dress code for this club, but everyone always wears black.
13. Visit the Upside Down Bar and Restaurant
Like a lot of the best places in Berlin, the Upside Down Bar is located in a building rich in history. Built in the 17th century, this restaurant continues to challenge the ideas of the past.
It was originally home to many German expressionists, and their ideas are reflected in the upside down art that compliments the bar's dining area. It also has some great cocktails and delicious apps!
14. Get Your Fill At The Markthalle Neun Food Market
If you're on the adventurous side when it comes to food, you'll want to head to Markthalle Neun. This large market hosts local Berlin artisans in a melting pot of kiosks. From Turkish food to French classics, there is so much to try at Markthalle, you'll want to keep going back.
15. Check Out The Christmas Garden
Out of all the places to visit in Berlin in winter, the gardens are one of my favorites. The botanical gardens have an amazing collection of plants and flowers all housed within their huge greenhouse building (which is a nice relief from Berlin winter weather).
And, during the winter season, the gardens hold a beautiful light show and decorate for their holiday event, Christmas Garden!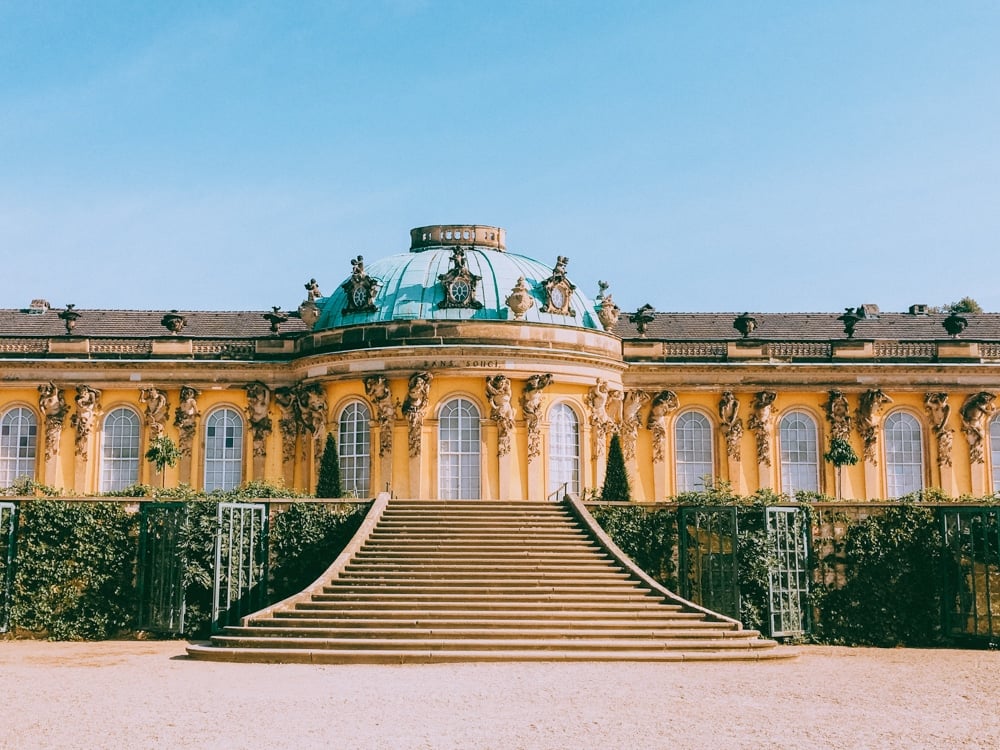 16. Tour Charlottenburg Palace
Berlin has many amazing historic sights to visit, and Charlottenburg Palace has to be one of the best. The palace once belonged to King Frederick William II, who ruled Germany while it was still Prussia and was a known patron of the arts.
His home is a sign of that. The huge palace itself is a beautiful testament to Baroque architecture. And its rolling fields of gardens are STUNNING, and are especially good to visit if it's raining!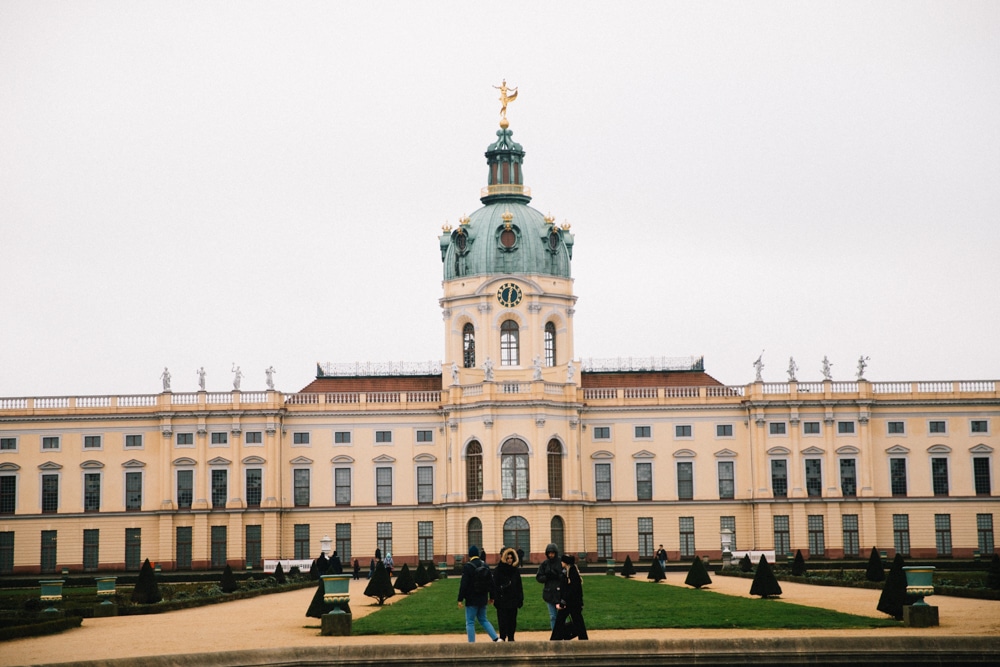 17. Grab Coffee And Brunch At Silo Coffee
If you're looking to get your day trips started early, I'd highly recommend Silo Coffee. Its coffee is some of the best in Berlin, and comes from a roastery in the city.
Their brunch is also to die for, with lots of vegan and vegetarian options. It's also close by to some of Berlin's famous street art- so you can easily grab a coffee and go!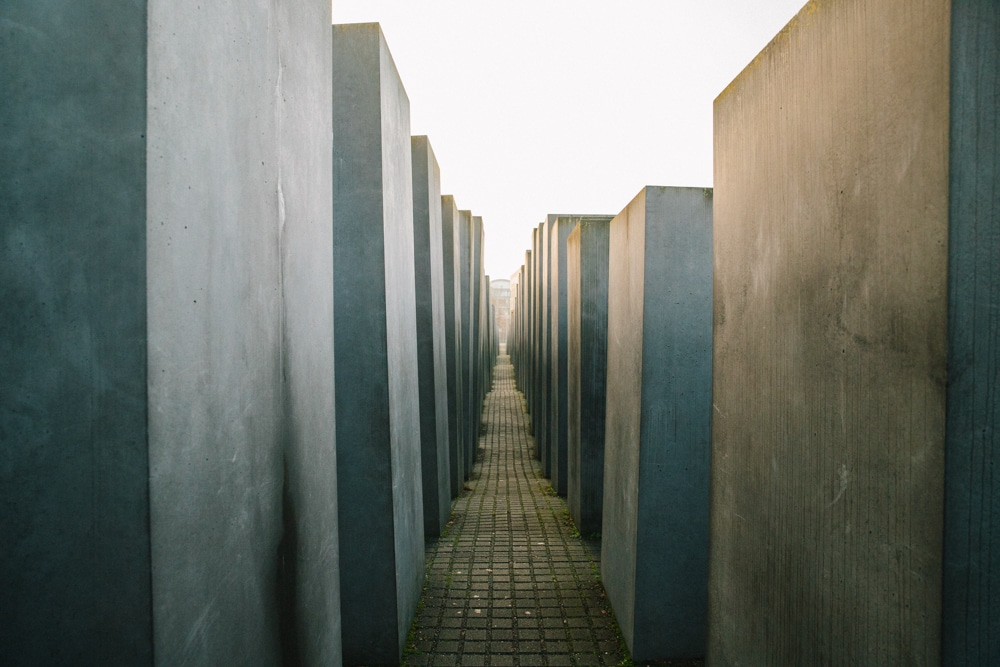 18. Pay Respects At The Memorial to the Murdered Jews of Europe
The Memorial to the Murdered Jews of Europe was made in remembrance of the Jewish people who died during World War II. This memorial is rich in history and heavy with emotions.
One of my travel tips for visiting is to go in the morning when it's less busy so that you can pay your respects. Remember that this is a memorial and climbing or sitting on the structures is inappropriate.
We didn't have enough time to venture out of the city to visit the Sachsenhausen concentration camp site, but this memorial was more than enough emotion. There's a few other camps in Europe you could visit. This is info on the best Auschwitz tour from Krakow, for example.
19. Visit The East Side Gallery Wall
Personally, what I thought was one of the best things to do in Berlin was visit the East Side Gallery Wall. It's the longest lasting piece of the Berlin wall and is heavily decorated with street art and murals.
The wall was first constructed around the start of the Cold War to separate West Berlin from East Berlin, and now stands as a historical reminder and open-air gallery that stretches nearly a mile long.
20. Take A Frau Tonis Parfum Class
There are some experiences in Berlin that you won't find in any travel guide or map, but it's honestly one of the best things to do in Berlin at Christmas (especially, if you're looking for a one of a kind gift).
Frau Tonis offers a perfume making class where you create your own scent that you can bring home- just make sure to book this class in advance!
21. Explore The DDR Museum
The DDR Museum is considered one of the most interactive museums in the world, and covers the vast history of Berlin and Germany as a whole; however, the museum is under temporary construction at the time of publication. It's set to open again on March 31, 2023.
22. Take A Viktoriapark Hike
For those looking for more Berlin winter activities with a little more movement, Berlin is home to many great parks and hikes. Viktoriapark is a great source for long walks and great views.
Within the park there are hilltops that overlook the center of Berlin, and- in the warmer months- a waterfall.
23. Spend A Day Exploring Museum Island
Berlin has a collection of museums, known as museum island, that include the Bode Museum, Neues Museum, the Altes Museum, Alte Nationalgalerie, and the Pergamon Museum.
This is for sure one of the best Berlin day trips. I'm a sucker for museums, and this island allows a day pass to all five museums. My favorite of the museums is the Pergamon Museum, which is a UNESCO heritage site, and holds beautiful exhibits of German expeditions.
Also on the island are some of Berlin's oldest landmarks, like the Berlin Cathedral.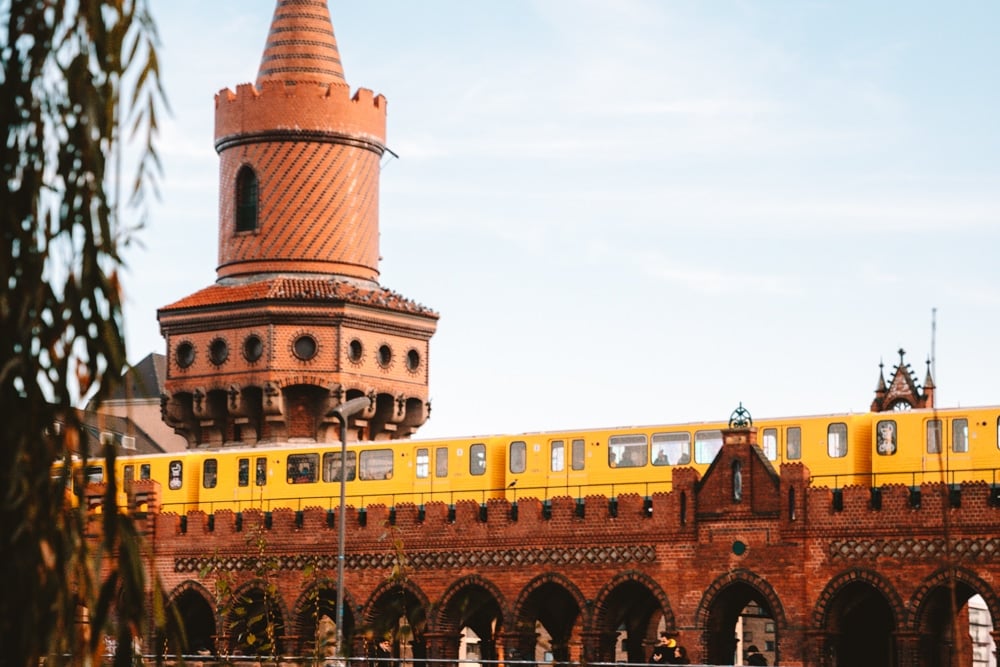 24. Take Photos at Oberbaumbrücke
If you'd like your sight-seeing to have instagram-worthy views, the Oberbaumbrucke is a classic spot in Berlin, and considered the most beautiful bridge in all of Germany. Located just opposite the river of the Berlin wall, the bridge is hard to miss with its red stone and yellow train.
25. Get A Taste Of German Craft Beer
Berlin doesn't have to follow any stritch beer laws that neighboring states, like Bavaria, does so many of its crafted beers are the best that you can get. Some great German craft beer bars are
Zu mir oder zu dir: known for its amazing drinks and red aesthetic
BrewDog Berlin Mitte: Right by the Berlin Wall Memorial and brews its beers on site
Cafe Cinema: known for its delicious treats and cool street art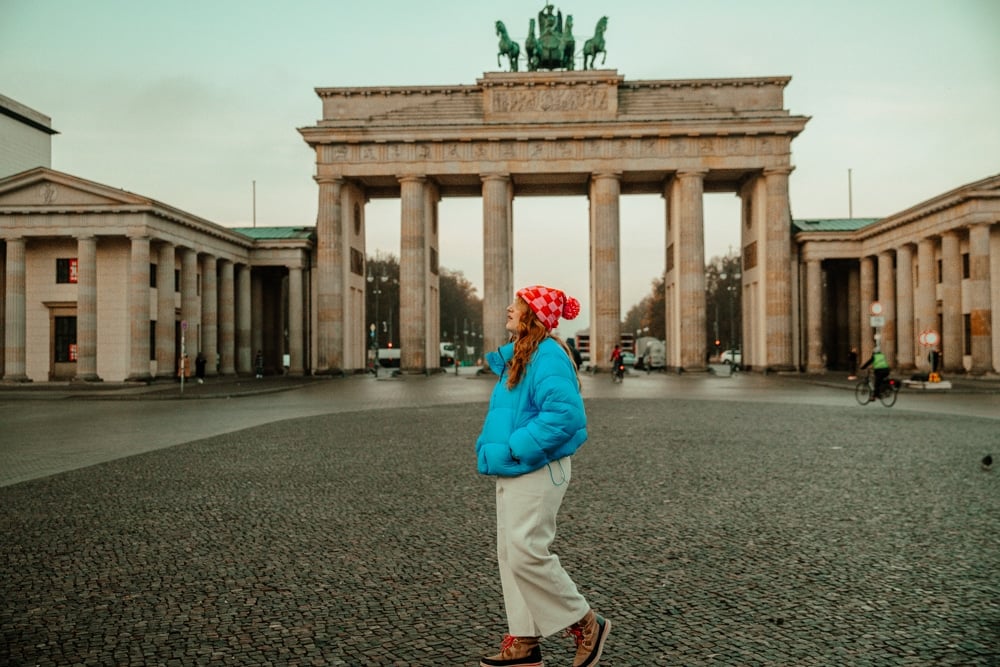 26. Take Photos at Brandenburg Gate
Heading a little into west Germany, the Brandenburg Gate is another classic landmark, and is perfect for a mini-photoshoot. This gorgeous site is surrounded by other great stops like the Victory Column, Berlin Zoo, and Kaiser-Wilhelm Memorial Church.
If you get there on a sunny day, you'll be able to catch a glimpse of the Victory Column between the gate's pillars.
27. Visit Checkpoint Charlie
Checkpoint Charlie is an open-air museum and historic site of Berlin. This is the military checkpoint that once separated the country during the Cold War and was used as a processing point for individuals looking to cross the border.
28. Day Trip to Potsdam Palace
If Berlin hasn't given you enough beautiful architecture and stunning views, then just outside of Berlin is Potsdam, Germany that has a collection of palaces like the New Palace.
New Palace was first constructed in the mid-1700s and is now open to visitors.
I hope this helps you plan a trip to Berlin Germany this winter!! If your favorite activity, cafe, shop, etc didn't make the list please drop a comment below so everyone can see. Happy travels!