Scottsdale is one of our favorite cities in the United States. It's colorful, hot, the locals are nice, the margaritas are tasty and the Arizona desert landscape is simply magic.
And there are some stunning Airbnbs and VRBOs there… if you know where to look. Hunting down the best of one of my favorite cities in the country sounded like a fun afternoon activity – so here are the coolest, most unique Airbnbs in Scottsdale to visit in person for the perfect desert weekend getaway.!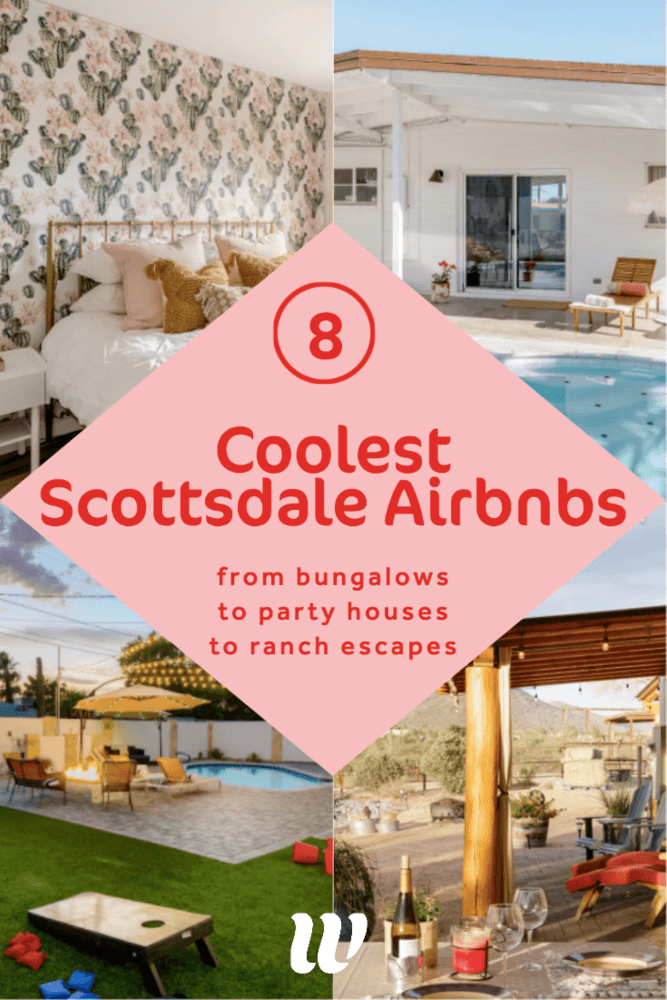 I'm also super picky when it comes to Airbnbs or a VRBO rental. I judge a cool house based on the style, amenities, previous ratings/ reviews, and overall experience I think it'll bring to my vacation. If the space is worth the drive alone, then I want to book that house. (Otherwise, I usually opt for hotels.)
Unique Airbnbs In Scottsdale For A Magical Desert Getaway9
The coolest, most unique Scottsdale Airbnbs to book for a desert getaway in Arizona. From boho bungalows to private pools to party houses, these are the best of Scottsdale vacation rentals.
Where To Stay In Scottsdale: Neighborhood Breakdown
Here's the thing: Scottsdale is shaped kinda funny. It's long and thin like a rectangle. That means it could take you easily 45+ minutes to drive from one end to the other of town. I can attest that those Uber rides easily get into the $50+ range so you'll want to book strategically to make sure you aren't blowing all your time and budget getting to the places you want to be.
That's why I definitely recommend choosing an Airbnb near the locations you'll be spending the most time in. I'll be noting the neighborhood on this list to help you!
If you'll be spending most of your time eating out, bar hopping or shopping, then Airbnbs within walking distance to Old Town Scottsdale or Downtown Scottsdale will be your best bet. This way you can cut down on rideshare costs and just walk!
If you'll be out in the desert hiking a lot or hoping to just spend a lot of time by the pool unwinding, then a private home further out in nature will be amazing. If you're heading to town for Spring Training, you'll want to be near the stadiums to make it easy.
Not Sure If A Scottsdale Airbnb Is For You? We Love These Scottsdale Hotels, too!
I hope this list helps you find some fun Scottsdale vacation rentals to choose from! But, if you're unsure if you want an Airbnb or hotel, here are our favorite Scottsdale hotels to consider (we've spent nights at each of them, they're all great options!)
Things To Do In Scottsdale
We've been to Scottsdale many times and never get bored with things to do. Here are my go-to Scottsdale activities:
I have a LOT of blog posts and guides around Scottsdale things to do so you can plan the perfect trip. Check these out for even more ideas on fun things to do during your trip!
Lastly, if you have time I highly recommend you add on a few days of your trip to drive up to Sedona. Sedona is a crazy beautiful city tucked among towering Red Rocks. People come there for the spiritual power of the vortexes and crystal shops, but it also makes a fantastic hiking trip followed by lazy afternoons by the pool of your dome house Airbnb.
I hope this helps you find the perfect Scottsdale Airbnb for your desert getaway and fun things to do while you're in town! If you have any questions at all, leave a comment below or DM me on Instagram @thewhimsysoul and I'll be happy to help!