Scottsdale is one of our favorite cities in the United States. It's colorful, hot, the locals are nice, the margaritas are tasty and the Arizona desert landscape is simply magic.
And there are some stunning Airbnbs there… if you know where to look. Hunting down the best of one of my favorite cities in the country sounded like a fun afternoon activity – so here are the coolest, most unique Airbnbs in Scottsdale to visit in person for the perfect desert weekend getaway.!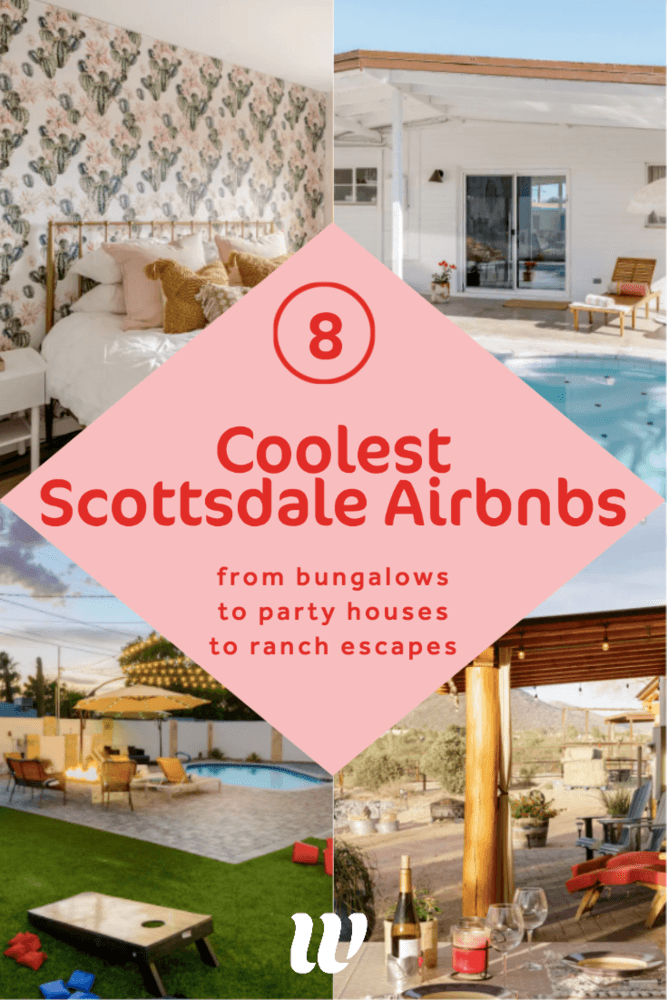 I'm also super picky when it comes to Airbnbs. I judge a cool house based on the style, amenities, previous ratings/ reviews, and overall experience I think it'll bring to my vacation. If the space is worth the drive alone, then I want to book that Airbnb. (Otherwise, I usually opt for hotels.)
>> PS: Use THIS LINK to save $55 on your Airbnb stay!! Woohoo, save that coin!
8 Unique Airbnbs In Scottsdale For A Magical Desert Getaway
The coolest, most unique Scottsdale Airbnbs to book for a desert getaway in Arizona. From boho bungalows to private pools to party houses, these are the best of Scottsdale vacation rentals.
Photo Credit: www.airbnb.com
Location: Indian Bend
Price: $222/a night
Guests: Up to 8
A stunning mid-century modern house that can fit up to 8, so this makes a wonderful home base for large groups (like your bachelorette party!) I love the airy decor that still has pops of Southwestern colors you want while in Arizona. Oh, and that pool looks SO dang inviting.
Photo Credit: www.airbnb.com
Location: Cave Creek
Price: $95/a night
Guests: Up to 2
Technically this Airbnb is in Cave Creek next door to Scottsdale, but it's close to the boarder. If you're looking for a house in the middle of nature, with sweeping views of the Sonoran landscape while being steps away from hiking trails, this is it.
Photo Credit: www.airbnb.com
Location: South Scottsdale
Price: $209/a night
Guests: Up to 12!
I mean, they had me at heated pool and fire pit. With a modern farmhouse vibe, this house has tons of outdoor space, games, a large kitchen and living area to fit the whole crew. This house has literally everything you need for a bachelorette or bachelor party group (or large family reunions!) It's also one of the only houses in Scottsdale that can fit 12 people.
Photo Credit: www.airbnb.com
Location: Indian Bend
Price: $128/a night
Guests: Up to 4
This townhouse Airbnb has tons of cute, modern decor (like this stunning wallpaper!) Past guests loved the coffee and tea selections in stock, Parachute linens and smart TV (along with the great 15 minutes walking location to downtown!)
It's also close to the San Francisco Giant's Stadium for spring training visitors.
Photo Credit: www.airbnb.com
Location: Paradise Valley
Price: $95/a night
Guests: Up to 4
Ok, another one that is technically not in the city limits of Scottsdale but it's a dome house and too cool not to include!! Guest love waking up to nature, the sweeping views and the funky interior shapes.
Photo Credit: www.airbnb.com
Location: Indian Bend
Price: $81 a night
Guests: Up to 2
This Scottsdale condo packs tons of personality with fun decor. It's in walking distance the fashion district/downtown Scottsdale (and some of my favorite restaurants in the area!) The building has a pool you can use and also a gym.
Photo Credit: www.airbnb.com
Location: Fashion Square
Price: $125/a night
Guests: Up to 8
You probably can't find an Airbnb in a better location than this. Fashion Square is in the heart of downtown Scottsdale just a few minutes walk from all the best bars and restaurants. This condo can fit up to 8 guests so it's perfect for a party group that plans on being out a lot
Photo Credit: www.airbnb.com
Location: Indian Bend
Price: $155/a night
Guests: Up to 7
I can see myself and my girls lounging by this pool sipping cocktails all day. I mean, just look at the blow up swan!! It's a few miles from Old Town so you'll still need to Uber or drive in, but the house is large and has all the amenities you could possibly want for a chic relaxing vacation.
Where To Stay In Scottsdale: Neighborhood Breakdown
Here's the thing: Scottsdale is shaped kinda funny. It's long and thin like a rectangle. That means it could take you easily 45+ minutes to drive from one end to the other of town. I can attest that those Uber rides easily get into the $50+ range so you'll want to book strategically to make sure you aren't blowing all your time and budget getting to the places you want to be.
That's why I definitely recommend choosing an Airbnb near the locations you'll be spending the most time in. I'll be noting the neighborhood on this list to help you!
If you'll be spending most of your time eating out, bar hopping or shopping, then Airbnbs within walking distance to Old Town Scottsdale or Downtown Scottsdale will be your best bet. This way you can cut down on rideshare costs and just walk!
If you'll be out in the desert hiking a lot or hoping to just spend a lot of time by the pool unwinding, then a private home further out in nature will be amazing. If you're heading to town for Spring Training, you'll want to be near the stadiums to make it easy.
Not Sure If A Scottsdale Airbnb Is For You? We Love These Scottsdale Hotels, too!
I hope this list helps you find some fun Scottsdale vacation rentals to choose from! But, if you're unsure if you want an Airbnb or hotel, here are our favorite Scottsdale hotels to consider (we've spent nights at each of them, they're all great options!)
Things To Do In Scottsdale
We've been to Scottsdale many times and never get bored with things to do. Here are my go-to Scottsdale activities:
I have a LOT of blog posts and guides around Scottsdale things to do so you can plan the perfect trip. Check these out for even more ideas on fun things to do during your trip!
Fun things to do in Scottsdale for the holidays
I hope this helps you find the perfect Scottsdale Airbnb for your desert getaway and fun things to do while you're in town! If you have any questions at all, leave a comment below or DM me on Instagram @thewhimsysoul and I'll be happy to help!