In the summer, the entire city of Oslo Norway is filled with this delightful perfumy scent of florals and nectar. Every other house has huge flowers bushes and the sun lasts for 19 hours. We just spent 2 days in Oslo running around the (almost) endless days visiting museums, castles, seeing famous paintings like The Scream, getting lost on picturesque streets, and visiting like, a LOT of food halls and food trucks.
Oh, and spending an evening doing a proper Norwiegna sauna with fjord jumping. I left feeling like we did Oslo right, even if it was a quick visit. If you're coming to Oslo for just a short time and hoping to squeeze in all the good stuff, I got you covered in this guide (plus tons of recs on food spots, hotels, how to use public transport and everything you need to know before visiting Oslo!)
Oslo Norway At A Glance
Hilly streets lined with colorful houses, marinas and ships coming and going, tons of green spaces, museums, Asian restaurants and boba tea shops… no, that's not San Francisco I'm talking about (my home city!) but Oslo, perhaps the most underrated capital city in Europe.
Known for:
Viking culture, tasty seafood, the Nobel Peace Prize Museum, a large Asian population (with many Asian restaurants!), Akershus Fortress, Fjord saunas, and the painter Edvard Munch.
How to get around
: Plan on walking or renting a scooter (there is a public transportation system but we found it quicker to just walk most places).
Food:
Expect traditional Norwegian food joints of course, but a LOT of Asian and Middle Eastern influence along with trendy cafes with cool decor and fancy lattes.
Best Time To Visit
: Oslo gets 4 seasons. Autumn has beautiful fall colors, winter you'll get snow and short daylight hours. Summer days are long, but get humid. There's no bad choice!
Save Money:
We highly recommend you
buy an Oslo City Pass
for free entrance to museums, free public transportation and discounts on restaurants! You'll easily save a few hundred dollars (we did this!)
Best Hotels In Oslo Norway To Book
When planning your two days in Oslo, it's important to position yourself near the center of city near Karl Johans Gate so you can easily walk everywhere. The city is kind of shaped like a horseshoe around the Fjord, with most of the Oslo points of interest along the "top" of the horseshoe in the city center.
Karl Johan Hotel
Karl Johan Hotel is the hotel Robin and I booked and we were pleased with this choice for our Oslo weekend. It's right on Karl Johan's Gate close to the Royal Palace and Parliament, so it was easy to walk everywhere we wanted to go. They have 24/hour front desk staff, luggage storage, free strong wifi, and modern decor.
But what really stood out to us was the amazing breakfast, which is included in the room rate. Freshly cooked omelets and bacon, pancakes, loaves of bread with local cheese, fresh-squeezed juices, and yogurts.. so tasty! Book it now.
Amerikalinjen
Next time I visit Oslo I think I want to stay at the Amerikalinjen. It's a beautiful hotel right next to the Oslo Central Station making it super easy to walk anywhere or hop on a bus or tram. Inside are ornately decorated rooms with a cool restaurant (those windows!!) and spacious rooms. It has allll the vibes for a comfy 2 days in Norway stay. Book it now.
Pro-tip:
Want to
save money on hotels and get perks like free upgrades or free drinks?
We love using
hotels.com
for travel. During our stay in Oslo we got 2 free drinks included since we booked with hotels.com AND a 10% off room discount.
Things To See In Oslo In 2 Days: Your Ultimate City Itinerary
First things first, what's the best way to get into Oslo? If you are taking a train from another country, that will drop you off at the Oslo Central Station, so you're all set. Robin and I took the DFDS ferry from Copenhagen to Oslo and dropped off at the Akershus Slot, which was a short walk to our hotel. But we flew home, so had to navigate then. Here's what we learned:
How To Get To Oslo From The Airport (And Vice Versa)
Most likely you'll be heading to Oslo Central Station for your nearby hotel. Thes station is located right downtown Oslo. DO NOT take the Airport Flyer train, which is twice as expensive and only saves you a couple of minutes. (This was confirmed to us by a customer service rep at the station.)
Instead, take the regional VY train from Oslo Lufthavn to Central Station (or vice versa). It'll take about 27 minutes and cost around 114 NOK per person. You can easily buy a ticket at one of the many ticket machines and there will be a staff member on hand to ask questions if you want to verify your ticket will take you to the airport or central station.
Day 1 In Oslo, Norway: Arrival,
Let's kick this off with what to do in Oslo on your first day! Try to arrive at the city before 10am to maximize time.
Drop Luggage Off At Hotel (10am)
Right away head to your hotel and drop off your luggage with the front desk. Make sure your day pack is full of water, a camera, an external phone charger and anything you may need for the next 5-7 hours! We're off to go explore!
Akershus Slot (10:30am)
Museum Price: 100 NOK (free with the Oslo City Pass)
Kick-off your time in Oslo city by exploring the Akershus Slot aka The Akershus Fortress aka the Akershus Castle (it has a lot of names!) Akershus is an old fortress built circa 1300 on the banks of the Oslo Fjord to provide a defense to the city. It also served as living quarters to the King when we visited Oslo so it has this cool mix of furnished rooms and churches, then also things like dungeons and random rooms with holes for canons to slide into.
The castle has tons of cultural history and the self-guided audio tour is really informational and fun to listen to. It's the perfect crash course to Oslo and Norway history, which I knew very little of before we arrived. For instance, before we moved to Copenhagen neither of us knew that Denmark was a huge monarch powerhouse that ruled over Norway, Sweden, Greenland and the Faroe Islands for like, 500 years.
So when I said Akhershus was home to the King when we visited, I meant the Danish King. And most only visited Oslo a few times during their reign (wild right?) Anyways, it's a fun first stop and during the summer it has beautiful flowers blooming everywhere so it's really pretty.
Plus, mornings are the best time to go. We arrived around 10:30am and it was almost empty, but by the time we left an hour later it was crawling with people.
Brunch At Vanite Or Lunch At Food Trucks (11:45 AM)
After exploring the castle, time for brunch or lunch! Vanite is a super cute restaurant nearby the castle in Aker Brygge that's so dang popular on TikTok thanks to the impressive latte art and over-the-top decor. Tons of flowers hang from the ceilings and it's super feminine (kind of reminds me of the famous high tea place in London!) We didn't get a chance to stop by during our visit but you guys know how much I love a themed restaurant!
If that's not your jam, instead swing by the group of food trucks outside the Nobel Peace Prize Museum. On any given day you can find 3-5 food trucks parked there for lunch service. We ate here on our visit and I loved my butter chicken bowl from the Indian truck, and Robin got an Elk Brat from the brat/hot dog truck.
Oslo is full of food trucks and food stalls (very Portland or even Bend, Oregon vibes in that way!) so we loved taking part of that food culture as much as possible during our visit.
Norway National Musem (12:30PM)
Museum Price: 180 NOK (free with the Oslo City Pass)
One thing I loved about Oslo is how many of the major museums are right next to each other on Oslo City Hall Square, making it easy to walk around as a tourist. Right next door to the Nobel Peace Prize Museum is the National Museum! This multi-level art museum houses national and international artists, though mostly ones that hail from Scadi countries.
And, when we visited, they had The Scream by Edvard Munch!!! Seeing this painting in real life has been on my bucket list ever since learning about it in high school (I think the angsty vibe of the whole painting really spoke to my teenage soul hah!) Oslo also has the new Munch Museum, a whole museum dedicated to Edvard Munch if you want to see more of his works.
We went to see The Scream and loved the paintings by other Scandi artists depicting life in Norway, rural Denmark, etc. I also really loved the Norwegian Fairytale exhibit, which showcased hand-drawn illustrations from circa 1840's by Erik Werenskiold and Theodor Kittelsen which was used in fairytale books for kids. They had soft music playing and it was fun to read snippets from children's stories.
Speaking of kids, if you're looking for things to do in Oslo with kids, take them here! Most of the exhibit rooms had benches that doubled as PlayStations for children so you could set them up there while you wandered the room to look at the art. I wish more museums did something like this!
Royal Palace Tour (2:20pm)
Tour Price: 175 NOK
The palace is where the Norwegian Royal Family lives, sometimes. They have a lot of chateaus and houses around the country they pop around to, but the Oslo palace is the official home of the monarchs.
If you're visiting Oslo in the summertime, you simply must take advantage of the summertime Royal Palace Tours! They only offer these tours from the end of June through August, otherwise, you can't enter the Palace. We actually went to Oslo 3 days before they kicked off their summer tours, so we didn't get a chance to go inside so I was really bummed.

They do tours in Norweigan and English daily, though only a few are in English. If you follow this itinerary, you should be able to make the 2:20pm English tour which will last about an hour. There is another one at 4pm if you get caught up at the museum. If you get to go, tell me in the comments how you liked the inside!!!
Don't miss the Royal Palace Park! It has tons of quirky sculptures that were conceived by children and turned to life by local artists. Our favorite was the massive rainbow sculpture, which was very fitting for our June visit for Pride Month!
Noble Peace Prize Center (Alternative For Winter at 2:30pm)
Museum Price: 140 NOK (free with the Oslo Pass)
If you're visiting in the winter, the Royal Palace is still fun to check out, but don't feel like you need to rush off right now as there won't be a tour. You can still look around the outside, see the guards and tour the gardens. The changing of the guards takes place every day at 1:30pm if you wanted to check that out.
But since you'll be at the National Museum on, and if it's cold outside, just pop over to the Nobel Peace Center! They have a constant rotation of exhibits on different past peace prize winners and also offer tours. This is also where Oslo awards the yearly Nobel Peace Prize, so it's a fun educational and cultural spot to stop by.
Check-Into Hotel + Grab Swimming Things (3:30pm)
Finally, it's time for a classic Oslo sauna fjord swim!!! You'll need some supplies, so now is a great time to swing by your hotel to check-in or grab things if you already got a room. Bring two towels per person (one to sit on in the sauna and one to dry off with), along with a swimsuit and a change of clothes.
Also bring a water bottle or two, as you'll need to stay hydrated in the sauna. We also brought a sports drink to replenish electrolytes.
Oslo Sauna Fjord Swim (4pm)
I'm sure you've seen photos of folks running from a steaming hot sauna hut and jumping into icy water, only to run back into the hut and do it all again a few minutes later. Sauna culture in Norway has been adopted by neighbor in Finland and have quickly become a popular thing for locals to take part in. And I think one of the best Oslo things to do when visiting to soak up the local culture.
You'll see tons of sauna huts all around the Fjord, and more are constantly opening up. Robin and I ended up renting an entire Oslo sauna to ourselves on the summer solstice night during our visit and it was SO DANG FUN. Hands-down the highlight of our trip to Oslo. The double rainbow that appeared for us around 10pm was just a cherry on the top.
We did our dip in the summer, so it wasn't all that cold though I want to come back in the winter and do one in the icy cold fjord water. So yes, you can do this in the summer or the winter!! In this post, I have a whole guide on all the best Oslo saunas in the city plus more tips on swimming.
You can rent a sauna out, or go on a "drop in" with a public ticket. Either works, just please trust me on this: you can't come to Oslo and not do a fjord sauna dip. You'll be missing out on the best activity. PS – If you're looking for fun things to do in Oslo at night, saunas are usually open until 11pm.
Happy Hour (6pm)
After you sauna swim, you can head back to your hotel and change, but most of the saunas have showers and changing rooms so I would recommend you change there so you can roll right into happy hour. We did our sauna swim at Oslo Badstuforening, which is right next to the Sukkerbitten beer garden.
This is a hip beer garden with some food trucks, string lights, tons of seating and views of the fjord and Oslo Opera House. Stop by for a beer or two to kick off happy hour. If you are really hungry and can't wait for dinner, split a pizza here. OMG, it's so good. I think we inhaled our pizza in like, 5 minutes flat.
Barcode Street Food Hall Dinner (7:30pm)
For dinner, walk a few blocks over to Barcode Street Food, Oslo's newest food hall. Remember how I mentioned that this city is big on food trucks and food stalls, just like Portland is? There's a few food halls around the city where you can find all sorts of cuisine and local restaurants.
Barcode is mostly indoors, which some outdoor seating. You walk in and instantly are smacked in the face with color, tasty smells and music. In the corner, you'll find people dancing but there are some more quiet places to grab a table and chat. Food halls are kind of like the heart of the city in my opinion.
Barcode has 14 different food stalls, plus a bar, so go crazy with trying whatever you want!! I got some tasty falafel and hummus, which hit the spot after walking around all day.
Climb The Rooftop Of The Oslo Opera House (Sunset/After Dinner)
To cap off your night, walk a few blocks to the Norwegian National Opera House. As you probably will have noticed by now, you can walk up the white slanted rooftop for an epic view of the city! Granted, you can do this at any point in time during your visit, but sunset is truly magical.
And way less crowded. We walked up to it in the middle of the afternoon and there were a lot of people. But evenings are calmer and such a fun way to close out your first day in Oslo!
Day 2 In Oslo, Norway:
Breakfast At Your Hotel (8am)
Most hotels in Europe, especially Oslo, offer really epic free breakfasts for guests. This isn't your American motel complimentary breakfast of packaged cereal and those sad waffel-making machines. Our breakfast at Karl Johan Hotel was… well, I know I've used the word epic twice in the paragraph now, but it was epic.
Chefs were cooking fresh omelets, pancakes and bacon. They had a fancy coffee maker machine o make lattes or americanos, tons of fresh loaves of bread, cheeses, and fruits along with smoked fish and yogurt. And fresh pressed juice!! At a hotel!!
So, plan on having breakfast at your hotel. If your hotel doesn't have a free breakfast, I do have a couple of ideas for you below.
Morning Stroll Damstredet and Telthusbakken (9am)
After breakfast, it's time to head to Damstredet and Telthusbakken, two charming AF streets in Oslo that low-key make me want to sing:
Little town
It's a quiet village
Every day
Like the one before
Because they are that dang cute. Mornings are best to visit for photos and strolls when the streets are a little more empty and are full of beautiful morning light. In the summertime, the houses are covered in flowers and in the winter, expect them covered in snow, especially early in the mornings.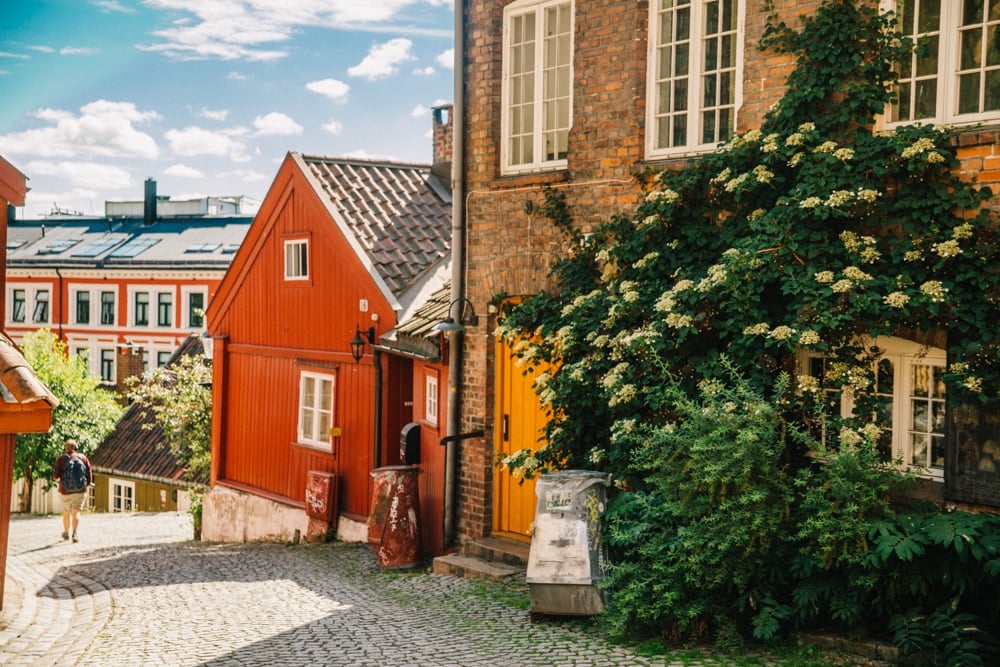 Mathallen Oslo Food Hall (Brunch If Needed)
Mathallen Oslo Food Hall is probably the most popular food hall in the city, and it's a short jaunt down the hill from the Damstredet Street. Most stalls don't open until 10am so it's a nice stop to visit for a last breakfast or brunch if you didn't eat at the hotel!
Checkout (10:30am)
Otherwise, after strolling the cute streets head back to your hotel to pack up and checkout. Leave your luggage with your hotel and come back for it later as you head to the airport or move onto your next Norway stop.
PS – I've been using an
AirTag
lately to keep tabs on my luggage. It's fun in an airport to make sure your luggage gets on the plane with you, but also handy when you leave your stuff at a hotel so you can make sure it stays there.
Shop an AirTag now.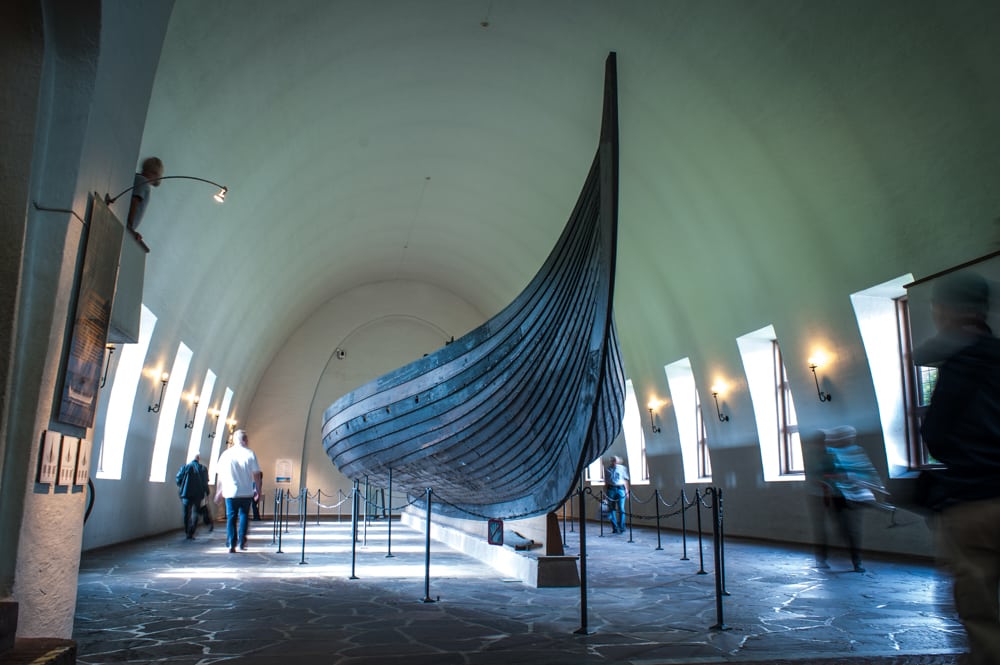 Viking Ship Museum / Vikingskipshuset (11:30am)
The Vikingship museum is like, THE coolest Viking museum… or so everyone tells me. Seriously – I got so many people telling me how we simply MUST stop by the museum during our trip to Oslo. Sadly, that didn't happen. It's currently under construction and closed so we didn't get to visit it during our trip to Oslo.
When it reopens, it will be called the Museum of the Viking Age. It's home to the preserved Viking ships from Oseberg, Gokstad and Tune and Borre and other artifacts that date back before 1537 AD. Ask the museum is rebuilding, you can see the historical collection at the Historical Museum in Oslo instead.
And another good alternative is the Kon Tiki Museum which is all about the explorer Thor Heyerdahl and his life exploring. This Norwegian museum also screens the Oscar-winning Kon-Tiki documentary every day at Noon!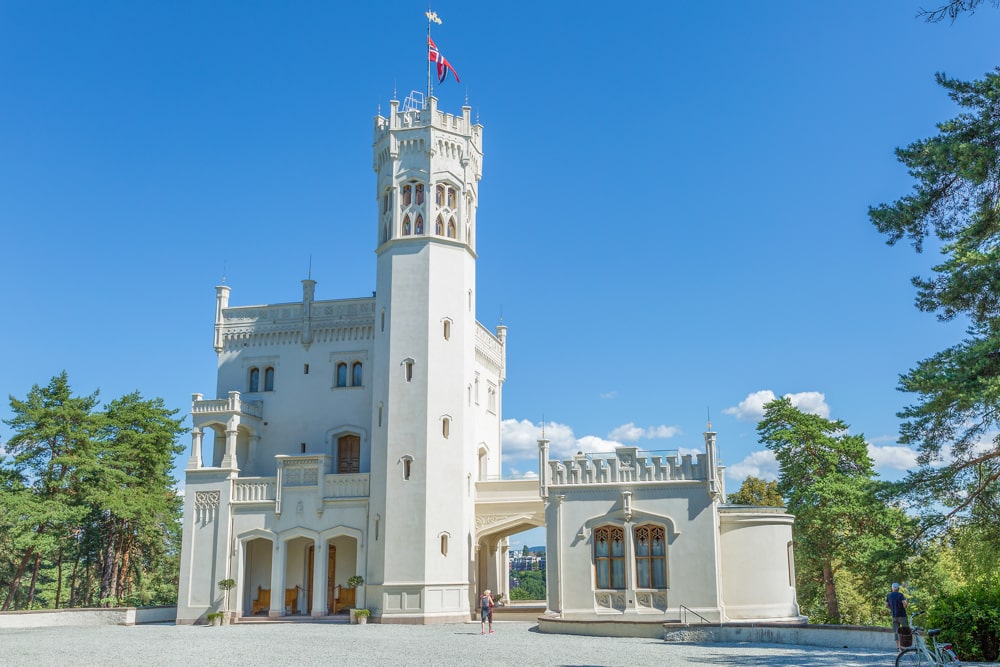 Oscarshall Palace (1:30pm)
On your way back into the city, consider swinging by Oscarshall Palace. It's a small white castle on the water surrounded by gardens and is considered to be the finest example of neo-Gothic architecture in Norway.
The gardens are free to visit and you can pay to enter the castle if you want a tour, but if you are short on time (or on budget), a visit to the gardens to view the exterior of the castle is still super nice. And a great photo opp!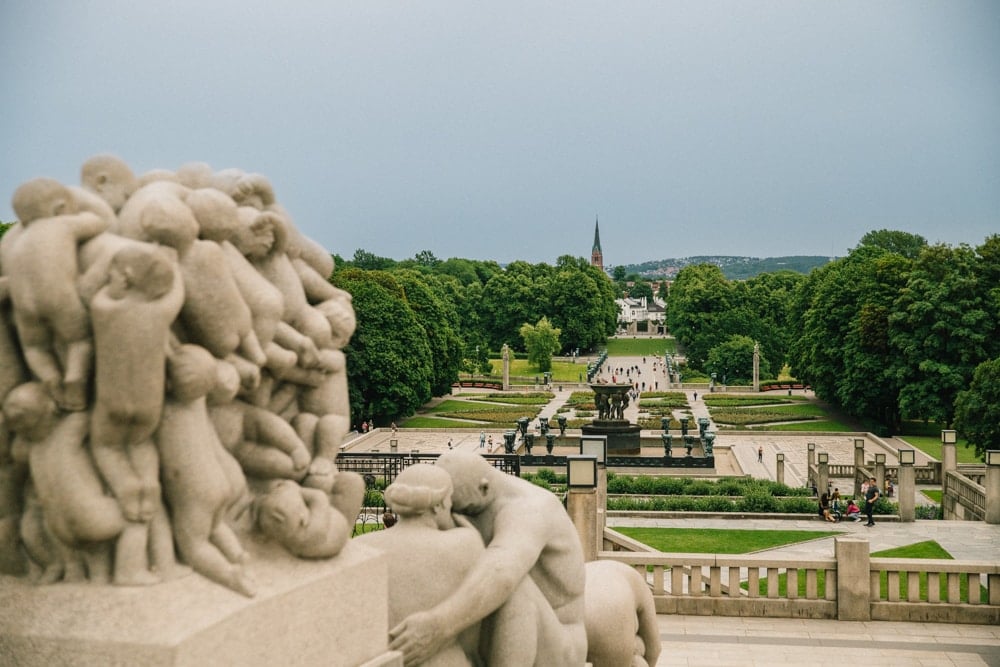 Frogner Park / Vigeland Sculpture Park (2:30pm)
Next, head over to Frogner Park (aka Frognerparken) which was established in 1750 as the baroque garden of Frogner Manor but is now a huge public park. And, today, it's also home to Vigeland Park, the world's largest sculpture park. There are over 200 sculptures by Gustav Vigeland around the park, the most famous you've probably seen online are the Monolight and The Angry Boy (a small angry naked child).
In fact, most of Vigeland's art revolves around the human experience and emotions. You'll see that most sculptures of his use nude figures, but the actions and facial expressions of the figure are the important thing to pay attention to when viewing his art.
Frogner Park is much more than just the art. It's full of trees, paths to stroll, fountains and beautiful gardens. It's a great spot to have a little (late) picnic lunch on one of the many lawns.
Late Lunch At The Park
For lunch, I recommend you either swing by Anne Paalandetto cafe within Vigeland Park to grab sandwiches and pastries for a picnic on the park's lawn. They have tons of yummy, fresh baked items that hit the spot after a long day of exploring.
OR, if you are looking for a spot that locals love, check out Happy Foods, which is a few block off the park. This awesome little cafe is where all the Oslo girlies love to go for a fresh smoothie, veggie bowl, chocolate pastry and anything avocado. You can sit outside the cafe or order food to go and take it into the park with you.
TeaOlogy (Boba Tea Break!) (4:30pm)
After you explore Frogner Park, the last thing I think you could do is a fjord cruise. But first, swing by TeaOlogy on your way to the cruise so you can pick up a refreshing and tasty boba tea!! I won't lie, living in San Francisco has made me a low-key boba snob and TeaOlogy makes some dang good boba.
Personally, we needed caffeinated teas for a little afternoon pick-me-up, but they also offer non-caffeinated drinks if that's your thing. And all the drinks are SO pretty!
Pro-tip: If you are running ahead of schedule, walk a few blocks from TeaOlogy to visit the Oslo Cathedral, a 17th centurya church located on Kirkegata. The murals on the inside ceiling are crazy beautiful and colorful! It's totally free to visit and open to the public (when services aren't being held).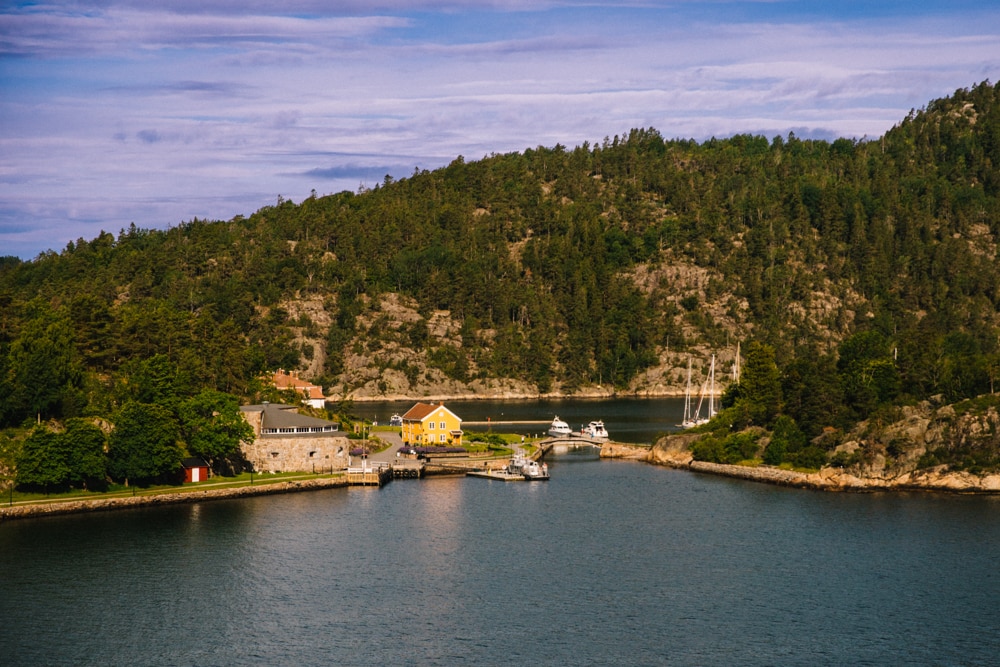 Fjord Cruise (5pm)
Price: ranges from $39-$60 per person
The Oslo Fjord is just so dang beautiful. Robin and I got to soak in all the views on our ferry ride as the ship sailed from Copenhagen to Oslo. We had a private room with a balcony and some of my favorite memories from our whole Norway trip was seeing the little colorful houses on the shoreline as we sailed into Oslo city center.
Thankfully, you don't have a book an overnight ferry to do an Olsofjord cruise. There are a few awesome fjord cruise companies in the city that offer sails. Some are short, some serve food and drinks, and others are sunset sails for extra romance vibes.
OR, if you aren't keen on a sail but still want to get out on the water, I suggest doing some kayaking! I love kayaking, I go all the time back home in Sausalito and know the Oslo fjord is such a cool place to explore via kayak. It takes just about a 20 minute paddle to reach wilderness and islands. You can book an individual kayak or join a guided tour here.
Regardless, I think ending your Oslo trip with some time on the water is perfect. And yes, many cruises are offered in the Oslo winter, too! Not entirely sure about kayaking as we visited in the summer, but how cool would it be to paddle around a semi-frozen fjord?
Head Home
Your 2 days in Oslo are coming to a close! Robin and I hopped on a plane in the evening on our second day and flew back to Denmark, but perhaps you're moving on to other parts of Norway or doing some Oslo day trips. Keep in mind the train to the airport is super quick, just about 25 minutes so you don't have to feel like you need to cut any time in the city short before you move on.
PS – if you are heading to Copenhagen, Denmark next, I highly recommend you take the
DFDS ferry from Oslo
. It's overnight and so much fun!
Other Oslo Tourist Attractions & Museums To Check Out In Oslo
There's a lot more Olso attractions and things to do depending on your personal interest and time you have to explore the city. Keep in mind many of these are ticketed museums that are on the Oslo City Pass, so make sure you've bought that to take advantage of saving money!
Astrup Fearnley Museum: A privately owned contemporary art gallery
Norwegian Maritime Museum: A shipping museum for marine archeology & paintings, plus boats, a cafe & terrace with fjord views.
Tjuvholmen Sculpture Park: Norway loves its sculptures. This is another public sculpture park near Aker Brygge.
Gol Stave Church: An insanely cool preserved church on the Bygdøy Peninsula
The Fram Museum: A museum telling the story of Norwegian polar exploration.
Holmenkollen Ski Jump Lookout: We saw this lookout while sailing into the city. It's supposed to have an incredible view of the city. I bet coming during fall foliage season would be stunning!
Frequently Asked Questions About Oslo
How Many Days In Oslo Should I Do?
48 hours in Oslo is honestly enough to get a great taste of this city. 3 days in Oslo gives you room to venture outside the city limits, or to the far corners to see a few more parks and lookout points but I left our 40-ish hours feeling like staying longer honestly would have left us a wee bored.
There's so many fun things to do in Norway as a whole so I would recommend flying into Oslo and doing some Oslo sightseeing for 1-2 days before moving on to other parts of the country.
Can I do One Day In Oslo?
Yes. You can reasonably see a lot of the must do in Oslo sights. Oslo in One day is a bit tight as there are a lot of places to visit in Oslo but thankfully the city
Best Things To Do In Oslo Norway In January?
As I mentioned above, Oslo winters are chilly with some snow, but it doesn't get insanely cold. The lows at night are around 20 Fahrenheit but days are in the mid-30's. (I'm from Wisconsin so anything that stays above 0 is a mild winter in my book!) For winter visits, the main obstacle are the short daylight hours.
But, the tradeoff are all the wonderful winter activities. Oslo is a nature-orientated city, so you can go skiing close to town, ice skating, stroll festive winter streets and of course, do a winter sauna plunge. I personally really want to come back to Norway in the winter one year since I kinda transforms into a totally different place.
I hope this helps you plan the perfect weekend trip to Norway's capital city of Oslo! I would love to come back to Norway and explore more of this country, especially in the wintertime to partake in winter sports like dog sleds and maybe even the northern lights way up at the top of the country??
For now, I loved a weekend in Oslo to crash course Norway. It gave me a good taste of the culture and now I want to come back to soak up more! I hope this Oslo itinerary helped you plan an epic getaway.
If you have tips to add, leave a comment below so everyone can see. If you have questions about what to see in Olso Norway, leave a comment below or shoot me a DM on Instagram @thewhimsysoul and I'll try and help you out.
Happy adventures!