September is here and that means one thing: pumpkin spice latte time!!
Starbucks pumpkin spice lattes are legendary, but it's time to learn how to make it for yourself at home. When Kara, my wife, asked me to create the perfect homemade pumpkin spice syrup for her morning fall coffee, I tested a few different recipes out until I crafted the perfect one for you. Keep reading for the best homemade PSL tutorial!
Unless it's October, it's hard to find fresh pumpkins available. It's actually really hard to find canned pumpkin until September (Kara checked 4 different stores in August looking for it, she couldn't wait for fall!)
We always prefer fresh ingredients when we can use them, so once I can get my hands on a real pumpkin I'll be swapping the canned out for that. It's easy to make a pumpkin puree by scratch. Just slice the pumpkin in half, scoop out the seeds and sprinkle with oil, cinnamon, nutmeg and cloves.
Bake until it's all soft, then spoon out and press through a fine mesh strainer to drain any leftover juices. Then you can use this for anything you want to add pumpkin flavors too (coffees, breads, cookies, ice cream, soups, etc.)
Ok, but onto the homemade pumpkin spice syrup that's better than Starbucks. It's best to make this the day before you want to use it so it's already cold in the fridge. And it's also a smart idea to make your coffee ahead of time to cool.
The cooking process is easy. You just mix the canned pumpkin with brown sugar, water and spices. You let it boil down until it's a thick pumpkin spice sauce/syrup and let it cool. So much cheaper, easier and better than buying your PSL at the coffee shop every day.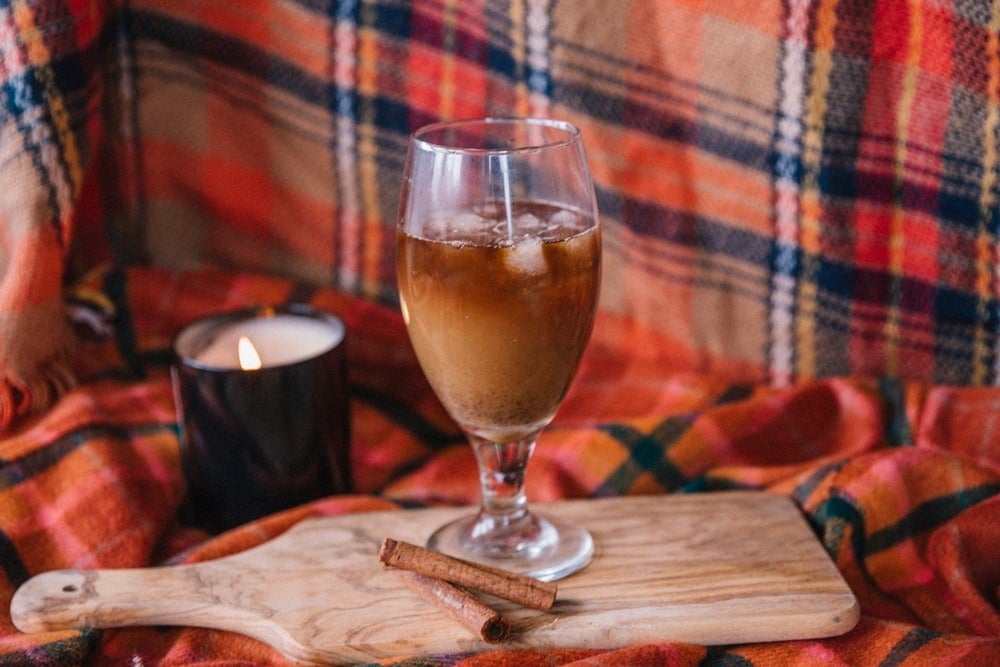 How To Use The Pumpkin Spice Latte Syrup At Home
There's so many ways to use your syrup, but this is Kara's go-to method: She puts 1/4 cup Nutpod coffee creamer in a jar. You can also use sweetened condensed milk for a more luxurious and creamy taste, but Kara is lactose intolerant so she tries to limit the amount of dairy she eats.
Then Kara adds about 2 tablespoons of the homemade syrup and mixes it with a spoon. Next she takes our milk frother and froths the mixture to get it all light and airy.
She puts ice cubes in the bottom of a cup and pours either refrigerated coffee we made the day before or hot coffee into the glass. We have a grinder and prefer high-quality beans for our fancy drinks. Our favorite place to buy them is Red Bay Coffee, a local roaster.
Then, she pours the pumpkin simple syrup onto the top of the coffee and it's good to go!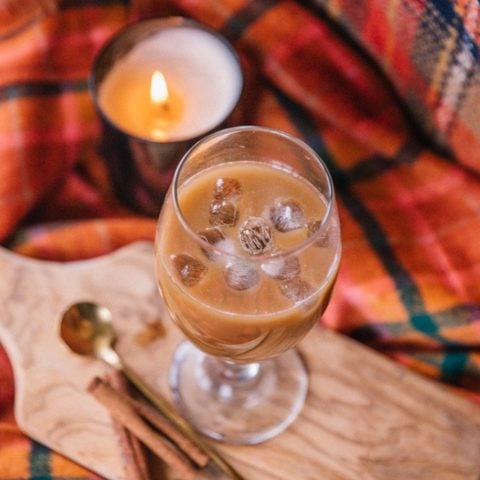 Easy Pumpkin Spice Syrup Recipe
PSL season is here and it's time to make this homemade Pumpkin Spice Syrup Recipe For coffee that's better than Starbucks.
Ingredients
3/4 brown sugar
1/3 cup pumpkin puree (canned or fresh!)
3/4 water
1 teaspoon cinnamon
1/4 ground nutmeg
1/4 ground ginger
1/8 ground cloves
Instructions
Mix all the ingredients into stovetop pot
Cook on low heat until the mixture boils, stirring to avoid it sticking to the bottom of the pot.
Keep it simmering until the mixture thickens into a syrup.
Remove from heat and let cool.
When cool enough, transfer to your syrup jar and store in fridge.
Notes
You can replace all the spices with 2 teaspoons of pumpkin pie spice mix if you have it on hand!
Instead of canned pumpkin, you can use a fresh puree (details above).


How To Use In Coffee

Many ways to use your syrup! This is what Kara loves to do:
1/4 creamer with 2 tablespoons pumpkin syrup in a jar.
Stir and then use milk frother to make it light and airy.
Add ice to the bottom of a glass and add cold coffee.
Top with the pumpkin milk mixture. You can stir it in or let sit on top. Cheers!
Recommended Products
As an Amazon Associate and member of other affiliate programs, I earn from qualifying purchases.
I hope you love this Pumpkin Spice Latte Syrup Recipe as much as we do! She's been drinking this almost every morning with her coffee. In the summer she likes Lavender Lattes and come November I bet she'll swap to something with chocolate or peppermint.
It's fun though – fancy homemade coffees make the day more enjoyable and are really easy to make at home! Especially this pumpkin syrup.