My biggest regret from my nerdy Twilight trip to Forks? I wasn't able to order this shirt in time to wear around town. All I wanted was a shirt that read "This is the skin of a killa Bella!!" Missed opportunity.
Jokes aside, I had so much fun putting together my own self-guided Forks Twilight tour around the Olympic Peninsula. (I even popped down to Oregon where they filmed part of the movie!!) If you are also a fangirl of Twilight, this guide is for you!
I put together a comprehensive list of all the book locations in Forks you can visit with photos and addresses, along with movie filming locations, so you can nerd out on your Forks Washington visit.
Forks Twilight Guide: I Found All The Book & Movie Filming Locations (+ Addresses)
Yes, Forks is a real town. And Bella wasn't being dramatic in the Twilight saga when she said Forks is small – the main street takes just a couple of minutes to drive through.
But, if you slow down and take a peek in the store windows, you'll start the see figurines of Jacob Black or Bella Swan peek out in window displays. Washington vampires may not be real, but they are "real" enough here.
My favorite part was seeing how each local community business choose to nod to the book series. One bar we went to serve a Vampire Bite and Warewolf cocktail.
There's a sign on a hotel that reads "Edward Cullen did not sleep here" and of course some businesses embrace the fandom with a force. The Native Store in downtown Forks has a whole section dedicated to Twilight complete with massive lifesize cutouts of Edward and Bella. It's a vibe.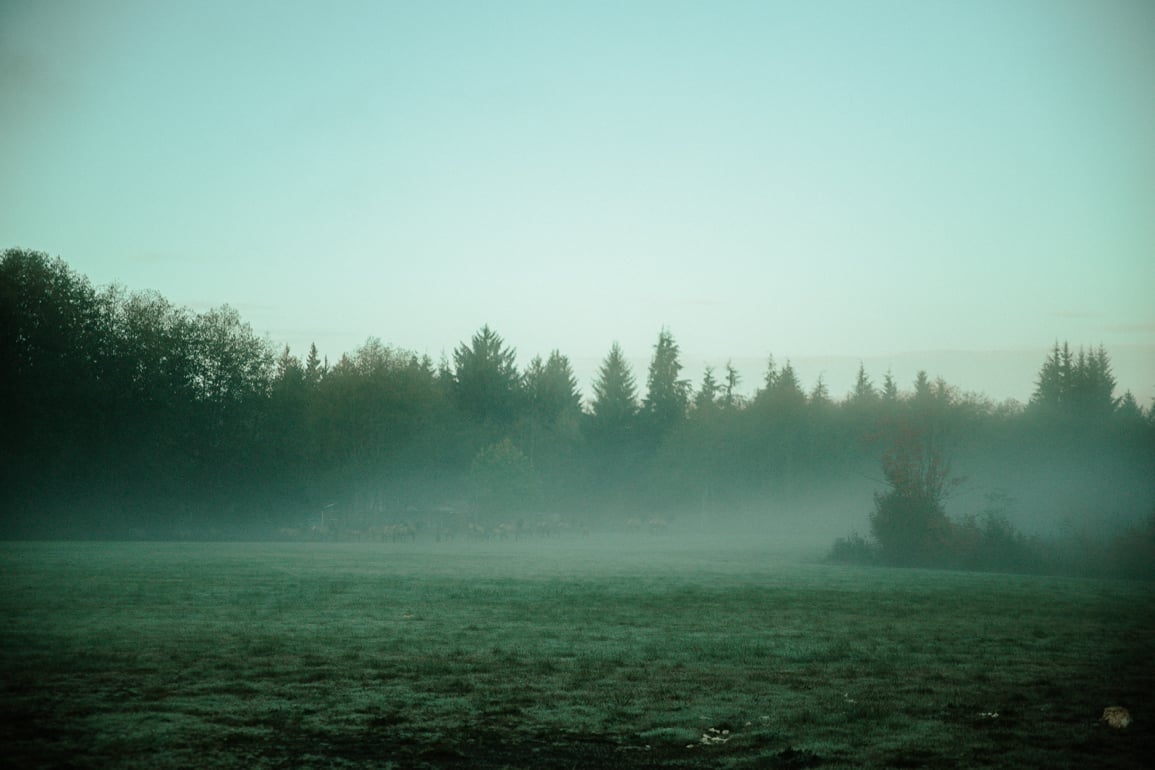 Where Is Forks?
Forks is in Washington! It's a tiny town on the West Coast on the Olympic Peninsula in the Pacific Northwest. The drive from Forks Washington to Seattle is about 4 hours and is surrounded mostly by the national park. I can see why Washington vampires would want to make this a home base – it's very remote and very moody.
My husband and I love road trips, we've driven all over the country. A fall foliage PNW trip around the Olympic Peninsula has been on my bucket for years so this year we finally made it happen.
We flew from San Francisco into Seattle and then rented a car. Before arriving to Forks we spent a few days exploring the Hoh Rain Forest, Port Angeles, Hurrican Ridge and Lake Crescent.
I highly recommend when you plan your Twilight Forks trip that you add on time to explore this amazing national park!
First- Where Was Twilight Filmed?
I may come as a surprise, but Twilight was never actually filmed in Forks. Crazy, right? Driving around the Olympic National Park and Forks I totally could believe all those moody aerial shots of Bella's truck driving around was actually shot on these roads. But nope!
Twilight was filmed in various parts of Oregon, and I at the bottom of this post I have all the film locations listed out.
The Twilight locations in Forks you can visit are from the books, and most of them are actually real places which makes it extra fun. Stephanie Meyers did a great job at portraying the geography of Forks accurately (you know, minus the vampires and werewolves.)
Acknowledgment To The Native People Of Forks
Some of the Twilight book locations you'll visit are on active Quileute tribal land. All of the locations you'll visit during your trip used to be Quileute, Hoh and Quinault land. As with anywhere, you travel, always carry respect for Mother Earth and the locals who live here now, and especially respect while visiting the Quileute reservation.
Two Twilight Themed Hotels To Book While Visiting
Oh yes, there are a few awesome twilight-themed hotels in Forks you can book to make your stay extra special!
Pacific Inn Motel (Twilight Room): This is were my husband and I stayed while visiting Forks. It's modern, right downtown has great wifi and – best of all – a Twilight-themed room! Sadly that one was booked out during our stay, but I got to peek inside it and it's awesome. Red wall, movie posters and other vampire-themed decor.
Miller Tree BnB: Aka the Cullen House! This was dubbed the official Cullen house on the Twilight Tour (I explain why below). There's tons of subtle Twilight references around the BnB. Just no Edward, sadly. If you want to sleep at the Forks Twilight house, this is the spot.
Twilight Locations In Forks + Addresses!
Ok, now onto the fun stuff!! There are paid Twilight tours in Forks you can take, but I preferred to do it on our own and at our own pace. We spent a couple of days in Forks and broke up the Twilight things a bit, which I think my husband was thankful for.
(He's not a fan) The commerce offers a downloadable Forks Twilight map but it's kinda hard to read and use, so instead I have addresses with tips before for you!
Tip: there's a Twilight tour from Seattle that operates if you don't have a car but still want to get your werewolf / Vampire love triangle on. There's also this Twilight tour in Forks if you are looking for something guided but honestly, my nerdy self guided tour is pretty great!
Forks Chamber Of Commerce
Address: 1411 S Forks Ave, Forks
Best time to visit: Morning to avoid crowds.
This is probably the coolest Chamber of Commerce I've ever seen. They go REALLY hard into Twilight. It's located on the edge of town and parked in front are both of Bella's trucks – the one she drove in the movie AND the books. It's the perfect photo op to post to Instagram!
We sadly weren't able to go inside the Chamber since they were closed during our visit for some construction reason. Usually, it's open 10am-5pm daily and inside they have tons of Twilight things for sale, so it's worth popping inside.
If you are coming just for photos of the trucks, I recommend you arrive before 10am to avoid the crowds and make it easy to take photos! This also doubles as the Visitor Information Center if you need tips on other things to do in Forks.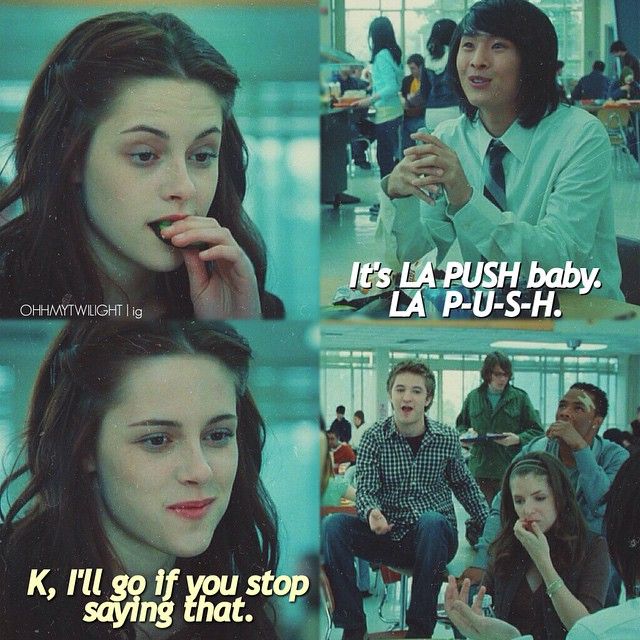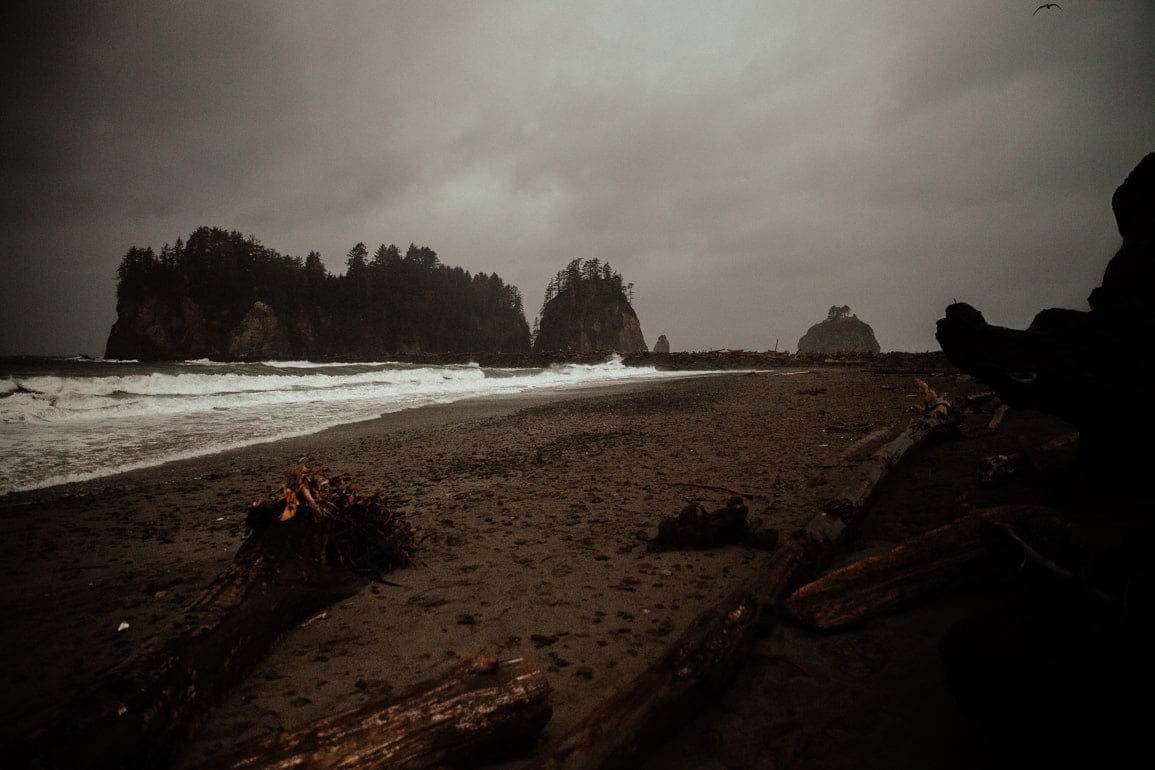 La Push (First, Second And Third Beach)
Address: Quileute reservation outside Forks
Best time to visit: Morning or evening for best light.
La Push baby! It's La Push! How many times did I say that on this trip? Far too many. La Push isn't just one beach but a series of three beaches on Quileute reservation about a 25-minute drive outside Forks. In the books and movies, this is where the gang goes surfing.
With that in mind, I think they are visiting First Beach, as that's the only one you can park literally right next to the beach.
Second and Third Beach require a hike in and steep stairs to the beach, which I imagine would be hard to do while carrying a surfboard. We went to all three beaches and loved them each, they're all so different. But the latter take a while to hike to, so if you are on a time crunch just visit First Beach.
Pro-tip: a local tribe member sells smoked salmon if you want to support the tribe while getting something tasty. Look for the signs to direct you to their house!
Charlie and Bella Swan's House
Address: 775 K Street, Forks
Best time to visit: Any
Again this is the house from the movies but this is where Charlie Swan's house would be if it were real. The owners have embraced Twilight with a cute sign out front and a cut out of Alice.
It was so fun to imagine what it was like to be Bella and drive through the streets to the edge of town to this house. Just remember, this is a real house that people live in, so be respectful when visiting!
Want to visit the house that was used for filming Twilight? Scroll to the end of this post, I share it amongst all the filming location addresses!!
The Cullen House
Address: 654 E Division St, Forks
Best time to visit: Any
Aka the Miller Tree BnB (which you can rent!) this is dubbed the proper Cullen house! In the movies, the Cullen house is large, modern and fancy AF.
But in the books, it's a 100+ old white farmhouse with a porch. This BnB fit the description and location so well that it took over the duty of being the IRL Cullen House location.
The Cullen's name is on the mailbox and Esme will sometimes leave notes on the whiteboard inside the lobby. They also have a graduation cap piece of artwork (from the movies), and sometimes set the table for guests with Twilight themed settings and even have Carlisle's Office.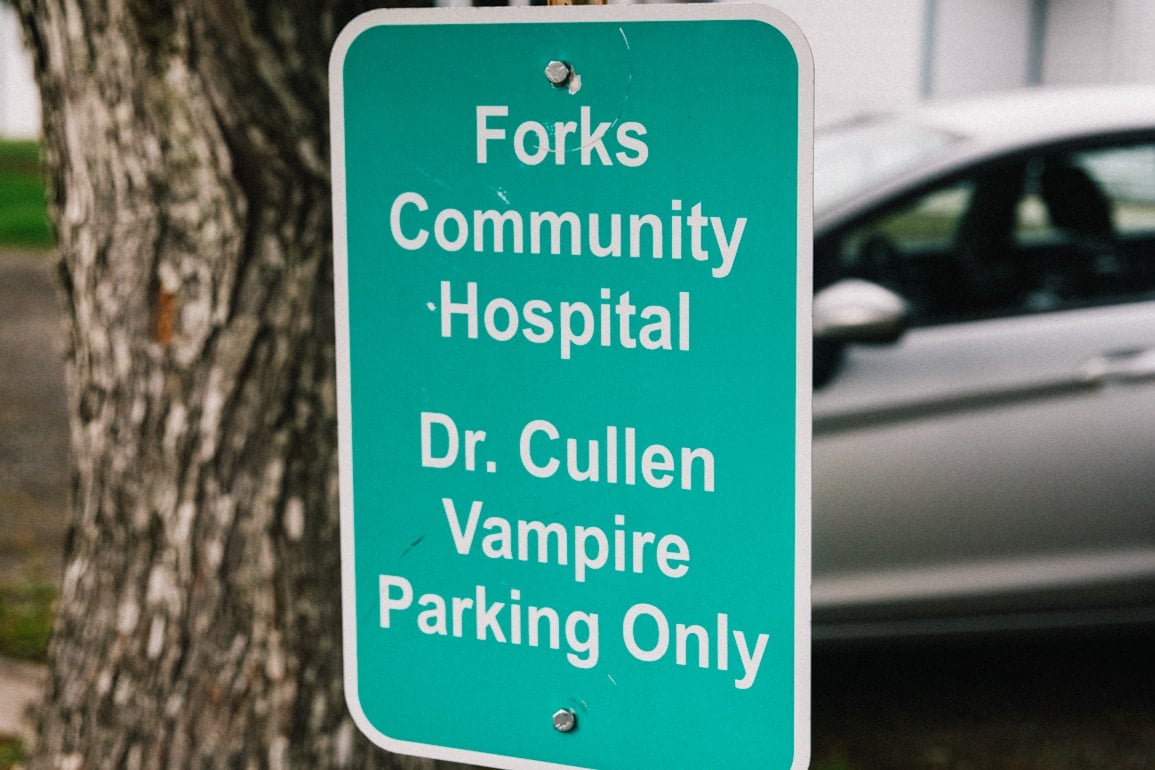 Dr. Cullen's Hospital Parking Sign
Address: 530 Bogachiel Way, Forks, WA
Best time to visit: Any (just not when the hospital is super busy or going through a large emergency)
Just a few blocks away from Bella's House is the Forks Community Hospital building, where Carlisle Cullen worked as a doctor in the books and movies. The hospital put up a "Dr. Cullen Vampire Parking Only" sign as a nod to their famous (fictional) medical resident.
Finding the sign is a bit tricky. Look for the admin building on 5th street near some trees. You'll find his parking spot tucked over here! (I missed it the first time and had to circle the block).
Forks Police Station
Address: 500 E Division Street, Forks
Best time to visit: Any, but keep in mind this is an active station
The station where Charlie Swan would have worked! Rumor has it the station used to have a whole display around Charlie up in honor of him, but it's now gone. TBD if it's coming back, so for now this is just a small-town police station. (You could honestly probably skip this spot if you are tight on time.)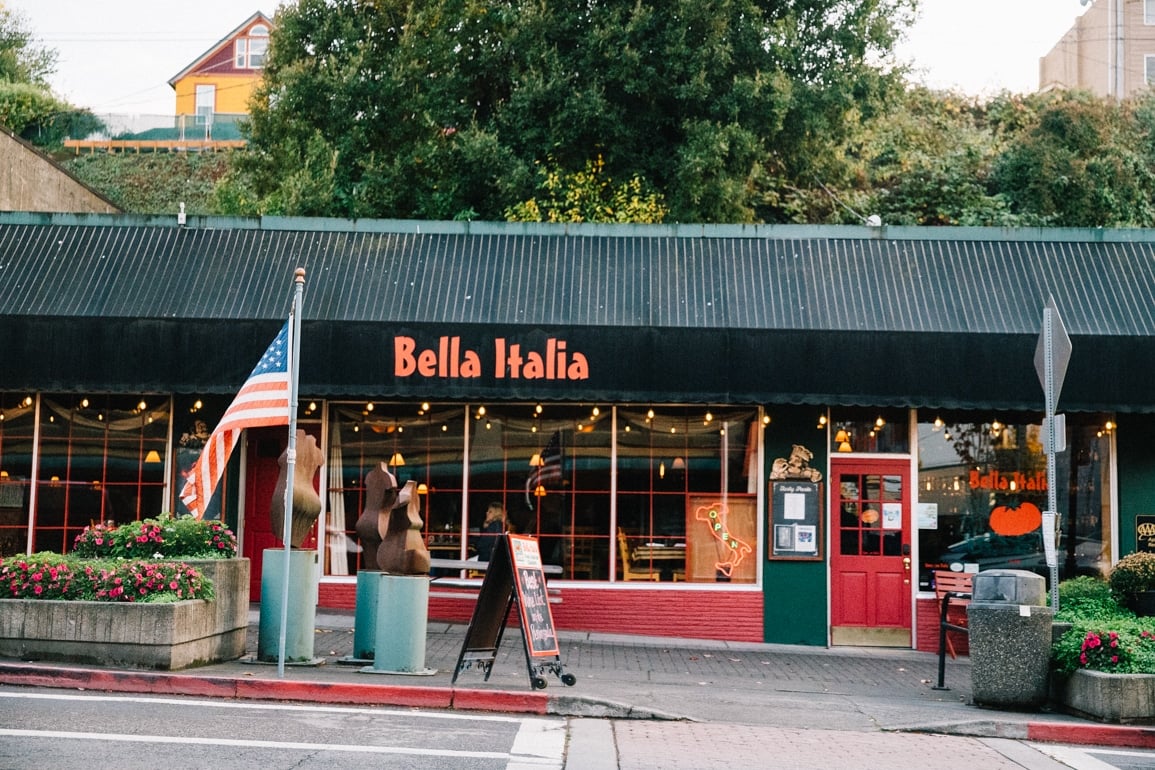 Bella Italia Restaurant
Address: 118 E 1st St, Port Angeles
Best time to visit: For dinner
GUYS, I can't explain how much I nerded out while dining here. In the books, Bella and the girls go into Port Angeles to find prom dresses. Edward shows up and takes Bella to dinner. This is where that would have happened!!! In the books she ordered mushroom ravioli, so the restaurant has that available so of course I ordered it!
During high season, this restaurant can book out fast so make sure to set a reservation prior to arriving in Port Angeles. And yes, it's far from Forks but you'll probably be driving through here from Seattle to start your Olympic National Park trip (that's what we did!)
Forks Highschool
Address: 261 Spartan Ave, Forks
Best time to visit: After school hours
WHERE THE MAGIC STARTED!!!!!
Jacob Blacks House
Address: 8320 La Push Rd, Forks
Best time to visit: Any
While out in La Push, swing by Jacob Black's Vacation Rental! It's painted red and features Jacob's bike out front, like in the books. Inside it's decorated with tons of wolf themed decor (very fitting). Just like the Cullen House, this is available to rent out and spend a night in!
Treaty Line
Address: 7764 La Push Rd, Forks
Best time to visit: Any
Aka the Three Rivers Resort, this is Treaty Line!! As a reminder, Treaty Line is the barrier the Cullens agreed upon as to not cross over into tribal land. In real life, the Treaty Line is on your way to La Push and tere's a HUGE sign with two sides. One says "Welcome Twilight Fans" and the other side says "No Vampires Beyond This Point!".
The gas station and resort have a parking lot, so please park there instead of blocking the driveaway where the sign is located. Walk the 20 feet to keep the area safe and accessible!
Forever Twilight
Address: 35 N Forks Ave, Forks
Best time to visit: Opening hours
The Forever Twilight Gallery at Rainforest Art Center is full of props and costumes from the movies. It was closed during our visit so I wasn't able to go inside but worth a stop if you are in town while it's open! It's totally free.
Native To Twilight Gift Shop
Address: 10 N Forks Ave, Forks
Best time to visit: Opening hours (9:30am-6:30pm)
This is the gift shop I mentioned at the top of the post! Half gift shop full of Native art, half a shrine to Twilight complete with multiple lifesize cardboard cutouts of Edward and Bella, along with copies of all the books for sale, posters and other souvenirs.
It's a whole vibe. And kinda strange but I loved it. I ended up buying a Native shirt here for my husband. If you have spare money to spend, do it here to support local businesses AND Natives.
Okie, that's all the Twilight spots in Forks I could come up with! I left out the hardware store Bella worked at in the books — it's just an Ace Hardware store now. Nothing crazy unique.
And the Rainforest Arts Center, which has an amazing collection of Twilight props, costumes, and memorabilia. After all day playing vampire, Robin (my husband) was NOT down for a museum packed with even more vampire stuff, so we skipped this but it's supposed to be fun!
All The Twilight Filming Locations From The Movie
Now, onto a list of all the Twilight locations used in the movies! As you probably know, movies and shows are hardly ever filmed all in one place.
For the Twilight Saga, the movies Twilight, New Moon, Breaking Dawns were filmed all over Oregon and Southern Washington so you could do a Twilight road trip itinerary if you wanted.
And, if they ever make a Midnight Sun movie, we can expect a similar filming location.
Twilight Movie Locations
The Swan Twilight House: Located at 184 S 6th St, St Helens. By total accident, we actually happened to be visiting St. Helens Oregon right after our Forks Trip for the Halloweentown festival! And, St. Helens just happens to be where Bella's house is from the movies!! This is probably the easiest of all the movie spots to visit in real life. It's an Airbnb that you can book, too!!
Cullen House: 3333 NW Quimby St. Portland, Oregon (a real house that you sadly can't visit inside of, but you can swing by the house on the street!)
Port Angeles Scenes: Also filmed in St. Helens near the Twilight House (pay attention you can see the famous St. Helens town hall in the background of a scene!)
Bella Italia: Bloated Toad Cafe in St. Helens
Forks Scenes: Vernonia, Oregon
Rainforest scenes: Outside Silverton Oregon in Silver Falls State Park
Spider Monkey / Climbing Tree Scenes: Columbia River Gorge, OR
La Push

: Near Cannon Beach at Indian Beach & Ecola State Park

Exterior Of Forks High School: Kalama High School in Kalama, Washington
Interior Forks High School: Madison Highschool in Portland Oregon
Baseball Game Scene: Near Multnomah Falls
The Exterior of Bella's Ballet Studio: Yale Union Building, 800 SE 10th Avenue, Portland
Lion and Lamb Scene: Stone Cliff Inn at 17900 S Clackamas River Drive, Oregon City
Prom: View Point Inn at Crown Point in Corbett, OR
Say It, Out Loud scene: Oxbow Regional Park 3010 SE Oxbow Parkway Gresham, Oregon
Bella's Arizona House: 22301 Cataro Drive Santa Clarita, CA (had no idea this was in California!)
New Moon Movie Filming Locations
After the first movie got so much success, the filming crew started to evolve the set and locations. For instance, Bella's house was reconstructed as a film set house vs a real house. Filming moved to Canada, and later Lousiana for other movies. Your Twilight Tour forks list gets smaller for the other books.
The Swan House: Built from the original and filmed at 18746 28th Ave Surrey, B.C. Canada
Beach Scenes With Jacob: Pacific Rim National Park in Vancouver Island
Jacob's House: 1363 Gilleys Trail Rd. Coquitlam, BC, Canada
Movie Theather Scenes with Jessica: Paramount Theater 652 Columbia St. New Westminister BC
The Cullen House interior scenes: 118 Stevens Dr, Glenmore Park West Vancouver, B.C., Canada
Cliff Diving: Parthenon Park in West Vancouver B.C. (though, while sitting on the real La Push Third Beach, there's large cliffs and I could totally imagine Bella jumping from those.)
Volterra Locations: Had to leave Canada for this! They filmed in the medieval hilltop town in Montepulciano. The clock tower is located on Palazzo del Comune, Piazza Grande.
Breakup Scene In Woods: South end of Capilano Lake North of Vancouver B.C., Canada
Eclipse Filming Locations
Volturi Arriving Scenes: Swiss Canadian Gun Club 4141 Quarry Rd. Coquitlam, BC
Jasper Flashbacks: Pitt Meadows, Coquitlam, BC
Graduation: Como Lake Middle School 1121 King Albert Ave. Coquitlam, BC
Victoria Cliff Diving: Whytecliff Park West Vancouver, BC
Breaking Dawn Filming Locations
I couldn't find a lot of spots listed for Eclipse or Breaking Dawn. I did learn much of Breaking Dawn was shot on sound stages and locations around Baton Rouge (other than the honeymoon scenes taking place in Brazil.)
Denali Family House: 1777 Pinewood Place Pemberton, BC
Bella Climbing Rock Scene: Stawamaus Chief Provincial Park, BC
Wedding Scene: Paradise Valley Rd, Squamish, BC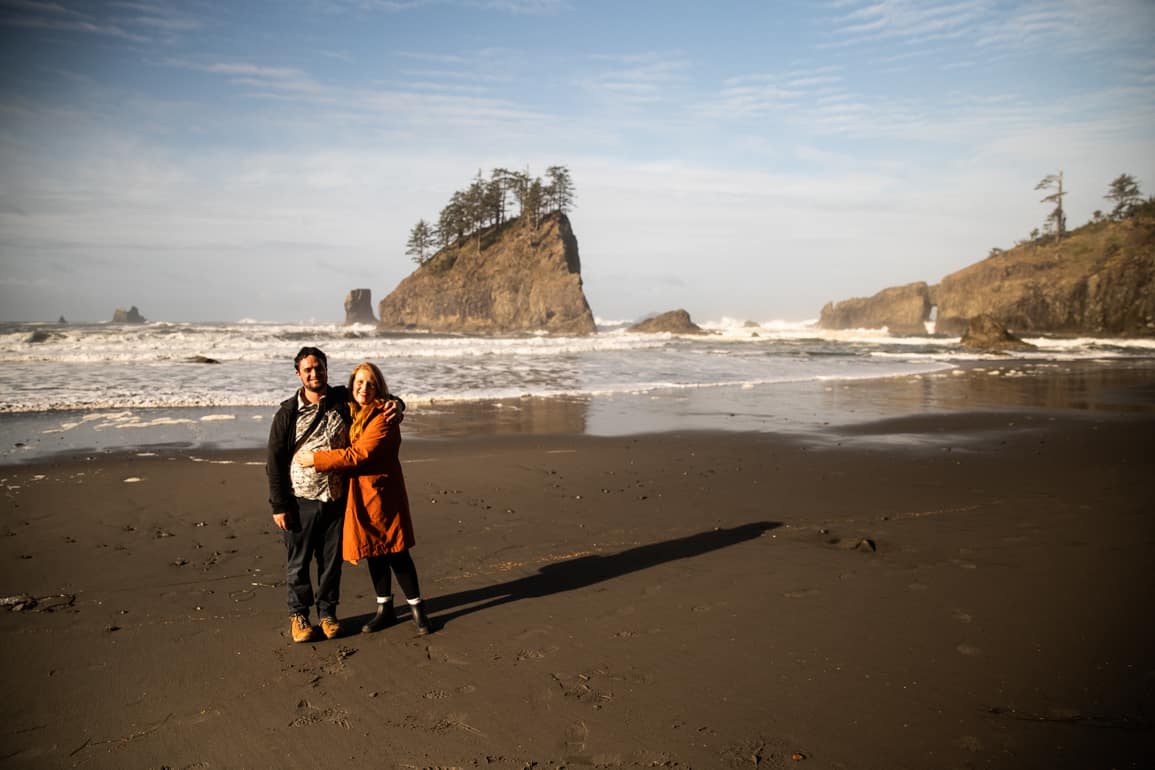 So there you have it. Forks is a real place and I was there! And, I hope this helps you plan a fantastic Forks Washington Twilight trip!! If you use this guide to visit any location from the Story, please tag me on Instagram @thewhimsysoul so I can see you nerd out!!
If you have any locations or add or questions, drop a comment below so everyone can see and I can help ya out. 🙂
More Travel Posts You'll Love