Summer is around the corner for us and we've been drinking gin cocktails in the evening to cool off.
I'm a lover of herbal flavors so when I was standing in line at Trader Joe's and saw their Lemon Elderflower Soda, I instantly knew it would make a great gin-based summer cocktail. And it does – this goes down easy, especially on hot days.
Keep reading for this easy gin fizz with elderflower recipe!
Elderflower Gin Fizz Cocktail Recipe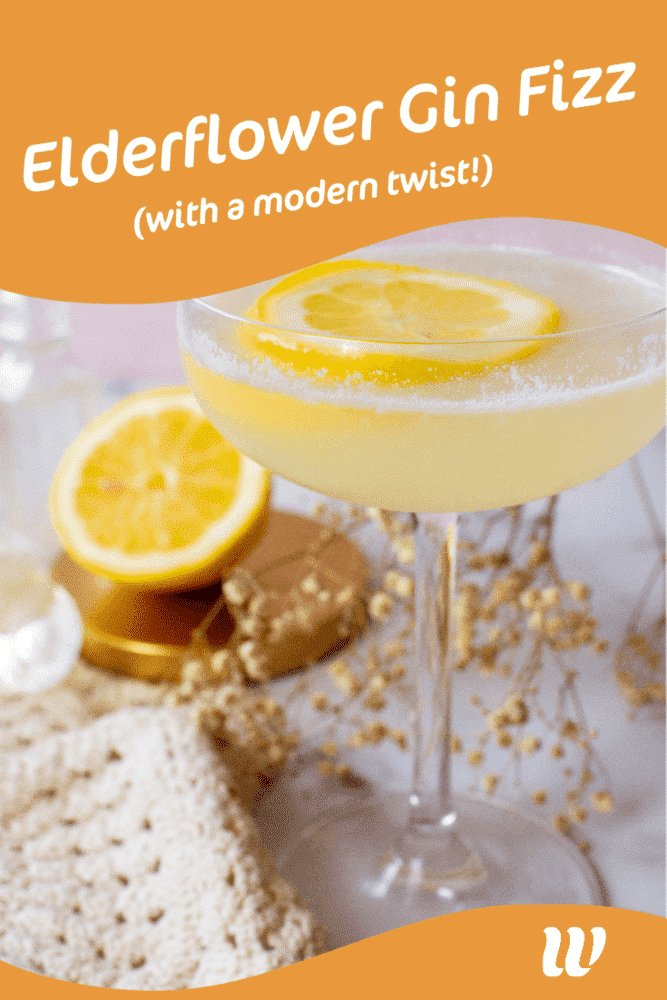 I'm all about taking classic recipes and giving them a modern twist, especially one that's easy for my millennial readers to recreate without the need to hunt down niche ingredients
Instead of using Elderflower liqueur, which is obscure and hard to use in a variety of drinks, I'm sourcing that herbal taste from Trader Joe's Lemon Elderflower Soda (which is in place of soda water.) It's just under $4 and can be picked up on your weekly grocery run.
A classic gin fizz uses lemon juice, which this cocktail has a little bit of. But, we're tapping the soda that lemon kick, too. Though, I do recommend that you garnish with a lemon slice if you're trying to be extra fancy.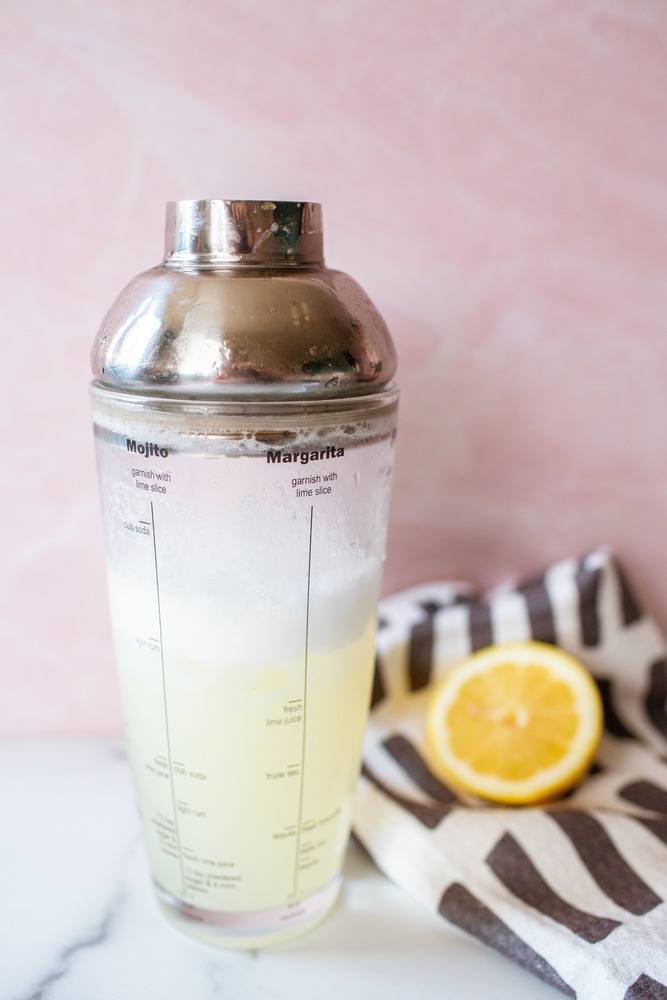 On top of being on a gin kick, we've been experimenting with cocktails that use egg whites lately. It sounds a bit strange to drink raw egg whites, but they offer a certain level of creaminess and foam that nothing else can quite replace.
So yes, this elderflower gin fizz uses egg whites! Though, if you are vegan you can omit the eggs whites, you may just need to adjust the ratios of the ingredients a bit to balance the tastes out.
I used Trader Joe's gin for this recipe. It's a decent gin for $11 and gets the job done. But, swap for a higher quality gin for a smoother cocktail.
Here's how to make it: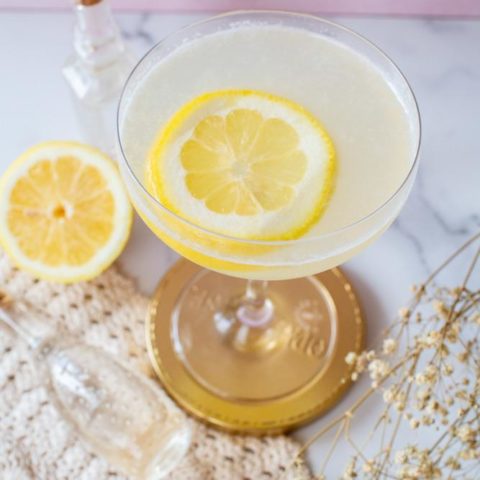 Elderflower Gin Fizz Cocktail (With A Modern Twist!)
An Elderflower Gin Fizz that goes downs super easy, it's especially refreshing on a hot summer day. Featuring Lemon Elderflower Soda from Trader Joe's
Ingredients
2.5 shots Gin
1/2 can of Trader Joe's Lemon Elderflower Soda
2 Egg whites
Water
Sugar
Ice Cubes
1/2 Lemon juice
Instructions
How To Make Simple Syrup

First, make the simple syrup. We always make a big batch and keep some in our fridge for cocktails.
Mix sugar with water in a stovetop pan
Heat until the sugar dissolved then turn the heat down low and simmer for 5 minutes.
Remove & let cool before using in the cocktail

Elderflower Gin Fizz Cocktail Recipe
Make your simple syrup.
While that's cooking, seperate your eggs from the yolk and whites. We use the egg yolks for omelets the next morning.
Mix together the gin, simple syrup and egg whites into a cocktail shaker.
Shake for 10 seconds
Add in ice cubes and then shake for another 10 seconds. This helps to mix in the egg whites better and keep them from separating in your glass
Serve your gin mixture into a cold glass and top with about 1/2 can Elderflower. Stir with a spoon. (DON'T shake it in the mixer, it'll fizz up and lose carbonation.)
Garnish with a lemon wedge if desired.
Recommended Products
As an Amazon Associate and member of other affiliate programs, I earn from qualifying purchases.

I hope this helps you create a tasty, easy elderflower gin cocktail for warm summer nights! If you make it, send me a DM on Instagram @thewhimsysoul so I can see!!