Hailing from a town outside Madison, Wisconsin, I grew up with Wisconsin Old Fashioned cocktails being the go-to drink at bars (other than a cold Linnie or Spotted Cow!)
I moved out to California a few years ago and only then did I realize two things: Old Fashioneds aren't a common drink and when it is on the menu, it's always a Wisconsin Old Fashioned. I guess other than cheese and cows, the rest of the country knows Wisconsin for this specific cocktail!
So, I thought it was time to share this classic cocktail recipe with you guys… but with a California twist to pay homage to my new state!
Wisconsin Old Fashioned Cocktail Recipe (With A California Twist!)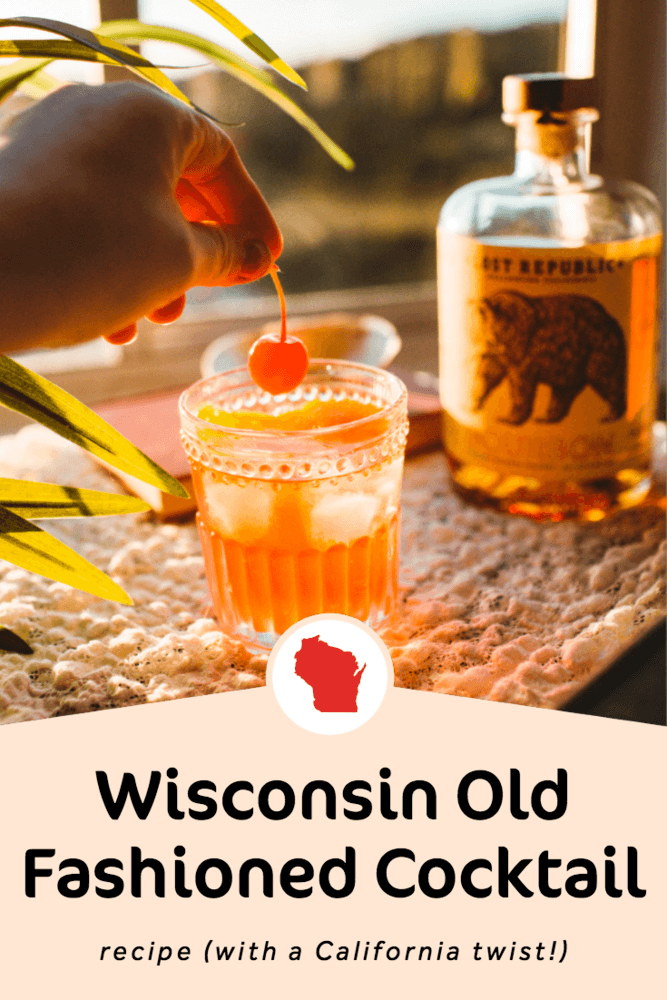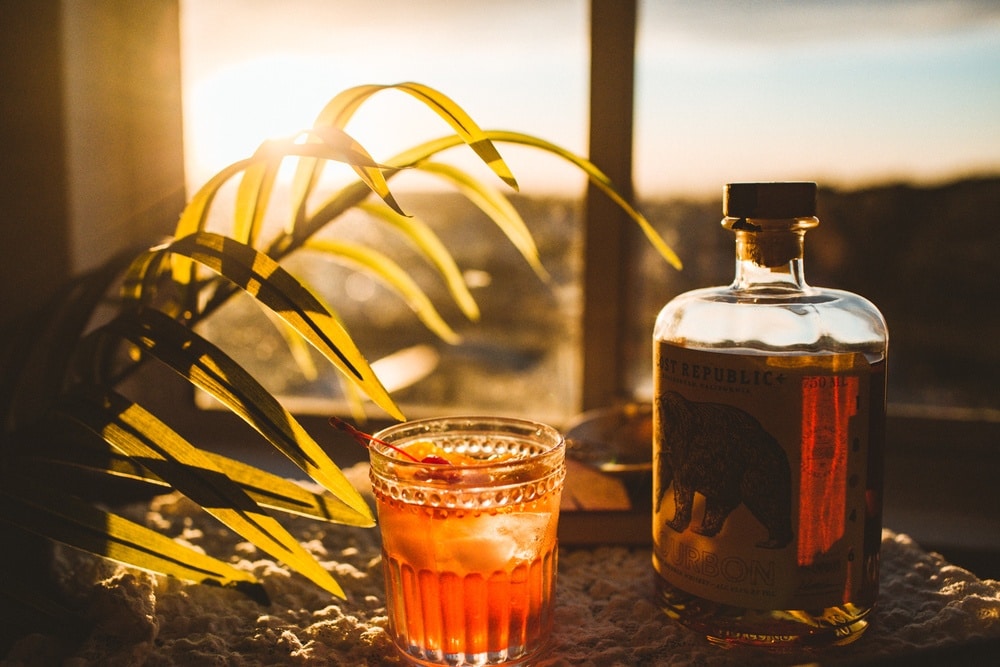 >> Got a question about this recipe or Wisconsin or California travel that that you need answered quickly? DM me on Instagram @thewhimsysoul and I'll be happy to help!
A traditional Wisconsin old fashioned cocktail uses brandy, a maraschino cherry, an orange slice, angostura bitters and soda water or club soda. But, this cocktail pays homage to my two states and it doesn't use brandy. Instead, we'll be using Bourbon.
But not any bourbon: Lost Republic Bourbon.
Up until October (so, about 3 months ago) I was adamant that I didn't like the world of whiskey (whiskey, bourbon, scotch, etc). I could tolerate a cocktail with whiskey if it had a lot of sugar, simple syrups and juices involved to mask the burn.
I've always been jealous of people who not only could drink whiskey neat but actually liked it. Robin and I did part of our honeymoon in Ireland and Scotland and I even tried authentic Irish whiskey and was not a fan.
And then I visited the Lost Republic distillery in Healdsburg, which is a charming wine town in northern Sonoma County. I was meeting with the founders of Lost Republic in part of a project with GoDaddy and at the end of the interview, we gathered around barrels in their distillery so we could do a quick barrel tasting.
And I was nervous! I didn't want to have to tell these nice guys that I didn't like their product that they've spent years working on.
And then one of the founders told me something that literally changed everything: you don't freaking stick your nose in a whiskey glass as you do with wine!! (ok, he didn't say it that way, but you get my drift)
In case you aren't familiar with wine tasting, the best practice when tasting wine is to really get your face all up in the glass, smell the wine and almost drink with your nose (if that makes sense?)
Yeah, whiskey is NOT like that. Coming from a wine world, all these years I've been sticking my nose in the whiskey glass, smelling it, and then drinking it, which always led to that burning sensation that I hate. Instead, the key (for me at least) is to not inhale through my nose when I take a sip. This cuts out the burn but leaves the great flavor notes.
Finally, I GOT it. I GOT why people like to drink whiskey neat. That night (with a bottle of Lost Republic bourbon in hand) I went home and drank whiskey near with Robin while watching the sunset.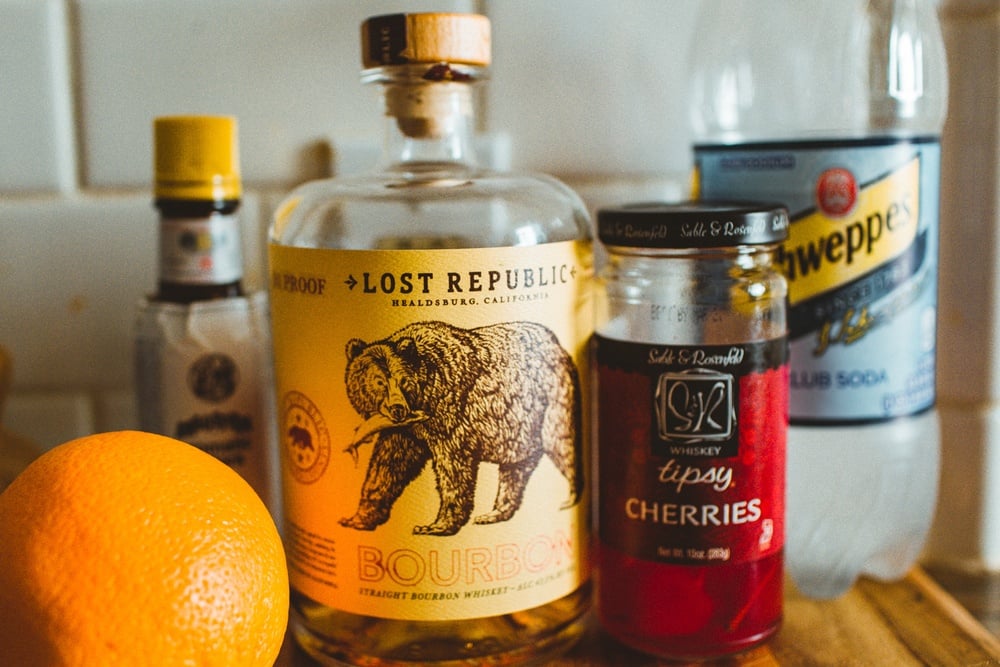 Now back to the recipe. There's a lot of variations from a Wisconsin brandy old fashioned. You can make an old fashioned sweeter by adding more sugar cubes or even simple syrup. You add use lemon or lime soda instead of plain soda water for an extra hit of citrus.
I've seen bars use a blood orange instead of the traditional plain orange twist and even had a one with fresh black cherries in place of maraschino cherries before. Really you can slightly mold this basic cocktail anyway you like it. Looking to make your bourbon old fashioned sweeter? Just add more sugar! An old fashioned sour can be easily made with this recipe by adding in lemon juice to get that sourness.
I wanted to stay as close to the traditional Wisconsin old fashioned as possible for this recipe but of course, swapping brandy for California bourbon.
Kitchen gadgets used in this cocktail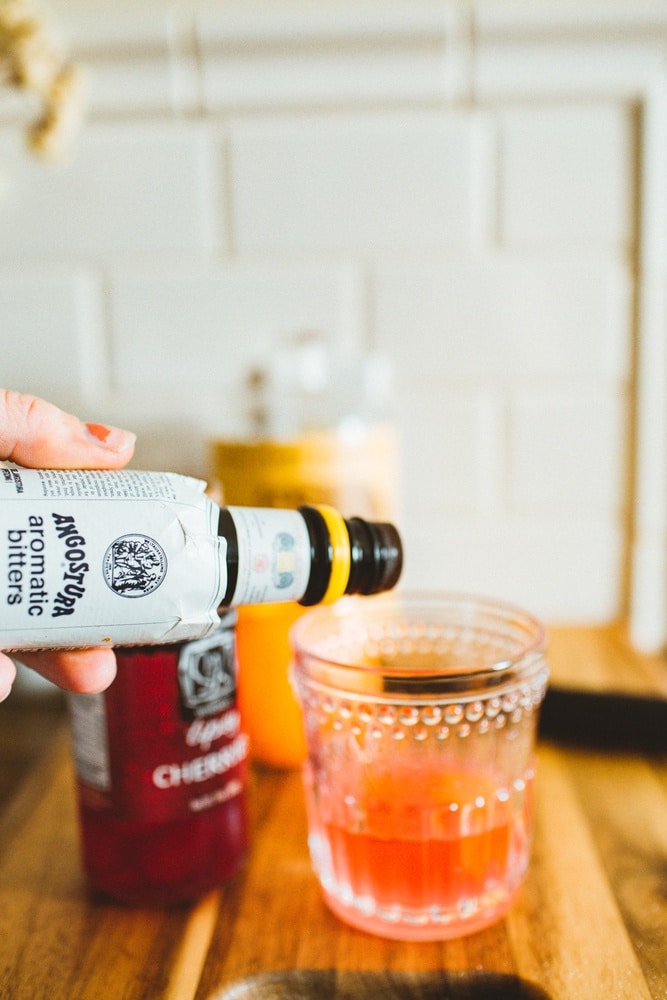 >> Drink on a cold winter night with a good book. Pairs well red meat-based dishes, like a pot roast with potatoes.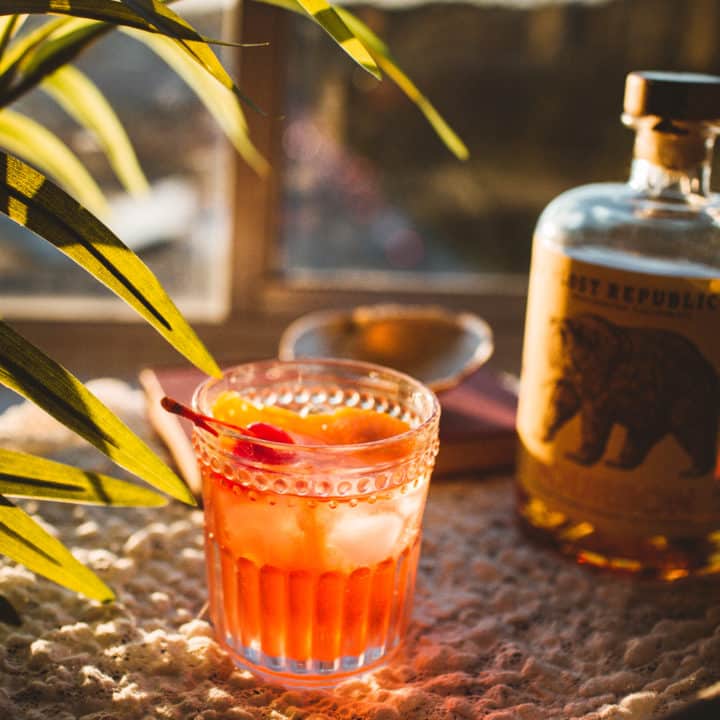 Wisconsin Old Fashioned Cocktail (With A California Twist!)
Taking a classic Wisconsin Old Fashioned cocktail recipe but adding a twist by using California bourbon instead of brandy.
Ingredients
2 oz Lost Republic Bourbon
1.5 oz soda water
1 orange peel
2 teaspoons sugar
1 teaspoon maraschino cherry juice
1 maraschino cherry
4 dashes Angostura bitters
2 ice cubes
Instructions
1. Peel your orange to slice off a large (at least 1.5 inches) orange peel slice
2. Place in your glass & muddle together to release the oils of the orange to the inside of the glass.
3. Add the sugar, cherry juice and soda water. Mix well.
4. Add the bitters, mix
5. Add the bourbon, stir well
6. Top with 1-2 ice cubes and a maraschino cherry. Drink up!
Notes
You can add more sugar and cherry juice if you want your cocktail to be more sweet!
Recommended Products
As an Amazon Associate and member of other affiliate programs, I earn from qualifying purchases.
Nutrition Information:
Yield:

1
Serving Size:

1
Amount Per Serving:
Calories:

315
Total Fat:

0g
Saturated Fat:

0g
Trans Fat:

0g
Unsaturated Fat:

0g
Cholesterol:

0mg
Sodium:

152mg
Carbohydrates:

45g
Fiber:

1g
Sugar:

40g
Protein:

0g