Gua sha: a Chinese beauty practice that's been around for thousands but recently has gained tons of steam thanks to TikTok. (Hey, that's where I first learned about the practice, too!)
I've been incorporating a rose quartz gua sha tool practice into my morning ritual daily but when I got a chance to try a stainless steel tool out, I was curious. As a clumsy person, I've been just waiting for the day when I drop my tool and it shatters. In this post, I'm sharing my honest non-sponsored thoughts on the Sacheu gua sha face roller, tool and serum along with the differences between stainless and stone tools.
Sacheu Beauty Review + Everything To Know About Stainless Steel Gua Sha Tools
I made this clear in my introductory post all about gua sha but I'll say it again here: do not use gua sha products for a "skinny face". Toxic diet culture and fatphobia seep into everything and sadly most of those viral TikTok videos I saw were all about ways to look thinner and using the beauty kit tools to accomplish that. *Barf*
Do it for the health benefits, mental and physical. Don't do it to look thinner. Ok, rant over.
What Is Gua Sha?
Gua sha is an ancient Chinese beauty practice that's all about applying pressure and scrape the skin and face to create a light petechia which in turn helps promote metabolic cell repair and regeneration. I find it helps a ton with a sore neck and facial muscles and is especially handy on days I'm hungover to help massage my achy puffy face.
In short, it's a daily facial massage you can give yourself as part of your morning or evening skincare routine. And it helps, a lot. I love it so much that I've started being really bougie and packing my gua sha tools with me while I travel. But that has made me even keener on finding a non-breakable facial roller kit because transporting fragile tools around the world is just waiting for a disaster.
A Look At The Sacheu Gua Sha Tools Stainless Steel Kit
That's the big difference the Sacheu face roller and tool kit offers. It's all stainless steel!! Sacheu Beauty Is Founded By Asian Influencer Sarah Cheung who grew up in Asia in a household that used gua sha practices. She chose to make stainless steel products instead of stone.

Their kit comes with a stainless steel roller, gua sha tool and the Thick Skin serum to use with the tools. The serum is fragrance-free to be even more skin0friendly. The packaging is high quality and they have fast shipping on orders. It's the ultimate starter pack for anyone new to Gua Sha.
They also sell a silky sleep set which is an eye mask, which I have not tried.
Gua Sha Stainless Steel Vs Jade Or Stone
The argument against jade or quartz gua sha tools is that they are porous and can trap bacteria in them. Gua sha helps repair skin, but some people feel like that's counterproductive if you are using a possibly contaminated tool. Stainless steel is just a cleaner material overall.
Another argument is that mining jade and stones is not ideal for the environment. Sacheu Beauty tools are made from 100% stainless steel which in itself 100% recyclable. They also use FSC cardboard packaging to help reduce waste, too.
But according to doctors and skin experts, it doesn't really matter. The important part is to find a tool that you like. One that feels good on our skin and is easy for you to hold and use. I've seen videos of elderly Chinese grannies using ceramic spoons instead of traditional tools. It really doesn't matter what you use, as long as you keep it clean. But if you want to be extra cautious, go with Sacheu.
In fact, the serum you use may be more important. Face creams and serums need to help tools glide over your skin instead of yanking and pulling it. The whole point of gua sha is that it gently moves stagnant pockets around, not yanking your facial muscles.
Sacheu Thick Skin serum is sold with the kit because it's important to use the right serum. Before I got this kit, I used lavender oil from my favorite local lavender farm. It has a similar feel to the Thick Skin serum, but the serum is a bit more silk and easy to glide a tool around. If you are new to gua sha, you would probably love getting the hang of how it should feel on our skin with the whole kit. I still prefer my lavender oil, though.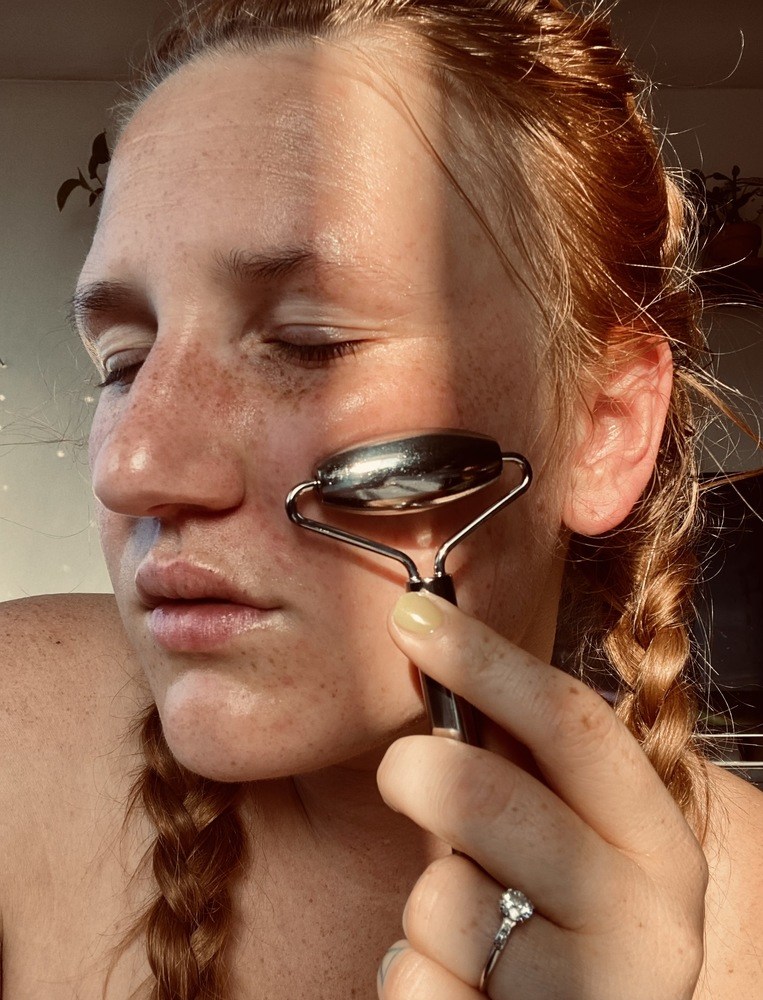 Sacheu Beauty Gua Sha Review – Is It Worth It?
I love both my quartz tool from Mount Lai and the stainless steel one from Sacheu. I travel a LOT (well, pre-panny days I did) and I always keep a duplicate set of my favorite beauty things in my suitcase to make it easy to pack. Sacheu roller gua sha kit and travel pouch are going to live in my suitcase so I can still use the tools on the go and finally stop worrying about breaking my quartz tool in a random hotel room.
The serum is great, too. Super silky to make it easy to use. No fragrance which is great for my sensitive skin. I do love my lavender oil, so I personally probably won't replace the Thick Skin serum but it's a great product.
The only aspect of my order that was less than ideal is my facial roller arrived popped out of the frame. I was able to pop it back in but it was still not the way I wanted to start my introduction to the brand.
I hope my Sacheu gua sha review was helpful! Have you ever tried Gua Sha before or are you new to this practice?