TikTok: the cool kid on the social media playground.
Especially right now during quarantine, everyone and their mothers (literally, I see so many moms and grandmas on the app these days) are trying to get TikTok famous. TikTok works so differently than other platforms, like Instagram, that it can be hard to know where to start.
In this post I'm sharing how I get a video to earn over 1.6 million views, how I earned 10k new TikTok followers overnight and tips for getting your videos to go viral. Keep reading! (Note: this post has been updated for 2021 best practices)
How I Got 10k TikTok Followers Overnight: 11 Hacks To Rapidly Grow Your Following On TikTok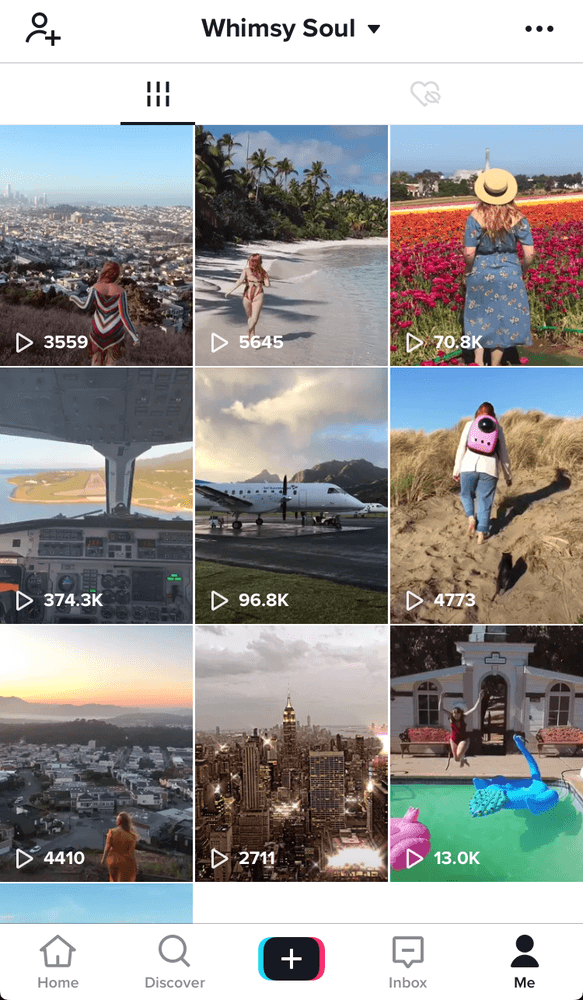 >> Got a question about TikTok that you need answered quickly? DM me on Instagram @thewhimsysoul or on TikTok @whimsysoul and I'll be happy to help!
Introductions first! Hi, My name is Kara and my life is prettttty crazy. (If you get that reference, I love you. Also, you're OG enough you probably don't need TikTok tips.)
All jokes aside, I've been blogging here at Whimsy Soul for over 5 years. We have over 80,000 followers on Instagram, over 400,000 people read whimsysoul.com each month and running this content business is my full time job ( I've even hired my husband!)
You don't need a million followers to create full time, and I love showing others how they can grow on social media, too.
I have about 14k TikTok followers at the time of writing this article. Most of them came almost overnight when one of my videos went mega-viral and got 1.6 millions views. I haven't got a video go that viral since, but I have figured out how to steadily grow a consistent stream of new TikTok followers & I'm sharing my tips in this post!
So, you're trying to figure out how to get more likes on TikTok and more followers on TikTok? Keep reading my hacks!
Update: I now have over 300,000 followers on TikTok using the tips I chat about below!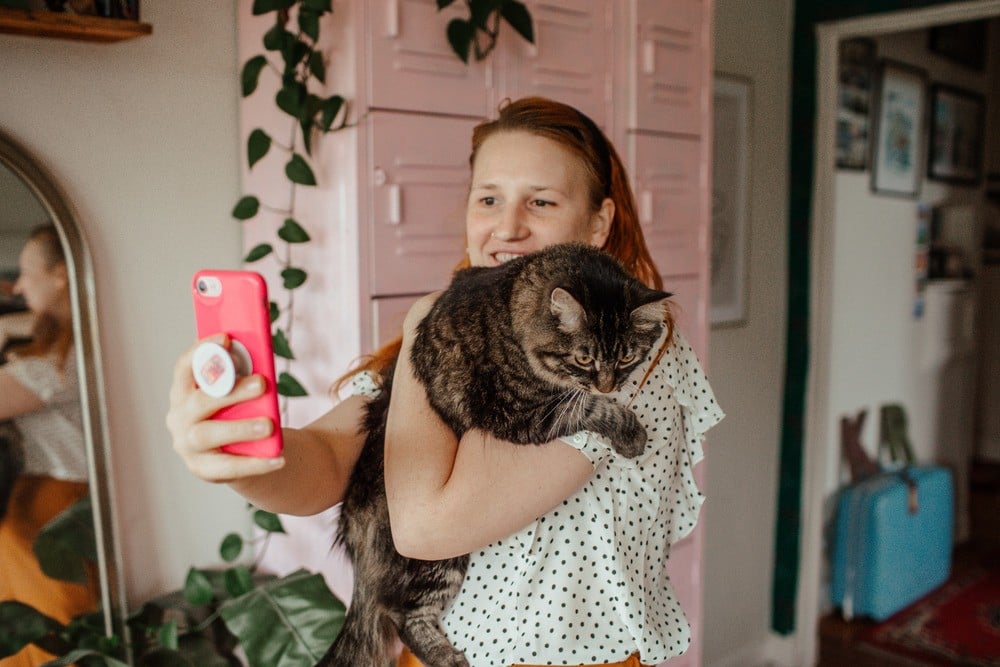 1. Good Lighting On Your Videos
Quality lighting on your videos is KEY! Why? TikTok needs to know your video is safe for people to view, aka not porn. When you film your video in a dark room, the machine has a hard time figuring out what your video is about.
TBD I get most of my good video ideas late at night after a couple of drinks. Instead of filming them at night, I write them down and film videos during the day in a bright room. You don't need a rim light, but they help. This one is my recommended rim light that's affordable.
2. Use Recommended & Trending Songs On Your TikToks
So, you made your video in good light. The next step is to use a trending song (obviously unless your audio is original or video idea is specific to some other sound.)
Here's why it's smart to use trending songs: in short, TikTok is a bit rigged to promote videos using trending songs. TikTok low-key rules the music industry. Just take a look at the Top 100 Songs of the week lists. Many of the top songs are ones that are super popular on TikTok.
It's not a coincidence. TikTok frequently has deals with record labels to push artist's songs in the app to increase that song's sales and increase the chances that song will reach top charts.
How do you know what songs are trending? When you make your video, simply use one of the recommended songs that the app suggests. It's easy as that! You can also help yourself by saving sounds you find on your FYP that you notice come up a lot and make sure to use those in your videos.
I promise that by using trending songs you can increase from 100 TikTok followers to 1000 TikTok followers pretty fast. ♬ original sounds are good to use, too!
3. Use Trending Hashtags In Your TikTok Captions
Again, the smarter your hashtags are, the more TikTok likes and views your videos will earn. On top of working with record labels, TikTok frequently partners with brands and those campaigns are always anchored around a hashtag and audio. If you use that hashtag, your video has a higher chance of being pushed on more people's For You Page during the length of the campaign.
Example: remember that "Eyes Lip Face" audio from a few months ago with E.L.F Cosmetics? That was a TikTok campaign.
You can find trending hashtags via the in-app hashtag suggestion tool. You find this when you are in the caption stage. Simply hit the # and suggestions will pop up. Use those suggestions!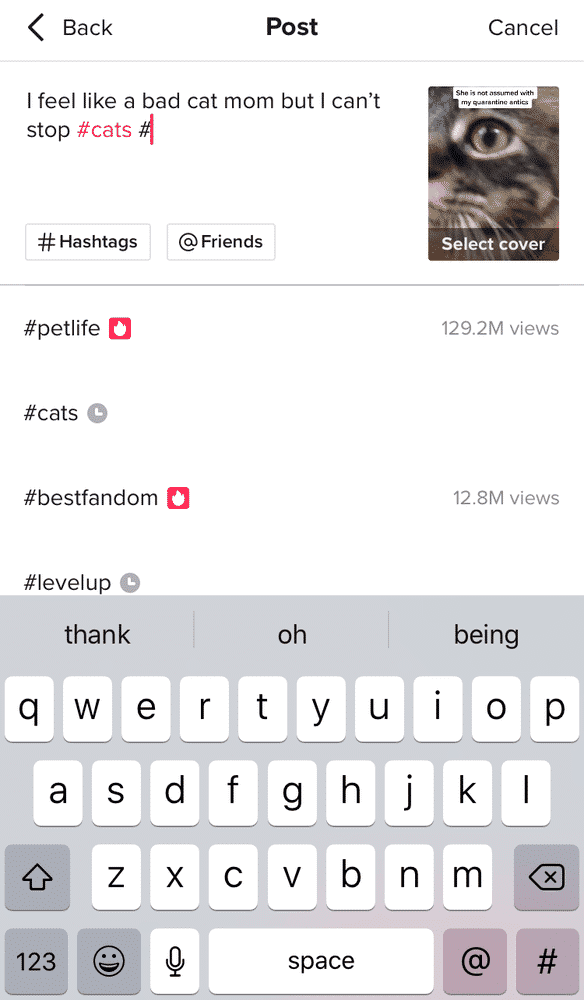 4. Jump On Trends, But With A Twist
AKA, do that trending dance or trending video concept, but put a spin on it to make it your own. If you are a small creator, you need to mix the trending videos with new content.
For example, last fall there was a trend around "I can take your man if I want to" where hot girls flaunted for the camera. I took that trend, but did a MASSIVE twist at the end that was 100% original but also funny.
This video got over 1.7 MILLION views and is the reason my account blew up overnight with 10,000 TikTok followers.
5. Post At Ideal Times
Just like with any social media platform, posting at ideal times helps. It's not as important as with Instagram, but posting at times when more users are on the app can help your videos get more views quicker, which leads to more TikTok followers.
I suggest posting early in the morning, mid-afternoon, or late at night as these are times that people tend to be looking at their phones more (morning commutes, afternoon lulls, on the couch, etc.)
This requires a bit of playing around with on your part. Social media services don't yet have good tools for predicting ideal posting times.
Thankfully, Tiktok services built into the app does include some insights on when YOUR audience is active. Post when your Tiktok fans are on the app!
6. Don't Delete Your TikTok Videos
Here's the thing: not every video I post does well right away. Some totally flop… but do you know what? It's not uncommon for a video I posted a few weeks ago to suddenly hit the FYP page on a mass scale and go viral all on its own.
That's why it's important to never delete videos from your TikTok account. For example, I posted this video of re-potting a plant that got about 1,000 views on the first day and stalled.
BUT, about 2 weeks later it started trending again and it earned me 4,000 new views and around 80 new followers.
You never know if a video is going to hit people's FYP again, so don't delete content! Tik Tok isn't like other social media platforms where you can delete old stuff and nobody will notice. You can easily earn more Tiktok views on your old stuff.
7. Have A Good Profile Bio
Make sure your TikTok profile looks approachable & fun so you can earn more new followers who tap over to look at your profile.
If your bio is boring, feels stiff or makes it seem like you are trying too hard, you may not earn as many followers as if you have a good bio. Don't just copy over what you have on Instagram into TikTok, craft something new! Your bio can be funny or relatable. The best bios have some sort of call to action (like: follow for fluffy cat content.)
You can even use a company like Linktree to make a landing page that displays tons of links at once. Let's say you post a lot of videos around your small business — this landing page can make it easy for your tik tok followers to find the product they want to buy!
8. Stitch!
TikTok launched a new feature called Stitch in late 2020 and it's a great way to rapidly scale your following. Stitch is basically where you can use the first few seconds of another person's video in your own video. Most people use it to share a story they have that's similar to the original video or to expand on that topic.
Here's an example of a video I stitched that got almost 700k views and still gets me, new followers, to this day! Because this is still a newish feature, TikTok is pushing Stitches in the FYP more than they are pushing regular videos. So go stitch! It's a great way to add to conversations and get more clients or followers.
9. Have fun!!
At the end of the day, it's important to use TikTok for fun. Really, if you are trying to figure out how to get TikTok famous perhaps the most important hack is to just be yourself. Be real, be raw, be YOU. Stop thinking so hard and make things off the cuff.
If you feel "old" or unconfident in your content, that shows through on video. Real tiktok followers want to see your quirkiness.
10. How To Grow Followers On TikTok With A Course
Lastly, if you feel like you've tried all these tips and it's just not working, it may be time to take a course. There's tons of courses on how to grow your account on TikTok all over.
Instead of paying hundreds of dollars to some random influencer who claimed to make it big and have all the secrets, I prefer to use Skillshare.
It's affordable, courses are vetted and you have access to so many resources. They currently have over 2000 courses about how to grow TikTok and create content available for you to watch and learn!
How to get more followers for free? BE YOU!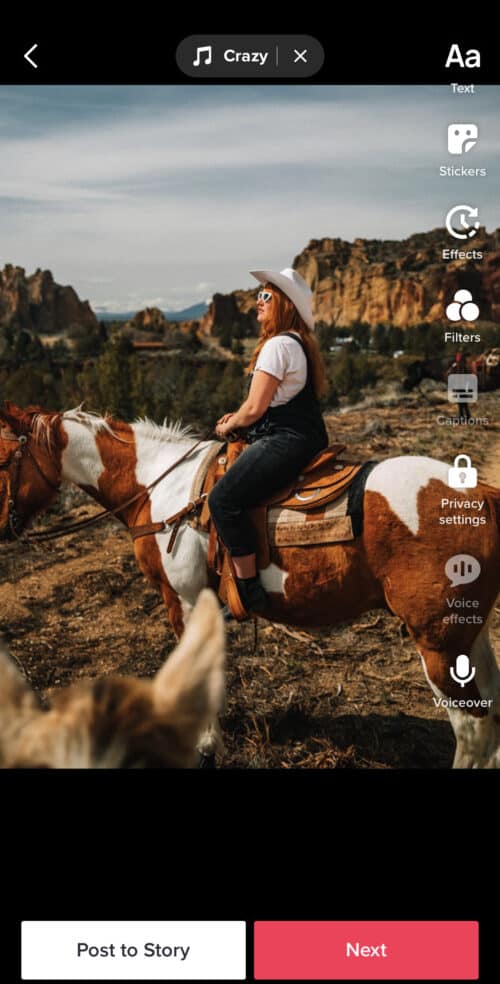 11. Use TikTok Stories
Brand new in March 2022 are TikTok Stories! They have been testing this out for a while but finally rolled it out to everyone. TikTok is going to want to get users to use Stories so they will reward the TikTok users who are using them. Create content for them like you would for Instagram Stories or Instagram Reels!
You post a TikTok Story by using the "quick" setting and then tapping the Post The Stories button.
Update: a year later in April 2023, I think Stories are a way way to connect with your audience on a more personal level and in a more casual way. Use them! Build a strong community with them!
When In Doubt, Post Your Cat Or Dog
I mean, the people love pets. I get new TikTok followers every time I post a video featuring my cat. And most of those videos aren't even good, I just think my cat is cute and so do other people I guess!
How To Get Free Followers On TikTok
Umm, DON'T! It can be tempting to use a paid service to get more fans. When researching for this blog post, I was shocked at how many services there are now that advertise " free TikTok followers " and " free TikTok likes " (but for a price). Fake followers are not the answer for success. Buying TikTok followers is not the answer. You want real followers.
The easiest way to get free TokTok followers is to USE THE DANG APP and grow organically.
Seriously – TikTok is not Instagram. Followers don't matter nearly as much as they do on Instagram because every video you publish makes it on someone's FYP even if they don't follow you. Of course, more followers = more likely your videos will get viewed by people, but someone doesn't need to be following you to see your content in their home feeds.
So, it's important to have TikTok followers for marketing purposes, but it's not smart to buy your way to 100k followers with fake bots or fake user generated content engagement.
If sites are saying they can grow your TikTok follower count and give you 10000 TikTok followers free – they're lying to you and will give you bots. Not real free TikTok fans — robots. Which are useless for you and your social media marketing goals. Yes, your tiktok followers count matters but using a bot tiktok followers generator ain't it, boo.
Say no to Like to Buy, TikTok follower apps, " free tiktok followers instantly " gimmicks, buy content scams and other bogus social media marketing services. You don't need fake social media promotion, not manner how good their customer support seems.
Using Fake Followers Won't Get You Into The TikTok Creator Program
I know, I'm in it! They want TikTok creators who have original Tiktok content that resonates with their target audience. Just like everyone says, you can't buy your way in.
Plus, how do you expect to get brand deals with fake followers? Brands don't want to hire cheaters for their TikTok ads. If taking part in influencer marketing is one of your goals with TikTok and social media, this won't help you. Digital marketing experts will be on to you!
This Is A Repeatable Formula For How To Get Tiktok Followers!
Since originally posting this blog post in 2020, I've bought a cabin in the mountains and started a new TikTok channel for all the cabin renovations and home stuff.
But using tips in this article, like clickbaity call the actions, including things I knew would spark emotion in people (like the green walls) and showing my face vs being anon really helped.
That first video I posted got over 200,000 views in 2 days and that account got 1k followers within the first week of launching. This was so helpful so I could put the link in bio feature!
So, if you're trying to figure out how to get tiktok followers if you're new, or how to grow TikTok even if you aren't new to the app, these tips work!!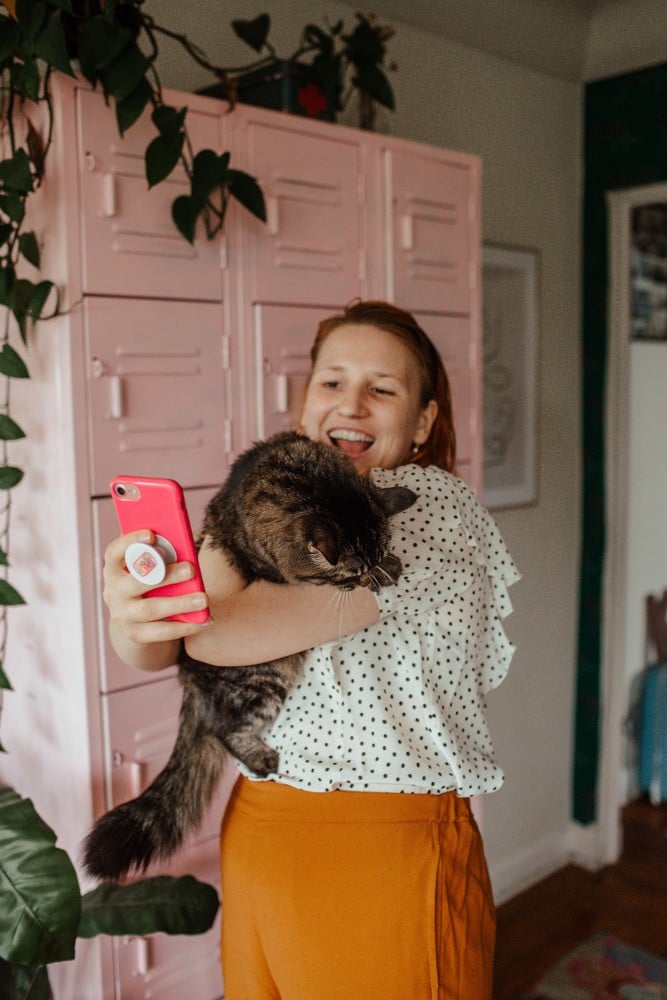 I hope this helps you learn some tips to get followers on TikTok and grow your account! Since using it, I've gotten more Instagram followers as a side effect, so using TikTok as a creator, influencer or brand is a smart marketing tactic.
If you have any tips to add on how to get more tiktok followers likes views or clients, leave a comment below so everyone can see!