No need to trek all the way to France to see endless rows of lavender fields (though Provence is totally on my bucket list!) California lavender fields are equally as stunning and some are open to the public to visit!
This summer I FINALLY made it to a field before they closed for the season so I could live out my dreams of frolicking amongst the lavender like the wannabe boho wander babe I am. In this post, I'm sharing my favorite lavender farm in California to visit (along with a list of other top fields in the state) plus must-know tips before you go.
Top 5 Enchanting Lavender Fields in California To Visit
>> Got a question about visiting lavender fields in California that you need answered quickly? DM me on Instagram @thewhimsysoul and I'll be happy to help!
Araceli Farms: My FAVORITE Lavender Field
I couldn't have imagined a better lavender farm for me and the girls to visit this summer. Araceli Farms is outside Dixon in Northern California, in between the Bay Area and Sacramento, making it easy to visit from either metro area.
There are a few things that make Araceli Farms different than the other lavender farms in California. First, it's founded by Justina, a young Latina woman (love me a young female entrepreneur chasing her dreams!) She also grows 7 different lavender varietals, more than I saw listed on other farms. She told us that these plants are different colors and earlier in the season the field were purples and pinks! Much more fun for photos.
On that note, Araceli Farms offers private photoshoot sessions that you can easily book online! Which many other farms in the state do also allow you to photograph the fields for a fee, they all seemed to be only within opening hours mid-day. Which just sounds like a hot AF mess and not that great of photos since direct sunlight in a field = no fun. But at Araceli, you can book a time slot as early as 6am for sunrise, and as late as 8pm for sunset.
We booked a sunrise timeslot and I also asked to have a bundle of lavender left out for us to shoot with. The peace of mind of not having to worry about props, getting through a ticketing process that early or shooting around families (little kids are notorious for photobombing you!) was fantastic. It just made the whole visit more relaxing.
The air was cool, the light was soft and we had the whole field to ourselves.
If you aren't looking to book the fields out privately for a shoot, don't worry, you can still visit the farms during normal opening hours! Tickets are just $5, picnics are encouraged and I'm pretty sure she also sometimes sells lavender ice cream. I'll be bringing my husband next summer for a general admission visit!
Pro tip: Make sure to pick up some of Araceli's lavender products! I took home some edible lavender for use in cocktails and food, and also a roller perfume that I love to wear before bed. She also sells hydrosol, lotions, essential oils and more!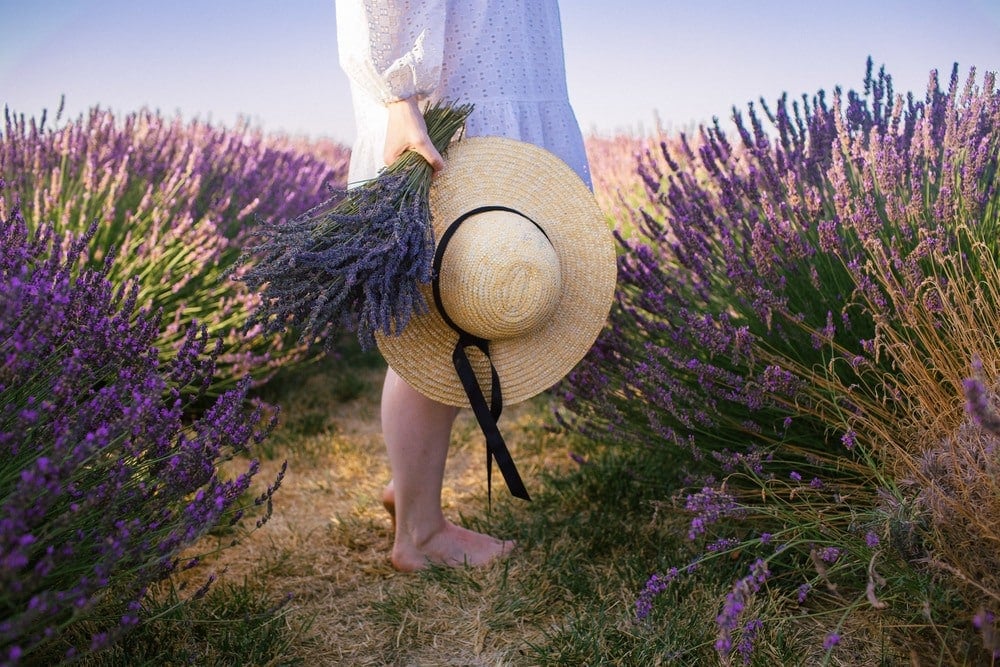 When Do Lavender Fields Bloom In California
Blooming time may vary based on the farm, growing conditions that spring, and their location (California is a HUGE state after all!) But in general, expect to find blooming lavender fields from early May to early July. If you are visiting Araceli Farms in Northern California, I recommend coming in the second half of June so you can see the area's sunflowers blooming, too!
Mark your calendars right now (seriously, I do this to not forget about blooming seasons!) and if possible, subscribe to the email newsletter of the farm you want to visit to stay updated about the season and events (like brunches in the fields or live music weekends!)
What To Wear To A Lavender Field
First, channel your inner cottagecore boho babe and find the flowiest, most whimsical white dress you own. White pops SO DANG well again the purple lavender, I think it's the best color to wear for a photo shoot in the fields. Also bring straw hats, straw baskets and picnic gear to truly capture that farm girl magic.
If you aren't visiting for a photo shoot, keep in mind the temperatures will probably be hot so dress accordingly. Don't forget to wear sunscreen and flat sandals for walking. I also recommend bringing water bottles to stay hydrated. Lastly, even though the bees were way more interested in the lavender fields than us, I always skip wearing perfume whenever I visit flower fields, just to ensure I don't attract the attention of bees.
WARNING: BEES
On that note, there are thousands of bees in the lavender fields. I'm terrified of bees but they left us alone and we didn't get stung BUT if you are highly allergic to bees I don't think you should visit lavender fields (or sunflower fields either.)
Where To See Lavender Fields In California
Aka All The Other Farms Open To Visitors!
There are lavender farms all over California. Many aren't open to the public but some are! If you are in Northern California I HIGHLY recommend you visit Araceli Farms for all the reasons I mentioned above. But it's a long way to travel if you live in Central or Southern California so here are other top farms in the state you can visit:
Location: Cherry Valley (between Temecula and Big Bear Lake)
Highlands Spring Ranch boasts having the largest organic lavender fields in the state. They're known for their annual lavender festival each July, along with a sheep-shearing festival and a beer festival! The ranch has rooms for rent plus a pool and spa. Low-key already putting this spot on my California hotel bucket list to visit in the future!
Location: Valley Center, closer to San Deigo
Keys Creek Seems to be mostly an event and wedding venue but they have pop-up glamping tents on Airbnb sometimes if you wanted to book an overnight stay. I do believe you can go visit, but this year (2020) they are closed to the public for the pandemic.
Location: Rumsey, between Yuba City and Clearlake
Cache Creek has a yearly lavender festival in June that's open to the public to attend for the weekend. They sell goodies like lavender lemonade and lavender ice cream, along with U-Pick options and wine tastings. The farm also allows weddings.
Location: Turlock, between Modesto and Merced
Pageo Lavedner Farms is another farm that offers photo shoots and prices range from $30-$50, but you have to request to book versus easily booking online at Araceli Farms. Their property does look beautiful with a rustic silo and tons of trees. They also offer property for weddings.
I hope this helps you plan a fantastic summer visit to Araceli Farms, or another lavender field farm close to you! They're so much fun to visit and I love supporting local farmers.
If you have any questions at all, leave a comment below or DM me on Instagram @thewhimsysoul and I'll be happy to help! If your favorite local lavender farm isn't on this list, drop a comment so everyone can see.