We've all seen the Exuma TikTok and Instagram reels of crystal clear oceans, white beaches, and somewhat bizarrely, big and pink swimming Bahamas pigs.
When my girlfriend and I booked a vacation to the Exumas in the Bahamas, our first question was how to get to pig beach. We couldn't visit without at least trying to swim with the pigs in the Bahamas.
The Exuma pigs are pretty well known, and for good reason: they're the craziest photo op! Way cooler than swimming with the dolphins. We set out to see if these pigs were just a social media flex, or if they're actually worth the hype.
I've got travel tips and a full swimming with pigs Bahamas review for one of the most beautiful locations in North America.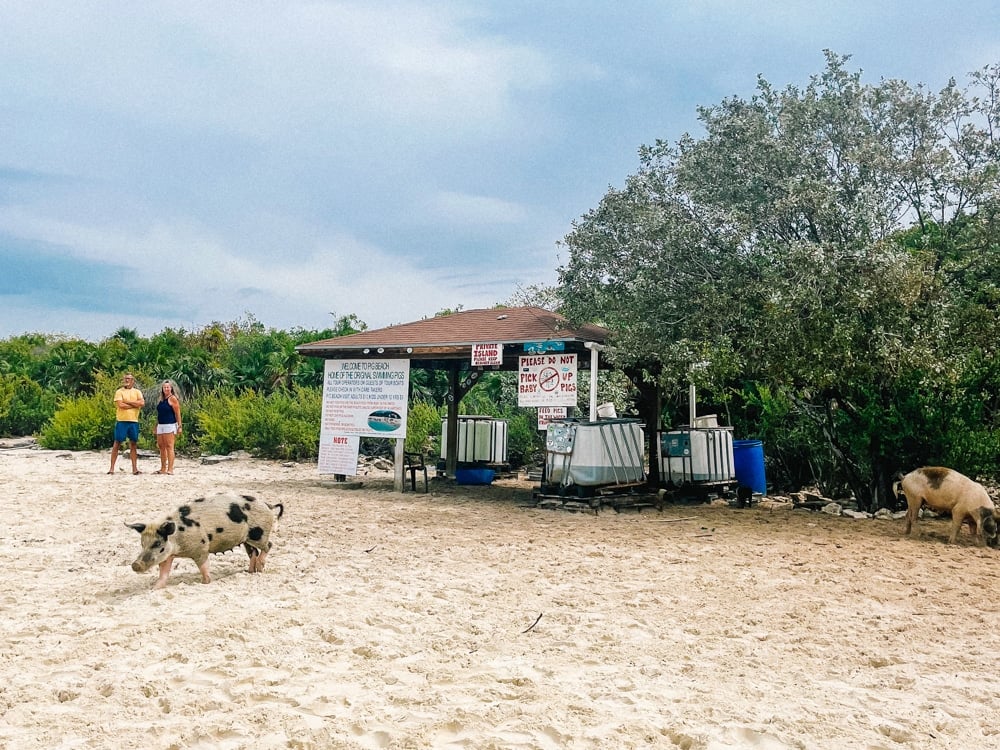 How to Get There
There's no way to put it gently… Getting to the pigs is a bit of a hassle. It all depends on where you are traveling from.
My girlfriend and I were lucky enough to be staying with her dad, who lives in the Bahamas on his boat. That made it super easy to take a short taxi boat to the pigs.
Here are some travel options depending on where you decide to stay.
Nassau
Nassau is the biggest city in the Bahamas and the home base for most travelers. It's also where the international airport is. The pigs are located on Rose Island, and are about a 25 minute boat ride away.
In most cases, you should book travel through a touring company that will take you to and from the location.
Da Pig Beach is a swimming with pigs Bahamas tour guide that's rated one of the best for a couple of reasons. They will pick you up directly from your resort (depending where you stay), and have an air-conditioned boat.
Also, they have access to a bar and little lunch situation, which sounds like a paradise island. We went by ourselves, using my girlfriend's dad as our tour guide. A cold drink would have gone a long way in the middle of our piggy adventure.
Nassau Tours is significantly more expensive per person, but could be worth the splurge if you want to do more than just the pigs. The trip is six hours rather than four.
Included is not only a trip to Rose Island for the pig beach excursion, but towels, snacks, snorkeling equipment, and a ride to a bunch of other Caribbean destinations such as Thunderball Grotto and Big Major Cay.
If you're wanting to stack experiences outside of Nassua, then Nassau Tours is the way to go!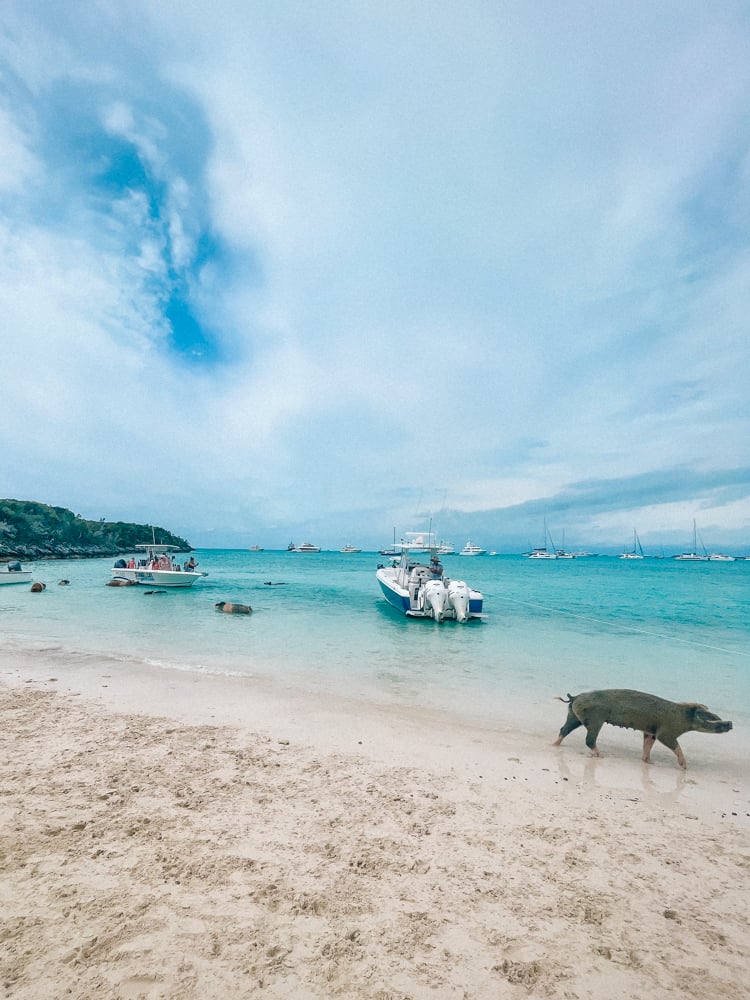 Miami/Fort Lauderdale
Visiting pig beach is a super popular activity for Florida travelers, too! It's just south of the Sunshine State, just a little trickier and more expensive, but certainly not impossible.
The easiest path from Fort Lauderdale or Miami is to take a flight through Makers Air directly to Staniel Cay, which is where Rose Island is.
Another option is to take a quick flight into Nassau and then book the Nassau tour companies listed above. You can select specific ports to be picked up at, so it doesn't matter if you don't have a Nassau hotel.
What to Bring
Water Shoes
Of all the pigs beach Bahamas must brings, water shoes were the absolute key. A lot of the water has sneaky underwater rocks that can cut up your feet if you're not careful.
All of the tour boats stop about twenty yards from the actual beach, so you have to trek through the water to get to the pigs. Plus, pig beach operates as the pigs' cafeteria, bathroom, and bedroom. It's a little nasty and you're going to want your feet covered.
Kara's Fave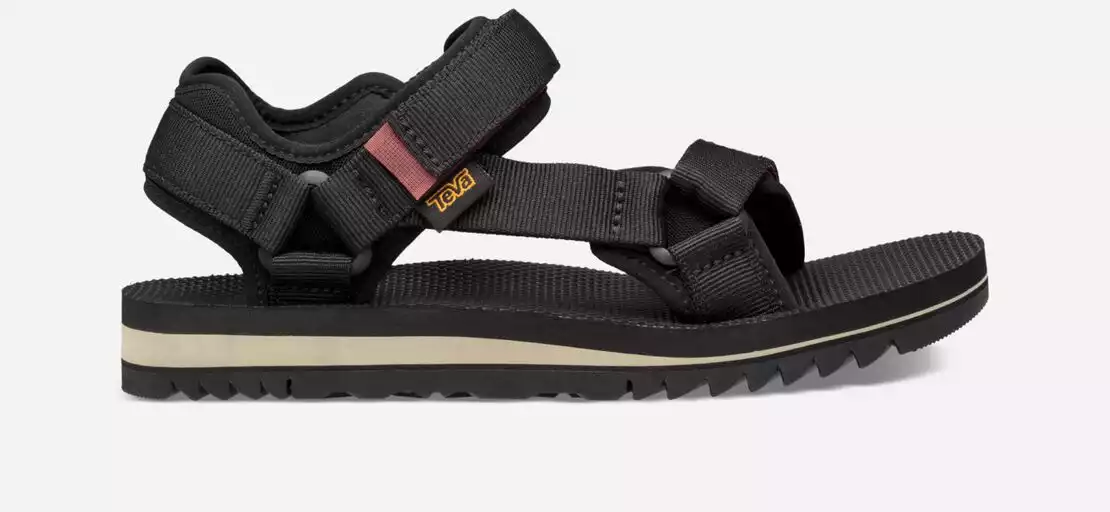 Teva Universal Trail Sandal
I adore my Teva Universal Trail sandals and wear them everywhere (from trails to cities to waterfalls since they're waterproof!) They're sturdy, comfy, non-slip and the perfect outdoor travel sandal on the market. Tip: size down when ordering.
Shop Now
My Review
Tevas are your best bet for non-slip shoes that won't leave your feet sweaty. I opted for a classic but slightly dorkier pair of Tevas that worked great. My girlfriend rocked a more stylish pair that she was able to wear to dinners out. Whatever floats your boat.
Crocs are always an option too! They're just slightly less sturdy.
Food
This goes for the famous swimming pigs as much as it goes for you.
The best way to attract the pigs' attention is through food. You are only permitted to give the pigs bread, veggies, or fruit. We went with carrots, bread, and grapes. Grapes seemed like the best option, as they were easy to throw into the pigs' mouths or feed to the little ones.
Not all the tour groups include lunch, and we were left a little peckish by the end of the afternoon. A sandwich on the boat would have been genius!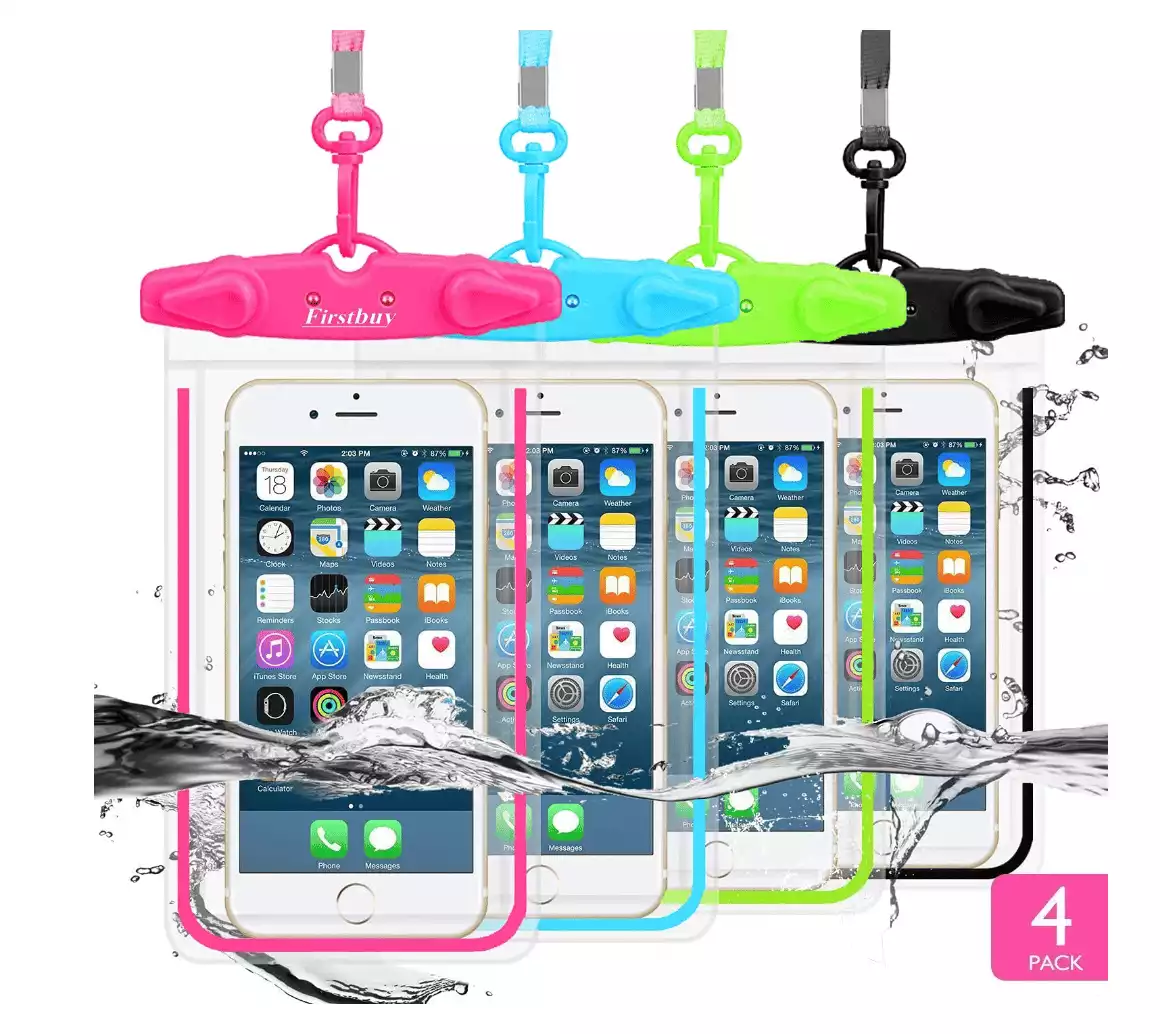 Waterproof phone case
To get to the pigs, you have to trek through about twenty yards of water. I am so glad I brought a waterproof phone case because I accidentally dropped my phone halfway to the beach!
The phone case I used worked excellently against my own clumsiness. I used it to take pics while snorkeling later in the trip, too!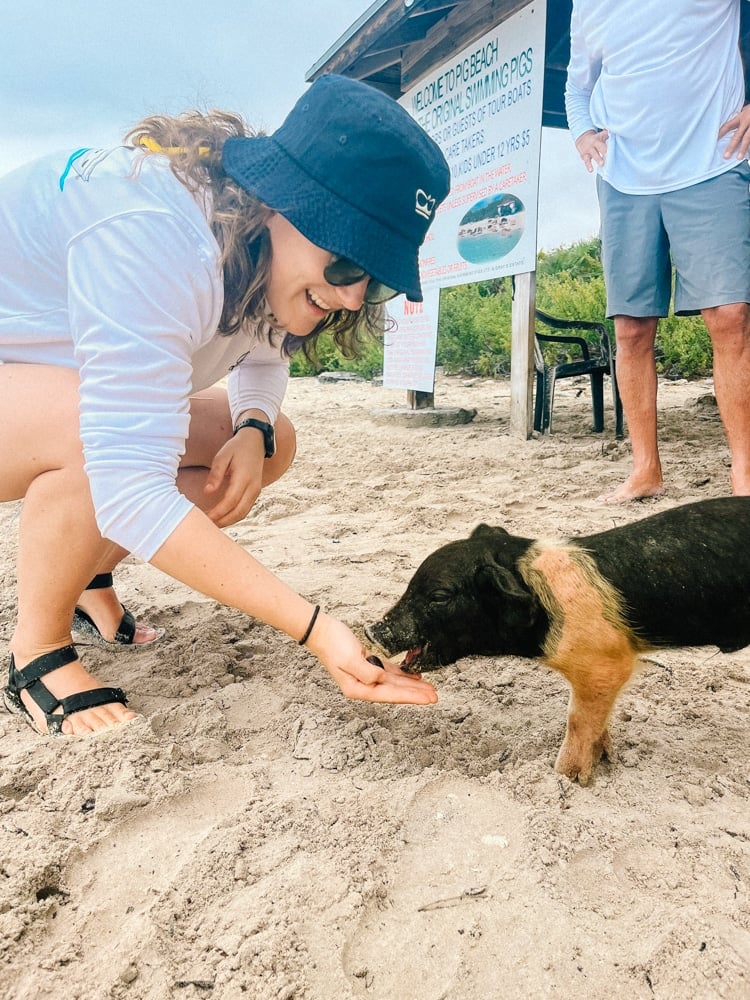 Fresh Clothes/Towels
Fresh clothes were a godsend. The beach and the pigs are pretty dirty, so we were absolutely relieved to put on fresh shorts and shirts once back on the boat. We also went on a chilly/overcast day, so the towels were great for drying off and staying warm on the trip back.
We kept the clothes and towels in a dry day pack to keep them from getting wet on the boat ride. Seas are pretty calm in the Exumas but there was definitely some chop on the way!
Cash
Tips are appreciated and expected so keep some cash on hand. We kept our cash in the dry day pack, but we saw others on the beach using waterproof pouches for their phones and money.
We use this!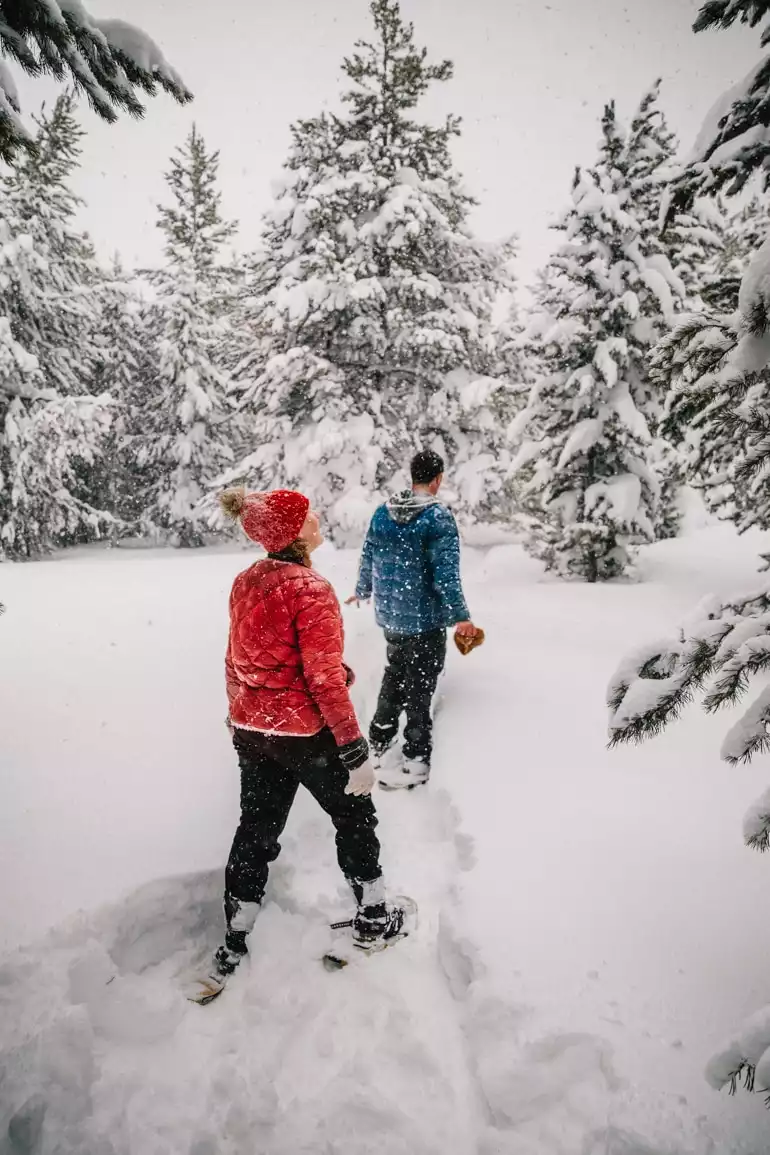 World Nomads Travel Insurance
I adore World Nomads for travel insurance, especially when I know I'll be doing something outdoorsy like snowshoeing or sea kayaking. They cover those activities and not all travel insurances do! They're affordable, fair and easy to use.
Pros:
Easy to buy before a trip

Plans are tailored to your needs

Covers adventure activities
Buy Now
Travel Insurance
Whether it be bad weather or an unexpected kink in the plan, travel insurance is pretty much always a good idea when booking vacation plans. Getting to pig beach is not the cheapest of activities, so I would strongly recommend travel insurance.
Most of the tour guides listed include an insurance option right on their website.
Maximizing Piggy Time
You're going to want to get your money's worth with this one. The Exuma Bahamas pigs are a once in a lifetime opportunity, so here are some of the top tips for your swimming pigs adventure.
1. Show Up Early
Sleeping in on vacation feels like a necessity, but for the pigs, you're going to want to ignore your impulse to hit snooze.
The beach was empty when we showed up, but got progressively more crowded the later in the day it was. We left around lunch time, and by then it was totally packed. If having the pigs to yourself is important, show up early and beat the rush of tour groups.
2. Aim for an overcast day
If at all possible, aim for an overcast day like we did! You're probably going to want to spend the sunniest days tanning or swimming, so an overcast day is a good time to hang with the pigs.
It will also mean less people on the beach. Most people want a sunny day for pig photo ops, so a cloudy day will likely mean less people in the background of your photos and more facetime with the pigs!
3. Bring food for the pigs
This was already mentioned in the list of things to bring, but I want to emphasize it so I'll say it again: BRING FOOD FOR THE PIGS!
They won't hangout with you unless you have food. And yes, how rude of them, but also good to know.
4. Get off the boat
At first, I was a little afraid to get off of the boat. Some of the pigs were swimming right up to the boat for snacks, so I was hesitant to leave.
I am so glad I did, though. The time spent on the beach right next to the pigs far outweighed throwing grapes at them from the deck of the boat. Definitely fight your fears and go hangout with the pigs on the beach!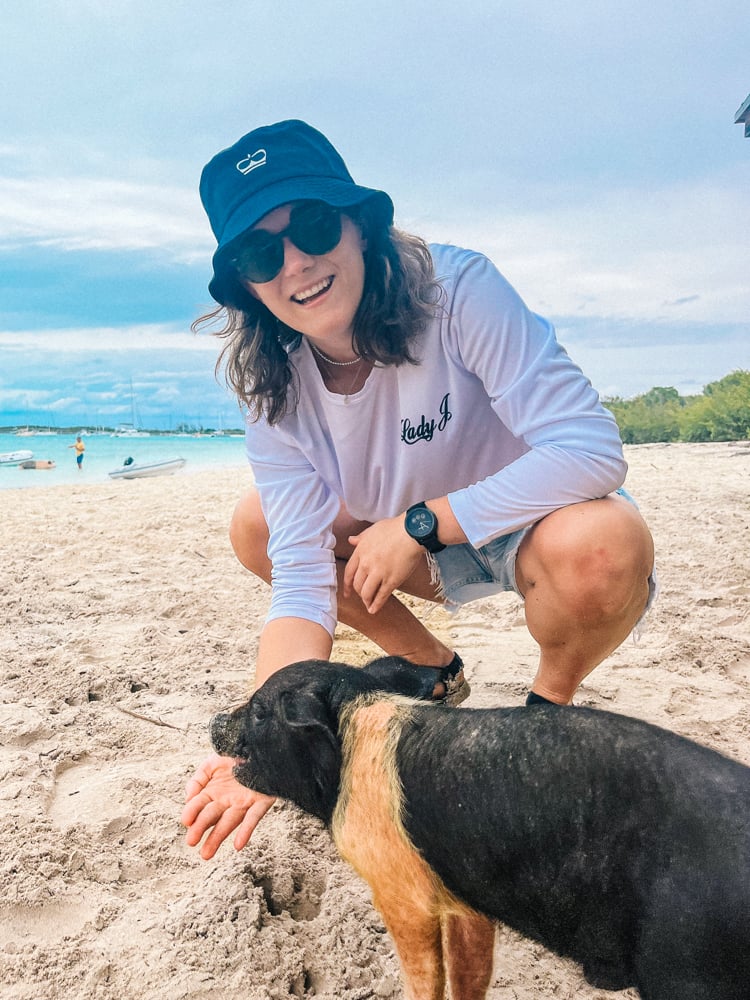 What I Wish I'd Known
New to the pig game, I came into this adventure pretty blind. All I'd seen was Instagram and TikTok reels of women frolicking around the beach with armfuls of squealing piglets.
That's only about half of the picture. Here are some of the other things I'd wish I'd known about my pig beach Bahamas trip.
The pigs are aggressive
I am definitely what you'd call an "animal person." I love dogs, horses, cats, and in theory, pigs. I was expecting to fall head over heels for the pigs. My girlfriend was worried she might have to check my bag for stowaway piglets.
I was a little less taken with the pigs than I expected, mostly because they were aggressive. Like, super aggressive. Once they know you have food, nothing will stop them from getting their snouts into that bag of grapes or carrots.
We were told to put our hands above our heads when not actively feeding the pigs. This seemed to deter them a little, but they were definitely up on us a bit more than I would have liked.
Be firm with the pigs and when in doubt, knee them in the side. It won't hurt them at all, but will let them know you don't want to be bothered.
Don't touch the baby pigs (unless someone is helping you)
My first instinct was to grab a baby pig. They truly were adorable, and only about the size of a puppy. Some of the tour guides nearby strongly advised against this, as it could rile up the mother pigs.
Instead, they told us to wait for them to hand out the baby pigs. They had the special touch, and we were able to hold and feed some baby pigs without seriously pissing off the scary mamas.
The pigs are cute… but very, very dirty
To put it mildly, the pigs are pretty gross. And hey, who can blame them. They are literally wild animals. But the pictures online don't really tell this part of the story.
The pigs are very wild looking. The piglets are pretty cute and clean, but the big guys look in desperate need of a scrub. Just be aware that while petting and feeding the larger pigs, you may feel a little gross afterwards.
Speaking of gross, the beach and water are nasty. The pigs are definitely using the water as their own personal bathroom stall, and aren't shy about going where and when they please. You'll see a lot of things you wish you hadn't.
If I had been prepared to expect a little bit of nastiness, I think I would have fared better. But being up close and personal with the pigs without knowing they're a stretch from the petting zoos we're used to in the States definitely caught me off guard.
The gross-out factor shouldn't stop you from visiting, but is something to keep in mind! And it's another reason to invest in those water shoes.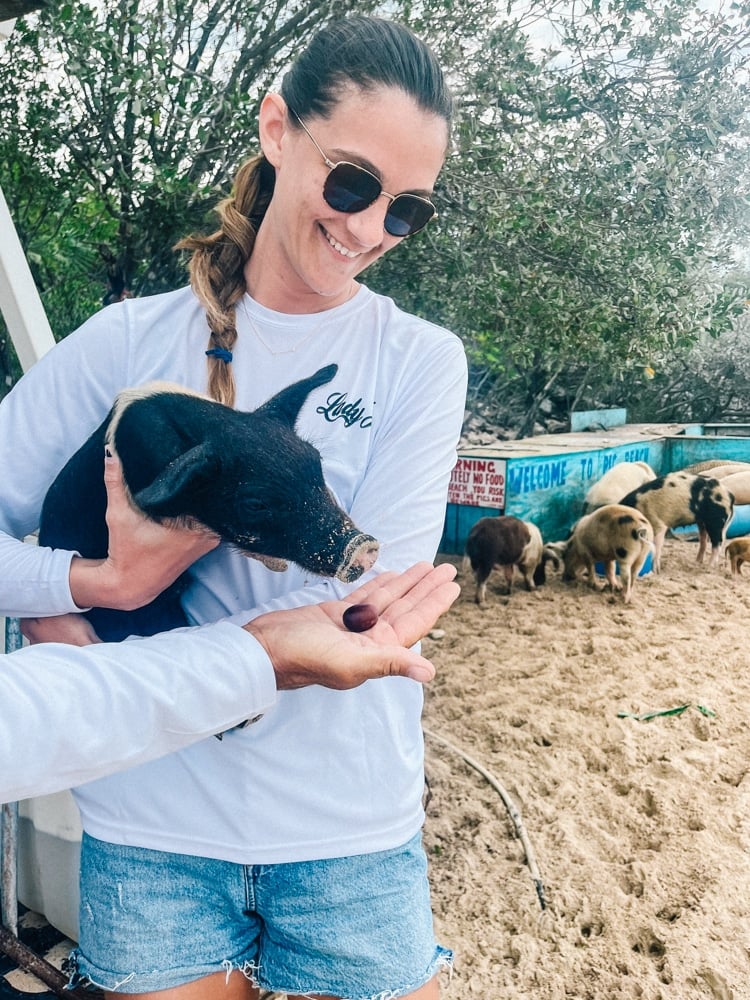 Photos, photos, photos
We took a million pics and it still didn't feel like enough. Make sure that everyone in your party brings their phones to the actual beach.
I was the only one who actually brought my phone down to the beach, but it would have been so helpful to have a couple more people taking pictures.
It's shorter than you think
For some reason, our swimming pigs tour absolutely flew by. It felt like we'd just put the anchor down when suddenly it was time to go.
Enjoy every second you have while you're still there, as it'll go by very quickly.
FINAL VERDICT: Is swimming with the pigs in the Bahamas actually worth it?
Okay, here it is. The question that's been on your mind will finally be answered. Is swimming with the pigs and a pig beach tour actually worth it.
My final answer is YES, absolutely. Just don't make it the only thing you do that day. The pig trip is short (you'll probably stay only 2-3 hours), so I would strongly recommend coupling it with another experience through the guide company.
In terms of the pigs themselves, it was such a unique experience. It felt like something out of a movie, watching all of these massive piggies swim and play around in the water and on the beach. I am so glad we had the opportunity to explore.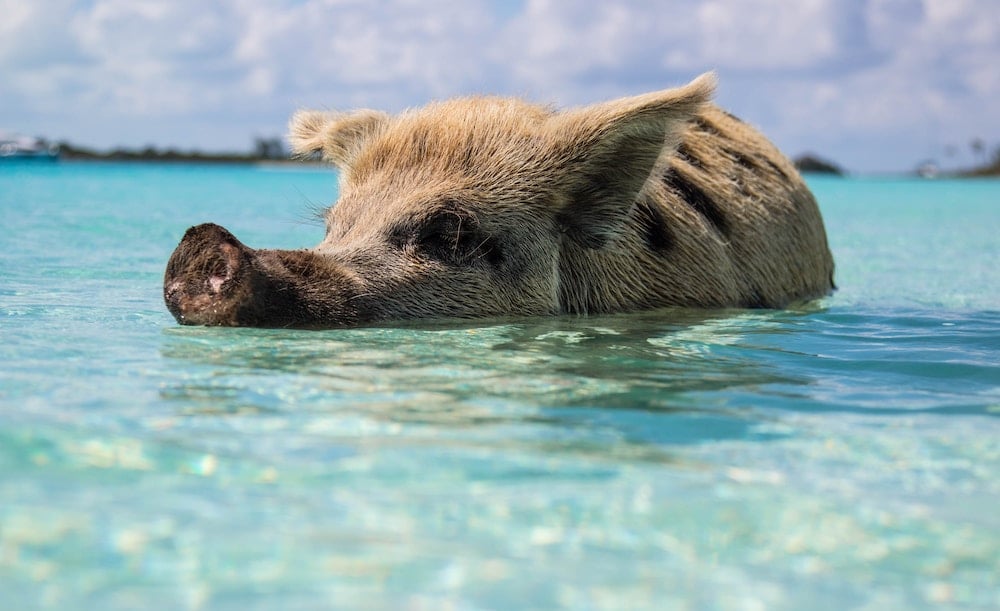 The baby pigs were so fun to cuddle and feed, and there was something just very mystical about the entire afternoon. I would not trade it for anything.
However, because it's short, make sure you couple this with something else. There are lots of different things to do in the area that are just as cool and won't break the bank.
What to Do After
Make a full day trip out of your pigs tour. There's so much to do in this area of the Bahamas, so you should add some stops along the way to make the boat rental worth your while.
Staniel Cay Yacht Club
After the pigs, we had far too much fun at the Staniel Cay Yacht Club. They had music, delicious food, and were located directly on the water about a fifteen minute boat ride from the pigs.
They're known for the Miami Vice cocktail, which tastes basically like a sorbet ice cream with a teensy hint of rum. In other words, it was delicious. I got the fish tacos and my girlfriend got the conch sandwich. Both were delicious, and the afternoon was a total success. I highly recommend!
Compass Cay Sharks
Compass Cay is known for its sharks, rather than its pigs. While this may sound like a total nightmare at first, I promise it's not. All of the sharks at Compass Cay are nurse sharks, which are friendlier than dolphins.
I am not a huge fan of sharks (duh), but was happy to play with and feed these guys. They were very affectionate.
Compass Cay is a bit further than Staniel Cay, but is included as an additional stop to the pigs on many of the tour guide websites. It's about thirty to forty minutes away.
Great Guana Cay
Great Guana Cay is something we didn't have time to check out but should make your list if you have time!
A ton of the tour guide companies include Great Guana Cay as a stop due to the multiple beachside restaurants, and as the name would suggest, the natural iguanas roaming the islands.
If you're able to visit Compass Cay, Great Guana Cay, and Pig Island, congrats! You've basically gone on a zoology tour of the Exuma Cays.
Overall, our day trip to pig beach was a total success. We got to see the good, the bad, and the ugly (think pig bathroom breaks in crystal clear water), and couldn't have been more thankful for it.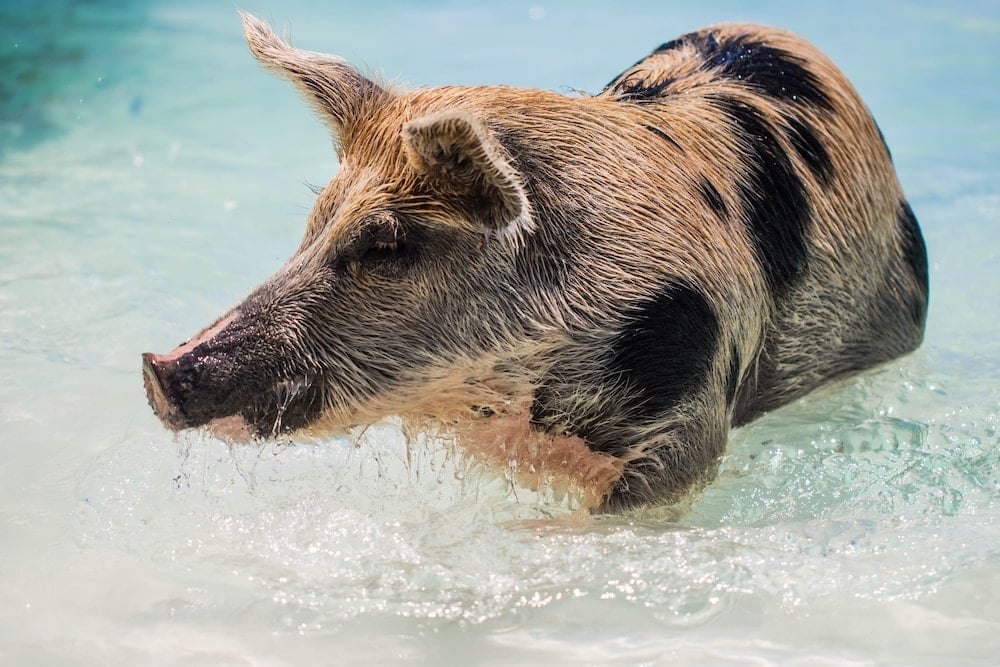 While it's not exactly what you'll see on Instagram or TikTok, there are plenty of amazing reasons to visit the pig beach. And to be fair to the girlies on Insta and TikTok, the pics we took did turn out pretty great. Everyone loves a piglet photo op.
Whether you decide to just spend your visit with the pigs or you explore a couple of different locations in the Exuma Cays, you will have an amazing time.
Enjoy the piggies and safe travels!