After you take your photos of the Eiffel Tower lights sparkling at night, what's next?
Paris nightlife is some of the best in Europe, but it can be super overwhelming if you haven't spent much time in the city.
Don't worry, I got your back. From champagne-filled evenings at cozy wine bars to secret cabaret shows and ideas if you don't drink (I'm not a huge drinker myself), these are the best things to do in Paris at night.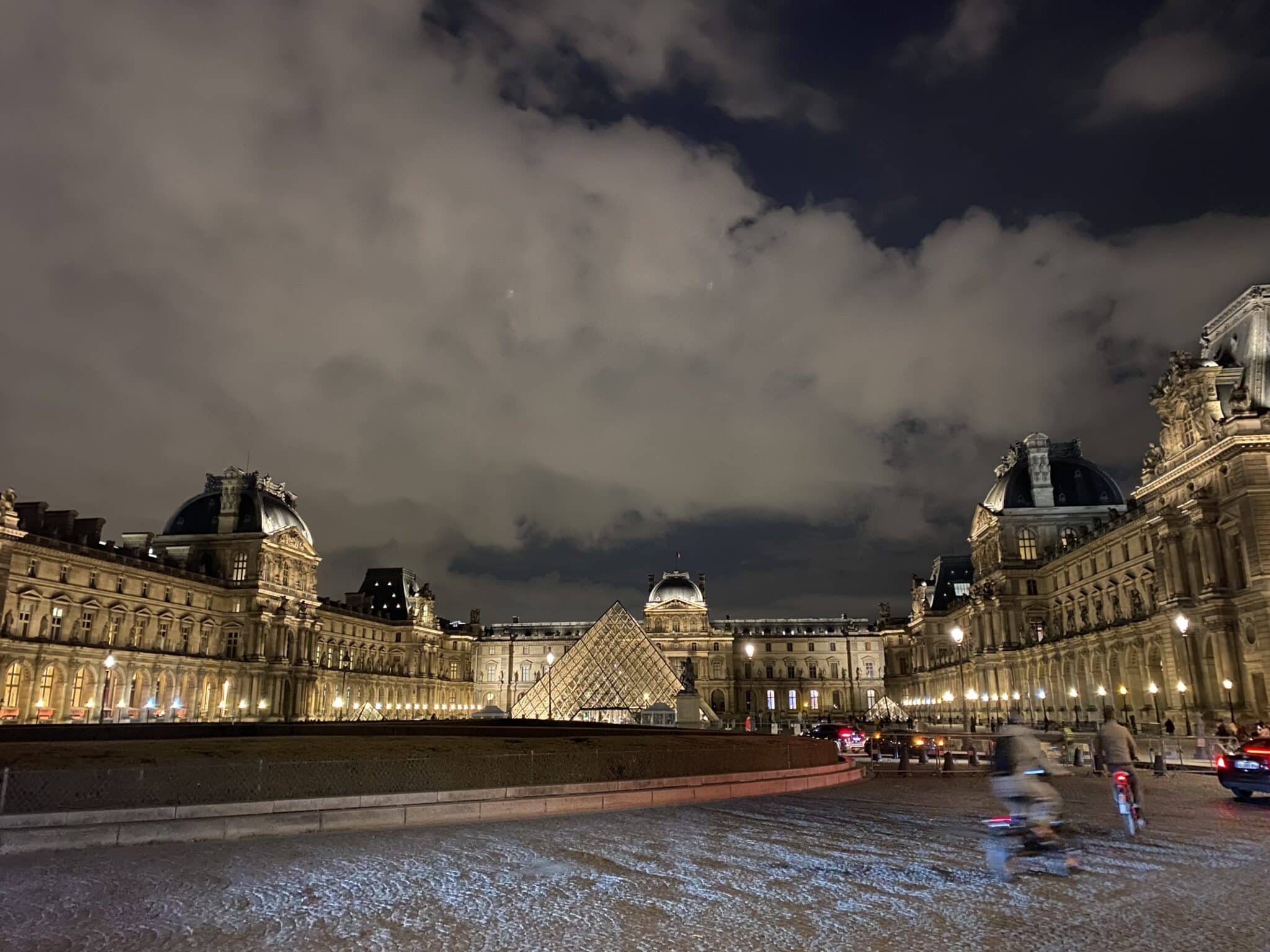 23 Stops to Make Your Night in Paris a Major Main Character Moment
1. Dinner Cruise on the Seine
There is something about seeing a city from the water that I will never quite get over. Now make that a sunset boat tour and it's pure magic, cue the Seine river cruise. One of the best ways to see the gorgeous lights of Paris at night has to be a boat ride, especially when it comes with dinner.
If you time it right, you can see the Eiffel tower light show reflecting off the water too. You will even cruise by Notre Dame Cathedral, giving you a unique view of the Cathedral.
A night on the water is a great way to end a day full of sightseeing and exploring, or even a spectacular way to kick off a night full of fun. I'm also convinced it's impossible to be on a sunset boat cruise and not be in full main character mode.
This is one of the best things to do in Paris at night with family since it's sure to wow everyone, regardless of age. When you get done you might be so in love with the river Seine that you have to take a moonlight walk along it to your next destination!
2. Bambino Wine Bar
Designed to be a go-to spot, day or night, this cafe by day, wine bar by night is a must see. Drawing inspiration from across the globe, you are guaranteed good food and good music here. They have an extensive record collection, display and great sound system.
The space is designed to transition throughout the day, making it a great option for any hour. They even have late night dancing! If you are planning an epic night out in Paris, make sure to include this spot somewhere during your journey!
3. Palais Garnier Opera
A fantastic option for the art, architect, theater lover, the Palais Garnier is an entire experience. With grand hallways, galleries, and a library there is almost more to see in the opera house than on the stage.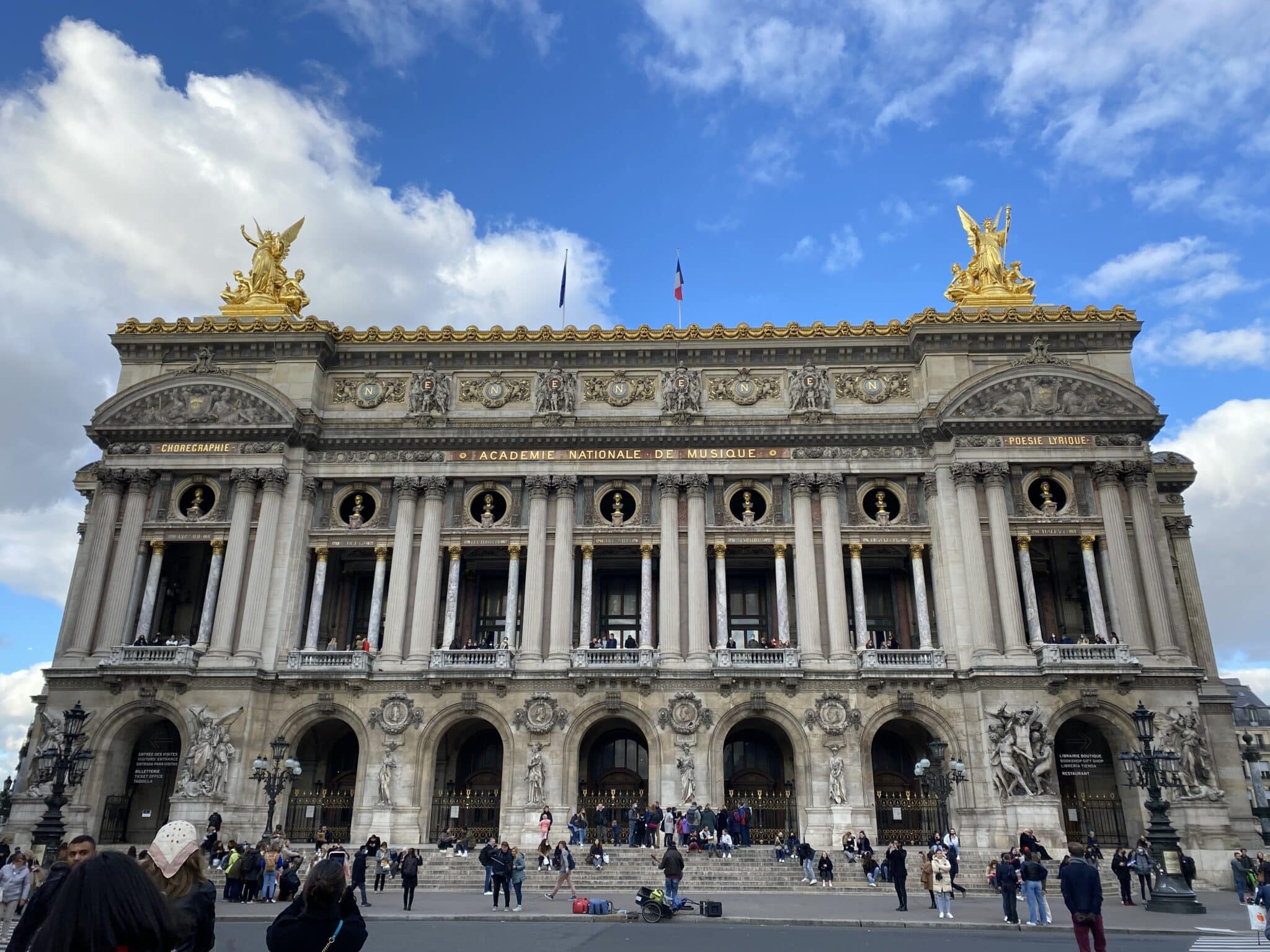 They have various shows, from operas to ballets to concerts for you to choose from. There is definitely something special about dressing up to go see a show in such a gorgeous location.
If you are interested in a more intimate experience than just watching a show you can also book a guided or self-guided tour, and they even have a children's game you can download, making it a perfect family outing.
You might even be able to catch a showing of swan lake like Emily did in Emily in Paris!
4. Sainte Chapelle Night Concert
Another great option for architecture enthusiasts, cathedrals are absolutely gorgeous and this one is not an exception by any means. The Saints Chapelle is one of Paris' most visited monuments and has so many colorful, intricate stained glass windows.
To make your visit here even more special, why not get tickets for one of their classical concerts? Some of the best composers play in their concert series. You can also get a ticket that includes champagne with the concert or one with wine and tapas from a Parisian chef.
5. Some Girls
The favorite bar of Whimsy writer Mel during her time studying abroad in France, Some Girls is a rock n roll bar in Bastille. With so many bars to choose from it is definitely nice to have some direct recommendations.
This American style bar is also a great option for nightlife when visiting Paris as a tourist since it'll make you feel a bit more at home in a foreign country. I don't know about you but sometimes nightlife can be a little intimidating when I don't know what to wear, especially in a new city!
For recommendations on functional, stylish, Paris trip wardrobes that can help, check out Whimsy Editor Taylor's Ultimate Paris Packing List!
6. Rue de Lappe
You'll see this one in all the travel tips for the best nightlife in Paris. The Rue de Lappe street is renowned for being the mecca of Parisian bars. Since there are so many options on one street you can check out a ton of places and find the one with the right vibe for you.
There are also tons of cafes and dancing spots along this discreet but alive street for you to explore! Really, you can't go wrong with the bars here and it can be such a great place to start.
If being out in a city at night also isn't your forte, totally explore it and go cafe hopping during the day and get a feel if it's for you! More places to explore at night are Rue Mouffetard and Rue Montorgueil – pedestrian streets lined with tons of must try food and lively nightlife!
7. La Java Night Club
If you are looking to experience all that the nightlife has to offer, definitely plan on ending up at this Paris night club. La Java has different themed music on different nights and with the rotating selection, they have an insanely alive dance floor.
Consistently described as unpretentious, this nightclub is a great classic yet exciting addition to any night out. If you are wondering what to do in Paris after midnight, look no further!
8. Moulin Rouge Show
This wouldn't be a complete list of Paris night activities without a cabaret show! For a night of fun, feathers and cancans, definitely check out the Moulin Rouge Cabaret Show.
At the Moulin they also have a rooftop bar terrace where they serve cocktails and tapas you can enjoy before or after the show.
9. Louvre Museum at Night
A staple of the Parisian experience, the Louvre museum is even more stunning at night than during the day. On Wednesdays and Fridays the museum stays open until 9:45. If you go at night you might have less crowds to fight!
Even if you don't go in, stopping in the courtyard at night to see the pyramid illuminated is so worth it. The entire courtyard is gorgeous at night!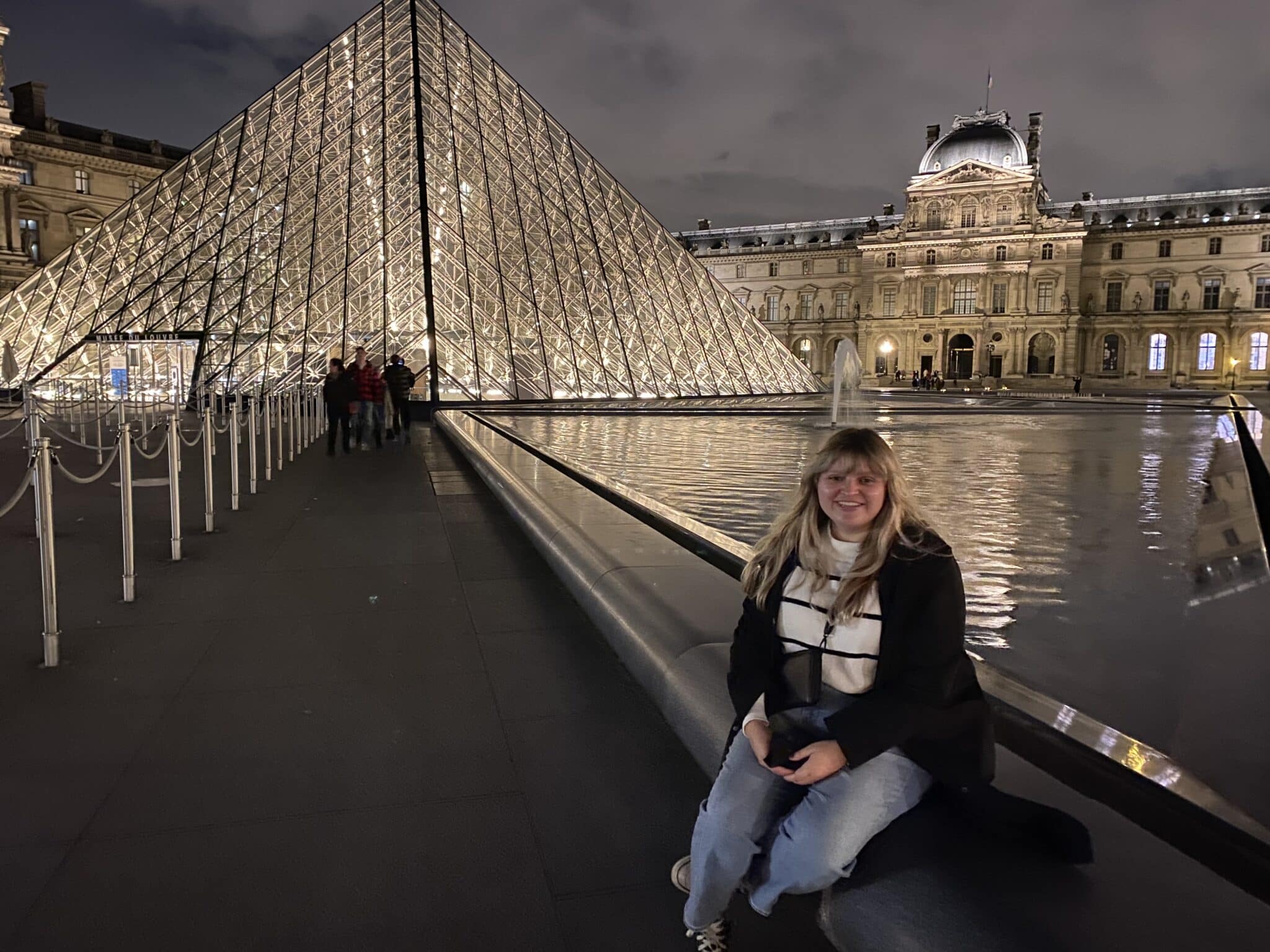 10. Rooftop at Printemps
If you are wondering what to do in Paris at night for free, congratulations, you have officially found one of the best options! The rooftop of this shopping complex is accessible for free and has one of the absolute best views of the Eiffel tower in the entire city.
While you're here you can also totally check out the shopping center and pick up a new outfit for your night out! Be warned though, the shopping center is only open until 8, so this stop might leave you wanting more time with the tower lights. If one evening in the shadow of the Eiffel tower sparkle isn't enough for you, check out our recommendations for hotels to stay at with stunning Eiffel Tower views!
11. O Chateau
If you are feeling extra classy or are a wine aficionado, this wine bar is a must stop! They offer over 50 types of wine and their selection rotates weekly. I think that means you have to go multiple times if you are there more than a week or on return trips, right?
If you are new to wine and interested in learning more, they have various wine and food tasting experiences that you can reserve. They offer many of these in English as well. Some of these tastings, looking at the Tour de France Wine Tasting!, are extremely informative and will have you ordering French wines like a pro.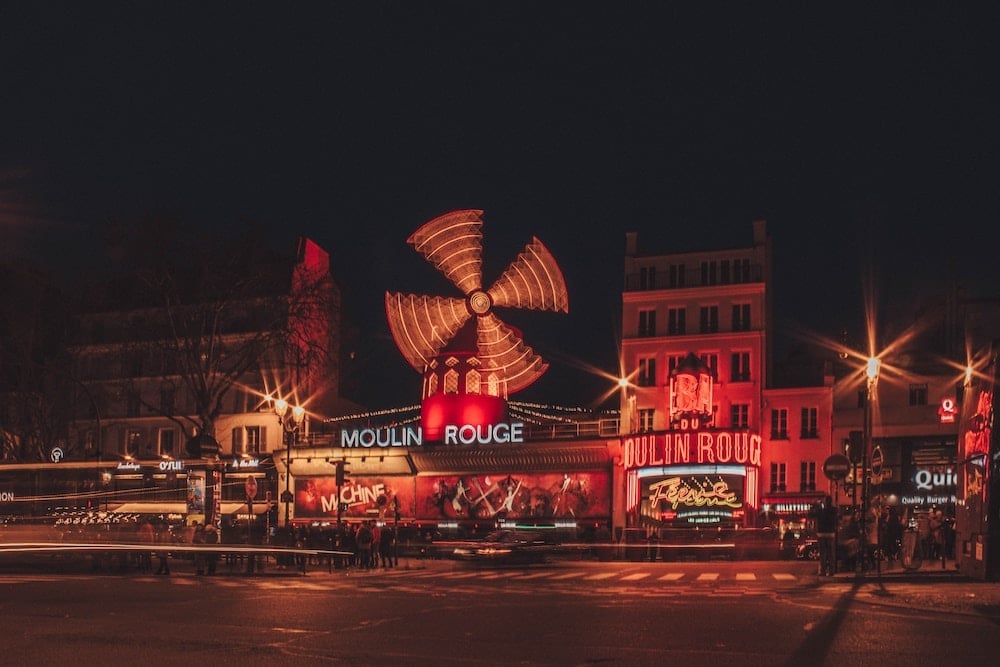 12. La Favorite St. Paul
This might be one of the most instagrammable spots on this list, which is actually saying something.
Decorated with gorgeous pink flowers, this cocktail bar is so much more than just that, it is an entire experience. If you like it enough you can come back for Brunch the next day too!
They have dinner and cocktail menus that change frequently throughout the year. Also focused on "the art of eating" their plates are as gorgeous as they are delicious.
13. Florida Les Halles
Another spot decorated with spectacular flowers, the red accents and unique decorations give this restaurant immaculate vibes. Parisian food is also delicious, but if you are looking for some different cuisine, definitely add this to your list.
Their menu is inspired by traveling and offers cuisine from around the globe. The inside is so elegant, making it a perfect stop for a round of drinks. It's also huge since its two old breweries combined!
14. Le Voltigeur
This cafe/cocktail bar is definitely one of the best hidden gems in Paris. They are well known for having delicious quiches and have a ton of pastries. How could you not love your favorite cafe also being a cocktail bar that's open till 2am! I would have a hard time not just living there.
15. Trocadéro Gardens
Another great option for exploring Paris at night, the gardens get you up close and personal with the luminous Eiffel tower at night. This is also one of the few free night activities in Paris.
The tower lights up every hour on the hour for five minutes so be sure to plan your visit to the garden around that. It is so gorgeous and is such a fantastic photo op!
16. Ghost tour
Any city with as much history as Paris has is bound to have some ghosts and plenty of ghost stories. If you are the type of person that wants to mess around with ghosts, this night tour is for you!
Since it's a guided tour you learn so much about a much less often seen side of Paris. If you scare easily, this might not be one of the best things to do in Paris alone at night.
On the tour you'll visit some of the locations of the dark side of Parisian history, who knows, you might actually see a ghost.
17. Comedy Show in English
If you are in the mood for a good laugh, you can learn more about France while watching a comedy show! Comedian Olivier Giraud has a show called "How to Become Parisian in One Hour" that might help you understand Paris culture on a whole new level.
This show is completely in English, making it a great option for us tourists at night. Paris can be intimidating, especially if you don't speak the language. Laughing about the things you don't quite get can definitely add so many dimensions to your vacation.
18. Paris Catacombs at Night
If you are into history, or horror, exploring the Paris Catacombs is an absolute must do. Definitely a more eerie and somber atmosphere, the catacombs are fascinating and contain the remains of many of Paris' past residents.
Both a lesson in history and an experience contemplating death, this activity definitely has a lot to offer. You can buy a ticket and explore underground quarries yourself, or you can book a tour to learn even more.
19. Musee d'Orsay After Dark
If you are looking for a more quiet, contemplative evening, definitely check out the Orsay on Thursday nights when they close late. Usually the museum closes at 5 but on Thursdays it is open until 9:30 and the tickets are discounted if you get there after 6pm.
If you are looking for things to do in Paris at night alone, a museum is such a great option! The Orsay is in an old train station and has a huge collection of impressionist art.
20. Sacré-Cœur Basilica
The Basilica is open until 10:30 daily so you can definitely check it out at night. The dome, up 300 stairs, has an amazing panoramic view of the city but is only open until 7 every night.
Entrance to the Basilica is free but there are fees associated with going up the dome. For that view though, it's definitely worth both the fee and the stairs.
This is definitely one of the most unique places to visit in Paris at night. I can't even imagine how glorious a sunset would be from the top of the dome.
21. Art Deco Swimming Pool
If you are tired of the usual recommendations for things to do at night in Paris, consider adding a night swim to your list. You can check out one of Paris' Art Deco pools that are gorgeously lit up at night!
The Pontoise swimming pool is one great option open to the public. Another features the pool that was in the Life of Pi and is part of the 5-star Molitor hotel!
22. Attend A Soccer Game
If you are looking for unique things to do in Paris at night you could catch a live soccer game. Strangely, Paris Saint Germain plays the majority of their games at night so there's a good chance you can schedule a game into one of the nights of your vacation.
This is also a fantastic activity for family fun if your family is into soccer or sports in general. Sporting events can be a fun vacation addition since you get to see a different side of sports, and who knows, maybe you'll learn some French chants along the way!
If you like basketball or tennis, Paris also has teams in various sports worth watching, including hosting the French Open tennis tournament yearly.
23. Versailles Light Show
If you happen to be in Paris between June and September, head to Versailles, the old French capital, on Saturday night to watch the glorious fountain light show. Enjoy an evening stroll through the gardens of the mansion while all of the fountains are lit up.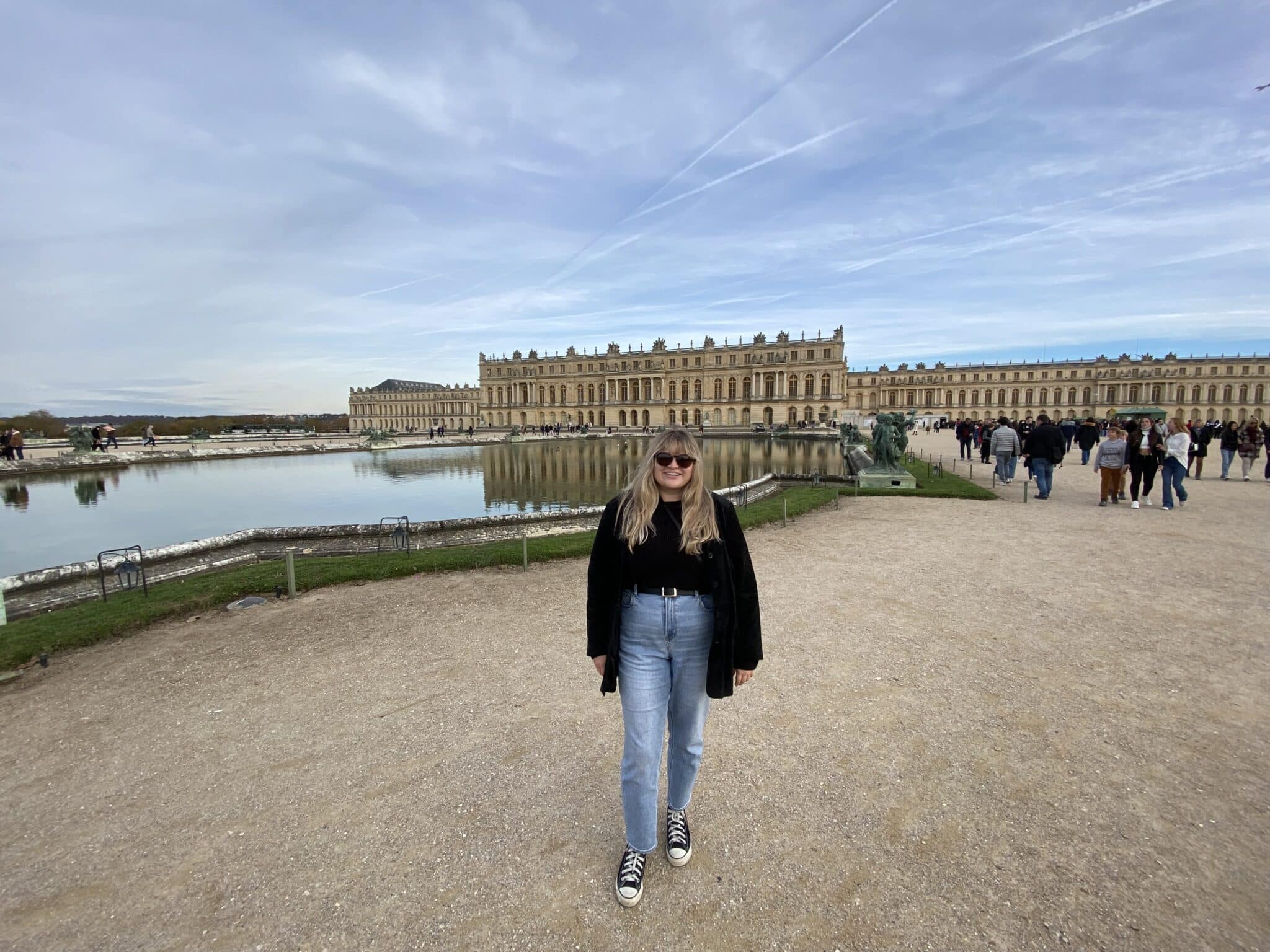 During the show, the garden also has bubbles and thousands of lights illuminating the gorgeous landscaping and statues. As if that weren't enough, the show peaks with fireworks!
No matter what type of experience you are looking for, you'll be able to find it in Paris at night. I hope these suggestions helped you expand your trip plans! Let me know what you end up doing, especially if you see a ghost!