I pulled open the weather app and saw the Vancouver forecast: 10 solid days of rain. I knew that Vancouver is the 3rd wettest city in Canada, but I was hoping for at least ONE sunny day on our trip up there.
Robin and I have been super giddy for our trip to Vancouver and then to Victoria this December (like, you would think we're children going to Disneyland for the first time) so we weren't going to let Vancouver under rain damper any of our plans.
If you're visiting Britsih Columbia, you'll probably run into some rain, it's just what Vancouver weather does (hey, the PNW is technically a rainforest after all!) But don't fret, in this post, I'm sharing all my favorite things to do in rainy Vancouver. Grab your umbrella and let's go!
Things To Do In The Rain When Visiting Vancouver: My Favorite Rainy Day Activities Vancouver BC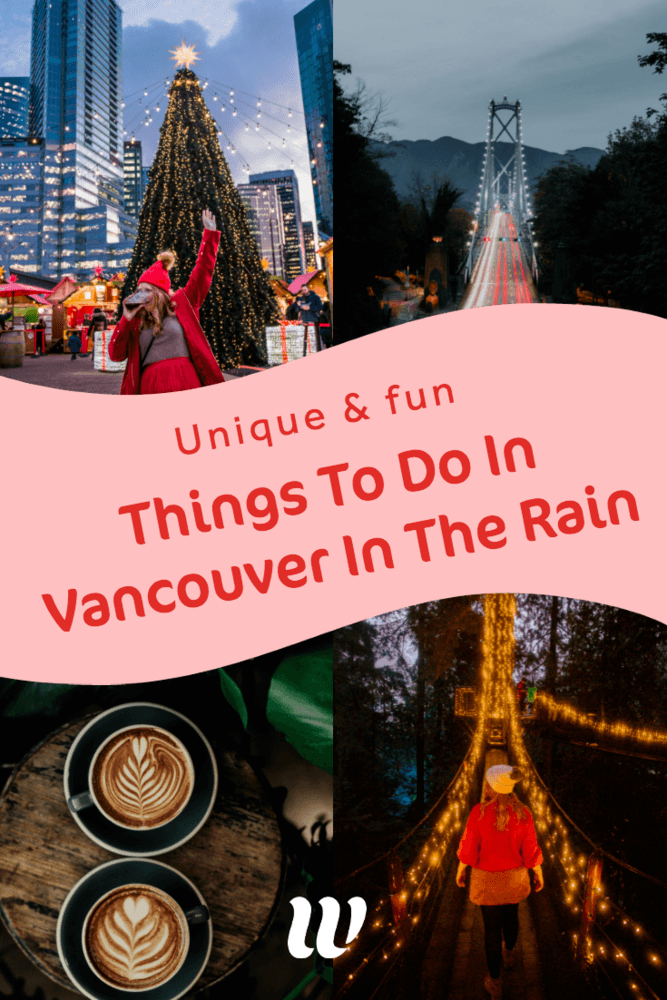 Got a question about Vancouver you need answered ASAP? DM me on @thewhimsysoul on Instagram & I'll help ya out!
How Many Days Does It Rain In Vancouver?
It rains over 161 days a year in Vancouver. So, you basically have a 50/50 chance that you'll encounter a rainy day Vancouver when you're visiting.
The second I saw the Vancouver rain forecast, I grabbed my trusty yellow rain jacket that got me through our last trip to the PNW and put it in my suitcase. I also packed my favorite $30 rain boots (so cute, comfy & practical!) and two small umbrellas.
I also made sure to bring my anti-theft purse that's also waterproof to protect my phone and external charger from getting soaked. I highly recommend this purse, it's amazing!
If you are coming to photograph with a nice DSLR, make sure to also buy yourself this rain sleeve to protect your camera from getting wet during our outdoor activities!
That's right folks: This list includes outdoor AND indoor things to do in Vancouver.
30 Fun Things To Do In Vancouver In The Rain
The good news is, the rain in the Pacific North West isn't usually crazy. I grew up in Wisconsin and until I visited Seattle for the first time, I thought rain could only be hard, windy and cold (with a chance of thunderstorms!)
But rainy weather in Vancouver BC is way more manageable. Sometimes the rain is just a mist, so there's no reason to hole up for your entire trip if it's forecasted to rain unless it's a downpour!
Locals know a thing or two about making fun activities indoors, but there's also a lot of really special places to visit outdoors (like the suspension bridges!) Also, the PNW is just stunning in the rain, so if you hide inside for your entire trip, you'll be missing out on the local culture.
But, that doesn't mean you have to suffer outside for the entire trip. When it's a rainy day in Vancouver, try one of my favorite indoor or outdoor adventures!
It looks like the Space Needle, but it's more like it's little sister that doesn't have as many frills as the Space Needle but is still pretty dang cool to visit.
There's so outdoor walkspace at the Vancouver Lookout, but you can see EVERYTHING from it. I'm taking everything from the Lions Gate Bridge in Stanley Park to the houses in Richmond and beyond.
We visited on a random Tuesday morning and had the whole place to ourselves. Seriously! It was so peaceful (these lookouts always seem to have hoards of tourists, but perhaps we just visited in the offseason.) There's no tours, it's all self-guided.
You can use your ticket twice in a day, so most people like to use it once in the daytime and come back again at night to see the city in a whole new light.
Granville Island
Boy, is Granville Island COOL! I low-key wish I lived next door to it so I could exclusively grocery shop and dine at all the amazing vendors in the public market.
If you've been to Seattle, the best way to describe Granville Island is like Pike Place Market… but on an island, and it's 4 times the size and much, much cooler.
We chose to walk to the island (over the bridge and down the ramp, follow the signs!) but this was about a 3-mile hike from our hotel, so we took the False Creek Ferry off the island (that cute little boat above!) Most people choose to ferry over for this reason. You can also drive, there are some parking lots!
Capilano Suspension Bridge
Holy moly you guys, the Capilano Suspension Bridge is worth the trek to Vancouver alone, especially during the holiday season when they dress the whole park up in literally millions of Christmas lights!
The Capilano Suspension Bridge park is a series of suspension bridges and wooden walkways in the treetops. While this is an outdoor activity, don't let the rain deter you. For starters, I actually think it's prettier in the rain.
Most of the bridges are under tree cover so, while you won't stay 100% dry, you can seek shelter pretty well here. If you are coming for the Canyon of Lights in December, I recommend you arrive around 2:30pm to watch the park transform from day to dusk to nightfall. It's magic!
Pro tip: There's a FREE shuttle from downtown Vancouver to the suspension bridge that runs about every 20 minutes. Skip the cab and take that instead!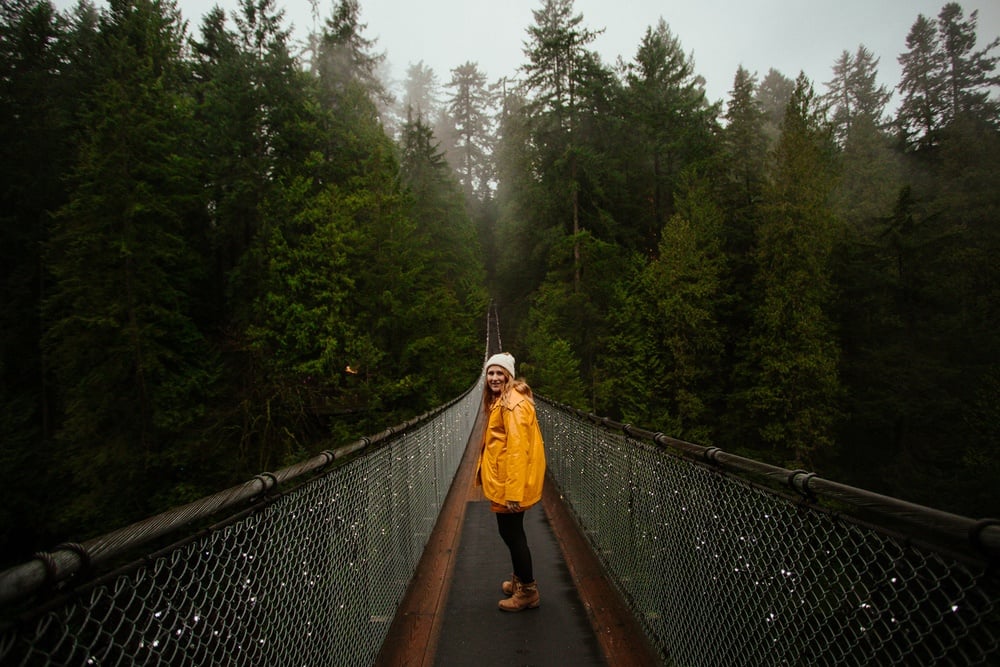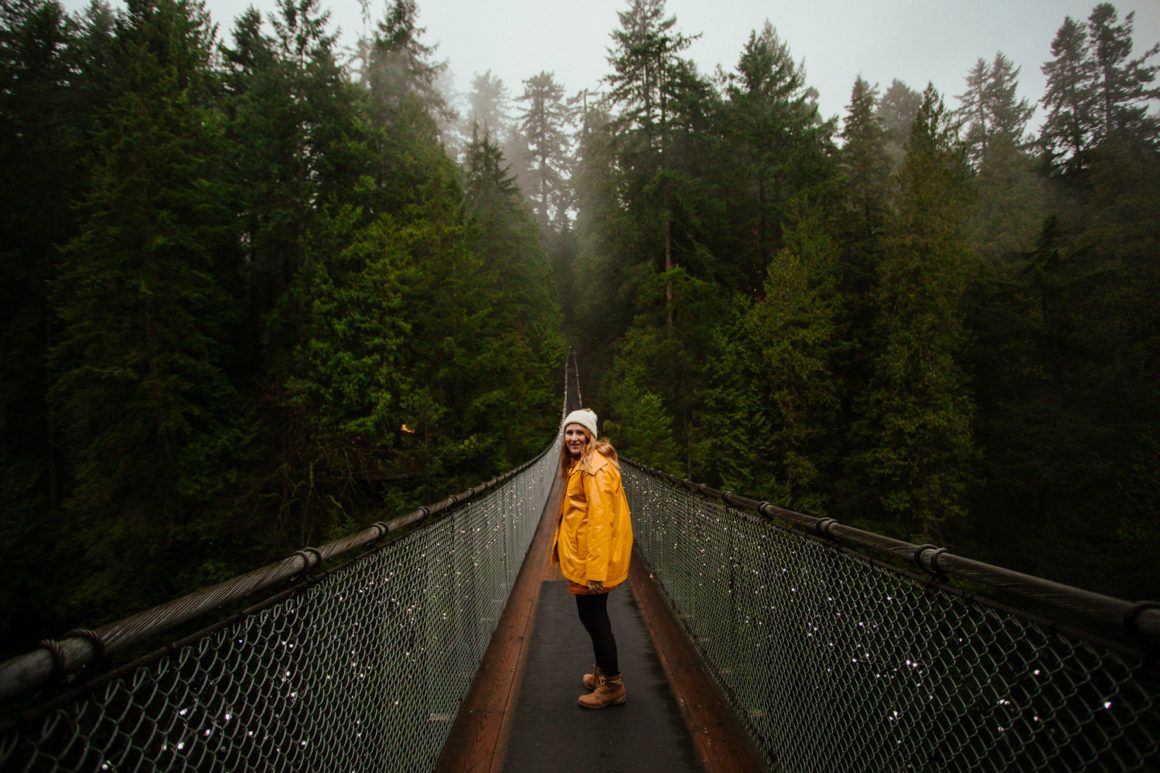 Lynn Suspension Bridge
This suspension bridge is located in North Vancouver and while it's smaller than Capilano, it's totally free! It's one of the fun, free activities to do during the day in Vancouver.
Make sure to pack rain boots (I love this pair because they're waterproof but don't look like rain boots so they work with more outfits while traveling!)
Museum of Anthropology
If you're into human history, you can't miss the Vancouver Museum of Anthropology! It's especially a fun stop if it's pouring outside. While this museum has a fantastic collection of art from around the world, it's known for contemporary art from Northwest Coast First Nations.
East Vancouver craft brewery hop
Vancouver has a LOT of amazing craft breweries. When Robin and I are traveling and the weather is just too terrible to be outside, more often then not, you'll find us brewery hoping to taste all the local beers.
We didn't get a chance to visit any breweries on this trip, but you can find a list of all the local ones here!
Grab a coffee at Revolver
I think this is one of the most famous coffee shops in all of British Columbia. When I asked you guys on Instagram where you like to eat in Vancouver, Revolver kept coming up again and again.
And I see why! This industrial-hipster chic coffee shop is located on the edge of Gastown in downtown Vancouver and has all the cool vibes you want in a craft coffee shop. But, it also has something I've never seen before: an espresso flight!
For about $7 you can try two types of espresso that's served plain and with milk. It's a super fun way to learn more about coffee and espresso types (while getting your caffeine fix!)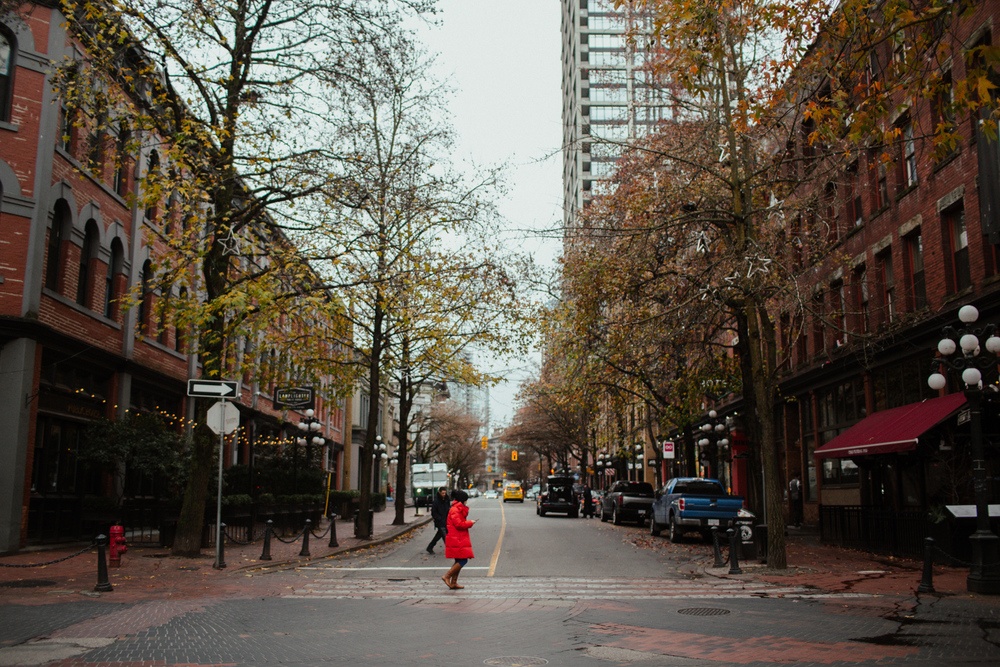 Fraser Valley wineries
Sometimes, you just have to give in to the weather and start drinking. I live an hour from Napa Valley and adore wine tasting at different regions around the world (yes, I'm a low-key wine snob now, it just happened after we moved to California!!)
Fraser Valley is a short drive from Downtown Vancouver and makes the perfect day trip to take when it's raining in Vancouver. Taste local wines, take a farm tour or even a food and wine pairing in the valley!
Vancouver Art Gallery
The Vancouver Art Gallery is the largest art museum in Western Canada, so if you're itching to see Canadian painter Emily Carr (along with the greats like Monet) this is your spot!
Vancouver Maritime Museum
On the waterfront of Vanier Park, the Maritime Museum is a great place to learn about the history of the British Columbia waterways. The main attraction is the St. Roch, the first vessel to circumnavigate North America and was the only link between remote communities in the Canadian Arctic during the early 20th century.
Dr. Sun Yat-Sen Classical Chinese Garden
On our last day in Vancouver, it was pouring rain so we wandered over to Chinatown to pay a visit to the Classical Chinese Gardens and BOY, was it stunning!
My sister is adopted from China and our house growing up had a lot of Chinese art around, so places like this always feel homey to me. This garden is especially stunning and authentic. Best part? All guests get FREE tea at the end, which was the perfect thing to warm up with on a cold rainy day!
FlyOver Canada
This was another thing to do that kept coming up in Instagram comments. If you're looking for family activities for a rainy day, this will be a hit with kids! We didn't stop by, but from my understanding, FlyOver Canada is a theatre meets Disneyland ride that's also educational and takes you all over the country via video!
Hike Quarry Rock
If you're looking for more outdoor adventures that are tolerable in the rain, try the hike to Quarry Rock! Like the suspension bridge part, this trail is mostly covered with trees until the end so you can stay pretty dry for most of the hike.
Ferry to Victoria
Hey, it may not be raining over in Victoria! Check the weather and if it's not raining on Vancouver Island, considering popping over there for a day trip via the B.C. Ferries.
Robin and I spent half our British Columbia trip to Victoria and fell in love with this charming, historic city. The ferry ride alone was a neat experience (so many stunning views on the 1.5 hour ride, I was taken back by all the fun island we sailed by!)
Roadtrip up to Grouse Mountain for snow
When it's raining at sea level, it may be snowing in the mountains! If you're up for some cold-weather fun, take an afternoon trip up to Grouse Mountain to find some snow!
Of course there's skiing and snowboarding here, but you can also visit even if you don't do any winter sports (we don't know how to but we still love visiting ski villages for the vibe!) The view from up here is magical and during the holidays you can find tons of pretty Christmas lights.
Vancouver Science World
You can spot the Science World building from far away – this unique dome looks like a mix of the Epcot Center and a spaceship. Inside you'll find tons of interactive exhibits, a theater and science shows to keep you occupied while it rains outside!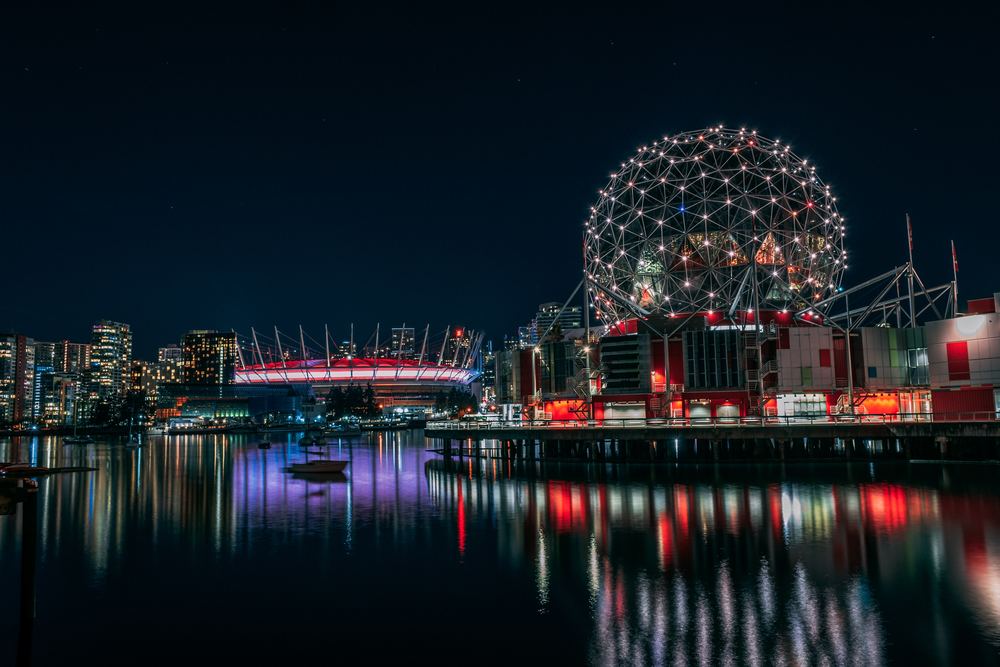 Christmas Market
Ok, if it's one of those hella windy and rainy days, skip the Christmas Market entirely. BUT, if it's just a light rain, you can totally still visit the market without getting soaked! There's tons of umbrellas covering tables, overhangs in front of booths and event a completely covered dining hall to keep you dry as you sip on mulled wine and eat brats.
It was our FAVORITE evening out in Vancouver. Robin and I had so much fun running around the market trying all the food and looking at all the artisan goods. I recommend you budget at least $100 for a night here so you can eat all the eats and drink all the drinks.
PS Obviously the Christmas Market only happens during the holidays but I wanted to state that clear just in case.
Afternoon High Tea
Afternoon Tea is a very British thing that made it's way over to Canada, too. We fell in love with tea during our honeymoon to England and try to do at least one Afternoon Tea service a year when we travel.
Afternoon tea is a LONG process (at least 2-3 hours) so if it's forecasted to rain a bunch, reserve yourself a table and get ready to eat! Try having tea here.
Eat!
And of course, if all else fails, you can just spend all day eating inside! Take it slow, wear comfy pants and explore Vancouver by food! Some notable spots to dine at are:
Jamjar in the Commerical Drive neighborhood
JamCafe in Kitsilano
Any Dim sum in the Richmond District
Cactus Club Cafe (a local chain that's beloved)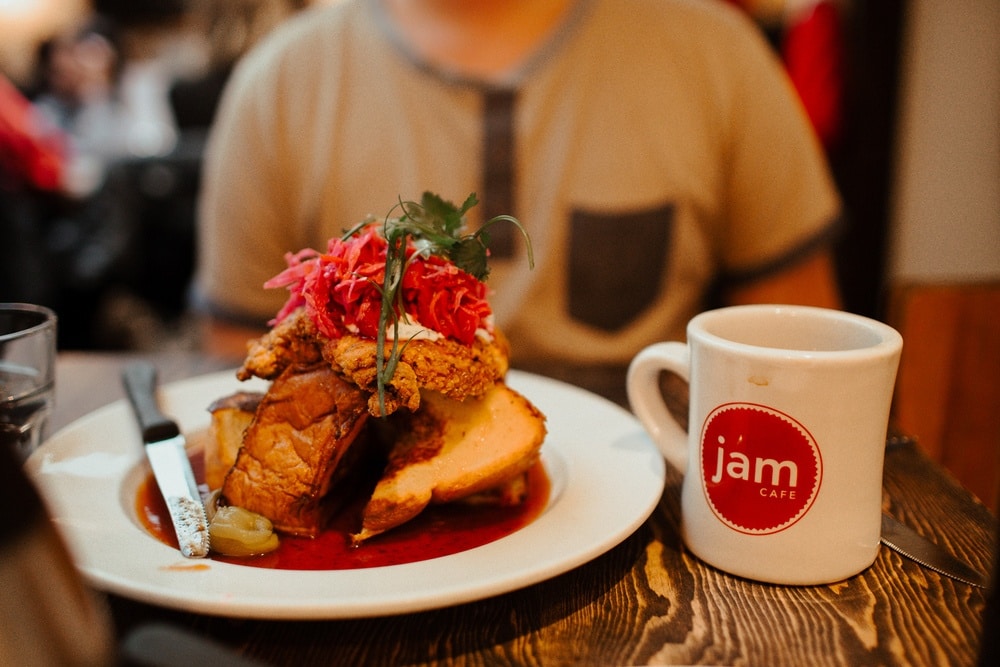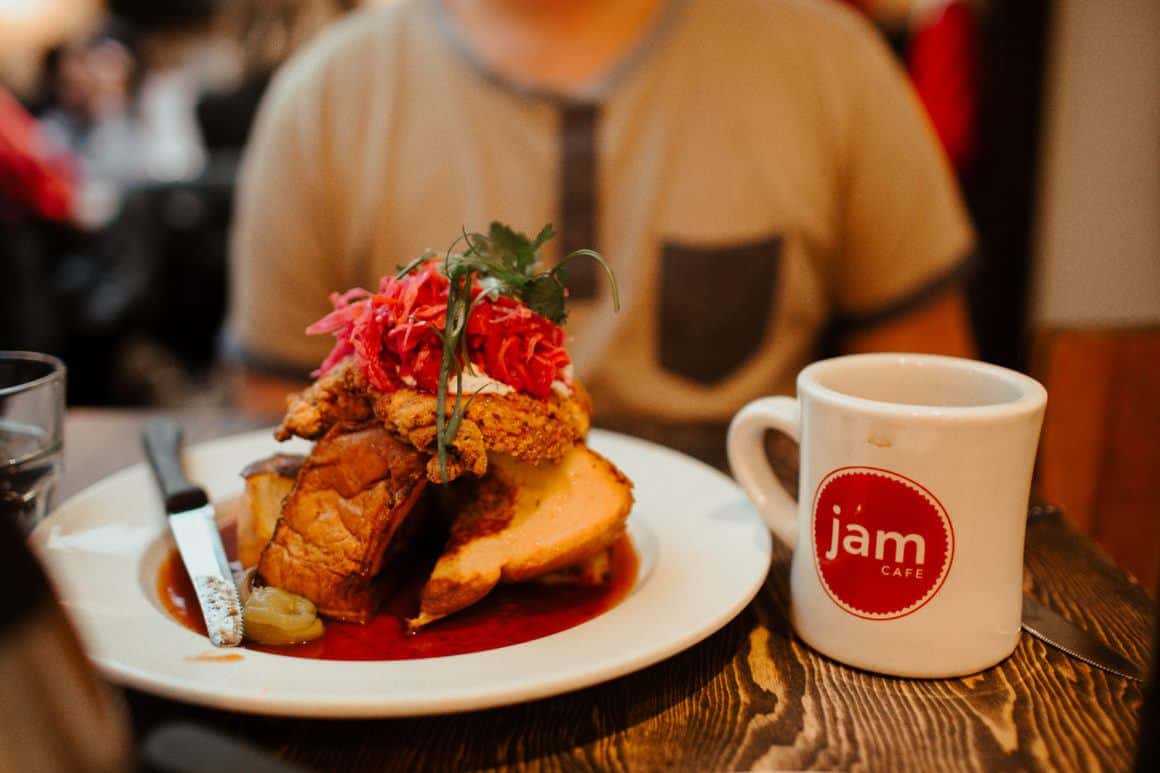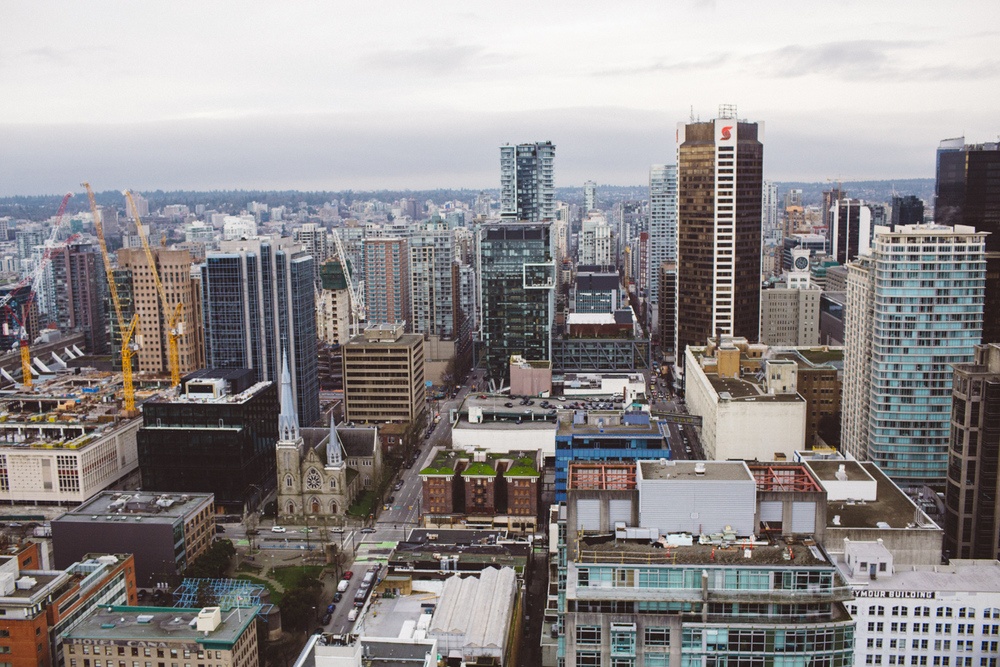 More Indoor Things To Do In Vancouver BC
What to do in Vancouver when it's raining and you just can't stand being outside any longer? We even hit our limits from time to time (mostly my fingers were getting cold!) so we mixed outdoor rain activities and indoor ones on our trip.
I found that most things on this list are a mix of outdoor/ indoor activities. For example, the Chinese Gardens have outdoor sections but also covered sections to seek shelter from the rain.
That being said if the above list wasn't long enough for you, here's a list of even more indoor things to do in Vancouver when it's raining.
Go to a canucks game
Visit the Vancouver Public Library
Tour the Bloedel Conservatory at Queen Elizabeth Park
Visit the H. R. MacMillan Space Centre
Go shopping at Pacific Centre Shopping Mall
Vancouver Aquarium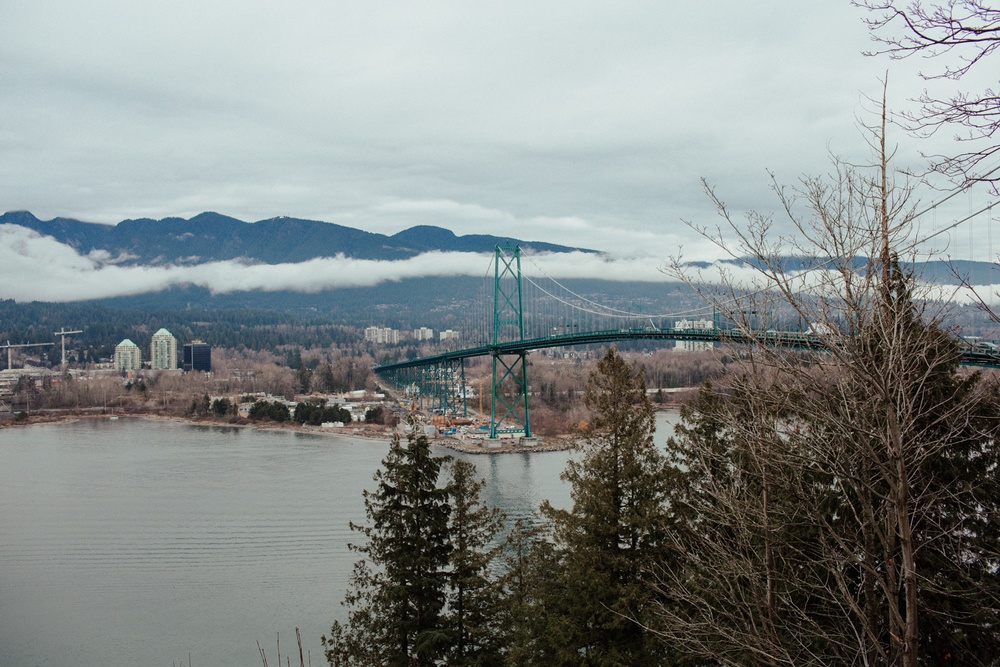 I hope this helps you figure out what to do in Vancouver on a rainy day! We loved exploring this city and can't wait to return again, maybe next time in the summer so we have more daylight to go on longer hikes!
Christmas was a delightful time to visit though, even if it was a bit rainy and wet. Again, the locals get out and explore when it rains and so should you! Just remember to pack a rain jacket or umbrella, wear comfy rain boots like this pair and use a waterproof purse to protect your phone and camera.
Got any of rainy day activities to add to the list? Leave a comment below so everyone can see! If you have questions about Vancouver, leave a comment or DM me on Instagram @thewhimsysoul and I'll be happy to help!