Aloha from Maui! Robin and I landed in Maui on Friday and we're soaking up all the sun, waves and island vibes that we can until we leave this next Friday. On our first day here, while we were waiting to check into our hotel, we visited a few beaches scouting out places to take photos or lounge at later. We quickly changed into swimsuits for this exploration and within minutes "Island Kara" took over and I was just wearing this floral bikini – no dress, shorts or coverup!

We spent our first evening just bumming around and taking it easy. We grabbed dinner at Maui Brewing Company as we're really into visiting local breweries when we travel. Then we honestly passed out at, like, 8pm because we were so tired (to be fair our bodies still thought it was 11pm!)
The next morning we woke up early so we could start the drive on the Road to Hana! (I'll be writing a whole long blog post about the Road To Hana full of photos, stories and tips.) Our drive was really wet, it was on and off again raining so I was really happy I chose to wear a swimsuit because I basically was wet the entire drive. All the waterfalls were flooding – think fast, intense rapids, so we didn't get to swim in any of the pools. I was bummed out about that, but we made up for it with LOTS of Maui Gold pineapples. It was a fun day!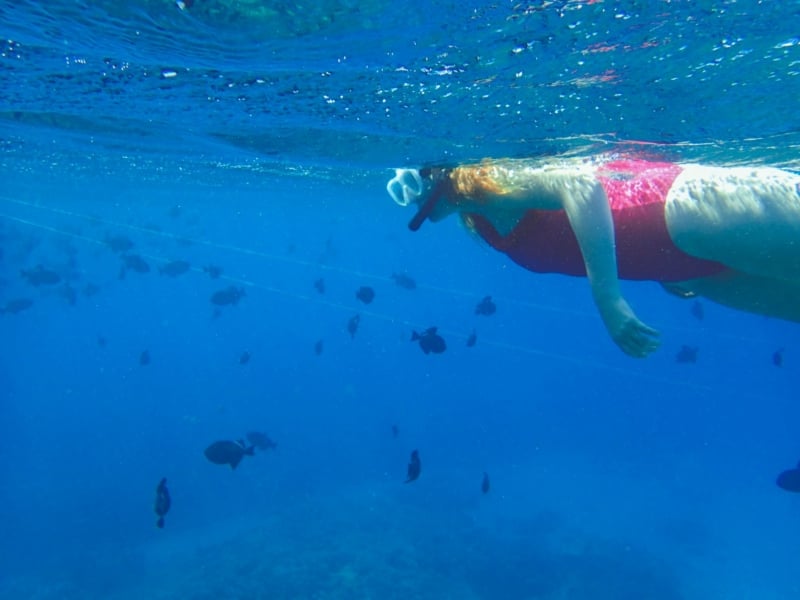 And today, we went sailing and snorkeling! Will also be sharing a seperate blog post about that soon, so stay tuned! Today I wore this swimsuit because it's easier to snorkel in a one-piece. I love this swimsuit brand so much and own legit over 10 of their swimsuits!
Tomorrow we are visiting the volcano at sunrise and then touring a pineapple plantation!