I love living in San Francisco, it's hands down my favorite city in the world. I also love helping people plan amazing trips to the foggy city and one of the biggest questions I get is: where should I stay in San Francisco?
Despite being only 7×7 miles, San Francisco has countless neighborhoods all with different vibes and hotel options (and, each one probably has its own micro-climate which is ~fun~ to navigate as a local).
In this post I'll be overviewing where to stay in San Francisco as a visitor, breaking down the best neighborhoods to look for a hotel in along with my personal favorite hotel recommendations. Let's go!
Best Neighborhoods To Stay In San Francisco
San Francisco is the funkiest tapestry of neighborhoods. They're all super unique, so where you choose to stay will definitely impact your experience!
Each of these neighborhoods has some pros and cons you should consider before booking. Beyond just the obvious travel tips like staying close to public transportation, you'll want to consider everything from available nightlife to how many hills you're willing to walk up.
There are so many fun things to see and do in SF that it can get overwhelming. Start by narrowing down where you're going to stay. Here are just a few of many options!
Union Square
New York City, Times Square. San Francisco, Union Square. That's how I explain Union Square to anyone visiting San Francisco, and I'd like to think it's pretty accurate!
Union Square is the best place to do some shopping. It has one of the coolest Apple stores I've ever been to, and tons of great museums. A personal favorite is the Contemporary Jewish Museum.
The Financial District (aka downtown San Francisco) is within walking distance, and there are a million good places to eat and sights to see. Hello, Transamerica Pyramid!
Be careful when booking in Union Square to steer clear of the Tenderloin. This area is infamous for car break-ins, which makes it the top stop for where not to stay in San Francisco. The Tenderloin is somewhat close to Union Square, so just be cognizant while booking!
SOMA
SOMA (short for South of Market St) is top of the list for where to stay in San Francisco for the first time. SOMA is great for museums and restaurants.
The San Francisco Modern Museum of Art is right smack dab in the middle of SOMA, and is perfect for an artsy afternoon.
The proximity to Market St. makes SOMA one of the most accessible areas of the city. There's buses and rail lines (called BART) on just about every block.
Nob Hill
Nob Hill is a great introduction to the ninety degree hills of San Francisco. So if you don't mind hills, Nob Hill could be a great option!
If you're looking for where to stay in San Francisco on a budget, Nob Hill is a great bet. There are some lovely hotels in this area, as well as some more affordable motels too.
Nob Hill is a fun area for restaurants and bars. It's less of a club scene, more of a bar scene for sure. You'll also be within walking distance of other awesome sections of the city including the Embarcadero and Russian Hill.
Mission District
The Mission is one of my favorite places in the entire city. If staying in an authentic area of San Francisco is important to you, then the Mission should be at the top of your list!
Food is the main draw for me. Mexican food in the US doesn't get much better than the Mission District. This is where the term "mission burrito" comes from, so you can trust it's legit.
The Mission is also one of the coolest places to stay in SF because of the proximity to Dolores Park. Dolores Park is the best spot in the city to hangout with friends, a charcuterie board, and a bottle of wine.
The Mission is very close to other key neighborhoods (including the Castro), so it's a good deal!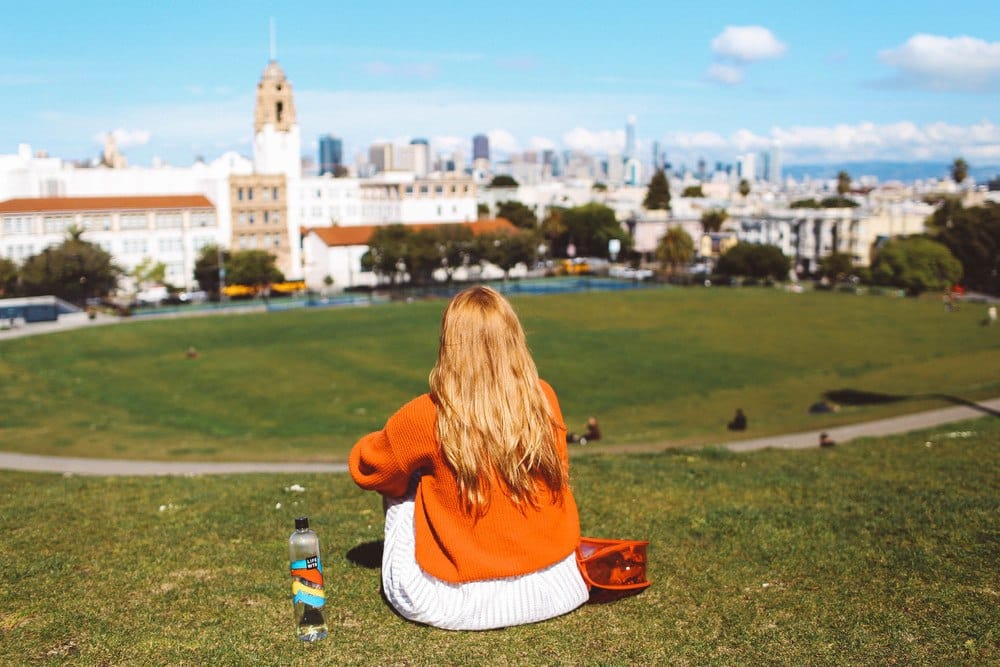 North Beach/Marina
Consider North Beach and the Marina the mecca for young people. This is where to stay in San Francisco for nightlife, especially if you're looking for more of a club vibe than bars.
The Marina has beautiful views of the water, and is an easy walk to Crissy Fields, Lombard Street, and the Palace of Fine Arts. All are well worth a visit. While you'll be close to the beach, it's not San Diego– bring a jacket!
North Beach, which is super close, is the cutest neighborhood. Centered around Washington Square Park, it's chocked full of ridiculously good Italian restaurants.
North Beach has some ridiculously good, authentic Italian restaurants as well. There's burrata on every street.
Presidio
The Presidio gives big Nancy Myers, coastal queen energy. This San Francisco neighborhood is super classy and full of yummy food and fun things to do.
The top activity near the Presidio is, of course, the Golden Gate Bridge. You're within walking distance. Sausalito, an adorable beach town just across the bridge, is a super fun day trip too.
When looking for where to stay in San Francisco with family, the Presidio is a great choice. There's not much of a going out scene, and it's a chiller vibe than the Marina or Hayes Valley.
Most of the hotels in this area are boutique, which is kind of perfect for the vibes of the Presidio.
Fisherman's Wharf
Fisherman's Wharf gets the people going. Seriously, people go crazy for this place! It's got shopping, nationwide known restaurants, access to one of the city's famed cable car, and tanning seals on just about every pier.
While Fisherman's Wharf isn't the best place to stay in San Francisco for relaxation, it certainly is ideal if you're looking to be close to the tourist action. This just may very well be the best area to stay in San Francisco for tourists.
Beyond just the Wharf itself, you'll be close to some other very cool spots. Check out Buena Vista Café for the best Irish coffee you've ever had in your life. Or over to the secret Chamber of Secrets door.
The Castro / Upper Market
The San Francisco experience is incomplete without The Castro. The Castro is SF's queer neighborhood, and it's one of the best places to stay in San Francisco for how much fun you'll have.
The going out scene in The Castro is the huge draw here. Toad's Hall, Twin Peaks, Moby Dick, and Harvey's are all very fun and inclusive.
The historical value of The Castro lends its way to some cool day time exploring, too. Plus, the location of this neighborhood makes it very accessible via public transportation. This is definitely where to stay in San Francisco without a car.
The Castro is near another neighborhood, Upper Market. The vibe of Upper Market is cute café, vintage book store, family-friendly, and wonderfully cozy. Plus, it's super close to public transportation as well.
Hayes Valley
Hayes Valley is a blast. They get an A+ for bars, restaurants, shopping, walkability, and sight-seeing. Not much is missing. I really think this is the best neighborhood to stay in San Francisco, but I could just be biased towards Alamo Square!
Alamo Square Park sits atop a hill overlooking Hayes Valley, as well as the gorgeous Painted Ladies (think Full House, fun Victorian houses all painted in funky colors). It's one of many great spots to watch the sunset.
Hayes Valley, for all its fantastic qualities, is not the most accessible via public transportation. Keep that in mind while booking.
Near Oracle Park
One of the best travel tips a friend ever gave me was to try and visit a city's baseball stadium whenever possible. She claimed the baseball team was the beating heart of the city.
That couldn't be more true when it comes to San Francisco travel. A California road trip would be incomplete without stopping by Oracle Park. The Giants are a religion around here, and Oracle Park is the cathedral.
Staying near the park is super smart, especially if a game is going to be the highlight of your trip. This area has tons of cool sports bars and restaurants. There's also a gorgeous ocean view of the Bay from just about every block.
18 Best San Francisco Hotels For Your Next Trip
Whether you're visiting for business or pleasure, for the millionth time or the first, you deserve to treat yourself when it comes to accommodations. Any city is only as good as the area you stay in, and San Francisco is no exception.
One of the best parts of this city is all the wildly different communities and neighborhoods that it's home to.
Regardless of where you end up staying, be sure to make time to visit as many of the neighborhoods as you can. Each one has its own special "thing" that makes SF so special.
Enjoy your travels, and don't forget a sweater!