Let's be honest – February is kinda the worst month of the year in North America. Seasonal depression and cabin fever are at an all-time high, which means it's the perfect month to break your routine and plan a winter trip.
Plus, Valentine's Day offers a chance to take a romantic trip with your partner!
19 Best Places to Visit in February For A Winter Break
If you're into snow sports, there's tons of winter vacation spots, but maybe this is the time to plan a warm-weather trip to soak up a little vitamin D to hold you over until Spring.
1. Tomales Bay
Speaking of warm places…San Diego and Malibu aren't the only California beach spots! Come up north this February for everything from hiking to oysters (but mostly oysters).
Tomales Bay is known for, yes, oysters. There are a ton of places you can try, but I recommend Hog Island Oyster Co. Hog Island also does guided tours of their farm on Mondays and Thursdays.
For something a little more upscale, check out Nick's Cove, which is right on the water. With fresh seafood and inventive cocktails such as the "Winner Take Nothing," you can't go wrong. Plus, it's attached to one of the coziest hotels in the area of the same name!
Once you've had your fill of oysters, it's just a twenty minute drive to Point Reyes for some exceptional hiking. Bear Valley is perhaps the most popular, and features some very tall trees and snow capped mountains this time of year.
2. Fairbanks, AK
With an average February temperature of 13ºF, it may seem odd that Fairbanks made the list. Grab a warm coat and a hat, because it is well worth the wind chill.
The Northern Lights are a once in a lifetime experience that only last until April. February is the perfect time to view with smaller crowds, and an enchanted snowy backdrop. There are a couple different ways to view the lights, but the most reliable option is a guided northern lights tour.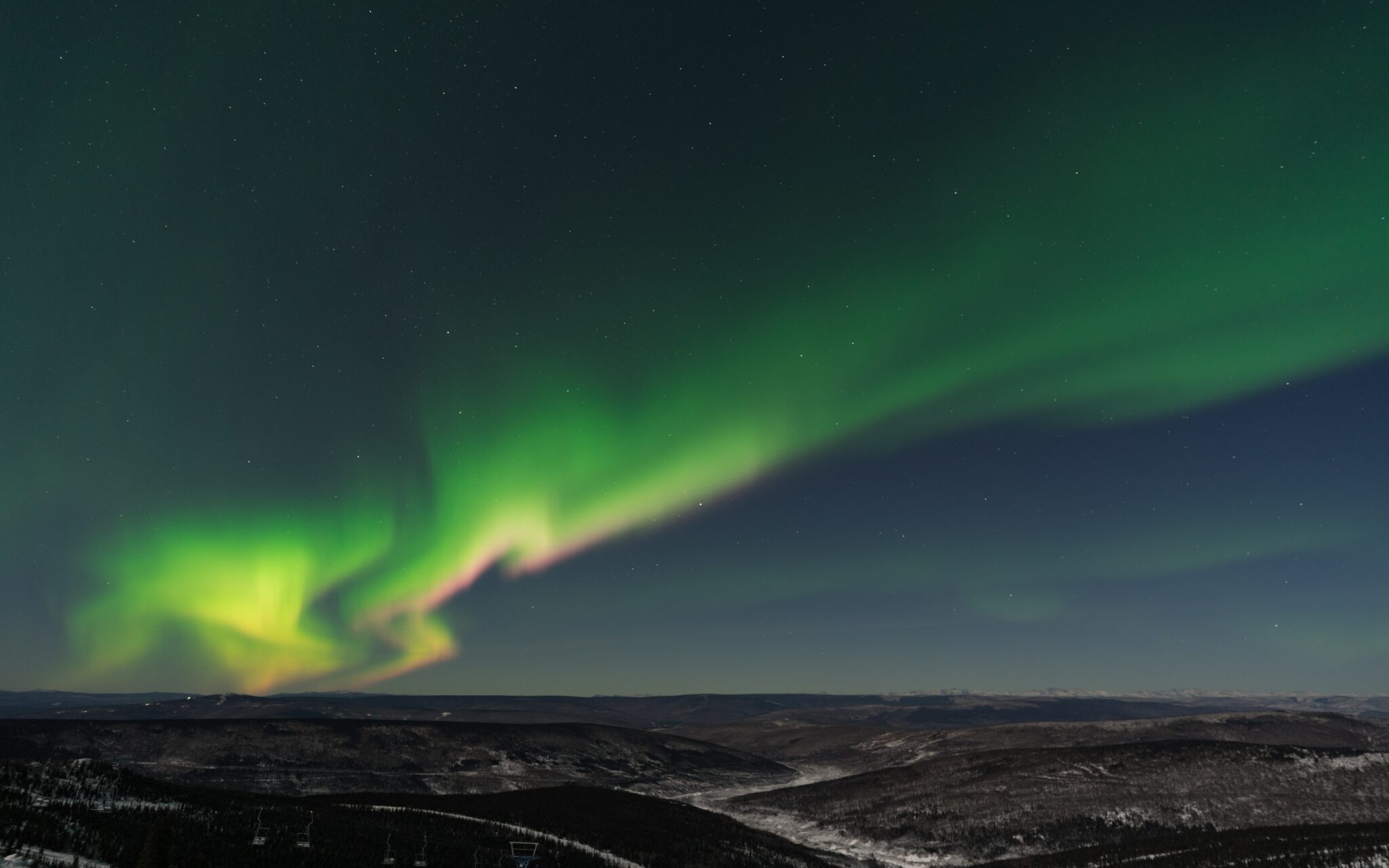 If you're looking for a way to warm up from the inside out, Hoarfrost Distilling hosts world class vodka tastings. It's a good idea to call ahead for a spot, as they fill up quickly.
For a more traditional way of warming up, Chena Hot Springs offers a dip in a natural hot spring and other spa treatments. It's also a great viewing spot for, you guessed it, more northern lights!
3. San Antonio
San Antonio is not only one of the biggest cities in Texas, but is also a perfect warm weather destination in February!
Visit The Historic Pearl for a one of a kind historic brewery tour and taste. As an added bonus, the lovely Hotel Emma is located right at The Pearl, should you need a place to stay.
There's much to explore in San Antonio, but I would start with the San Antonio River Walk to get the best views of the city. And you must remember The Alamo– tours run every day of the week out of this national landmark.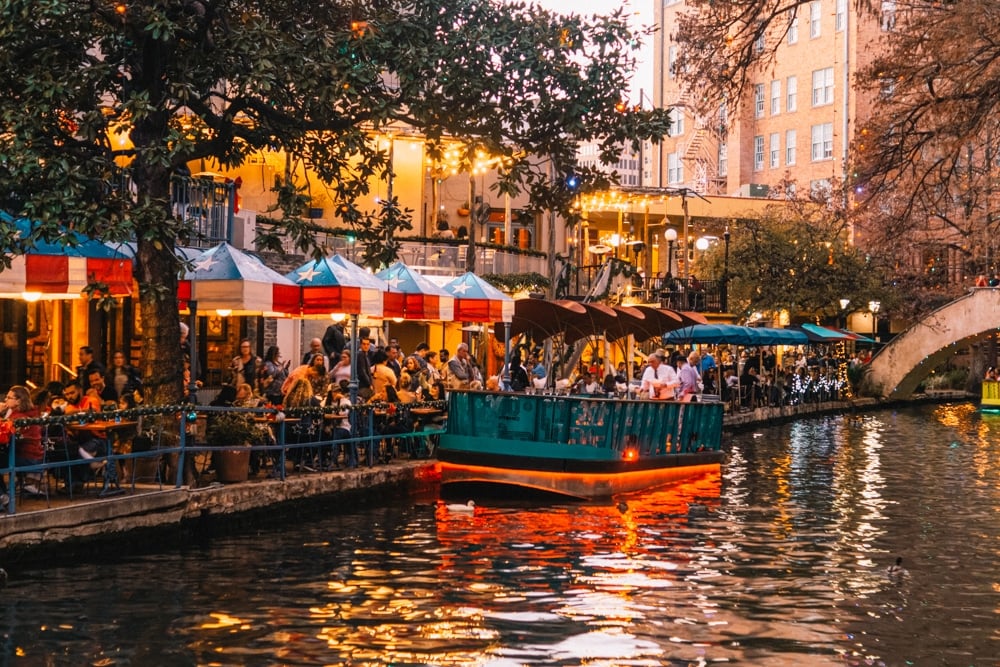 If you're craving some nature after a few days in the city, there are a couple of options within driving distance, such as hiking at Pedernales Falls State Park Big or wine tasting in Fredericksburg or Wimberley.
Bend National Park is a bit too far away, but check out South Padre Island for the best beach in Texas, just a four hour drive.
4. Vail
Vail is one of the coziest, chillest mountain towns the Rockies have to offer. With a more laid back vibe than Aspen, it's the perfect place to unwind from whatever 2023 has thrown your way so far.
In terms of Valentine's Day romance, I can't think of a better place to start than the Alpen Rose Gondola Dinner. Guests are treated to a four course fondue dinner served inside of their own private gondola. Each gondola fits up to four people, so you'll be snug from the snow.
For all those less inclined to spend the day up and down the lifts at the ski resort (relatable), schedule a day trip to Vapor Caves in Glenwood Springs. The only natural vapor cave in the entire country, you'll have your pick from a menu of spa treatments while sitting on slab seats inside a gorgeous cave.
Be aware that Vail is about a three hour drive from Denver International Airport, and finding transportation to the mountains can get a little complicated. I recommend flying straight into Vail!
5. Florida Keys
The Florida Keys, and Key West in particular, are one of the best places to travel in February for warm weather.
For a birds eye view of the entire island, book a sightseeing tour in a prop plane for the day! Every seat is a window seat and you'll be sure to spot dolphins, sharks, shipwrecks, turtles, and more.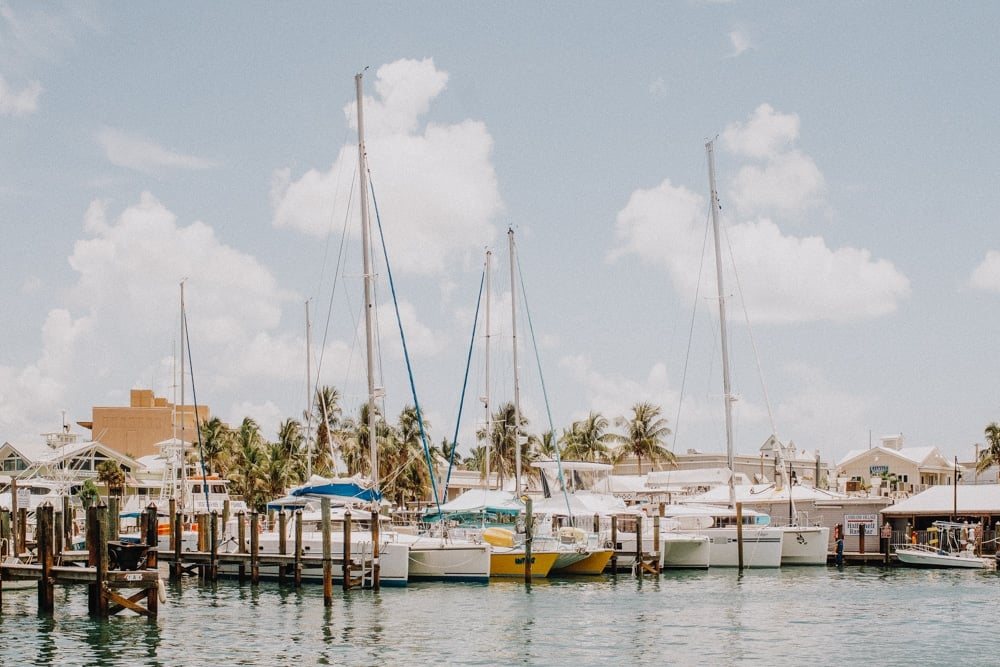 If you, like me, get a kick out of scaring yourself, the Key West ghost tours are an excellent source of spooky fun. The island has a ton of haunted mansions, and a notoriously unique cemetery.
After a long day of sightseeing or tanning on the beach state park Bahia Honda, stop by The Lobster Shack in Key West for lobster rolls, key lime pie, and ice cold beer.
Pro-tip:
if you're up for going slightly further beyond the Florida Keys, check out one of these
16 best Caribbean beaches
instead! The Caribbean is so easy to pop down to from the USA, especailly if you live on the East Coast and you'll be treated to low 80's, sunshine and limited rain this time of year!
6. Utah National Parks
Utah has more than just Salt Lake City! With the third most national parks in the US, just make sure you save enough days to explore it all. And make time for national monuments like Grand Staircase-Escalante too if you can!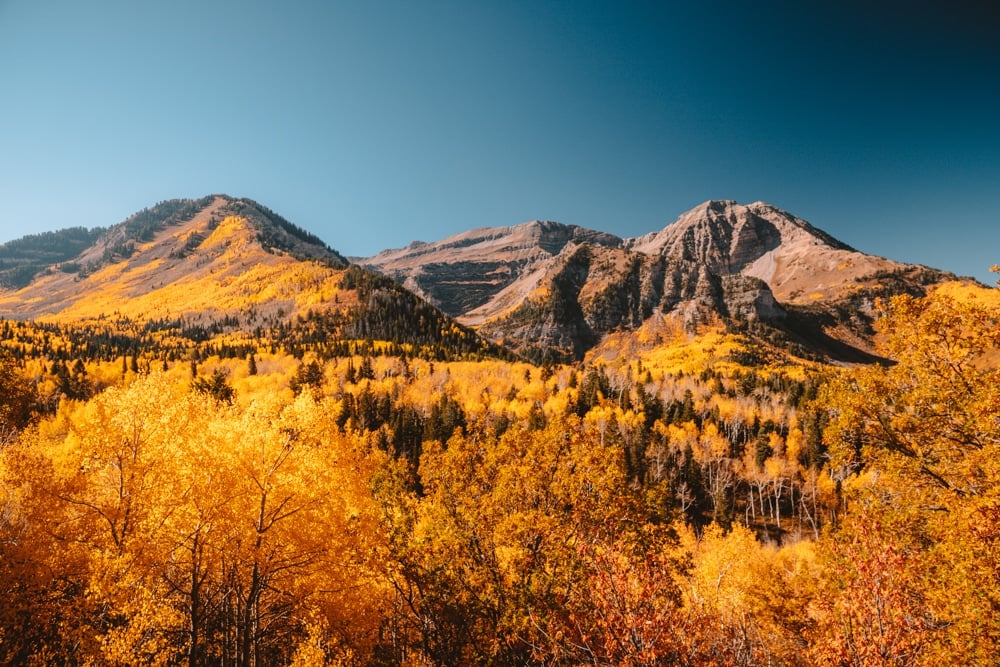 Start in Zion National Park for stunning canyon views that should be dusted with snow. The wait times to enter the park are much shorter in the winter, so you'll have plenty of time for horseback riding, hiking a long list of trails, and even camping if the average temperatures of 49ºF don't bother you.
If you're more of a glamper than a camper, stay at the Zion Wildflower in a heated canvas tent with incredible views of the park.
For beautiful red rock formations, Bryce Canyon National Park is just a 45 minute drive away, and is a winter wonderland without the crowds of summer.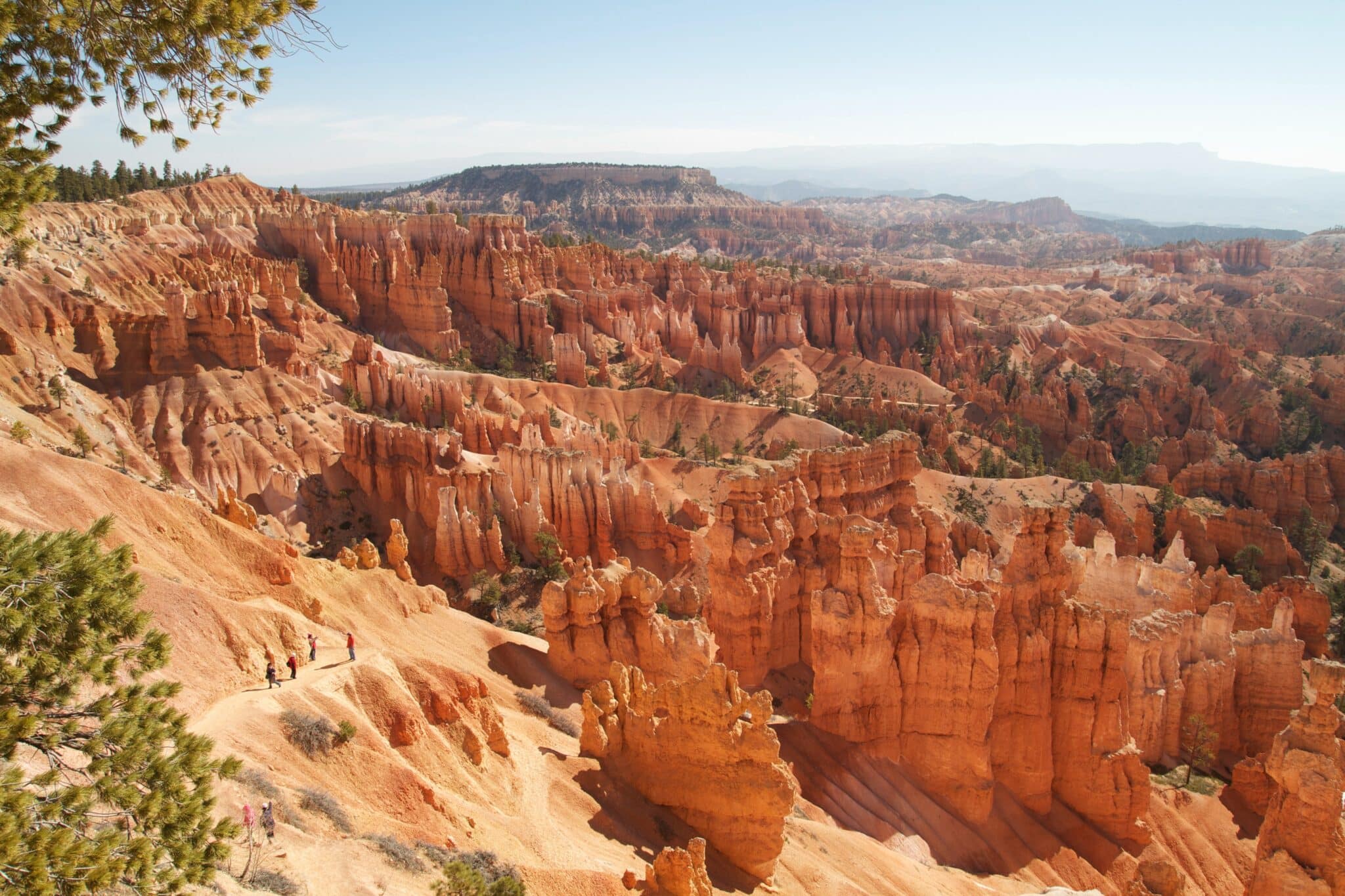 In addition to snowshoeing through the trails, Bryce Canyon Winter Festival is during President's Weekend from February 18th-20th and includes skiing clinics, archery, watercolor painting, and much more.
7. Table Rock State Park
If you've hiked everything out West from Yellowstone National Park to Yosemite, then it might be time to head to the East Coast and see what they've got! Table Rock State Park could be the perfect place.
Table Rock is located in Pickens, SC, tucked away in the gorgeous Blue Ridge Mountains. The weather this time of year is mild, so you should definitely explore some of the many hiking trails. Table Rock Trail is known for its walk through and around a couple different waterfalls.
"Music on the Mountain" happens every Saturday afternoon, and is a free bluegrass concert that takes place right at the park's lodge! All you need to do is bring a chair, unless you don't mind standing.
I would suggest staying in a nearby city such as Asheville, NC rather than right in Pickens. The trip is only about an hour. The Biltmore Hotel has a restaurant in-house, and looks like a Southern Buckingham Palace!
8. Hawaii
Which US state is the best to visit in February? If I had to pick one, it would be Hawaii just based on weather and activities alone.
It's a choose your own adventure type of vacation: explore volcanoes all day or lounge out on the beach till dinner, it's up to you.
If you're staying in Maui, the Haleakala National Park is one of the coolest spots to explore. Make sure you book a reservation– they only allow a certain number of visitors daily!
There is no shortage of options when it comes to eating and drinking. Hawaii has a sweet wine that is super unique to the island. Go to Pineapple Winery to try some! On an island, you can bet the seafood will be pretty awesome. Nuka is one of the best sushi spots in town.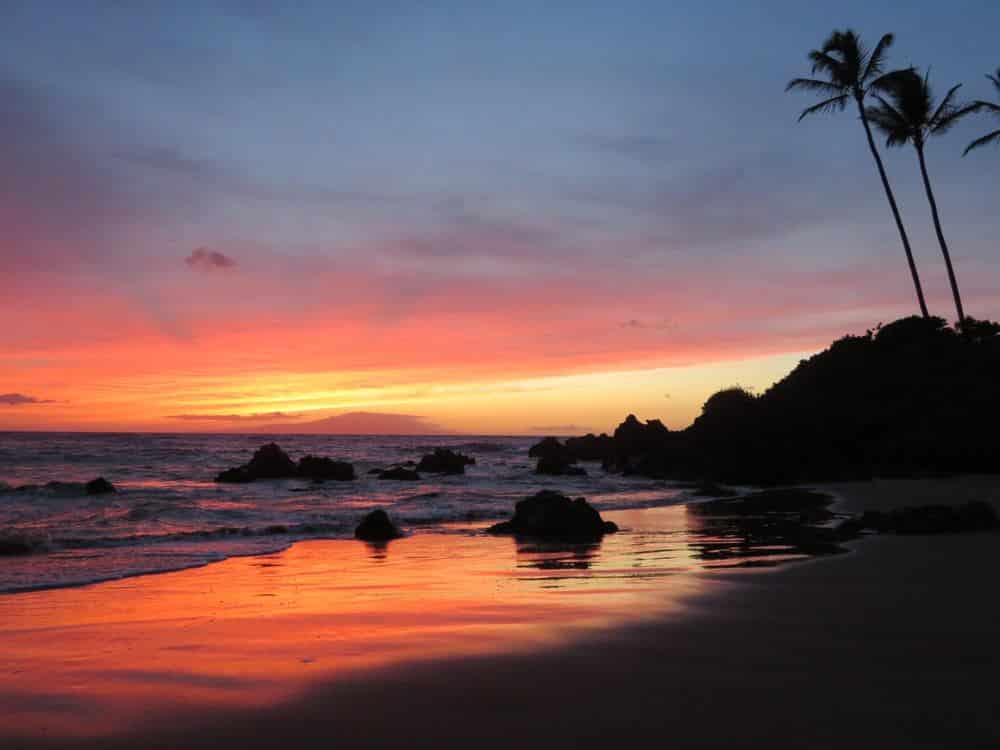 You can't visit one of the best places in February to go for sun and not tan on the beach. Keawakapu Beach is amazing, but in all honesty, so is every beach in Maui. There are no wrong answers!
And if you're visiting the Big Island, you can't miss Hawaiʻi Volcanoes National Park!
9. Myrtle Beach
Myrtle Beach is one of the best places to visit near Florida that isn't actually Florida. You can count on Myrtle Beach for tons of beaches, and naturally, as much Southern soul food as you can eat.
North Myrtle Beach is one of the most popular beaches for its chair rental service and proximity to some of the top resorts. About thirty minutes south of here is the Myrtle Beach Boardwalk. Take a look in the souvenir shops, try your luck at carnival games, or just take a look at the view.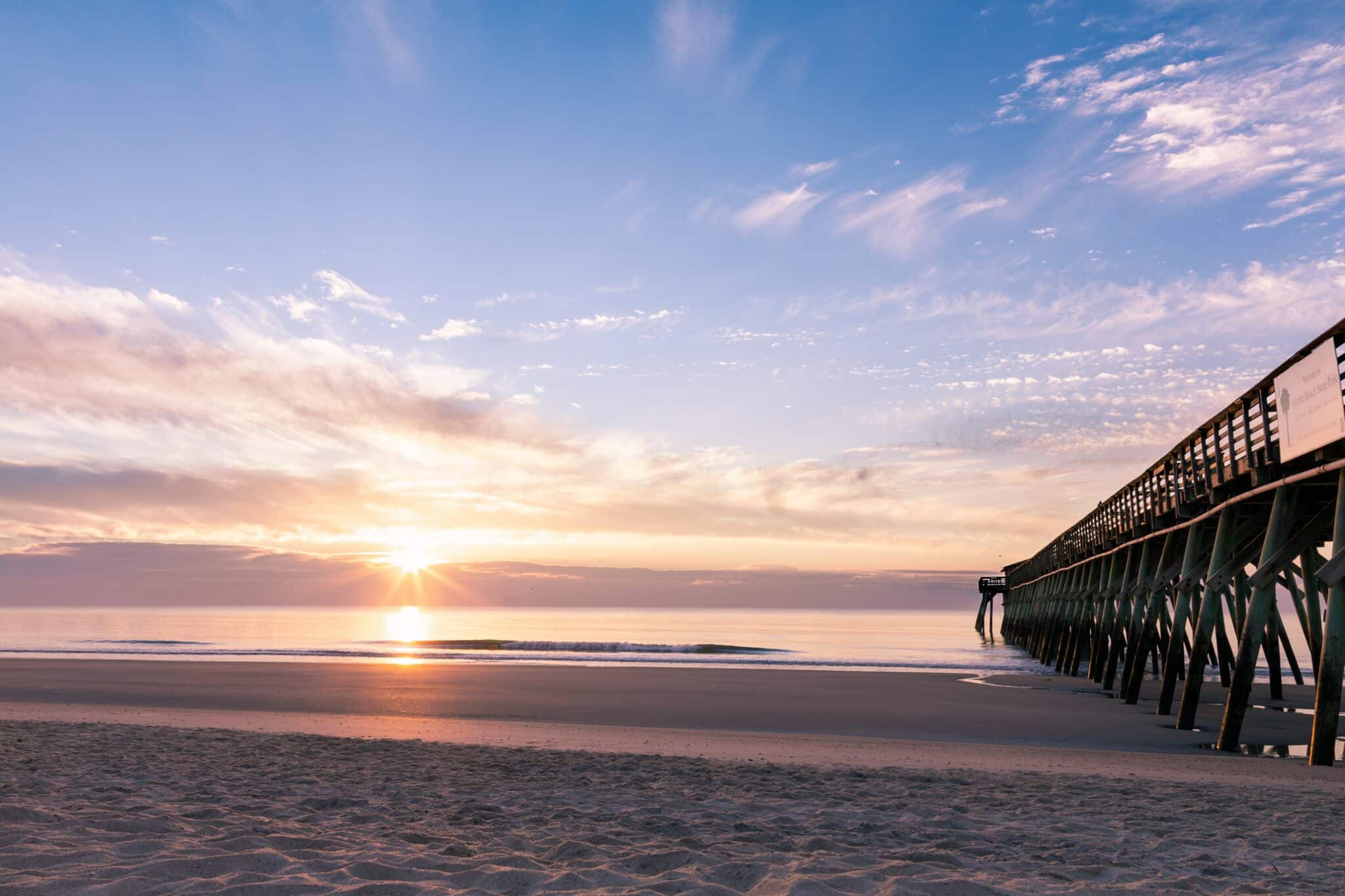 After hitting the beach, take a day trip down to Charleston for a historic tour in a horse drawn carriage around the city, as well as the famous Fort Sumter.
In terms of eating, soul food is a must. Big Mike's Soul Food is known for its fried chicken, gravy, and casual dining experience. For something a little more upscale, try The Melting Pot.
Another southern, East Coast beach town to consider: Hilton Head Island! It's on the southern tip of South Carolina, not far from Savannah!
10. San Francisco
February may be one of the worst times of year in most places around the US in terms of temperature, but in San Francisco, it is actually one of the warmest! Seasons are kinda flipped here– the summer is colder, while winter sees flowers in bloom and low crowds.
Ghirardelli Square is one of the best known tourist attractions for a reason– the chocolate! Head over to try a quick milkshake at the Ghirardelli-On-The-Go. You'll be within walking distance of Pier 39, which is home to sunning sea lions, tons of shopping, and an overall wonderful boardwalk experience.
Any trip to San Francisco is incomplete without a view of the iconic Golden Gate Bridge. If it isn't too foggy, take a scenic hike through the Lands End trail to see the bridge in all its glory, accompanied by beautiful Bay views.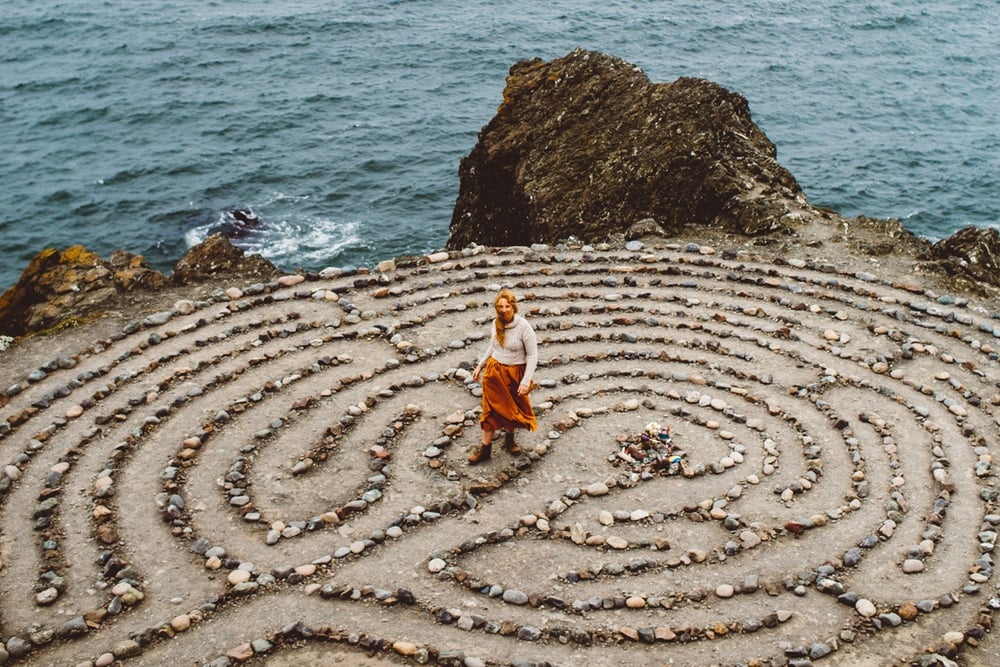 If you're craving more nature after a couple of days in the city, Lake Tahoe is just a day trip away!
11. Hot Springs National Park
Hot Springs National Park is the oldest national park in the country. Older than Yellowstone, even! And it's home to 47 natural hot springs to enjoy.
Currently the Fordyce Bathhouse & Museum is closed, but there are plenty of other bathhouses to explore on Bathhouse Row! Buckstaff Bathhouse is one of the only locations that still operates as a classic bathhouse.
The town of Hot Springs is super cool because they have fresh natural spring drinking fountains located all over the city. Bring a water bottle so you can fill up on free water.
Consider fueling up at The Pancake Shop before heading out for a day of hiking! Hot Springs National Park is one of the only national parks that is completely free to visitors, so be sure to explore as many trails as you can within the 26 miles of the park.
12. Sedona
You can't visit Sedona without doing some form of hiking. The landscape is just too unique, and the weather is just too good this time of year! Somewhere like Death Valley National Park may still be up in the mid 70s, but Sedona is rocking at a cool mid 60s in February.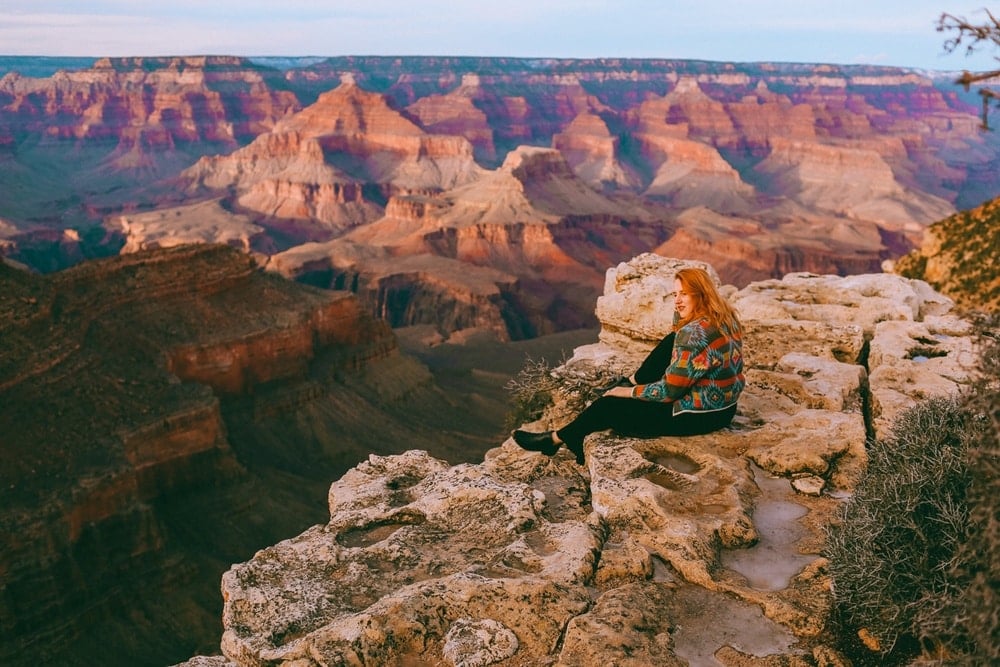 For an easy hike, Airport Mesa is the key. Try Boynton Canyon Trail for something a little more challenging.
The Pink Jeep Tours take you around the less walking accessible outdoor spaces such as the Grand Canyon or backcountry canyons. And yes, it's all led from the comfort of a bright pink Jeep!
In terms of where to stay, the Amara Hotel and Spa not only has a beautiful courtyard view of red rock scenery, but a delicious in-house restaurant as well.
13. New Orleans
If New Orleans was a movie, Mardi Gras in February would be the main character. Visitors from all over the world travel to The Big Easy, and for once, the crowds are what make it one of the best February vacations.
Mardi Gras starts the last week of February, and is a month of parties, festivals, concerts, parades. This is what makes it one of the best cities to visit in February.
Hotel Monteleone should be at the top of your list for places to stay. Its location on Bourbon Street in the French Quarter makes it the perfect place to watch parades and parties unfold, especially if you have a balcony view. An added bonus? The famous Carousel Bar is just downstairs in the lobby!
Celebrate Black History Month while in NOLA as well! The Black owned and operated All Bout Dat Tours will take you on a ride around the city examining both the Black history of New Orleans as well as the historic jazz history.
14. Puerto Rico
Puerto Rico is your best bet for that international feel without needing a passport! This United States territory is closer than the Virgin Islands, but every bit as beautiful.
San Juan, the capital of the island, is known for its colorful houses and historical landmarks. Book a walking tour to get the most out of your time in the city.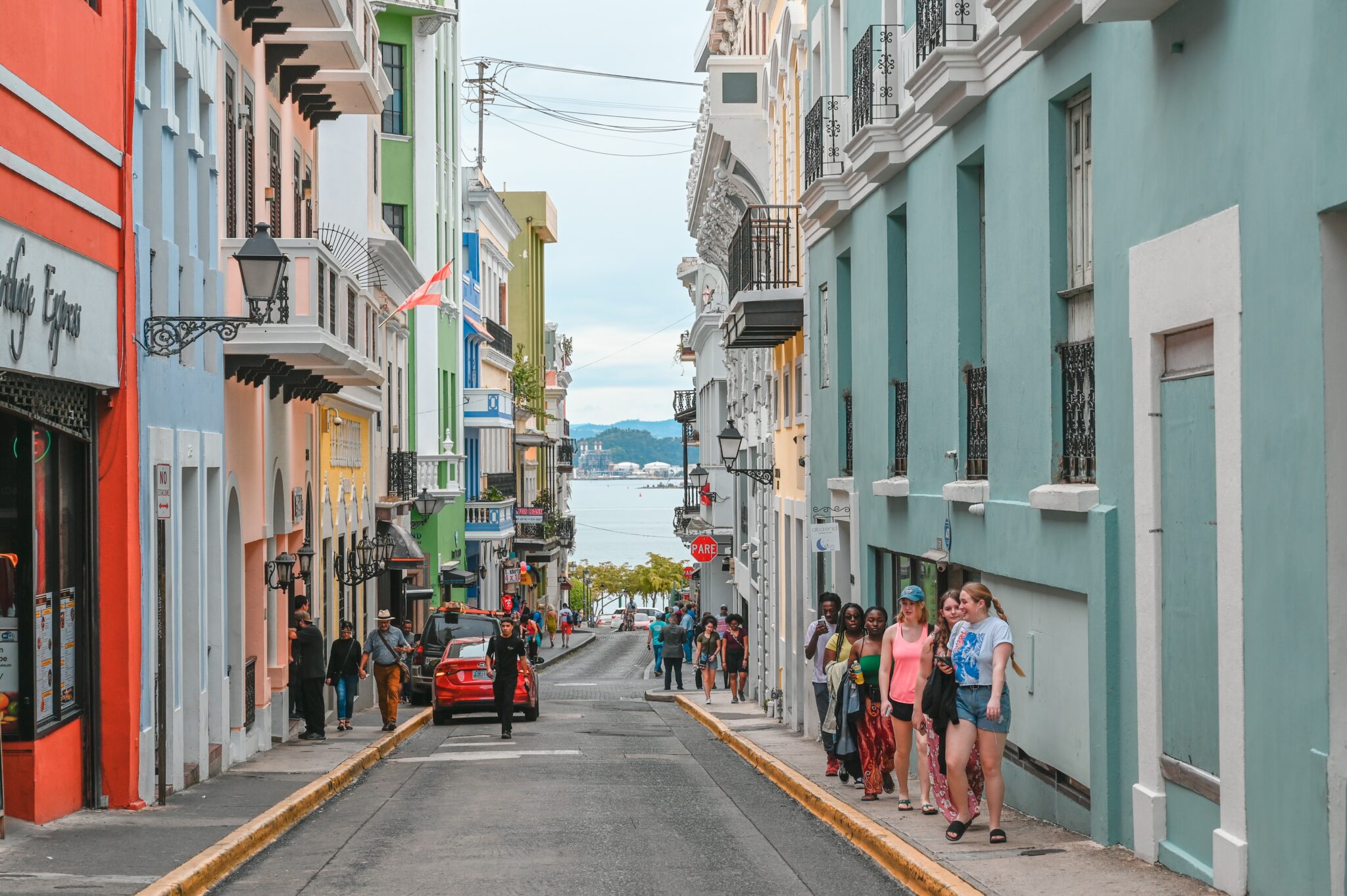 The year round heat makes the beach irresistible. Stay at the Condado Vanderbilt Hotel for a walkable, beach front location that is close to San Juan.
If you're visiting with Valentine's Day in mind, book a rum tasting tour or perhaps salsa lessons if you're looking to impress on the dance floor rather than the barroom floor.
15. Pensacola
Pensacola is a top tier spring break destination for all the college students of the world. This makes it one of the best travel destinations in February: you'll just beat the spring break March rush!
There is a lot to do in Pensacola, but you have to start on the beach. If you don't mind a bit of a crowd, rent chairs at The Dock on Pensacola Beach. Go a little further down the beach towards the Gulf Islands National Seashore Outstanding Florida Water for more room and easier parking.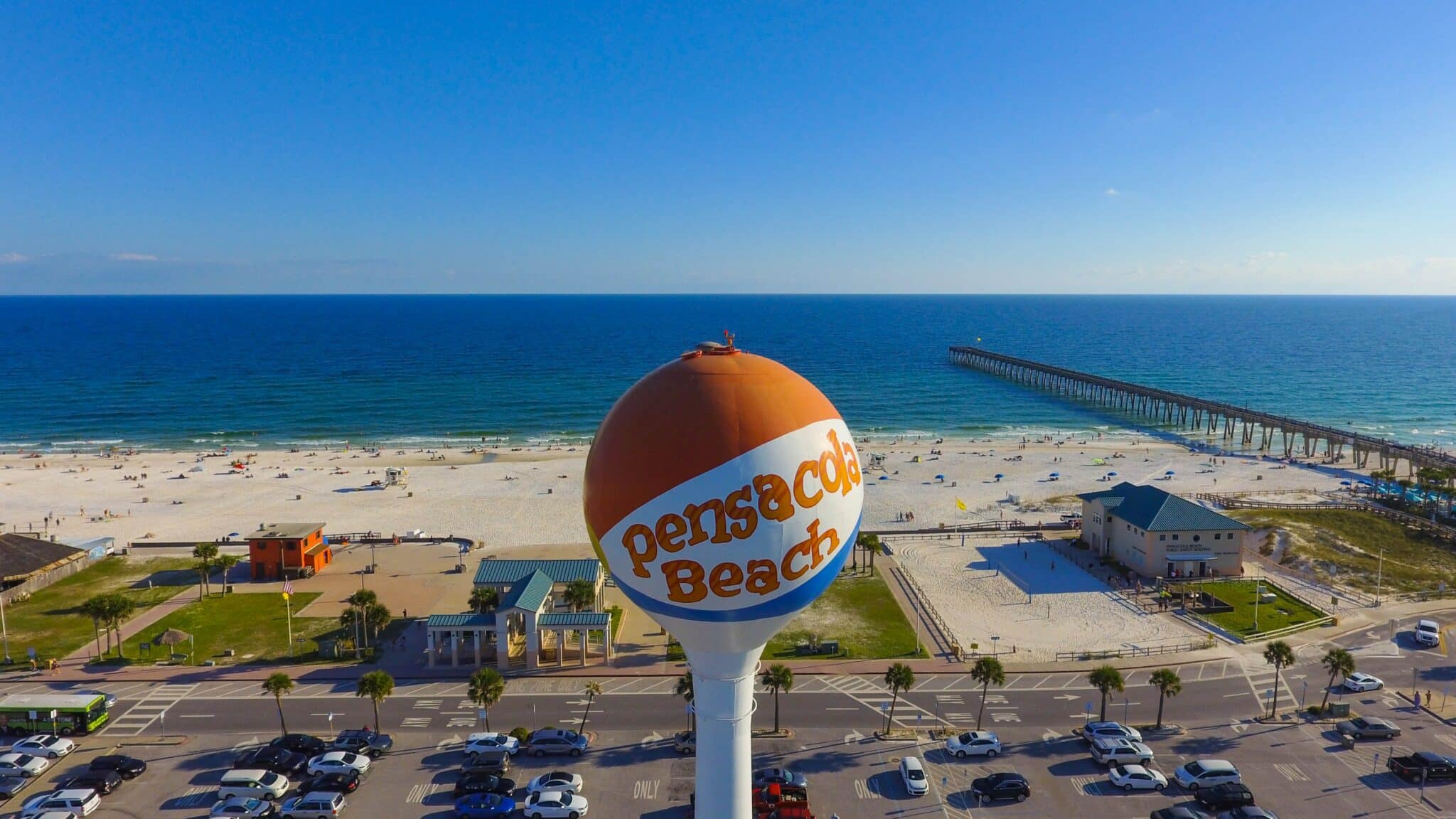 Perdido Beach is another amazing choice for a change of scenery. Fun fact: Perdido is right on the state line between Florida and Alabama! You can say you visited two states in one trip.
Seafood is the cuisine of choice in Pensacola. Laguna's Beach Bar has a delicious fish sandwich right on the beach. And of course, cold cocktails and beers.
16. Calaveras County
Valentine's Day is the time to cozy up, so for a California vacation this February, skip Palm Springs and head to Calaveras County instead.
Bear Valley Ski Resort is perfect for all the skiing and snowboarding enthusiasts. Tahoe is the typical destination for Bay Area skiers, but Calaveras County is much easier to get to.
If you opt out of staying at a ski resort, consider Murphys Historic Hotel. This place has been around since the 1800s, and even has one of the best restaurants in town just downstairs.
Calaveras is also home to a fair number of vineyards. Ironstone Vineyard is located on a massive property overlooking a creek, and even has a tasting room inside a cave. Renegade Winery has a slightly more relaxed vibe with indoor seating on barstools and a farmhouse feel.
P.S. If you're planning a trip to Calaveras County this summer (or anytime after!),
we bought a cabin
and can't wait to host visitors!
17. Niagara Falls
This is an ideal destination for romance! Think Jim and Pam's wedding, but frozen over. There is no off season for the falls, so there will be plenty to see. It will just be a little chillier with a touch more snow.
I suggest visiting the falls through Canada, if you go in February. Niagara Falls, Ontario hosts an annual winter festival that extends through February and includes light shows, fireworks, and a hot chocolate trail.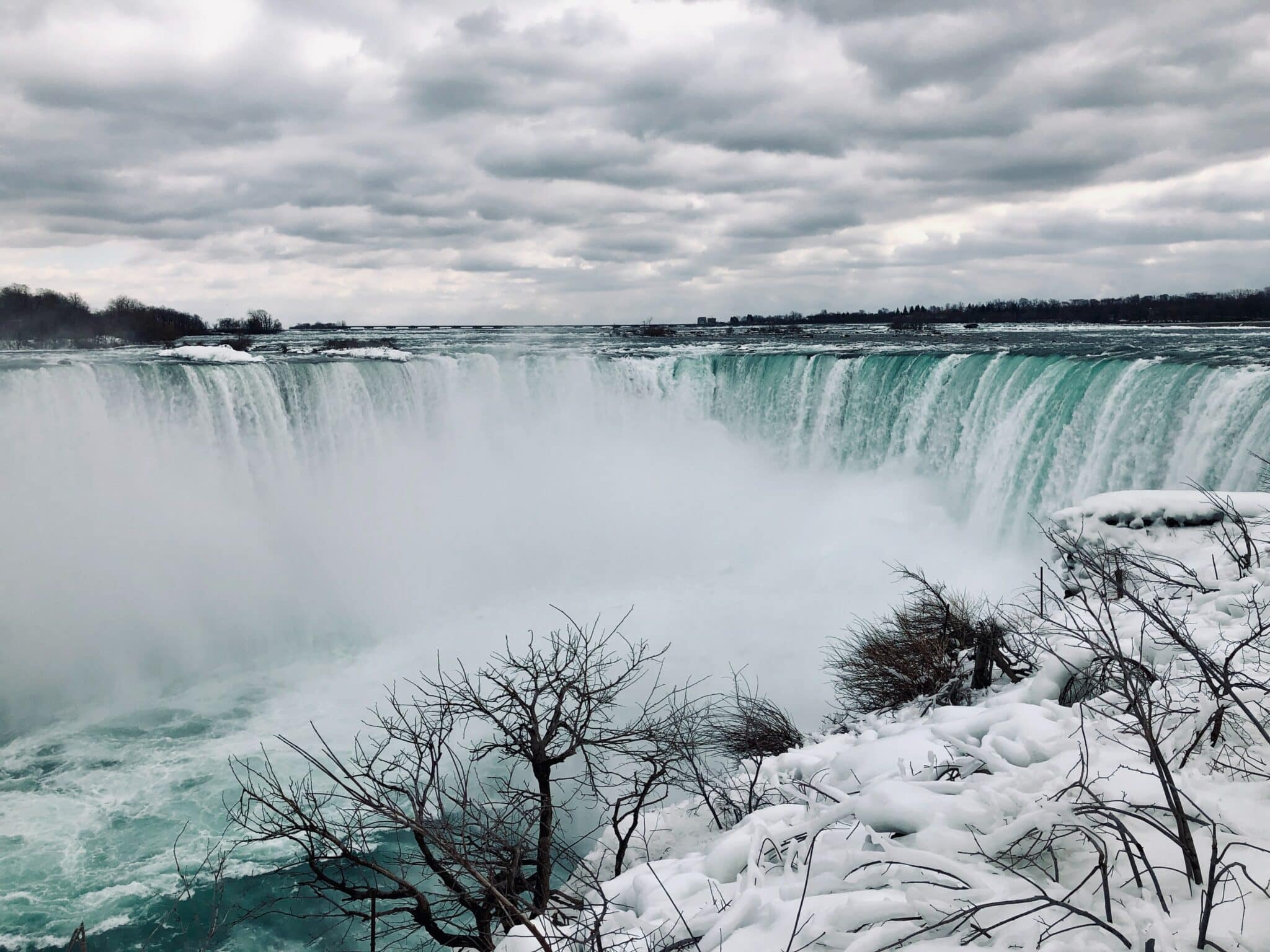 If you decide to stay in the US for your visit to the falls, The Red Coach Inn is the perfect cozy getaway less than a quarter of a mile away from the state park in NY. Visit Old Fort Niagara for a historical experience at one of the oldest US military forts in the country!
18. Hudson Valley
Hudson Valley is an East Coast hidden gem. This cozy, sleepy upstate NY town is just about a two hour trip (via train or car) from New York City, and is one of the best places to visit in February.
Hike the historic Westpoint Foundry Reserve for snow capped mountain views, or snowshoe and cross country ski at Bear Mountain. For indoor activities (it can get cold and snowy this time of year), look no further than the Poured Candlebar. You get to design your own candle, including the name and scent!
The Maker Hotel restaurant is located in an all-glass conservatory. It's amazing. And so is the food. Their upscale farmhouse classics are delicious, and I wouldn't leave without trying the olive oil cake with buttermilk ice cream.
The Rivertown Lodge is located in the heart of Hudson Valley, and is the perfect place to stay for a homey feel. A wood burning stove fire is kept on in the lobby all times of the day, and there is a delicious restaurant in the hotel.
19. Sun Valley
When considering where to go in February, Sun Valley, ID is an excellent choice. In the winter, Sun Valley feels like walking through the pages of a fantasy book.
While skiing and snowboarding are always an option in Sun Valley, consider all of the other winter sports and activities this gorgeous mountain has to offer! I suggest snowshoeing at Galena Lodge or visiting the Frenchman's Bend Hot Springs to warm up from the snow.
Ride the Roundhouse Gondola up this magic mountain to visit The Roundhouse. It's one of the best restaurants on the mountain, and the view is unbeatable.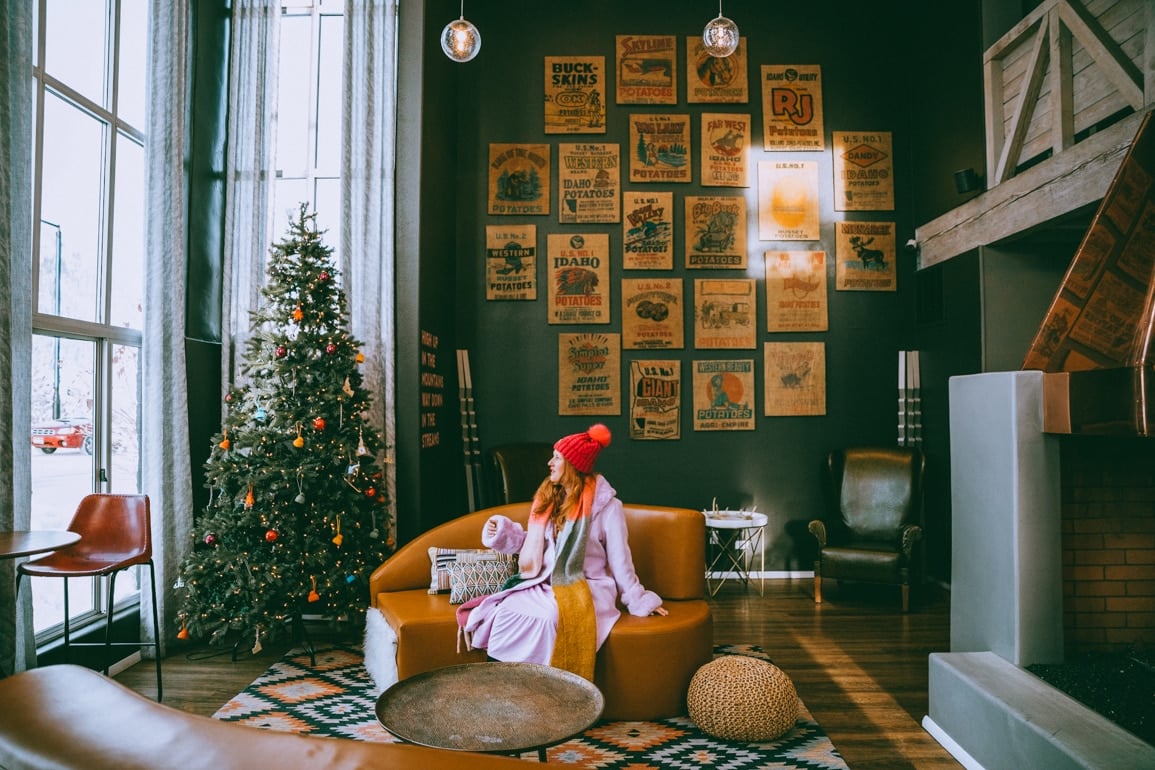 Honorary Mention – Quebec City, Canada
YES, this is a post about the best places to visit in February in the USA but I really felt like I couldn't leave this post without mentioning Quebec City. Quebec is literally right over the US border from Maine & Vermont and is super easy to visit if you live in New England.
And, February is probably the best time to visit Quebec City. They have their winter carnival happening then, there's winter activities like dog sledding and ice canoeing happening plus there's nothing like trying traditional maple taffy on snow when there's actually snow on the streets.
I hope this helps you figure out where to go in February! If your favorite little gem to visit didn't make the list, drop a comment below so everyone can see.