Step outside your hotel room in Vail, and you'll be surrounded by the majestic Rocky Mountains, with a fresh blanket of snow on its peak (most of the time, anyway!) It's easy to see why Vail is a winter wonderland, but it also has plenty to offer during the warmer months. Oh, and don't get me started on the fall foliage here. It's divine!
I got a chance to attend the Taste of Vail food event this year with my bestie Justina. When we weren't eating, we were running around the village finding all the best things to do in Vail, including unique restaurants, trails, hidden gems and worthy day trips so I could bring you the ultimate Vail travel guide.
27 Fun Things To Do In Vail, Colorado: Unique Vail Activities, Excursions & Eats
If you're planning a trip to Vail—whether for skiing or just to see all the beautiful scenery—I've rounded up all the best things to do in Vail so that your trip is as fun and memorable as possible!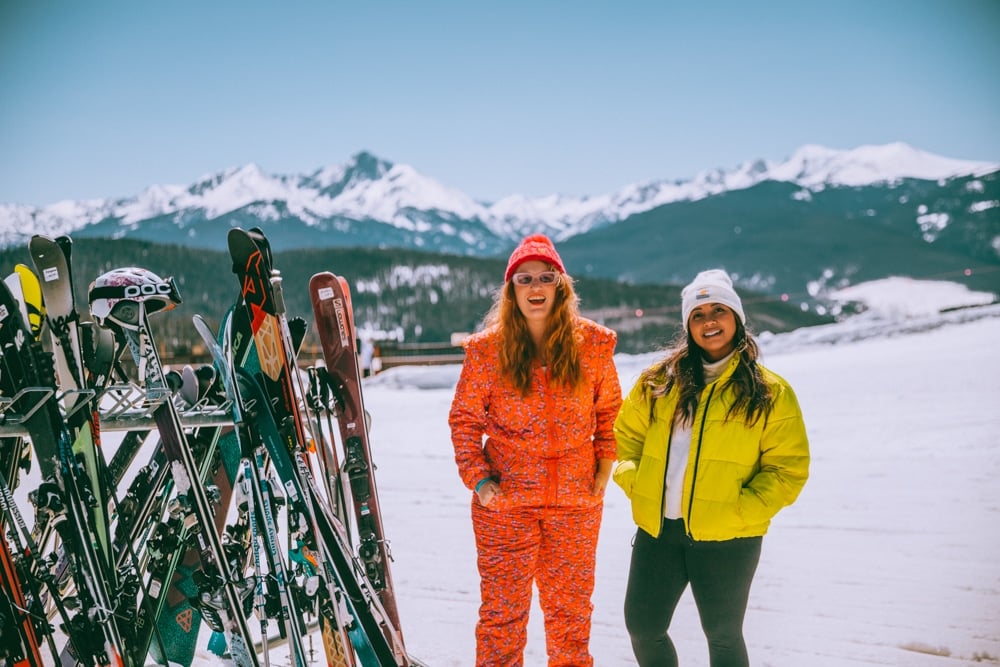 Vail At a Glance
At it's core, Vail is an outdoor enthusiast's paradise. Whether you enjoy skiing, snowboarding, snowshoeing, hiking, biking, or just hanging out in the sunshine for après-ski, this resort town has something for everyone.
It's a small but luxe feeling ski town nestled between mountains that reach over 11,000 feet in elevation (and yes, the view from the top of them makes you feel like you can touch the sky). In the 1800s, Vail was a Gold Rush Town but you can't see that history much in the village. Instead, the architecture looks like something you could find in Europe.
There's a free town bus you can take anywhere in the village, or you can walk. There's really no need to drive and it's easy to quite literally ski down the hill and walk 5 feet into après-ski. In the summer, there's plenty of fun to be had on the numerous trails and the Vail mountain resorts are nearby other charming mountain towns for day trips.
A Ski Town Like No Other
It's not just a ski town; it's also an arts and culture sanctuary, with a vibrant music scene and a calendar full of theater performances, art shows, and more.And did you know the first ski resort in the town was established by members of the 10th Mountain Division?
That name is legendary in the ski world, and they are often described as being the founding fathers of skiing in the U.S. So, that's a pretty cool association!
The city also has an incredible selection of restaurants that offer everything from traditional American cuisine to authentic Italian fare. There are plenty of shops to choose from as well, so you can get your fill of souvenirs and local artisanal crafts.
South Frontage Road is a beautiful stretch of road that runs through Vail. It's lined with trees and has a bike path running along it, making it an ideal place for a leisurely stroll or bike ride, especially in the fall for bangin' fall foliage.
What's The Best Season To Visit Vail?
Vail is a year-round destination that offers something for everyone. Whether you're looking for a winter wonderland or a Vail summer getaway, this place has an activity for you.
The ski season here runs from November through April, so if you're looking for powdery snow and exhilarating downhill runs, this is the time to visit. Also, Christmas in Vail, Colorado, is one of the most popular times to visit this great city—so, in December and January, you'll definitely find lots of festive cheer!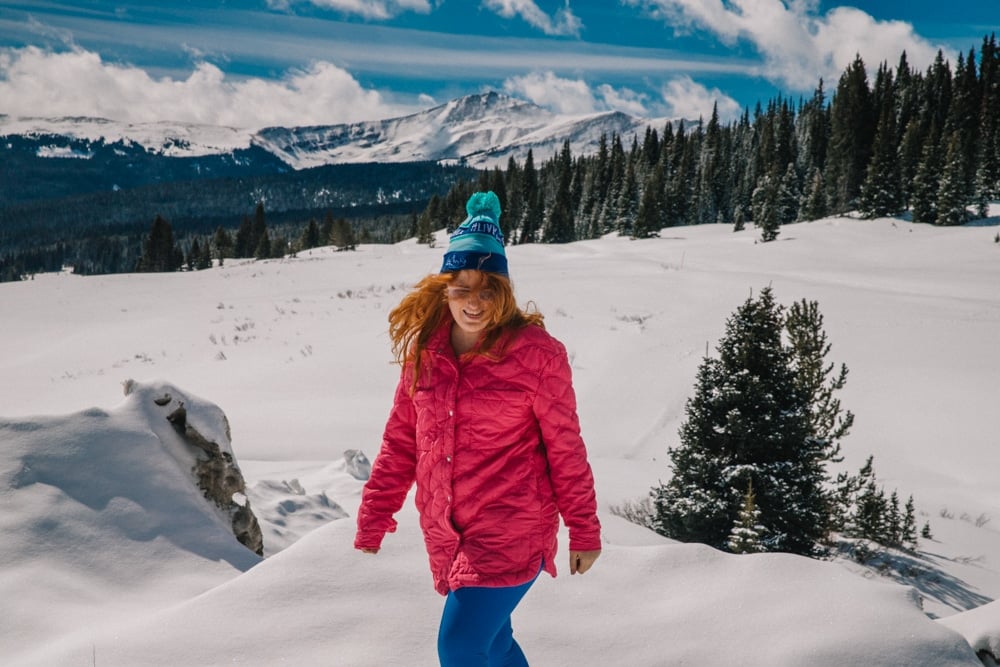 During the summer months, the town offers plenty of outdoor activities like hiking and mountain biking, as well as heaps of indoor entertainment such as roller coasters and go-kart racing.
For the sake of the list list, we included a combination of Vail winter activities and Vail summer activities to help plan your trip accordingly!
How To Get To Vail By Plane
Whether you're flying or driving, getting to Vail in the winter is easy. There are two airports nearby: Eagle Regional Airport and Denver International Airport. Eagle Regional Airport is located 30 miles west of the city, and Denver International Airport is situated 120 miles east of Vail.
How To Get To Vail From Denver
Flying into Eagle Regional Airport can be super pricey but saves you the time and hassle of renting and driving up from Denver. But, when visiting we chose to fly into Denver and I really loved seeing more of the Rockies on our drive in and out.
It takes about two hours to drive from Denver to Vail on Interstate 70, a major west-east road that runs through Colorado. You WILL need to carry chains in the winter or use a car with 4WD (these are the Rockies after all!) And be prepared for the drive to take longer if the weather is harsh. Colorado winter can be crazy.
Pro-tip: If you are flying out of Denver, the rule of thumb is to be past the Eisenhower Tunnel no later than 1:30pm otherwise you WILL get stuck in a massive line of cars also leaving the mountains.
What Are The Best Ways To Get Around Vail?
If you're planning on staying in Vail, Colorado, for an extended period of time and want to explore the surrounding area, renting a car is probably your best bet. However, if you only plan on visiting for a few days, then taking the free public transportation or relying on taxis or rideshare services like Lyft and Uber may be more convenient.
There's a lot of fun things to do in Vail Village and you don't need a car for them!
Is Vail Fun If You Don't Ski?
Vail is an amazing place for non-skiers, and it's actually one of Colorado's most popular tourist spots.If you're not into skiing and snowboarding, you can still enjoy this mountain town.
There are lots of other Vail activities besides skiing and snowboarding, such as mountain biking, hiking, and rock climbing. You can also visit the many shops in town or take a relaxing spa day at one of the many spas here.
What Are The Best Activities In Vail, Colorado?
The best Vail activities are the ones you enjoy doing. A lot of people like skiing and snowboarding, but there are also a lot of things to do in Vail that make it an exciting place to visit. Here's a rundown:
1. Experience the Alpenrose Gondola
If you're looking for romantic things to do in Vail, The Alpenrose Gondola Dinner will give you an unforgettable evening of good food and music. This was hands-down my favorite meal we had in Vail and still one of my favorite memories all year.
They've converted old gondola cars into luxury dining booths, each different from the next. Ours had a large glass chandelier hanging from the ceiling and tons of cozy pillows. During this fondu dinner experience, prepared to eat a LOT so come hungry. You should order a Feuerzangenbowle, which is a Glühwein with a burning sugar log. It's a whole thing and really hits the spot.
This two-hour experience is limited to 2-4 people, so you'll have plenty of time to enjoy the cozy vibes and each other's company without feeling rushed. Just make sure to reserve online in advance.
2. Attend the Taste of Vail Event
Taste of Vail is the event that brings together the best restaurants in Vail aka foodie haven! It opens up a world of eats and drinks, and it's a great way to sample all the things in an outdoor setting while enjoying live music and entertainment.
I attended in April 2022 and there's nothing like a food festival when you're 11,000 feet up on top of a mountain. I loved sampling Colorado Wine, and even a different type of grape – the Petite Pearl that only grows in cold climates.
3. Take a ride on the Eagle Bahn Gondola
Whether you're looking for a fun way to get to the slopes or want to start your ski vacation with a quick trip up to the top, these scenic gondola rides are the way to go. You can take an 8-minute Eagle Bahn ride from Lionshead's pedestrian village straight up to Epic Discovery, located at the top of the mountain.
I don't ski, but you don't have to ski to ride this. They allow foot passengers and up there is a cafe and dining area so you can grab a bite to eat, drink to simply soak up to sweeping Rocky Mountain views. Gondola rides are always one of my favorite Colorado activities.
4. Hike to Booth Falls
Booth Falls trail is a short hike near Vail, Colorado. The trail is relatively flat and easy to follow, so it's great for people of all ages. The waterfall itself makes this hike worth the trip: you'll see a beautiful cascade that flows into a small lake.
If you're visiting in the winter, ask your hotel front desk if they have snowshoes available. Most of them have a few pairs they give out to guests for free! If not, you can rent snowshoes to tackle this trail in snow.
5. Join a Snowmobiling Tour
A snowmobiling tour is a great Vail activity and offers riders the opportunity to explore the mountains around the area. On a tour, you'll get a chance to see some of the best scenery Colorado has to offer, including stunning views of the valley below and surrounding peaks. You can also choose from several different lengths, so there's something for everyone.
I highly recommend Vail Backcountry Tours, because you'll be able to see all of the best parts of the valley, from the comfort and safety of your own snowmobile. Their tours are perfect for both first-time and experienced riders alike, so everyone will have a blast.
6. Enjoy Fancy Hot Chocolate at the Four Seasons
If you're looking for a place to unwind with a hot drink and some spectacular views, I recommend the Four Seasons Vail restaurant/bar for their fancy hot chocolate with a fancy view of the mountains.
They have a full menu and bar, but you'll want to try their hot chocolate that's semi-viral on TikTok. It's absolutely delicious and the perfect way to finish off your day in the mountains. Ask to sit outside on the deck next to a fire pit so you can get all the vibes.
We visited in spring so the snow was starting to melt but I could see how stunning this view is in the fall when the hill is orange, or the winter when it's all covered in snow. It's another lovely, romantic thing to do in Vail!
7. Head on a Day Trip to Glenwood Springs For Hot Springs & Vapor Caves
A day trip to Glenwood Springs is a must! It's a quick drive from Vail and it offers some really cool hidden gems, from the historic downtown area to the natural hot springs and vapor caves (yes, vapor caves!)
If you're looking for something relaxing, try a dip in one of the natural hot springs. The South Canyon Hot Springs is located just outside the city, are easy to walk to and has 2 different pools! I love to come to hot springs at sunrise, usually you always have them to yourself.
If you want something less rugged, check out Iron Mountain Hot Springs pools. These pools are full of all the same mineral goodness as the natural pools do, but are man made. The pools all have different water temperatures depending on which one you dip in.
Iron Springs is open year-round, and their pools are right along the river so they're perfect if you happen to find yourself in Glenwood Springs during the winter months!

And, if you're really up for something unique, After your day of relaxation or adventure, Yampah Hot Springs' Vapor Caves natural underground hot mineral water steam baths are like nothing I've ever seen before.
These old ancient vapor caves that the Native Ute people used. Mineral water is piped in through the walls to make steam so thick that your phone will fog up in an instant (that's why we don't have any photos from the inside!) It's over 120 degrees down there, but don't worry they give you a washcloth and there are cold water buckets.
You will sweat a ton but by the end of the session, you will feel like a new person. This really helped my elevation sickness, too! We didn't get a spa treatment but you can also get a massage here to top it all off.
8. Go Snowshoeing
Snowshoeing is a fun, relaxing way to explore the winter landscape, it's a great winter activity in Vail Colorado. The best snowshoe trails in the area include Upper Piney River Falls Trail a moderate trail which starts at the entrance to Piney River Ranch and Paulie's Plunge Trail in White River National Forest.
There's also a dedicated snowshoe track at the Beaver Creek Nordic Sports Center if you want something less wild. They do rentals, too!
Many resorts and hotels here offer free snowshoe rentals, so you can enjoy this Vail activity without having to buy your own equipment most of the time. If snowshowing isn't your cup of tea, consider cross country skiing (more on that later!)
9. Take A Scenic Hike
If you like hiking, I recommend checking out the Davos Trail at the base of the ski resort near Glenwood Springs.
You can also visit Gore Creek Trail, which is an easy trail that's perfect for a nice stroll. If you're looking for a more challenging hike, this probably isn't the one for you. The trail is two miles long, gaining 200 feet in elevation as it climbs to the Gore Range Trail. Gore Creek Trail is dog-friendly and open to bikers as well.
Gore Mountain Range (aka Gore Range) is a popular destination for hikers and mountain bikers during the Colorado summer months. Piney Lake Trail (as I mentioned earlier) is a great hike for anyone who wants to spend some time in the woods without having to go far.
The trail starts at Upper Piney Lake near the Piney River Ranch and follows along the edge of the lake, taking you through a variety of different forest types—from deciduous trees to evergreens—and giving you glimpses of Piney River along the way.
Whether you're looking for a peaceful hike or a heart-pounding mountain bike ride or are simply looking for free things to do in Vail in winter, River National Forest has something for everyone.
10. Take a Day Trip to Breckenridge
If your itinerary allows, why not consider a day trip to Breckenridge! It's about 45 minutes from Vail and will be on your way back down to Denver if you want to hit it up on your way out.
When you're looking for things to do in Vail for non-skiers, a day trip to Breckenridge is fun. It's a beautiful town that offers a wide range of options. In the winter, take the free gondola up to the mountains. It takes about 20 minutes and has amazing views of the mountains. Of course, you have to stop by Ivan Hearthstone, the famous Thomas Dambo wooden troll!
Hiking here is one of the most popular summer activities in Vail, with hikes ranging from easy treks to difficult backcountry ascents.
11. Try Some Whiskey
Vail is known for its gorgeous scenery and beautiful parks, but it's also home to a really special whiskey. 10th Mountain Whiskey is made by local distillers and is made with Colorado-grown ingredients. They have a really neat Vail tasting room and offers flights, cocktails and full bottles to take home.
12. Drink Craft Beer
Vail Brewing Co is a great spot for those who enjoy good beer, and are looking for something different than the average bar.
This Vail brewing company is well-known throughout the United States for producing amazing craft beer. The staff is always friendly and accommodating, and the food menu is delicious.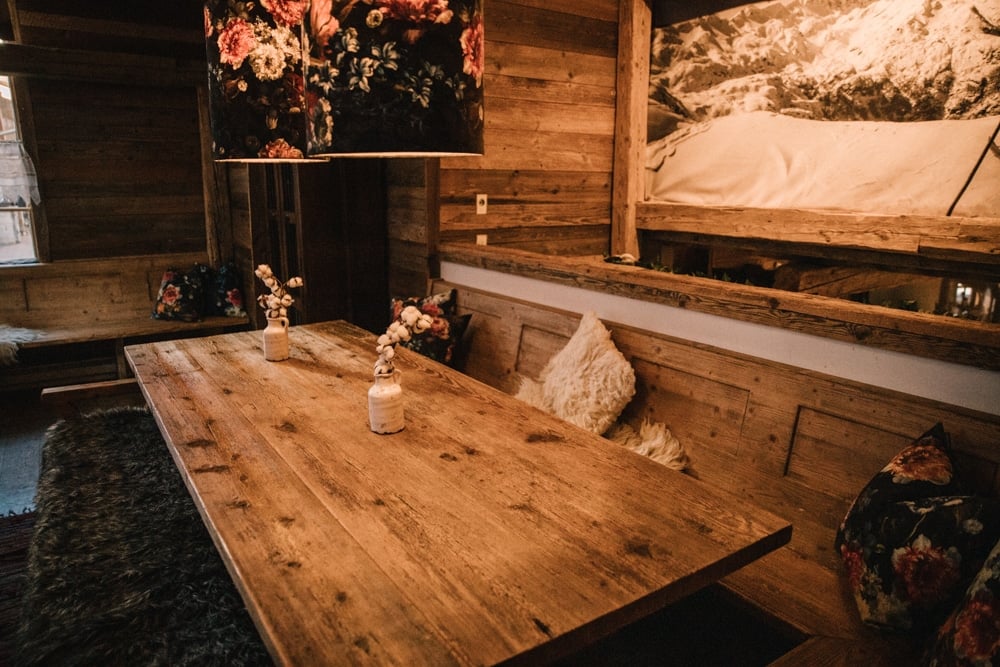 13. Eat at Some of the Best Restaurants in Vail
14. Relax at the Oxygen Bar
Visit one of Vail's oxygen bars is the perfect place to relax, recharge, and feel refreshed at the high altitudes of Colorado. These unique bar offers a full range of oxygen treatments that are sure to leave you feeling refreshed and rejuvenated after dealing with the elevation.
I was on my a$$ here in the Rockies. I'm used to Lake Tahoe's level of elevation (about ~6500) but Vail starts at over 8,000 feet and increases as you go up the mountain. The sweet sweet relief of an oxygen bar is a must. There aren't many in the city, but I swear more and more are popping up every year, especially in hotel spas. The best one right now is Recovery Lab.
15. Visit the Betty Ford Alpine Garden
Betty Ford Alpine Gardens is a magnificent place to visit, no matter what time of year. Spring is especially beautiful at Betty Ford Alpine Gardens, though—it's the perfect time to enjoy the warming weather and see all kinds of flowers in bloom. Betty Ford Alpine Gardens is the highest botanical garden in the world.
16. Try Cross-Country Skiing at Vail Nordic Center
Vail Nordic Center is a place where you can come to enjoy the beauty of nature and the great outdoors, as well as learn about cross-country skiing.
Their instructors are highly qualified and trained to help you get started with cross-country skiing or improve your technique. They offer lessons for all ages and skill levels, and is something I love to do since I don't do downhill skiing.
17. Check out the Colorado Snowsports Museum
If you want to learn more about snowboarding, skiing, and all things related to the winter sport – the Colorado Snowsports Museum is the place. It has lots of interactive exhibits that are fun for all ages.
18. Learn About Local Vegetation at Vail Nature Center
The Vail Nature Center is a place where you can learn about the natural world and how to protect it. They offer classes, camps, and events that help people connect with nature and make a difference in their community. Nature Discovery Center is another place where you can enjoy nature and learn about it.
19. Get a thrill on the Forest Flyer Mountain Coaster
Experience the thrill of a coaster and the beauty of nature at the same time on the Forest Flyer Mountain Coaster. This mountain coaster can go as fast as 35mp/h (40km/h), and it's very long, too, at about 3,400 feet (1,036m)!
20. Try Fly Fishing
Vail Valley Anglers is a fly fishing company that offers guided and self-guided fishing trips in the Vail Valley. They are passionate about fly fishing and want to share their love of the sport with others. This is a great thing to do in summer in Vail, especially with the parents!
21. Go Ice Skating
Dobson Ice Rink is a community ice skating rink located in Vail. Public skating, skating lessons, and other skating opportunities for the entire family to enjoy. I LOVE to go ice skating, especially in December. It's a tradition of mine to get dressed up and so a holiday skate. There's also sometimes an outdoor rink available in the center of the village (seasonal).
22. Enjoy the Après Ski
Vail is known for its après ski activities, which are a huge part of what makes the city so incredibly special. You can have a blast on the slopes all day, and then you can enjoy the town's famous bar scene at night. The après ski activities here are so unique because they're not just limited to bars and clubs; they also include things like scavenger hunts, live music, comedy shows, and even yoga!
23. Attend Vail Dance Festival
A celebration of dance, music, and culture, the Vail Dance Festival offers an opportunity for dancers to perform alongside other talented performers and choreographers from around the world.
It also gives members of the community an opportunity to see some of their favorite dancers perform live. The festival showcases many different styles of dance, including ballet, hip hop, modern dance, and more!
24. Check out Sage Outdoor Adventures
Sage Outdoor Adventures is a company that provides outdoor adventures for all ages, backgrounds, and interests. They offer hiking and camping trips, as well as more extreme options like rock climbing and mountain biking.
25. Challenge Your Skills at the Game Creek Bowl
Game Creek Bowl offers a fun challenge for skiers and snowboarders of all skill levels. Whether you're looking for wide-open green trails to cruise on or you want to explore the more advanced gladed terrain, Game Creek Bowl has something for every level of skier or rider.
26. Go Golfing
When you're ready to get out on the green, make sure you check out Vail Golf Club. They've got a challenging course that's perfect for any level of golfer. From the first tee to the eighteenth hole, you'll find yourself immersed in the incredible scenery and surrounded by beautiful mountains.
If you can't snag a tee time, take a quick drive to Beaver Creek for a round at Beaver Creek Golf Club.
27. Visit the Holy Cross Wilderness Region
The Holy Cross Wilderness is a great place for people to enjoy many different activities, including hiking, horseback riding, and backpacking. The area is known for its alpine lakes, towering peaks, and lush forests; the landscape becomes especially picturesque during the summer in Vail.
28. Take a Goat Yoga (aka GOGA) Class at Vail Stables
Have you tried GOGA yet? Book a class at Vail Stables and practice as little goats prance around you. Mats are provided, but be sure to "wear yoga clothing that can withstand a little nibbling."
If you're not feeling very flexible, Vail Stables also offers G.O.A.T. Happy Hour, and horseback riding.
29. Stroll Around the Vail Farmers Market
The Vail Farmers Market is open on Sundays from late June to early October, but dates vary each year so be sure to check their website to confirm.
Peruse the 40 food vendors of Colorado artisan items and food to stock your vacation rental with local goods, take some back home as a souvenir or find a gift for friends and family!
30. Hike with Llamas
Paragon Guides offers a variety of outdoor adventures, but Llama Trekking might be my favorite. Essentially, they offer llama companionship for backcountry hikes. They have a variety of day trips and multi-day trips available, but you can also customize your own. Don't forget your photo op with your llama friend!
Best Hotels In Vail
If you want a comfortable place to stay while visiting Vail, there are plenty of great hotels and vacation homes that offer the amenities and comforts you need.
Vail Village and Lionshead Village are the two main areas in Vail. And Montaneros in Lionshead, a boutique condo property, is located less than a ten-minute walk from Vail Village. There is a free shuttle that runs between the two villages during the day so there's no need to use a car while in town.
Beaver Creek Village is a little slice of paradise that's just 12 miles from Vail. Beaver Creek's mountain meadows are covered with wildflowers and lush grasses during the summer. The views of the peaks and valleys are stunning. You can also enjoy shopping, dining, and other activities in Beaver Creek Village. You'll have to take the shuttle to Vail or drive, but hotels are usually much cheaper over here.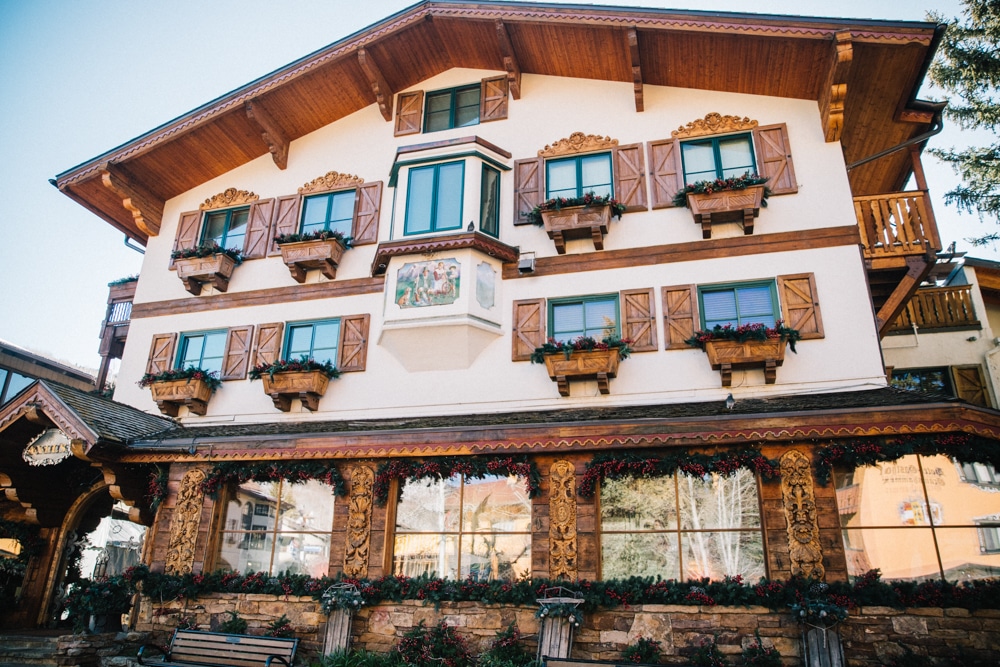 That being said, here are some of the best hotels in Vail:
General Vail Area Tips
When you travel to Vail, you've got to be prepared for the weather. We know that you don't want to have to worry about being cold or wet during your trip, so here are some tips:
Make sure to look at reports for any warnings about snow tires and/or chains, as some areas require them to be used in certain conditions.
If you don't want to deal with renting a car or using public transportation, there are plenty of options for free shuttles that will take you where you need to go.
Many resorts also offer free snowshoe rentals—just ask!
Don't forget that high elevations mean that people who visit should drink lots of water and be prepared for altitude sickness. There is canned oxygen at almost every store in town and these are handy if you do plan on hitting the slopes, just in case you need an extra boost out there.
Plan ahead! Winter weekends are often full during ski season, and there are many things to do in Vail in winter. Make sure you book as soon as possible.
Don't forget anything by creating a packing list. Here's a great list of what to wear in Colorado in winter!
If you have the budget to rent a condo instead of staying at a hotel, it's handy to be able to cook meals there instead of eating out every night. This will help save money and give you more time to explore all there is to see and do in Vail!
Finally: When returning to Denver on a busy weekend, make sure you are through the Eisenhower Tunnel before 1:30 pm, or else you will be stuck in traffic on the mountain!
So there's no doubt about it, Vail is a beautiful place. The town itself has a lot of charm and character, and the surrounding mountains are just as breathtaking. And if you're lucky enough to be here during ski season, you'll get to experience all of these things in their full glory!
But if you can't make it up here during ski season, there are still plenty of things to do in Vail besides skiing. There are great hiking trails, plenty of art galleries and events, and lively nightlife. Whether you're looking for something fun and active or more relaxing, there's no shortage of things to do in Vail CO.