I have a not-so-secret love for trolls. This is probably because I grew up in Mount Horeb, Wisconsin, aka the Troll Capitol of the world. So, when we decided to move to Copenhagen for the summer, I knew I had to find as many of Thomas Dambo troll locations as possible.
There's a huge map of all the trolls on his website, but not all of them are easy to get to if you visiting Copenhagen and don't have a car. Plus, some of them are pretty hidden (hey, trolls like nature more than people after all!) If you, too, want to go troll hunting while in Copenhagen, here's my handy guide for visiting everyone in the city.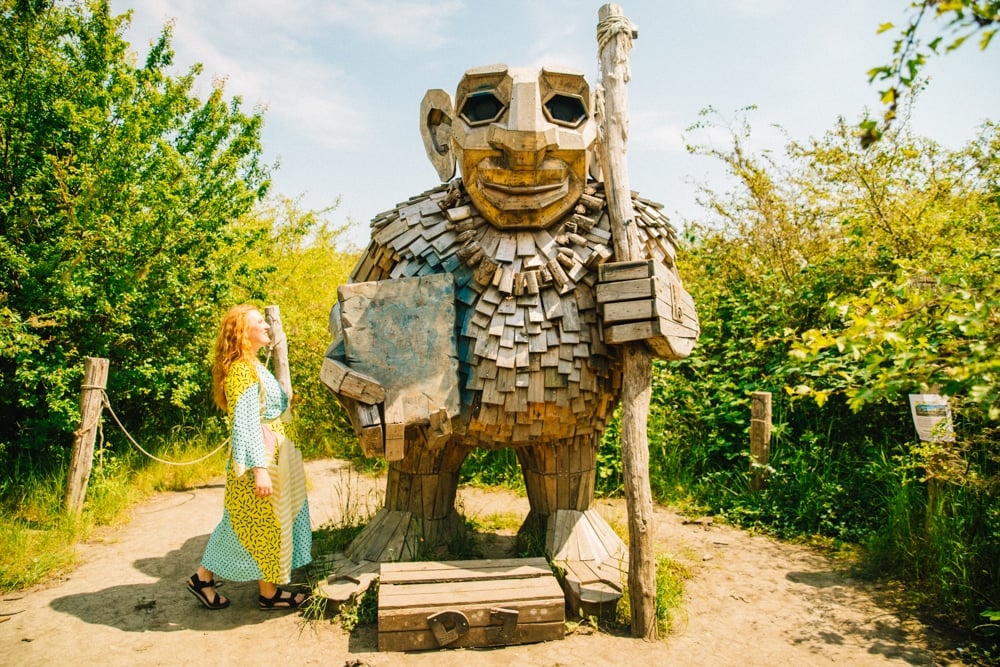 Overview Of Thomas Dambo Trolls
The Danish artist Thomas Dambo is really rad. I'm a fan girl. He makes giant wooden trolls out of recycled wood and materials and places them all over the world for little people like me to come visit. Since he's Danish, the most concentrated amount of trolls is in Denmark, but you can find them in mountain towns like Breckenridge, near the coast of Maine and even all the way in Korea.
Breckenridge's Isak Heartstone was the first of his giant trolls I was able to visit in person. What I really love is every troll is different. Some are eating grapes, lounging in gardens, or skipping stones, or pulling boats. They're all so dang cute and creative. And, usually hidden enough that you have to be looking for them.
How Many Trolls Has Thomas Dambo Built?
Dambo is always working on new sculptures and projects. If I counted correctly on his troll map, there's over 47 wooden trolls around the world at the time of writing this post. But, this post is all about the 4 easiest ones to visit when you are traveling to Copenhagen.
Where To Find All The Best Thomas Dambo Troll Locations In Copenhagen, Denmark
We never rented a car while living in Denmark but I want to do so next time so we can visit more of the trolls around the country. And, there are more than 4 in the Copenhagen metro area (many added as part of the new Forgotten Giants Copenhagen project) but these are the 4 that are easiest to visit on a weekend trip to the city without a car or long bike ride.
1. Kaptajin Nalle
Location: Nordhavn
Difficulty Finding: Hard
Kaptajin Nalle (aka Captain Nalle in English) was my favorite troll we visited. He has a huge beard of sticks and is pulling a boat!! He was one of the Troldefolkefest trolls so he's rather new. He lives in Nordhavn (pronounced Nor-How in English) which is in the north of Copenhagen, a neighborhood that's most known for shipyards, warehouses, harbors and new apartment buildings.
Nalle lives in a large field full of rocks and building materials. You'll need sturdy shoes for him and be prepared for a little bit of walking. He's a little hard to access and we almost couldn't figure out how to get past the fence so follow these directions.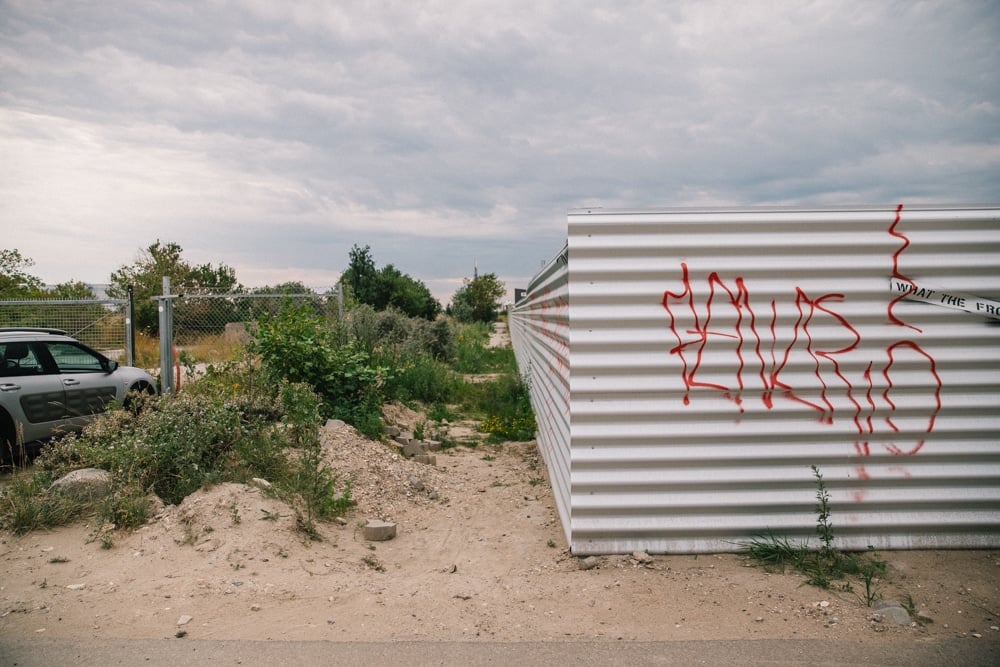 How To Find Kaptajin Nalle
If you're taking the train, get off at Orientkaj station and walk or take the bus over to Nordsøvej street. Here, look for the large metal wall that may or may not have spray-painted lines about frogs on it (you'll see what I mean when you get there.)
Look for the area that has a little gravel parking spot between the grey wall and the fence. Here you'll see a narrow dirt path that runs into the field. Follow that through the trees and you'll pop out and see the troll to your left!
2. Green George
Location: Freetown Christiania Denmark
Difficulty Finding: Easy
Green George is probably one of the most visited of Thomas Dambo trolls in the entire world as he lives in Christiania in Copenhagen. Freetown Christiania is an intentional community and commune but the public is welcome to visit and wander.
You can easily view Green George near the front entrance of Freetown on Prinsessegade. He's super cute and I think at one point was holding a little tree (hence the Green name) but when we visited the pot was empty. He's the only one that you have to worry about crowds but everyone takes turns snapping photos.
3. Ivan Evigvår
Location: Sydhavnen (moving TBD)
Difficulty Finding: Medium
Ivan Evigvår is a forest troll who lives in Sydhavnen. He loves guarding nature and is happiest in the middle of trees, which means he's really hidden unless you know exactly where to find him. We took the bus and walked over to Bådehavnsgade and made our way into the nature park, following dirt trails until we found the grove Ian lives in.
How To Find Ivan Evigvår Troll
Head to the harbor along Bådehavnsgade and follow the park trails into the forest and praire. He's located in a grove of trees toward the center of the park. If you made it to Sejlklubvej you went too far!
Note: Sadly, Ivan Evigvår's home will soon be destroyed by little people who want to build fancy condos and homes. Thankfully, Dambo is moving him. He put out a call on Instagram for applications and Ivan will stay in Denmark! He will be moved to Mariager at some point next year. So, see him in Copenhagen soon!
4. Suttetrolden Sanka
Location: København S
Difficulty Finding: Easy
Last on the list of easy trolls to visit in Copenhagen is Suttatrollen Sanka! He lives in a children's playground and loves to eat children's pacifiers but there's a major problem: kids start crying when he eats their pacifiers but he just. can't. stop.
Silly troll. You can come any time of day, but note it's a children's playground so there will be kids around during the middle of the day. Make sure to stick around and wander over to the goat petting zoo. Key, trolls and billy goats go hand in hand right?