Let's just get this out of the way at the top: I don't know how to ski or snowboard. I have a distinct memory of doing the pizza and hot dogs during ski lessons as a kid and thinking "nope this isn't for me, take me back inside by the fire."
So, what the heck does one do in Sun Valley that's not skiing or snowboarding, in a town that is literally famous for being the first ski lift in the country? I may not know how to properly execute a pizza formation, but I'm an expert in hunting down tasty apres-ski cocktails, cute local businesses, secret hot springs, special restaurants, and hidden gems that aren't on the slopes.
These are all my favorite things to do in Ketchum and Sun Valley Idaho in the winter that aren't skiing. Trust me there's a lot to discover here once you hop off that chair lift.
I grew up in Wisconsin but now live in San Francisco. I adore the Bay Area but come December each year, my heart aches for a little bit of snow. And there's only so many times you can go to Lake Tahoe in the winter. So, I've been spending each year hunting down charming mountain towns to soak up all the holiday and winter magic. This year is all about Idaho.
If you're reading this and haven't yet been to Sun Valley, be prepared for this little mountain town to steal your heart, especially around the holidays and especially if you're lucky enough to visit during snowfall, as we did. Snow will cling to the trees in town and the mountain tops, making everything feel like you are wandering in a living snowglobe. It took me less than half a day in Ketchum to realize I also wanted to come back in the Spring to experience the mountains in a different season, it's just so beautiful here.
A HUGE thank you goes to my friends Sophie, a Ketchum local and also to Susan, the owner of Independent Goods in downtown Ketchum. Both of them gave me SO MUCH good insider local knowledge and tips that I'm excited to pass along to you so you can have the best trip ever to Sun Valley.
How To Get To Ketchum & Sun Valley In The Winter
First, how do you even get to the Idaho mountains in the winter? You have two options to access the valley. First, you can fly directly into Friedman Memorial Airport at Hailey and then just drive about 25 minutes North into Sun Valley. The downside is this airport is small and doesn't always have ideal flights available. They can also be pricey depending on the time of year.
Or, you can fly into Boise and do a small Idaho road trip over to Sun Valley. This is what we choose to do! We flew direct from San Francisco to Boise via Southwest Airlines, rented a car and drove 2.5 hours to the valley. We found this drive really easy with minimal windy parts or steep hills, though we did rent a 4WD for our trip and I recommend you do the same. Wintertime will mean snow in Idaho, and there was a huge storm right before we arrived and we wouldn't have made it around town easily without it.
Keep An Eye Out For Celebrities In Sun Valley
In 1936, the world's first ski lift was built right in Sun Valley, putting it on the map as a top ski resort destination. But, the area hasn't quite attracted the same level of attention from tourists as other ski towns, like Tahoe or Vail. It does attract the wealthy, the famous, and many Olympic athletes there to train.
Here's why: according to our snowshoe guide, paparazzi used to hang out in Sun Valley all the time, but locals gave them so false tips on celebrity sightings and running them on so many wild goose chases that they eventually just gave up.
This has left a culture the famous can live (almost) like a normal person, and why you may have not read about Sun Valley until this post. If you see someone you recognize, take the cue from locals and but chill about it. Skip the selfies, and take home only the stories of seeing folks like Clint Eastwood or Tom Hanks.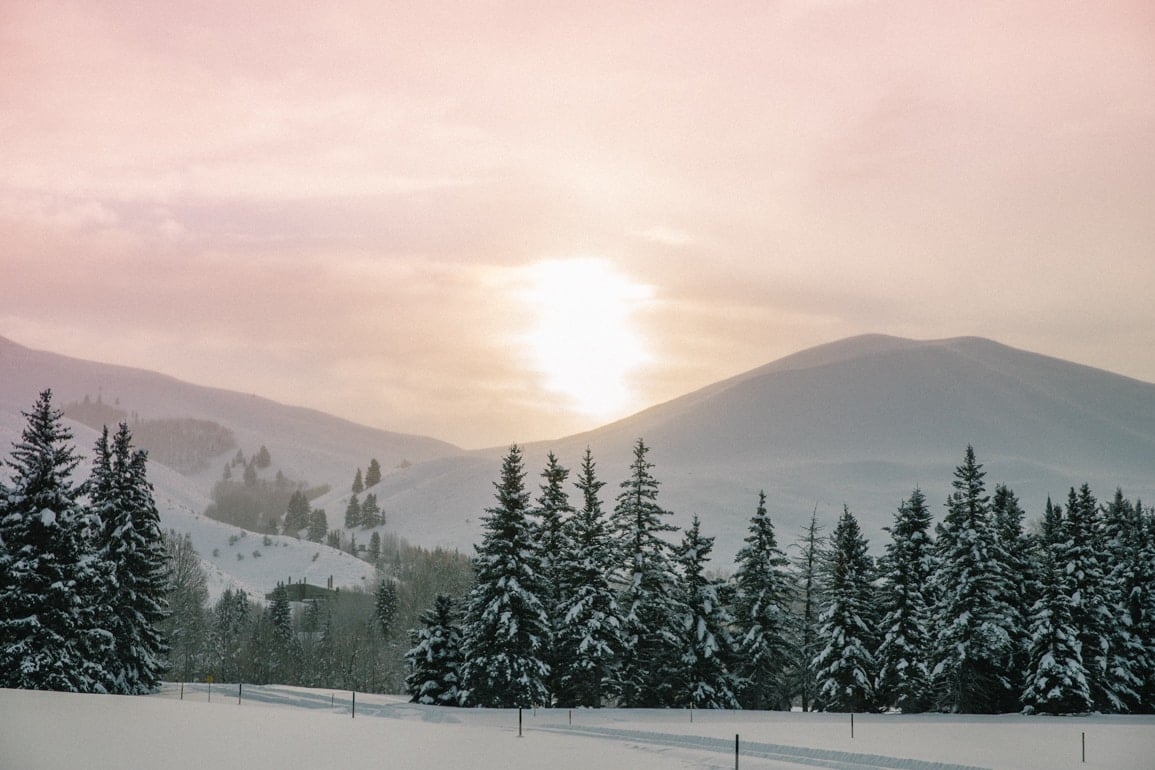 Local's Tip: When In Doubt, Give A Call
Ketchum and the Sun Valley area is very much a small town. Physically, but also in the sense that everyone knows each other, some businesses don't always have up-to-date website info (or, websites at all) and thus when in doubt, giving a ring vs an email is always a good idea.
While planning this trip for myself, I found myself calling the Sun Valley Resort and other businesses at least 10 times to check updates on snow levels, Christmas tree lightings, sleigh rides and such. Ok, now onto all the fun things to do in Sun Valley and Ketchum this winter!!
12 Epic Ketchum & Sun Valley Winter Activities (That Is Not Skiing!)
1. Snowshoe at Galena Lodge
I think snowshoeing around the Sawtooth National Forest was my favorite Sun Valley winter activity that we did on our trip. The morning of our snowshoe excursion, which we booked in advance, there was a winter storm warning due to all the snowfall. I called Glena Lodge to ask if they would still be open and they excitedly said "Omg, today is the perfect day for snowshoeing!! Come!"
And they were so right. Every corner we turned felt like we were in Narnia (I was low-key looking out for a lampost – if you know, you know.) The lodge has year-round yurts and a sauna that are only accessible by snowshoe during the winter, so we got to peek at those on the hike.
Snowshoeing is a workout, but pretty easy. I hadn't been since I was a child, and this was Robin's first time, so even if you've never put on a snowshoe before, you can totally tackle this hike. Plus, you'll get a guide who will help you out on your 2 hour adventure.
Pro tip: book a 10am snowshoe tour and then stick around the lodge afterward for a tasty lunch! I recommend the Meatloaf Sandwich, it was both our favorite lunch of the trip.
2. Cross Country Ski at Sun Valley Nordic Center
I'm team snowshoe but of course there are tons of amazing cross country skiing in the Sun Valley area (which is arguably way easier than downhill skiing!) Galena Lodge does offer trails, but the most popular place to cross country ski is at the Sun Valley Nordic Center. They have 25 miles of trails through the valley and mountains. Day passes start at $32 per adult.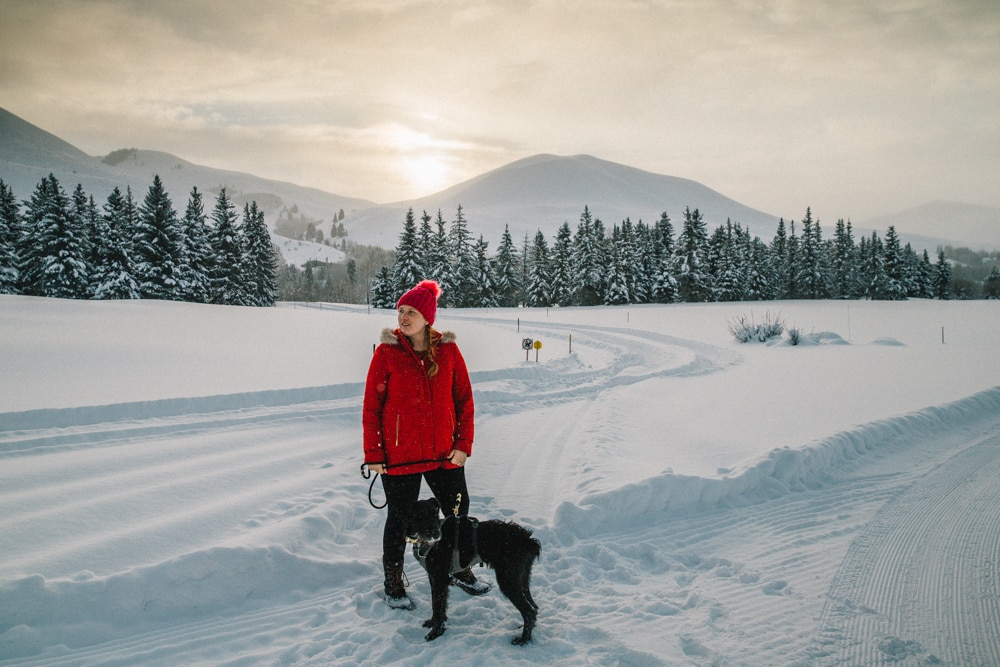 3. Soak In Frenchman's Hot Springs
Idaho is known for having a plethora of natural hot springs all over the state, and there are a handful of pools near Sun Valley! The most popular one is Frenchman's Hot Springs, which is about a 30 minute drive out of town into the mountains. It features a medium size soaking pool right next to the river so you can jump in to cool off if you get to hot.
We sadly were not able to make it to the hot springs as there was SO much snow falling the week we visited, that the road out to the hot springs just wasn't plowed. Usually, it's best to visit hot springs at sunrise to avoid crowds, but in the Sun Valley area in the winter, the afternoon may be a wiser choice to increase the chance of the plows clearing the roads. Safety first!
4. Ice Skate at Sun Valley Lodge
I love ice skating so much! I'm not very good at it, but it's one of my favorite winter and holiday activities to do one afternoon. The Sun Valley Lodge has a large ice rink that's open every day of the week for general and freestyle sessions. You can bring your own skates, or rent them there, the latter I did. It's $16 to skate and $8 for a rental.
We went in the afternoon and I had SO much fun skating around and soaking up all the good mountain views you get from the rink. But, if I did this again, I would pick the last session of the day to ice skate under the twinkle lights of the rink (more festive that way!)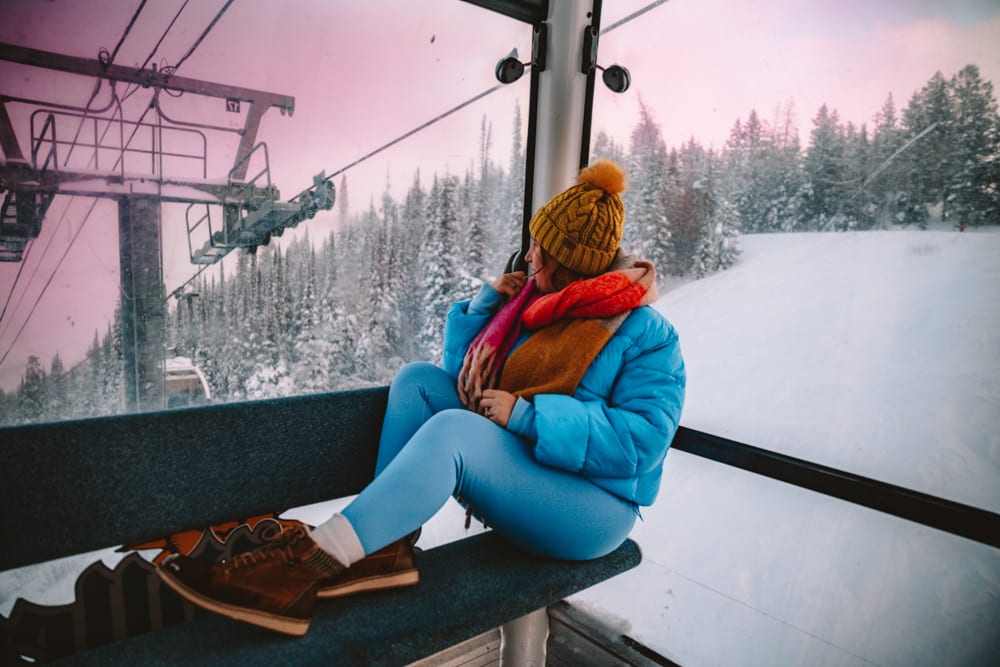 5. Roundhouse Gondola Ride + Fondue
OMG this was one of the most epic things I have done in ages. Unlike many other ski resorts we've visited, Sun Valley actually has a whole foot-traffic friendly gondola that not only takes you up to the top of the mountain, but to one of the best restaurants in Ketchum!
The Roundhouse is a whole experience. You MUST book reservations online first, and I recommend you get one around 3pm so you can stay for golden hour and then sunset. Buy foot traffic lift tickets and take the gondola up, with Gorgeous views of Bald Mountain along the way. That alone is a fun activity, but then you get to get and drink up there!!
The thing to do is their fondue pot, they let you choose your nibbles. We went with the sausage and veggies, and tons of drinks as well. After eating, I loved being able to pop out to the patio for even more epic views of the mountain. The Roundhouse is absolutely one of the top photo spots in Sun Valley!
6. Sleigh Rides At Sun Valley Inn
Hey, can't have a Christmas village without a sleigh ride, right? The Sun Valley Inn offers seasonal sleigh rides. You can rent a whole sleigh out for your group (but that will cost you about $900) or just join the general sessions for about $30.
Heads up, these are a bit tricky to nail down since they rely on not only enough snowfall but groomed trails to operate. We had enough snow during our week but the Inn didn't have enough time to groom the trails so they still weren't offering sleigh rides. Call or check back on their website here daily for updates.
I did get to do a similar sleigh ride up in Leavenworth a few winters ago and had so much fun, so I really would recommend you do this, especially if you have kids!
7. Trail Creek Cabin Experience
These Sun Valley sleigh rides are famous, and probably the most coveted of things to do in Sun Valley winter season. Guests load up into a horse-drawn sleigh and ride to the Trail Creek Cabin, a darling restaurant cabin in the woods. Dinner and drinks are served before guests ride back under the starry night sky.
Rumor has it that Ernest Hemingway used to dine at the Trail Creek Cabin, if you're a history buff. We unfournately were not able to secure reservations here as they fill up VERY fast. If this sounds of interest, start checking the website here starting in early October so you can snap up a reservation asap once they go live. Or by calling the lodge and see if the person on the other line has the inside scoop on when the rides will open.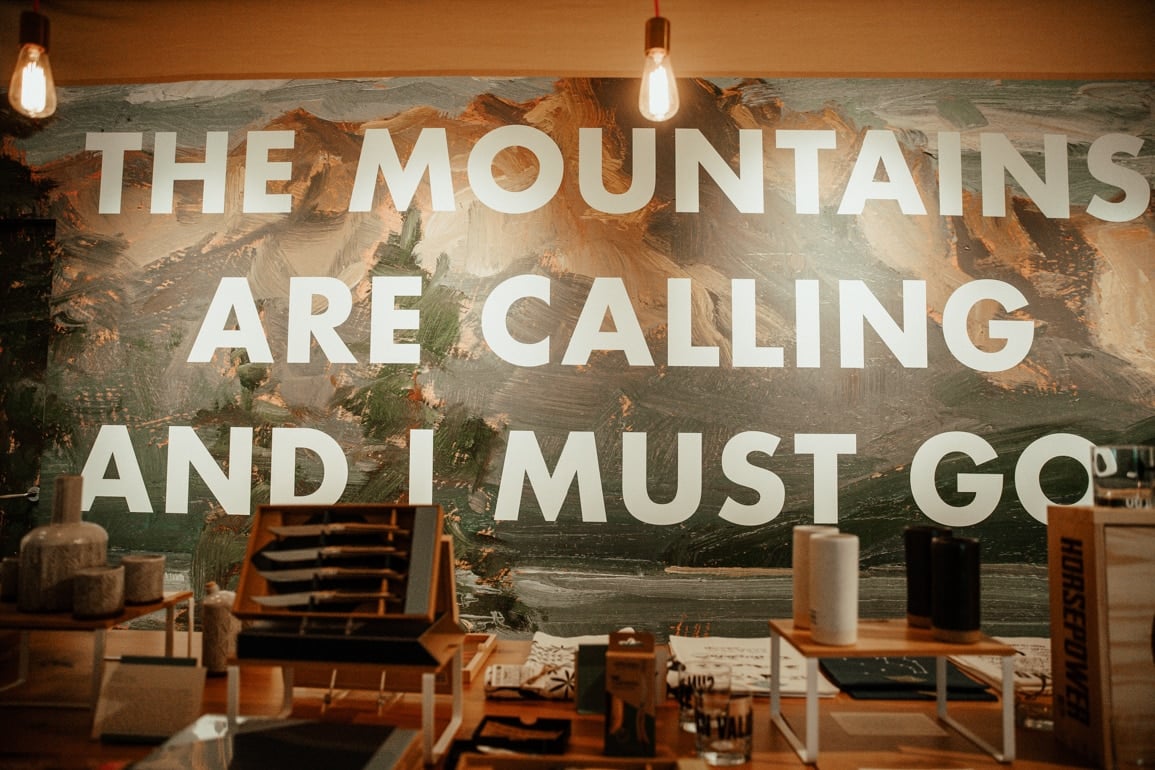 8. Shop Local
Ketchum has some really cool local shops you need to check out!! Set aside a couple hours one afternoon to pop around the downtown area. Our favorite store is Independent Goods, It's like a modern hipster's paradise in there. So many good candles, jewelry, books and more! They focus on curating small business goods every item comes with a little card detailing that brand's story.
Another good stop is actually the Gold Mine Thrift Store across the street from Independent Goods. This thrift store funds the local library and has SO MANY good finds, especially high-quality winter gear. If you need new winter boots or snowshoes or vintage ski sweaters, this is the place to hit up.
9. Trivia Night Sawtooth Brewery
I'm almost as bad at trivia as I am at skiing but hot diggity, I love a good brewery trivia night. Sawtooth Brewery has such a fun one every Tuesday! Make sure to arrive at least 30 minutes prior to grab a seat, as it'll fill up fast.
Robin and I met our friend Sophie here and I'm pretty sure we got last place but it's so fun. Along with craft beer, they also serve food and wine so you can make a whole night of it.
10. Snowmobiling Smiley Creek
Looking for more unique outdoor Ketchum & Sun Valley excursions? Another top Idaho winter activity is snowmobiling! Smiley Creek Lodge offers snowmobiling rentals for any of you adrenaline junkies.
They have half-day and full-day rentals, along with guided tours if you haven't been snowmobiling before and want a guide. I don't Robin would be down for snowmobiling with me, but I think I want to try it out next time we visit.
11. Winter Hiking & Walks
If snowshoeing sounds too hard, I recommend you try a local trail instead for an easier winter hike. The key is finding one that gets enough foot traffic so the snow is packed in well enough to not need snowshoes. Two popular spots to start at are The Wood River Trail, aka the bike path, and the Draper Wood River Preserve to the famous Bow Bridge.
Your snow boots will probably be just fine, but It's not a bad idea to take snow poles and boot grips/ ice cleats on your Sun Valley winter hikes, especially if it just snowed. Our winter hiking packing list can help you out more, too!
12. Hunt Down Christmas Lights
Last but not least, when you are visiting in December, you simply must set aside an evening before dinner to hunt down all the local holiday lights!!! The first night we arrived, it was still snowing and downtown Ketchum felt like a real-life North Pole.
They have so many public Christmas trees and lights everywhere, along with many houses and local businesses joining in. After, head over to the Sun Valley Lodge for more lights! My favorite areas were the white trees at the entrance of the lodge, along with the area between the Village Station and Sun Valley Inn.
My favorite time to take photos of the lights is dusk when all the lights are lit, but it's still a wee bright out with the last bit of daylight so you can take clear photos.
Where To Eat In Sun Valley & Ketchum
I'll be honest – there are WAY more good places to eat in Sun Valley than I was expecting. It's not uncommon for small towns, and especially ski towns, to have limited dining options. So not the case here! With the help of our local friends, and taste testing ourselves, these are the top places to eat and drink for visitors.
Pioneer Saloon
Pioneer Saloon is a 1940's historic saloon filled with taxidermy and collectibles (like a gun that Ernest Hemingway once owned!) Come here for dinner on your first night, sit booth at the bar, and split a Jim Spud potato. It's absolutely huge and highly unlikely you can eat it all yourself (I sure couldn't). Don't forget to try a cocktail made with Idaho Potato Vodka to pair with your giant potato.
Barrio 75
I'm still thinking about the tasty taco and tequila fight we had at the Barrio 75. They're known for their specialty tacos, like the French Onion Barbacoa or Carne Asada Steakburger taco, and their Nacho Average Nacho will have you licking your fingers it's so good.
And, during the winter, they put up romantic bubble domes out front so you can dine outside with a view of Baldy! Make sure to reserve those ahead of time since they are limited.
Maude's Coffee And Clothes
Maude's Coffee is a coffee shop plus clothing store, and it's utterly cool. Grab a matcha or oak milk latte, plus a fresh made avocado toast, and browse cozy sweaters while you're waiting for the order to be up. The whole cafe is bright and airy and full of vintage feeling art. It's a vibe.
Michel Christiania Olympic Bar
THE French bar and restaurant in Sun Valley! The Olympic Bar is walk-in and a fun hang at happy hour after a long day exploring. Expect walls covered with Olympic memorabilia and tons of locals sipping on drinks. It's a great spot to start your night before dinner!
Warfield Distillery & Brewery
The Warfield is downtown Ketchum and super industrial chic. It's a restaurant and brewery and distillery all wrapped up into one, so everyone in your group will find something they want to drink. As beer lovers, we opted for some IPAs and I'm still dreaming about how food the Fiesty Wee IPA was.
Warfield is probably the best late night spot to grab a bite in Ketchum. That's what we did – we had drinks with our friend and were starving so we rolled into the Warfield to fill up on french fries and Brie. No reservations needed!
Town Square Tavern
Looking for a romantic dinner in Sun Valley? We loved our dinner at Town Square Tavern! They serve Mediterranean cuisine and tapas. You can't go wrong with anything on the menu but we especially loved the House Pita with Labneh and Duck Confit Linguine.
Enoteca
Wood fire pizza and comfort Italian food! Enoteca makes the best pizza in town and is open daily, so if you are struggling to find a spot open on Monday, head here.
Limelight Lounge
Head to the Limelight Hotel's lounge for live music every Thursday-Monday during peak seasons! It makes a fun place to grab a nightcap after dinner.
Sawtooth Brewery
As we raved about above, we loved Sawtooth Brewery. They have tons of craft beer options to choose from, pints and pitchers available, and also food. If you can't make it to trivia night, still stop by for a happy hour beer!
Roundhouse
Take the Sun Valley gondola to the top of Bald Mountain to feast on fondue with a view!
Local's Tip: The Wood River Valley area consists of Ketchum, Sun Valley village and Hailey, the latter which is the largest city of the three. If restaurants are closed or full-on reservations in Ketchum or Sun Valley, head to Hailey for more food options!
Cool Hotels In Ketchum & Sun Valley You'll Love
Hotel Ketchum
This is the hotel we stayed in and I couldn't have imagined a better spot to make our home base during our week in Ketchum!! Hotel Ketchum oozes modern mountain boho vibes, has a free daily breakfast, heated pool and hot tub in the winter, rooms with balconies and free parking.
Our room had a stunning view of Baldy right from our balcony and windows, so it felt like we were really soaking up all the Sun Valley magic the right way. I loved our stay and would book this again in a heartbeat. Learn more about our visit to Hotel Ketchum in this post! Or, book now.
Galena Lodge Yurt
It's glamping – in the snow! Galena Lodge is tucked in the mountains near the Sawtooth National Forest about 30 minutes outside Ketchum. This is where we went snowshoeing in Sun Valley! Their heated yurt tents require a bit of snowshoeing or nordic skiing to access in the winter, and they're scattered all around the property to ensure you get a super-private experience with nature. Just imagine how stunning the starry night sky is from up there! Book now.
Knob Hill Inn
This Knob Hill hotel is another great local hotel in Ketchum with tons of luxury alpine vibes. They're most notable for their indoor heated pool and hot tub that has glass doors leading to an outdoor deck (dreamy!) and are also dog friendly. If you are hitting the slopes, make sure to take advantage of Knob Hill's partnership with Ship Ski so you don't have to wrestle gear on a plane. Book now.
What To Pack For Your Sun Valley Trip
So, now that you know where to stay, what to do and what to eat, last thing to nail down is to figure out what to pack! Winter in Idaho usually brings a lot of snow, some years more than others. The winter we visited I swear it just won't stop snowing, but some years are drier.
The temperature in the winter WILL be chilly – around the 20's and 30's in the daytime. I love working with baselayers in the winter and always pack tons of extra socks since they always get wet from the snow. Here is what I packed for myself on this trip!
My Sun Valley Outfits
As you can see, lots and lots of sweaters! We always fly with Southwest on the West Coast and they let you check in 2 back per person for FREE, so we always overpack for winter trips as you really never know what weather you will run into.
I hope this helps you find many fun things to do in Sun Valley in wintertime! If you got more Sun Valley tips to add, please a comment below so everyone can see! Got questions? Comment or DM me on Instagram @thewhimsysoul and I'll try to help out!
After visiting, Robin and I immediately started chatting about when we can return for an Idaho summer visit. The little bit of winter hiking we did got me eager to see these trails lined with wildflowers in the summer. I want to try fly fishing and explore the Sawtooth Mountains properly and have more outdoor adventures here.
With winter weather being unpredictable, we decided to spend a night in Boise before flying out the next morning. We got an afternoon to explore Hyde Park, Camel's Back Mountain and a brewery. But I did wish we had more time. We'll just have to come back to Idaho very, very soon.