We pulled up to the parking lot near South Canyon Hot Springs shortly after sunrise. We had to idea what to expect – you never really do with natural hot springs like these. I remember rubbing sleepiness from my eyes and having to do a double-take when we reached the pools.
This didn't look real. It looked like a movie – from the snow-capped peaks in the distance to the red soil on the mountains – everything was so dang beautiful.
South Canyon Hot Springs are my new favorite Colorado hot springs to soak in. In this post I'm sharing 5 essential tips to know before you go so you have a wonderful (and safe) soak in these natural hot springs near Glenwood Springs, Colorado!
South Canyon Hot Springs At A Glance
Location: 6 miles outside Glenwood Springs on Route 134
Parking: Yes, free lot small gravel lot
Hike: Less than .2 miles into the pools
Pools: 2 pools at different temperatures
Restroom: None
I'm a sucker for hot springs. I've been visiting all these top natural hot springs in California over the years so when my hot spring junkie friend and I were in Vail a few weeks ago, we immediately Googled nearby pools to soak in.
We found this pool, loaded up our car at 5am and drove the hour to hit the hot springs at sunrise. We soaked for about an hour, then got breakfast in town before visiting the vapor caves at Yampah Spa (another wild journey itself).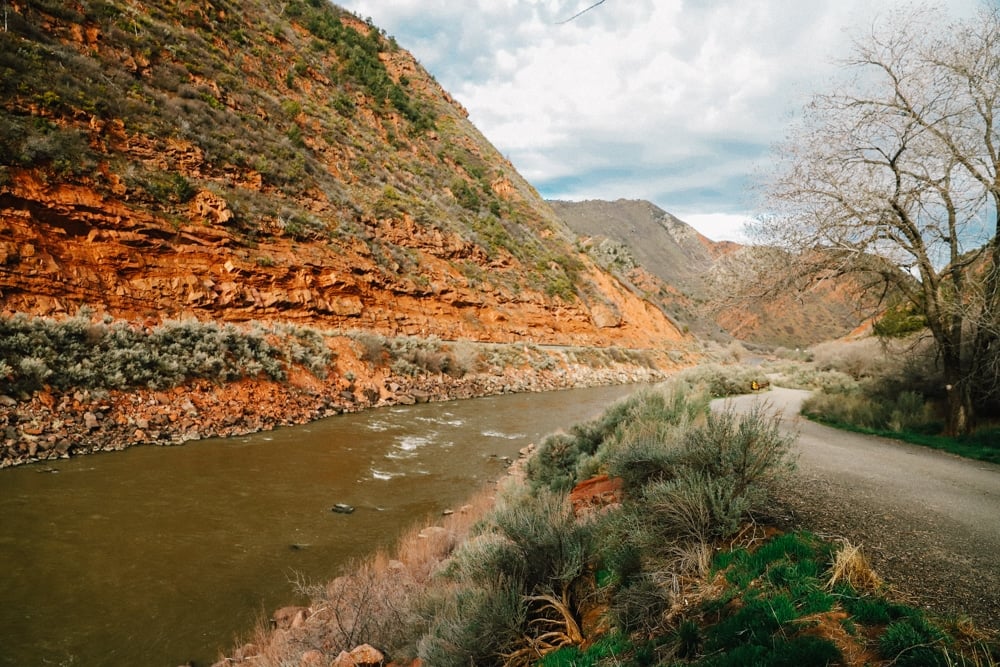 South Canyon Hot Springs Directions
The hot springs are surprisingly easy to find and access. Just pull up Google Maps and search for "South Canyon Hot Springs " near Glenwood Springs, Colorado. There's a whole listing for it and the directions take you right to the small parking lot.
The South Canyon hot springs map ping can sometimes route you to the wrong place, so make sure it's the pin near South Canyon Creek and the Colorado River off Route 134.
There is a small gravel parking lot near the hot springs. You can't park n the side of the road (there are not parking signs) and the lot is small, maybe 10 cars max. So be prepared. From the lot, there's a small trail that takes you right to the hot springs area! This trail takes just a few minutes to walk from the car and isn't hard at all.
The South Canyon Creek pools are also known as the Hippy Hot Springs Glenwood Pools. They are the same hot springs!
7 Essential Tips For Soaking South Canyon Hot Springs In Colorado
What's really cool about these hot springs is that there are TWO pools! One larger pool that has steps and a little wood plant nearby to set your things. This one has various temperatures within the pool itself so you can move around to find the best temperature.
Then, there is a smaller round pool a few feet away. This one is shallower, isn't as warm and has more mud but is a great spot to hang if the main hot springs pool is too crowded.
1. Leave No Trace & Be Kind
As with any natural hot springs you visit – or any outdoor place, honestly – always leave no trace and practice kindness. These are natural hot springs, meaning there is no paid cleaning lady to come after you and pick up your trash as you find in town at the spa hot springs in Glenwood.
Pack out what you pack in (that includes toilet paper if you choose to do your business in a nearby bush. Better yet, use the bathroom before you visit!)
I always bring a trash bag which first serves as a place to set my clothes on instead of the ground, which is usually muddy around hot springs. Then after, I can tuck any trash I made inside, or I can pick up trash around the pools if others left it so they are kept clean and safe for future visitors.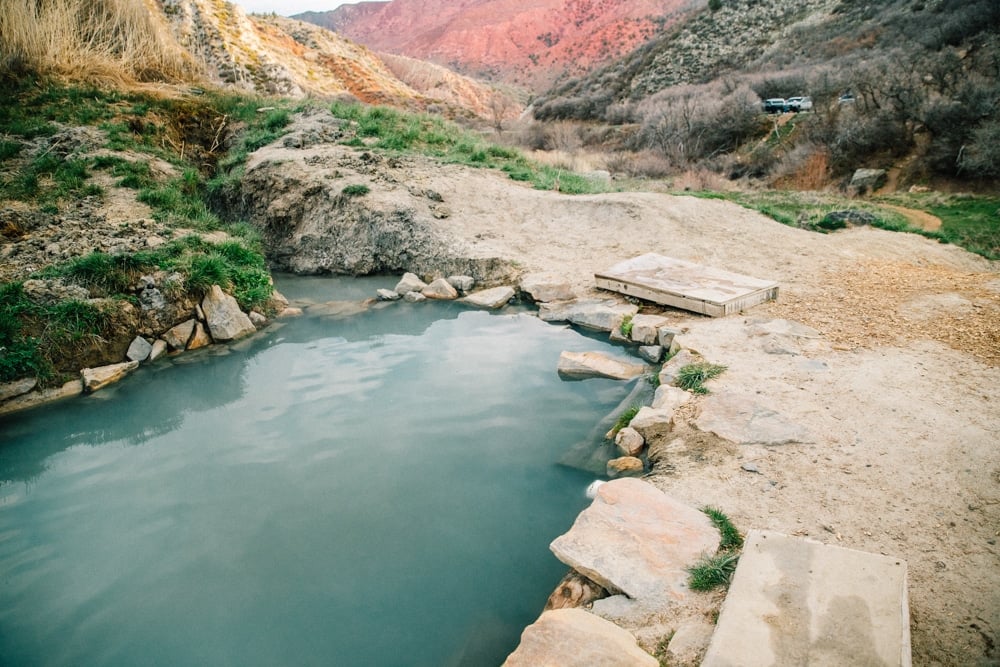 2. Arrive At Dawn To Have The Hot Springs All To Yourself (And Easy Parking)
We love to soak in hot springs and have them all to ourselves, so we love to arrive at sunrise when there usually is nobody else around. On our visit to these natural hot springs in Glenwood Springs, we pulled up to the parking lot a little after sunrise and had the whole place to ourselves for about 45 minutes.
Eventually, another group came along for a soak after a night of drinking. (so smart, I would totally do this to nurse a hangover if I lived close to these since there's no hike in!)
Early mornings are also best for photos. You'll get amazing views without people, soft natural light and nobody bothering you. Usually, when we are hitting up something for sunrise we try to camp nearby or rent a hotel nearby so we can roll right into the pools.
There is no South Canyon hot springs camping allowed so a hotel in town (~10 mins away) is your nearest lodging option. Or you can drive in from Vail like us crazy girls!
3. Arrive At Golden Hour For A Party
If you aren't a morning person, that's ok! I recommend you instead come in the evening to hang with locals for a bit of a party scene. A few years ago I was soaking at Wild Willy's Hot Springs in Mammoth Lakes and at night all the locals and nearby campers come to the pools to drink and hang out. It's a whole vibe.
If you do come for a party and bring booze, DO NOT BRING GLASS! Glass bottles can break and seriously injure someone in the pool water. And of course, pack out your cans after.
4. Wear A Dark Colored Swimsuit
This is a natural hot spring after all! The bottom of the soaking pools are full of mud made from peat, water, and volcanic ash. And the water smells like sulfur. I've never had a problem getting the sulfur smell out, but I have outdoorsy friends who have ruined white swimsuits before by soaking in hot springs. And one just has not been able to get the smell of sulfur out of her swimsuit.
It's best practice to not wear a white or light-colored swimsuit so it can't get stained as easily. I usually opt for red swimsuits since they pop really nice in photos. These are all my favorite swimsuits for curvy gals if you are in the market for a new one!
5. Wear Slip-On Sandals (Even In The Winter)
Yes, wear slip-on sandals even in the winter! I've been there before: it's snowy and cold, so I visited a warm hot spring… only to get out of the warm water and struggle to dress before I froze and I've never been able to fully dry my feet before sticking them back in my boot.
These hot springs pools are literally so close to the parking lot, it's best to wear sandals so you can get dressed and put on your shoes at your car after your soak instead of struggling outside. Trust me on this!
Pro-tip: Also bring your own towels to dry off after!
6. Bring A Trash Bag For Clothes & Trash
As I mentioned above, you should also bring a couple of trash bags to a hot spring. The ground around the pools will be muddy, especially towards the end of the day after people get in and out all day. In the winter there will be snow and spring it may be wet after rain.
Lay the trash bags out to set your clothing on to keep them dry. After, you can use the trash bag to carry out your trash!
7. Be Prepared For Nudity
Nudity is allowed and totally acceptable at natural hot springs. I think about 50% of the time when I soak in a wild hot spring, there is a nude soaker (or a few!) You don't have to be naked but be prepared for the nudity of others. If that will make you uncomfortable, do not come to these hot springs. Or any natural hot springs for that matter.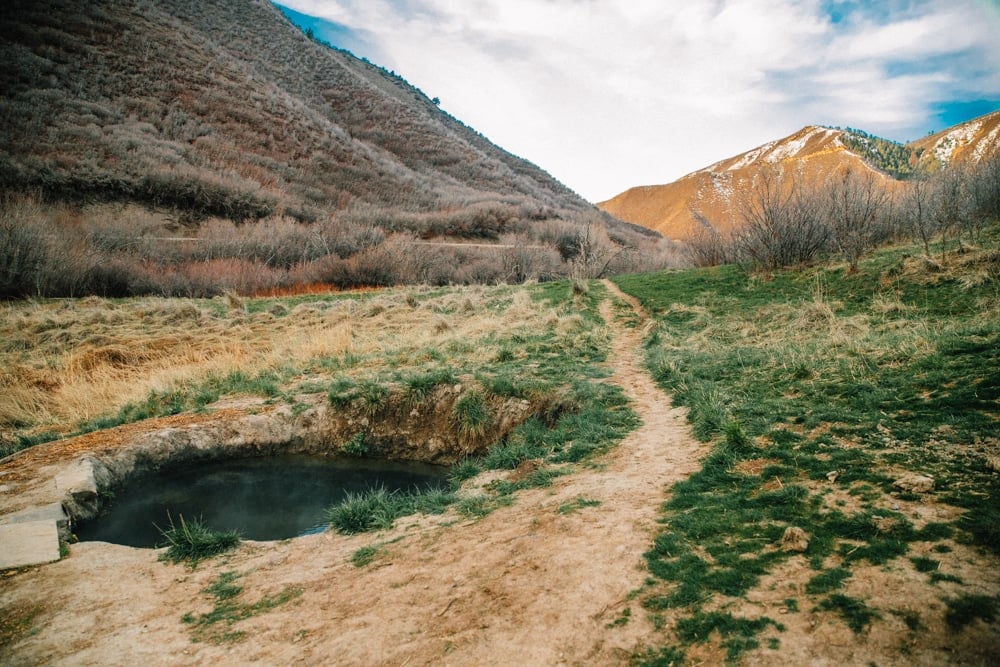 Other Nearby Colorado Hot Springs To Consider
I loved South Canyon Hot Springs but there are a few other nearby spots to soak in!
1. Iron Mountain Hot Springs
So, most Glenwood hot springs in the valley are man-made pools with piped in mineral water. Iron Mountain is in the center of town along the Colorado River and are the best spa hot springs in town. They have a lot of smaller pools so your group can get something private.
2. Glenwood Hot Springs Resort
Glenwood Hot Springs is the other popular man-made hot springs spa. This one has the largest mineral pool in the state, but we prefer Iron Mountain instead for more private pools and river views.
2. Strawberry Hot Springs
A bit further away is Strawberry Hot Springs, another hot springs resort in Steamboat Springs. This one has tickets that book up online really fast, so plan ahead on visiting. I saw a video of this spot on TikTok in the middle of the winter and holy moly, it looks like a beautiful winter wonderland with steam and people in beanies soaking. On my bucket list for sure!
3. Rico Hot Springs
This is another nearby natural hot springs pool that was super popular for ages. The land was bought in 2021 and the pools were turned private, so right now they are not open to the public. But that could change, so keep posted.
4. Yampah Vapor Caves
Ahh, these are the cool vapor caves I mentioned earlier!! Located at the Yampah Spa in Glenwood Springs, these natural vapor caves are just what they sound like. Geothermal hot springs water is pumped through the cave floors to make a ton of steam. It's 125 degrees down there and 100% humidity, and totally cleans you out. It's an amazing experience to top off your South Canyon Hot Springs soak!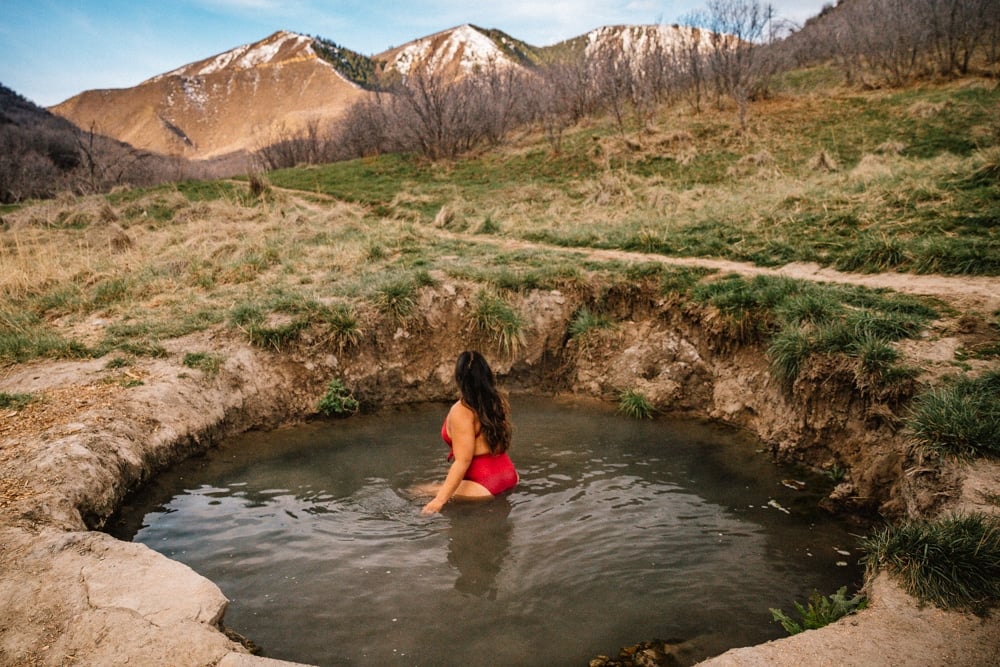 So, that's how to find these delightful wild Colorado hot springs in the Rocky Mountains! If you have any tips to add, drop a comment below so everyone can see. Questions? Comment or DM me @thewhimsysoul and I'll try and help.