What to do in Seattle in 3 days? It's a big city full of a lot of hidden gems, and this Seattle travel guide is built to help you manage your time in the city and hunt out the best things to do in Seattle to make your trip the best it can be!
A city with fresh seafood, cozy coffee shops, a vibrant brewery scene.. Seattle is a foodie's paradise!
My husband and I did a short weekend trip to Seattle in December (3 days/2 nights). We caught a 7am plane from San Francisco on Friday and flew back on Sunday on a 5pm flight. It was a wonderful whirlwind trip and I left Seattle feeling like we saw everything we should have on our first visit. I highly recommend having a travel plan similar to ours since we were able to fit tons of activities in. Keep on reading for our Seattle travel guide!
First, who am I and why should you take travel advice from me? My name is Kara, I'm the gal behind Whimsy Soul (follow me on Instagram @thewhimsysoul) I try most things out myself to see if it really lives up to the hype, so you can go explore without any FOMO. Read on to find my Seattle guide! If you have any questions, pop them in the comments below or DM me on Instagram.
Keep on reading for our daily itineraries, tips of where to eat and what to do in Seattle!
But first, here's some things to pack for Seattle.


DAY ONE: FRIDAY
9:30AM Land at Seattle Airport
Take the Link Light Rail into Seattle (it's only $3). It's a scenic drive into the city and takes about 45 minutes. You can board in the parking lot area- keep following the signs.
11AM Check into your hotel early
We stayed at Hotel Max and loved it! It's right downtown perfectly placed between the Space Needle, Pike Place Market, and the shopping center. We loved the decor. It's a uniquely decorated hotel filled with deco art. The rooms were really nice, the staff very friendly and the best part is they have nightly happy hours featuring free local craft beer. We were in heaven!
Or, stay at one of the many cute Airbnb's! I plan on booking one next time we visit to stay in a different neighborhood. From hipster chic to water-front dreams, there are so many adorable Airbnb's in Seattle. Use THIS link to book and get $40 off your booking!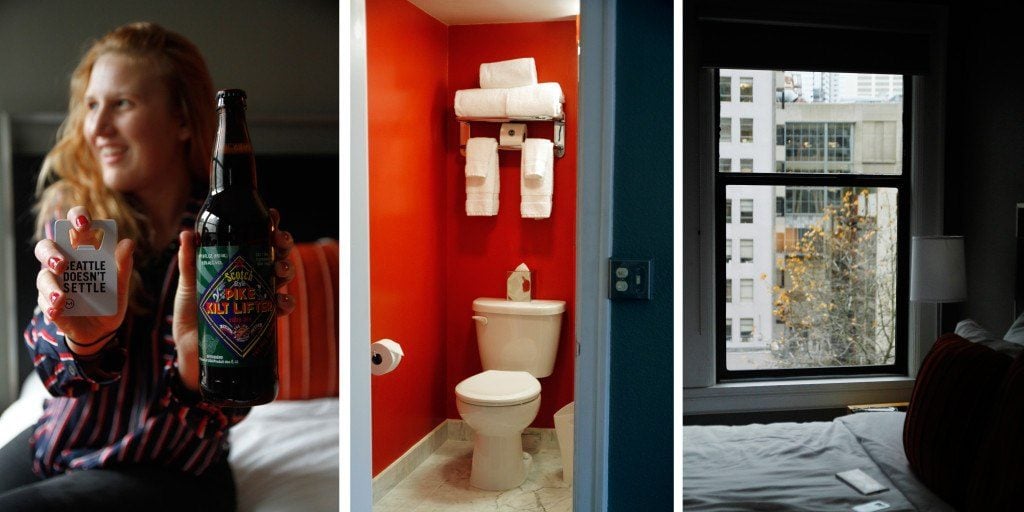 12PM Lunch!
I changed into a new sweater and we headed to lunch at Serious Pie a few blocks down. It's a highly-rated local pizza place that serves the most amazing Italian style pizzas. They're a bit on the small side, so be prepared to eat a whole pizza by yourself (like a real Italian). We also loved their house-made sodas! If pizza isn't your thing, stop by Lola's a few buildings down.
1PM Pike Place Market
After lunch, walk down to Pike Place Market. It's my favorite part of our trip! Take the time to explore all the levels and look at each store. You'll find everything from seafood to cafes to candy to art to jewelry. The original Starbucks is across the street and the famous Gum Wall is in the alley below it. I bought some art prints to take home to remember the trip by.
2:30PM Coffee Break
Walk towards the Space Needle from Pike Place. It's about a 25-minute walk and you'll pass many cafes, bars, and stores along the way. We stopped at a cafe to fuel up on an afternoon coffee and to grab a cupcake.
3PM Space Needle time!
There wasn't any line when we went so we were able to buy tickets and go up right away. I loved the outdoor deck and we timed it well to see the sunset over the bay. You can read more tips on the Space Needle here.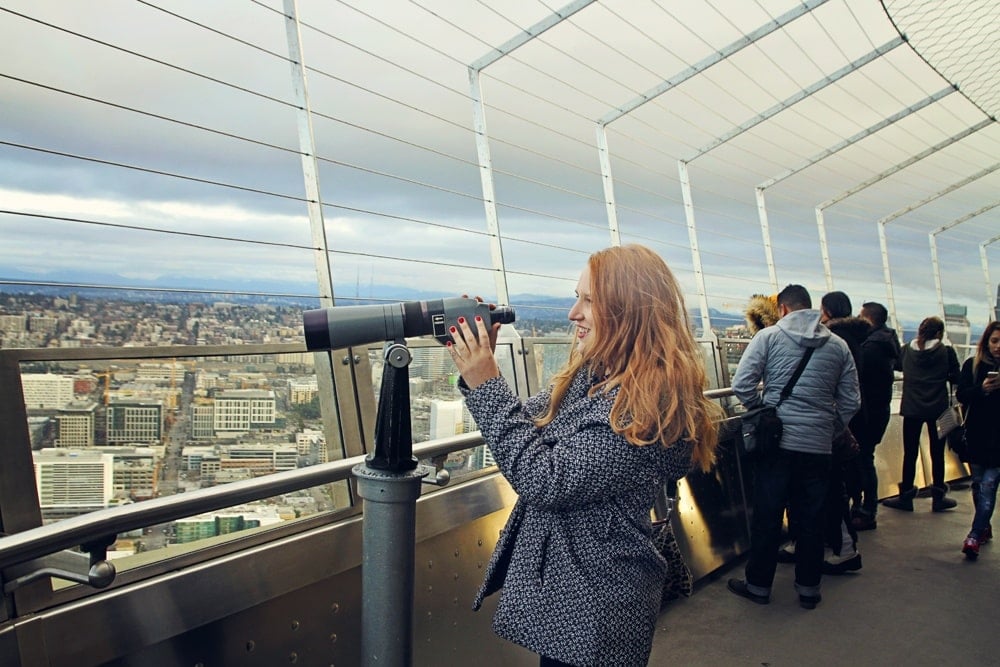 EVENING OUTFIT TO WEAR

4:30PM Downtime
After waking up at 3AM, we were tired! We headed back to Hotel Max to take a little cat nap before dinner. Not tired? Use this time to visit the Queen Ann's point that overlooks the city. Our Uber driver told us it's romantic and beautiful – we just didn't have time to visit. I then changed into an evening outfit for a night on the town.
They served a local beer from Pike Place Brewing which is located down the street. We sat in the lobby with other guests, people watched, and relaxed with a good brew (free) before heading out for dinner.
6:30PM Off to Capitol Hill!
We took an Uber to Nate's Wings and Waffles in Capitol Hill for dinner. If we had visited in the summer we may have walked there, but it was cold, dark and raining. Robin was really excited to eat here – "Nate" is a famous basketball player from Seattle who started this local chain. We had wings and waffles (duh!) and a side order of Mac N Cheese which was some of the best I've ever had. Southern food not your thing? There are many dining options in Capitol Hill to pick from.
8PM Capitol Hill for Drinks
We walked (in the rain!) about 6 blocks to the main bar street in Capitol Hill. This area is filled with various restaurants and bars – you are sure to find something that you'll love for the evening! We bar hoped at the Unicorn Bar and Comet Tavern for drinks before heading back to Hotel Max to turn in for the night.
DAY TWO: SATURDAY

7AM Wake Up
We like to wake up early when traveling (especially in the winter) to fit all we can into the day. If you are visiting in the summer, put on a dress. In the fall or winter? Grab your coat and a comfy pair of rain boots. You've got a big day of exploring!
Go to the Original Starbucks right when it opens in the morning to beat the crowds!
8AM Starbucks
We made a beeline to the Original Starbucks about 8 blocks down the street, hoping to get a famous cup before all the other tourists arrived. Success! Turns out it's dead in the early morning and we walked out with hot cups of Pike Place brew within 10 minutes.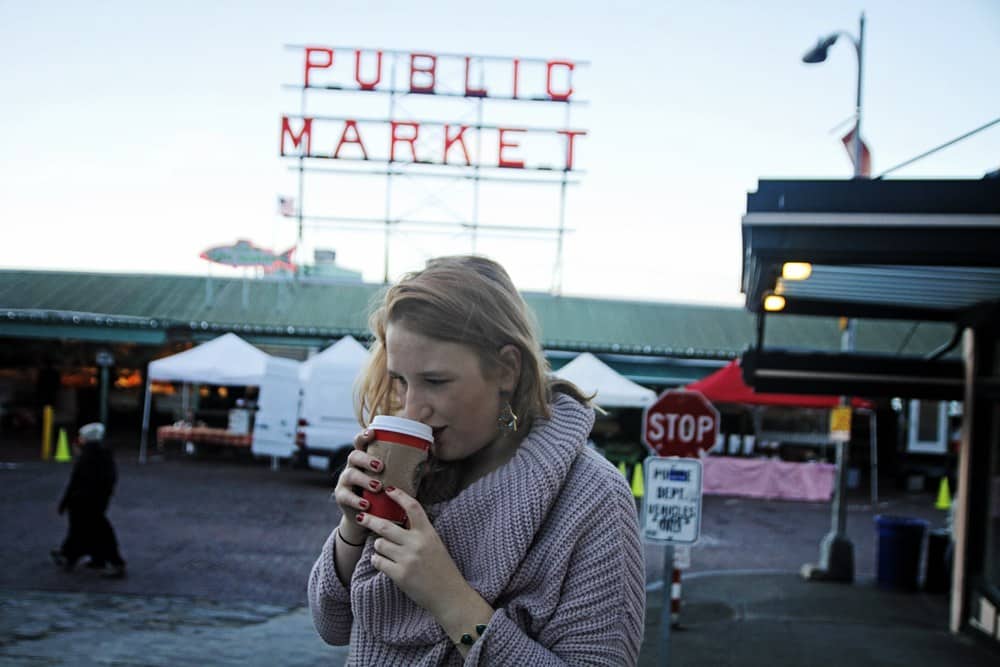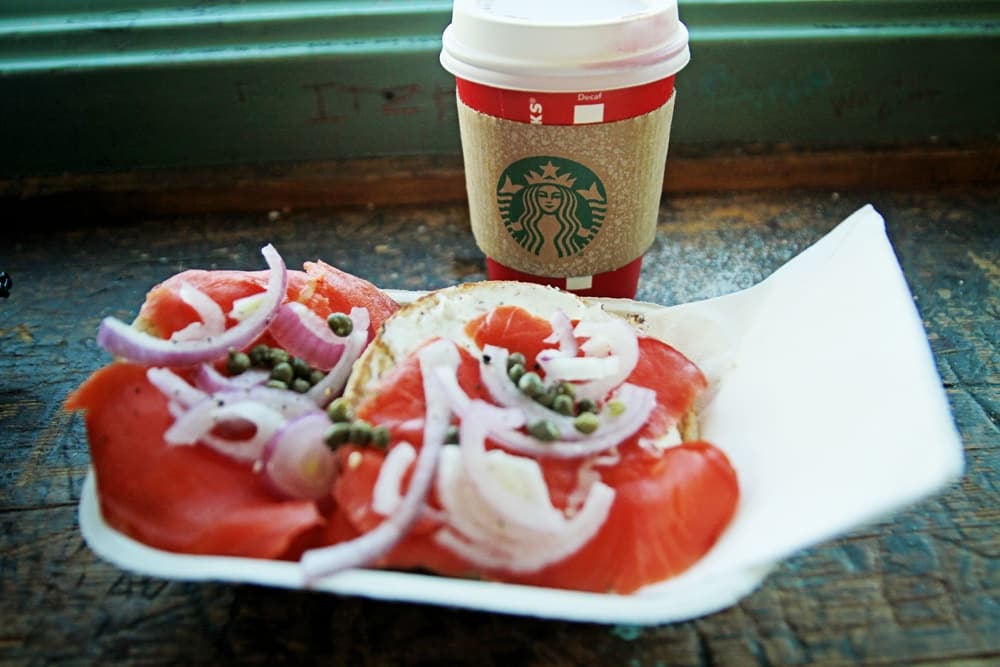 9AM Breakfast at Pike Place Market
We were in search of fresh lox and bagels for breakfast and found some on the first floor of Pike Place Market. It was some of the best lox I've ever had!
We ate our breakfast and coffee in the little public seating area on the first level. It has a great view of the water and mountains and all the ferries coming in and out. Hello, Meredith Grey.
Pike Place has tons of amazing stores and corners to explore, you could spend a whole day just hanging out there. This is a great local's guide to things to do in Pike Place Market if you want more insider market tips!!
10AM Gas Works Park
We took the bus to the Fremont District, stopping at Gas Works Park first. This ride took about 30 minutes. I love taking public transportation when traveling – it offers a fantastic view of the city and helps me "map out" the city. Overlooking the Seattle skyline, Gas Works Park is home to large, old gas and electrical equipment, now sculptures. Flanking the park are many houseboats and trees to wander in.
11AM Fremont Troll
We had to visit the famous Fremont Troll, about a 20-minute walk away from Gas Works Park. In order to help bring a culture of art to Fremont, the Troll beneath the bridge was built in the 90's, and is now very famous. I loved climbing over him and pretending I was a kid again. Hehe.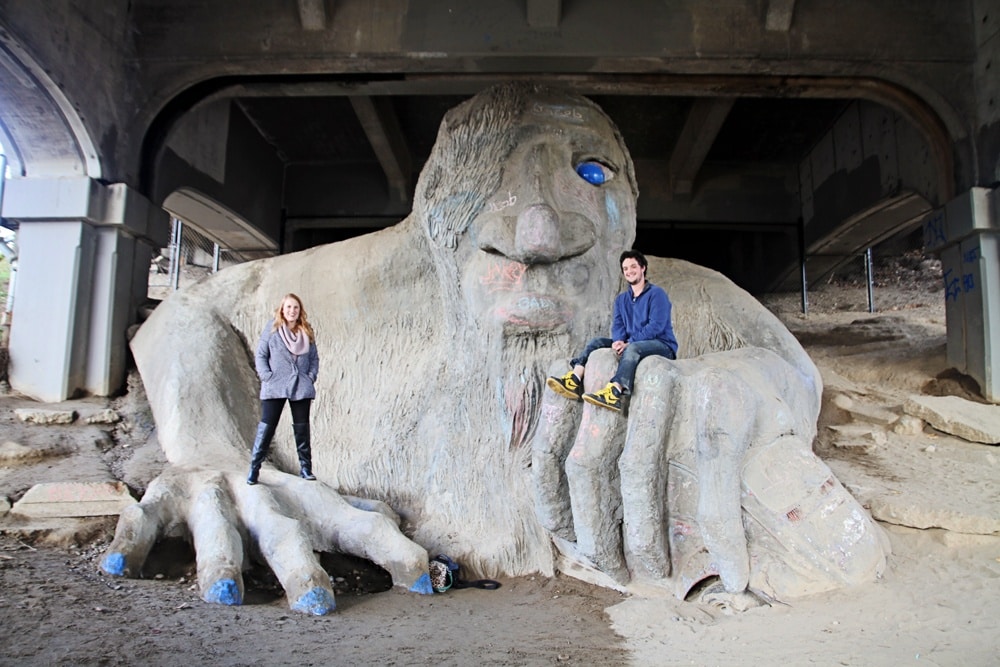 11:30AM Explore Fremont
Afterward, we headed down the hill to look at all the shops in Fremont, stopping in many. There's a large antique store here that was filled with so many wonderful things that I would have wanted to bring home if I could! I didn't leave much room in my bag.
12:30AM Lunch in Fremont
Fremont is filled with food options. Looking for something low-budget yet yummy, we stopped at Norms Ale House for burgers, fresh clam chowder, and local beer. I loved how casual this place was and the fact they are dog-friendly. There were so many cute pups there! We spotted an Italian place, a few Asian restaurants and plenty of other cafes to tailor to your tastes if Norms isn't your thing.
2PM Tours
The afternoon was set aside to explore the rest of Fremont. There's the Theo Chocolate Factory Tour and a whiskey distillery tour in the area, but neither was open that day otherwise we would have gone! Tours not your thing? Head north to the Woodland park and zoo!
3:30PM Schilling Cider House in Fremont
We had to stop in Schilling for a flight of cider. We had flavors from Oaked maple to Sriracha and Lime. If you're a foodie, this is a must stop!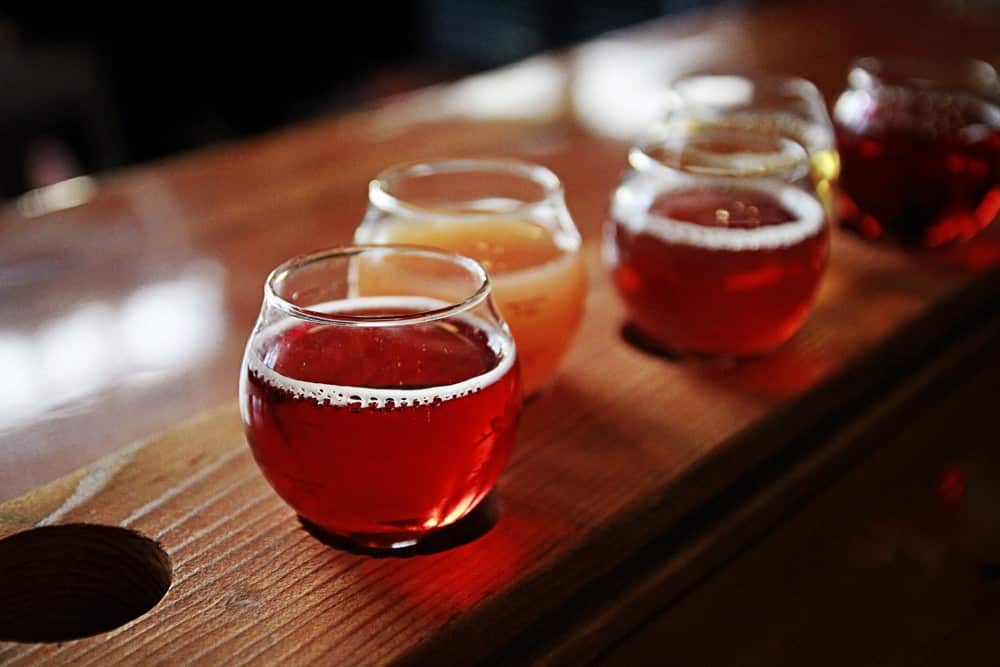 5PM The Teddy Bear Suite in the Fremont Hotel
Yes, we were the only adults there without kids, but it was really fun to swing by and to snoop on what the inside of a fancy hotel room looks like. If it's not Christmas time, use this hour to sit outside in a park and people watch.
6PM Happy Hour Drinks!
We grabbed more free beers at our hotel again. Use your last evening to try some local craft brews at your pub of choice downtown! Seattle is widely known for coffee, but is also home to wonderful breweries.
7:30PM A Seafood dinner!
We had one at the Palomino, which is average, though I was eyeing the Pink Door down by Pike Place Market (we just made reservations too late to grab a table). Seattle is filled with seafood, make sure you don't leave without treating yourself to a large seafood dinner! We stuck around downtown so we could walk there, but feel free to explore outside the area if you want!
Evening Outfit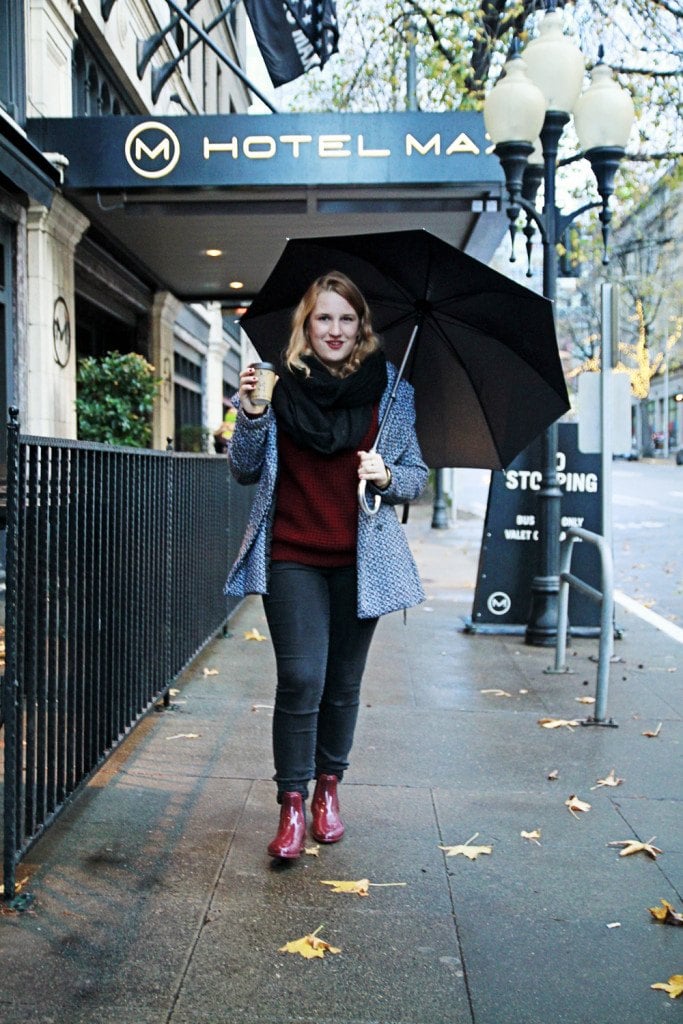 DAY THREE: SUNDAY
Morning Outfit

8AM Pioneer Square for breakfast
We walked about 30 minutes across a peaceful downtown to Pioneer Square. It took around 30 minutes. We ate a 1950's style diner called Planet Java which was clearly the local's favorite because it was filled with people heading to the Seahawks game. I loved their egg scramble and chicken fried steak. Diners not your thing? We passed many cafes on Pioneer Square, so take your pick!
9:30AM Explore Downtown Seattle
We walked from Pioneer Square to Miners Landing, a pier filled with attractions and a ferris wheel. It was mostly closed down when we visited, but if you have kids I think they would like it here.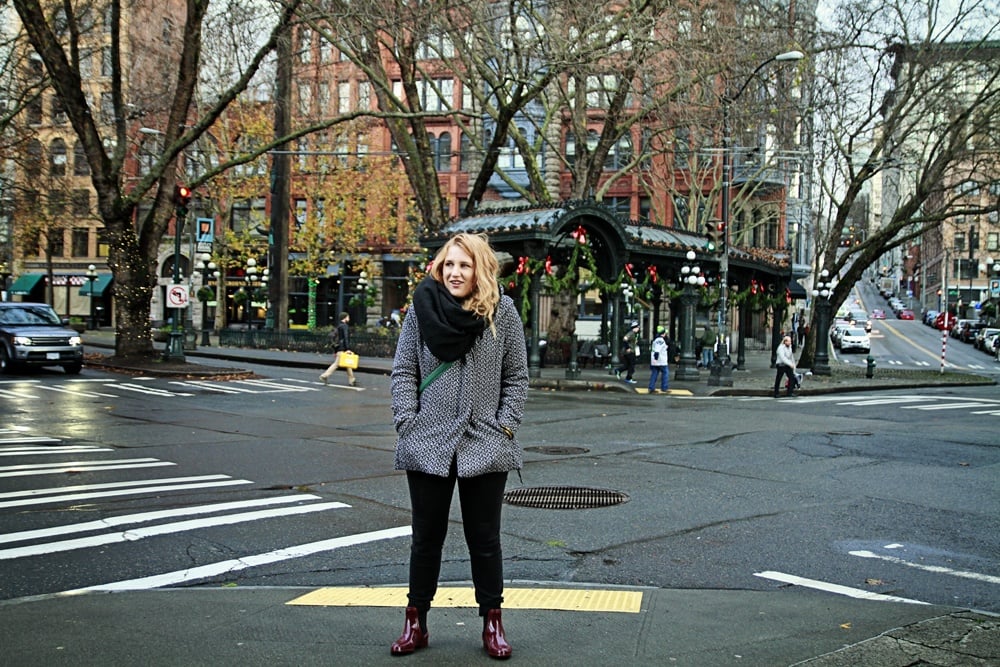 11AM Coffee Break!
We stopped by a cafe downtown for a great cup of coffee. Seattle is filled with Starbucks, but there are many other wonderful coffee places to also try!
11:30AM Starbucks Reserve & Roastery Tasteroom
But, if you are craving Starbucks (since hey, you're in Seattle!) head to the Starbucks tasting room on the edge of Capitol Hill/9 blocks from Pike Place Market. We visited and it was so neat seeing them roast beans and do a tasting of blends that you can't find anywhere else. Plus, it smells amazing in there!
1PM Check out of your hotel
Hotel Max was kind enough to store our bags for us so we could grab lunch.
1:30PM Last Lunch
We went to Pike Place Chowder in Post Alley for Smoked Salmon Chowder and to try Rachel's Ginger Beer next door (yum!!!). I highly recommend stopping here.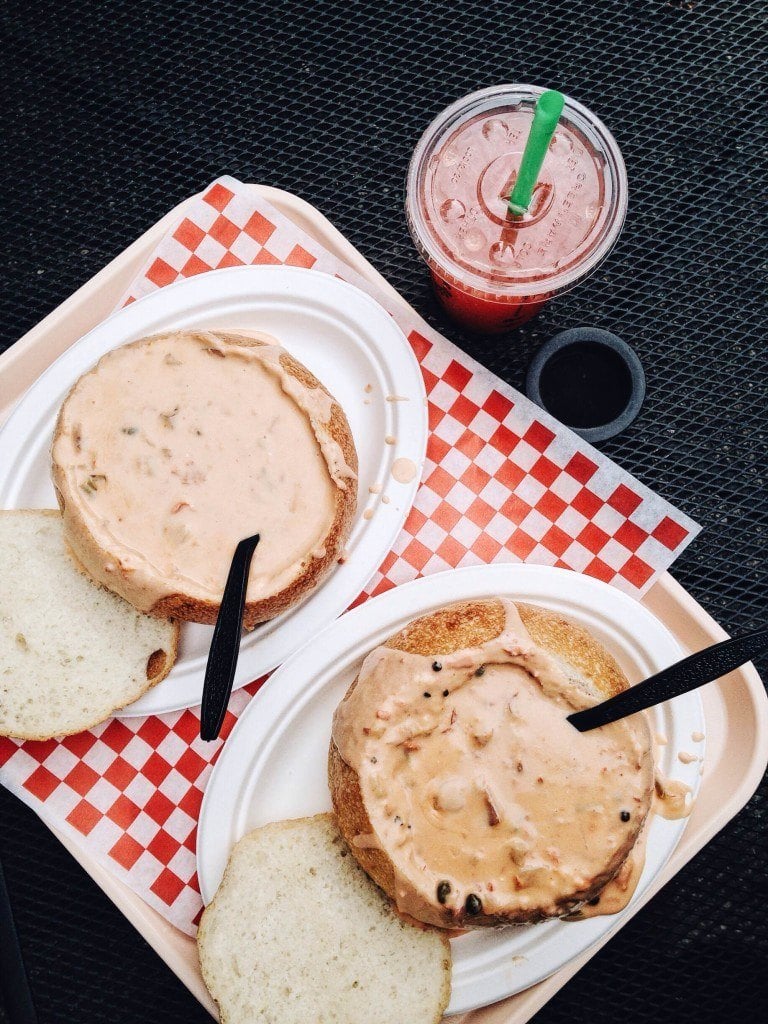 2:30PM Last Sights
We stopped by the famous fish stand in Pike Place to pick up a half pound of fresh smoked salmon to bring home and walked around downtown Seattle a bit more before, making sure we saw everything!
3:30PM Link Light Rail to the airport
The link comes every 10 minutes (Even on weekends!) and gets you to the airport in about 45 minutes so you can drag your feet getting there on your returning flight like we did.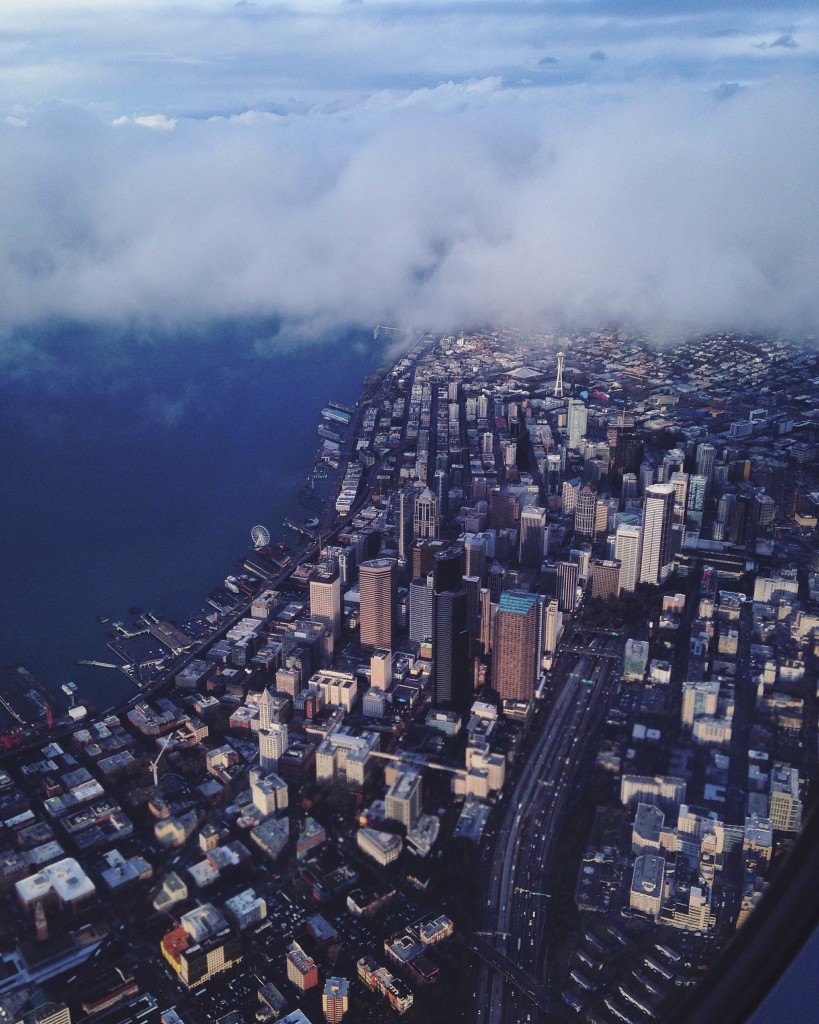 We had an amazing time visiting Seattle! It rained a bit, but it wasn't heavy rain and we were able to be outdoors most of the weekend. I think the rain there is like the rain you'll find in Florida – it'll rain for 30 minutes, but be gone just as soon as it comes.
Next time we visit Washington, I want to see Orcas Island and go camping in the woods. And see Seattle again, of course! Do you have anything to add to this travel guide? Leave a comment below!
I hope this helped you plan what to do in Seattle. For more Seattle tips…
MORE POSTS ON SEATTLE