Now that I blog fulltime and work for myself, I'm constantly being asked by peers and friends about how I tackle time management and how I find the motivation to work. To be honest, a lot of it comes internally. Are you familiar with the enneagram? I'm a Type 3, which is the workaholic personality type. But, even though I'm usually driven, I have developed some handy hacks to getting more done and being productive when you work for yourself. These are my 8 hacks to be a better blogger!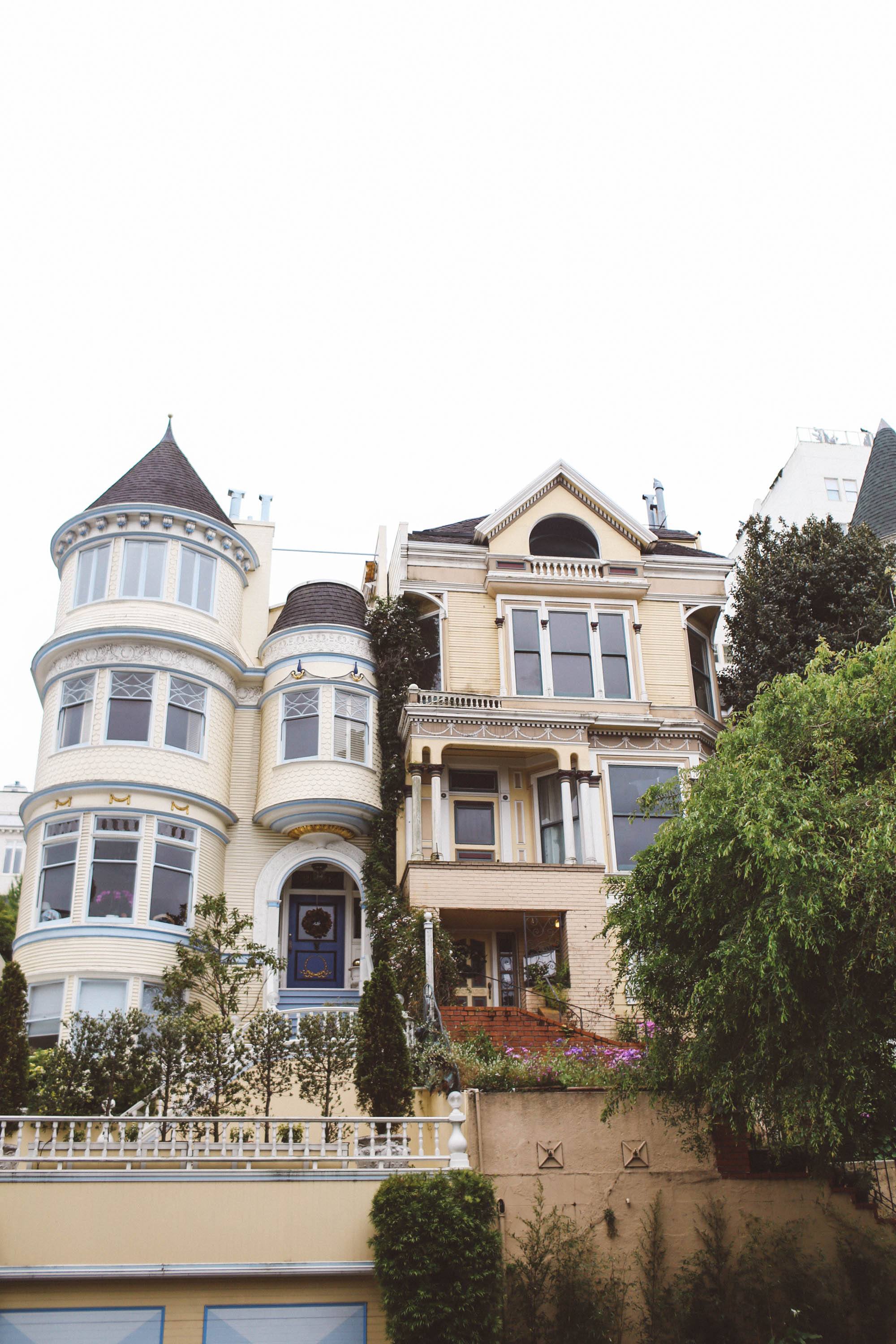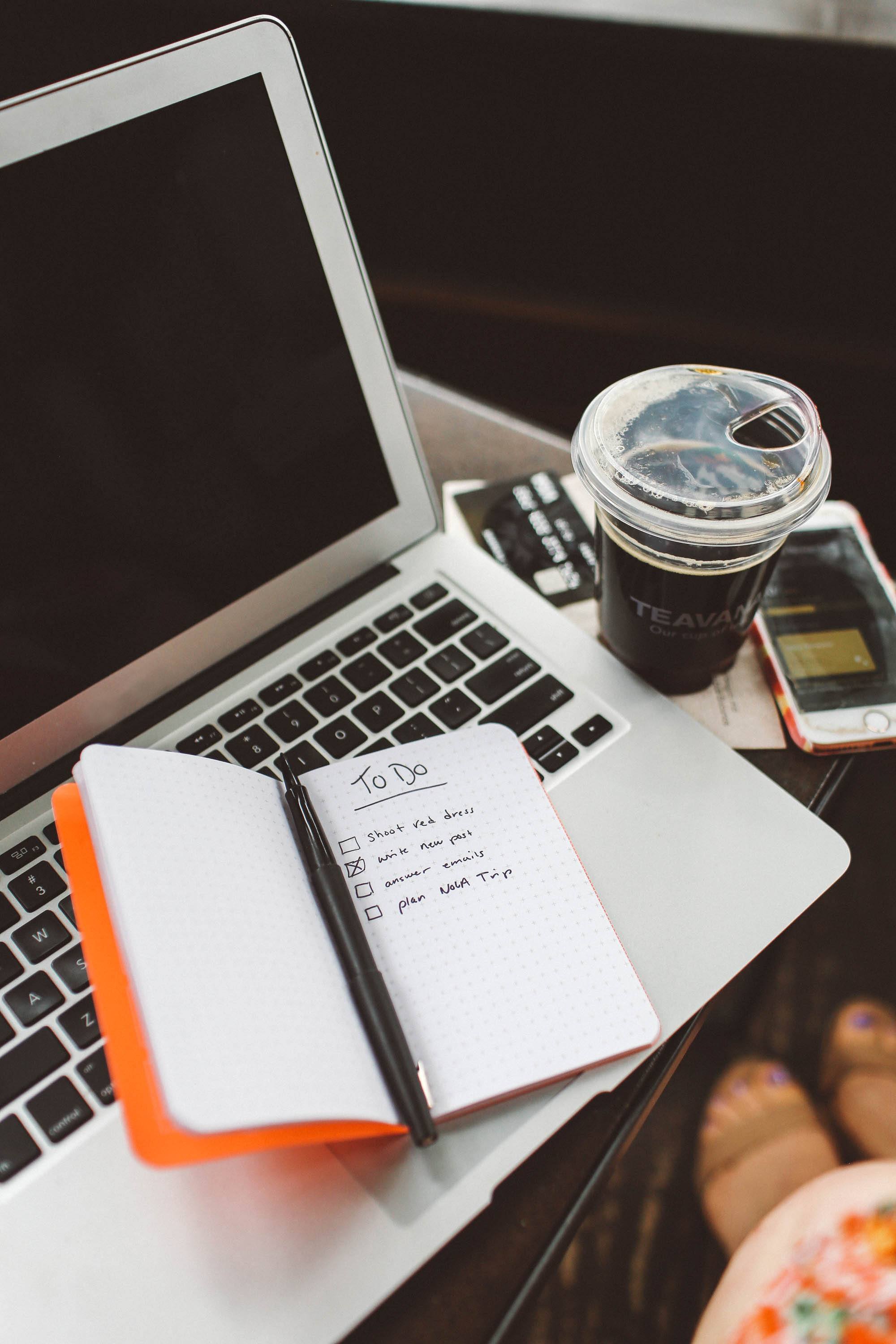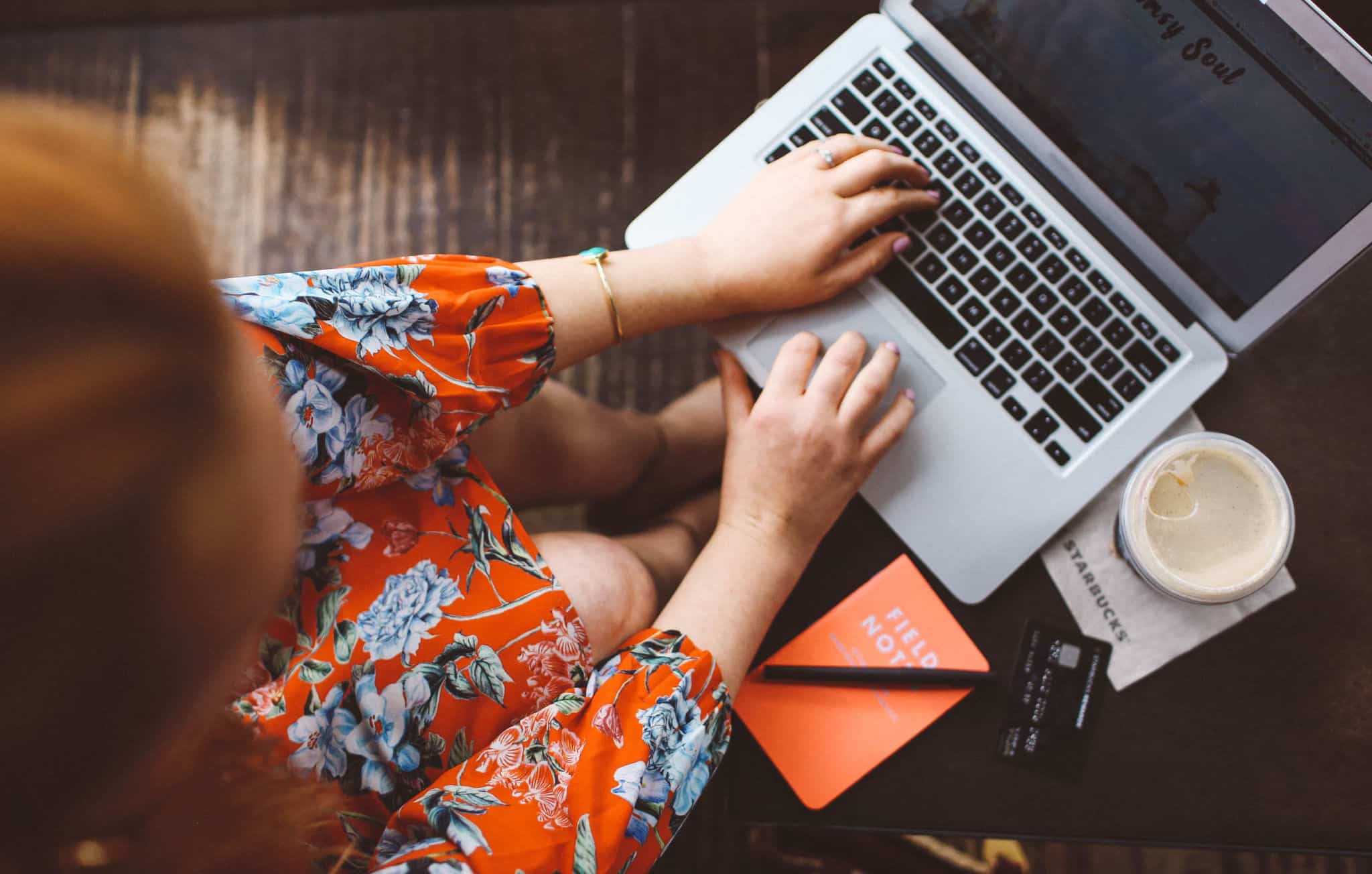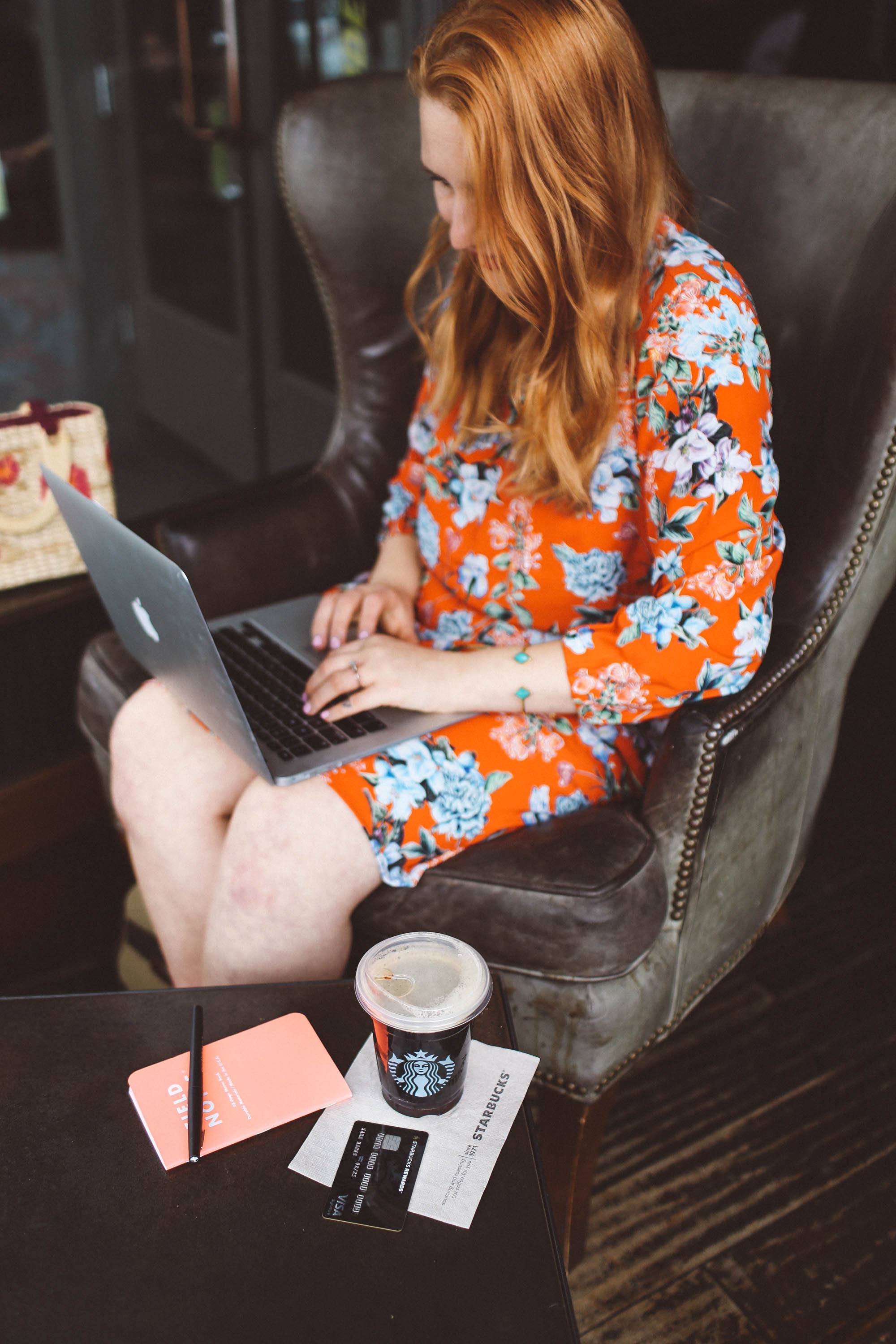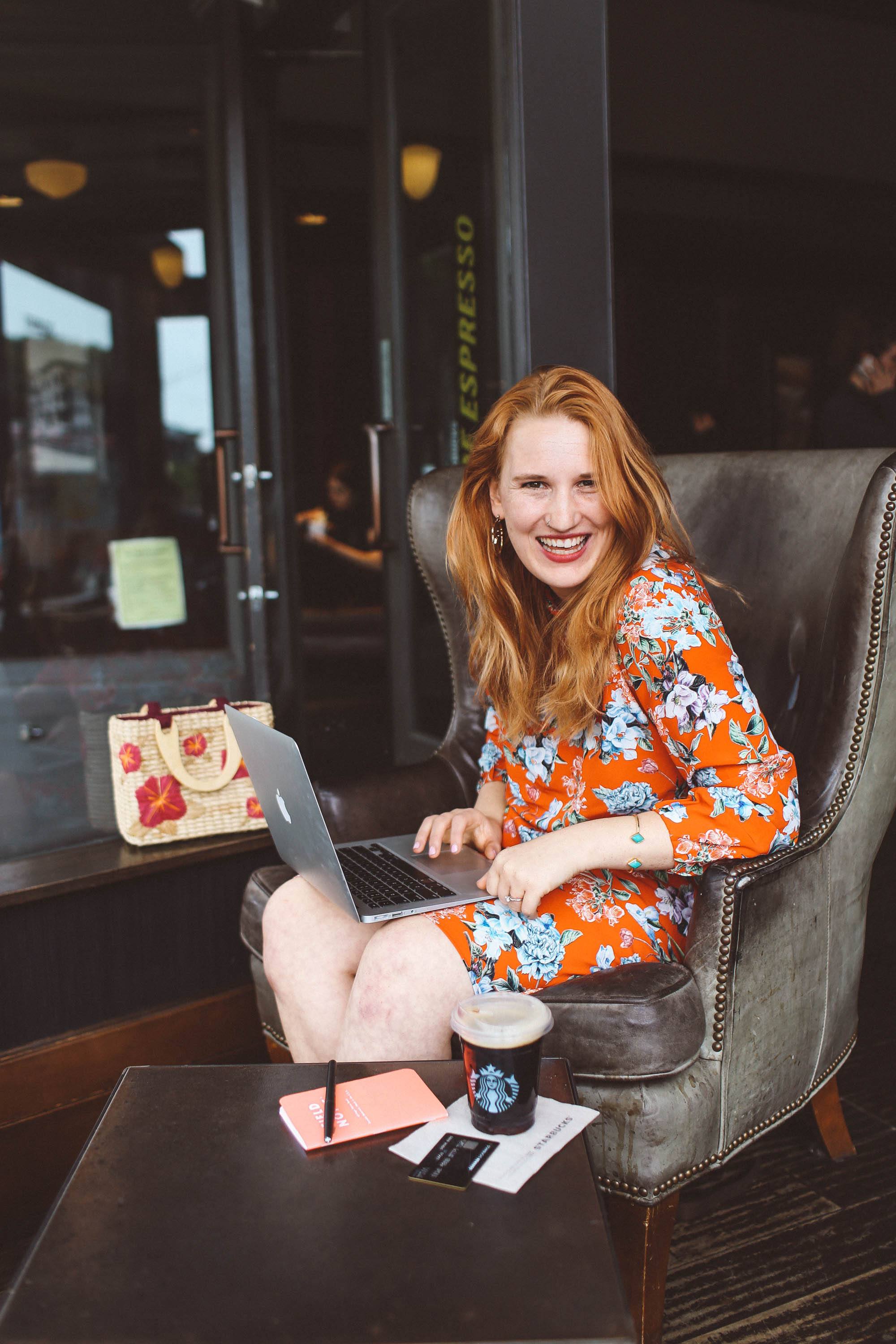 Make A Routine
I can't stress enough that a solid routine can make or break how productive you are, or aren't! It surprises a lot of people when I tell them that I wake up at 7am each day. There is a common misconception that working from home means you sleep in until Noon. If you want to be successful in your blog or passion project, you need to set a routine right away once you leave your office life. Mine looks something like this…
Wake up at 7am. Have some Starbucks pour over while watching GMA and tackling the inbox. I'll write posts until around 11am, take a walk around the neighborhood with Robin and use the rest of the afternoon to keep working. Laptop turns off no later than 7pm so we can have some off-screen time in the evenings.
This routine helps set the tone for the day and keeps me being efficient!
Get Out Of The House
Goodness leaving the house works wonders in keeping you productive. Since I don't have an outside office to go to each day anymore, I don't have that constant stimulation of other people, a big office to walk around or that jaunt to the train station. I find that leaving the house and heading to a Starbucks store in the afternoon makes for a refreshing way to reset. It's my favorite way to tackle a mental roadblock! My favorite Starbucks store is the one in the Marina on Union Street. Comfy chairs, great people watching and of course, all the coffee I could ever want to inspire my writing. I have the Starbucks Rewards Visa Card, so when I use the card to load my registered Starbucks Card I earn 3 Stars for every dollar spent in store, which quickly adds up to drink rewards. I also love using the App and ordering my drink ahead of time so I can settle in right away when I arrive!
Psst — Starbucks offers free refills on brewed coffee during the same visit. While I usually order one of the seasonal drinks or tea, when I have a huge project or problem to work through, it's nice to have refills!
Set One Goal
I'm a to-do list person to help organize my daily goals, but even multiple goals can make some people feel overwhelmed. If you struggle with tackling a long list, instead focus on just one goal to meet each day. That could be writing a blog post, pitching 10 brands, shooting 3 outfits. Then, work towards that one goal! If you finish it early, set a second goal for the day.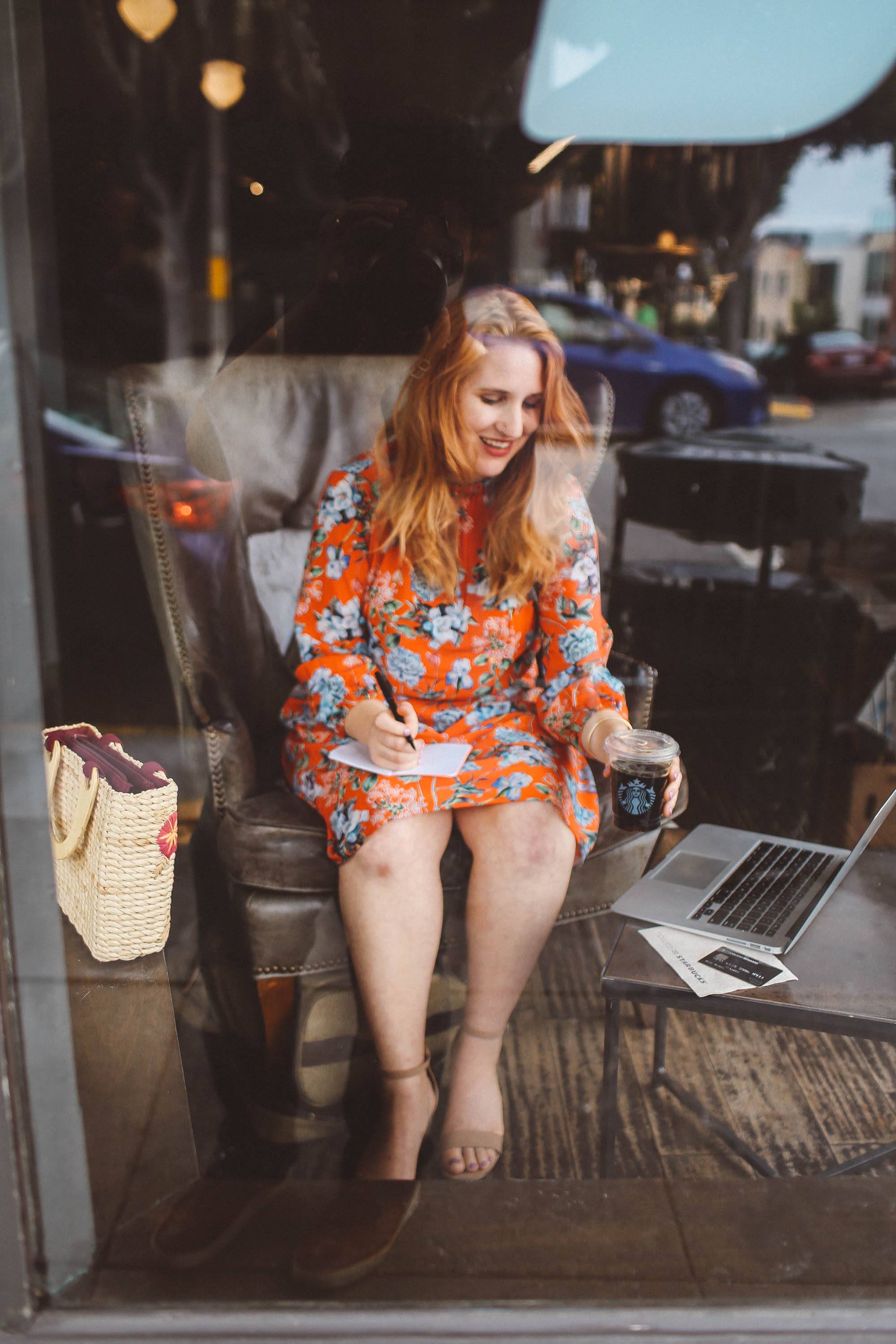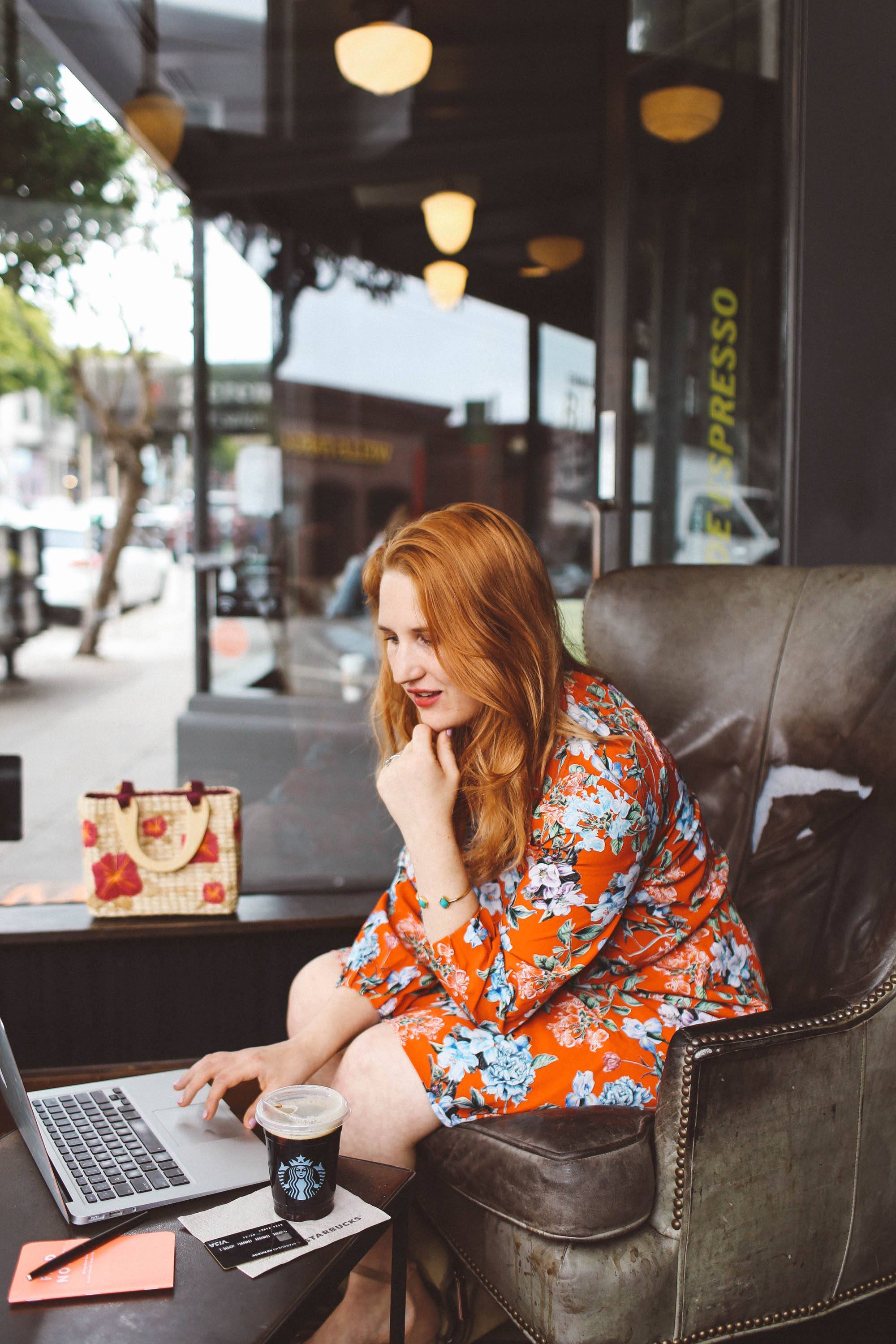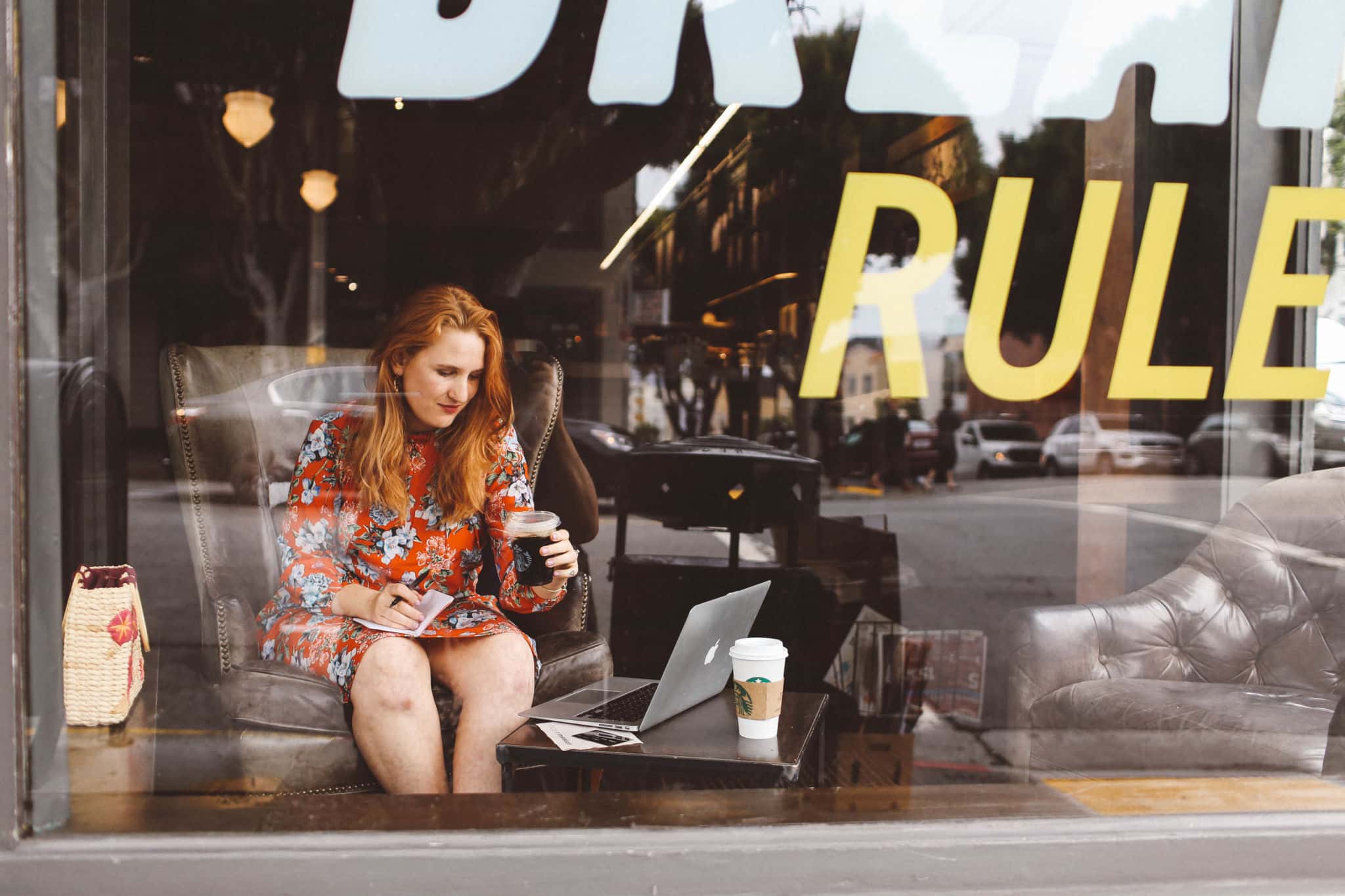 Treat Yo Self
It's really amazing how a little treat for yourself can offer a nice mental break, which sparks new ideas and can help you be more productive. Did you know that with the Starbucks Rewards Visa Card you get 8 Barista Picks for each year? Barista Picks are fun food items or drinks that a barista from somewhere in the country picks and recommends. Cardholders get to try Barista Picks as part of the card rewards! I find they're really fun ways to treat myself to something I don't normally order or have never thought to order before.
Schedule Everything Into Your Cal
You should be living by your calendar. Long gone are the days when we have just a few things to mentally manage. With more technology, there are just more things we have to do or divert our attention to. When you are a blogger, your duties extend far beyond just writing a blog post. There's shooting the photos, scouting locations, SEO, content distribution, posting to social, emails that never end, brand calls, making email newsletters, recording receipts, managing money… the list goes on! Your head will turn into a madhouse unless you start putting everything you do into your calendar.
Set Reminders
And of course, set reminders! I prefer Google Calendar to email me notifications, this way it pops up in my inbox to help me remember when and what I have to do. If I didn't have Google Cal to email me reminders I wouldn't be able to get half the things I get done each day because I would simply forget about them! I also love using Alexa on my Echo Dot to remind me things to do, like move my car before street cleaning or get ready for a meeting.
Tackle Finances Head On
I know I'm not the only one who worries about money. Confronting finances is something my generation is really bad at doing, but I find that tackling finances head-on helps me be more productive in the workplace. It frees up that mental space to focus on projects.
As a fulltime blogger, it's incredibly important to be comfortable thinking about money. Not only for brand deals, but for your personal money management. Paying for things with a credit card is key to act as a cushion while you wait for your Net 60 check to come through. Unlike in a 9-5, you won't be paid every 2 weeks. You could wait up to a whole quarter to get paid. I also rely on loyalty programs with points and rewards to stretch my money and earn rewards that help me run my business or just help me through the day. The Starbucks Rewards Visa Card offers great rewards for something you're probably buying each day (coffee!) Learn how it can be helpful to you here.
Don't Do Everything Yourself
Who started the idea that a successful person is only successful if they do everything themselves? Burnout is real, people. The quickest way to burning out and losing your efficiency is trying to do it all. It's also just kind of a silly idea… I mean, I'm not good at everything. I'm not afraid to see out help on things I'm not the best at. And even if I can do something well, I don't always do.
For example, I pride myself in graphic design skills, but I rarely ever start any project from scratch anymore. I purchase templates from sites like Creative Market because spending $10 to save an hour is so worth it to me. I also invest in a lot of tools to help me publish to social or manage my business. Yes, I can manually pin to Pinterest, but paying for Tailwind literally saves me hours of time each week. It's ok to not do everything yourself. You also probably shouldn't.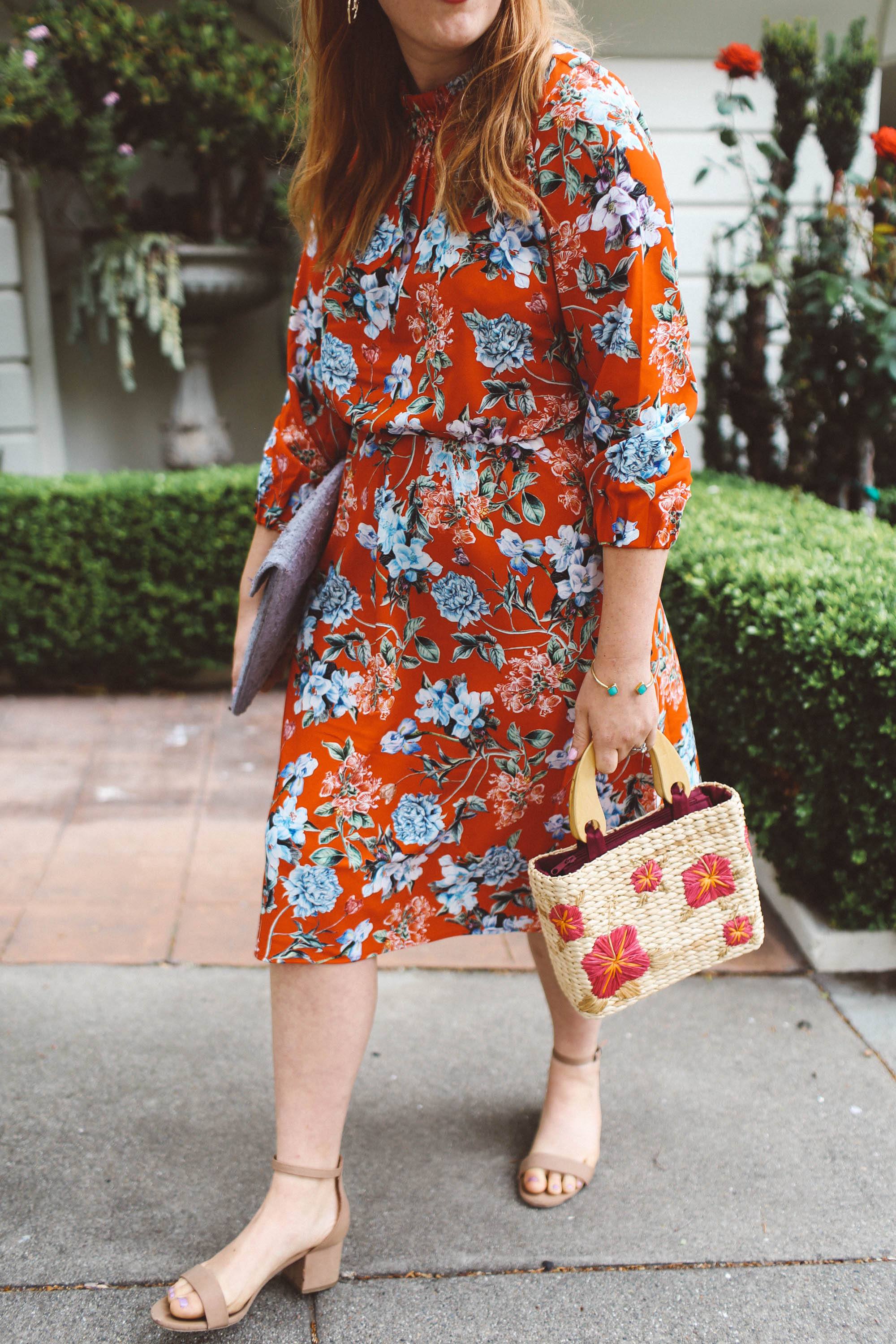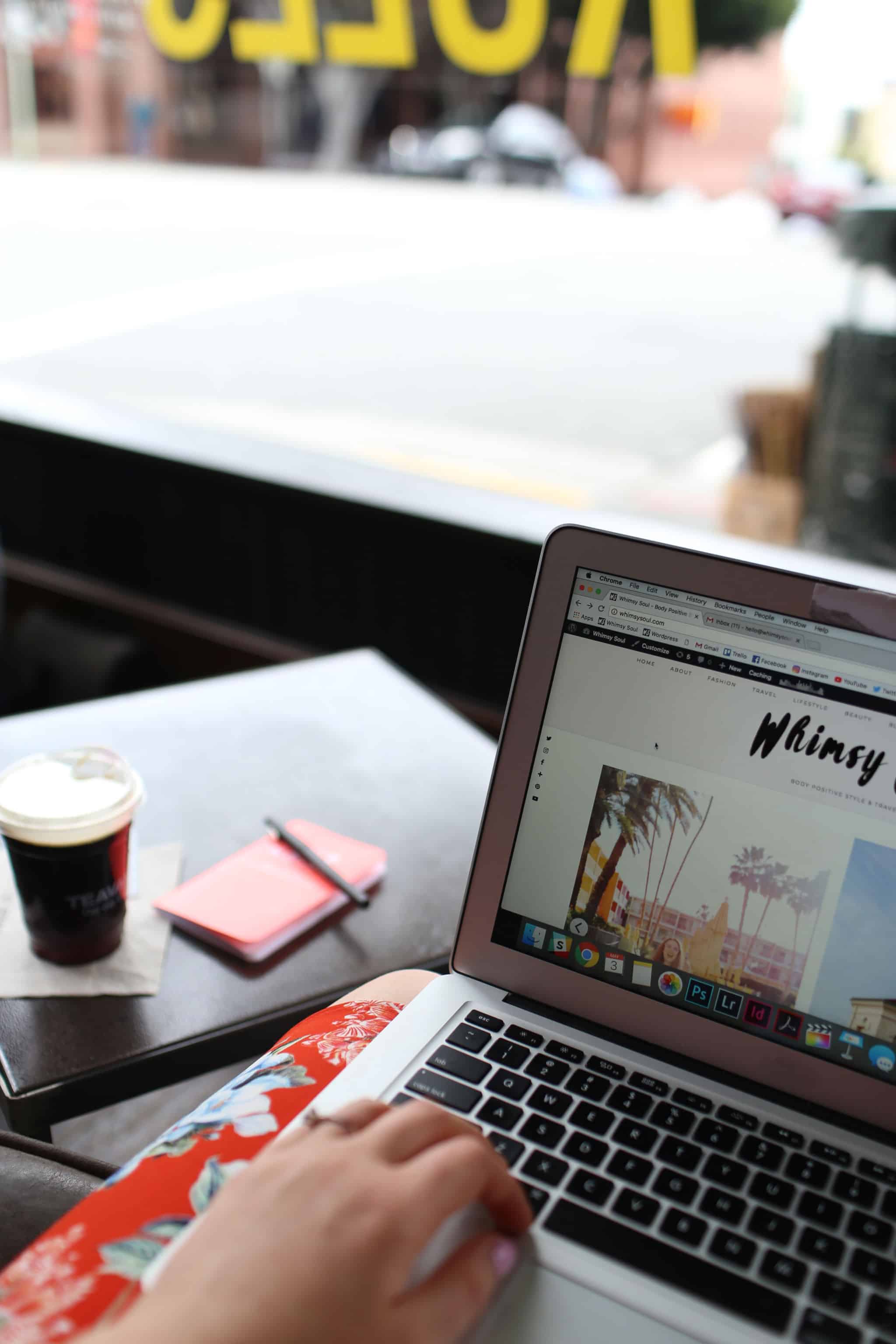 I hope these hacks help jumpstart your productivity and help you become a better blogger!